On the Front Lines of the Breast Cancer Fight
Women Making a Difference
It"s one of the worst things a woman can hear. "You have breast cancer." But, one in every eight women in Montana will face those words. Breast cancer accounts for a third of all cancers in the state and while the survival rates continue to improve with early diagnosis, it"s no less scary or overwhelming for those facing treatment, recovery and hopefully survivorship. While doctors and nurses are often applauded for the work they do to bring about awareness and medical advancements, there are some unsung heroes right here in the Yellowstone Valley working on the front lines to care for, comfort and guide women facing this nerve wrecking disease.
THE NAVIGATOR
Ella Dugan-Leammle
There are times when Ella Dugan-Laemmle looks at her nine-year-old daughter and wonders. Does she have the gene? When she gets older, will she face what so many women in her family did before?
"My mother-in-law passed from breast cancer. Our daughter was 6 months old when she was diagnosed for the third time," Ella says. With tears starting to form she adds, "She flew out here with her sister because she wanted to see our daughter before she died. Every one of her sisters — there are five girls in that family — every one of them has had breast cancer. She is the one that didn"t survive."
It"s the very reason this fight has become so personal for Ella. And while she never planned to work directly with breast cancer patients as a psychotherapist, helping them work through the emotional side of the disease, she"s found a home doing just that as St. Vincent Healthcare"s Breast Center Navigator.
"I"ve been a psychotherapist for 23 years, so I am used to the emotional end and that"s why I wanted to get into the field. I think that"s why I get so close, so fast to people. It"s because of that history," she admits.
On any given week, Ella will meet with upwards of 40 patients in all different stages of their treatment and recovery. When a woman learns of an abnormal mammogram, Ella says, "I want to be right there meeting that patient." When another needs a biopsy, "I can explain what the procedure is going to be and I am in with the patient during the procedure, literally holding her hand." As she shares her typical day, she says with passion, "It helps a woman to breathe. It helps the family to know that they are not going to be alone." In fact, it"s Ella who helps schedule every step of the treatment process so that a family doesn"t have to wade through the system on their own.
After listening to a piece of Ella"s day, you get the feeling she might need a clone. Ella says simply, "Breast cancer is not an 8 to 5 job." That"s why every patient is handed her cell phone number. It"s why she"s started a survivorship support group to help women pick up the pieces after treatment. It"s why she sits with each patient during surgical consults and holds their hands after the procedure. Since many face surgery within two weeks of diagnosis, Ella says, "They are scared to death. Most of them are still in shock."
During the two years she"s held this post, it"s been an emotional ride. "When ladies lose their breast, it"s a big thing." That"s why when she took the job, she walked through the Breast Center with a critical eye. Instead of families waiting in the waiting room for their loved ones undergoing a biopsy, she urged the center to create a special family waiting room where they can let down their guard and cry if they need to.
When the specialty shop that helped fit her patients with prosthetics suddenly closed, Ella rallied doctors and hospital administrators to open one right inside the Breast Center. She got the team to sign off on the idea literally over lunch one day. The next week she was off being trained to learn how to properly fit patients post surgery. Her idea gave birth to the Eva Boutique, a specialty store just for breast cancer patients. Inside this private fitting area, you"ll find prostheses, specialty bras, and camisoles. Ella sighs as she explains, "It opened a whole new opportunity that we didn"t have. It allowed me to see what wasn"t working and to change the flow of things." She was also instrumental in getting a brand new wig boutique added to Frontier Cancer Center as well. The doors on that new boutique will open January 1, 2015.
After seeing the ways this state-of-the-art center has improved, you can tell that Ella Dugan-Laemmle is a warrior. The reason why, she says, is simple. "When a person feels better emotionally, they heal faster physically. It"s a combination. You can"t separate the two." She"s there to counsel patients literally for as long as they need it. It"s a free service to the patient that"s tied to their care. "They need to know what to do in order to lead a fulfilling life after cancer," she says.
As she fights for patients day in and day out, Ella is grateful for the medical advancements that have proven breast cancer doesn"t need to be a death sentence. She says instead, "It"s more like a bump in the road." And, as she thinks about the thousands of lives she"s met and touched over the years as a counselor, she"s quick to tell you, however, that she is the one who is blessed, "Being a counselor gives you back so much more than you give."
THE HELPERS AT HOME
Maid to Shine Cleaning
As the owner of Maid to Shine Cleaning, Elizabeth Buchanan has always wanted to be able to give back to her community. She never knew she"d be able to make such an incredible difference in some peoples" lives with a feather duster, a vacuum and a team of seven residential cleaners.
"A lot people don"t realize they can give someone the gift of cleaning," Elizabeth says. After linking up to the national non-profit Cleaning for a Reason, she knew what a valuable gift a clean house could become.
Cleaning for a Reason is a non-profit that works under the premise that fighting cancer is hard enough. They partner with maid services to offer professional house cleanings to women undergoing any kind of cancer treatment in their hour of need. The program encourages four house cleanings over a four month period. "Usually that is enough to give someone help to get them back up on their feet," Elizabeth says.
It goes without saying that as a woman faces cancer treatment, their bodies become run-down. Sickness sets in and the last thing she"s thinking about is if her floors are clean or her shelves have been dusted.
"Some of the stories are so incredible," Elizabeth says. "It is actually changing and touching the cleaner"s lives even more so than the person with cancer. I think it puts someone in a position to realize what kind of hardships others are dealing with." She adds, "I have even had some of my cleaners call me and ask if they can go back and work for these people on the weekend. They have called crying and told me that they really needed to go back and help."
Melissa Zimmermann is the company"s accountant who has rolled up her sleeves to clean for patients. She was by Lynn Johnson"s side as she battled breast cancer. Melissa says, "I think what was the neatest part of it was that as I progressed through it with her, I could see her get stronger and see her get back into her day to day routine."
It was a gift Lynn appreciated beyond words. A friend had told her about the program after her lumpectomy. Treatment brought on a fatigue Lynn had never experienced before. "It usually hit me in the afternoon," she says. "It was that kind of tired where you really don"t feel like doing anything and you just need to lie down." After watching two of the Maid to Shine Cleaning team members come in and make her home beautiful again, "It was so nice to know that someone cared enough to take care of that for me."
CLEANING FOR A REASON
Give the gift of a clean home
If you know someone who could be blessed by this kind of service, you can visit cleaningforareason.org and apply for help for that individual. After putting in the person"s name and where they live, it will link them up with a local Cleaning for a Reason partner anywhere in the country. You can also visit maidtoshinecleaning.com or call them at (406) 702-0337.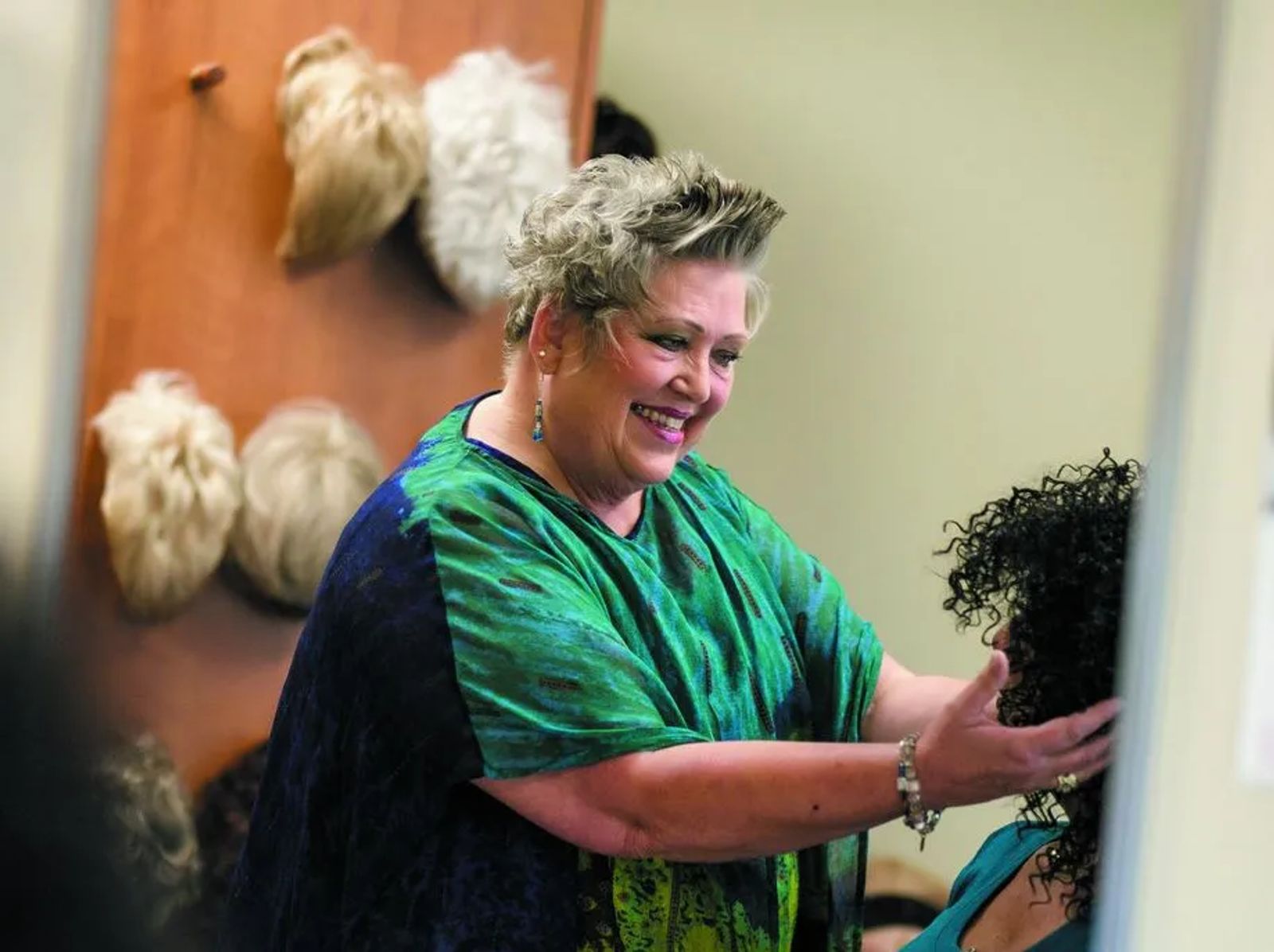 THE FITTERS
Susan Pilcher & Amira Harper
Susan Pilcher remembers feeling how "real" her cancer diagnosis was when she looked in the mirror and watched a clump of silver hair fall out as she ran her fingers through it one morning.
"I was never intense about it. I never had a fear," Susan admits. "I never thought I would die from this. I just knew I had to trust my doctors, do what they said to do and try to be as positive and as upbeat so that I could overcome the nausea and fatigue." As the weeks of treatment lingered on, "My prayers were always, "OK, I got this for a reason. What"s the reason? Show me what that reason is.""
Susan Pilcher now knows the reason.
She and fellow survivor Amira Harper are two long-time hair stylists who volunteer their time at the Billings Clinic Cancer Center"s wig boutique. Both are breast cancer survivors.
"Amira helped me when I had no hair!" Susan says with a bright smile. Amira chimes in saying, "I went to see her while she was getting chemo. We just started talking and the rest was history." The two became friends immediately. Susan says with a laugh, "She dilly dallied and hung earrings on my scarf! When I went in to see Amira, I kind of forgot that I was suffering from chemo. I kind of got lost in a different world. We didn"t talk about her cancer journey or what I was going through. We tried on crazy wigs and laughed!"
What happens in this small hair salon and wig boutique brings on a different kind of healing.
"For women, it"s hard not to have hair," Amira says. Susan nods and adds, "I think what they need to realize is this is just the middle of the road. The hair will come back. This isn"t about appearance right now. It"s about life. It"s about hope to live through cancer and then move on."
When this dynamic duo greets one of the patients coming through their door, it"s clear that they are there to bring smiles. Amira is sure to tell her clients, when facing a cancer diagnosis, it"s okay to be a little bold. Throwing her arms up into the air, she says, "I tell them "Now is the time to change!" If their hair is black, why can"t they be a redhead now?"
A spinning rack holds wigs of all shapes, sizes and colors and it"s the American Cancer Society that helps stock this boutique full of color and flair. Amira loves watching the faces of her clients light up when she places one of these beauties over their bald heads.
Susan couldn"t agree more.
"You just know what they are going through. You have to pay that forward. You have to be able to talk to these women, help them and take away their fears." At the end of each appointment, both know they"ll get a smile, a hug and maybe even a few tears of joy. Susan says, "They"ve cried. Their husbands have thanked me. It blesses us just as much as it blesses them." As she looks at Amira, both nod as Susan says, "It fulfills something inside of us."