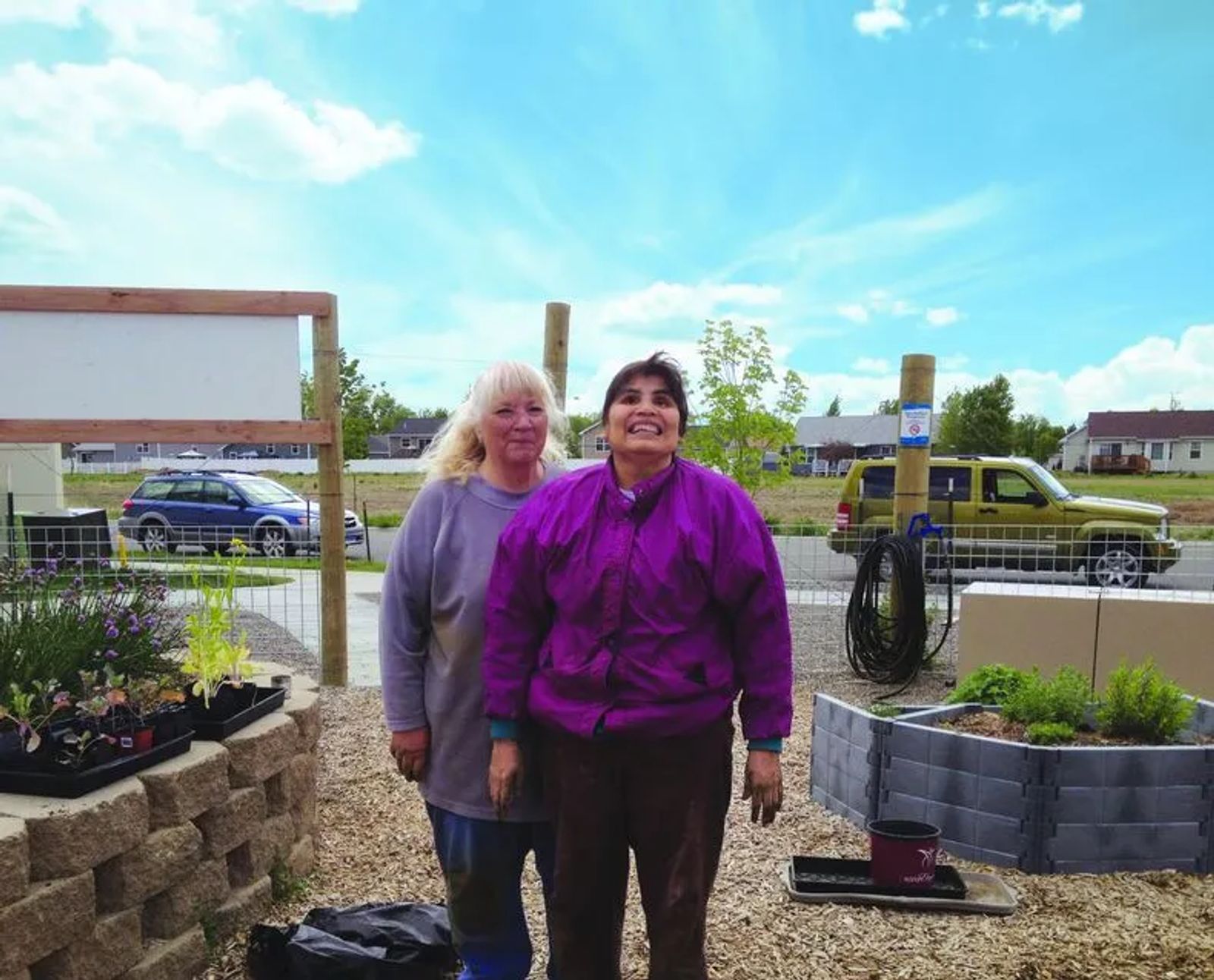 Sowing Seeds of Friendship
Partnership sprouts at Billings" Community Gardens

Alongside the rows of sunflowers and between the squash and tomato plants at the Whitetail Community Gardens, something special grew last summer and even over the long winter, it continued to thrive. It wasn't a vegetable nor an herb, but it was the friendship between Barbara Bear Crane and Susie Gregor.  
Barbara is a resident at the Heights housing development adjacent to the Whitetail Run Community Garden. She's blind, but wasn't going to let that keep her from trying gardening. Susie was new to Billings, but plenty familiar with growing things when she came across a call for volunteers for the Housing Authority of Billings Community Gardens Program. They were matched last April to plant and tend a plot in the garden, and neither woman knew how much fun – and hard work – the summer had in store for them.
"Barbara does all her own gardening," Susie says. "I just help her a little."
With Susie's guidance, Barbara planted all the seeds and starter plants by touch, learned where the plants were and how to identify weeds and remove them.
"I put her hands at the top of the plant and she goes from there," Susie says.
Barbara's plantings included celery, carrots, onions, lettuce, squash, beans, a few herbs – and tomatoes, oh, so many tomatoes! Barbara grew more than 50 pounds. Her harvest was so bountiful that she was able to give away tomatoes to other residents in the housing development and share with friends and family. Her mother made fresh salsa from Barbara's onions, tomatoes, and cilantro.
"I couldn't possibly keep up with all the tomatoes," Barbara says.
One of the little rituals Susie and Barbara developed was a weekly tour of the whole community garden. Barbara would touch the leaves of all the various plants and reach up to feel the height of the sunflowers. In time, Barbara learned to identify almost all the various plants in the garden by touch.
Susie came over to help Barbara twice a week at the start of the season, but by harvest time, the women were getting together three to five times a week. Barbara did all her own harvesting. Susie would guide her hands to show her what a ripe bean should feel like, and Barbara would work her way down the row feeling each bean and choosing only the ripe ones. She also fingered the casino online tops of the carrots at soil level to pull the largest ones, and much to Susie's surprise, deftly wielded a kitchen knife to harvest the celery.
"Barbara is just as independent as she can be, and so enthusiastic," Susie says. "I had to learn how to teach her how to do it and then let her do it. The learning curve was mine, not hers."
The community gardens are available to any of the tenants who live in the Heights housing development on Sioux Lane. They are allowed only one plot for the first year, but if they maintain that one well, they can have up to three plots. Barbara is planning on taking on a second plot this year. She wants to add larger onions, cucumbers, and radishes to the mix as well as employ some new techniques with bell peppers, which didn't grow well last year.
"This year we learned a lot about what to do," Barbara says.
Although Barbara can do much of the gardening by herself, Susie will be at her side again this year, and the two women are already planning what to plant and where to put it all. They have become a team. Susie had no idea how fun and meaningful her volunteering experience would be, but is now encouraging everyone she meets to participate in the Housing Authority of Billings Community Gardens Program. Even if they can volunteer only once, Susie says they will find it's a worthwhile cause.
"If every one of us in this community, or any community, worked together like this, we'd all be a healthy, better community," she adds.
Barbara is encouraging her neighbors to get involved and take on a plot, and has proven that if she could tend a garden, most anyone can, no matter their experience or ability level.
"It doesn't matter what you have," Barbara says, "you can't let it stop you."
Billings Community Gardening: harvesting food security around town
The Housing Authority of Billings oversees the Whitetail Run Community Garden as well as a garden for senior citizens at the Pleasantview Apartments and a garden at St. John's Lutheran Ministries. A bucket program encourages small-scale growing at locations across the city, and the organization also plants a pumpkin patch, which is a fundraiser for the community garden projects. This year, several additional locations and projects are being developed.
The mission of the Housing Authority of Billings Community Gardens Program is to help low-income families and individuals alleviate food insecurity and improve their diets by growing their own food. The number of food-insecure households in Billings is on the rise, and currently, about 15 percent of all Billings households lack an adequate, reliable food supply. The problem is made worse by the fact that there are many neighborhoods in Billings that do not have grocery stores within a reasonable walking distance.
The seeds that residents use in the community gardens are all donated, and no prior gardening experience is necessary. Master gardeners volunteer to help residents learn how to maintain their plots and harvest their bounty, and the housing authority hosts several educational and fun community-building events during the growing season, including hands-on classes for cooking and preserving what is grown.
If you would like to support the Housing Authority of Billings Community Gardens Program with a donation or you would like to volunteer at one of the gardens, call 406-969-3760 or email gardens@billingsha.org