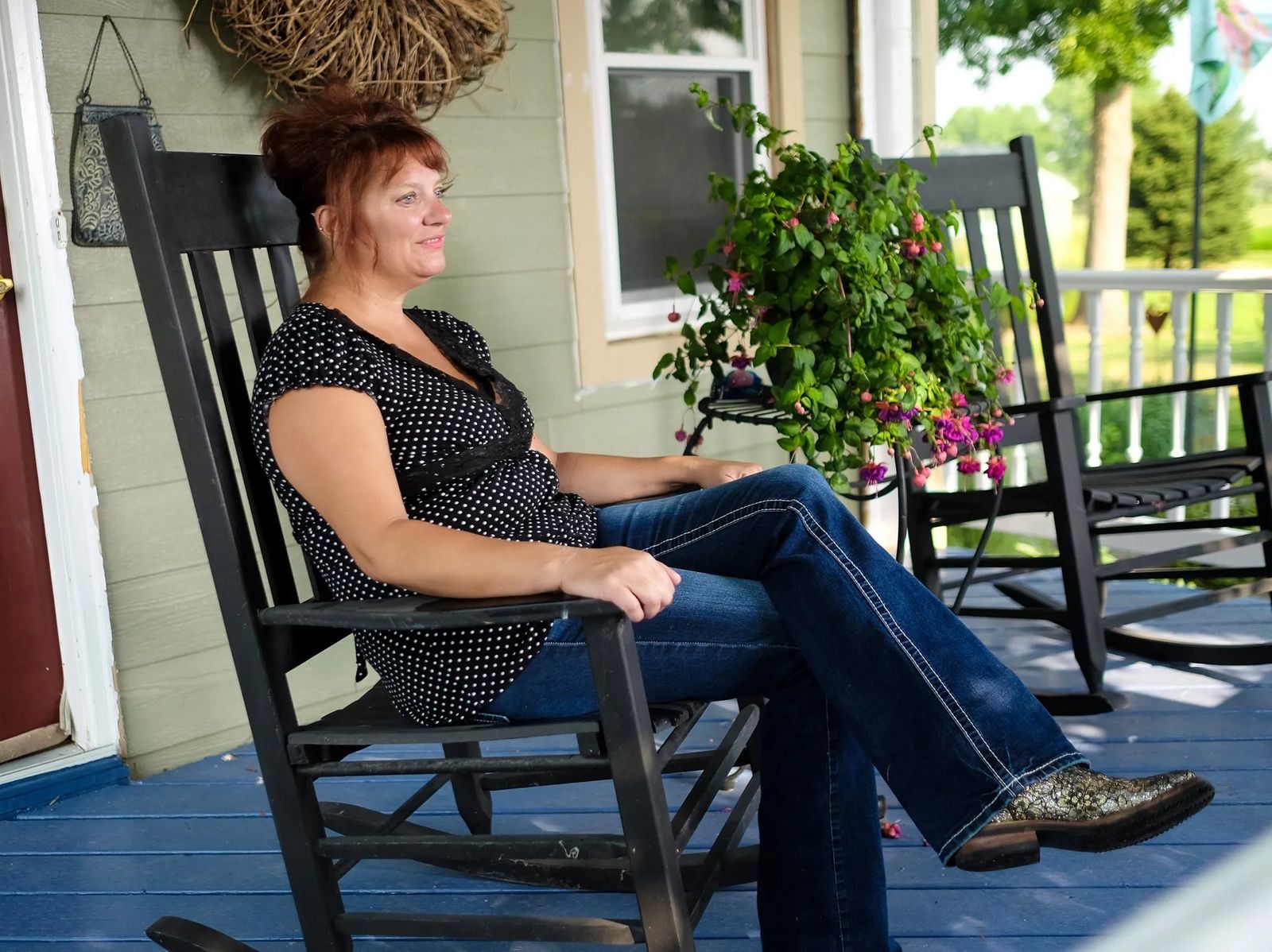 Staring Down Danger
Billings' first & only female police commander has had her share of battles
It was late at night when Billings Police Department Sergeant Ronda Fox got the call that would turn her life upside down. She was a patrol officer in August 2005, and was on a call assisting in the arrest of a young man who had violated the terms of his parole. His parole officer, Charlie Martin, who was also Ronda's fiancé, had heard 25-year-old Justin Toland was using meth again and was known to carry guns.
From the onset, the call seemed risky but routine. She never could have predicted it would end in a shootout and the man's death. Ronda responded to the call along with two detectives, who, with the help of an informant, tracked Justin to a convenience store and casino near the intersection of Shiloh Road and Grand Avenue.
She remembers every detail from that call. She's relived it to some degree every day since.
Justin Toland pulled into the gas station, and as planned, she pulled into the parking lot at the same time the other three officers pulled in. Their plan was to arrest him without any conflict. The man was asked to get out of his car, and when officers saw he was armed, they told him repeatedly to put down his weapon.
All of a sudden, another vehicle – driven by a civilian who was unaware of the danger – pulled into the gas station. As the bystander got out of the car, one of the detectives pulled him to the ground and shielded him from possible gunfire.
"Then, he turns and just hunkers down and we exchange fire," Ronda says. "I see that he's down, but he's still moving. After awhile, he stopped. I knew as soon as I rolled him over that he was dead."
The officers didn't know which bullet killed the man, but a lengthy investigation using ballistic evidence determined that Ronda was indeed the one who fired the fatal shot. A coroner's inquest found the shooting was justified.
She remembers paramedics loading the body into an ambulance. She and the three other officers sat silent on the curb in front of the convenience store. As the shock and adrenaline began to wear off, Ronda remembers feeling nothing but numbness.
"They loaded all of us up into a detective's car and took us up to City Hall, took our guns and gave us new ones, did a little briefing, and kicked us loose," Ronda says.
One detail from that night stood out, unforgettable in its tenderness.
"The chief hugged me," Ronda says. "I'll never forget that."
No one except Ronda has spoken of the shooting again. That night, Ronda and Charlie went to an all-night restaurant for coffee. They didn't talk about the events that unfolded. Neither was willing to bring it up, Ronda says.
"That was the beginning of me not sleeping and Charlie not talking," she adds. "There was a definite change. I didn't recognize it at first."
The two married just a few weeks later but could never resolve the conflicts that surrounded the shooting. Their marriage quickly fell apart.
"I tried to keep it together, but I just spiraled from there," she says.
First and only
Ronda was 31 when she joined the Billings Police Department in 2000. Over the years, she's done time on patrol, and worked undercover as a detective. In 2009, she was promoted to sergeant, becoming the first and only female commander in the Billings Police Department. She's been honored with numerous commendations including the Medal of Honor from the Montana Chiefs of Police Association.
Ronda followed in her father's professional footsteps. He too was a Billings police officer and retired just a few years before she joined the force. Although she didn't initially aspire to join law enforcement, she worked as a police dispatcher for eight years, always wondering how the calls she took turned out.
It was only a matter of time before she'd trade her dispatch headset for a badge. Now, she knows pretty much every detail of the criminal cases that happen on her shift.

Ronda arrives at City Hall at about 5:15 a.m. to be prepared for the 6 a.m. briefing. She oversees about 10 officers on each shift. After briefing, she never knows what her day will hold. She might be spending time in City Court, doing paperwork, or in her patrol car providing backup for the officers on her shift. She'll always respond to "hot calls," which are the most serious calls. They include suicides, standoffs, gun crimes, high-speed pursuits, major drug crimes, and the all too often, out-of-the-blue, bizarre stuff.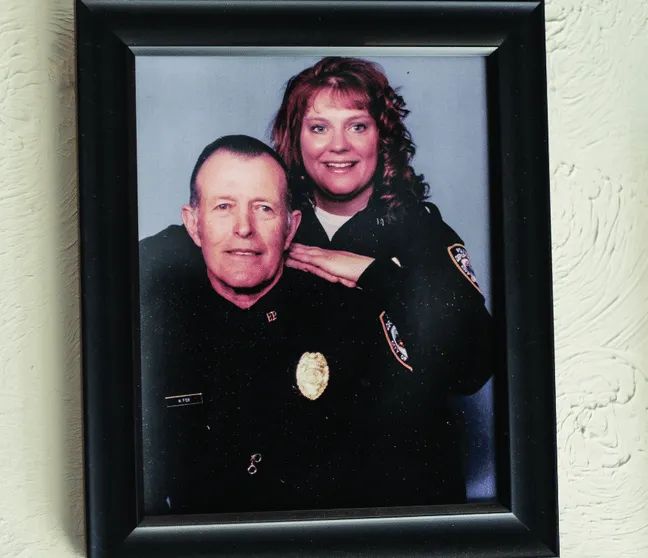 "She's right in the middle of it all the time," says Lieutenant Mark Cady, Ronda's immediate supervisor. "It's hard to find her in the office. She wants to be on the street, making sure she's available for the troops."
Any call can take a crazy, dangerous turn in a matter of minutes, and that's exactly what happened during that 2005 shooting. It happened in just a few minutes, but those few minutes have impacted her profoundly since. She lives with Post Traumatic Stress Disorder (PTSD), and as a commander for the Billings Police Department, she encounters triggers on almost a daily basis that bring up the same anxiety and emotion she felt 10 years earlier.
Sometimes it's another shooting, another body face-down on the ground, a long day of difficult calls, or even just driving by the gas station where the shooting occurred. Her heart races, anxiety sets in, and emotions pour out in waves. She maintains her professional composure, but once she's home, she lets her guard down.
"I take all that home," she says. "I can't help it."
It wasn't until a few years ago that Ronda sought out a counselor to help her cope with the stress she was experiencing. She was diagnosed with PTSD, which is common among first responders and law enforcement.
"I'd been fighting it all that time," Ronda says. "What I needed was someone to tell me I was normal. I kept thinking that everybody was handling this ten times better than I was. I look back now and I didn't realize how strong I was."
In October, 2013, after a three-day stretch without sleep, a symptom of PTSD, Ronda was utterly exhausted, but too emotionally charged to sleep. She was at her lowest point, and although Ronda never considered taking her own life, a friend assumed she was suicidal and called the police.
The events that followed were the most humiliating experiences of Ronda's life.
She ended up being committed to Billings Clinic Psychiatric Department, and although she was compliant, the incident made the front page of the Billings Gazette. She was suspended from duty. Difficult as it was, it opened a door for Ronda to get the help she needed. Within a few days, Ronda went to a one-week, in-patient treatment program in Connecticut, run by Frank Gallo, a nationally-recognized expert on PTSD whose treatment program is specifically designed for law enforcement officers.
State law governing Workers' Compensation does not cover any treatment for PTSD, so Ronda's friends raised money to help defray the cost of the expensive, in-patient treatment.
In treatment, she learned new coping skills for managing her PTSD, including meditation and emotional separation. As part of her treatment she told and wrote her story dozens of times to gain perspective and create some distance between the experience and her day to day life.
Ronda now sees her counselor once a week, and as needed between sessions. She's on medication for anxiety and to help her sleep. She takes it one day, one call, at a time.
Open and honest
On her first day back on the job after treatment Ronda told her fellow officers about her PTSD and how she still struggled with the symptoms, but, with her new, healthy coping skills was able to deal with the symptoms.
"I went to the briefing and told everyone, this is what's going on. I didn't want them to think I couldn't cover their backs," she says. "I figured it was the only way to go. I'm very direct."
She often recognizes symptoms of PTSD in her officers. She knows from experience what they look like, and she sees it often.
"The problem is that it's a silent secret that no one likes to talk about," she says. "Being in law enforcement you're supposed to be tough and never show your weakness."
She will often, discretely take the officer aside, behind a closed door and ask them what's up and what they're dealing with. It's called "dooring-up" in the department.
"They know that what we say isn't going anywhere else."
Ronda believes that PTSD is often a causal factor for divorce, addiction, and suicide among first responders and law enforcement. She hopes that with support her officers recognize the symptoms of PTSD and get help. More than anything, she wants them to know that what they're feeling is normal.
"She's definitely helped to raise awareness about PTSD in the department," Lt. Cady says.
Her concern goes beyond just PTSD, she supports her officers in everything life throws at them. She admits she worries about them, and has earned the nickname "Mama Fox" over the years.
Ronda is also a staunch advocate for what's called a Critical Incident Debriefing, or CID. It is a formal process provided after officer-involved shootings and other serious calls. Statistics show that if a CID is not done properly and immediately after a shooting or other serious incident, officers are 60 percent more likely to develop PTSD, Ronda says.
A CID wasn't done after the 2005 shooting in which Ronda was involved.
"The lieutenant just dropped the ball. I can't blame my department, it was just one of those things," she says. "Now it's never overlooked."
Ronda would like to see more CIDs done for a wider variety of serious, stressful calls. She pushes for them but doesn't always get them.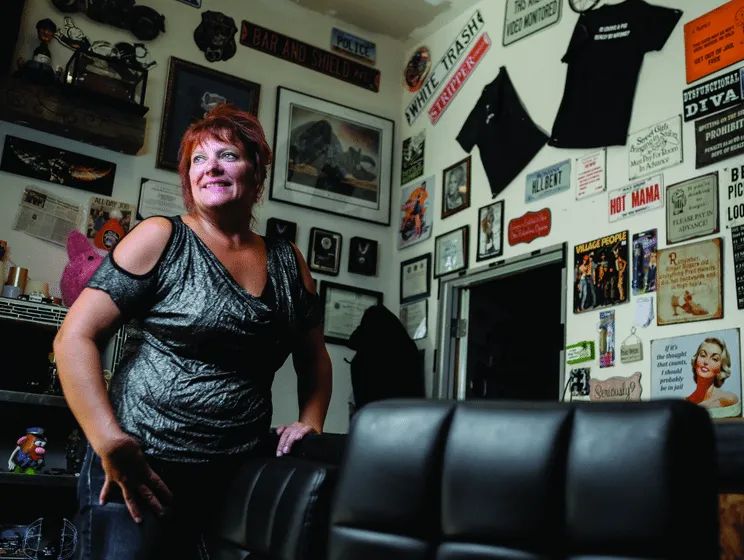 One of the guys
Working in a profession that's almost entirely male suits Ronda just fine. She sees herself as one of the guys, and in many ways she is. She rides a Harley, enjoys a beer after her shift, and smokes an occasional cigar.
"My favorite part of my job is working with the guys and the end of the day when everyone's joking around in the report-writing room," she says.
Ronda's favorite place – her refuge – is her garage. It's part lounge and part classic car and motorcycle storage, and it is, no doubt, the envy of all her guy friends. It's furnished with a comfy sofa, a bar with a couple beers on tap and a big screen TV. On one wall she has a photo of her and her father in uniform, and on another wall she's hung the awards she's received over the years. There are family mementos, and an offbeat collection of memorabilia. It's where she hangs out after work and winds down, and when friends come over, it is the perfect entertainment space.
"I love to entertain," she says.
Ronda has been riding motorcycles since she was young, tearing up the back pasture on a mini-bike. She bought her first motorcycle in 2000. Now she rides a Harley Davidson Street Glide. The license plates say, "IRMDN" which is a nod to her membership in the Iron Warriors Motorcycle Club. She's a lifetime member of the national club which is made up of law enforcement officers and firefighters. And like the BPD, she's the club's first and only female member.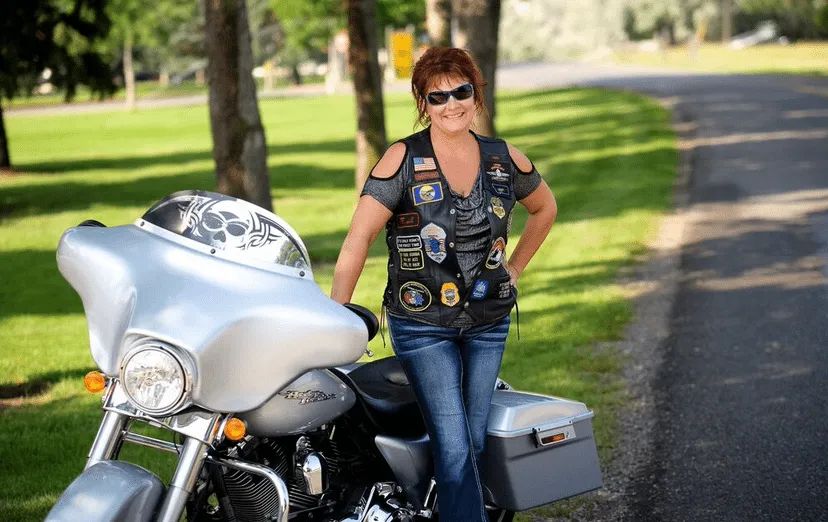 She's learned to live life on her own terms, says her friend Anna Tooke-See. She takes a brutally honest approach to every aspect of her life and never lets criticism or judgment of others sway her positive outlook.
"She knows life is short, so live it full-out," Anna says.
Ronda may work, party, and ride with the guys, but she's still a woman. She likes to "take a dip in the estrogen pool," as she puts it by dressing up for no reason and going out with her girlfriends. She likes to garden and finds joy in tackling small home improvement projects. She enjoys reading, and prefers to escape into "lighter" storylines.
Ronda believes her feminine side is an advantage on the job.
"I look at things differently," she says. "I'm more emotional and I think I have more empathy than most men."
Through night shifts, crazy overtime hours and the emotional drain of police work, Ronda raised two children, ages 17 and 19. They're both successful, she says, and she couldn't be more proud of how responsible and respectful they have become.
When it comes to her second family, Ronda is passionate about police work. She has five years left before she hits the 20 year mark with the department and is eligible to retire. She's looking forward to that day and hopes to pursue a low-key second career doing something that she enjoys that doesn't jar her emotions. No matter what she chooses, she will continue to advocate for more awareness about PTSD in law enforcement, and fight to have it recognized and covered by Montana's Workers' Compensation Insurance.
Today, she's focusing on the positive, looking out for her officers, and looking for ways to make a difference – a chance to retrieve a kick ball that's gone outside a schoolyard fence, showing her patrol car to a group of children, or helping a battered woman leave an abusive relationship.
"It takes just one call to make up for all the other calls," Ronda says.