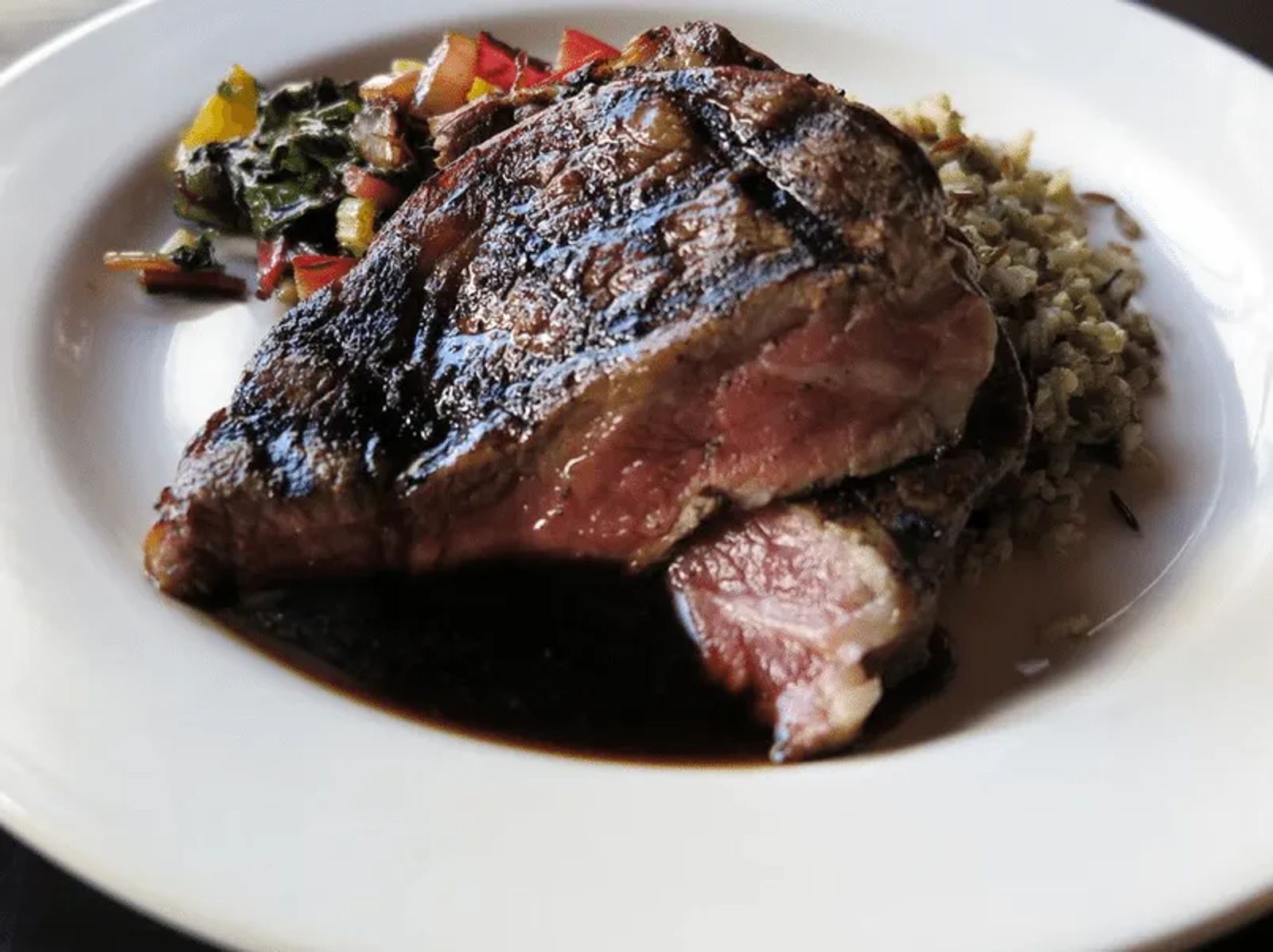 A Taste of Steak Tourism
Finding Good Beef at Foot of the Beartooths
In a state where cattle outnumber the humans that live here by two and a half to one, it's safe to say that beef is big business in Montana. In fact, both Montana and Wyoming are two of only 15 states in the nation that generate more than 1 billion in cash receipts for cattle each year. If those facts have you salivating at the thought of your juicy chargrilled steak, you're in luck. We happen to have a few restaurants that use a lot of local flavor with every steak they serve.
The majestic Beartooth Mountains form the perfect backdrop for hitting the road in search of a good cut of beef. While I took a day trip to savor a little "steak tourism," these three hotspots should definitely be savored separately to truly enjoy the full-flavored experience. My excursion started at the Grizzly Bar in Roscoe, continued on to the Carbon County Steakhouse in Red Lodge, and finished at the Edgar Bar in Edgar. You could call my trek, the ultimate Big Sky Country challenge. It's a trip that's quite filling and not for the faint of heart.
Here is how this ultimate excursion could begin. Wake up at dawn, lace up your hiking boots for a jaunt on "The Beaten Path," a trail from Cooke City to East Rosebud in the Absaroka Wilderness on top of the Beartooth Mountains. Hike in and out, as the entire "Path" across is about 26 miles. Or, skip the exertion, hop in the car and drive west on I-90 from Billings. The Columbus exit will lead you through town paralleling the Stillwater River. Once through Absarokee, the view of the mountain range opens up, providing breathtaking views.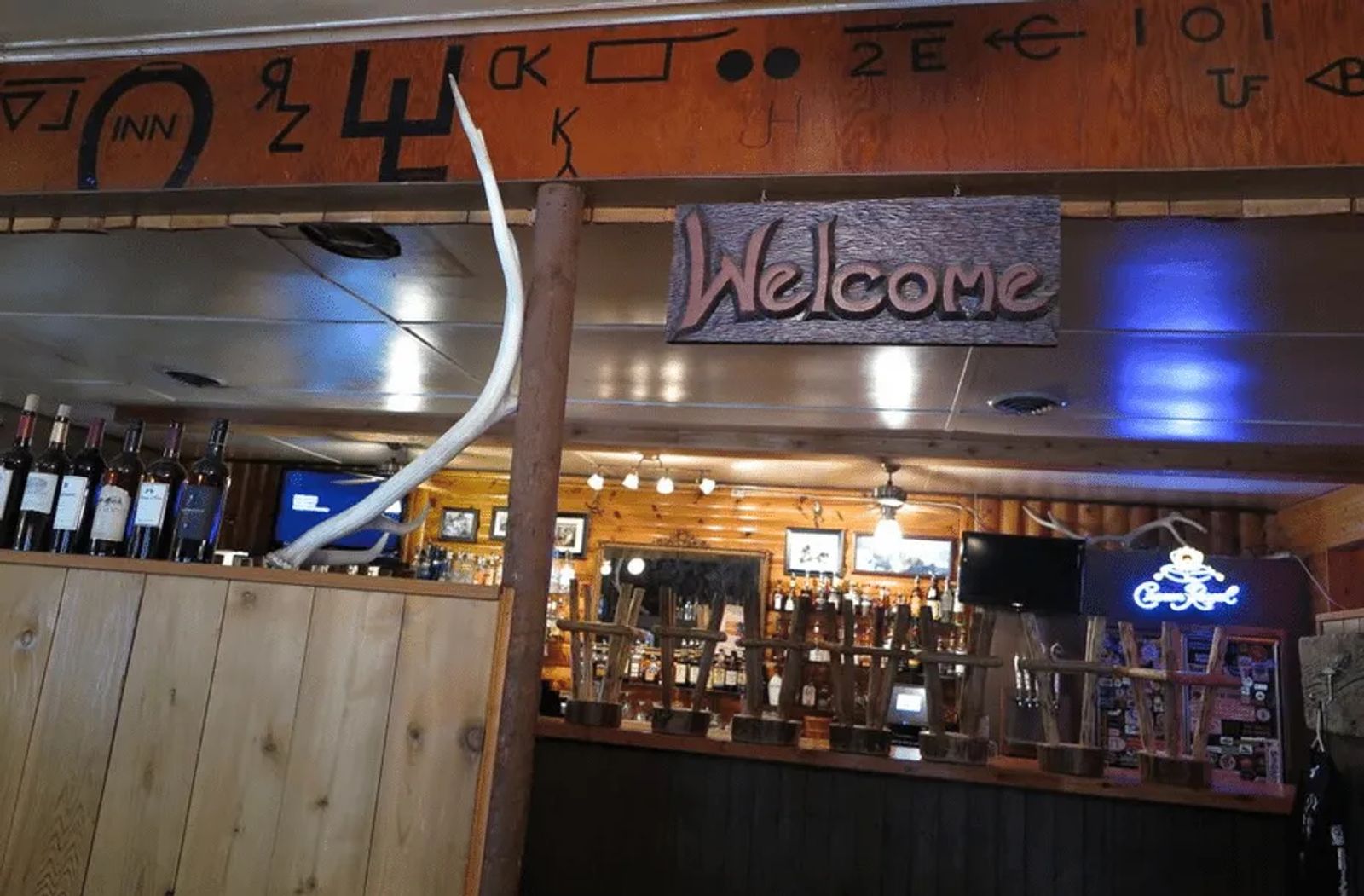 FIRST STOP: THE GRIZZLY BAR & GRILL
Twenty-seven miles south on Highway 78, a sharp right turn over East Rosebud Creek guides you into Roscoe where the Grizzly Bar and Grill is the star attraction. The statue of a Grizzly bear reigning over the bar's sign, and a log cabin with an old stone fireplace lets you know you have arrived.
Once through the door, a brown bear trophy greets you. A long wood bar flanked with lumberjack bar stools anchors the back of the establishment. Immediately off to the side of the waiting area is an old cave-like stone fireplace that once roared, as evidenced from the soot imprints. Windows along the sidewalls bring in welcomed daylight. Wandering into the bar reveals the diverse clientele who patronize the Grizzly Bar. Jeroboams of California wines line a shelf while neat rows of cold bottled beer glow from a lit glass door cooler. Photos of hunting trophies and antique Winchester rifles stimulate conversations and stories. The small casino in the corner with slot machines and a jukebox provide more entertainment.
Jennifer O'Shea joined her husband Pat in 2007 after selling her businesses in Red Lodge – Mountain People and Rocky Mountain Flower Farm. With no cooking experience, she jumped right into the kitchen of the Grizzly Bar, and continues to be happy with her work. In fact, she does it all, including front of the house responsibilities such as ordering and directing staff. She shares, "I enjoy this more than anything else I have done. Part of the fun is working hard."
The restaurant is known for their 26-ounce "Grilled Center Cut Rib Steak" with bone in, and "The Grizzly's Renowned Roast Prime Rib." O'Shea hand cuts the sides of beef of USDA Choice at the beginning of every week. At lunch, half-pound burgers such as "The Blue" with blue cheese, bacon and candied onions, and "The Roscoe" with jalapenos, cheddar cheese, onion rings, and homemade barbecue will satisfy any hunger pangs along with the more international spicy "Sriracha Burger."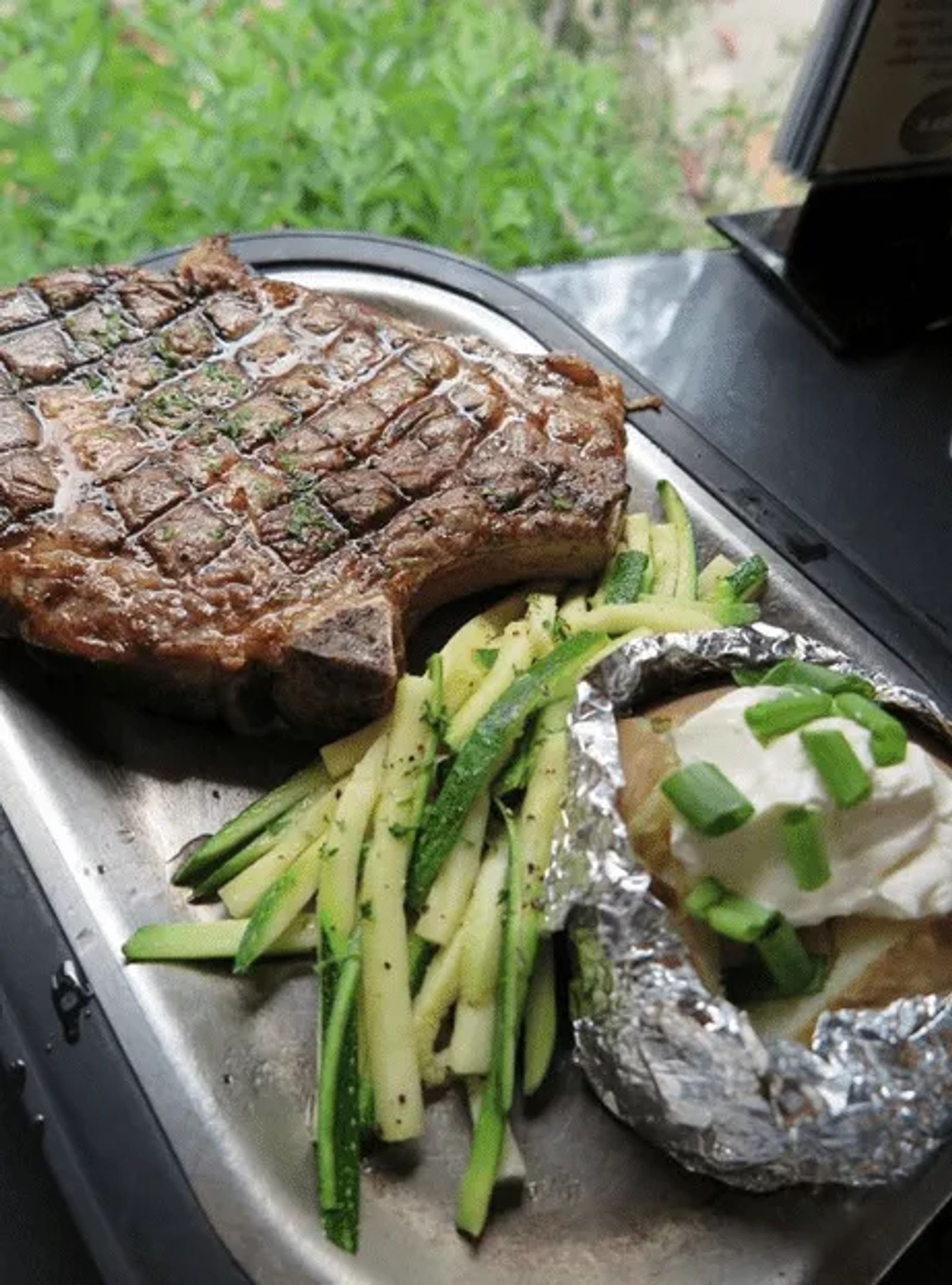 The Grizzly Bar is a destination restaurant with its cowboy mystique in an isolated location. Linda Espeland, who owned the restaurant in the early '80s for 22 years, spearheaded a campaign to put Roscoe on the map. The slogan, "Where the Hell is Roscoe, Montana?" can be spotted on bumper stickers and t-shirts, and it is obvious how many now know where Roscoe is situated, with travel websites encouraging visits to the bar. Increasingly popular, long wait times are the norm, so reservations are suggested for parties up to 12.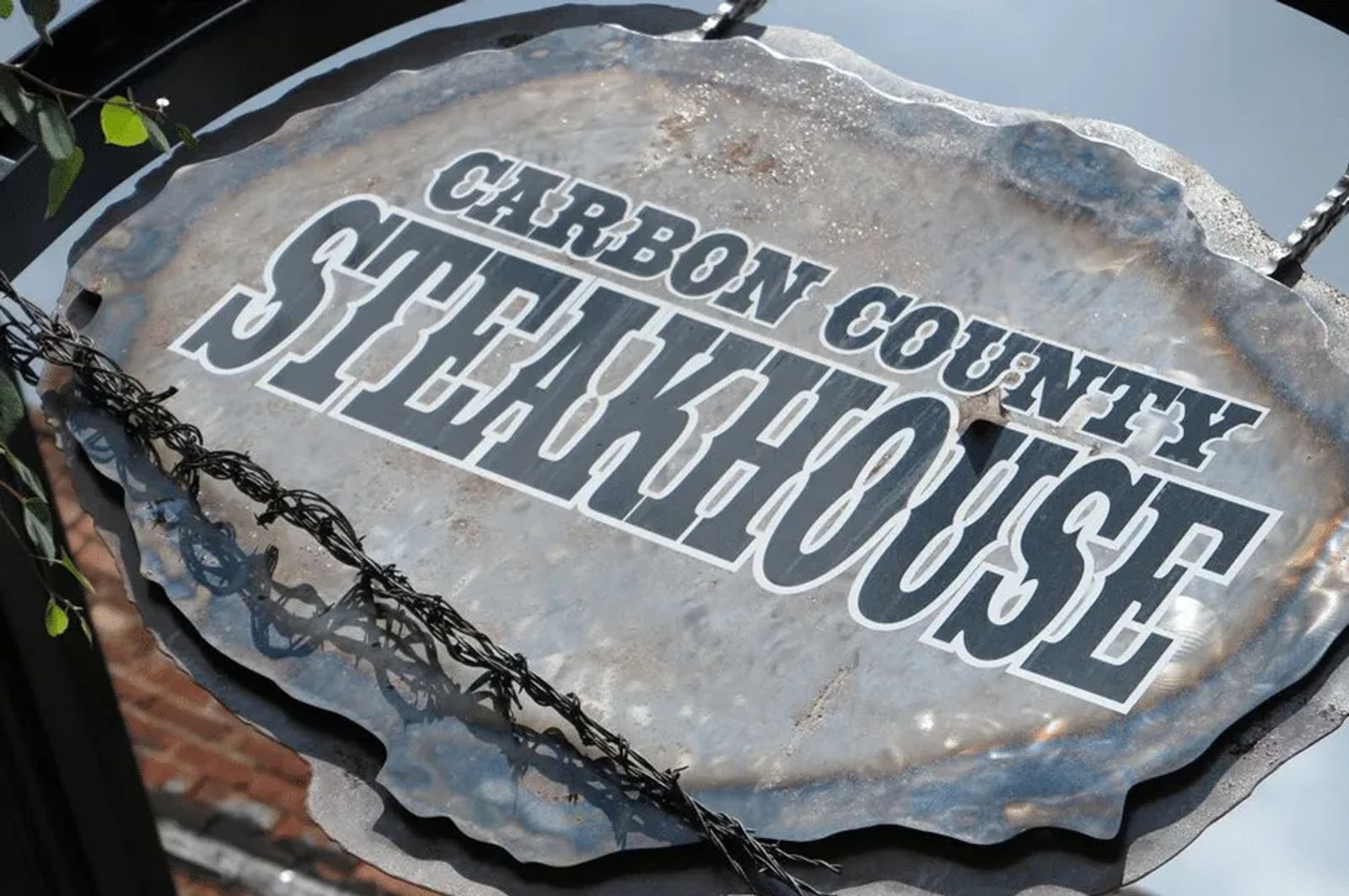 SECOND STOP: CARBON COUNTY STEAKHOUSE
Back onto Highway 78 and heading south, rolling and curvy roads with open vistas lead past Luther, and then Red Lodge, about twenty miles away. You can continue on up the Beartooth Pass for amazing views, hike on the Silver Run Trail, fly fish on Rock Creek, or meander into town to peruse shops such as the Red Lodge Clay Center, Babcock and Miles, Paris Montana, and Kibler and Kirch.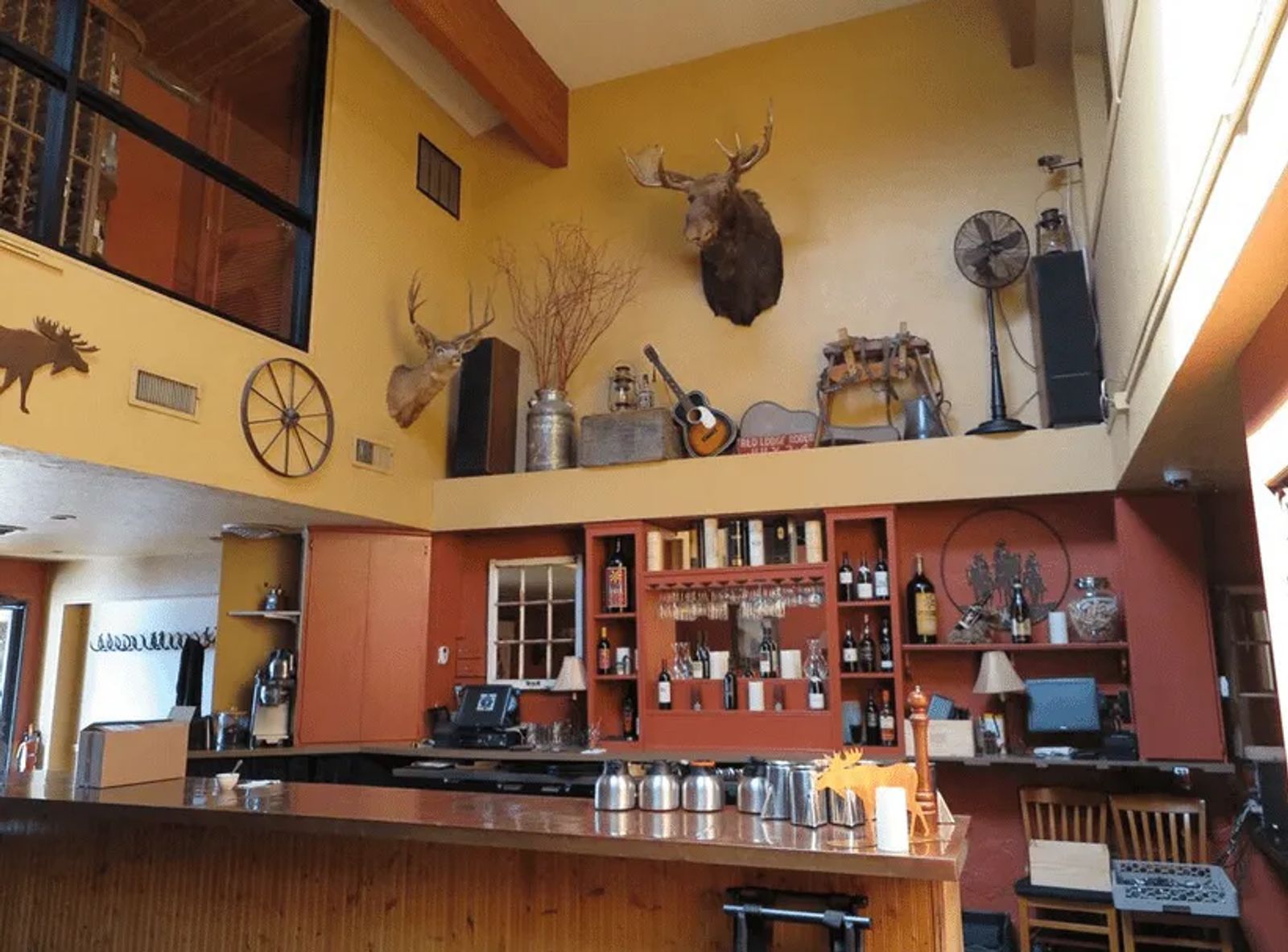 The Carbon County Steakhouse opens nightly at 4:30. This casual fine dining restaurant extolls a "come as you are" atmosphere with touches of elegance in the wood paneling, rustic chic cowboy decorations, and a wall length wine cellar on the second floor in the dining room.   Chef Tyler Mathys is at the helm of the kitchen after relocating a year ago from the Hotel Donaldson in Fargo, North Dakota. "Simple is best" is Mathys' philosophy.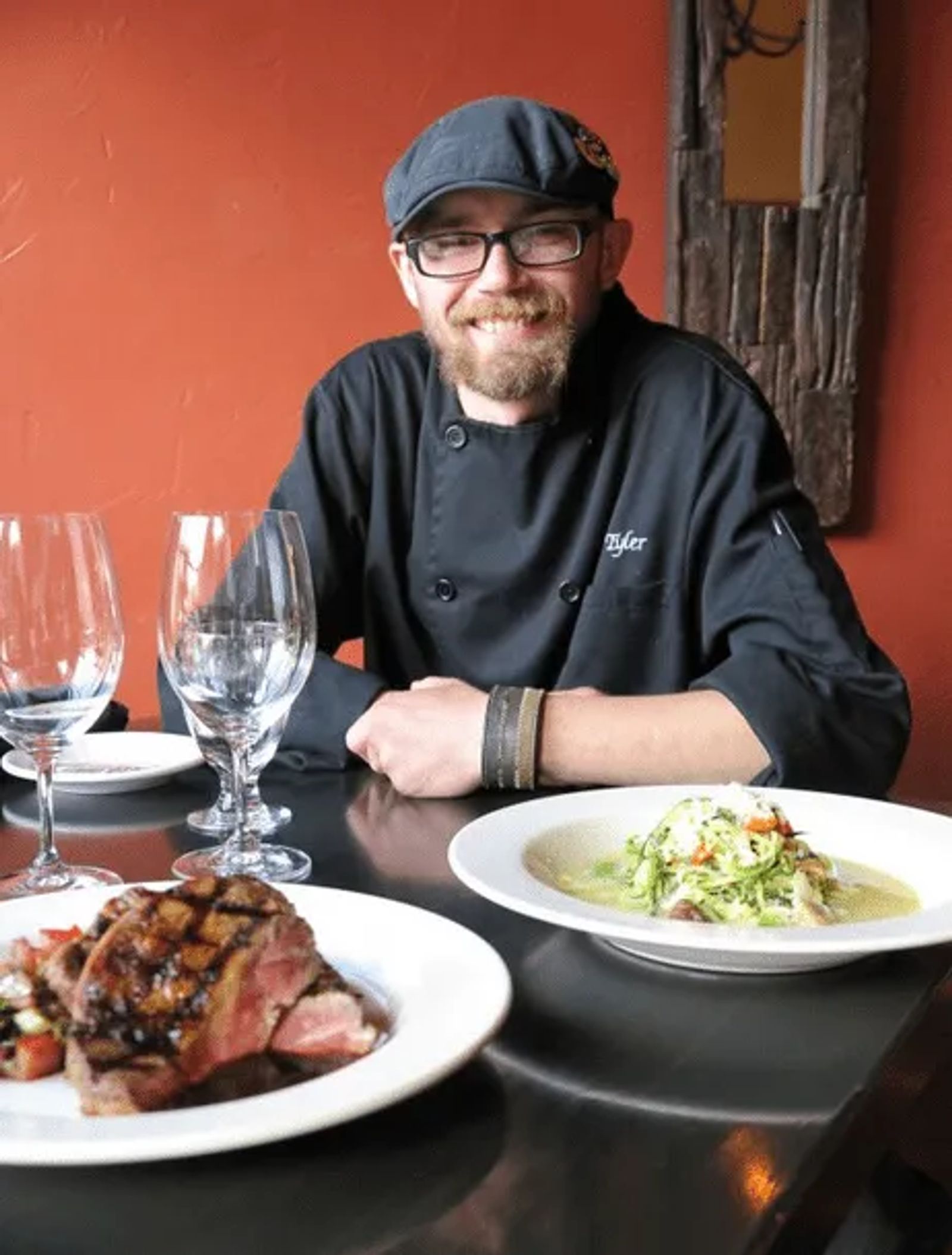 Mathys' "simple" is not mundane. He enjoys the challenge of creating a handful of nightly specials with seasonal and sustainable products.  On any night, he might have Sangria Shrimp or Atlantic Salmon Alfredo as specials, supporting his claim that his style is: Spanish Asian Fusion. It is no wonder he has prepared a wine pairing dinner with iconic Duckhorn Vineyard wines and worked with renowned Chefs Erez Levy and Richard Lauter from Los Angeles' famed catering boutique, Savore.
According to Chef Mathys, and Heather Furstenberg, Food and Beverage Manager at the steakhouse for 16 years, the most popular item is the Cowboy Coffee Ribeye. The 12-ounce Certified Angus Beef ribeye is rubbed with Furstenberg's special spicy blend of seasonings, then char-broiled, and served with sweet spiced rum coffee sauce. Their beef is USDA Choice hand-butchered by Mathys   Most of the beef comes from Wyoming – Snake River Ranch and Durham Ranch. Mathys' creative addition has been the Zucchini Noodles with zucchini squash run through a mandolin to create long skinny strips, dressed with white wine, Fontina cheese and truffle oil, tossed with seasonal vegetables of Swiss chard, snap peas, and eggplant.
THIRD STOP: THE EDGAR BAR
Heading east on Highway 212, and then east on U.S. Highway 310 in to Main Street in Edgar, you arrive at a nondescript brick building with neon Coors signs in the window. Brenda and Bryan Helzer have owned this restaurant since 2003. Currently their daughters Mariah, Morgan, and Melanie have returned after finishing college to help out at the establishment. "Everybody cooks, cleans, bartends, takes orders," Brenda says of the family, including an additional half dozen staff.
"Agriculture is our background," sharing that they have a farm in Deaver, Wyoming where they grow barley for Coors Beer. "We have always been in agriculture", Helzer says with conviction, and know where the food comes from for the restaurant. "We know the process. We raise the Coors barley. Not everything we serve here is raised in Montana. Everything is as much as we can get from America."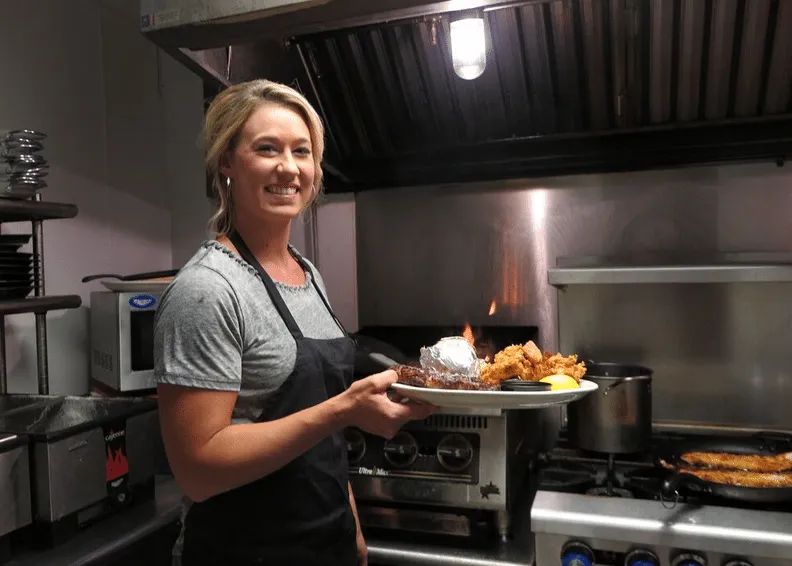 The beef served is Certified Angus Beef. The Helzers have been in the program for 15 years. The New York Strips and Ribeye they bring in have been aged 21 days. The meat continues to age for a couple more weeks before they serve the steaks in the restaurant. Bryan and Morgan do most of the hand cutting of the steaks. "Everything we serve has to be top quality," Helzer continues.  The meat served at the restaurant is the real deal, as the beef is not marinated or injected with seasonings or artificial flavorings.
The Ribeye, an 18-ounce hand-cut slab of beef is the most popular item. The fat is not fully trimmed off the meat, believing that the marbling develops rich flavor during grilling. A pair of Jumbo Breaded Shrimp with a crispy coating makes for the perfect surf and turf meal. Begin the meal with a green salad tossed with the apple vinaigrette accompanied by a soft roll brushed with garlic butter.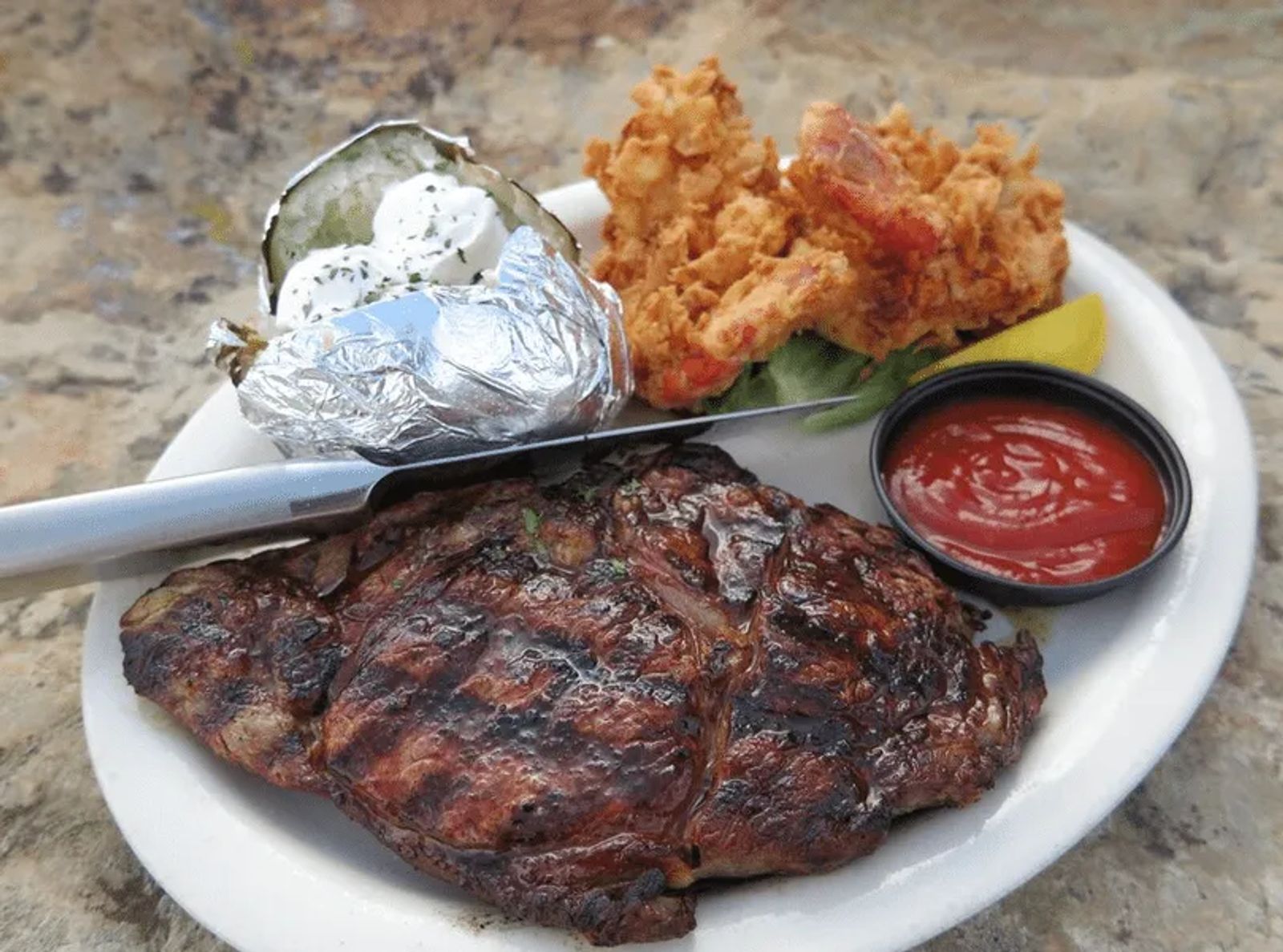 The Edgar Bar draws in crowds without advertising, aside from the occasional Facebook posting. Many Billings residents head there just to have dinner or stop en route to Red Lodge or Cody. In summer the motorcycle rallies bring in many guests with appetites. That's why reservations are recommended for a guaranteed seat.
After this three steak house trek, a good night's rest awaits as you head back home on Highway 212. You have completed the hearty Montana challenge with a day of steak tourism at the Grizzly Bar, the Carbon County Steakhouse and the Edgar Bar. Your belly is undoubtedly full, and memories of that perfect steak will be forever grilled into your memory.