A Bit of Holiday Nostalgia
Mixing in a little family and a whole lot of flavor
The spirit of the holidays is sprinkled with nostalgia. It is a time when we try to create and relive those precious moments with family and friends through the sharing of food. The following recipes are flavored with love and memories that make the holidays extra special. Each has a richness that swaddles the spirit with comfort and the palate with happiness. We all would be delighted to receive Cara Schaer's Almond Roca or a bowlful of Weiss Wiettle from Amy Brown. Our senses would dance as Bess Fredlund's Lamb Stew simmered in her kitchen. But our joy would be amplified after bites of Mary Cook's Shortbread Cookies and Jeanne Moller's Grandma Nettie's Sugar Cookies. May their recipes and stories inspire you to honor the flavorful gifts you share with your loved ones this season.
Cara Schaer's Almond Roca
Serves 36
Cara's first encounter with homemade almond roca was back in the late 1960s when she moved to Bozeman with her husband. After securing a quick, easy and foolproof recipe from a friend, Cara has gifted friends with this "divine" treat for more than 30 years.
1 pound sweet cream salted butter
2 c. sugar
1/3 c. water, room temperature
1 c. slivered almonds
1 12-ounce package chocolate chips
½ c. crushed almonds for topping
Place butter, sugar and water into a heavy bottomed 3-quart or larger saucepan. Cook on high heat, stirring until sugar dissolves, about 3-4 minutes. Add slivered almonds and stir until the mixture turns caramel brown, about 15 minutes. Pour hot mixture onto a sided half-sheet pan, smooth out mixture, covering the bottom of pan. Sprinkle chocolate chips over the top and spread over roca mixture. Sprinkle almonds over the top. Allow to set for 30-40 minutes at room temperature or in the refrigerator for 20 to 25 minutes. Break into smaller bite-sized pieces. Pack in holiday tins and share the joy.
Amy Brown's Weiss Wiettle
Serves 4
Amy's Russo/German grandmother made this soup, named lovingly by the family as Weiss Wiettle. Her mother "learned to make it by trial and error using only a brief description given by the cook." Amy says, "This soup tastes like home; it warms the body and feeds the spirit. It is truly a comfort food." Johnna Ely, Amy's sister, adds sautéed garlic or shredded cheese for a delicious variation.
1 egg, slightly beaten
1 c. flour
2 c. milk
Salt, pepper, and butter to taste
In a large bowl, mix together with a fork the egg and flour with a pinch of salt until flaky. Add more flour if necessary. Put the mixture in a sifter and sift out any loose flour. Set aside small "lumps". In a saucepan, bring milk, salt, pepper, and butter to just a boil. Add the flour "lumps" to the milk. Reduce heat and cook for about 3 minutes or until lumps float to the surface. Ladle soup into bowls and garnish with a "pat" of butter and season with salt and pepper to taste.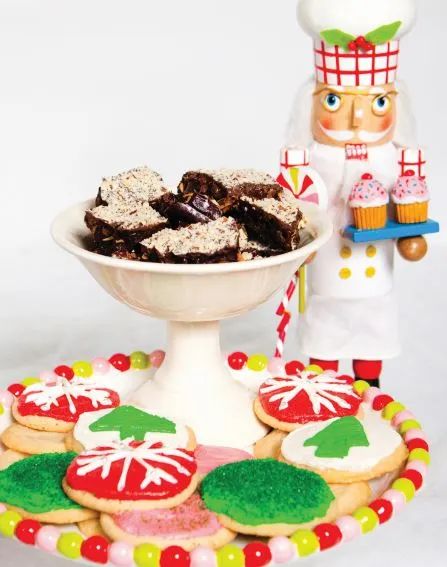 Jeanne Moller's Grandma Nettie's Sugar Cookies
Makes 3 to 4 dozen cookies
Grandma Nettie's Sugar Cookies is Christmas at Jeanne's table. The making of these cookies is a ritual and its place at the holiday table is anticipated. Jeanne says, "The cookies are not only a tasty tradition, but a reminder of a very special woman."
3½ c. flour
½ t. baking powder
2 t. cream of tartar
1 t. baking soda
½ t. salt
1 c. sugar
1 c. butter
2 eggs
2 T. milk
2 t. almond extract
In a large bowl, mix together flour, baking powder, cream of tartar, baking soda and salt. Set aside. In another large bowl, cream together sugar and butter. Beat in eggs until fluffy. Then add milk and almond extract and beat to combine. Gradually add flour and mix until dough comes together. Wrap dough in wax paper. Chill dough for at least 1 hour. Roll dough out and cut with cookie cutters. Bake at 425 degrees F. on a lightly greased cookie sheet for 5-7 minutes. Cool on rack and then frost with Classic Almond Buttercream Frosting.
Classic Almond Buttercream Frosting
Makes about 3 cups
1 pound powdered sugar
1 c. unsalted butter, room temperature
2 t. almond extract
2½ T. milk
In a large bowl, mix all ingredients together with an electric mixer until well blended.
Mary Cook's Father's Christmas Shortbread Cookies
Makes enough for a large crowd
Mary's father made the holiday cookies every year as her mother "did not cook anything from scratch." Her father made these cookies from his German-Irish heritage with Mary and her three sisters. The recipe has grown in volume because he wanted to insure that there were "enough cookies to last through Christmas."
"The recipe ended up being 6 cups butter, 12 cups sugar, 12 eggs, 24 teaspoons baking powder, 36 cups flour, 6 teaspoons salt, 6 cups milk, 12 teaspoons vanilla extract and 12 teaspoons almond extract! We made the dough in the morning in two large metal buckets, chilled the dough outside as the buckets were too big to put in the refrigerator, then rolled out, cut and baked hundreds of cookies usually finishing around midnight. Our cookie cutters were part of the story – a horse, rabbit, rooster, diamond, spade, club and heart – not your typical Christmas shapes. We used every container, pot and pan in the house to fill with cookies."
The next weekend they iced the cookies with a warm thin icing, "16 tablespoons butter, two egg yolks, 4 cups powdered sugar and vanilla to taste." Mary's dad spread the "back side of the cookies with icing, then laid the cookies on the table for all of us girls to sprinkle with sugar crystals and chocolate sprinkles."
Bess Fredlund's Lamb Stew with Couscous, Serves 12
Bess discovered this recipe from a newsletter from Walker's Grill from a 1993 New Year's Celebration and has made this stew off and on for 12 years.
5 pounds lamb shoulder (cubed)
1/2 c. blended olive oil and peanut oil
6 carrots, diced
3 Spanish onions, diced
3 red bell peppers, diced
2 green bell peppers, diced
2 heads garlic, minced
1 T. fresh ginger
8 large ripe tomatoes, seeded and diced
3 quarts chicken broth
3/4 c. sherry wine vinegar
1½ t. cinnamon
2 t. cayenne
Pinch saffron
1 c. raisins
3/4 c. honey
1 t. cumin
1 orange, zest and juice
1 c. dried apricots
6 c. couscous
In a large skillet, heat half the oil over high heat. Brown the lamb, about 4-5 minutes on all sides, working in batches. Transfer to a bowl and season with salt and pepper. Reduce heat and add remaining oil to skillet. Add carrots and onions and cook for 5 minutes. Then add peppers, garlic and ginger. Cook for 5 minutes and add tomatoes. Return lamb and juices to the skillet. Add cinnamon, cayenne, saffron, raisins, honey cumin, orange zest and juice and apricots. Cook for 5 minutes, stirring occasionally. Add vinegar and broth and bring to a simmer. Reduce heat and simmer for about an hour or until meat is tender. Season with salt and pepper.
For couscous: In a large pot, bring 8 cups of water and salt to taste to a boil. Add couscous and cook, stirring until the couscous is soft, about 4-5 minutes. Serve stew with a large scoop of couscous.