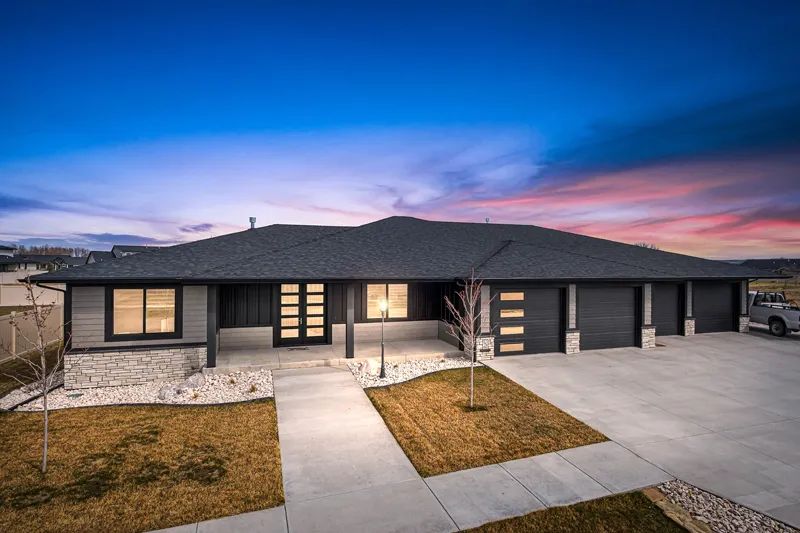 A Contemporary Montana Beauty
Sleek & Sophisticated Living
Tanya and Keith Klawikowski moved quite a distance when they left their previous home this past October for their new ranch-style home in Black Rock Estates. "We moved from across the street," says Tanya.
"It's our eighth home," adds Keith, superintendent for Brown Builders, "and it's been the toughest home for us. Contemporary design is new to us. We've always been rustic, that warm and cozy feel, but it was exciting picking the colors for this home. It's sleek and crisp."
Tanya agrees, "It's been a fun change."
The two-level Parade home built by Brown Builders sits on a half-acre corner lot on Pavestone Trail just off Central Avenue. Four garage doors set in black provide a striking distinction to gray siding and trim securing this Montana beauty into the surrounding landscape.
It's close to all the shopping, yet embraces a country atmosphere with a friendly neighborhood.
"We have lots of friends here. We get together with the neighbors a lot," says Tanya. People gather when they're outside or when Tanya's fixing something in the kitchen. "I like to cook," she adds, eyes twinkling.
This working mom also makes sure daughters, Tori, who's in college, and Maddie, along with many friends are nourished with home cooking. "Mad's a West High varsity cheerleader so we typically have eight kids at a time here," Tanya says. "It's nice because we have the space for 10 kids at the table, plus we have the counter at the center island."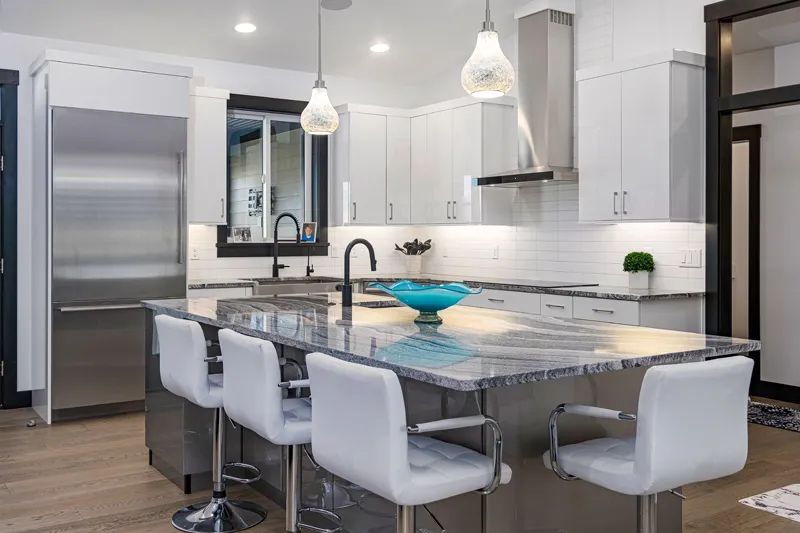 The kitchen/dining/great room's open concept with 12-foot vaulted ceiling offers the ideal layout for feeding hungry teens and for overall entertaining. A huge walk-in pantry off the kitchen "with steel shelves," as Keith mentions, allows Tanya to keep supplies handy.
A sophisticated black and white color palette in the kitchen, as well as throughout the 4,800-square-foot home captures clean lines of contemporary elegance while stainless steel accents enrich its beauty.
"Keith wanted to accent with stainless steel for the more contemporary look," says Tanya, "so we picked out everything. We even picked out the same kitchen countertop when each of us was out looking at different times. We have similar taste."
Cambria Roxwell quartz countertops, a USA-made luxury brand, define the large kitchen/dining area. "It is a gorgeous wave of gray dappled with charcoal, black and white flecks with a bit of sparkle that continuously flows throughout the kitchen," says Alicia Eyre, lead salesperson and office manager at The Countertoppers.
The 10-foot center island provides a solid anchor for this gourmet kitchen. The movement of the quartz top resembles sea-washed black sands.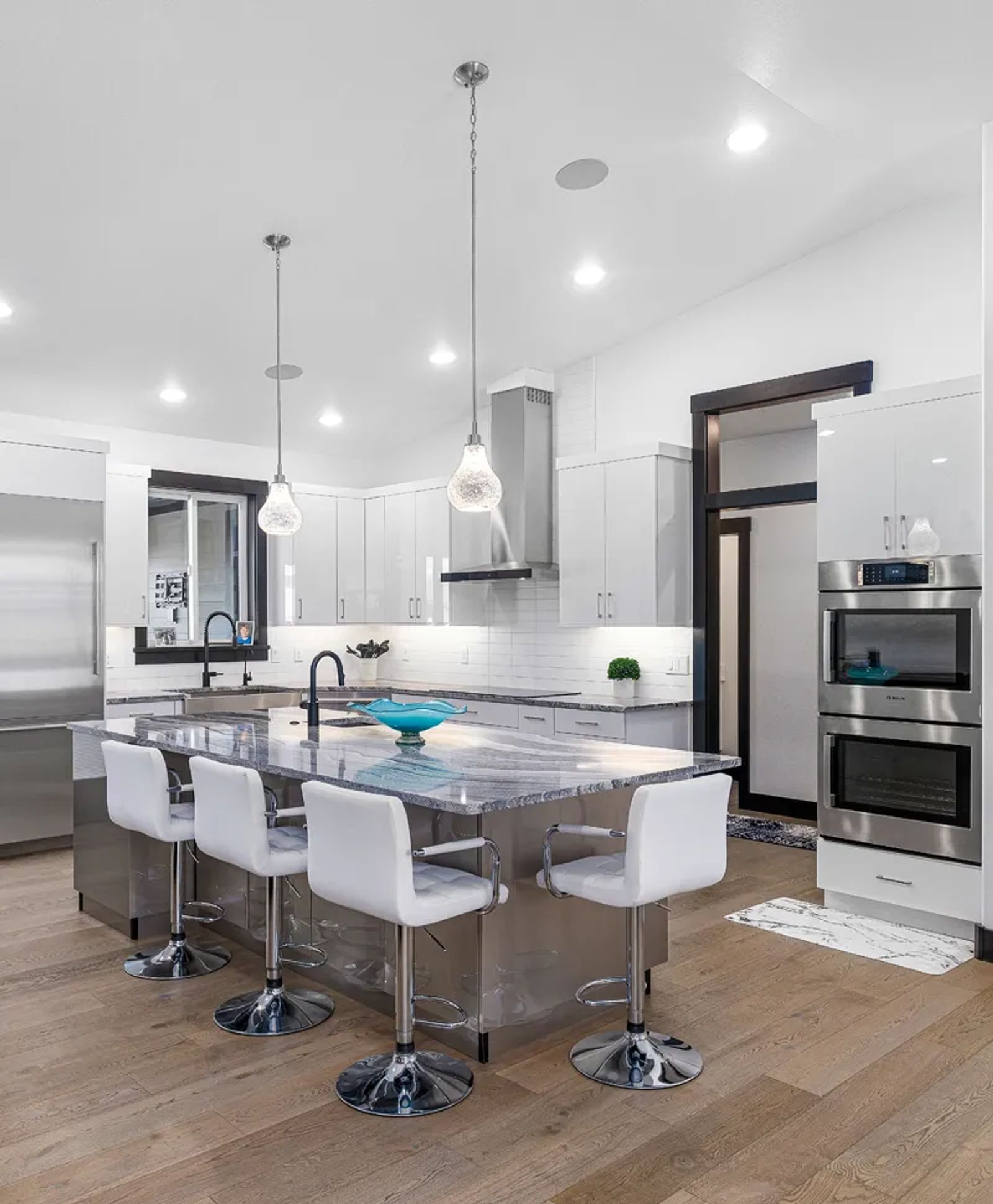 It's a stunning piece complete with prep sink. "The base of the island is brushed foil acrylic, giving it a stainless steel look," says Steve Wylie, co-owner and manager of Rimrock Cabinet Co. Plus, there's plenty of storage space for Tanya's cooking equipment. She eagerly swings open a door to the mixer-lift. Her often-used Kitchen Aid automatically rises to the perfect level.
A microwave drawer sits at the end of the island near the Thermador fridge. A step away is the stainless apron-front sink. An induction stovetop with stainless hood hovering above is close at hand while a double oven graces the wall.
"The entire kitchen features custom white acrylic cabinetry with soft-close doors and drawers," says Steve." It's all sleek and stylish with straight lines for simple function. Tanya wanted a very modern look and feel."
Tanya takes a shine to "bling," too. "There's a bit of glitter in the subway backsplash," says Keith, after commenting how he approves of the under-cabinet lighting. A slight shimmer in the white backsplash from Rich's Flooring Abbey Carpet lends just enough glitz to put the finishing touch on this exquisite space.
A built-in hutch of the white acrylic cabinetry with upper cabinet reeded glass inserts showcase the Roxwell quartz countertop as it extends from the kitchen space into the dining area. "We've been married 25 years," says Tanya, "so having our nice dishes right here by the table makes it easy to use."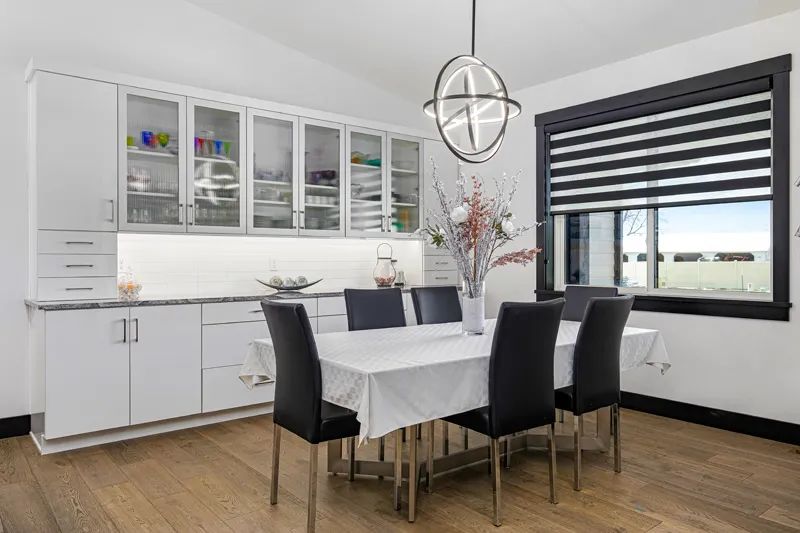 The front of the home faces west, with natural light flowing into the dining space through elegant dimensional blinds from All Kinds of Blinds. "The layering of designer fabric stripes with sheers creates a contemporary look and couldn't be more practical," says owner Bobby Gray. The blinds may be adjusted to block the sun when needed while contrasting superbly with the white cabinetry.
"We wanted contrast and color," says Tanya, "so everything's not matchy-matchy."
Gray oak flooring from Rich's Flooring adds warmth and texture. Black-stained woodwork and trim in the home create depth against pure white walls
Another level of exceptional style is the focal point of the great room. A linear fireplace with seven different colors of light glows with ambient warmth from the floor-to-ceiling stainless steel covered wall. "It's unique," says Abe McCauley, owner of Majestic City Metal Art. "It was Keith and Tanya's vision. It turned out clean and classy."
The nearby open staircase leading to the lower level ties it all together. "The railing is powder-coated black gloss with a rectangular flat stock (bar/baluster)," says Abe. It's a stainless flat bar as they're usually round. It's a super clean look."
The carpeted stairs open up to the downstairs where the comfy family area invites lounging and TV time. The theater room that can be closed off with double sliding barn doors gets a five-star rating with movie screen and luxury seating. "It's why the kids come here!" says Tanya.
The bathroom in which Maddie picked out smoky blue hexagon shower tile further expresses the classy look this home characterizes. The bath is centrally located near the theater room and the two bedrooms. The girls' rooms sit next to one another in this lower level haven while mom and dad's sanctuary is situated upstairs.
Tanya and Keith's master suite sits on the opposite end of the home from a Jack-and-Jill suite offering a shared bathroom separated with pocket doors. The couple's domain is spacious. A nine-foot tray ceiling highlights black trim, recessed and rope lighting, and dark two-blade fan.
They retain private access to the covered back patio where they can easily slip in and out of the spa. It's then a quick walk into the immaculate en suite through a sliding black barn door.
"I like black and white," says Tanya, "so it's white quartz on dark cabinetry in here." A wave of black swooshes through white Cambria Bentley quartz that bedecks the soaking tub surround. "It's a beautiful statement piece," says Alicia. The simple, yet eye-catching art of this stone continues across the double-sink vanity.
White and gray porcelain ceramic tile cover the floor carrying into the tiled glass-enclosed shower. "It's a no-curb walk-in shower," points out Keith. "There's nothing to step over."
This puts the entire Klawikowski home into perspective. Everything is detailed to perfection, showing off its well-planned design. It's a Montana beauty that will forever be in style.
Additional Photos of the Home