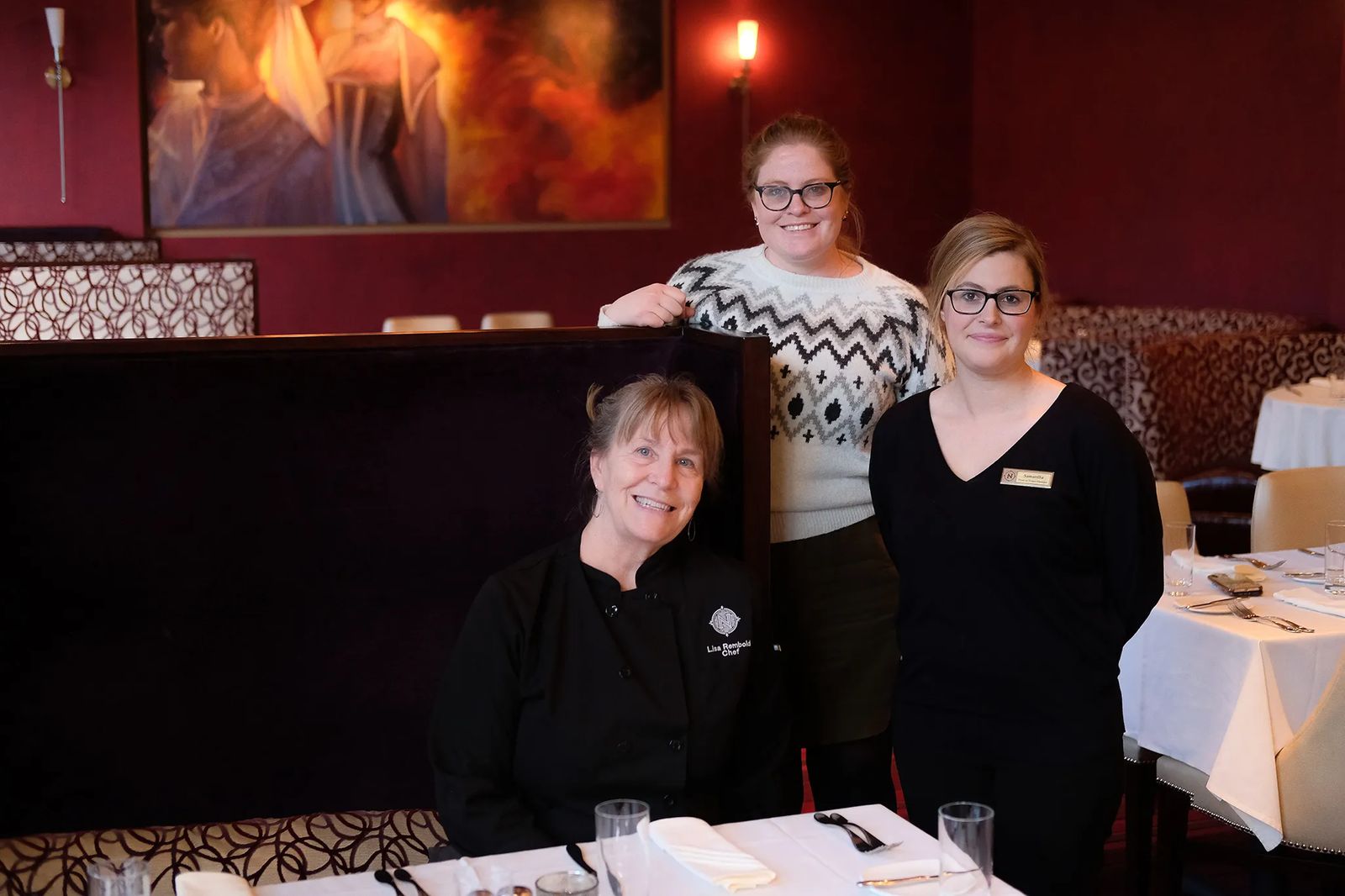 A Fresh Look at the Northern Hotel
Three Women Aiming to Renew the experience at TEN and the Northern Hotel
By Stella Fong, Photography by Daniel Sullivan
A new posse has ridden into the Northern Hotel. Three women, Lisa Rembold, Samantha Dyba and Alexandra Mann, are rounding up new memories at the iconic establishment. Family ties may have beckoned them back to these parts, but is it possible the spirit of the Golden Belle herself called them back to help renew and refresh the hotel and restaurant? Did she invite a new executive chef, front of the house restaurant manager, and special events and sales manager to join forces for change?
P.B. Moss and Henry W. Rowley opened the hotel in 1904 and it quickly became the crown jewel of Billings. In 1940, unfortunately, flames from a dress store located below the hotel burned the building down. Within weeks, Chicago architects Holabird and Root were hired to design a new 10-story building. Two years later, the hotel resumed business.
The Golden Belle Restaurant opened in 1959 with a Victorian parlor-like décor with red velvet and paintings of scantily clad women. Drama surrounded the dining experience, with gongs announcing flaming kebabs arriving at diners' tables. Shrimp sizzled in the dining room with tableside service while flambe desserts satisfied any sweet tooth.
The famed restaurant and hotel were shuttered in 2006, only to rise again on Jan. 9, 2009, after being bought for $2,475,090 by Mike and Chris Nelson, outbidding the next highest bidder by $1. The new Northern Hotel opened its state-of-the-art facility and two restaurants: Bernie's Diner, named after Mike and Chris' mother, and TEN, honoring their father, Thomas Edgar Nelson, in March of 2013.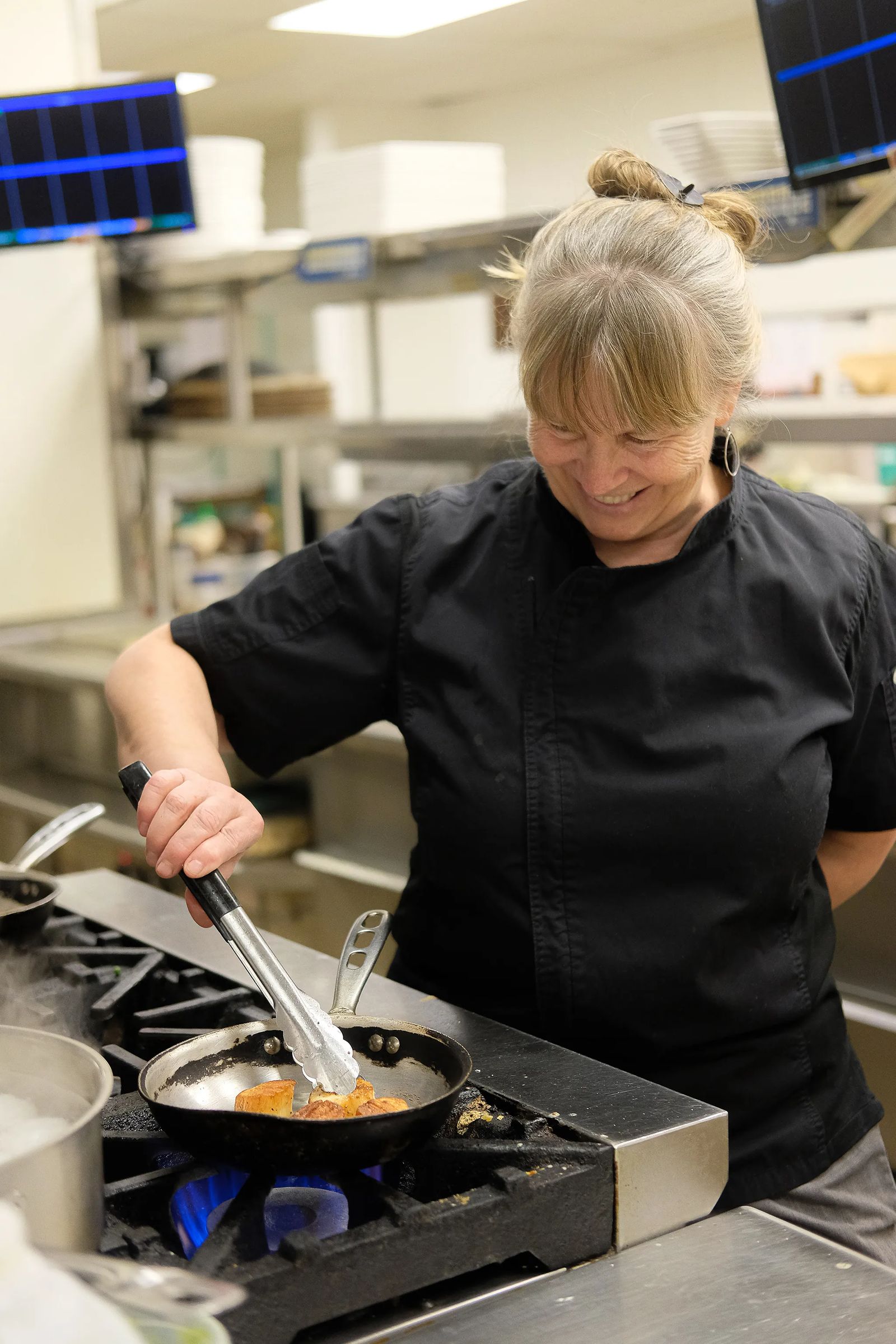 Executive and Special Events Chef Lisa Rembold was the first of the gang of three to ride into the Northern. She remembers as a child going to the Northern from Wyoming when her father was in town to sell his cows. Restaurants have always been in Rembold's blood. She started busing tables and cutting French fries at her sister's restaurant when she was young. After completing her B.S. at the Culinary Institute of America in the mid-70s, she cooked around the world, most recently Café Melange in Yakima, Washington, in 2010, and a few years later Sweetie Pie Baby Cakes. In 2012, she retired and moved to be near her son and his family, who had settled in Billings.
"When I moved here," she says, "I was really going to stay retired. That lasted six months."
She found herself at Stacked, A Montana Grill as the executive chef for two years. Realizing she wanted to make sweets, she joined the Northern Hotel kitchen as the pastry chef in 2014. Then, after the departure of another chef almost two years ago, Rembold became executive chef No. 7 since reopening in 2009. She confidently declares, "I am aiming to be the longest-lived chef here at the Northern Hotel."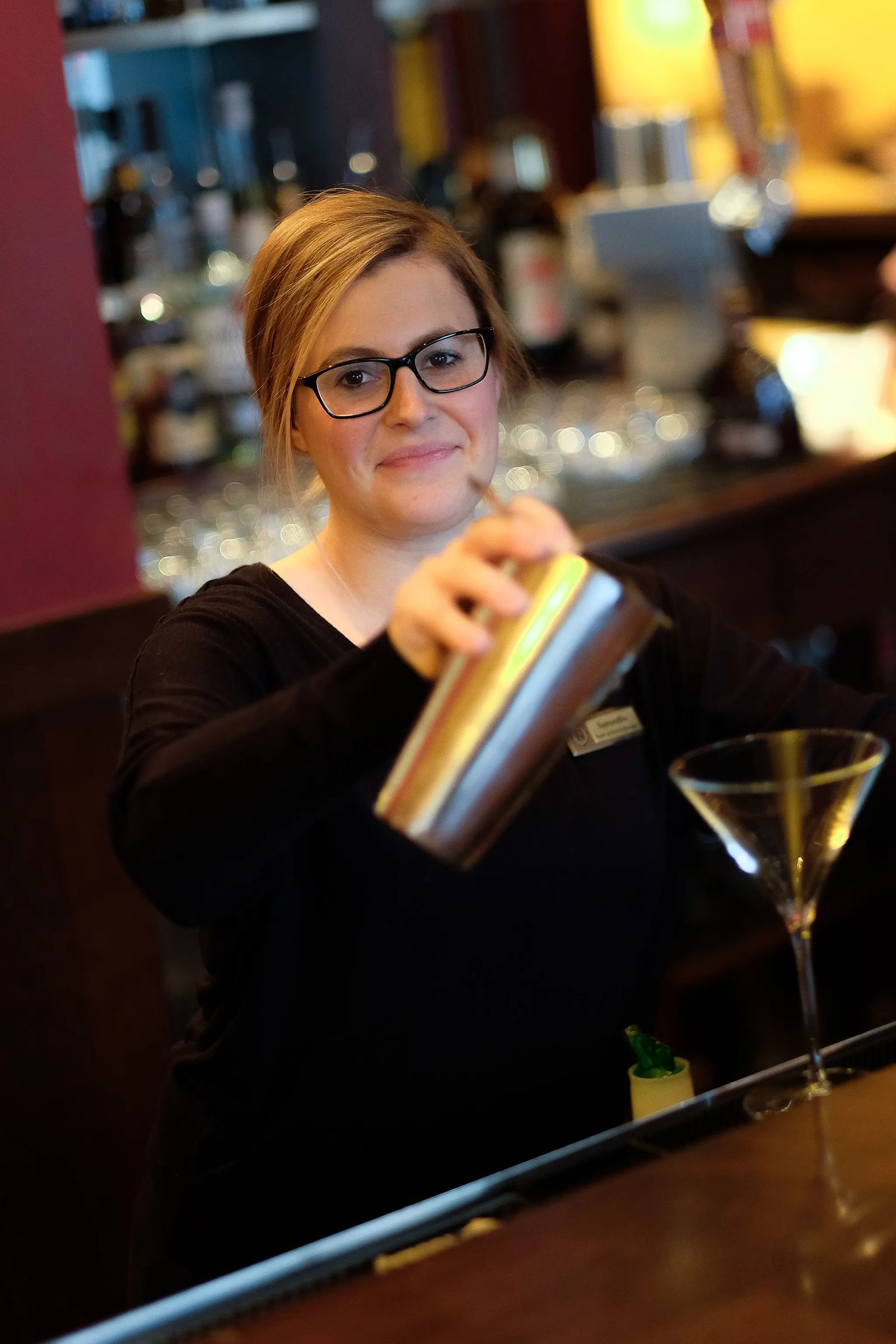 Samantha "Sam" Dyba graduated from Billings West High in 2010. Off and on over six years she worked at The Windmill in several positions. After that, she worked briefly as the assistant manager of a Renaissance Hotel in Tulsa, Oklahoma, overseeing breakfast, lunch and dinner. Upon returning to Billings, she made a job change.
"For two years I tried something different," she says: "working for a bank. I worked in a cubicle and didn't have anyone to talk to." That prompted her to return to the restaurant scene.  After working as a server at the Northern, the front of the house restaurant manager position opened up and Sam jumped at it.
Alexandra "Lexie" Mann, the newest member, moved to Billings to be with her father. She came to the Northern Hotel as the special events and sales manager for TEN. Before coming here, she earned a degree in art, specializing in museum and public history. She worked at the Hermann-Grima and Gallier Historic House Museums and then managed the office at Crescent City Brewhouse, both in New Orleans. Her dream is to open her own business — a bookstore restaurant serving coffee and cocktails. Working at the Northern will teach her valuable skills.
Besides having diverse backgrounds and skills, the three women differ in terms of where they are in life, and in their own expectations and those of their families. While Lisa's family was familiar with her restaurant lifestyle, Sam recently got married, and Lexie was adjusting to the long, irregular hours.
Lisa jokingly says, "When I retired, nobody knew what to do with me. I really like working. Restaurants make me happy."
"I balance the best that I can," Sam says. "There are certain times that are not as busy as others. It's rewarding at the end of the day to see what you have made TEN become." She enjoys making memorable experiences for guests. She once impressed a couple so much that they flew down to Mexico to her wedding.
Transitioning from a job with regular hours has been a challenge for Lexie. "I am still trying to find the balance. It's been good because I get to meet a lot of new people."
The learning experience includes the intricacies of working with an all-women squad. Lisa admits, "I have always been in the boss position. My dad raised me to be able to do what a man can do." For Sam, "I have always worked with women leadership."
While in New Orleans, Lexie was immersed in the #MeToo movement when chef and restaurateur John Besh was toppled by sexual harassment allegations. "At the last restaurant I worked at, I was the only female on the team." When she joined the group, she says, "It took adjustment on everyone's part to be able to work together — a huge effort."
Now, Lexie believes, "It has been really interesting working with an all women. We learn a lot from each other. It is respectful."
"It is unusual to have three women in leadership positions," Lisa says. "Mike (Nelson) gives us a lot of leeway. He's got a strong wife, strong daughter. He's very upbeat about where TEN is going. He's very encouraging with high hopes for Lexie and Sam."
With a solid force in place, Lisa is looking forward to continuing her culinary creativity in the kitchen while Sam hopes guests think of TEN as their fine-dining destination. "I want them to come here for two to three hours to enjoy the evening." Lexie wants to bring "some modernity and continuity" to TEN. "I want to bring in a younger crowd for an interesting dining experience they cannot have at home."
At the Northern Hotel, the gang of Lisa Rembold, Sam Dyba and Lexie Mann are determined to carry on the legacy of the Northern Hotel and the Golden Belle, now in TEN, creating new culinary experiences and delicious memories.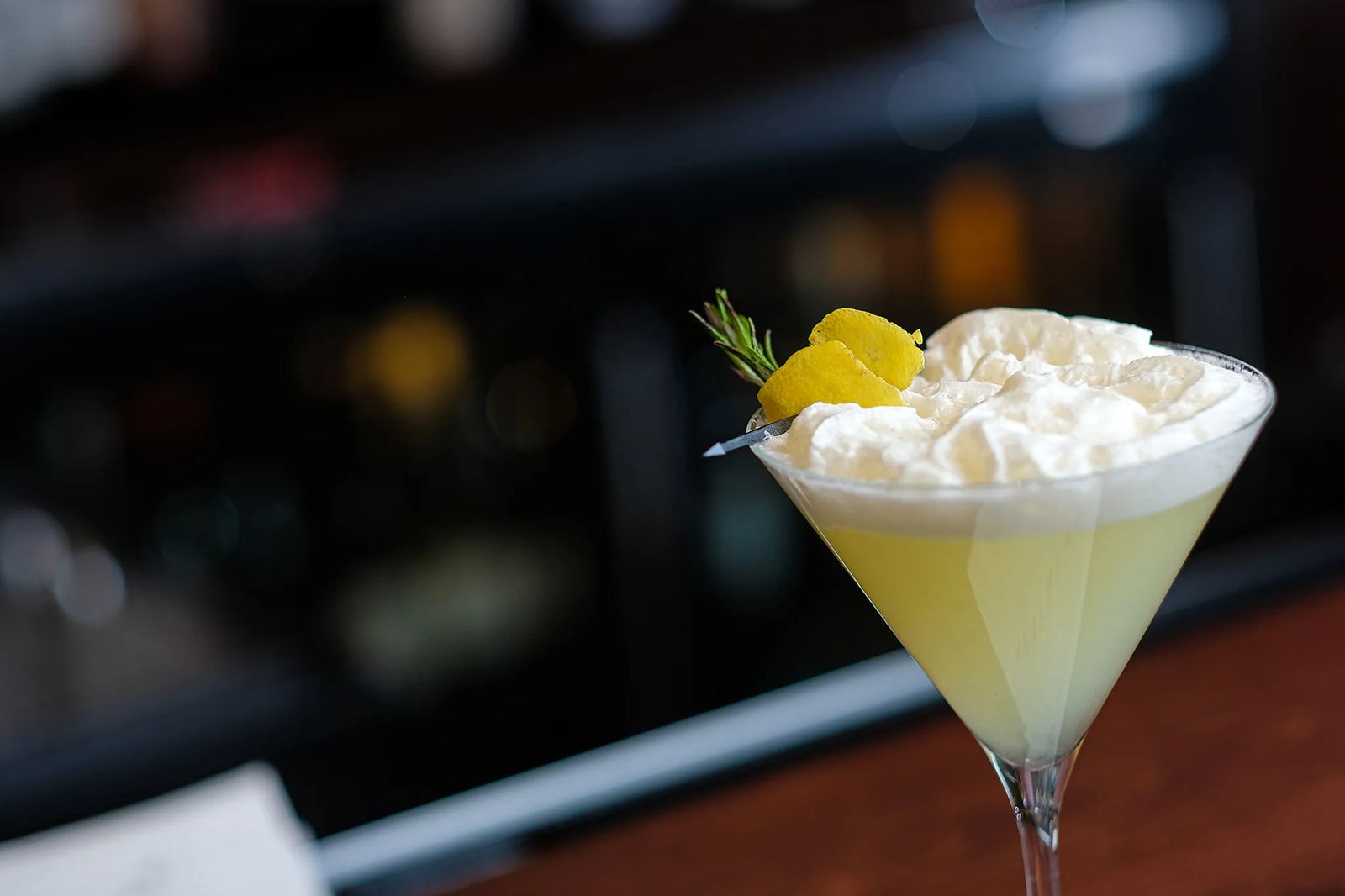 A TASTE OF TEN
ROSEMARY LEMON MERINGUE
~ Recipe from Samantha Dyba, TEN front of the restaurant manager
1 sprig muddled rosemary
1.5 ounces vanilla vodka
.75 lemon juice
.75 ounce lemonade
.75 ounce Caravello limoncello
Topped with vanilla-lemon egg white
Sprig of rosemary and lemon zest for garnish

Vanilla Lemon Egg White Topping
5 egg whites
1 T vanilla paste
1 T lemon juice
1/2 c. sugar
DIRECTIONS
Add rosemary to the bottom of a shaker and muddle. Fill partway with ice. Add vodka, lemon juice, lemonade and limoncello. Shake and pour into a martini glass. Put topping ingredients into a whipped cream canister with carbon dioxide chargers. Shake and then dispense gas. Squirt a tiny bit from the can. Repeat with another charger and then another, using a total of three chargers. Squirt topping onto top of drink. Garnish with a sprig of rosemary and lemon zest.
CHICKEN & SAUSAGE CUMBO, Serves 6 to 8
Recipe from Lexie Mann, special events and sales manager
1 c. oil (vegetable or olive)
1 c. flour
2 large onions, chopped
2 bell peppers, chopped
4 to 6 ribs celery, chopped
4 to 6 cloves garlic, minced
4 quarts chicken stock
2 bay leaves
2 t. Creole seasoning, or to taste
1 t. dried thyme leaves
Salt and freshly ground black pepper to taste
1 large chicken cut into pieces (3 to 4 pounds)
2 pounds andouille or smoked sausage, cut into 1/2" pieces
1 bunch scallions (green onions), tops only, chopped
2/3 c. fresh chopped parsley
Filé powder to taste
DIRECTIONS

Season the chicken with salt, pepper and Creole seasoning and brown quickly. Brown the sausage, pour off fat and reserve meats. In a large, heavy pot, heat the oil and cook the flour in the oil over medium to high heat (depending on your roux-making skill), stirring constantly, until the roux reaches a dark reddish-brown color, almost the color of coffee or milk chocolate for a Cajun-style roux. If you want to save time, or prefer more a New Orleans-style roux, cook it to a medium, peanut-butter color, over lower heat if you're nervous about burning it. Add the onions, peppers, celery and garlic and stir quickly. This cooks the vegetables and also stops the roux from cooking further. Continue to cook, stirring constantly, for about 4 minutes. Add the stock, Creole seasoning, thyme, salt and pepper, chicken and sausage. Bring to a boil and reduce heat to simmer for about one hour, skimming fat off the top as needed. Add the chopped scallion tops and parsley, and heat for 5 minutes. Serve over rice in large shallow bowls. Accompany with a good beer and lots of hot, crispy French bread.

SPRING PEA PESTO PASTA WITH SCALLOPS, Serves 2
From Executive Chef Lisa Rembold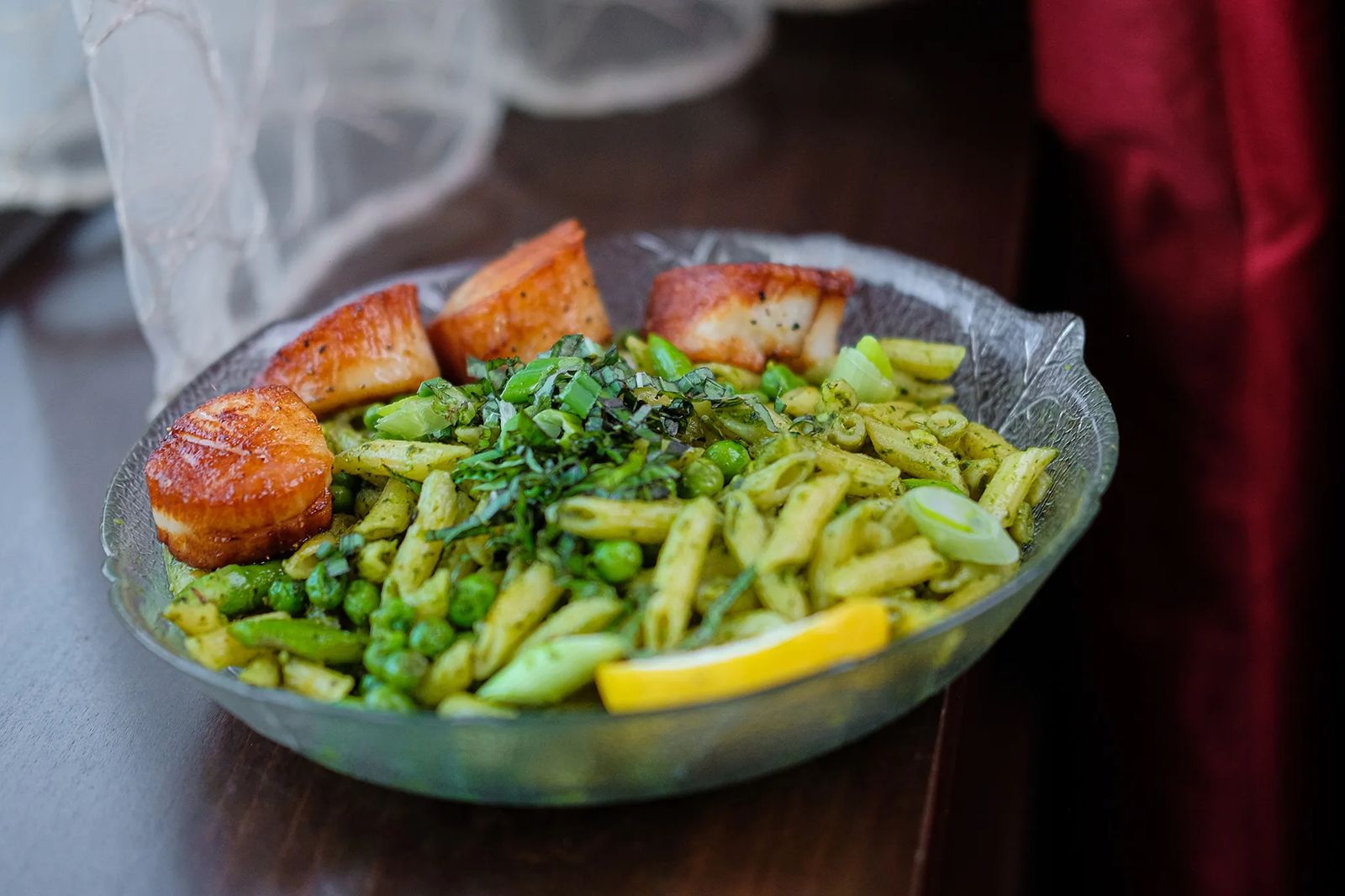 For the pesto:
1 c. fresh spring peas
½ c. packed fresh basil leaves
½ c. almonds, roughly chopped
Juice of 1 lemon
½ c. olive oil
Kosher salt and freshly ground pepper to taste
3 c. penne, cooked, drained, and set aside (I also like Radiatori)
For the scallops:
12 ounces diver scallops
Kosher salt and freshly ground pepper to taste
2 t. olive oil
For vegetables:
1 t. olive oil
2 t. fresh minced garlic
1 c. fresh spring peas
8 to 10 asparagus spears, trimmed and chopped into bite size pieces
3 to 4 green onions, both white and green parts, sliced thinly
Kosher salt and freshly ground pepper to taste
Fresh basil leaves, chiffonade cut, and freshly grated Parmegiano Reggiano
DIRECTIONS
Combine the peas, basil, almonds and lemon juice in food processor bowl, pulse to almost a puree. Slowly add olive oil until you have a paste. Add salt and pepper to taste. Toss pesto with warm pasta. Keep warm and set aside. Dry divers scallops between paper towels, and season with salt and pepper. Heat olive oil blend in small sauté pan until it shimmers, then add scallops, being careful to not overcrowd them.  Sear them on the first side until golden brown, about 4 minutes, then flip them over with a fish spatula.  Sear second side as well, until golden brown, then remove to a paper towel while you finish the pasta. In a separate sauté pan, heat the 1 teaspoon olive oil, add the fresh garlic and cook until soft but not brown. Add peas and asparagus, heat just until soft, about 4 minutes, then add the green onions just to warm. Season with salt and pepper, toss with the pasta and cook to reheat pasta. Sprinkle with basil and Parmegiano Reggiano. Top with the seared scallops. (Also good with prawns.)