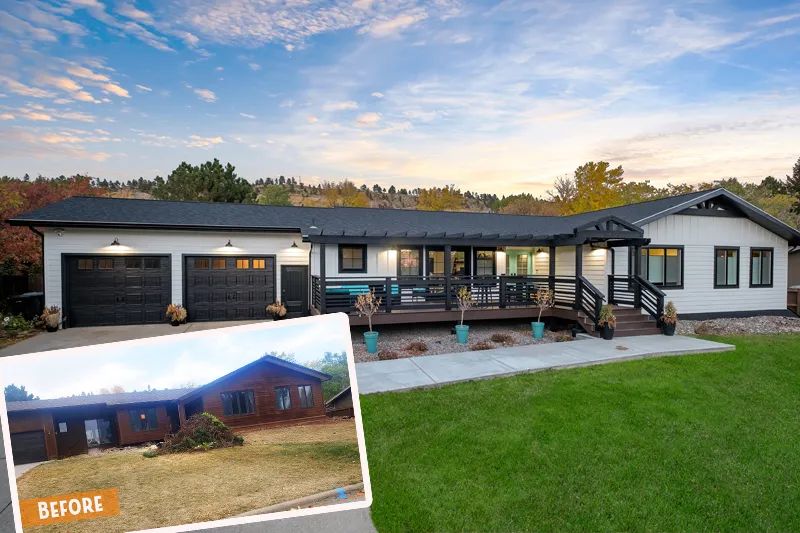 A Fresh New Face
After 37 years, a remodel breathes new life into this multi-generational home
Rose Larsen, with her husband and two teenage kids, first stepped inside her home back in 1985. She never imagined then that the ranch style home, with its cedar siding and divided rooms, would one day undergo a dramatic transformation. Nor did she imagine that it would become a haven for not only her children but her grandchildren and great-grandchildren.
"This is home for me," she says as she looks around her new space with its modern farmhouse flair.
When she and her husband, Lloyd, first moved into the house nestled near the Yellowstone Country Club, each part of the home had its own use.
"There were so many separate rooms," says daughter Jennifer Nieto. "We had the dining room. We had the eating area, we had the kitchen, we had the family room — and they were all separated by walls or that gigantic fireplace."
Smack dab in the middle of the home sat a large rock-covered fireplace that broke off sight lines to nearly every part of the main floor.
"We'd have Christmas or Sunday dinners and everyone was in a separate room," Jennifer says.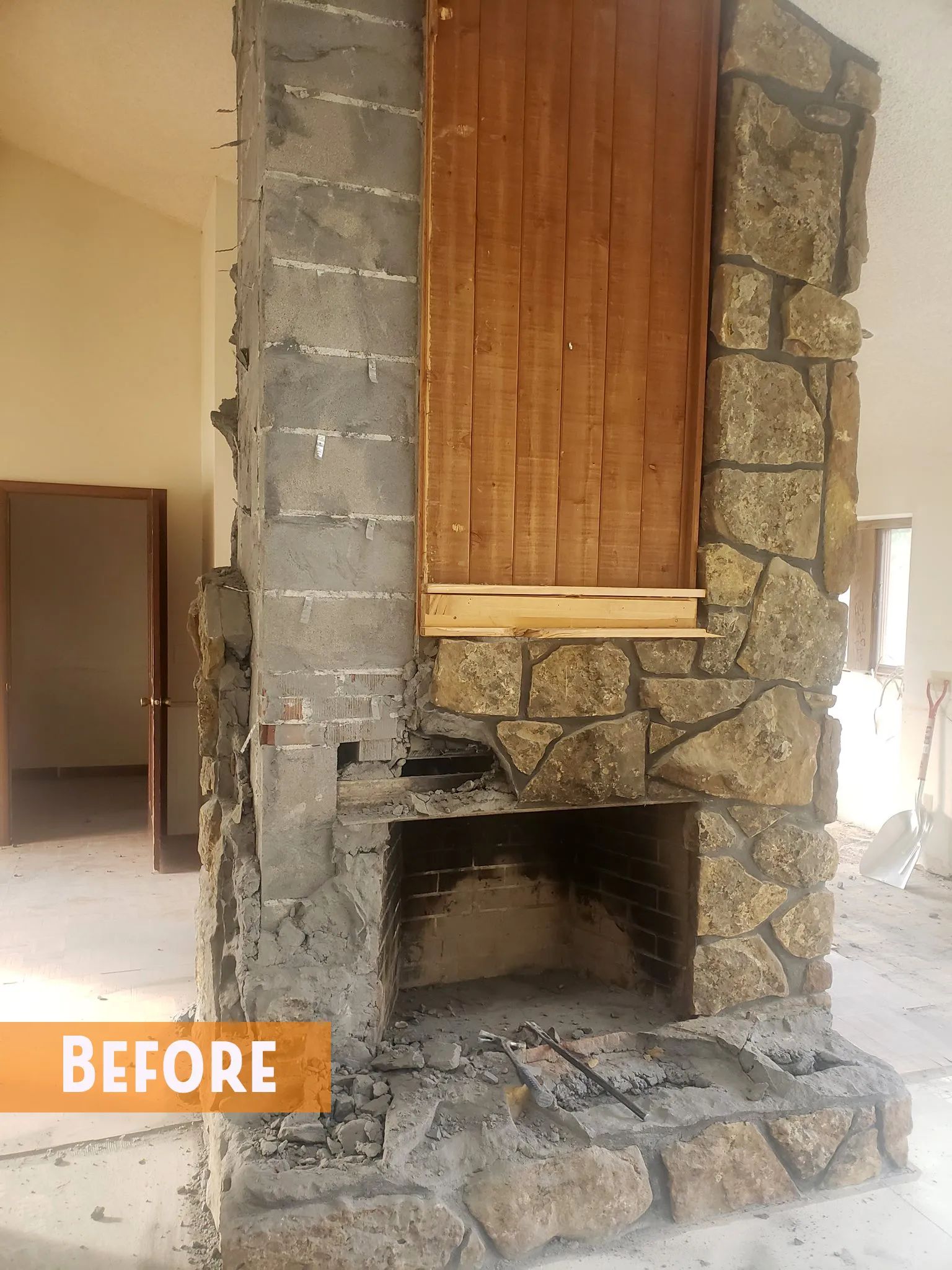 Close to nine years ago, Jennifer and her husband Steve decided to move from California — where they'd been raising their four kids — back to Jennifer's roots in Billings. After failing to find a home they loved, "Grandma Rose" suggested that the family move in with her.
"I was alone for quite a while in the house," Rose says. "I was ready to have a roommate or two or three or six." Lloyd had passed away in 2006.
While the home was certainly large enough to accommodate the entire family, Jennifer and her mom both agreed it could use a facelift to give everyone their own space. Before the remodel, in 2020, Jennifer's teenage daughters, Lileigh and Marleigh, camped out in the basement living area. They had their own areas but no walls to give them privacy. That's all changed.
To get ready, the mother-daughter duo became glued to DIY cable channels. Jennifer created Pinterest pages to keep track of ideas.
"Those two were like teammates. They went a good five years watching DIY shows. It was always 'Move That Bus' or flip it or list it and all those shows," Jennifer's husband Steve says with a chuckle. "Once they got started, they took all that knowledge and morphed it into this." Rose adds, "We watched a lot of 'Fixer Upper.'"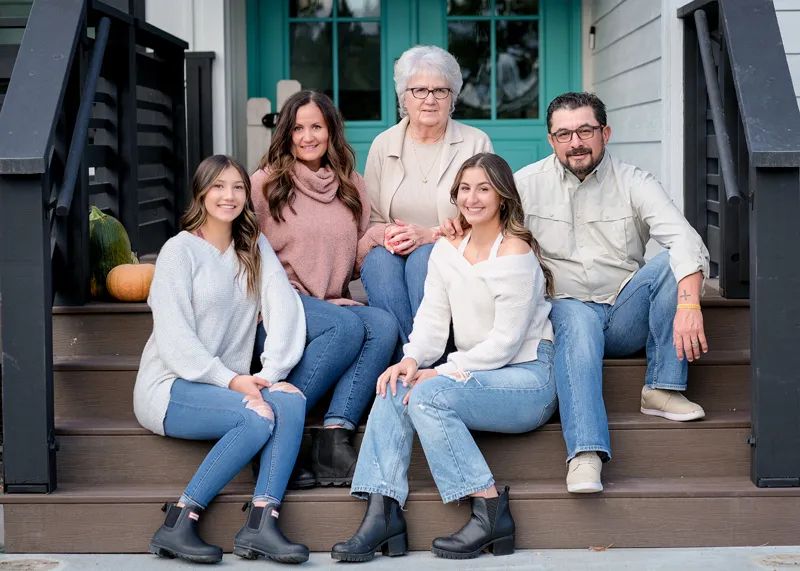 Tucked near the home's dining space is what Jennifer and Rose call their inspiration, an heirloom china cabinet that's been fully refinished, thanks to Nicole Eplin of Chipped & Bliss.
"This was my grandparents' cabinet from the farm," Rose says. "I remember in 1952 or '53, when I first remember going to the ranch and seeing it in the kitchen when we went to dinner." At that time, it was finished in a glossy black paint.
When Lloyd and Rose acquired it, Lloyd spent hours upon hours stripping it down to reveal the natural cherry wood. "The fact that I had it repainted black, I am sure my dad is laughing at me," Jennifer says.
Not far from the china cabinet sits a 10-foot-long farm table that at Thanksgiving had 14 people perched around it. Rose not only had Jennifer, Steve and their extended family but Rose's son, Justin, his wife Tracy plus their daughter and her family. Having a space to sit together was all thanks to the handiwork of Jake Hamrell of Teton Trading.
This table crafted from Douglas Fir lumber harvested from Lewistown features an espresso finish on the top and an eye-catching whitewashed effect on the base. The family spotted Jake's handiwork at a show at the Metra and loved his style. He loves that his work is uniting family.
"Especially during Covid, people are starting to realize that it is nice to be together at a big table with their family and have everyone together," Jake says.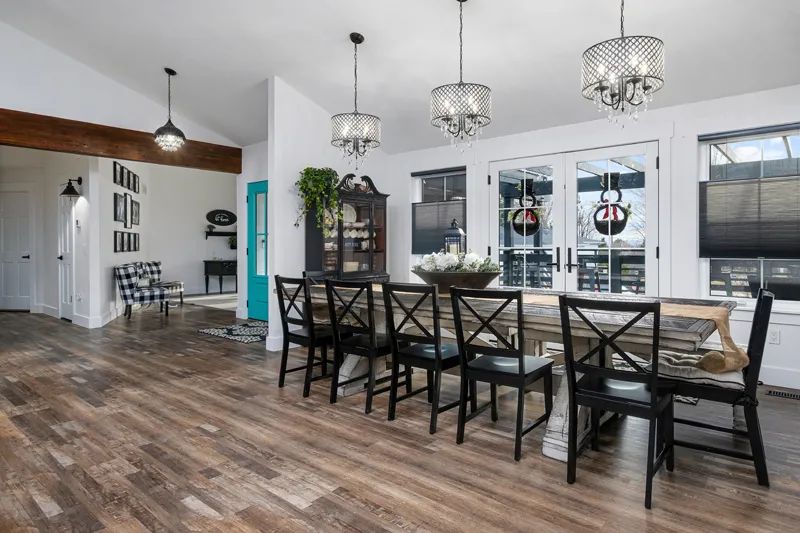 It's safe to say it took a major feat of engineering to reconfigure the home. Two and a half walls, some of which were bearing walls, were torn down. The fireplace was demolished and an 18-foot beam was installed to hold up the roof. Today that beam is a focal point, stained a rustic brown that pops against the home's white walls.
"We both decided that we wanted a modern farmhouse look," Jennifer says of the house's design. Everywhere you look you see crisp white features with bold black accents.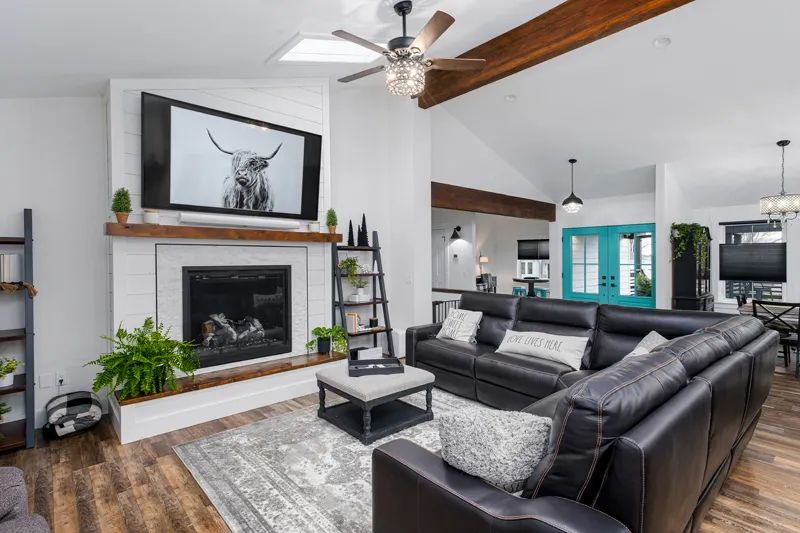 Interior designer Anne Murphy of Timesquare Furniture helped Jennifer and Rose put the finishing touches on the home's décor. She started by creating a gallery wall devoted to the ones they love. At the center of all the family photos sits a sign that reads "This is Us," hand painted by Jennifer's daughter, Marleigh.
"I was amazed at her talent and how quickly she does it," Anne says. "It wasn't produced on a machine. It was produced by the granddaughter. It's personal."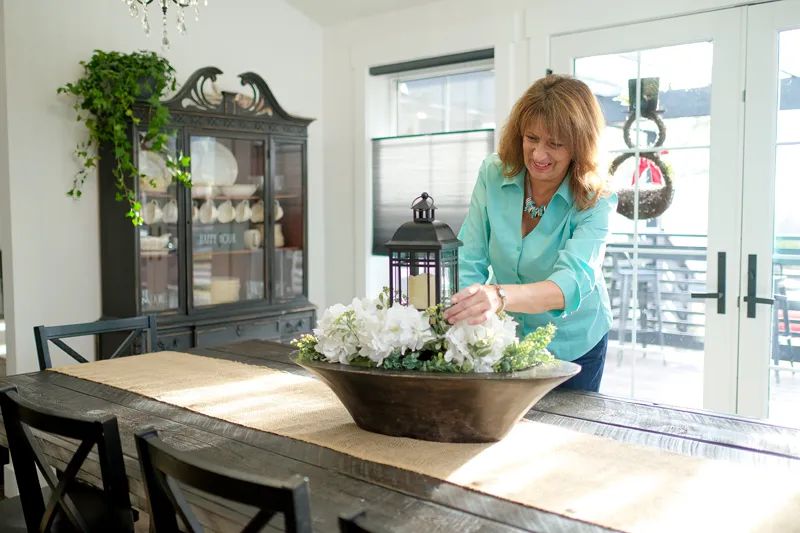 The gallery wall hangs in what's now the office. This space used to be a formal sitting room that might have seen traffic once a year during the holidays. At the center of the room sits a rustic game table that now plays host to the family's competitive cribbage games on Sunday nights.
"It wasn't used before and now they love it," Anne says. "To have that much square footage and to make it a space they want to use is great."
Even with the home's spacious, open design, the kitchen is still the heart of it all. Angie Mills of Beyond the Box loved creating something that Jennifer, who does most of the cooking, would love.
"There's a lot of prep and storage space," Angie says right off the bat. "It's far more convenient, isn't it?" she adds looking at Jennifer who nods. "Remodels can be challenging, but the transformation of this space was amazing."
The white shaker cabinets offer roll-out trays. The 12-foot island covered in Silestone Quartz holds not only to a sink for easy access but a roll-out microwave drawer that the family has come to love.
"I made monster cookies the other day and I had all my big, huge pans out. The cookies were out cooling and I only used half the counter," Jennifer says. "It was fantastic." The island is so large, eight people can easily fit around it.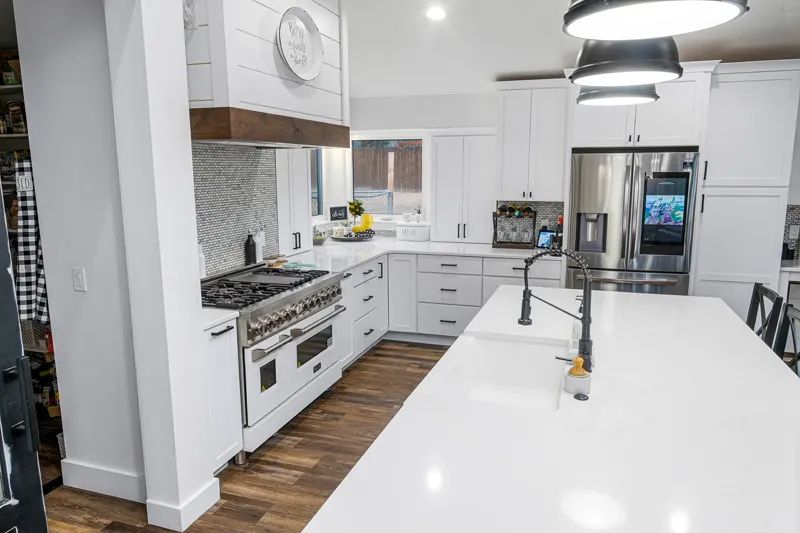 Right behind the island sits a professional-quality freestanding Z-line stove. It has six burners with a skillet in the middle and a double oven to help feed her large family. Above it is a custom-built hood draped in shiplap with a rustic wood edge to mimic the look of the fireplace.
Just a few steps away through 8-foot-tall sliding barn doors, the family was able to add square footage for both a laundry and powder room. While shelves in the garage used to hold extra pantry items, the family added a walk-in pantry complete with a coffee bar. It's plumbed with a pot filler faucet to make filling the coffee maker a breeze.
While the interior of the house has given the family a new focus, the exterior remodel was just as dramatic. The front entry, with its robin egg blue double French doors makes a bold statement. The old deck was torn down to build a deck out of composite material, adding 380 square feet that the family couldn't love more.
"What better view would you love to have sitting out there in the evening with a glass of wine and a sunset?" Rose says.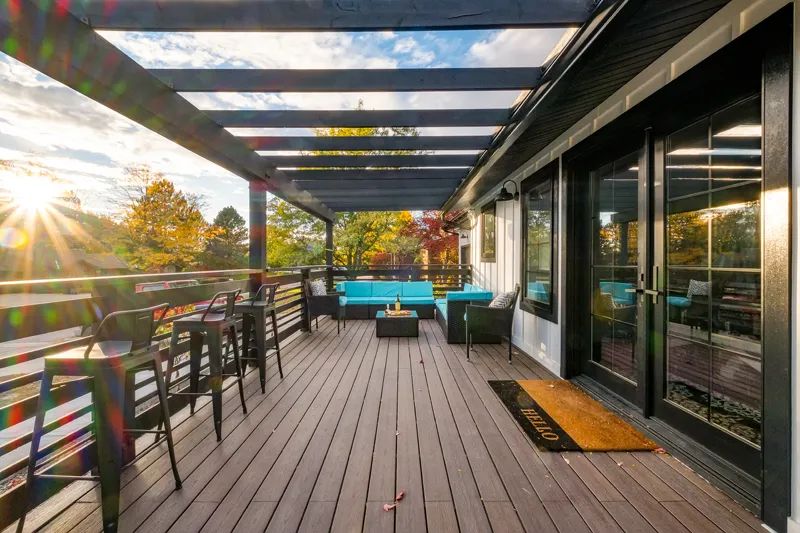 A second set of French doors off the dining room leads to the space and frames the area beautifully.
"Originally, this home had great bones, but it definitely was not designed to be used as a multi-generational home," says Aaron Reay, owner of 406 Windows. "Nowadays on these 1950s ranchers, it's very common to tear down walls, throw up a beam and execute the open concept layout. These customers had bigger dreams." Aaron says it was evident the whole mission wasn't just aesthetics. It was to create connection. "This family will continue to grow and this remodel will be a catalyst."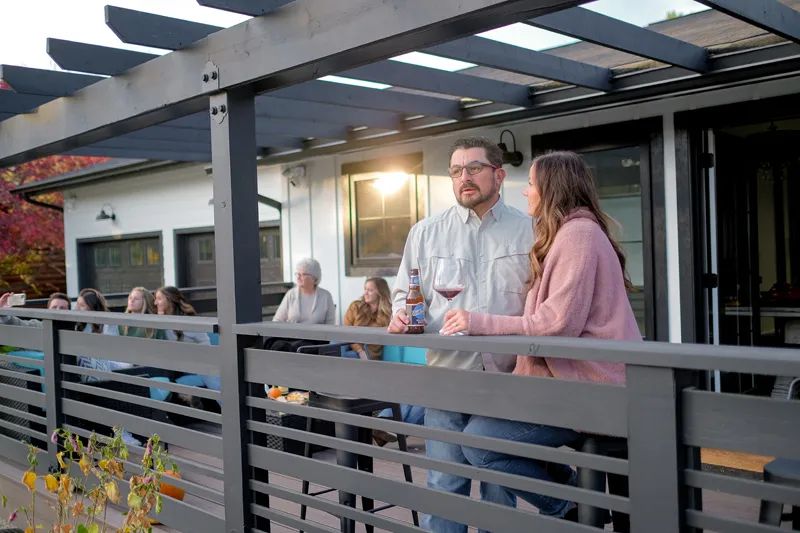 All in all, it took five months to wrap up the interior portion of the home's remodel. The exterior took another four months. The result is what Jennifer calls her family's "dream home."
"I don't ever want to leave," Jennifer says. "I would rather have my friends come over, sit on the patio and have a glass of wine. It's so nice to be here." After living in the home for 37 years, Rose couldn't agree more.
additional photos from the home