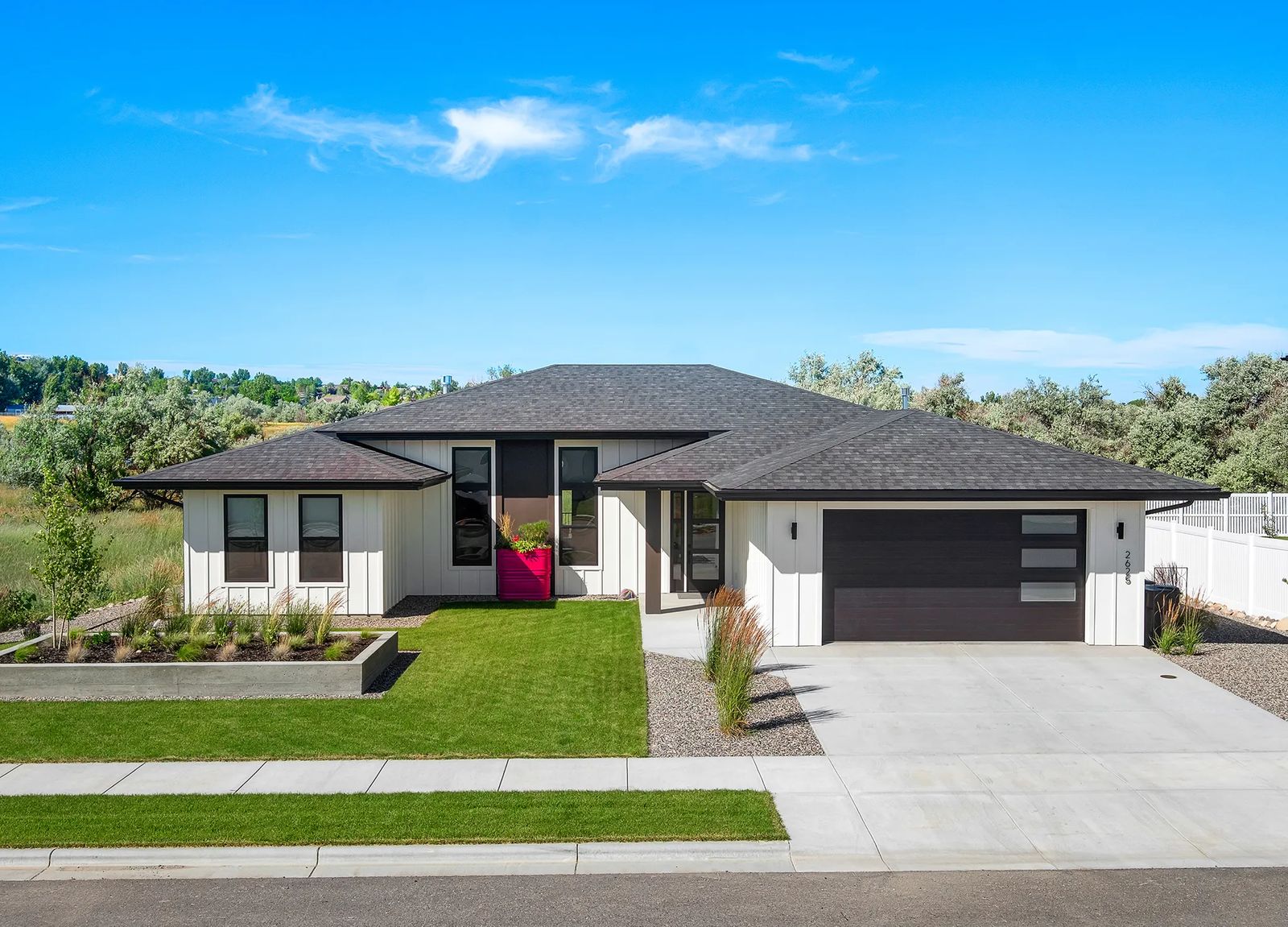 A Home for all Seasons
Retirement makes a dream house a reality
Three years ago, while living in Atlanta, Georgia, Joey Kiernan and Linda Loff decided they'd build a home in Billings. Their plan was to eventually retire in their home state, and they knew exactly what they wanted.
"We sat down and imagined this house," says Joey, a retired art teacher. "We drew a hundred drafts and then met with Tammy and Jeff Hill of Hill Builders that first year."
The initial meeting went smoothly. Joey and Linda traveled to Billings only twice afterward before moving into their new home this past year. The majority of the project was done "long distance." Even the property was secured while they were down South. Tammy had scoured the city before discovering the ideal parcel of real estate in the Heights.
All agree it was challenging at times, but this one-level modern architectural design expresses the homeowners' vision to the minutest detail. Nestled in a quiet subdivision, they certainly don't lack privacy.
The property is bordered on the north and west by the overflow of Five Mile Creek. Pheasants, geese, deer and other wildlife routinely make an appearance. "It's designated as a city park," says Linda, who continues as an educational coach at Woodward Academy High School in Georgia.
The park lies just beyond their back garden, facing north. Expansive black-trim windows with transoms overhead allow Joey and Linda to take in the scenery. They enjoy the stellar view from inside, as well as outside while relaxing in the spa or entertaining guests on the large covered porch.
"It's an all-season house," says Joey. "It's for the seasons of life whether it's a young family or a young couple. This style of house is not just for the elderly."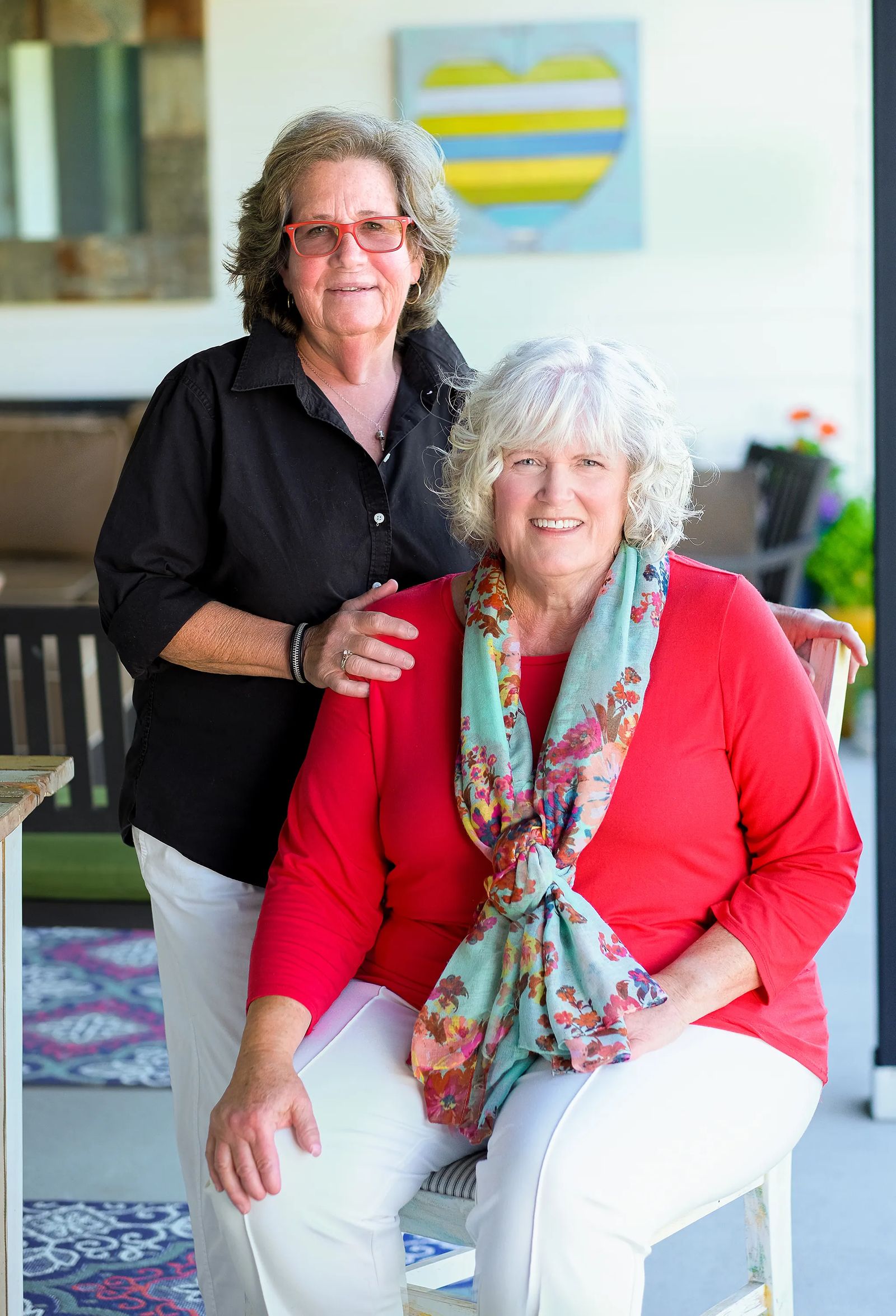 "The architecture is Frank Lloyd Wright style," says Jeff, referring to the home's unpretentious design using glass, metal and concrete. "It's a prairie house with big overhangs and a lower pitch roof." The white exterior of Hardy plank smooth siding draws a soft pattern while offering a striking contrast to black metal fascia, soffits and gutters.
The industrial aesthetic of metal gives the home a modern sleekness. The front of the home appears minimalist, dressed in black and white, accessorized with a punch of fuchsia. Two brightly painted troughs stacked one on the other burst with colorful plants. A black metal panel between the front windows highlights this unique flower pot. A geometric concrete raised flower bed in the lawn also makes a unique statement.
"I wanted it substantial," says Joey. "The proportion is perfect for the lot. It's a calming structure because of its predictability with different kinds of grasses with tall ones in the center." The purity of the exterior reflects the personal style found on the interior.
"We wanted it simple and open," Joey says, "with raw cement floors. It's so organic."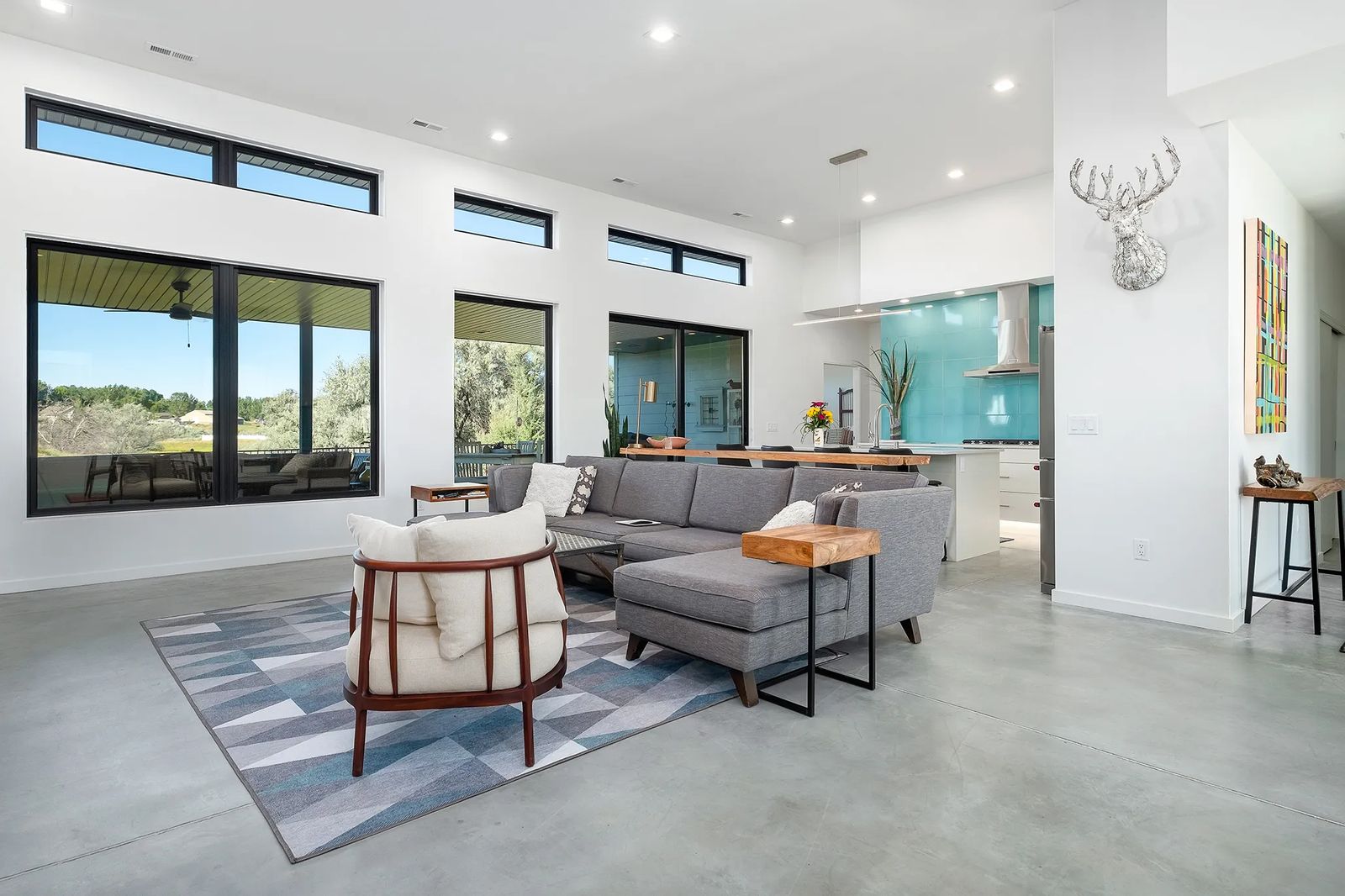 The stillness of neutral white walls enhances the illusion of space in this 2,100-square-foot, two-bedroom home. The open concept layout encourages the freedom to float through the large living, dining and kitchen area.
"We're not spring chickens anymore," Joey says. "We wanted universal design with seamless floor, a large bathroom stall and wide hallways. And, I wanted this home to be handicapped- accessible."
Contracting an illness a decade ago left Joey missing the fingers on one hand and several toes on her feet. She was confined to a wheelchair after coming out of a coma. She recalls why she's insistent on accessibility. "In Atlanta, we lived in an 1890s home. Because of the thresholds, I'd get stuck in a room until I managed to walk again."
There are no thresholds to worry about now. All floors are seamless, including the tiled shower floor in the main bathroom. The laundry area is here, along with a large closet, an infrared sauna and floating quartz vanity with double sink.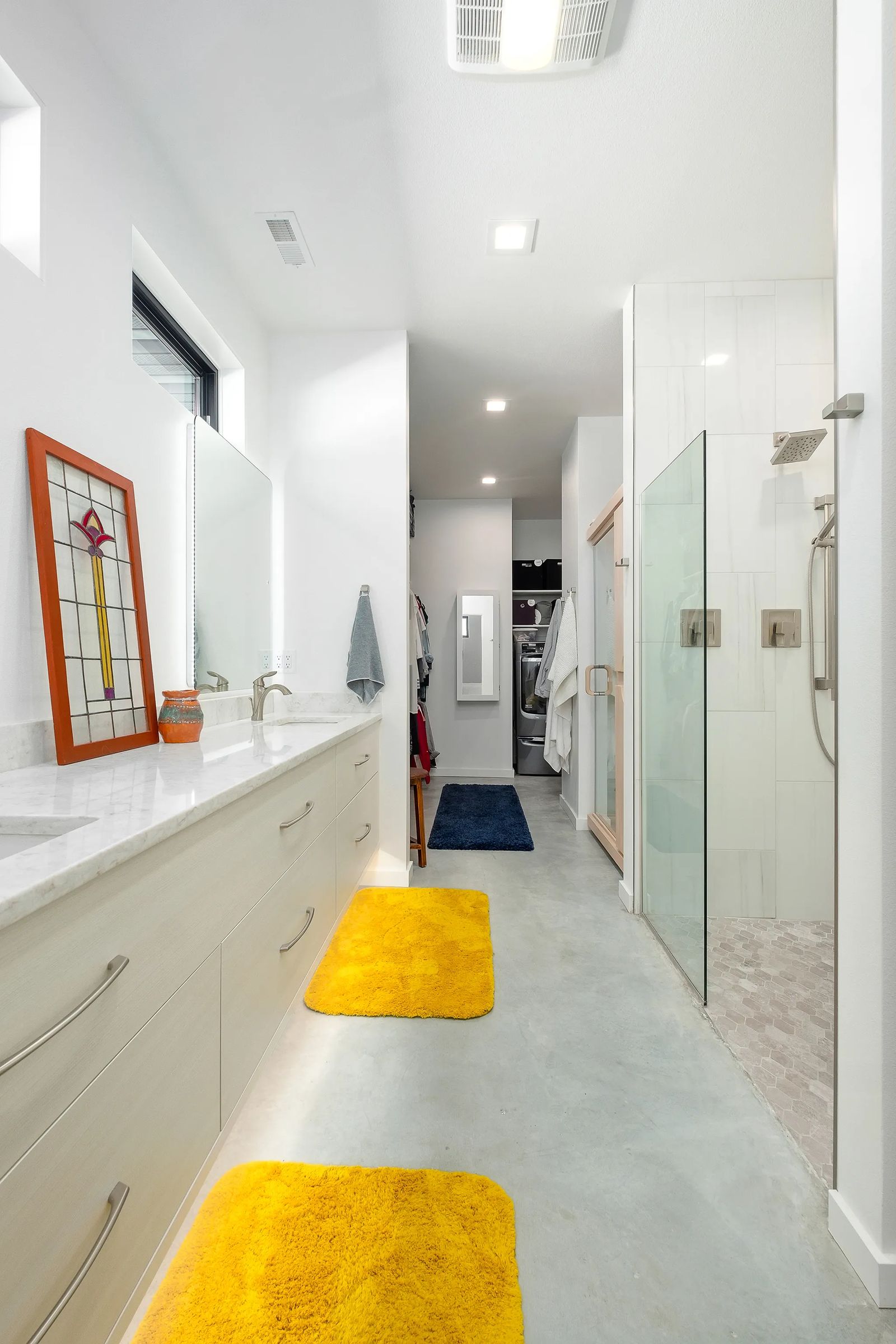 The connecting main bedroom has an effortless, airy feel. Light flows through transoms above the bed. A towering door opens to the outdoor spa. Next to the spa sits a small shed housing a kiln. "I use this for ceramics, painting and print-making," explains Joey.
This accomplished artist paints in her art studio, situated off the living area. It's where an "accumulation of 50 years of art" is neatly stored. "I spend hours in here," Joey says. Her art table sits next to the window with the outdoor view presenting a canvas for the colorful narrative of her work.
Artful accents grab your attention in every room of the house. In the kitchen, an aqua backsplash that Joey and Linda collaborated on delivers wow factor against the creamy white cabinetry. "I love how dramatic this is," Joey says. "You add drama with color."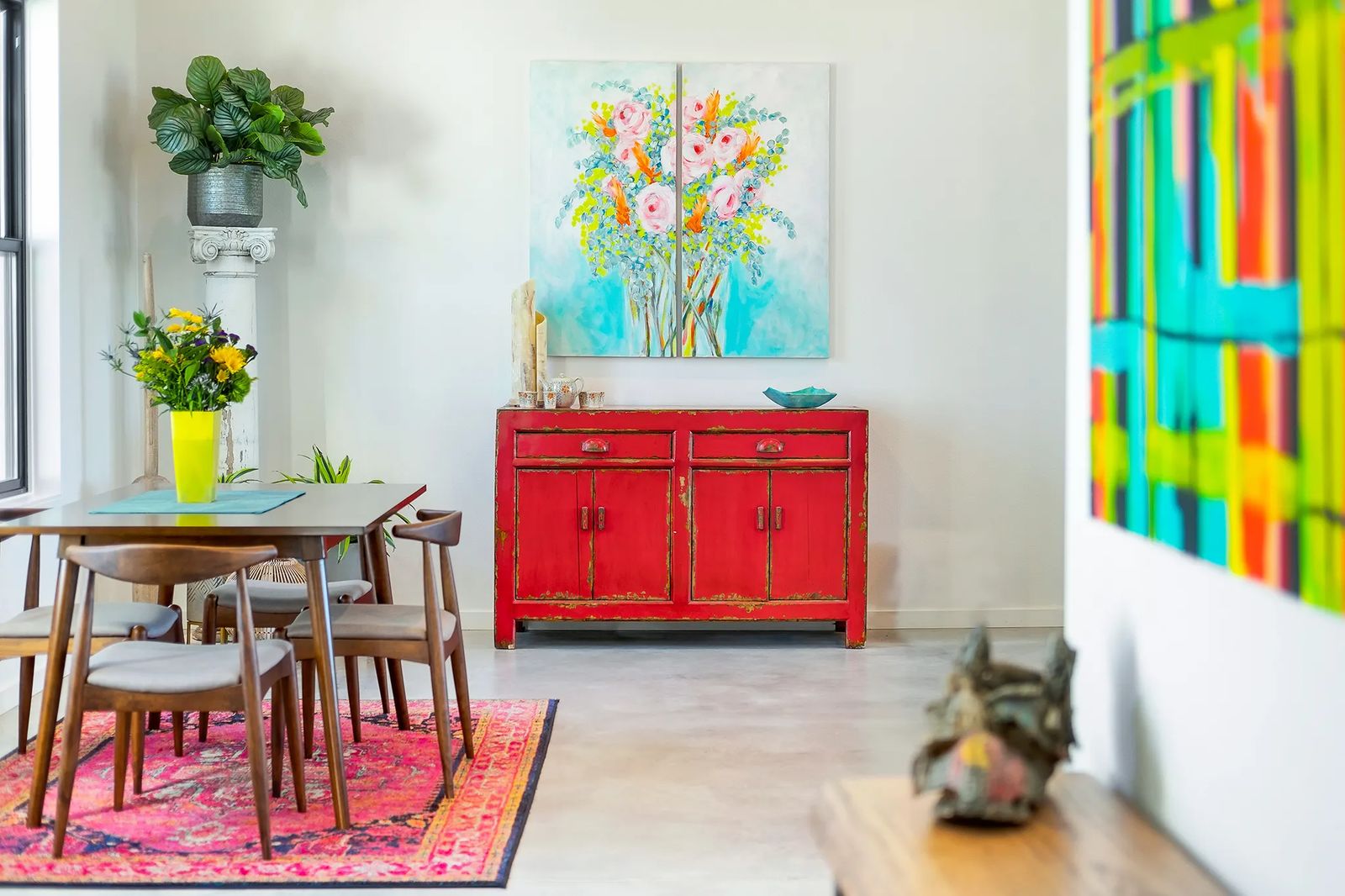 There's no shortage of surprises in this well-designed kitchen. As Linda opens a door behind the backsplash wall, Tammy introduces a "phenomenal" walk-in pantry. The kitchen warrants rave reviews in all its detail. Linda claims her favorite thing is the "under-cabinet lighting and the square LED recessed lighting over the backsplash" from Rimrock Lighting.
"It's about function in how Linda and Joey operate," says Sheri Bond, kitchen and bath designer for Kitchens Plus. "We designed the kitchen with that in mind. It's a nice open space that's very convenient, with soft white laminate cabinets. They have a horizontal woodgrain feel to them."
Stainless steel appliances from Kitchens Plus and pop up outlets on quartz countertops deliver clean lines. A quartz top center island adds depth. "Their vision is modern," adds Sheri, who is Linda's sister. A lighted coffee bar tops it off.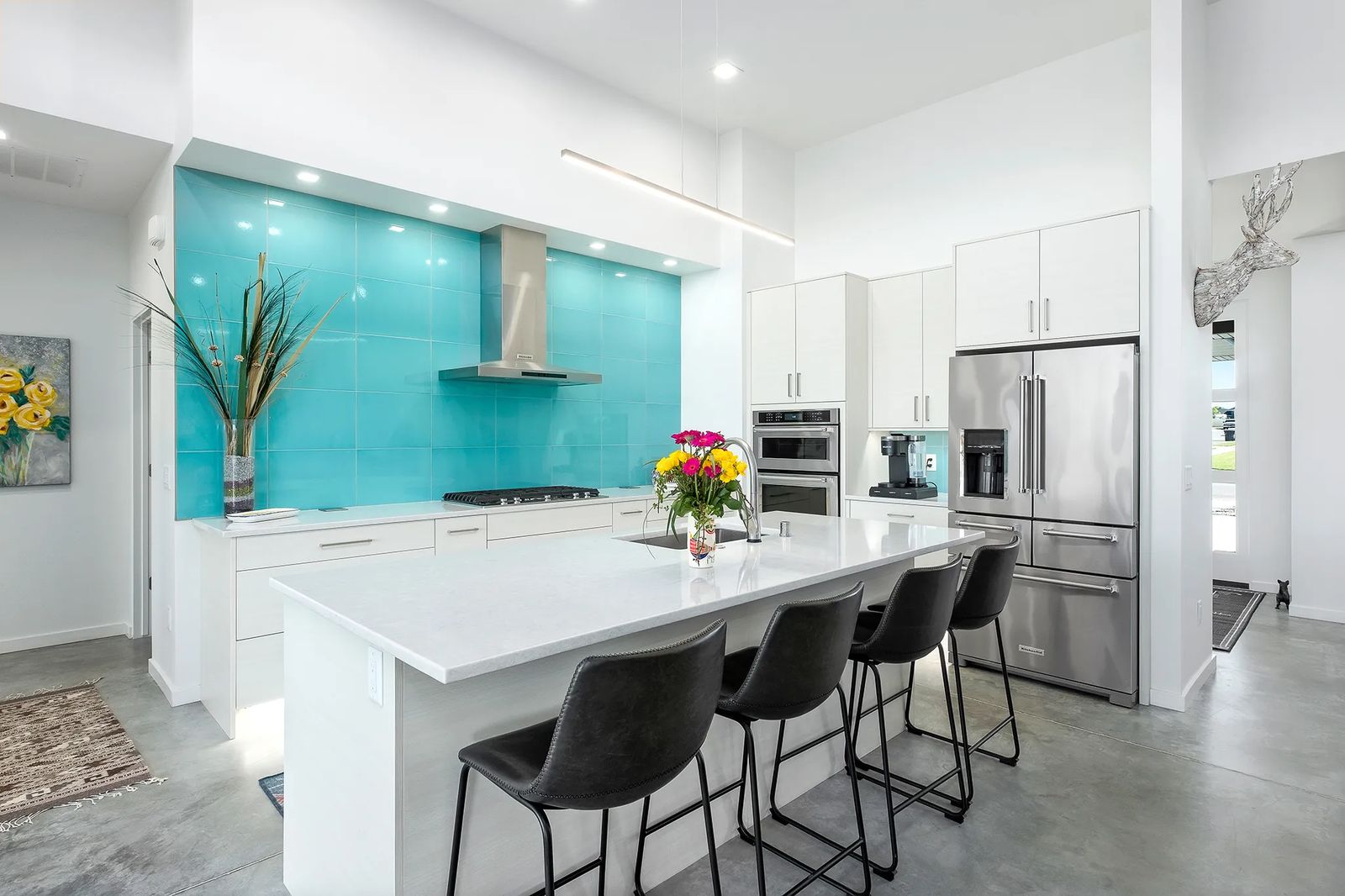 Parallel to the island, an eight-foot custom wood sofa table extends the length of a dark gray sectional. The table gives subtle separation to the living area. It also makes a perfect lookout for Mila, the homeowners' Yorkie.
The main living space dances with light from the large windows looking out to the patio and from the pair of windows at the front of the house. "The southern exposure adds to the home's energy-efficiency," Jeff notes. "The home offers a lot of light. It has fixed-pane windows and the heat ducts are in the ceiling, not in the floor."
It's easy to keep this home cool in the summer and warm in the winter. A linear fireplace adds a soothing tone. The relaxed atmosphere provides an inviting space for Joey and Linda to entertain family and friends.
It's truly a home for all seasons.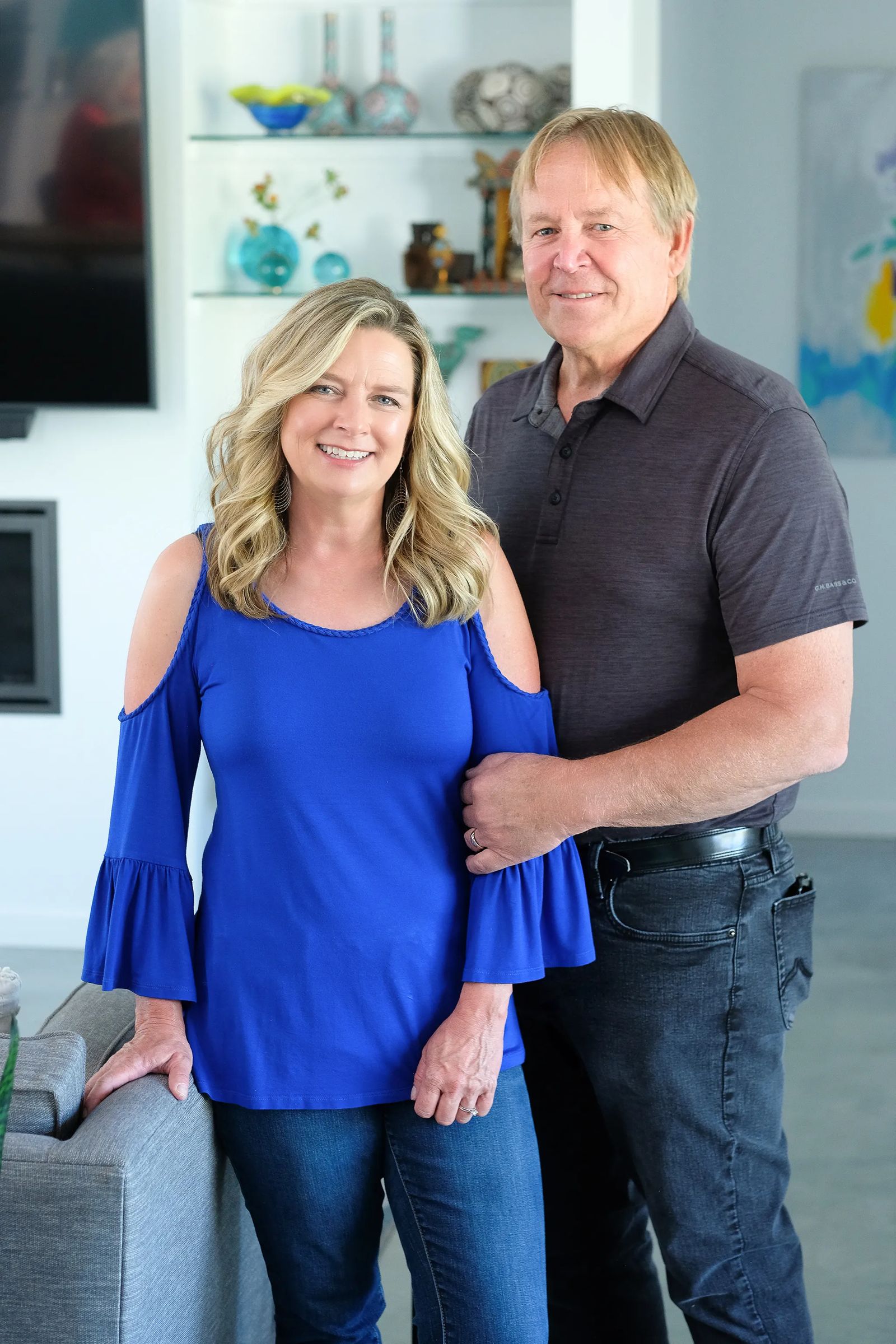 Distinctive Design Elements
Jeff and Tammy Hill's inspiration comes from listening to their clients. They discover what motivates their clients to build a new home — whether it's a growing family, emptying nest, or increasing care for aging parents. For most, it's the fulfillment of a life-long dream.
This husband-and-wife team offers a unique dynamic. Jeff has decades of hands-on construction experience and problem-solving skills. Tammy possesses an eye for interior design and an ear for discerning what clients really want their new home to look and feel like.
"Our design style is easy to define," Tammy says. "In our custom projects, it is the style of the client, containing colors, textures and distinctive design elements that make the house their home. In our spec homes, our design style is fresh and current, but not too trendy. We select a floor plan that lives well, has an attractive exterior, and is filled with the latest colors, kitchen design, and finishes. We want a customer to walk in and fall in love!"