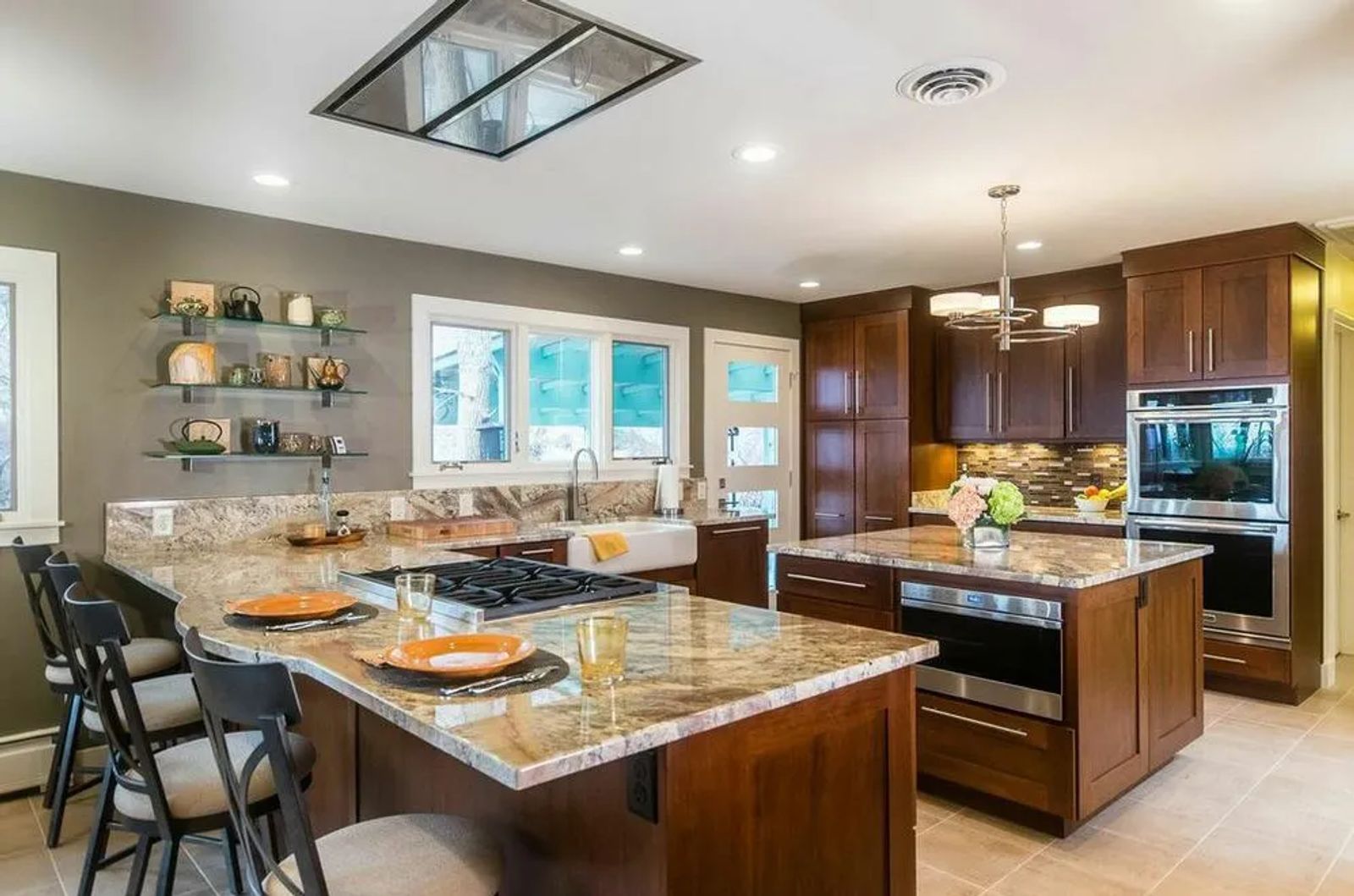 A Unique Approach to Re-Design

How One Couple Masterminded Their Remodel Project
Teresa and Scott Harrington offered a unique approach to the recent re-design and remodel of their home of 25 years. The couple combined their engineering skills. They put them to good use, warranting the praises of Design Consultant Jennie Kolk of Freyenhagen Construction. "It made the process so smooth. They showed up with a list and a spreadsheet!"
Teresa's background in physics and general mechanical engineering, along with Scott's electrical and instrumentation engineering, proved to be the icing on a dramatic redo of their kitchen, family room and hallway bath.
"They are the poster children for how our process is supposed to work," says Jeremy Freyenhagen, owner of Freyenhagen Construction. "Teresa and Scott worked hard on organizing. They thought it out, which made for few changes and not many delays."
"It was quite an evolution," exclaims Teresa, referring to how she and Scott worked with the Freyenhagen team in merging ideas. The couple's aptitude for design melded perfectly with that of Jeremy's team.
"We called Freyenhagen Construction because of the thorough process they have," says Teresa. "It's why we picked them, as, it's how we work. We were a good fit for a partnership."
The collaborative effort took off after designs were explored at the Freyenhagen re-Design Studio. "We evaluated designs and costs," notes Teresa, "before coming back to the original design. Scott did a lot of the design. We went the whole nine yards," she laughs. "We've been dreaming about doing this for some time."
The work started with their boxed-in kitchen. Teresa and Scott enjoy cooking together so they needed a more useable space. This soon became reality by the removal of a partition wall between the kitchen and the adjacent family room.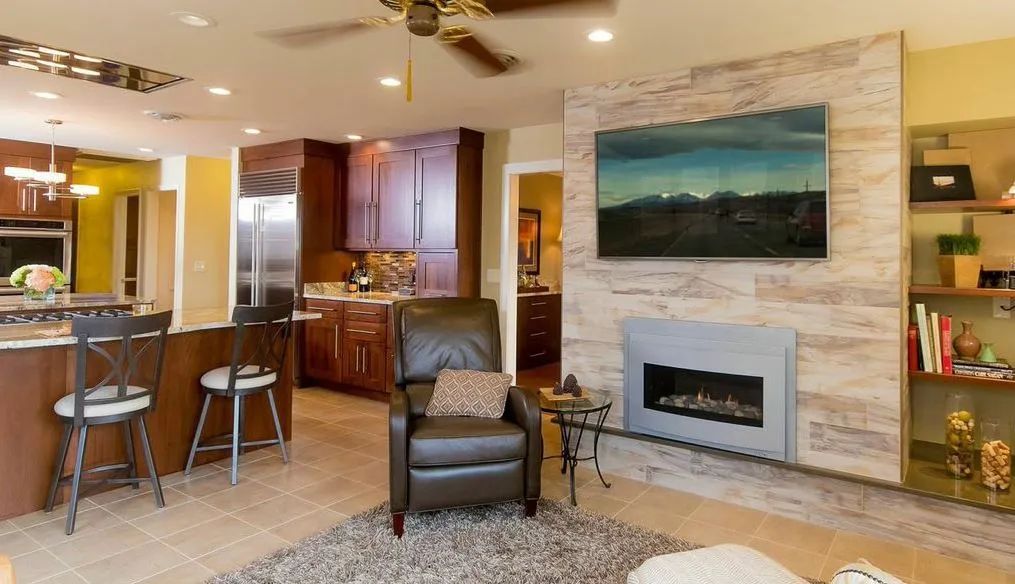 Integrating the kitchen and family area opened the space immensely. Natural light from large windows in the family room floods into this delightful area that overlooks the valley from its perch beneath the rims. The same large windows line the length of the kitchen giving glorious views to the Harrington's lush back yard. A window was added above the sink, syncing seamlessly with the flow of the open space concept.
A granite-topped counter featuring creamy swirls of vanilla and caramel gives a subtle separation to the space. Over ten feet long, the peninsula has a "curved bump-out" in the middle, making it ideal for four people. A six-burner gas range top is positioned in the middle with a sleek flush-mount, stainless steel, remote-controlled range hood stationed in the ceiling above.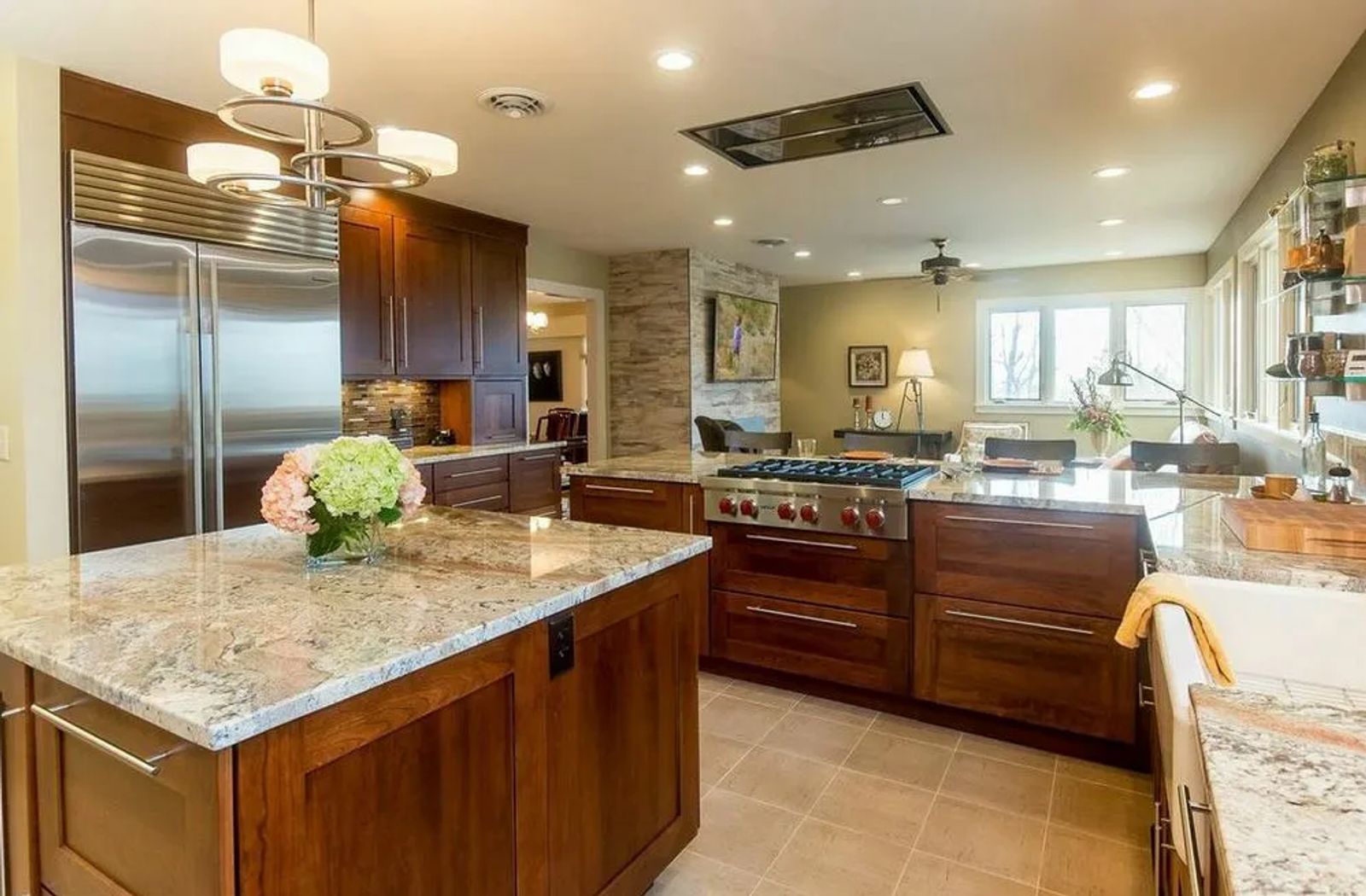 "The main idea is to give extra room for people to sit here without getting burned when we're cooking¸" explains Scott about the counter's bump-out. It's the piece de resistance both Teresa and Scott absolutely love.
Family and guests relax and visit on iron counter stools from Gallery Interiors while the duo prepares delicacies from their southern heritage. "Deep-south macaroni and cheese is our favorite to make for our son and his friends," says Teresa. She adds that this dish is very different than what is seen in this part of the country as it's made with eggs.
This happens to be just one of the mouth-watering meals fixed in this upscale kitchen. Scott shares, "She cooks a wonderful pot roast." Teresa gets this traditional meal going before she and Scott leave for First Methodist Church, where she has worked for the past two decades. "It's amazing to come home to this after church," adds Scott. "It smells so good in here."
High-end appliances from Ferguson Kitchen, Bath and Lighting Gallery enhance the space. "These selections were very important to the design…but they didn't want them to overpower the space," states Jennie. "We were able to accomplish that by installing cabinet panel fronts on the most of the appliances."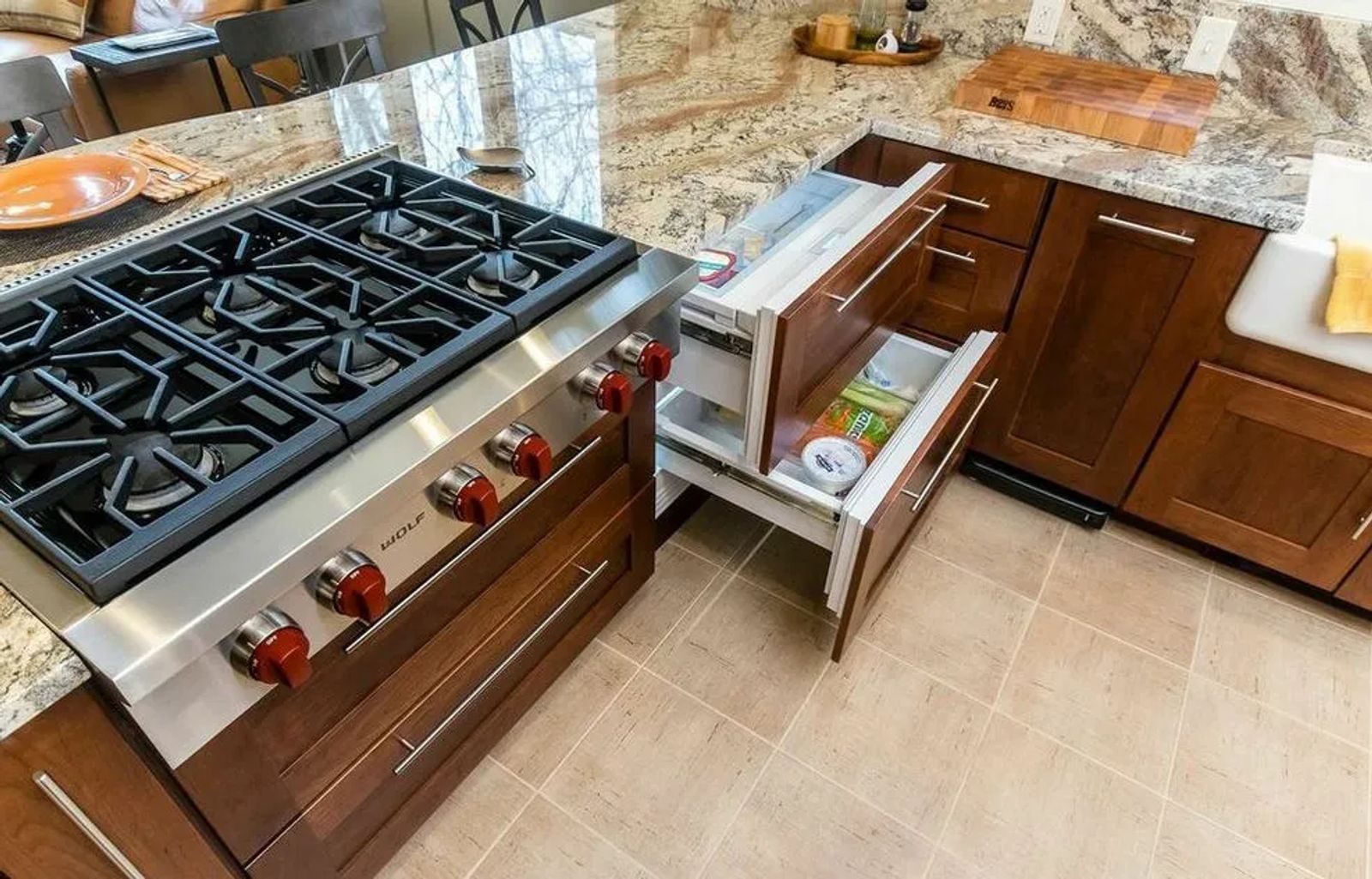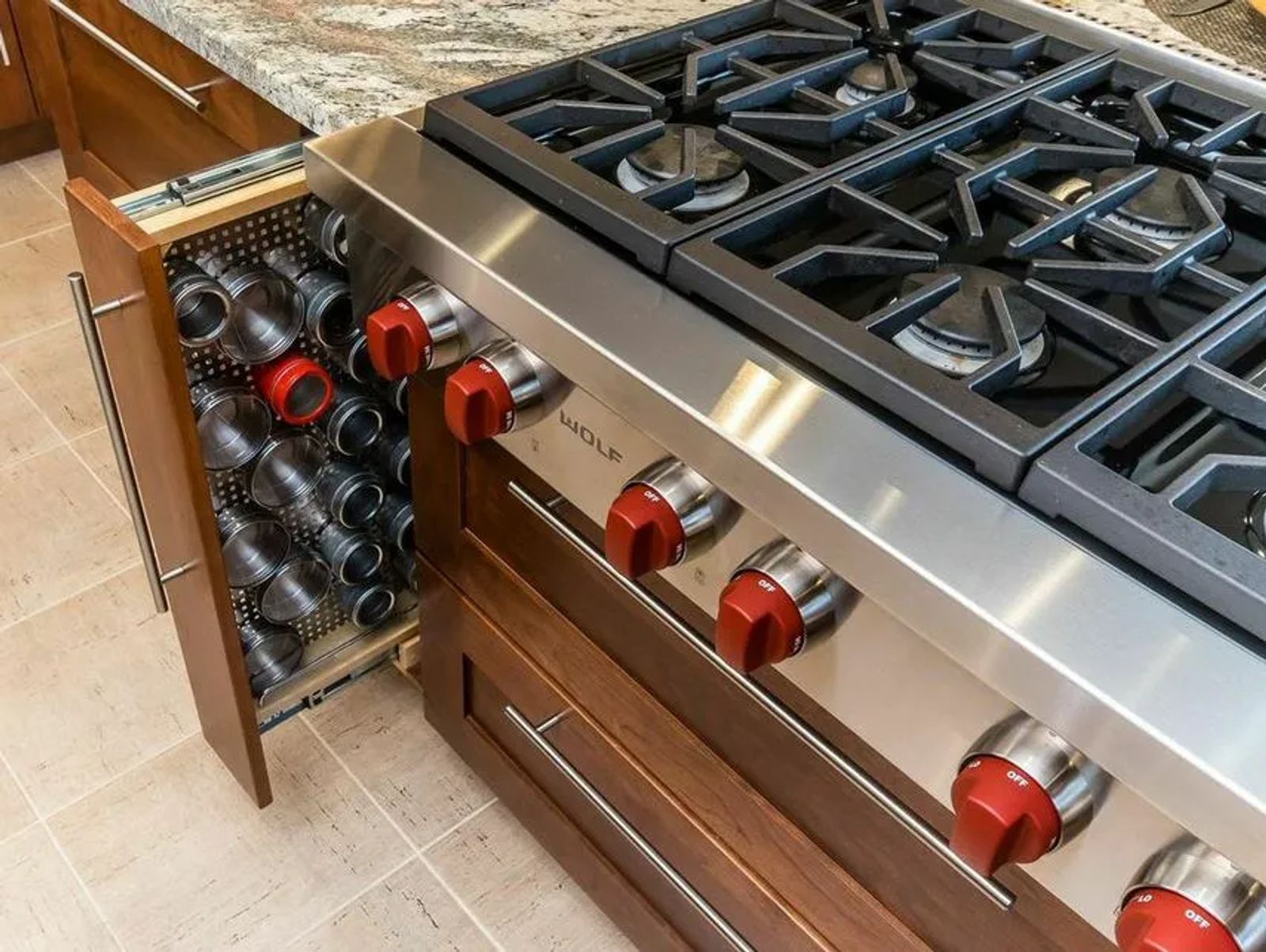 The panel fronts and shaker-style cabinetry are rich cherry wood sporting brushed nickel linear-pull hardware. The lustrous look of the metal against the traditional-style wood lends an industrial feel to the online casino space. Teresa defines the look as somewhat "eclectic."
Teresa originally wanted the visual look to be very contemporary. "But the more we worked on the design direction," says Jennie, "we realized she did like some aspects of contemporary design but she also liked warm colors with a mix of transitional and traditional pieces."
The timeless elegance of the cherry cabinetry reflects the traditional aspects of a cast iron apron sink. An earthy palate of modern glass mosaic backsplash tile from Pierce Flooring & Design amplifies the hominess of the kitchen.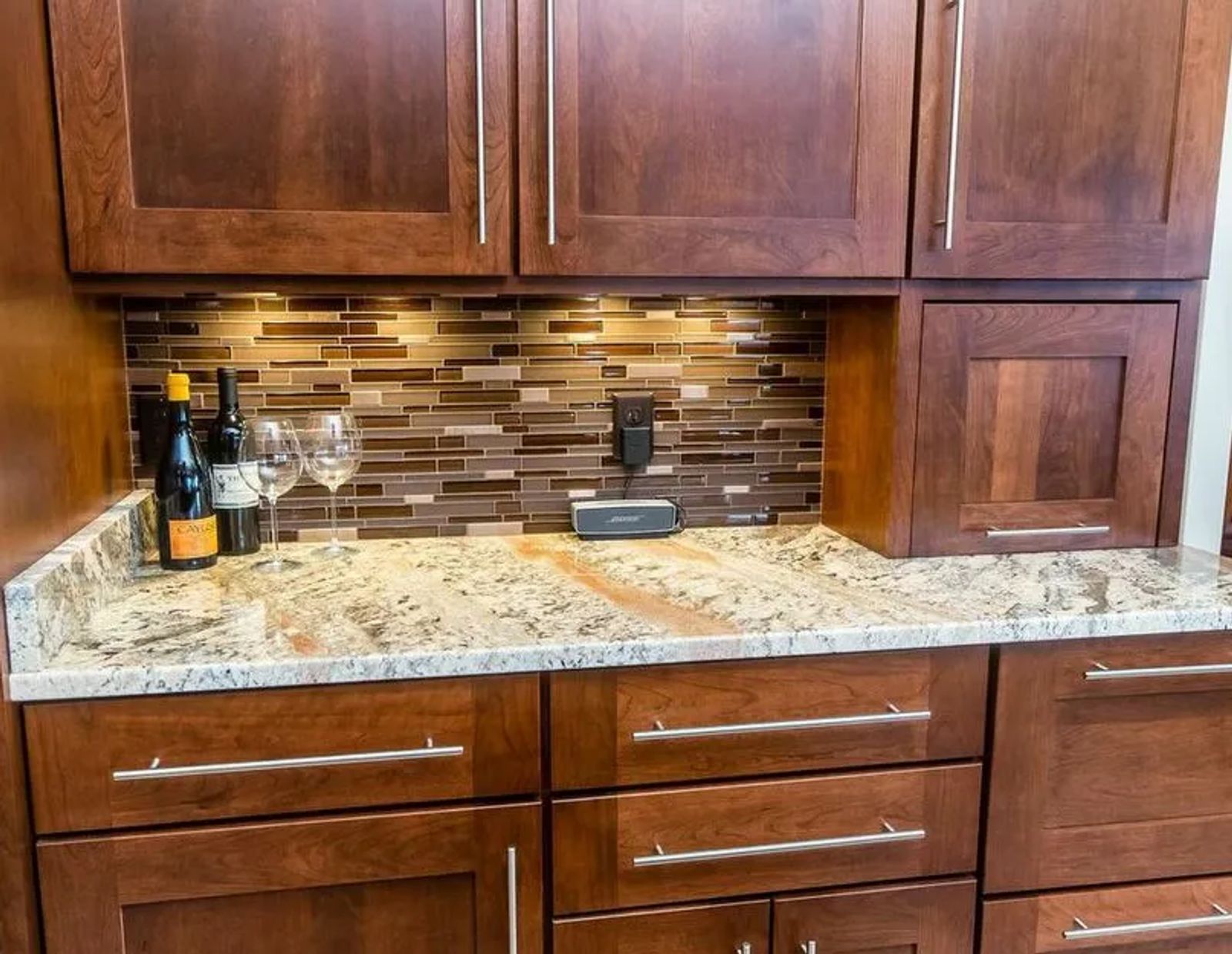 This impressive touch of mixing design styles carries through from the progressive influence of metallic-flecked ceramic floor tile, also from Pierce Flooring & Design, to refined details of floating glass shelves. Lending a sizeable distinction to the up-to-date amenities is a super-size Sub-Zero stainless steel fridge.
A secondary Sub-Zero drawer refrigerator and microwave drawer in the lower cabinets present easy access when prepping and cooking meals. Incorporated into the cabinets are organizers for storage of pots and pans, drawer dividers for utensils and a magnetic pull-out that holds metal spice containers.
Teresa planned what each cabinet would store. "This may not necessarily be typical to plan what was to go in all the drawers and cabinets," admits Teresa, "but it made it fun for me. I was able to do a very specific custom layout. I didn't want the poor configuration of my old kitchen!"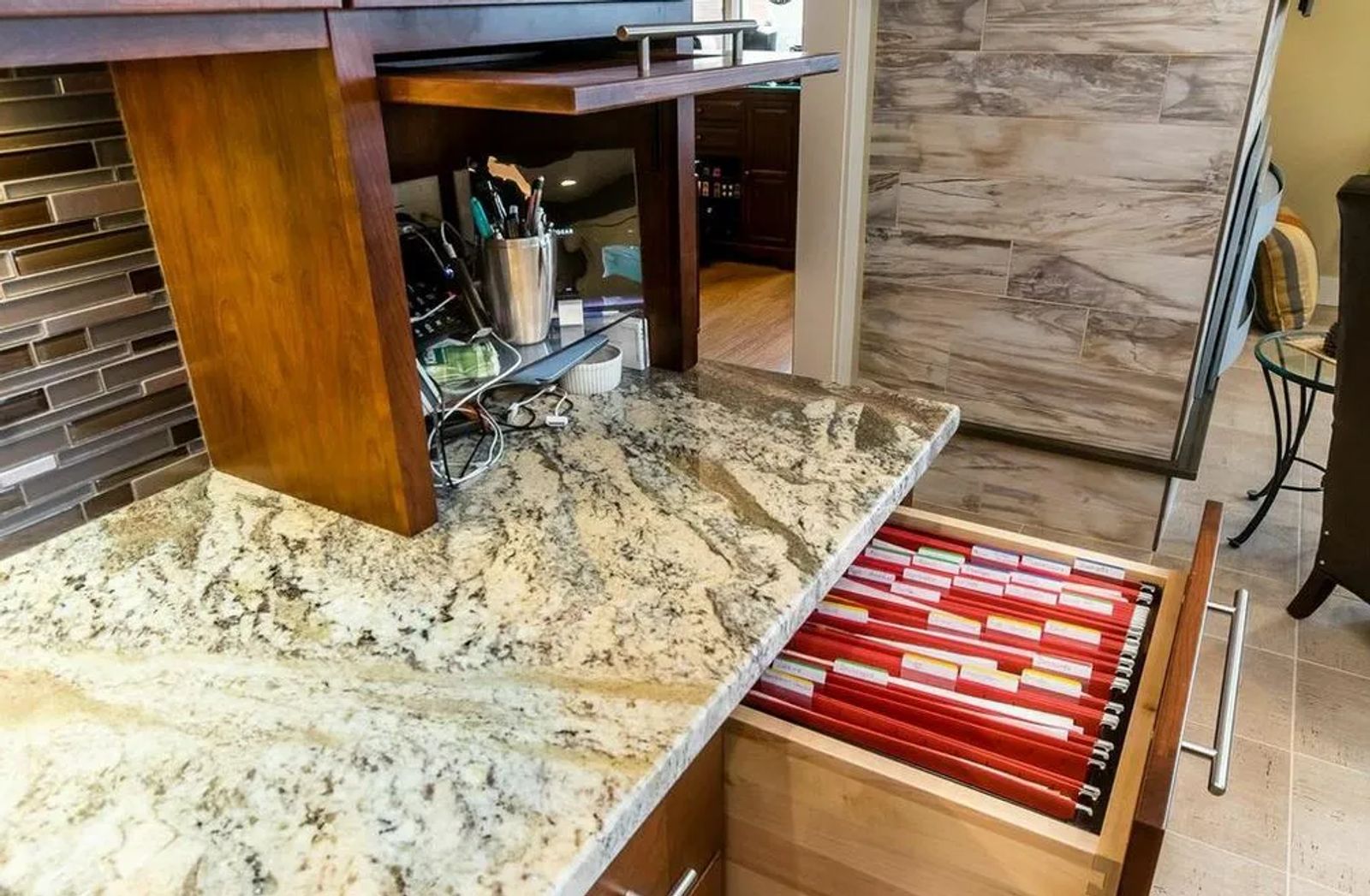 The old small kitchen is gone. It's now a large modern space opening into the family room. A gas fireplace is clearly the focal point of this lovely area. It was installed in the existing fireplace box but Teresa had initially wanted to "tear it out and start over."  The venting from a downstairs fireplace didn't allow her this pleasure.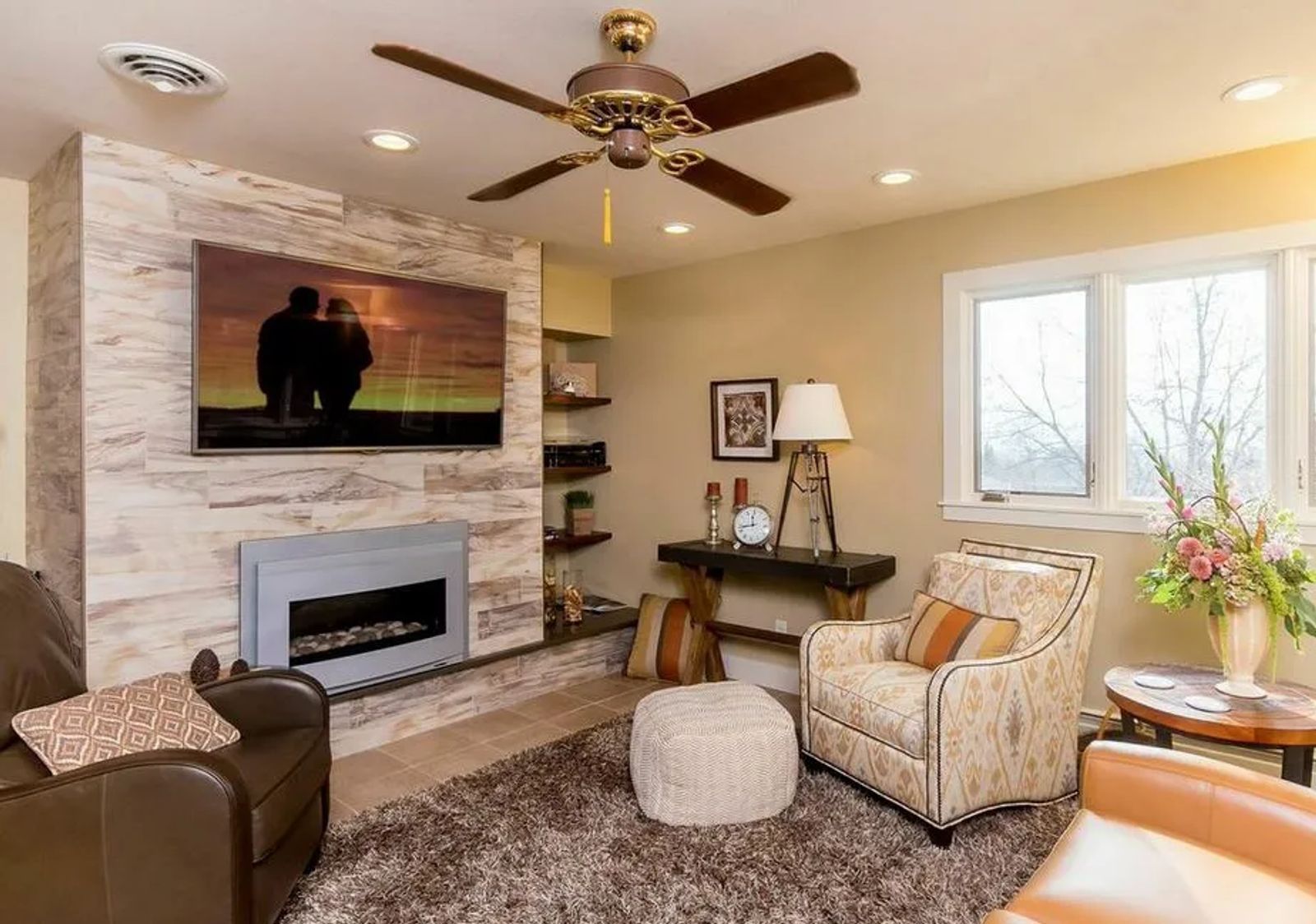 Instead, the fireplace was faced with a long rectangular porcelain tile that Jennie comments has a modern wood texture and a sleek quartz ledge running along the bottom and into the alcove next to it. A large TV sits above the fireplace and floating wood shelves were designed in the alcove to house the television's electronic components.
The neutral flooring highlights this stunning fireplace as it flows from the family room into the kitchen and down the hallway to the main bath. The same style of cabinetry as in the kitchen assumes its place in the bathroom, but with a twist. A floating vanity or wall-hung cabinet with LED tape lighting running underneath kicks this room up a notch.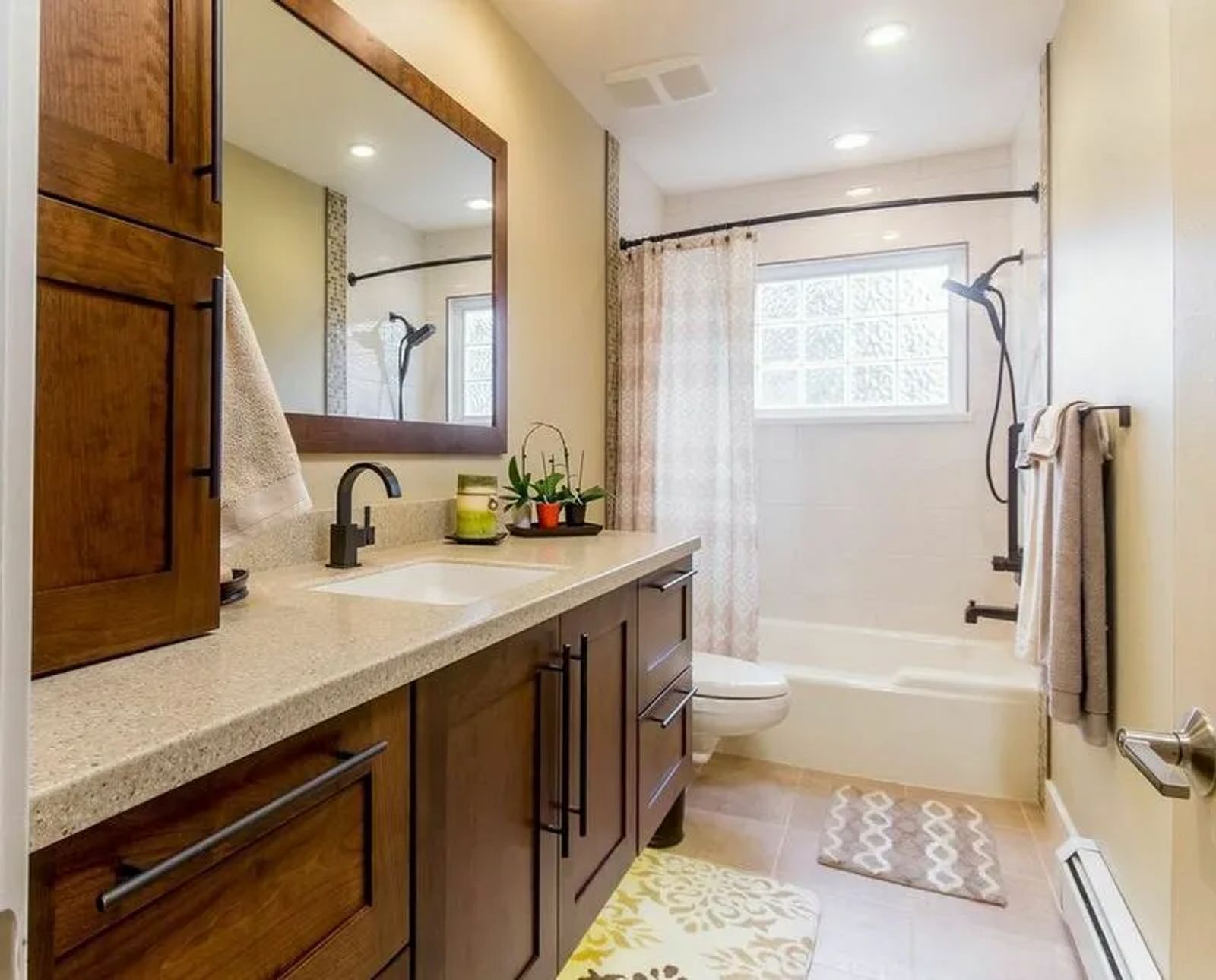 The existing wall-hung toilet has been replaced while the heavy-duty tub was re-glazed. It looks sharp with a vertical mosaic tile accent stretching up both sides of the outer tub wall.
"We get up every morning," points out Teresa, "and come down this hall and say, 'how lucky we are to live here!' We love this location with its good views. The rims glow in the mornings."
Teresa and Scott are elated with the transformation of their home. They've taken great care in planning what's important to them. Their backgrounds aided significantly in this re-design and remodel project. They used their talents and skills to mastermind their home's makeover. These "poster children" couldn't be happier.