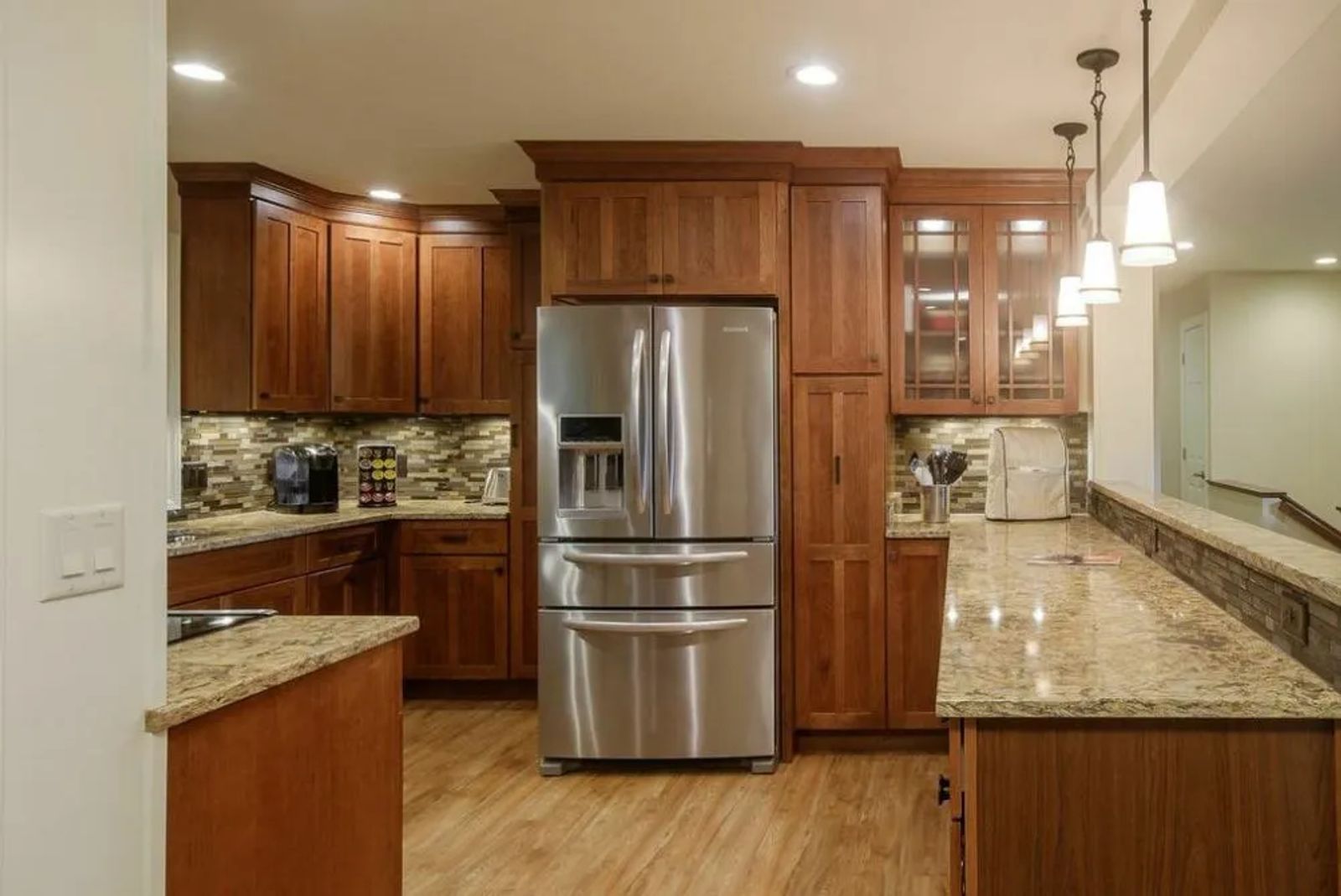 Aging In Place
Living at Home as Long as Possible
Ruth Jackson remembers moving into the family home on Heritage Drive when she was a junior in high school. That was 41 years ago when the home was newly built. The Jackson home and one other made up the entire subdivision. Ruth laughs, acknowledging that it was more or less like living in the country then.
Time passed and today this west end neighborhood just off Broadwater offers an abundance of homes. Oversized lots with mature trees highlight the pastoral feel this area continues to impart. It's an ideal spot to come back to after leaving the nest many years before.
Ruth returned home six years ago after retiring from a career with Delta Airlines. "I came back to help my parents," she says.
Ray and Bob Jackson, now both in their late 80s and retired from managing Yellowstone Teachers Credit Union, as well as Bob's teaching position at Senior High School and the Career Center, wanted to stay in their home as long as possible.
It was looking a bit 'iffy' with Ray, Ruth's mother, needing help with daily activities. "Mom had a tub in the bathroom," notes Ruth, "and she couldn't use it." There was carpeting in the living room that made it difficult for Ray to maneuver her walker over and the kitchen didn't offer enough light or open space. Even the front door posed problems for Ray and Bob upon their comings and goings.
If the couple was going to stay in their home, they were going to need some help. Everyday tasks like bathing, cooking and cleaning started to pose challenges. Even after Ruth moved back home, the three realized that their old family home would need some updating.
These considerations prompted a call to Jeremy Freyenhagen, owner of Freyenhagen Construction. "We've lived here 41 years," voices Bob, "so it was time to do it. We like our neighborhood and I like my yard so we didn't want to move."
Understanding the situation of Ray and Bob's needs for better mobility around the house, along with their desire to "age in place," Freyenhagen Design Consultant and Project Coordinator Jennie Trenka, created a design-build plan that promised to keep the Jacksons in their family home. Ruth wouldn't have to worry as much that her mother would take a spill.
"Even getting out of the house with its one step was always a worry," says Ruth. Leaving the house caused some consternation as did getting back in. The front door opened into a tight split-entry space where it was hard to fit two people and a walker. The flight of stairs going up to the main floor and the flight going downstairs presented an added element of danger.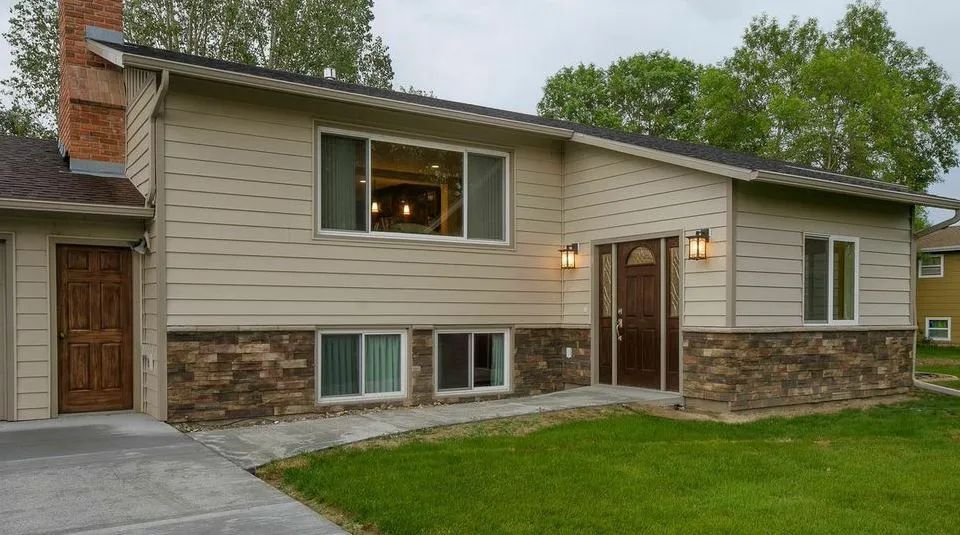 CREATING A LEVEL ENTRY
An open and airy addition onto the front of the home now allows everyone to come into the house together. "It was very tight," comments Jennie about the original entrance. "This was a big part of the design."
There is no step to fret over anymore and the door currently sits facing the driveway instead of the street. With a "broom" finish on a new sloped concrete sidewalk, Jennie notes that it's not such a hardship for Ray and Bob to walk from the car to the house.
The grand new entry with its high ceiling provides abundant room. There's even a nicely padded bench in case someone needs to sit.
Ruth helps her mom navigate the stairs up to the main level. Since breaking her hip over ten years ago, Ray learned in physical therapy how to correctly take stairs, however, Ruth and new handrails facilitate the effort.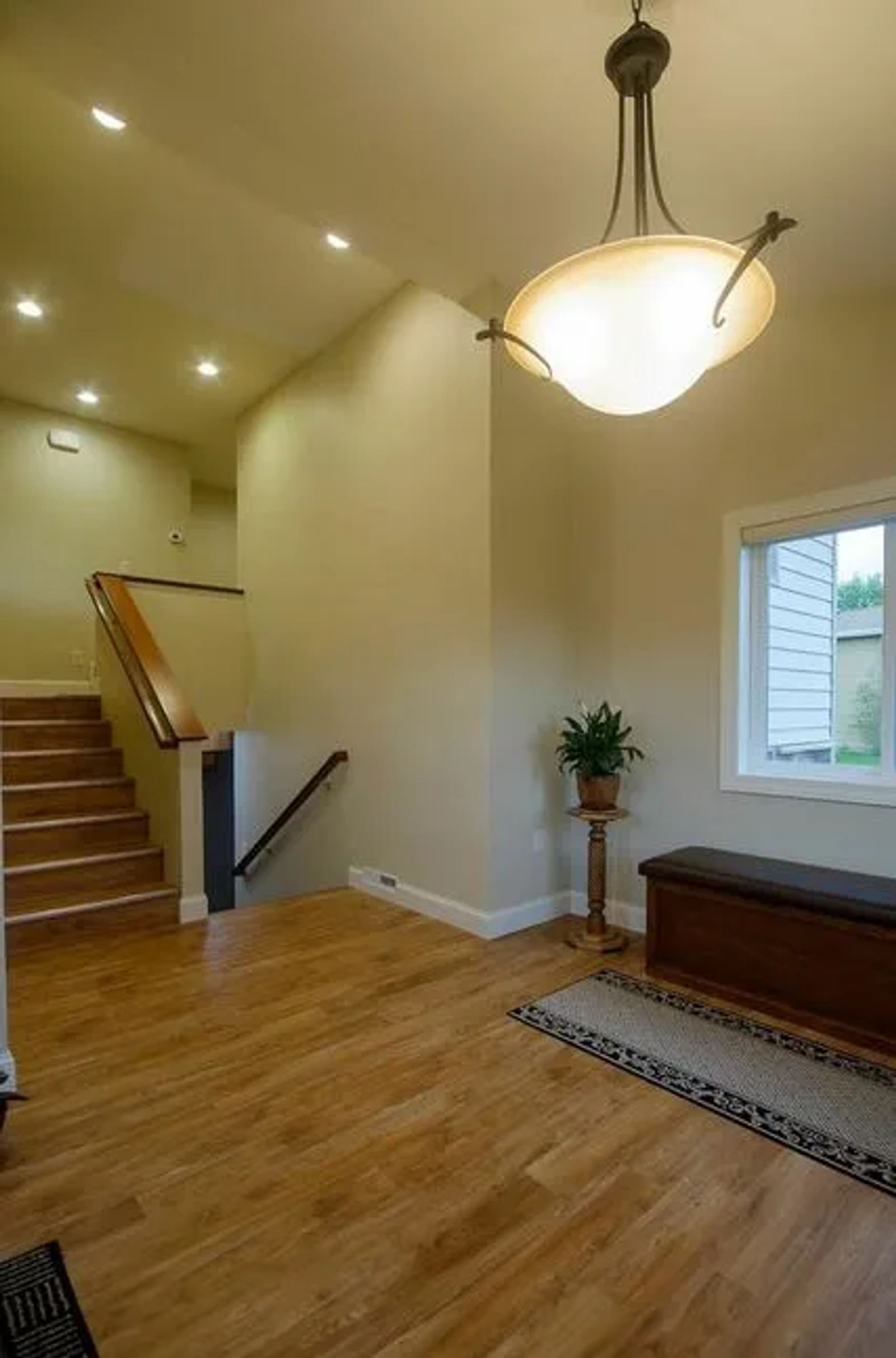 ABILITY TO LIVE ON ONE FLOOR
Once up the steps, Ray glides her walker across luxury vinyl flooring from Murray Floor and Window Coverings. The flooring looks like light oak, yet, submits a much smoother and softer surface for traction. Plus, it's easy maintenance.
The luxury vinyl flooring flows throughout the main level, including the two baths. The bath flooring introduces a slate stone look rather than the characteristic oak. New carpeting covers the bedroom floors. The entire level underwent a Freyenhagen "age in place" transformation.
"We reconfigured the upper level for easier access to the bedrooms and the hall bathroom," shares Jennie.  "Everything was taken down to the studs," adds Ruth. In fact, Ray and Bob moved over to Morning Star at Bonaventure Senior Living while the transformation took place.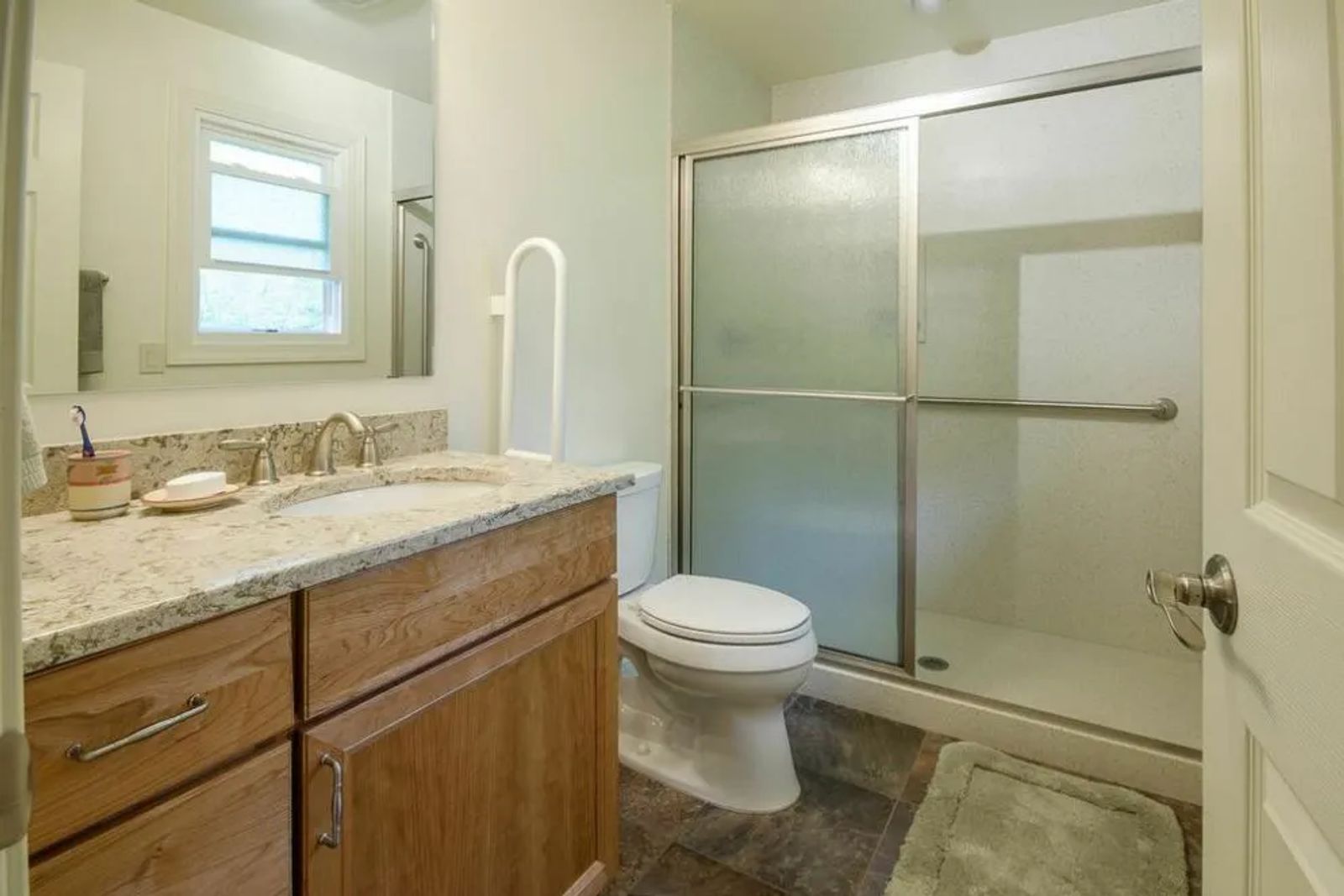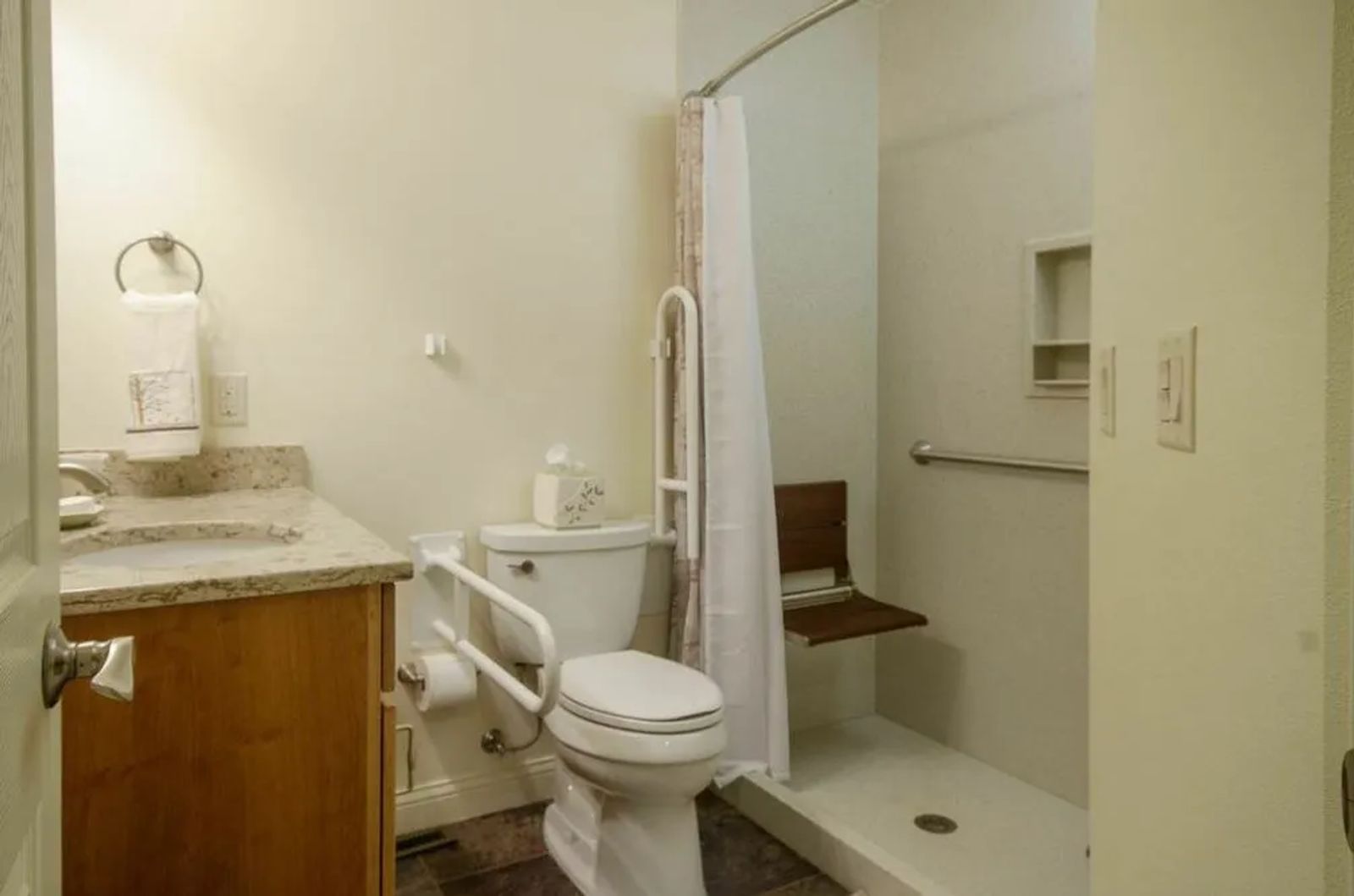 EASY MAINTENANCE
The new hall bath affords Ray easy access with her walker. The limited space features grab bars on either side of the toilet that fold up against the wall when not in use. Groutless and seamless Corian shower walls from Advanced Counter Technology make for easier cleaning. "What we did was remove the tub," says Jennie. "Ray can step into the shower and use the drop-down cedar seat and then use a hand-held shower head." Grab bars lend security, as well. "And, there's no shower door to impede getting into the shower."
Quartz countertops from Billings Marble & Granite grace this bath and the master bath that has also been redone. Bob claims the master bath with its new solid surface shower walls and shower door as his. "I like it all," he asserts of the home redesign, "but, I love my shower!"
Aging in place is about people staying as independent as possible in their own homes. Yes, most seniors need a helping hand with day-to-day tasks, however, like Bob and Ray, national statistics indicate that "90 percent of adults over the age of 65 report they prefer to stay in their current residence as they age."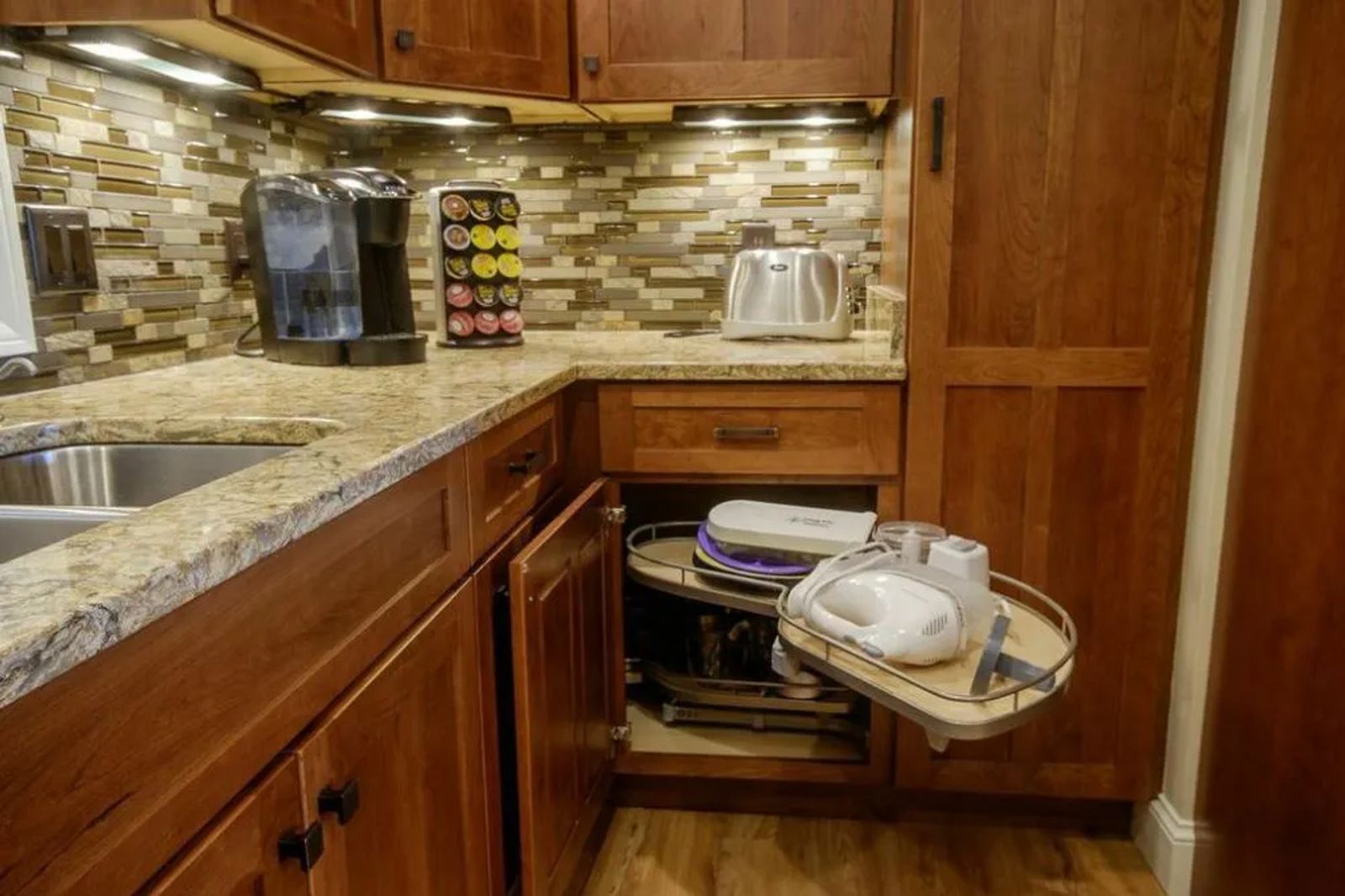 OPEN KITCHEN DESIGN WITH EASY REACH STORAGE
While Ray and Bob relax in the living area with Penny, their little poodle, Jennie focuses on how the kitchen area opens the entire space. "It's gone from being walled off to opening into the living and dining rooms," she says. Bob chimes in, "The kitchen seems bigger now than it did before."
A wide see-through allows Ruth conversation with everyone while cooking the meals. She stands at the stove visiting with those sitting at the temporary dining table. Bob advises that an Amish-made table and chairs should arrive soon from Pennsylvania.  "We bought it from Furniture Your Way, where the furniture is made in America."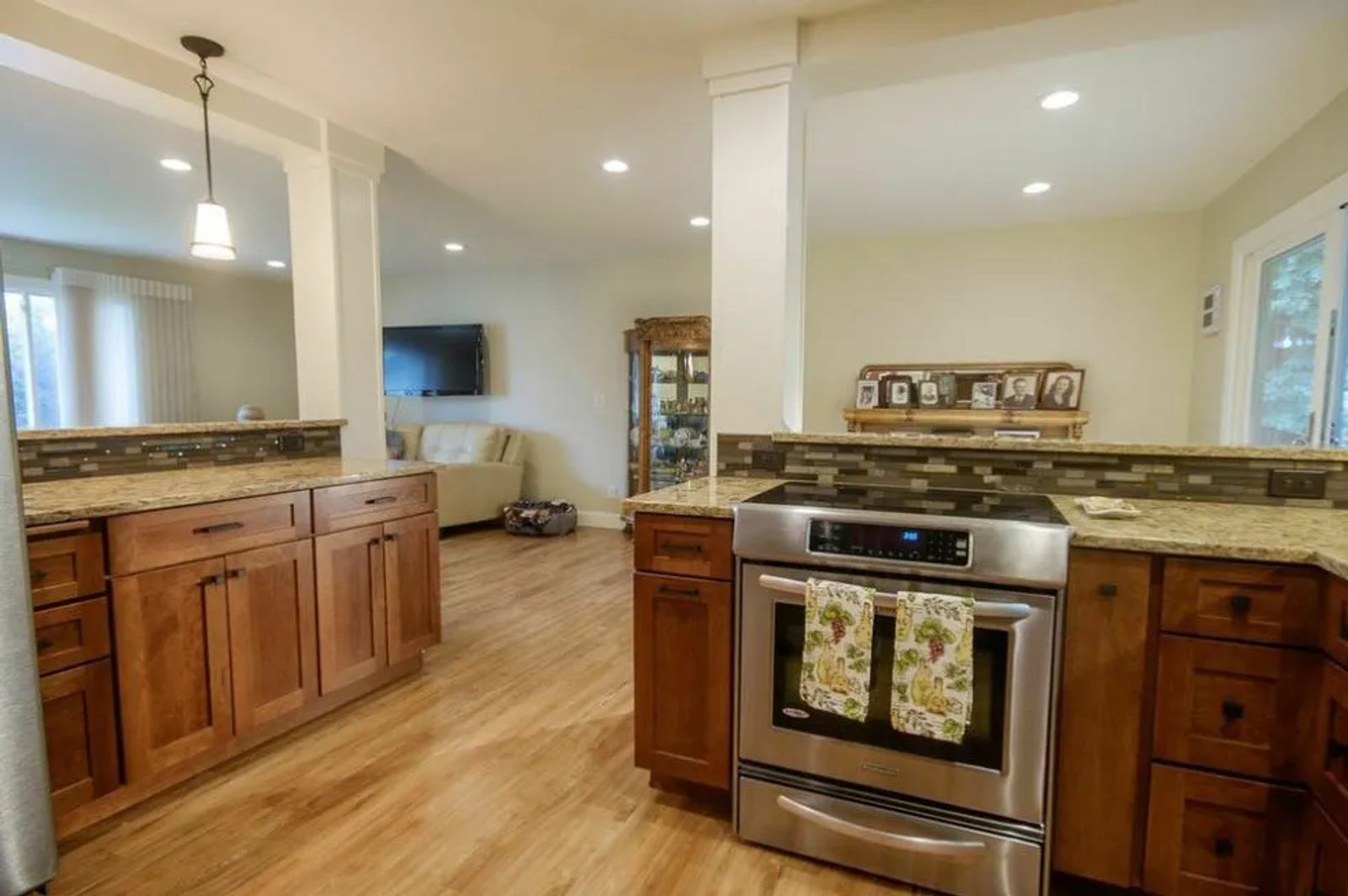 Ruth enjoys the new kitchen immensely. Standing at the sink, she looks out over the vast backyard where a lovely water fountain cascades over rock work, a small red and white barn captures the essence of the country, and her father's gardening skill flowers the landscape.
APPLIANCES AND COMFORTABLE HEIGHTS
Quartz countertops swirling with rich latte colors distinguish the fine taste of a kitchen well done. Cherry mission-style cabinetry shows off splendidly with dark hardware and upper lighted cabinets. This kitchen reflects what all cooks want – pull-out shelves in the lower cabinets for appliances. Ruth's days of crouching down on her knees and reaching back into the cupboards for the mixer or the Panini maker are over.
Crown molding finishes the richness of this kitchen while slate stone and glass mix together a beautifully unique transitional backsplash. All new appliances from Ferguson Kitchen, Bath & Lighting Gallery enhance the experience.
New recessed lighting and hanging lights over the counter augment the space. Generous lighting is a high demand commodity when aging in place.
The Jacksons delight in knowing they'll be able to remain in their home for many years to come. After a complete transformation with an eye on safety and convenience, the house they know and love has now grown old gracefully right alongside of them. It's also given Ray and Bob some peace of mind along the way.
HOW TO AGE IN PLACE
Top 5 trends that keep people from moving
According to the Aging in Place website, five top trends for keeping people in their homes as long as possible are exactly the five priorities Freyenhagen Construction delivered during this exceptional aging in place transformation. For more information on Aging in Place visit: www.aginginplace.com and www.aginginplace.org