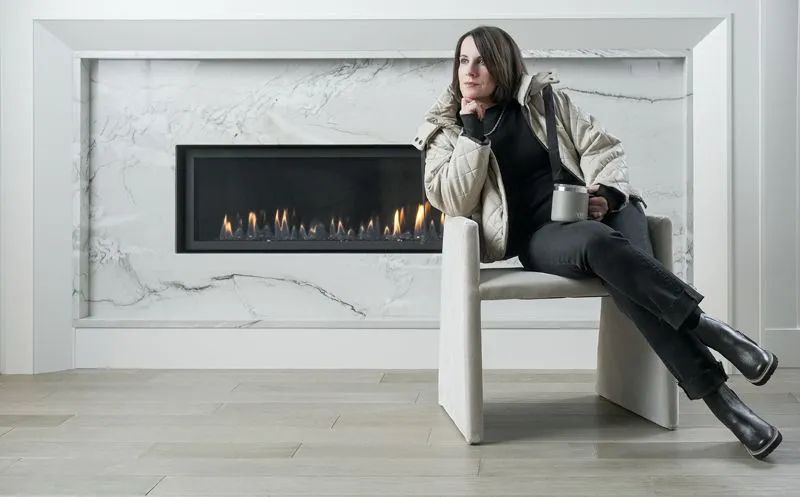 All About Leather
This buttery fabric will still reign supreme in 2023
Leather has been at the top of its game for the past year, and in 2023 this fashion trend will still reign supreme. While leather jackets have always been a hit in fashion circles, we found other inspiring looks for your wardrobe that play on this buttery fabric.
SPORTS WEAR
There are countless ways to style this long, leather puffer vest, but we knew it would be a sure-fire hit for weekend errands or at our kids' sporting events. It plays well casually but we know it will look stunning with workwear. Picture it with a dress pant and basic sweater for a clean, trendsetting look. This piece is transitional as well, helping us make it through our area's ever-changing weather.
GET THE LOOK
Mauritius leather vest, $298; Melissa Nepton top, $154; DL 1961 jeans, $179; KBETHOS vintage hat, $69. All can be found at Cricket Clothing Co. Dolce Vita Huey black leather boots, $140 at Something Chic.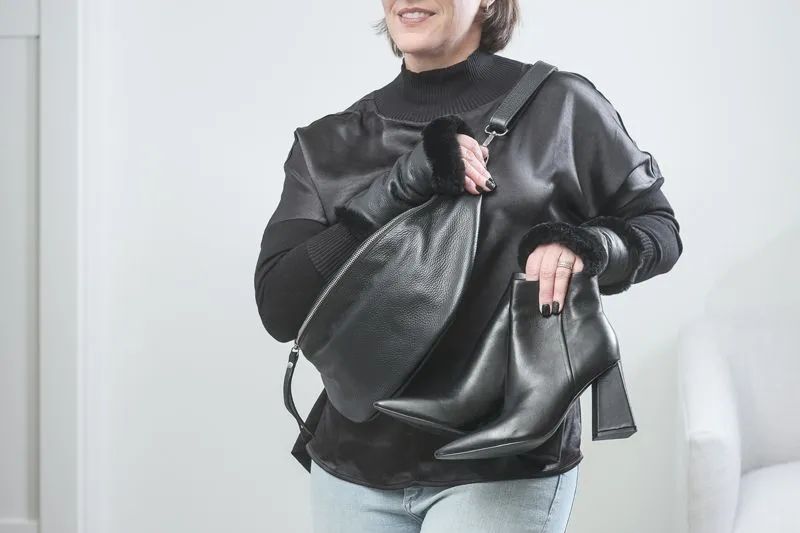 OUTERWEAR
Although leather jackets have always been a fashion trend, this puffy winter coat changes the game during our coldest winter months. The quilted pattern gives the cream-colored faux leather jacket a modern twist. Since this jacket is faux, the price isn't a gut-punch when this look is no longer as loved. This jacket brings unique details like the ribbon hood strings and the knit thumb hole cuffs for added warmth.
GET THE LOOK
Molly Bracken crewneck sweater, $48; DAZE daily driver skinny straight jean, $88; Steve Madden hooded quilted jacket, $99; Dolce Vita Huey black leather boots $140. All from Something Chic.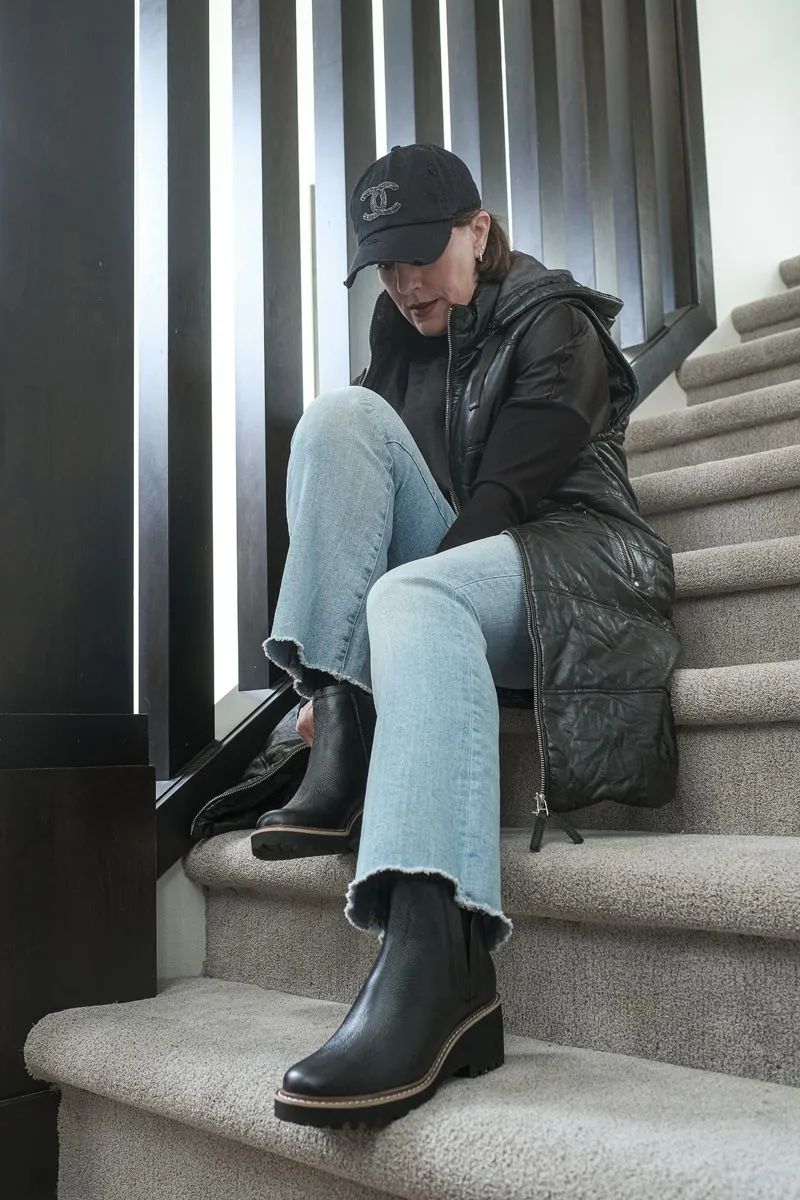 ALL DAY WEAR
Leather leggings have been a closet staple thanks to athleisure and our love for comfort over all else. So, transitioning into leather trousers that are built with the legging comfort is a no-brainer. The best part about leather pants is the countless ways you can wear them. Want a casual afternoon lunch look? Throw on a hoodie and sneakers and these pants work perfectly. Want an office appropriate outfit? Give a textured blazer an opportunity to be leather's bestie and you look both professional and stylish.
GET THE LOOK
Made Worn Rolling Stones T-shirt, $179; Bishop + Young Cavalli Blazer, $148; Sanctuary Carnaby Kick Drop Spice pant, $98; Marc Fisher Kulika book, $199. All from RocHouse.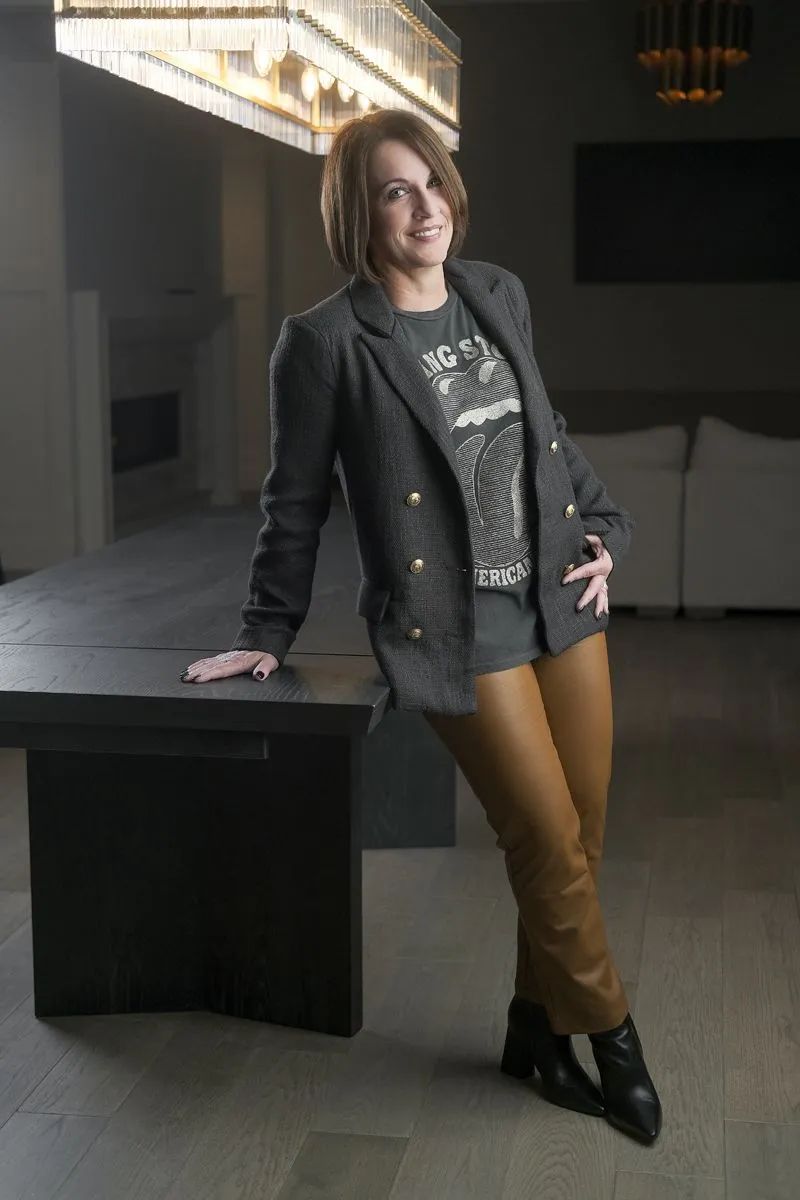 ACCESSORY WEAR
If you're still testing the waters in the leather trend, adding leather accessories is a perfect way to get started. A few of our favorites are the cross-body fanny pack-inspired bags, classic boots that can be worn at work or out to dinner, and the extremely stylish fingerless gloves. But these aren't the only leather accessories we're loving in 2023. Look for jewelry and belts in creamy warm leathers to add richness to your wardrobe this year.
GET THE LOOK
BC Bags cross body purse, $119, and Leather fingerless gloves, $69, from Cricket Clothing Company. Marc Fisher Kulika Boot, $199, from RocHouse.