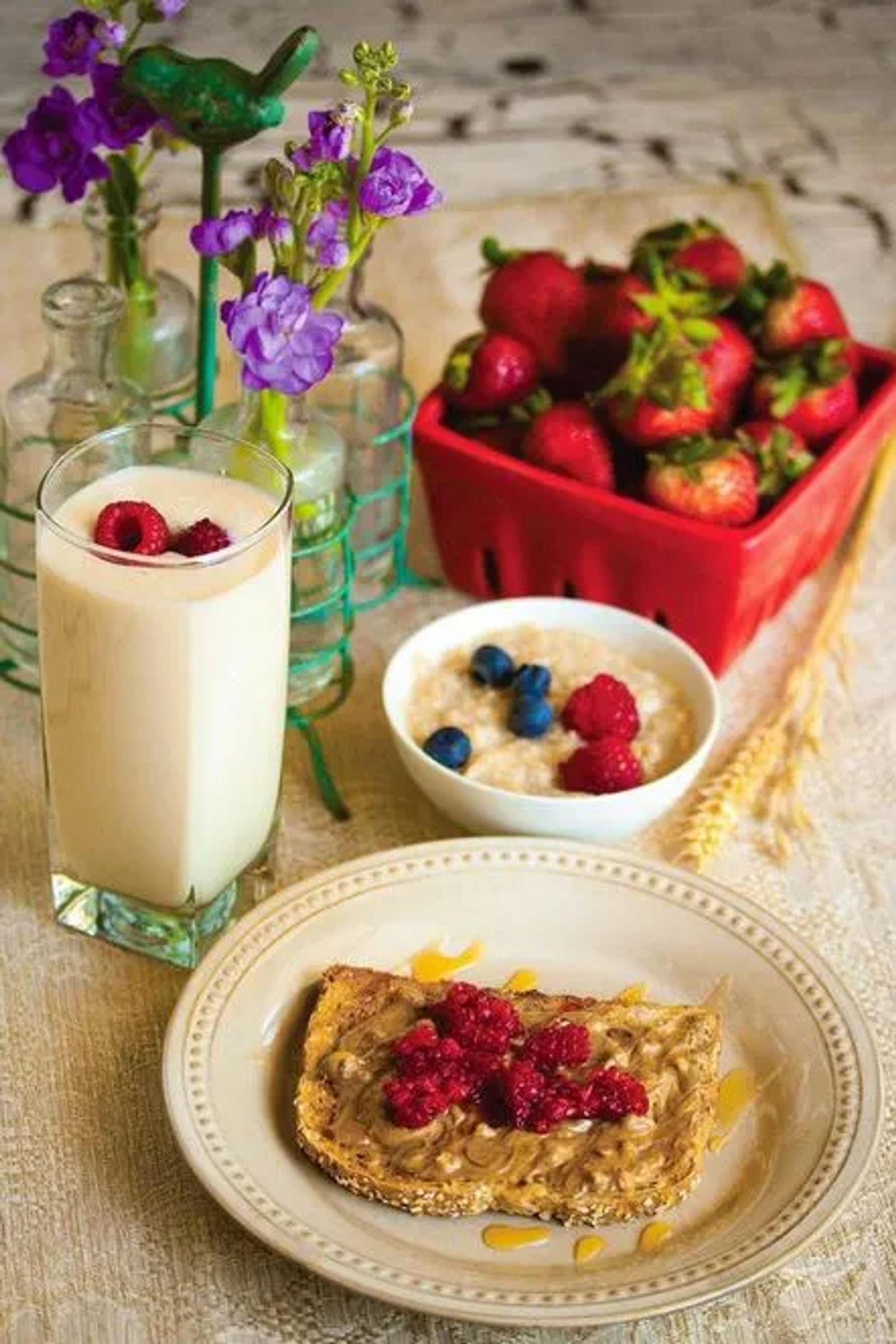 Better With Breakfast
Ways to start every day with a healthy beginning
Life is better with breakfast. "'Breakfast' comes from 'break the fast,'" according to Dr. Virginia Mermel, a Certified Nutrition Specialist. As a Montana Team Nutrition School Wellness Coach, Mermel believes "Regardless of age, all people function better if they refuel in the morning." She says "Breakfast can have lifelong benefits." Simply put, children as well as adults who eat breakfast learn and play better.
After a night of sleep, a bowl of steaming oatmeal or a slice of multigrain toast along with a refreshing smoothie will jumpstart the body and mind into the day's activities.
Oatmeal offers wholesome goodness in different forms from the soupy consistency of instant oats to the richer old-fashion oats to the chewier steel-cut version. The ease of cooking corresponds to the nutrition benefits as well as the flavor and texture. The quicker cooking times often equates with less nutrition and flavor. With the addition of goodies such as fresh fruit and nuts, oatmeal can be even more nourishing and delicious.
Toast not only provides a blank palette for tasty toppings, but offers fiber as well as a textural delight. The perfect slice of toast should be crunchy on the outside and soft and moist on the inside. Though toast is traditionally white bread with butter, consider healthier alternatives such as multigrain or wheat bread. Instead of butter, try spreading on peanut butter or ricotta cheese topped with sliced strawberries.
Finally, a smoothie can be the union of fruit and protein, all in one glass. Into a blender, puree a banana, some frozen berries or other fruit along with some milk or juice and ice cubes. To add interest, try blending in some nut butter, some raw oatmeal or even a handful of spinach.
For a good day every day, begin with eating a healthy breakfast. Life will be good!
OATMEAL
Steel-cut Oats: Also called Irish oats or Pinhead oats, steel-cut oats are cut into several pieces and steamed but not rolled. They have a chewier consistency. They take about 25 minutes to cook.
How to Make Oatmeal with Steel-Cut Oats
For four servings, in a large saucepan bring three cups water and pinch of salt to a boil. Stir in one cup steel-cut oats. Cover and simmer for 20 to 30 minutes or until the oats are just tender and the liquid is nearly absorbed.  Hint: Store a batch of cooked oatmeal in the refrigerator and warm a bowl in the microwave for a quick breakfast.
Old-Fashion Oats: Also called rolled oats, oats are steamed and flattened with large rollers into flakes. They take about five minutes to cook.
How to Make Old-Fashion Oats
For four servings, in a medium saucepan bring 3-1/4 cups water and a pinch of salt to a boil. Stir in two cups roll old-fashioned. Reduce heat and simmer, uncovered, for five minutes, stirring occasionally. Remove the pan from the heat. If desired, cover and let stand for two minutes before serving to allow oats to absorb any remaining liquid.
Quick-Cooking Rolled Oats: These oats are cut into pieces and rolled thinner so they cook in about one minute on the stovetop.
How to Cook Oatmeal with Quick-Cooking Oats
For four servings, in a medium saucepan bring 3-1/2 cups water and a pinch of salt to boiling. Stir in two cups quick-cooking oats. Reduce heat and simmer, uncovered, for one minute, stirring occasionally. Remove the beste online casino pan from the heat. If desired, cover and let stand about 30 seconds before serving. This allows the oats to absorb any remaining liquid.
Instant Oats: These oats are precooked and dried before rolling. They can be rehydrated by adding boiling water. Instant oats usually come prepackaged so preparation is easy – open bag, pour into bowl, add boiling water, stir and eat, usually after adding some goodies.
Healthy Goodies to Add to Oatmeal
Dried fruit – chopped dates, cherries, raisins, currants, cranberries, chopped apple slices, and/or chopped apricots
Fresh fruit – blueberries, raspberries, sliced bananas, and/or sliced strawberries
Chopped nuts – pecans, pistachios, cashews, hazelnuts, walnuts, or almonds
Shredded or flaked coconut
Milk, yogurt, almond milk, rice milk, or soy milk
Pumpkin butter or applesauce
Sprinkle of ground cinnamon or ground nutmeg
Brown sugar, honey, or maple syrup
TOAST

Toppings for Toast
Peanut butter, cashew butter or almond butter
Fruit spread
Cream cheese or ricotta cheese with sliced strawberries or pear
Applesauce with a sprinkle of cinnamon or sliced apples
Scrambled or poached egg with tomato salsa
Hummus with sliced cherry tomatoes
SMOOTHIES

Basic Smoothie
For two servings, add a peeled and sliced banana to a blender with some frozen fruit such as strawberries, blueberries or mangoes. Add some yogurt and juice or low-fat or fat-free milk, soy milk or almond milk along with some ice cubes. Blend. If the smoothie is too thick, add more liquid. Taste and add a little honey or other sweeteners if needed. For more protein, add a few nuts or a tablespoon of peanut butter and a tablespoon of raw oatmeal for fiber. For even more added nutrition, blend in a small handful of spinach or kale.
Cherry Pineapple Smoothie
Makes 4 servings
1 c. frozen cherries
1 c. frozen pineapple
1 banana
1 c. orange juice
½ c. yogurt
Add all ingredients to a blender and blend until smooth.

Chocolate Banana Coconut Smoothie
Makes 4 servings
2 bananas
2 t. unsweetened cocoa powder
2 c. vanilla almond milk
2 T. shredded unsweetened coconut
1 c. ice
Add all ingredients to a blender and blend until smooth.
DID YOU KNOW?
According to the Learning Connection 2013 report published by Action for Healthy Kids, children who eat breakfast attend 1.5 more school days each year. They also score 17.5% higher on standardized math tests than do their peers who skip breakfast.