Calming the Wanderlust
Grace Hines is an unassuming adventurer, avid opportunist

Grace Hines would hardly describe herself as an adventurer. Nor would she consider her life anything extraordinary. But, how many 79-year-olds would take off, alone, to drive down the Baja? Or spend Montana winters, in a cabin, with no running water?
From "manning" a fire tower on the edge of Yellowstone Park to hitting the open road with her Scamp trailer in tow, Hines relishes new experiences. "Traveling is such a great leveler," she says. "You make instant friends."
Between travels to places unplanned, Hines finds comfort in the simplicity of her solitary life on an island in the Rosebud River. And she manages it all on the shoestring of her social security check.
"I don't know how, but I do everything I want to do," she says, smiling. "I just think, if you want something bad enough, you find a way."
Hines' life is a blend of down-home Montana and "new-age" curiosity. Born in a rough, two-room "house" on a ranch outside Ashland, she credits those hardscrabble years for making her resilient.
"I like being physically active and like the challenge, even of living life in cold weather and fixing things," she wrote during the winter she spent on her son's 46-foot sailboat, docked at a small Native village in Alaska.
Alone, she swept and shoveled snow off the deck, hunkered down as banshee winds tore at the lines and reveled at the people, mostly Natives, she met. She beams when she talks about the experience, counting it as one of her all-time favorites.
"I always wanted to live on a dock," she says. "I went up to stay one month and ended up staying five."
Similarly, her life in Absarokee is not for the faint-hearted. Since her cabin has no well or septic system, she relies on an outhouse when nature calls and, for water, she depends on the river. With a 5-gallon bucket in hand, she strides 50 yards to her walking bridge, drops it on a line and drags it through the current below. When it's heavy with cargo, she hauls it up, hand over hand, and lugs it back to her cabin.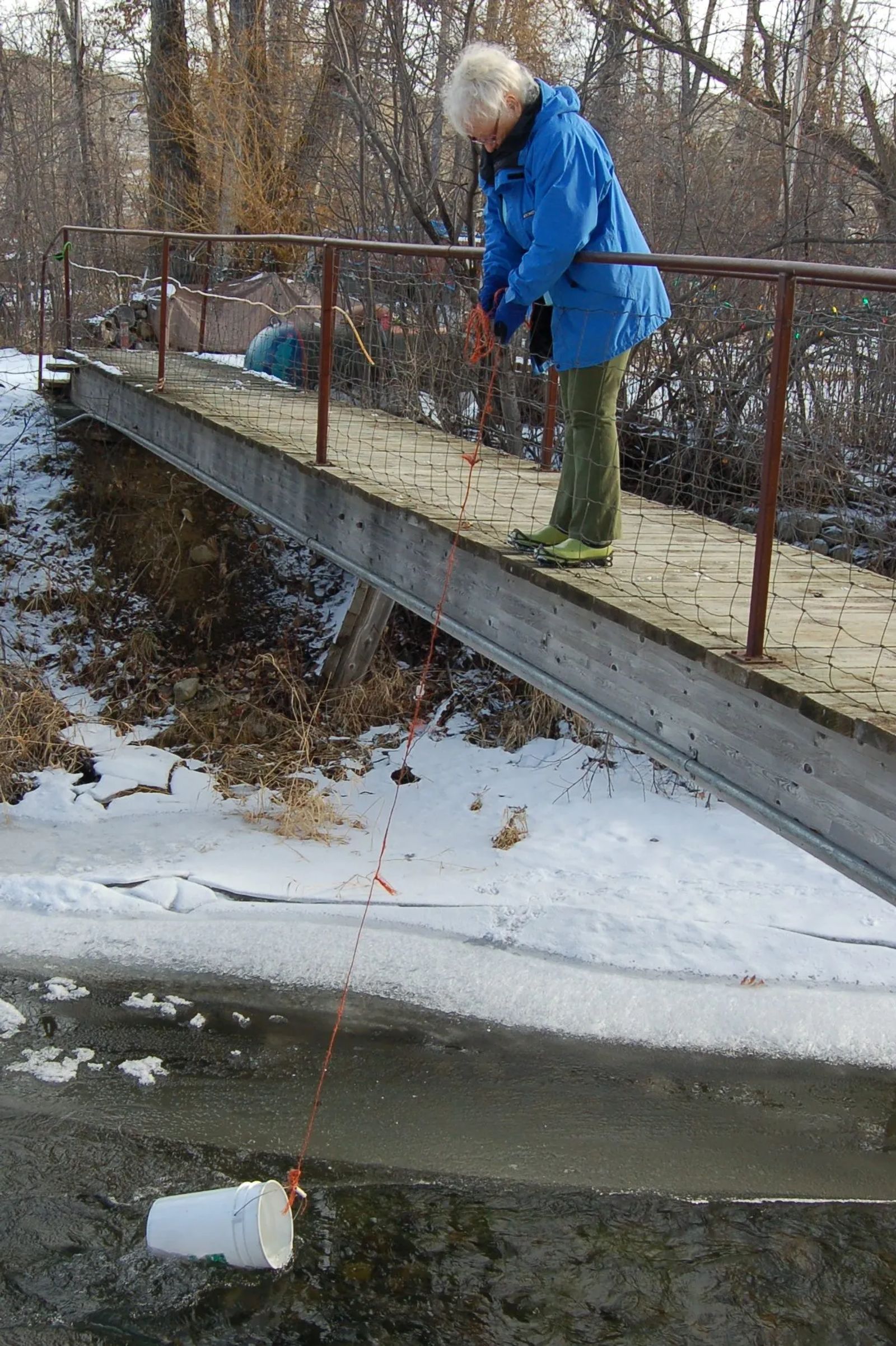 "I grew up keeping a hole in the ice for the livestock," she says. "So, nothing is new to me here – it's just second nature. I can improvise almost anything that needs being done."
Hines' simple life consists of tasks most would never consider, like making sure her wooden toilet seat is propped by the fire. That way, it's ready and warm for a trip to the outhouse, she explains.
When weather keeps Hines inside, she reads, paints and knits. She loves color – her home glows with a mix of purple, turquoise and gold – and she cherishes the days a Netflix movie arrives in the mail. She's hooked on her cell phone and internet service – it's dial-up – and when she runs low on clean clothes, she makes the 30-mile round trip to a laundromat in Columbus.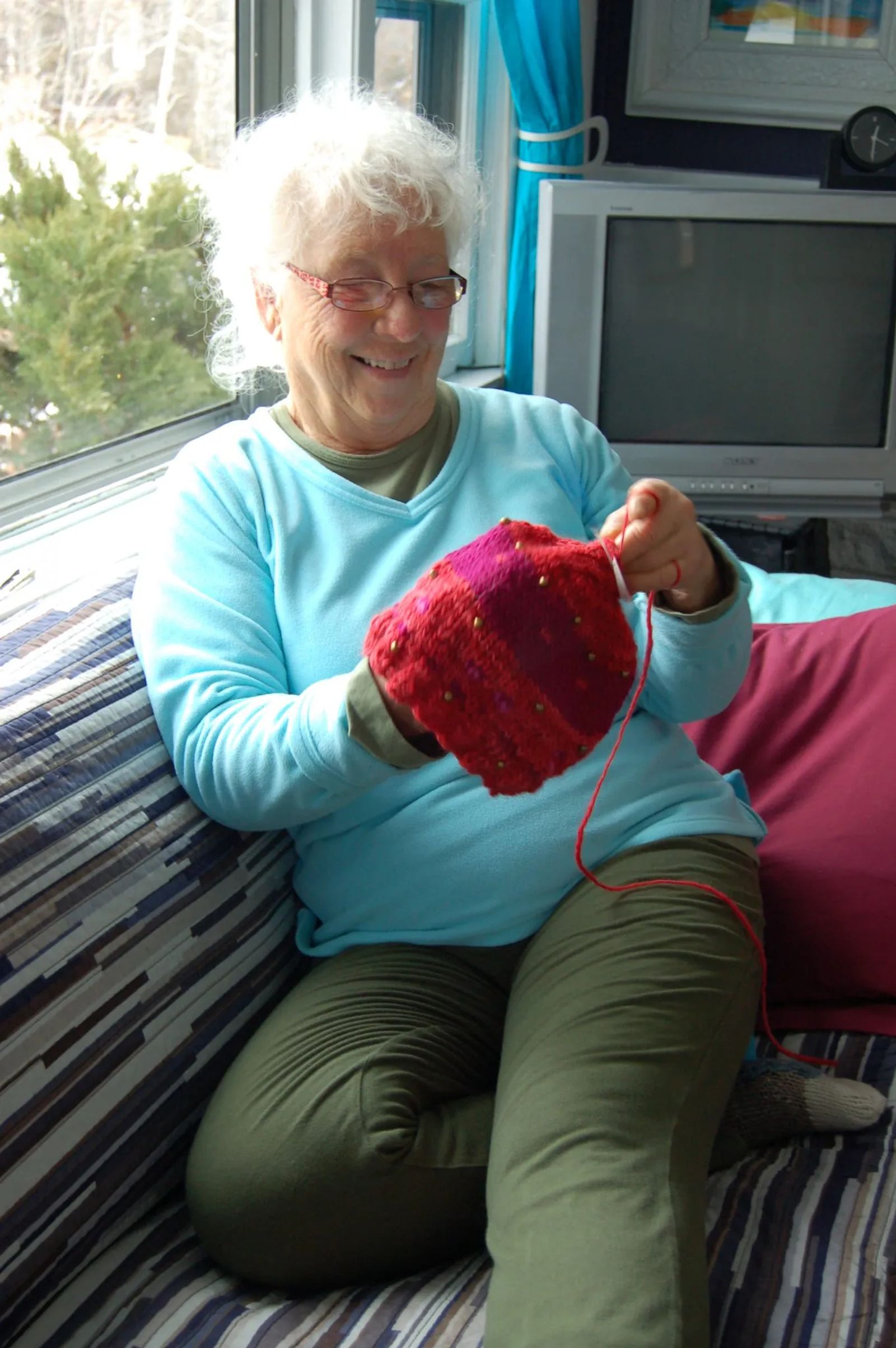 As for her wanderlust, Hines is hard put to pinpoint its source. Though she spent most of her childhood in an area bounded by the 3-mile walk to her schoolhouse and the mile to her grandparents' place down the road, she figures she was born with a siren song in her ear.
"I was always fascinated by a conch shell that Grandma had," she remembers. "She said she could blow into it if she needed help."
Hines can clearly recall her first road trip, when, at the age of 17, she joined her parents and grandmother on a trip to Oklahoma and California and back. The excitement of seeing new places seemed to fuel, rather than satisfy, her craving for more.
More than 60 years later – after a spell at married life, raising two children and retiring from a 27-year career as a Billings realtor – Hines likes nothing better than to hit the open road. She especially likes to go it alone.
"I like to be spontaneous," she says. "And I like to take my own time seeing things."
"Spontaneous" could well describe her trip to Costa Rica, where, at one point, she arrived in a small town with no place to stay, no way to communicate and no means of transportation, save her feet.
By trip's end, however, she had tasted her first guava, caught a ride with some locals and dined on the "best fish I ever had in my life."
"The people were so kind there," she says, closing her eyes at the memory. "I always wanted to go back. They had a tree house there I really wanted to stay in."
As Hines grabs opportunities, she seems to check items off a bucket list she conjures up as she goes. House-sitting in Tucson. Check. Working at a visitor center in Zion National Park. Check. Lucking into a penthouse condo, complete with hot tub and five balconies, in Cabo. Check.
Hines is especially drawn to experiences that combine her mixed passions for people, places and solitude. Her three-summer stint volunteering at Clay Butte Fire Tower outside Yellowstone counts as one of them.
From her perch at nearly 10,000 feet – 17 miles from the nearest shower and phone – she hosted up to 200 visitors a day.
"It's so fun to visit with people from all over the world," she says. "People from India, Australia, South Africa, Holland….The locals shrug their shoulders at the beautiful views and say 'been there, done that'. Everybody else was totally in awe."
That same sense of awe and wonder defines Hines and seems to infuse her with youth. That's what drew her down the Baja, four times, towing her Scamp. When she rolled into the small town of Los Barriles, she felt she'd discovered her Shangri-La. She set up camp and walked the beach every day.
"I love Mexican food, their culture, their architecture and their Mariachi music," she says, wistfully.
Of all her wanderings, Hines recalls only one fearful instance. She was tenting at a campground in Canada, when a truck roared in late at night. When she overheard one of the occupants, obviously inebriated, threaten to murder someone, she slipped to her car and drove away, headlights off, into the night. "That was the only time I've been scared," she says.
The experience hardly deterred her. As last winter's snow turned to mud and her Scamp emerged from its snowdrift, Hines couldn't wait to wander again.
"I'm not afraid of the roads," she says, between snow storms. "I didn't think I would still be doing this at my age, but I hope it never comes to an end. I don't ever think ahead. If I have money, I'm off."