CHANGING THE FLAVOR OF THE MAGIC CITY
The Culinary Art of Chef Resmondo
Mouthwatering aromas waft through the air as Chef Katie Resmondo stirs up an opera of spicy shrimp and mustard greens. This delicate soup sings with southwestern soul. It's the first of five exquisite platings of a themed dinner that this young culinary starlet serves to Bin 119 patrons.
Known to create a culinary landscape of distinctive tastes and flavors, Katie doesn't miss a beat in appeasing Bin customers, a popular downtown kitchen and wine bar.  With her signature kerchief bound about her head, she passionately plates the next course on the menu.
Katie delivers the goods with one important caveat – a healthy twist.
"I grew up learning from my mother how to cook," says Katie, taking an afternoon away from the kitchen recently to talk at home. Cradling her new baby, James Robert, she fondly recalls, "Mom told me what she was doing and why, like how browning gives food more flavor. My favorite was Thanksgiving — the dressing, and when she would cook fresh green beans all day with bacon and little potatoes."
Katie's Grandpa Robert was also instrumental in awakening her spirit to the art of cooking. "He was always cooking," recalls Katie. "He always had a garden with peppers, green beans and tomatoes in central Florida where we lived. He had started as an Army cook and then was a private chef for Burt Reynolds at the actor's resort in Florida."
With epicurean blood running through her veins, Katie carries on the family tradition of utilizing fresh produce. Fresh meats and fish play a huge role in her ingredient choices, as well. "I love to spend my time creating dishes that are healthy with a twist," she articulates, noting that the Bin's sesame-crusted Ahi tuna with organic mixed greens is a top seller. "We use local greens whenever we can."
If you doubt Katie's ability to create interesting fish dishes, then you probably haven't tried her amazing fish tacos. "They're simple but we use a quality mahi mahi," shares Katie. She orchestrates this famous fare with southwestern flair by roasting jalapeño peppers, adding lime juice, red onion, some garlic and olive oil then mixing it with sour cream and cabbage.
It may sound simple, however, the art of cooking requires attention to detail, the passion for food and, let's face it, some artistic qualities. "It feels like a sixth sense to me," offers Katie.
This inner awareness led her to take a bold step. After spending ten years serving food at a Japanese restaurant in Cody, Wyoming, Katie stepped up to the plate and asked if she could work behind the sushi bar. The owner gave her the opportunity. Katie's chef career blossomed as she learned the intricacies of this style of cooking. "There are a lot of details in Japanese cooking," she acknowledges.
Katie took notice of what's in the details and added a few of her own. "We had a sushi roll competition," she remembers, "and I won it." Combining her southern roots by using jalapeño peppers, cream cheese and spicy tuna, she fried the sushi roll in Tempura batter and built a sweet soy sauce. "It made me feel so good that my name, the 'KT' roll went on the menu!"
Inspired and well on her way in the world of cuisine, Katie left her parents in Wyoming and moved to Billings five years ago with the man in her life, David Scoles. A month later, this now 33-year-old settled into the kitchen and wine bar.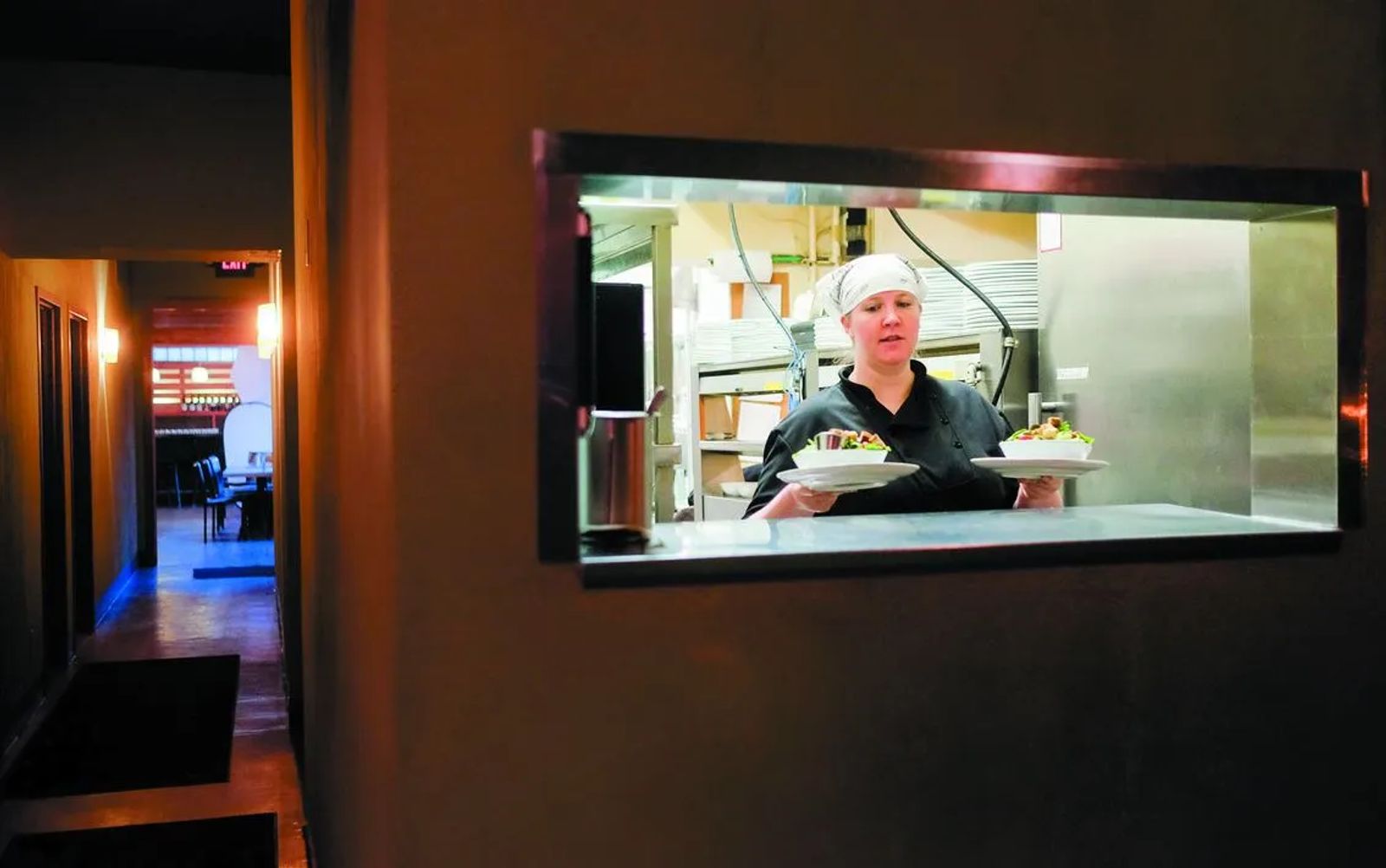 Bin 119 Owner Stephon Metzer knew that Katie's food background and east coast culinary influence set her apart. Her southwestern style also added a unique element to her kitchen technique.
"Katie doesn't get overwhelmed and she produces food that's comfortable and accessible," shares Stephon. "It's as trendy as San Francisco yet represents what Montanan's want. She takes it to the next level."
Friday and Saturday evenings are "for showing off," adds Stephon, a long-time Billings restaurateur. He says this is when different cultural influences are brought to Main Street Montana. "I'll throw Katie a challenge like using fruit in every dish. She'll do variations on familiar things. For instance, we like pumpkin pie, but, in a different way. It's comfortable, but, it's taken to a different level here. Or, we'll get conch from Florida and she'll do her conch fritters!"
Stephon admits he'd never have eaten quinoa, an ancient gluten-free grain that's high in protein, had it not been for one very unique and delectable dish that Katie prepared. Her avocado and quinoa sliders scored high marks with him as well as with every other foodie in the house.
Katie's honed skills allow her to step out of the kitchen into what Stephon calls the "front of the house" on a regular basis. Katie enjoys stopping and chatting with the customers at each table as they relish every bite of her cooking talents and versatility.
"At almost every dinner I go out to the tables. A lot of people ask for recipes," laughs Katie. "Most of the time I'll give the basics as I can't give away all my secrets!"
Every distinguished cook has her secrets and her favorite recipes. Katie shares a couple of her recipes with us (see sidebar for her recipe for Cornbread Dressing and Pumpkin Cheesecake), however, she's busy creating new ones all the time. "I like to take apart a dinner and put it back together in totally different ways," she says. And, one of her many secrets is employing a good spice. "I like to use curry and anything Spanish or Cuban."
One Cuban dish that rates high on Katie's personal list is Ropa Vieja. It means "old clothes" in Spanish. It's a shredded beef that takes time to cook. "I use flank steak with garlic, vinegar, cumin, beef stock and green olives. It's tangy and juicy and the smokiness comes from the cumin. Anything that takes a long time to cook," she notes with gusto, "I like."
For Katie, cooking is a form of relaxation whether she's at work or at home. "Cooking is very therapeutic." She admits that she even loves prep cooking. "I prep on Thursday for Friday night specials. It's the constant busyness of prepping the food that she thoroughly enjoys. "And I make my soup and cheesecakes on Sunday." Now who can resist cheesecake?
"Katie is always a step up" in the cheesecake department, asserts Stephon. "There'll be no regular cheesecake," he says, raising his eyebrows for emphasis. "With Katie it's death by chocolate! She's also very good at Key lime and she'll probably make a pumpkin roll cheesecake for the holiday or she'll research and test an eggnog cheesecake."
Whether it's one of Katie's dessert specialties or scrumptious crab cake Benedict for Sunday brunch or a juicy Montana beef steak for dinner, it'll taste every bit as good as it looks. "I love plating food," says Katie, as James Robert coos, looking quite dapper in his little 'Baby Chef' outfit. "There are different styles like super fancy ones but mine is more rustic. I like the heartier meal but I like it to look pretty – more classic than modern."
Katie's classic style, her culinary expertise and inspirational cuisine changes the flavor of the Magic City one tasty meal at a time. She expresses the epitome of casual dining infused with a flavorful expression of rustic-gourmet. It lingers on the palette. It soothes the soul with a healthy twist. It's the culinary art of Chef Resmondo. 
Flavors of the Holidays
A few of Katie's favorites
When the holidays hit, many of us scour the web and dig deep into our recipe boxes in search of the perfect recipe or two to add to our holiday table and hopefully impress our guests. We asked Katie to share a few of her favorites. While pumpkin pie is traditionally a Thanksgiving dessert, take a look at this recipe below for a pumpkin pie cheesecake. It's a delish dessert with that comfort food taste that is sure to please. Katie's cornbread recipe is a time honored side dish that could end up replacing your own dressing recipe!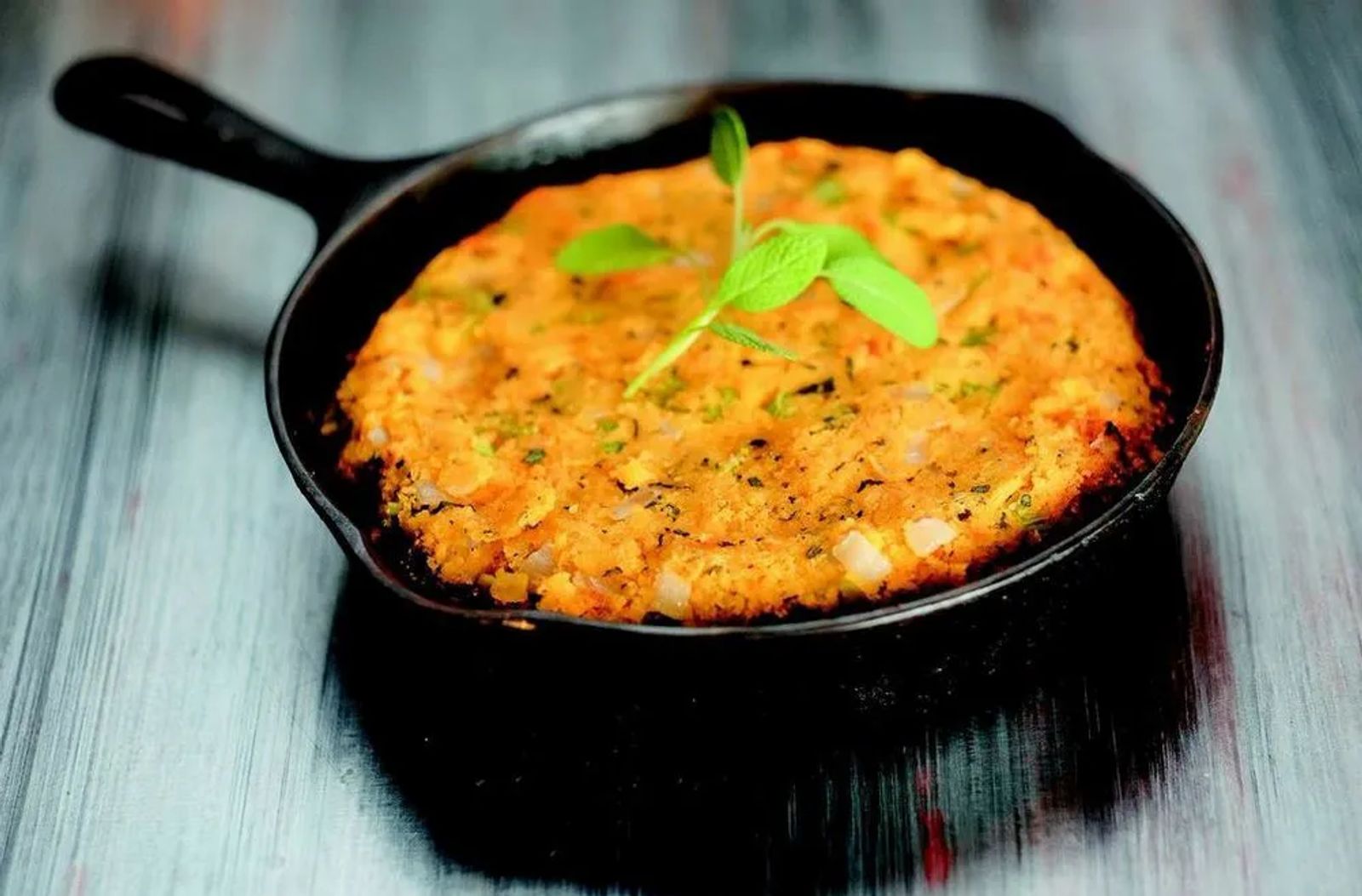 KATIE'S CORNBREAD DRESSING
CORNBREAD INGREDIENTS
5 T. bacon fat
2 c. organic yellow cornmeal
1 t. salt
1/2 t. baking soda
1/2 t. baking powder
1 egg
1-1/2 c. buttermilk
DIRECTIONS
Heat oven to 450 degrees F. Place 8-inch cast iron skillet in the oven to get hot. Stir together dry ingredients, stir together the wet, except for one tablespoon of bacon fat. Allow pan to heat for at least ten minutes. Move the pan from the oven to the stove over high heat.  Add reserved bacon fat to the pan and coat. Pour in the batter, it should sizzle. Distribute the batter evenly and place into the oven. Bake until a toothpick placed in the center comes away clean. Start checking after twenty minutes. Let cornbread cool.
DRESSING INGREDIENTS
1 stick (4oz) salted sweet cream butter
1 small sweet onion
1/2 c. chopped celery
2 c. chicken stock
1 egg, beaten
2 T. fresh sage, chopped
1 T. fresh thyme, chopped
1 T. fresh rosemary, chopped

DIRECTIONS
Heat oven to 400ºF. In a large mixing bowl, crumble the cornbread. In a saucepan over medium heat, sauté the onion and celery in butter until tender, then add chopped herbs and cook until you can really smell them and the rosemary is soft.  Combine the sautéed vegetables and herb mixture with the bread mixture. Stir in chicken broth, using enough to moisten then stir in the egg. Spread the mixture in a shallow baking or roasting pan. Bake for 20 to 30 minutes.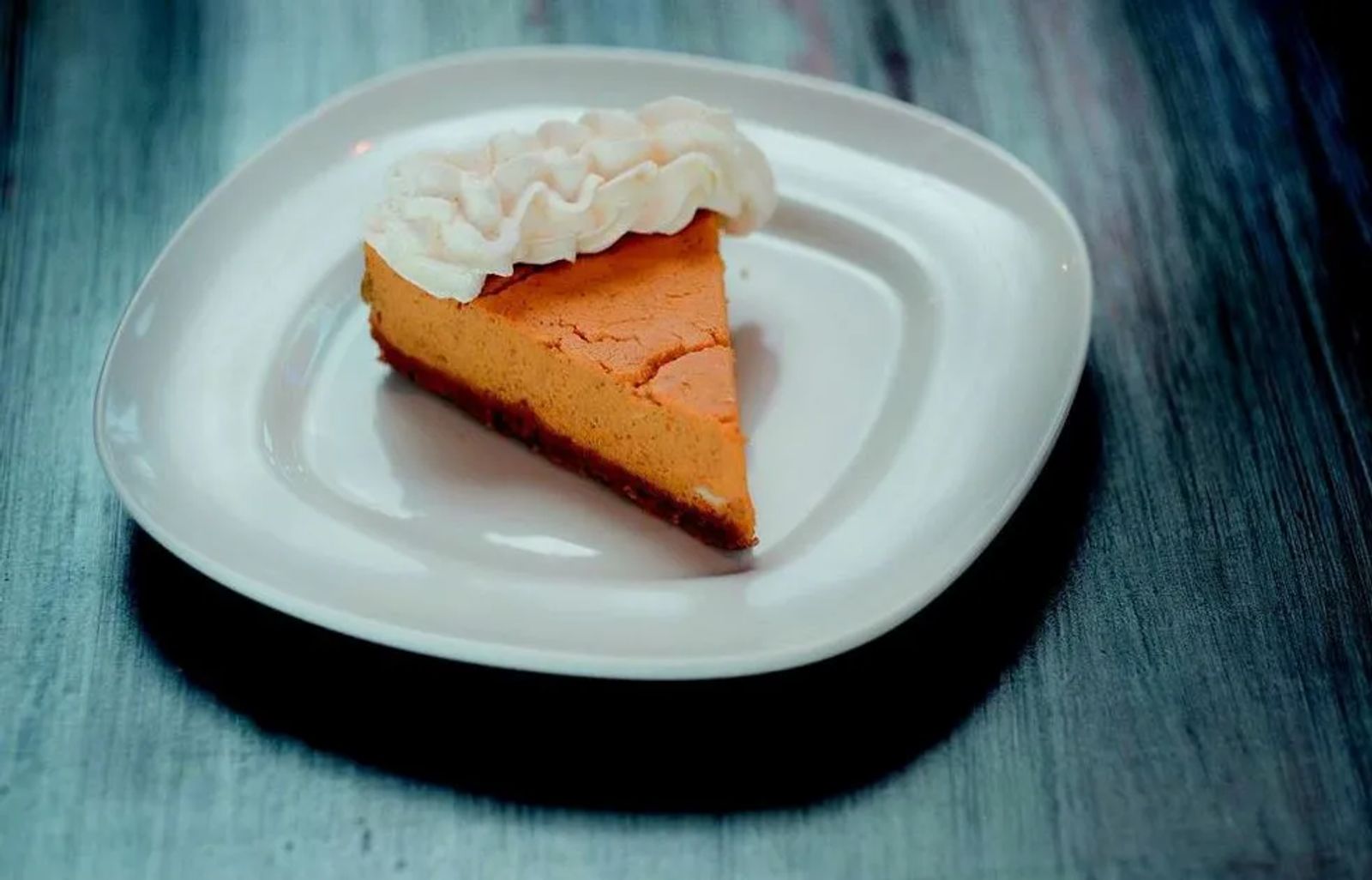 PUMPKIN PIE CHEESECAKE 
CRUST INGREDIENTS
2 c. graham cracker crumbs
1 T. cinnamon
8 oz. butter
DIRECTIONS
Melt butter and add to crumbs. Mix thoroughly and press into a 9-inch spring form pan. Set aside.
FILLING INGREDIENTS
3 8-oz packages of cream cheese, softened
2/3 c. evaporated milk
1 15 ounce can pumpkin
1 c. brown sugar, packed
2 eggs
1 t. ground cinnamon
1/4 t. ground cloves
1/2 t. ground ginger
1/4 t. ground nutmeg
DIRECTIONS
In a standing mixer or with electric handheld mixer, combine cream cheese and brown sugar and whip on medium speed for 5 minutes. Next, add evaporated milk and spices and whip for another 5 minutes. Now add eggs and beat on low until the eggs are incorporated. Pour onto crust and bake for 1 hour. It will still look a little jiggly, but will set up once it is cool. Let cool completely before refrigerating. Ready in about an hour.