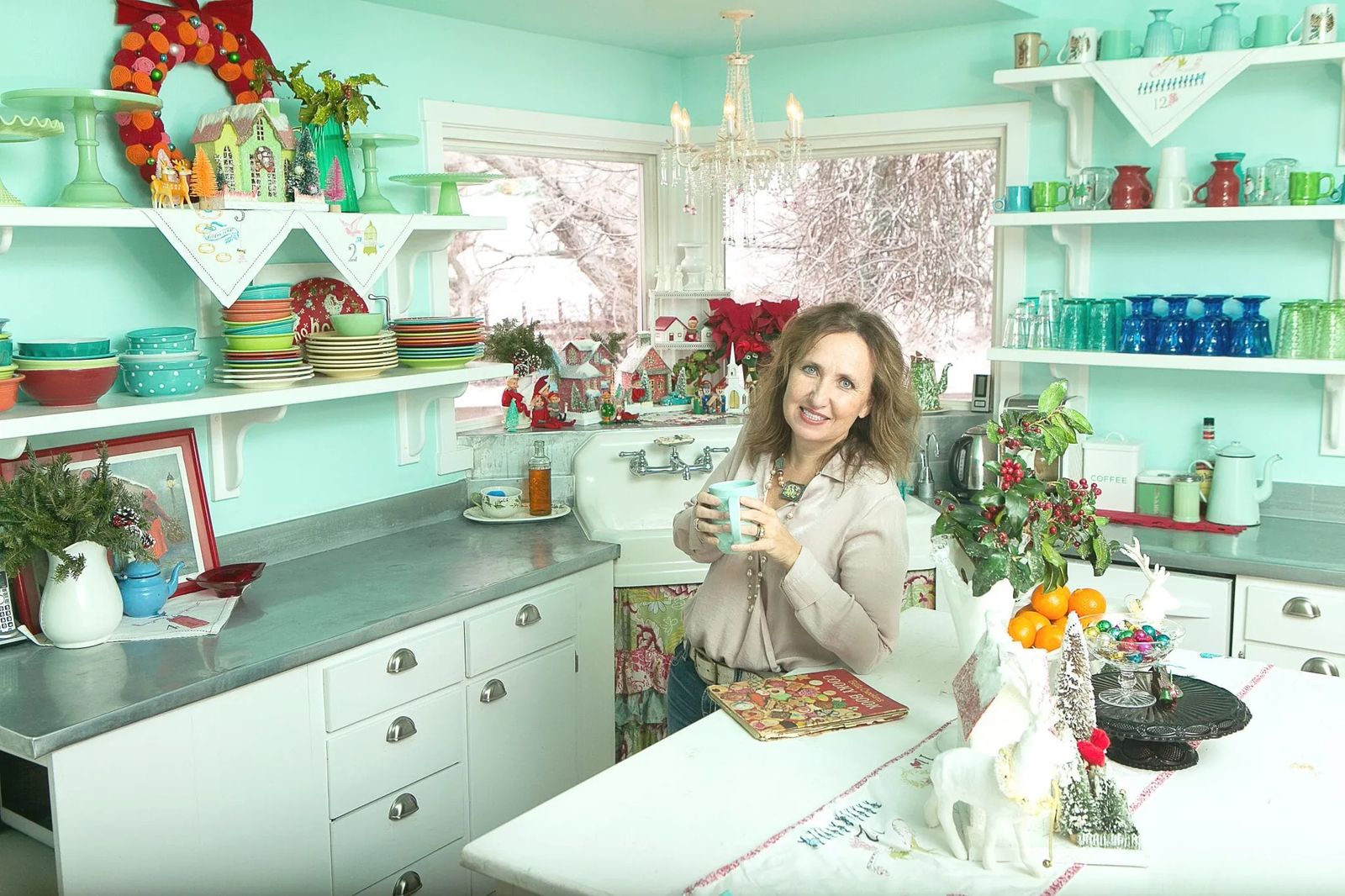 Christmas with the Krafts
Tradition weaves its way through the holidays here
At her family's farmhouse nestled in a rural setting just west of Billings, Lori Stibal-Kraft decks the halls, the front porch, the living room, kitchen, and even the master suite. From jingling sleigh bells and reindeer to elves and tiny houses, it's Christmas with the Krafts. Every year this creative bundle of energy displays a series of collections dating back to the 1970s. It's a tradition.
"When my sister Linda and I went off to college," Lori says, "we already had our own Christmas ornament collections. We always received an ornament each Christmas from my mother, Donnee. This is my best memory."
Displays of colorful ornaments sparkle in glass bowls placed throughout the Kraft home. Some of these spectacular ornaments, along with a miniature Nativity set creatively displayed inside a cake stand, were inherited from Lori's auntie.
A collection of Precious Moments bulbs set in a green McCoy planter (Lori collects McCoy pieces) highlights another nostalgic reminder of a friend Lori had once taught school with. "I'm very sentimental," Lori says. "It makes it fun to pull these out for Christmas."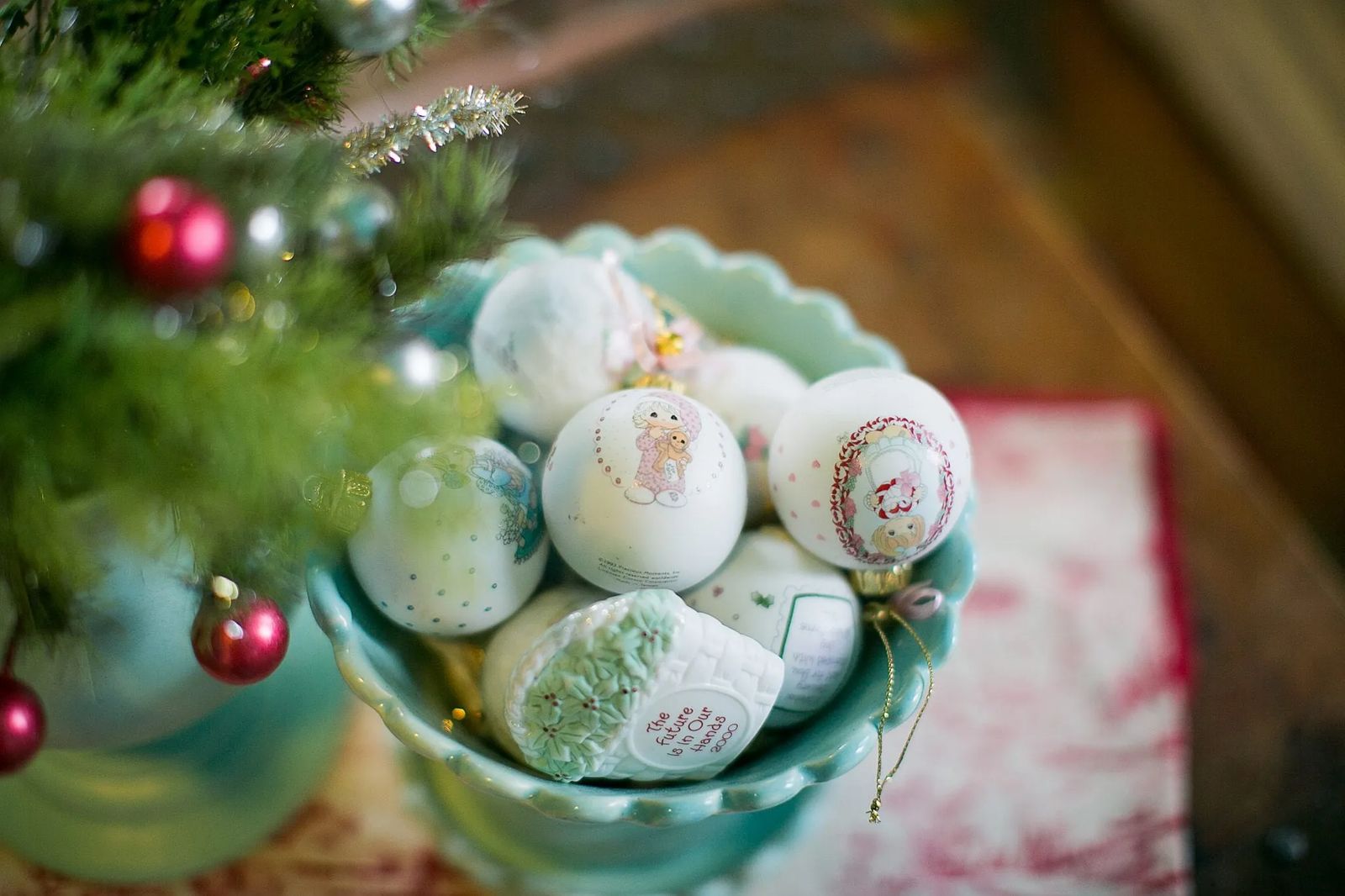 One vintage showpiece in the living area, however, maintains its presence year-round. An old wooden ladder leans against the wall with 40 to 50 tarnished silver sleigh bells dangling from ribbons. "They were Mom's collection," Lori says affectionately. "We add to them every year and continue on."
True holiday spirit abounds with an ornament collection enhancing a small tree perched on a table. "I have our mom's, dad's and aunties' names and years on the different ornaments," explains Lori. "For me it's totally about family. When you lose people close to you, it changes your perspective. You hope along the way that your kids feel that sense of family."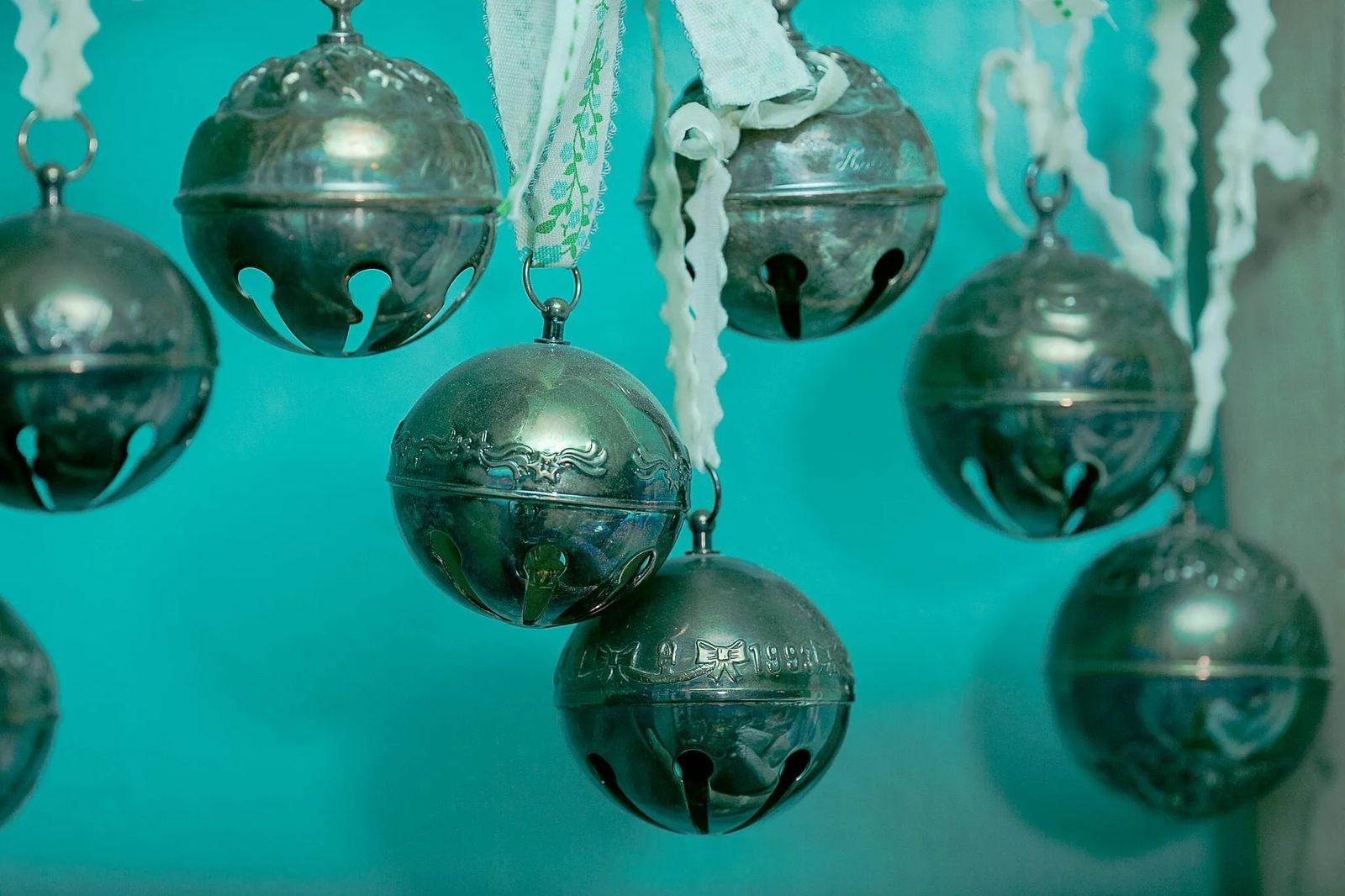 The family Christmas tree, a big evergreen, takes center stage. "We do the tree as a family as we each have our favorite ornament," she says. "When my son Seth gets home from college, the tree goes up."
There's plenty to see in this merry home with all its festive décor. Vintage charm flourishes with a sizeable Glittered Putz house collection. From years of owning Raffia, a former clothing and home accessory shop, Lori gathered these delicate little houses one by one. "Every year I'd cave!" she laughs.  Asked how many are represented here, Lori admits, "A lot. There are about 15 to 20. I have plenty."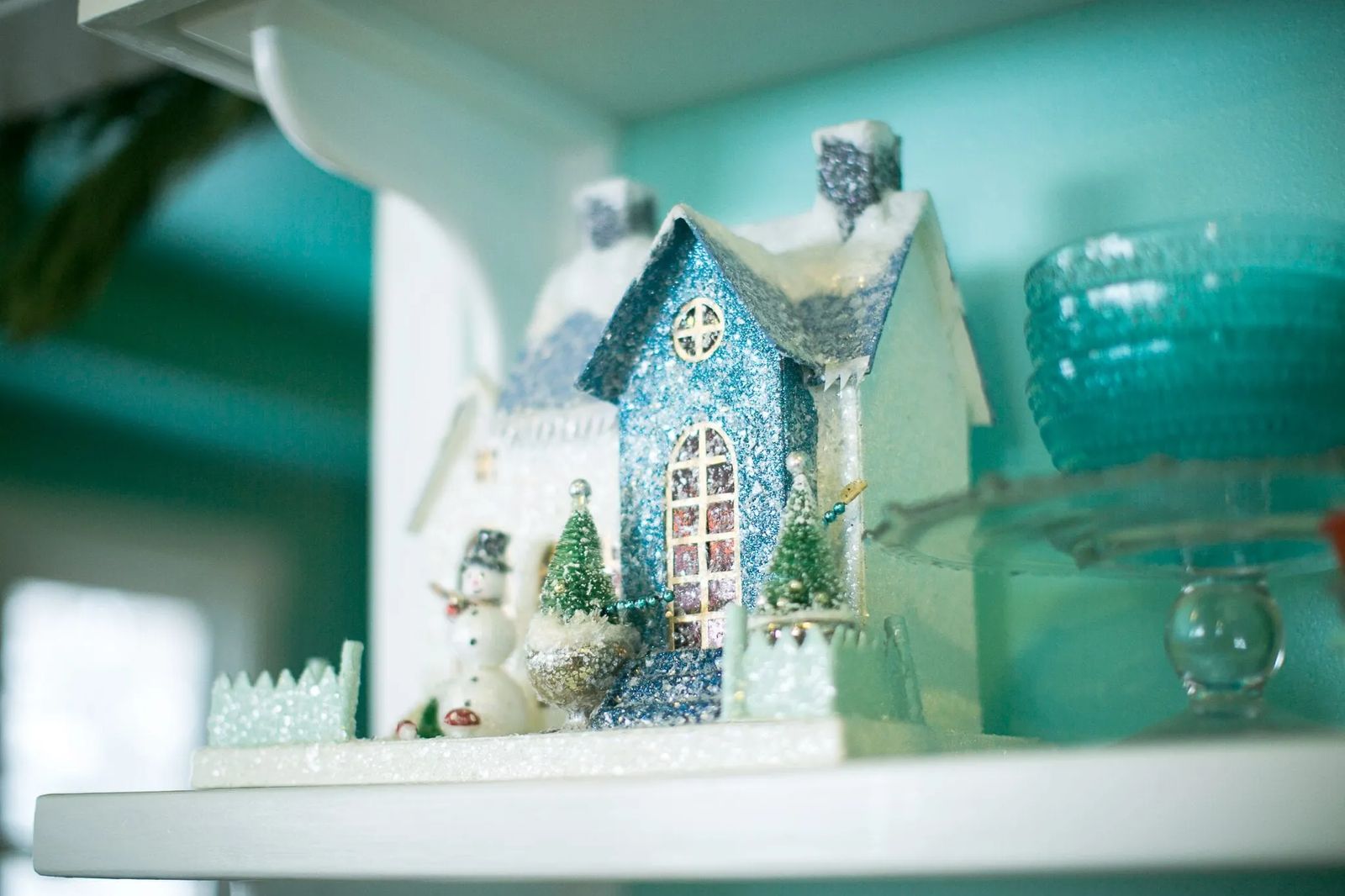 The number of houses increases every year. "This will be our third year that my sister and our daughters (Anna, 17, and Kenadie, 12) started making our own Putz houses," Lori says. It's a brand-new holiday tradition for this close-knit family.
The Putz houses in varied sizes and shapes pop up like mushrooms. There's even a red Putz barn on the enclosed porch. An old toy truck belonging to Lori's husband, Brad, sits next to it.
A bright red and green Santa banner from Raffia fashions the backdrop for the Putz barn and the old red truck. This colorful composition presents a sharp contrast against white wood walls. This room bursts with the traditional red and green palette providing a warm and cheery welcome to family and friends. The look is rustic and whimsical, yet, classic for the holiday.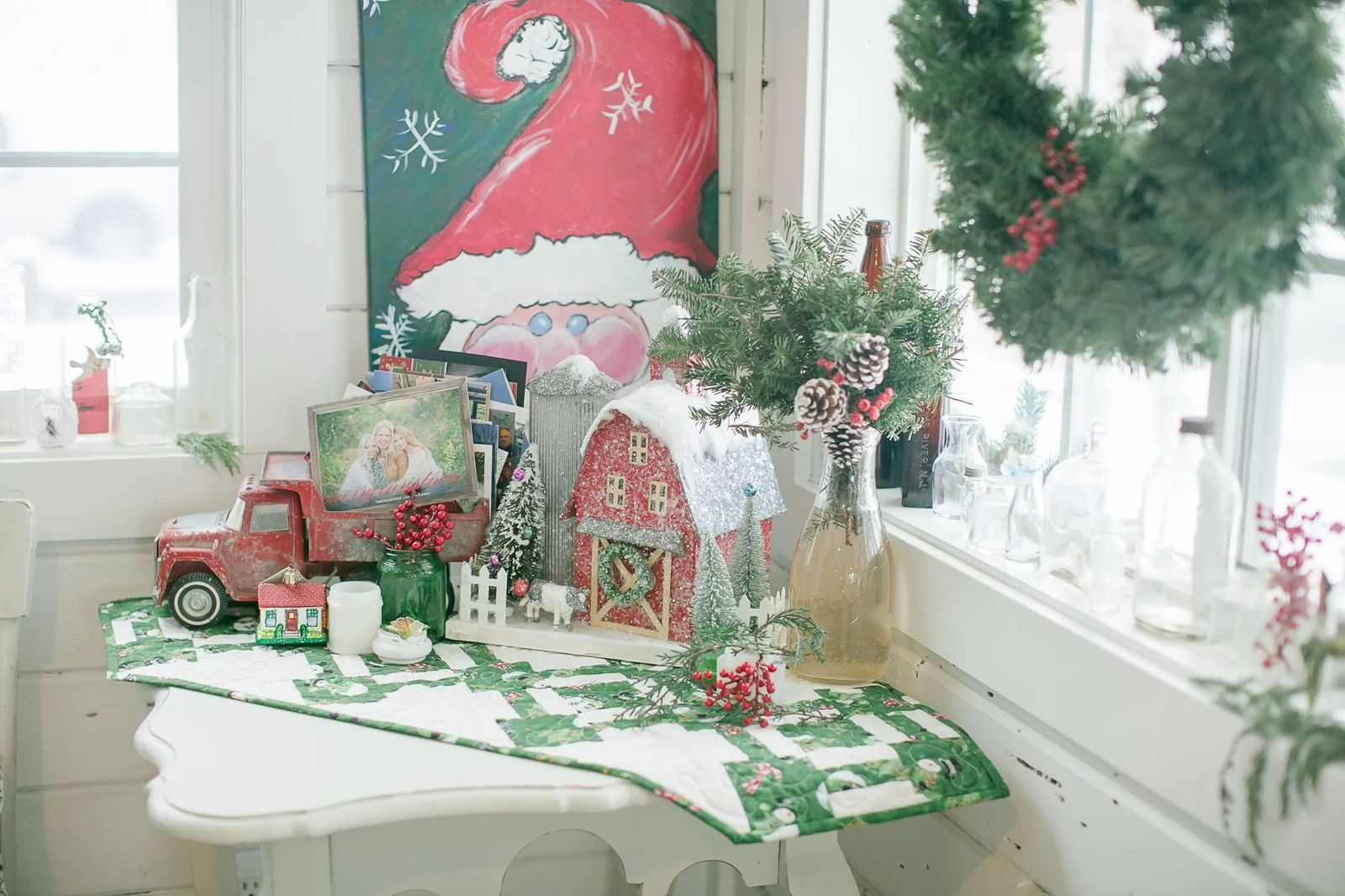 There's a dash of whimsy in the kitchen, too. Amid open shelving, this joyful heart-of-the-home dances with colors of the rainbow. Oranges, pinks, reds and turquoise create a vibrant space that's filled with love and laughter.
"My kitchen is more playful," Lori says. "On a market trip to Dallas with Linda one year for Raffia, we stopped at a junk store and I hit gold! There was a box full of Christmas elves for five dollars. I had Elf-on-a-Shelf before it was cool!"
A myriad of elves and a few velvet-covered reindeer, along with a set of three wooden houses meticulously hand-made by her great-grandfather, sit like watchful guardians in the window cove above the farmhouse sink. One "little elf" was the beginning of this large collection when Lori received it years ago from her mom.
"My mother was so instrumental in how we carry on Christmas," Lori says. "Whatever would catch her fancy is what Linda and I would receive. She was big into the sleigh bells and would even order us different series."
This wonderful Christmas tradition continues with Lori's creative talent embellishing what began decades before. She refines each collection of memorabilia with the finishing touch of an artist. "I also decorate using lots of picks and berries for simplicity," she points out.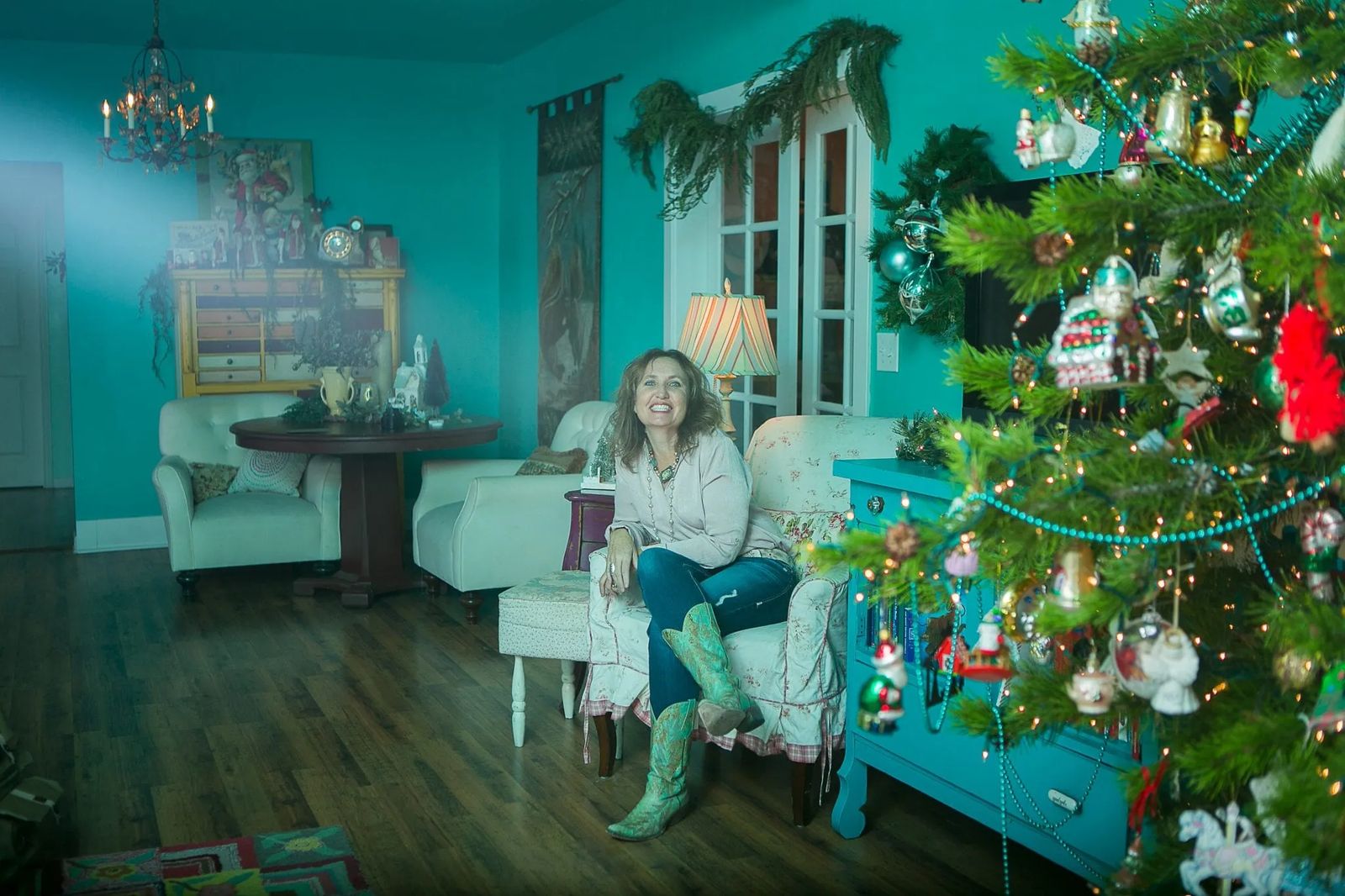 Greenery trimmed with pine cones and holly berry form draping garlands over doorways. Large wreaths adorn walls and windows. Lori also mixes greenery into each display giving it depth and texture. The look — rustic with feminine and vintage touches — comes together beautifully.
When it's Christmas with the Krafts, "It's tradition," Lori says. "Absolutely!"