Voted Billings' #1 Wedding and Special Events Venue!
Located in the heart of our walkable Downtown Billings, the beautiful Depot offers a unique, elegant, and convenient location to host your wedding, recital, fundraiser, business meeting, or special celebration. Come see why the Billings Depot has been voted Billings top event venue the last five years in the Reader's Choice Awards!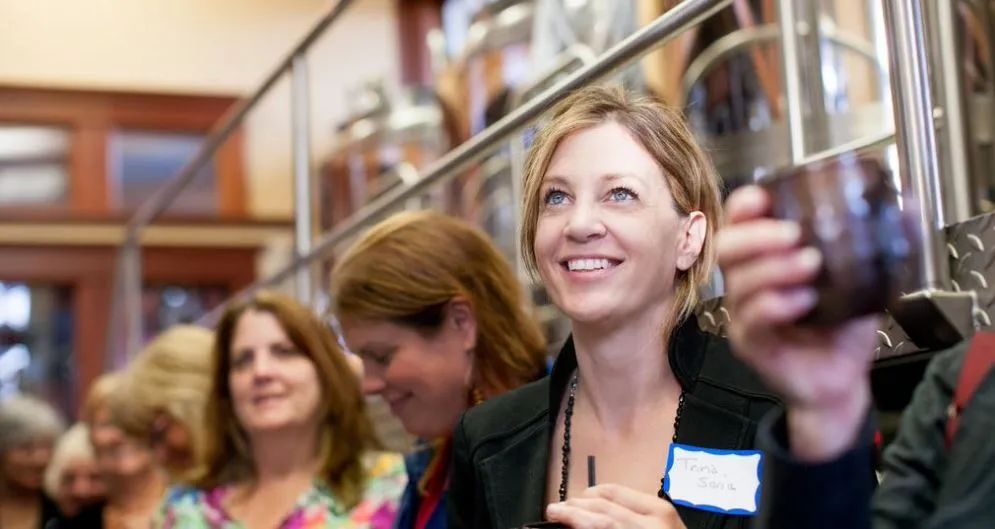 Are you a Woman of the Wild West?
Fun-loving social group supports the Billings Depot

For a Monday night, Bar MT in downtown Billings is a buzz of activity. Close to two dozen women can be seen clinking glasses and sharing laughs. The celebratory noise consumes the place as bartenders carry out trays of some of the freshest brews Billings has to offer. It's not every day that you can taste craft brews that aren't even available yet to the public. But, then again, these aren't your average everyday women. These are the "Wild Women of the West."
So, who are the Wild Women of The West? This social group banded together more than a decade ago to try to find a tangible and fun way to support the Billings Depot. Instead of simply writing a check to support the Depot's projects, they each agreed to make a tax-deductible donation of at least $100 a year to the organization and in exchange, the Depot puts on fun social events for them.
With the Wild Women of the West membership, four times a year these ladies will have an all-inclusive event planned for them. In between those quarterly events are nights like this -- a private beer tasting with each craft brew explained by the master brewer himself.
As a bartender passes out the decorative plastic glasses filled with Founders Underground Mountain Brown, he laughs and says, "I brought out the fine China for the Wild Women." As each woman grabs a glass, he encourages them saying, "Look at the deep rich color, give it a try!"
As the ladies sip, they are urged to savor the brew's notes and flavors of coriander and orange peel along with any one of the 14 botanicals packed inside each and every bottle. It's clear, these Wild Women are impressed.
What's interesting about this group is the fact that each and every event has its own flavor. The group has taken part in a Western night, where each Wild Woman was encouraged to dress up in her Western duds.  They've learned how to rope from a female rancher, were taught square dance moves and then, they even had an historian teach them about some of the original wild women of the west — Maddie Moss and Calamity Jane.
Barb Ramlow has been a Wild Woman for about 5 years. "Originally, they had cooking classes that they did with area chefs. That was a favorite. I asked, 'How do you get to know about these events in time to sign up?' And, I was told, 'You become a Wild Woman!'" She became a member right away and hasn't looked back since. She even wrangled her friend Bev Kudrna to join in the fun. "I love the camaraderie. It is just fun meeting new friends," Kudrna says. While friend Joannie Cribb has always loved a good time with friends, "I love the fact that we are wanting to give back to Billings and do what we can for the Depot, which is an absolutely amazing structure."
Michelle Williams, the Executive Director of the Billings Depot cherishes the philanthropic facet of this fun-loving group. "Each year we try to put the money for the memberships toward a special project," she says. "Last year, we used that money to repaint the entire interior of the Depot. In years past, we have done things like purchase our portable sound system. We have even used these funds to purchase all new chairs for the Depot."
As she looks around and sees the smiles on the women in every corner of the room, she says, "We have members in their 20s all the way up to their 80s and everyone in between. That's the best part. That diversity makes it so much more entertaining." And, in many cases, she adds women who had never met before went on to forge great friendships. She adds, "A lot of these ladies have become fast friends outside of this group. That is really fun."
WANT TO BECOME A WILD WOMAN OF THE WEST?
Here's how you can take part in the fun
To become a member, each woman writes a tax-deductible donation of at least $100 to support the ongoing preservation and community enrichment efforts at the historic Billings Depot. Events are typically Monday or Tuesday evenings, days that tend to be a little less busy for women in our area. If you'd like to give the group a try without making a financial commitment, you can. The first Wild Women of the West event is free, you just need to register with the Depot beforehand. For more information, give the Depot a call at (406) 656-7273.
What's on Tap
A look at upcoming Wild Women festivities
TUESDAY, OCTOBER 14: WINED UP ART
The Wild Women partner up with Buffalo Sip & Paint to paint up wine glasses with an artistic flair. This event costs $30, which includes fabulous wine and snacks.
TUESDAY, NOVEMBER 4: WINE EXPERIENCE CLASS
Join the wine experts at Walker's to learn how to truly appreciate the vino you love so much! $45 includes wine, food pairings, and instruction.
MONDAY DECEMBER 1ST: THE HOSTESS WITH THE MOSTEST
Join the Wild Women for a free holiday gathering where everyone gets a little etiquette lesson in how to throw a great holiday gathering. Bring a gift or donation to benefit the kids at the Family Support Network. Wine and snacks will be served.