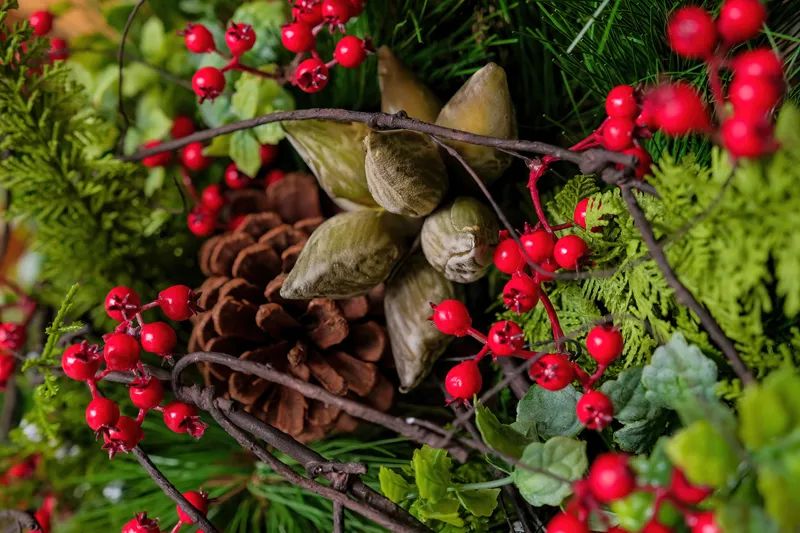 Decking Out Your Holiday Door
Four simple things to add a festive splash
When it comes to holiday décor, your front door can set the stage and let your guests know that more surprises just might await them inside. We teamed up with the design team at Gainan's to bring you three very different but stylish looks to inspire and help you get on your way to creating some Christmas curb appeal.
EASY AS 1-2-3-4
To show you how easy it is to let your personal style show when decking out your entryway, designer Marie Boone broke each of our three looks down into four simple items — items anyone can use to help turn your front door into a holiday showstopper.
For starters, you can't go wrong by wrapping your door frame with garland. You can surround the entire door or, as you'll see with our modern look, just the door's header for a more subtle flair. Second, add a wreath. Third, make a statement by dressing up your patio pots for the season. Lastly, change up your door mat to one with a holiday vibe. All three looks we showcased have these four elements, and as you are about to see, all have their own unique feel.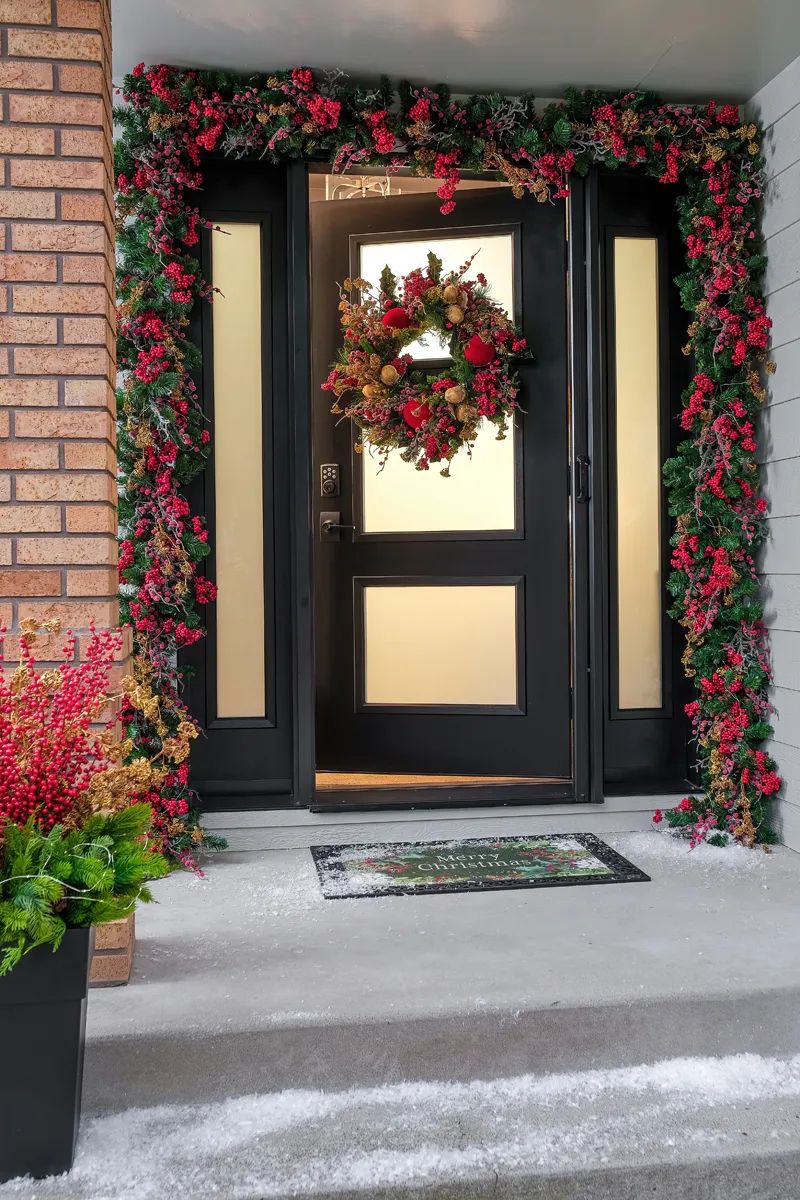 CLASSY & CLASSIC
Nothing says home for the holidays quite like this classic look with sophisticated accents. As Jim Gainan of Gainan's Midtown Flowers says, it works for every home and never goes out of style. Here, you'll find a mix of red ilex berries, fir boughs and faux gold eucalyptus branches.
"It presents a peaceful atmosphere with traditional features like pine boughs and berries but they are used in a modern way," Jim says. "It just exudes joy and the feeling of an enchanted Christmas."
Simply start with two 8-foot pieces of garland. You can even dig through old Christmas décor to use here what you might not have room for inside your home.
"Take some treasures from past Christmases and add them to your garland. You just lay the garland flat on the floor and hot glue those ornaments in. It's really quite easy to do," Jim says. "The trick is the design part to keep everything even."
To add a little twinkle, battery-operated fairy lights are incorporated into the patio pots, the wreath and the garland on a timer to make sure they add just the right sparkle at just the right time of day. You'll find all the same elements — berries, fir and eucalyptus — in every piece as well.
"It gives this entry a continuous look," Jim says.
WOODSY CHARM
Looking at this modern farmhouse bathed in a robin-egg blue, you feel like you're taking a step back in time.
"You can't help but get that warm Christmas feeling from this look," Jim says as he points out the three types of evergreen foliage — cedar, ponderosa pine and fir. Add in some bold red berry clusters and pinecones and you have a rustic look that perfectly dresses this natural mission-style wood door.
To make sure this door décor doesn't look too dark, contrasting white patio pots filled with fir and curly willow add contrast, and a lighter tone of holiday ribbon accents the door. And then there's the use of a family treasure to take this entryway to the next level — antique cross-country skis dressed for the holidays. There's nothing more special than using old family heirlooms in holiday décor.
"I think it evokes a lot of memories for people because of its traditional nature," Jim says.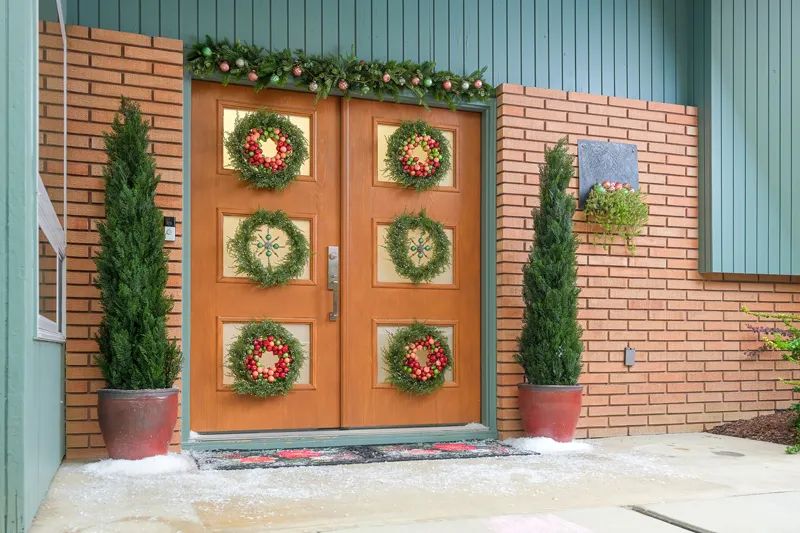 MERRY & MOD
When you have a one-of-a-kind mid-century-modern home, it demands a merry and mod holiday look to match.
"This look is perfect for the statement maker who loves pops of color and a twist on classic holiday design," Jim says. "The fun and lively décor mimics the home's personality and the homeowners' too."
Instead of using two wreaths, here you'll find six mini juniper wreaths set in each of the door's window panes and decked out with ornaments both big and small.
"They are just held to the door using little suction cup hooks," Jim says.
In this look, you'll also find a layered look of foliage with cedar, fir and eucalyptus. Cedar topiaries flank the door and add just the right height.
"Eucalyptus isn't typical in holiday décor, but it works to get some gray tones in this design," Jim says, adding that the greenery blends perfectly with the home's dusty teal color.
Instead of the typical red and green hues, you'll catch glimpses of sage green, cranberry and peach, as Jim says, offering "a little of the unexpected."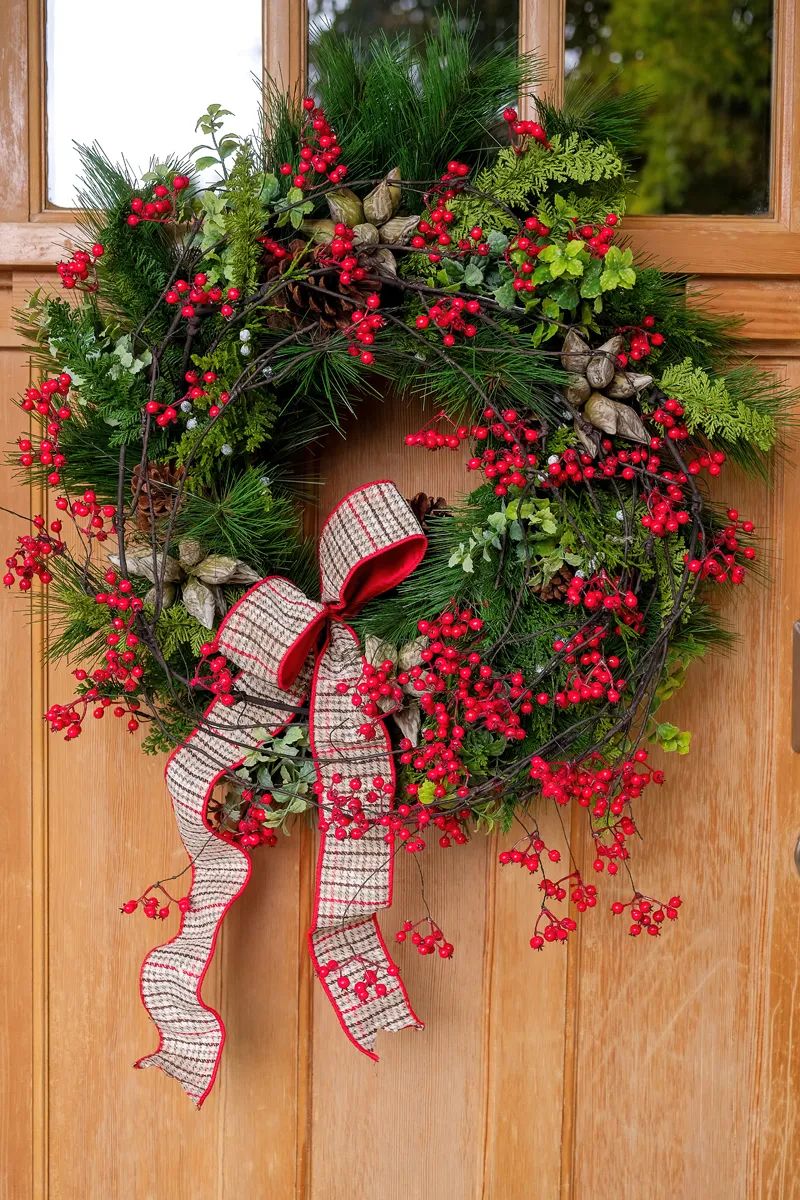 CREATE YOUR OWN LOOK
With today's holiday designs, any color goes, as does any style. So, find holiday pieces you love and then deck out your patio pots, add a splash of garland around your front door, accent a holiday wreath and make sure guests have a holiday-themed mat to wipe their feet before they step inside your door. Matching up and using these four items are the secret to success when creating a festive feel right at your own front door.