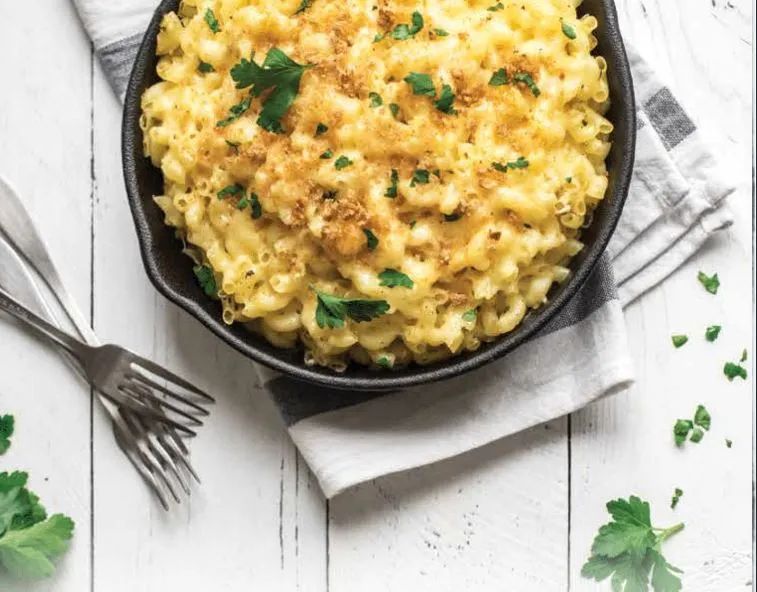 Easy Peasy Mac & Cheese
So many twists to this American classic
There's baseball, apple pie and — wait for it — mac and cheese. Yes, macaroni and cheese. It's been an American favorite for decades.
Take one look in the grocery aisle where mac and cheese is stocked and you'll see shelves upon shelves of brands and shapes and cheese varieties of this pantry staple. You'll even find it's made a migration to the frozen food section.
I wasn't raised with mac and cheese. My mom didn't make it or buy it, but I made up for that when I became a mom. It was just so easy to make with a pot of cooked elbow noodles and a little American cheese. That was the genesis of my Easy Peasy Cheesy Mac.
As we matured, so did our taste for this comfort food. I am fond of "playing with my food," so experimenting with the basics created Mac and 3 Cheese Bake. And a desire for indulgence became the muse for Seafood Mac and Cheese.
The beauty of homemade mac and cheese, however one makes it, is its flexibility. Change the shape and type of pasta. Try fun shapes or give a nod to chickpea or whole-grain elbows or shells. Mix it up by throwing in a different type of cheese or blend. Add in seafood or try to sneak in some diced broccoli.
I truly appreciate the place mac and cheese occupies in our food culture, especially when I heard how many families regularly serve up macaroni and cheese on their Thanksgiving tables. If you ask me, there's nothing more American.
Enjoy!
EASY PEASY CHEESY MAC
2 c. (8 ounces) uncooked elbow macaroni*
2 T. unsalted butter
2 T. flour
¼ t. fresh ground black pepper
¼ t. garlic salt
¾ c. milk
½ c. (8 ounces) cubed processed American cheese (Velveeta)
DIRECTIONS
Cook the macaroni until al dente according to package directions in salted water. Drain and set aside. Using the same pot used to cook the macaroni, melt the butter over medium heat. Whisk in the flour and the black pepper and garlic salt. Cook the flour-butter mixture for 2 minutes. Slowly add the milk and whisk until smooth.  Add cubed American cheese and mix until cheese is melted and smooth. Switch to a wooden spoon when mixing in the cheese. Mix in the macaroni and stir until blended and all the mac is coated with cheese. For a little extra flavor, top with crumbled bacon.
*NOTE: Switch up the type of pasta. I often use small shells, radiatore or rotini.
MAC AND 3 CHEESE BAKE
2 c. uncooked elbow macaroni (8 ounces)
5 T. unsalted butter (divided)
2 T. flour
1 c. hot milk
¼ t. kosher salt
1/8 t. fresh ground pepper
4 ounces goat cheese, cut into pieces
4 ounces sharp, grated cheddar cheese
4 ounces Gruyere cheese (grated)
¾ c. Panko bread crumbs
Spray a 2-quart baking dish with nonstick cooking spray and set aside. Preheat oven to 350 degrees. Cook the macaroni in salted boiling water according to package instructions. Drain and set aside. In a large saucepan, melt 2 tablespoons of butter over medium-low heat. Add the flour and cook, whisking for 2 minutes. Gradually add the hot milk, whisking continuously until the mixture thickens. Add the salt and pepper. Switching to a spoon, add the goat cheese, sharp cheddar and Gruyere. Cook until the cheeses are melted. Add the macaroni to the cheese mixture and spoon into the prepared baking dish. Sprinkle the bread crumbs over the mixture. Dot with the remaining 3 tablespoons of butter. Bake in the preheated oven for 25 to 3 minutes, until the mac and cheese is browned and bubbling.
SEAFOOD MAC AND CHEESE
Kosher salt and fresh ground black pepper
2 T. olive oil
1 clove of garlic, grated
½ of a small yellow onion, finely diced
1 lb. chopped cooked crab meat or chopped cooked lobster
4 T. unsalted butter, divided
1 T. flour
2 c. cream
2 c. milk
1 T. chopped fresh parsley
1 t. smoked paprika
2 t. dry mustard
6 ounces Gruyere cheese, shredded (about 1½ c.)
6 ounces Parmesan, shredded (about 1½ c.)
8 ounces extra-sharp cheddar (about 2 c.)
1 lb. elbow or small shell macaroni
1½ c.  bread crumbs
Preheat the oven to 375 degrees. Bring a large pot of salted water to a boil and add 1 tablespoon of olive oil. Add the pasta and cook according to the package directions. Reserve about 1 cup of pasta water, drain, and set pasta aside in a large bowl. Heat the remaining 1 tablespoon of olive oil in a large skillet over medium-high heat. Add the onion and cook, stirring occasionally until the onion is softened. Add the garlic and stir until fragrant, about 1 minute. Add mix to pasta and set aside. Wipe out the skillet and return to the stovetop. Add 2 tablespoons of butter, melt, add flour and whisk until smooth. Whisk in the cream, milk, parsley, mustard, paprika, then add the Gruyere, Parmesan and cheddar cheeses. Bring to a simmer then lower heat to simmer on low for 8-10 minutes. Season with salt and pepper. Add the seafood and cheese sauce to the bowl of pasta, onion and garlic and mix well. (If the mixture is too thick, add the reserved pasta water, about ¼ cup at a time.) Pour the mixture into a 9-by-13-inch baking dish sitting on top of a baking sheet to protect your oven if the dish bubbles over. Melt the remaining 2 tablespoons of butter, combine with the bread crumbs and sprinkle over the mixture. Bake for 20-25 minutes until the sauce is bubbling and the macaroni is browned on top. Let it rest for 15 minutes before serving.