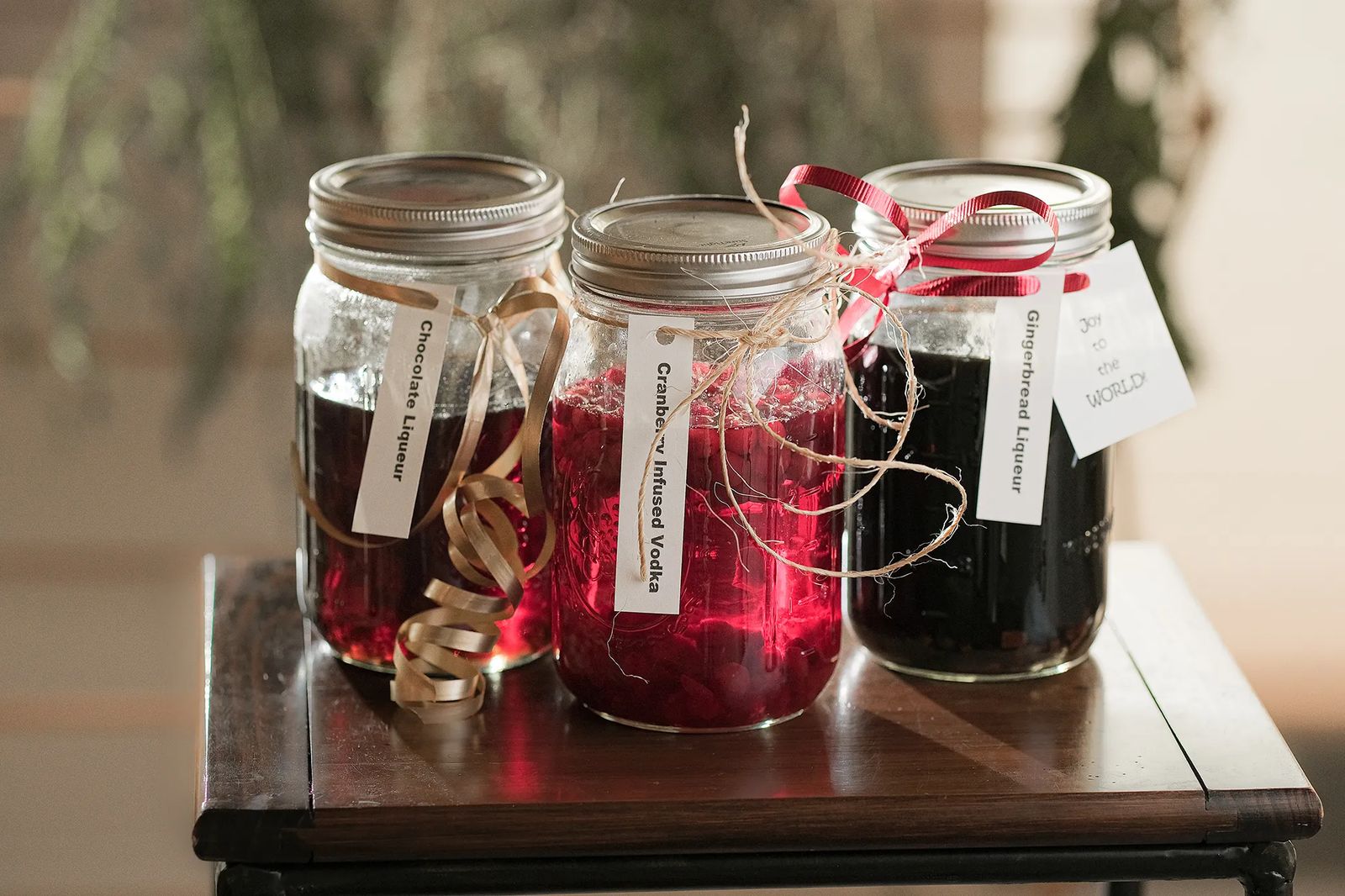 Extracting Flavors
Stirring up Holiday Cheer
Homemade infusions and liqueurs create celebratory flavors for holiday celebrations. Steep cranberries in vodka, and a muted scarlet-ruby-colored liquid with sweet and sour overtones appears for the makings of a festive Italian-themed Negroni. A deep-dark-brown potion comes from bathing cocoa nibs in vodka. The chocolate liqueur with the essence of a chocolate brownie when added to a cup of Chocolate Chocolate Hot Chocolate brings decadent joy.
Along with rejoicing and jubilation, the holidays hold sentiments of nostalgia. A Gingerbread Liqueur captures memories of decorating cookies spiced with ginger, cinnamon, nutmeg, cloves and molasses. Add some cream to the liqueur and the season's cocktail will be jolly.
My first spirited infusion was the Stoli Doli — vodka infused with pineapple. At the Rainbow Ranch in Big Sky many years ago, a large jar packed with pineapple chunks sat behind the bar. A sip of this infusion over ice brought me immediately to the tropics.
The neutrality of vodka, a distillate of rye, wheat or potatoes, provides a blank background for fruits, herbs and plants to release their personalities. The alcohol intensifies the aroma and taste because of its volatility, especially carrying essences quickly to the olfactory nerve. Smell influences taste.
A liqueur is usually a sweet alcoholic drink that is savored after a meal. Sweet is a personal preference. Play with the recipes. If ginger is what you love, add more ginger to the Gingerbread Liqueur. Throw in some dried cranberries for the infusion to intensify the taste. Chopped up chocolate can go into the chocolate concoction.
Mostly, cheers for a joyful holiday.
Gingerbread Liqueur
Makes about 3 cups
½ c. fresh ginger, peeled, chopped
2 T. crystalized ginger, chopped
1 cinnamon stick
3 whole cloves
1 pinch of freshly grated nutmeg
¼ c. blackstrap molasses
½ c. rum
1 ¼ c. vodka
1 ¼ c. brandy
Combine ginger, crystalized ginger, cinnamon stick, cloves, nutmeg and molasses in a small saucepan. Bring to a boil over medium heat. Cook for 10 minutes, stirring frequently. Cool. Pour ginger mixture into a quart jar. Add rum, vodka, and brandy. Tightly seal jar and shake well to combine. Steep at room temperature for one week. Strain into a clean jar or bottle. Keep in the refrigerator for up to six months.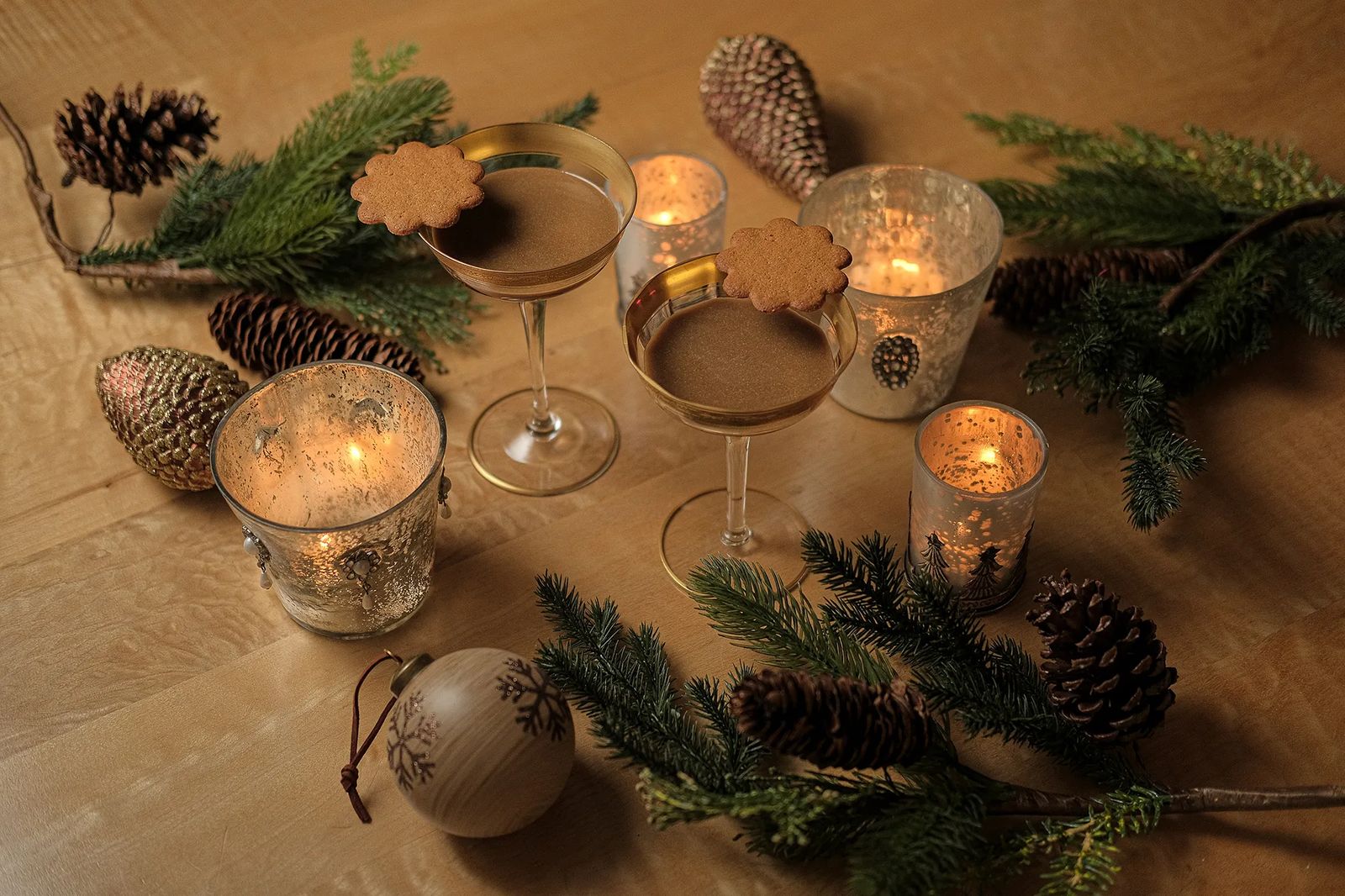 Gingerbread and Cream
This drink shouts fond and fun holiday memories. Remember decorating gingerbread houses or cookies? This drink is not overly sweet, so more brown sugar can be added if you want. Also, top with whipped cream and a dusting of cinnamon for extra cheer.
1 T. dark brown sugar
3 1/2 ounces gingerbread liqueur
1 ounce heavy cream
Gingerbread or spice cookie, for garnish (optional)
Add brown sugar, gingerbread liqueur and cream to a shaker. Stir to dissolve sugar. Fill shaker with ice. Shake for 15 seconds. Strain into a cocktail glass. Garnish with a gingerbread or spice cookie.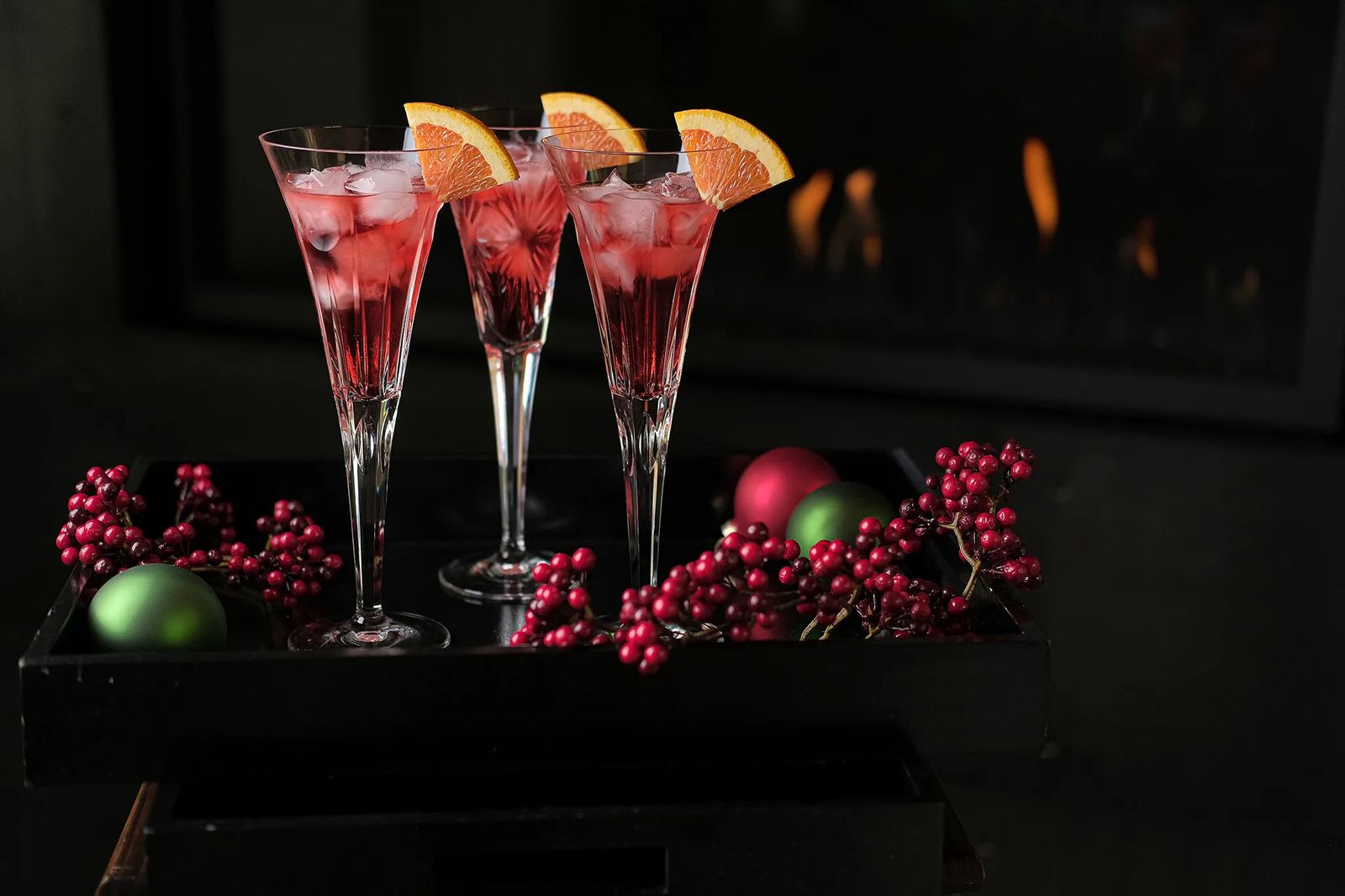 Cranberry Infused Vodka
Makes about 3 cups
2 c. fresh or frozen cranberries
½ c. granulated sugar
3 T. water
1 t. vanilla extract
2 c. vodka
Combine cranberries, sugar, water and vanilla in a medium saucepan over medium. Bring to a boil and lower heat to a simmer. Cook for 5 minutes or until berries burst. Cool. Pour into a quart jar and add vodka. Tightly seal jar and shake well to combine. Steep at room temperature for one week. Store in a cool dark place for up to three weeks. Strain cranberries through a cheesecloth if desired. Keep in the refrigerator for up to six months.
Cranberry Negroni
A cranberry Negroni can be served in an ordinary glass or elegantly presented in a tall champagne flute. During the season when fresh cranberries are available, add a few to usher in the holiday spirit.
Makes 1 drink
1 ½ ounce gin
1 ounce sweet vermouth
1 ounce Campari
1 ounce cranberry liqueur
Orange wedge for garnish (optional)
Place gin, vermouth, Campari and liqueur into a cocktail shaker filled with ice. Shake for 15 seconds. Strain into a cocktail glass over ice. Garnish with an orange wedge.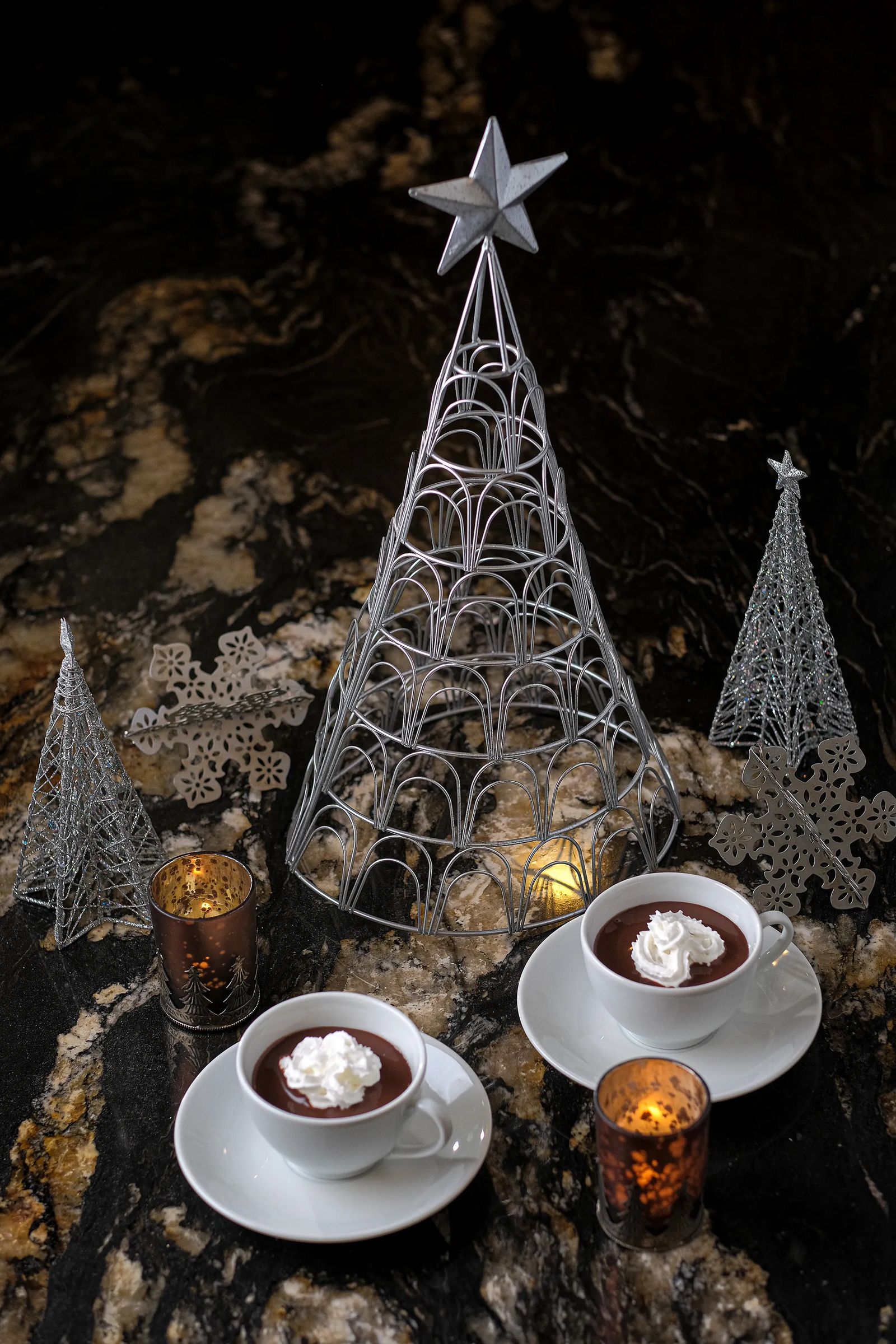 Chocolate Liqueur
makes 3 cups
2/3 c. cocoa nibs
1 1/3 c. vodka
1 vanilla bean, split lengthwise
1 ½ c. sugar
1 c. water
Combine cocoa nibs and vodka in a jar with a lid. Shake and let steep at room temperature for one week. Strain nibs through a coffee filter into a clean jar or bottle. Bring sugar and water to a boil. Let it cool. Add to container. Keep in refrigerator for up to six months.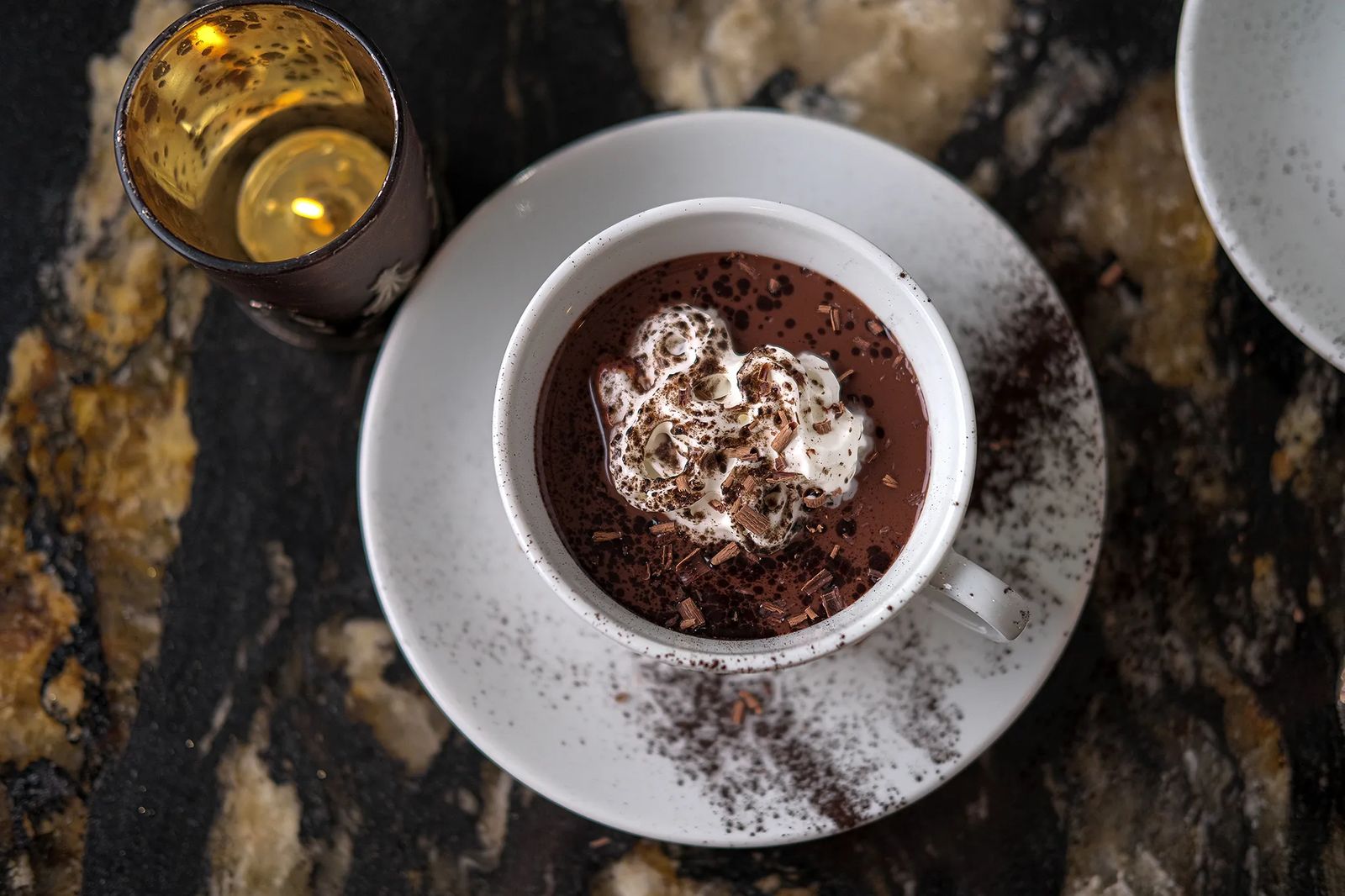 Chocolate Chocolate Hot Chocolate
Makes 2 drinks
This is decadence in a cup. The hot chocolate is reminiscent of pudding, but so much richer. Add a scoop of peppermint ice cream or garnish with crushed peppermint candies to really get into the holiday spirit.
1/4 c. and 2/3 c. whole milk, divided
1 T. cornstarch
2 T. sugar
2 T. cocoa
3 ½ ounces dark chocolate, chopped
¼ c. chocolate liqueur
Whipped cream, for garnish (optional)
Dusting of cocoa powder, for garnish (optional)
Chocolate shavings, for garnish (optional)
In a small bowl, whisk ¼ cup milk with cornstarch until smooth. Set aside. In another small bowl, mix sugar and cocoa together. Set aside. In a small pot, heat 2/3 cup milk to just boiling. Whisk in cornstarch mixture. Reduce heat to low to low-medium. Slowly add cocoa mixture, whisking until smooth. Add chocolate and stir until melted. Add chocolate liqueur and continue whisking until thickened, about three minutes. Pour into mugs or coffee cups. Top with whipped cream, a dusting of cocoa powder and chocolate shavings, if desired.