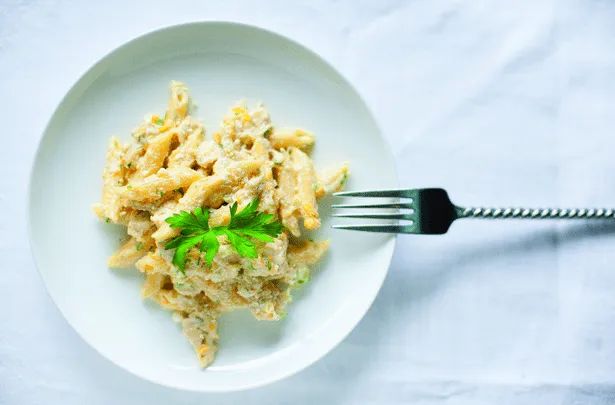 Family Friendly Faves: Potluck Perfect Pasta
In a jiffy meal with melt in your mouth dessert

As summer starts to fade, families all across our area try to squeeze in the last of the camping and road trips, picnics, and day trips to the pool or park. Being an on-the-go family, I love to have a few go-to recipes that I can whip up in a flash, bring to a party or simply serve as a family dinner. The creamy ranch chicken pasta dish is one of our family favorites, and in addition to being very quick and simple to put together, it can be served either warm or cold.  Pair this pasta with melt in your mouth Caramel Rice Krispie Treats and you have the makings of a crowd favorite that's a breeze to prep during the heat of summer.
CREAMY CHICKEN RANCH PASTA
8 oz. penne pasta
1 T. butter
1 T. flour
1 c. milk
2 t. dried parsley
1 t. garlic salt
1 t. lemon-pepper seasoning
½ t. garlic powder
½ t. dried minced onion
½ t. dill weed
¼ t. onion powder
1/8 t. pepper
1 c. sour cream
2 c. cooked chicken
1-½ c. shredded Colby Jack cheese
¼ c. shredded Parmesan cheese
DIRECTIONS

Cook pasta according to directions, drain. In a Dutch oven, melt butter, whisk in flour until smooth. Gradually add milk and all seasonings.  Bring to a boil, cook and stir for 2 minutes or until thickened.       Reduce heat. Fold in sour cream until blended. Add chicken and pasta. Cook and stir until heated though. Remove from heat. If serving hot, stir in shredded cheese now, and sprinkle with Parmesan cheese. If you plan to eat this cold (which is super tasty), remove from heat, and add cheeses when cooled completely and right before serving.
Caramel Rice Krispies

2 (10 oz.) bags marshmallows
18 T. butter (divided)
9 c. Rice Krispies
1 bag of Caramel bits (unwrapped, Kraft brand)
1 14 ounce can sweetened condensed milk
DIRECTIONS
Melt one bag of marshmallows and 4 tablespoons of butter over low heat. Stir in 4-1/2 cups of Rice Krispies and press into a 9" x 13" buttered cake pan. Melt caramels, 10 tablespoons of butter and sweet and condensed milk together in a double boiler and spread over the top of the Rice Krispies mixture and refrigerate about 1/2 hour. Repeat Rice Krispies recipe from above and put on top of caramel mixture.