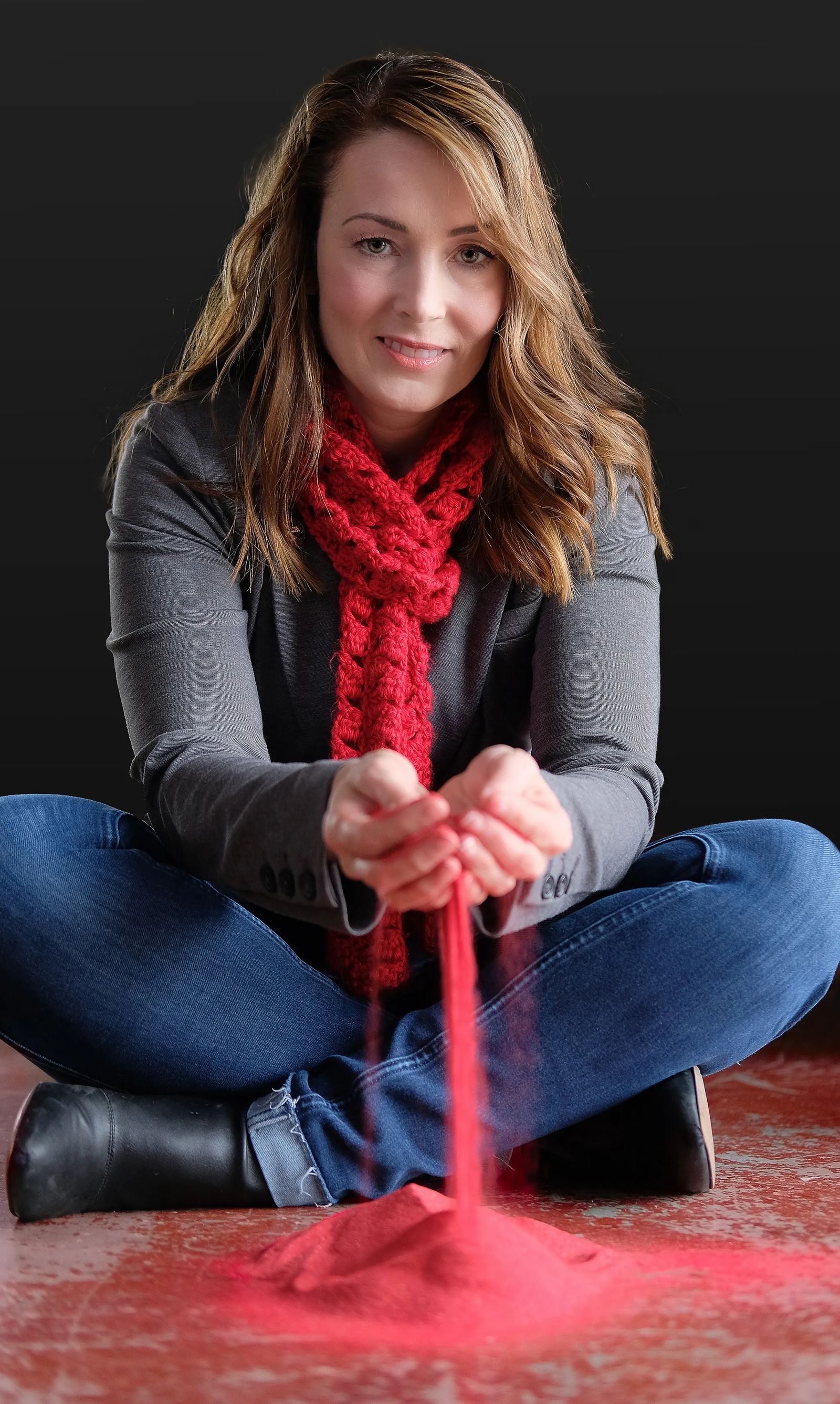 Filling in the Cracks of Life
Melanie Tripp promotes powerful campaign to bring awareness to human trafficking
By Stella Fong, Photography by Daniel Sullivan
Melanie Tripp fills the cracks in life. Three years ago, she introduced Billings to the Red Sand Project, a program started in New York City six years ago by artist Molly Gochman, spotlighting victims of human trafficking. The pouring of red sand into sidewalk crevices stands as a visual reminder of the missing. It's a global project that Tripp says has spread to more than 70 countries with more than 1 million people playing a part.
When Tripp's friend Kim Dudik asked her to think about organizing an event in our community, she reached out to the Zonta Club of Billings to help pull the pieces together. The first Red Sand Project in April of 2018 was launched with less than a month's planning. The day brought speakers on the state and local level together with victims and survivors at the Peaks to Plains Park at MSU Billings to educate the community.
Tripp's interest in helping victims of trafficking was sparked after participating in a Ragnar race, a 200-mile relay, with old high school friends. The team chose F.R.E.E. International, which works to abolish sex and labor trafficking, as its charity.
While chatting with a team member, Tripp says, she was "curious and still a bit naïve" when she heard the story of a young Billings girl from a good family who fell into the human trafficking trap.
"Another teen with a troubled past befriended her," Tripp says. "And, like so many teenagers growing up, they decided to run away and see what they could find. They were approached by a trafficker within 48 hours of leaving home." The man earned their trust, later "selling them to be raped." Fortunately, the two were found in Las Vegas and rescued.
When Tripp returned home, she searched for organizations working on the human trafficking issue. Joining the Zonta Club of Billings in 2015, she volunteered in public relations and marketing, served two years on the board of directors, and this year works as the group's vice president. She usually shows up at meetings with a guest or daughter in tow. She helps lead the Yellowstone Country Area Human Trafficking Task Force as the chair of its Prevention and Awareness Committee. At the women's prison Passages program, she has mentored women in the pre-release program.
In her personal life, she's mother to Mikaela, Zoee and Ayva. She works with her husband, Oli, at their business, Comtech Audio Theater Security.
"My job title is what I make of it — co-owner, director of marketing, outreach specialist, or something less important sounding but super fun," she says.
She encourages others by saying, "Commit to things that are difficult for you. If you say you are going to do something — never quit until you've accomplished what you've set out to do." This thinking has helped her finish half marathons and to earn a second-degree black belt in martial arts.
When trying to raise awareness against human trafficking, the message comes from her heart. "My adult life began as a young single mom escaping a bad relationship. It would take another 15 years or so to admit that what my oldest daughter and I went through was actually domestic violence."
Tripp eventually put herself through college, earning a degree in graphic design. She says, "I met the love of my life, and started a career, and began on my own to learn how to heal."
"Human trafficking," she continues, "particularly commercial sex trafficking, really hits home when you have young daughters. When you find out more about your vulnerabilities, and those in our society that lead to human trafficking, you understand how it can and does happen in any town.
"We can help open the eyes of our city and state legislators. Ask them to create programs and to fund organizations that help families. As an individual, you can volunteer for your local task force, the YWCA, Tumbleweed, your church, Zonta or CASA to help continue efforts and reach out to at-risk youth."
As Tripp works hard to help fill the cracks of life with symbolic red sand, she doesn't have to look far for inspiration to keep her on her journey.
"My hope is to teach my girls to be self-aware," she says, "and to understand how to use the gifts they are given to bring joy to themselves and others."