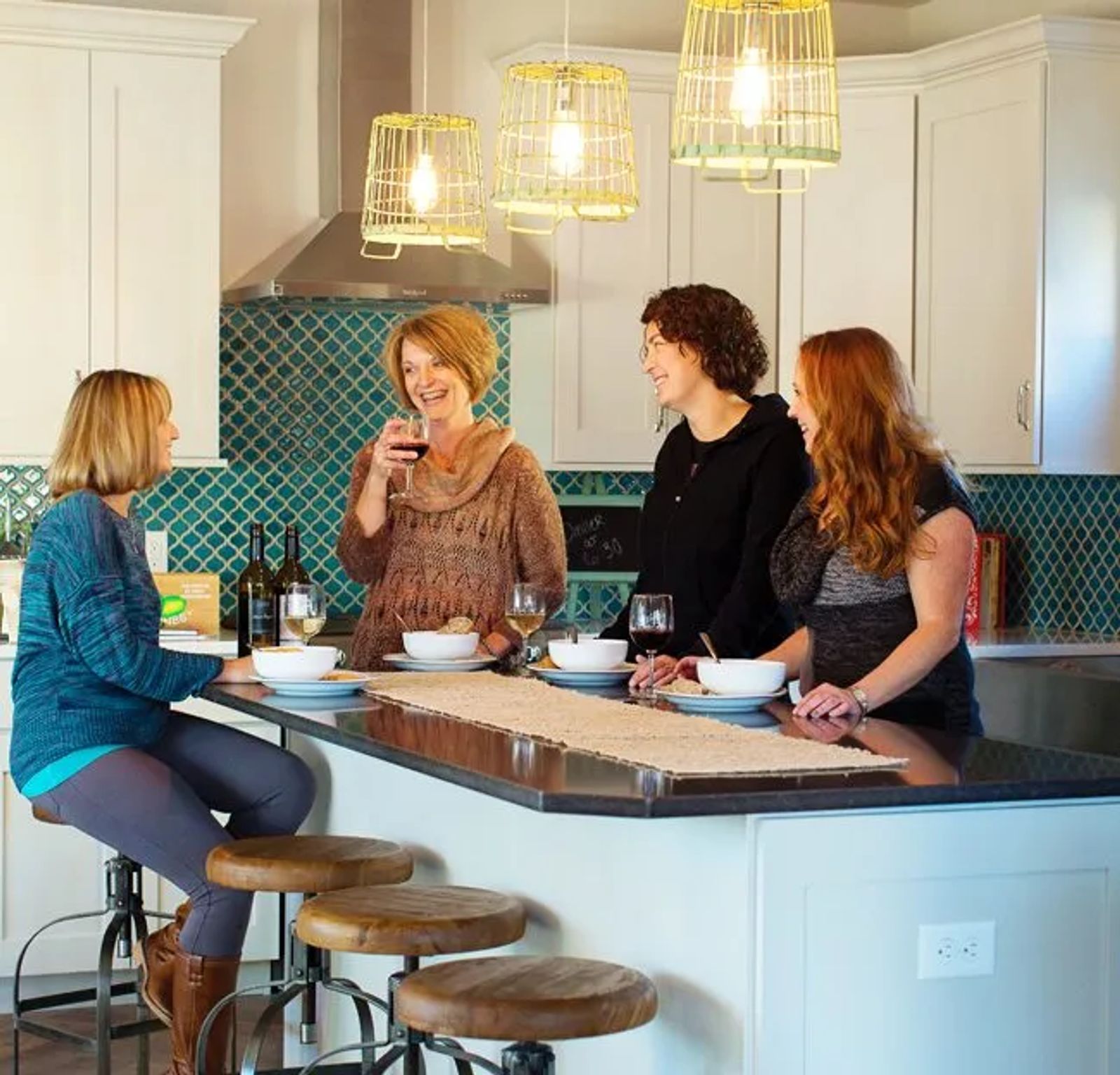 Get Ready for Soup Swap Day
Share some recipes and fill the freezer!
If you listen to Campbell's at all, you already know that soup is indeed good food. Pair it with some fresh bread and it's a "hits the spot" kind of meal to warm those chilly Montana days and provide your family with a little down-home, honest to goodness nutrition.
"It is easy. You can make the soup in the morning and come home and it is ready," says Andrea Jackson, who turns to soup to feed her family at least once if not twice a week in the winter months. "I am all about doing a big batch and freezing some. You can do them ahead of time and pull them out when family comes."
And because of the fact that soup is such a hit, Andrea and a group of fellow moms decided to take the plunge and ladle out some of their delicious recipes for the 8th Annual Soup Swap Day. What's that you say? Well, it's a date on the calendar designed to share in the tasty goodness that soup offers. After all, most soup recipes make enough for a family to be able to eat for days. That's why National Soup Swap Day was started – in an effort to stop the madness, prevent some of that homemade goodness from going to waste, and share in the company of friends.
Andrea Jackson's Potato Corn Chowder recipe was such a hit at a church function years ago that folks are now calling this recipe 'Andrea's Famous Potato Corn Chowder.' She laughs and admits that up until recently, this recipe was all in her head. "Do you know there was not a recipe?" She laughs and admits that she had to make it one afternoon and go through the motions, just to get this tasty meal down on paper.
For the Mills family, their pick for the Crockpot is Tasha's recipe for Montana Wild Rice Soup. It's a hearty, full-flavored soup that fills small bellies and gives them those long grains and a splash of vegetables too. "You can let it simmer all day in the crock pot and it has a little more flavor." She adds, "Our kids love it."
Amanda Sander developed her recipe for Sausage, Potato, and Kale Soup after picking up her Bountiful Basket goodies one Saturday. When she opened the box, she found a bunch of kale and went searching for recipes to put the leafy green to use. While her family eats this recipe a lot and she mixes up the sausage between mild and spicy, soups in general get a thumbs up in the Swander family. She says, "With after school activities, there are a lot of soups and chilies that can be left to warm or can be thrown in the Crockpot. Soups also can pack the nutrition that little bodies need."
When Jenny Dow was thumbing through her recipe box to prep her soup for the swap, she reached for a favorite that she says gets better with time. About her recipe for Chipotle Pumpkin Black Bean Soup she says, "There are a lot of ingredients but it is totally worth it. I think this is my favorite soup because as leftovers, the flavors just get better and better." While the name might have some scratching their heads, Jenny admits, "It is different and that is why I tried it in the first place. Now, we make it a lot in the winter."
So mark your calendar, stock up on some delicious recipes (including the ones we've provided here), invite some friends, and get ready to share. January 25th, a.k.a. National Soup Swap Day, will be here before you know it.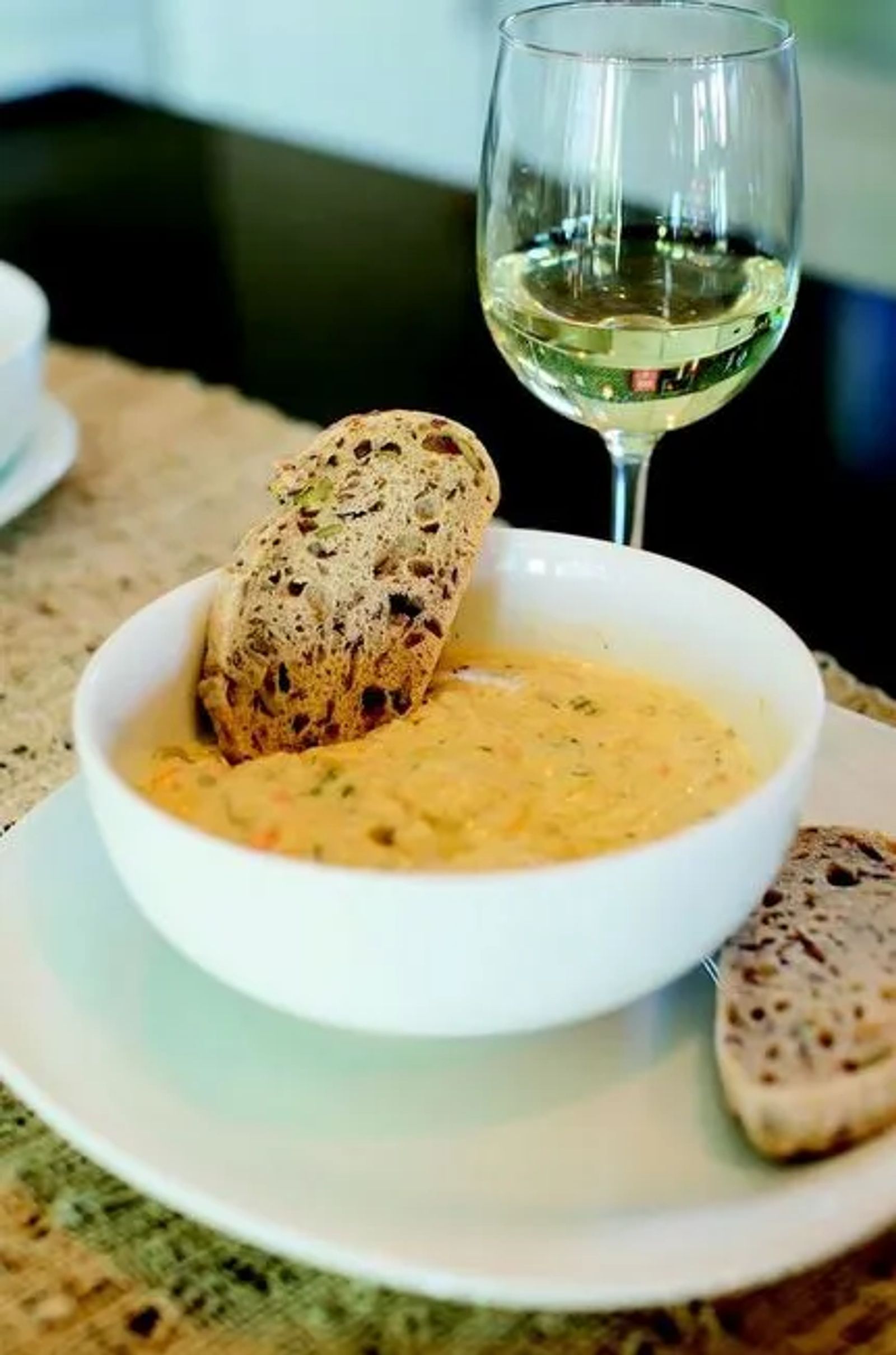 Crockpot Montana Wild Rice Soup
Recipe from Tasha Mills
2 chicken breasts
1 box long grain & wild rice with flavor packet
1 3/4 c. water
1 T. olive oil
1/2 c. chopped onion
1/2 c. butter
3/4 c. all purpose flour
3 c. water (reserved from cooking chicken)
3 chicken flavor bouillon cubes
1/2 c. grated carrots
1 c. heavy whipping cream
half-and-half (used to thin the soup)
Place chicken breasts in a large saucepan with enough water to fill the pan 2/3 full. Bring to a rolling boil and continue boiling until chicken is cooked thoroughly (about 20 minutes boiling). Reserve 3 cups water from cooking, add 3 bouillon cubes, set aside. Shred chicken breasts.  Place rice, 1 3/4 C water, and olive oil in Crockpot. Meanwhile, in a large skillet, sauté onions in butter over medium heat until they are tender and translucent. Sprinkle in the flour, stirring to create a roux.  Add the reserved water and bouillon cube, stirring to thoroughly incorporate. Add to rice mixture in the Crockpot. Add chicken and carrots to the mixture in the Crockpot and stir to thoroughly mix.   Cook on low until rice is cooked, 4 - 6 hours. Just before serving, add heavy whipping cream and thin, as needed, with the half-and-half.
Serving Suggestion: Serve with a green salad and a multi-grain roll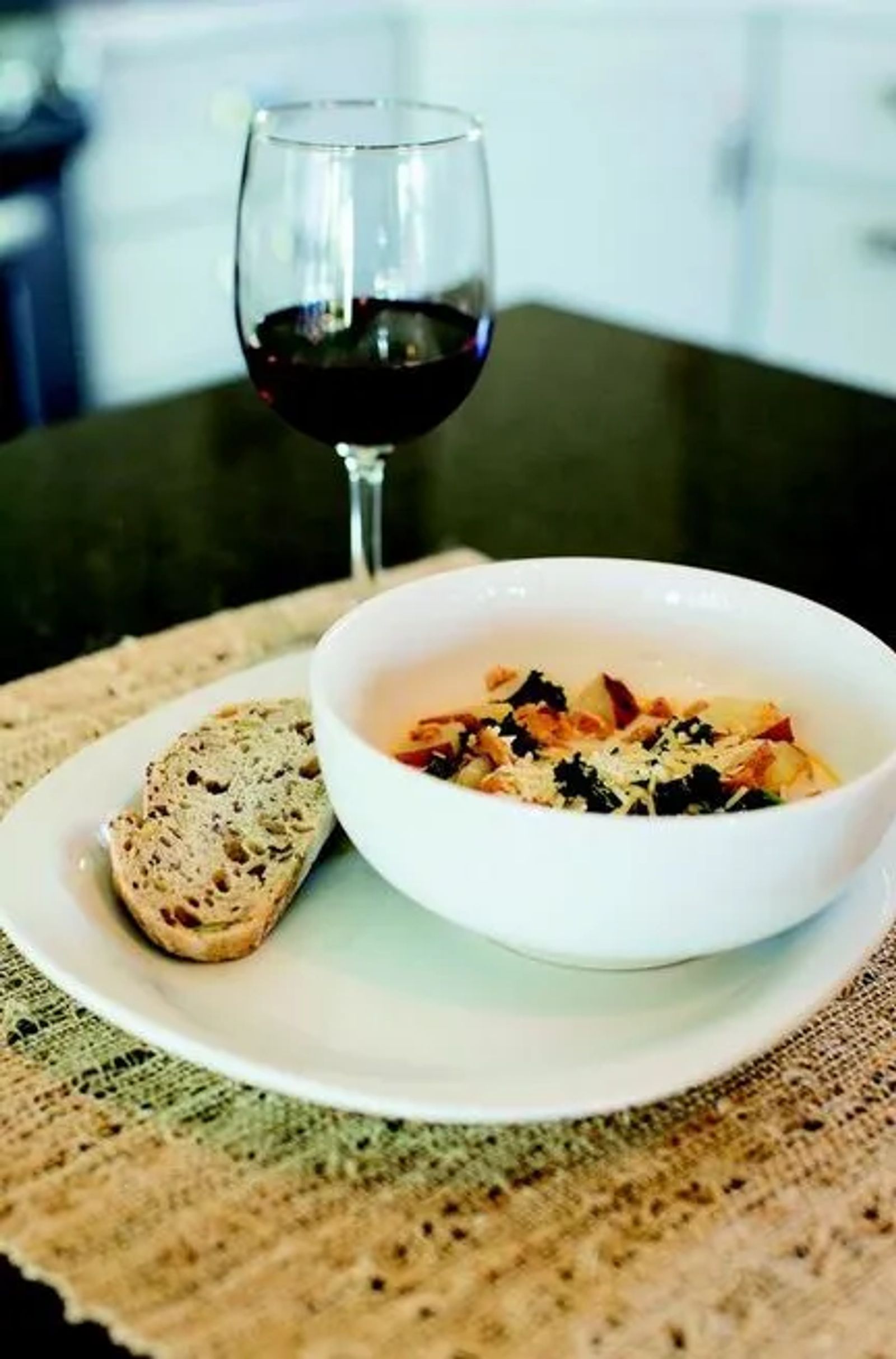 Sausage, Potato, and Kale Soup
Recipe from Amanda Swander
1 lb. ground Italian sausage (mild or hot if you like it "spicy")
1 t. crushed red peppers (less for less spice or more if you prefer)
1 t. olive oil
1/2 large yellow onion chopped
10 strips of bacon crumbled
3 large garlic cloves smashed and chopped
10 c. water
5 cubes of chicken bouillon
1 c. heavy cream
1 lb. cubed red potato, or slice them in about 1/2 inch slices
1 bunch of kale trimmed, de-stemmed, and chopped
Salt and Pepper
Parmigiano Reggiano (for serving)
Cook bacon, set aside and let cool. In a Dutch oven sauté Italian sausage and crushed red pepper. Drain excess fat. In the same pan, add olive oil, onion, and a pinch of salt. Cook until translucent, add  garlic and sauté over medium heat for a few minutes. Be careful not to burn the garlic. Add chicken bouillon and water to the pot and heat until it starts to boil. Add the potatoes and cook until soft, about half an hour on medium/high heat. Add the heavy cream and just cook until thoroughly heated. Stir in the sausage, crumbled bacon and the kale. Season with salt and pepper to taste. Turn down heat to low and let simmer for 15 minutes.
Serving Suggestion: Serve with shredded Parmigiano Reggiano cheese and toasted garlic bread.
Potato Corn Chowder
Recipe from Andrea Jackson
6 c. potatoes, peeled and cut into bite size pieces, or 16 oz. hash browns
2 onions, chopped
1 carrot, peeled and sliced
1 stalk celery, sliced
4 chicken bouillon cubes
1/3 c. butter
1T. parsley flakes
5 c. water
2 t. salt and pepper
2 cans of creamed corn
1 can of corn
1 13-ounce can of evaporated milk
Cook everything except cream style corn and evaporated milk. Cook 10 to 12 hours. When soup is cooked, turn to low and add the creamed corn and evaporated milk.
Serving Suggestion: Serve with a plate of fruits and vegetables or pair with sandwiches for an "on the go" kind of meal.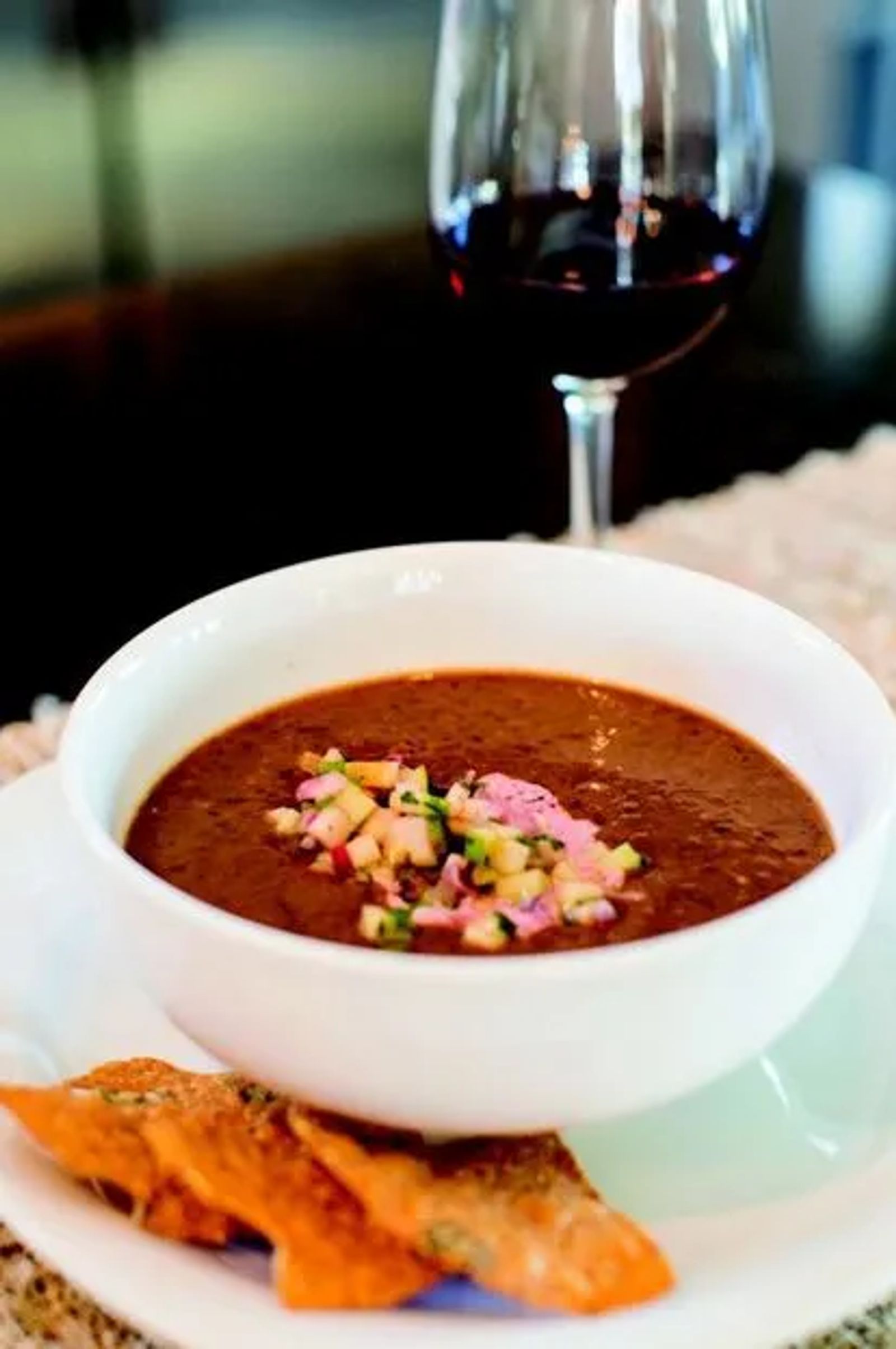 Chipotle Pumpkin Black Bean Soup
From Jenny Dow, adapted from a Rachel Ray recipe
2 T. extra virgin olive oil
1 large yellow onion, chopped
2 large cloves garlic, grated or finely chopped
1 chipotle chili in adobo sauce, finely chopped, 1 T. adobo sauce reserved
1 bottle Mexican beer, such as Negra Modelo
One can pure pumpkin puree (15 ounces)
1 1/2 t. ground cumin (half a palmful)
2 pinches ground cinnamon
Salt and pepper
3 c. chicken broth
One can black beans (15 ounces), drained
1 Granny Smith apple
1/2 small red onion
1 jalapeño pepper, seeded and finely chopped
1/3 c. cilantro (a generous handful), finely chopped
Juice of one lime
1/2 c. sour cream
1/4 c. whole berry cranberry sauce
In a soup pot, heat the olive oil over medium-high heat. Add the yellow onion, garlic and chipotle with one tablespoon of the reserved adobo sauce and cook, stirring, for five minutes. Add the beer and cook until reduced by half, about three minutes. Stir in the pumpkin, cumin, cinnamon and salt and pepper, to taste. Stir in the chicken broth and beans and simmer for 10 minutes. Finish the soup off by puréeing it. For Apple Salsa garnish, combine the apple, red onion, jalapeño, cilantro and lime juice in a small bowl. For the Cranberry Sour Cream garnish, combine the sour cream and cranberry sauce in a small bowl. 
Serving Suggestion: Serve with a couple generous handfuls of lightly crushed corn tortilla chips  and garnish with apple salsa and cranberry sour cream.
National Soup Swap Day is set for January 25th!
Here are the tried and true guidelines
Schedule your swap and give your guests two weeks to make their soup.
Invite a handful of friends – it's the most fun with at least six people.
Ask people to bring 6 quarts (in single one quart containers) of frozen soup. One quart of soup will serve 8 four-ounce cups of soup or 4 larger, eight-ounce bowls.
Send a friendly reminder a few days before Soup Swap day.
With the freezer about to be filled with homemade soup, it's a great time to ask people to donate a few cans from their pantry to the Billings Food Bank.
The day of the swap, if you have more than six guests, put a number in a bowl for every person who brought soup. Have people draw a number. This is the order in which the soups will be chosen. In the order of the numbers drawn, have each chef talk about their recipe and what makes it special. For instance, is it a treasured family recipe?
If you have six guests, each person will go home with a different soup (including one quart of their own).
Serve some light food and drinks to help entertain your guests while they swap.
Source: soupswap.com
FOR MORE SAVORY SOUP RECIPES
Check out our Pinterest Page with dozens of recipes to try!
 
There, you'll find recipes like this one below for hearty soups your whole family will love!