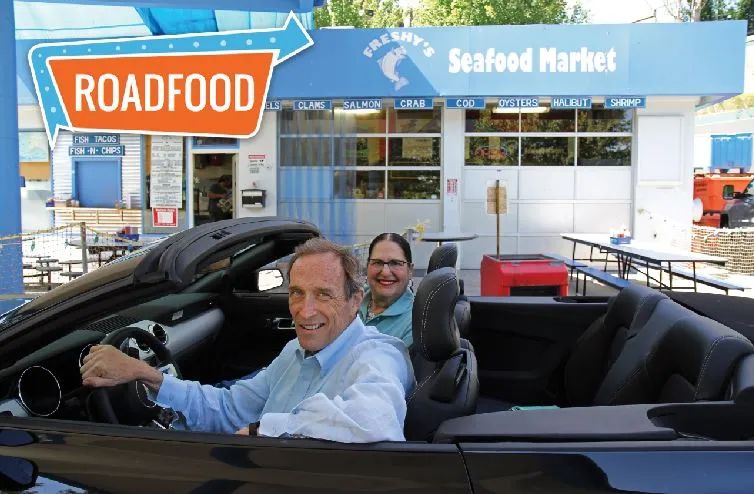 Hitting the Dining Hot Spots with Roadfood
The good eats guide shares its Montana favorites
This summer when on vacation or out on a drive, make a pledge to look for that off the beaten path venue, the one off the interstate, or the other spot on the two lane state highway.
That's exactly what Michael and Jane Stern have been doing for the last 40 years.
"We look for the place where all the pickups are, the place where the local emergency services vehicles are pulled up having lunch," says Michael Stern of Roadfood.com. "They know the town. They are the regulars."
Since the 1970s, Michael and Jane have been hitting the highways and byways in search of good food. The result has been nine editions of their guide, Roadfood, which shares those memorable local eateries with hungry travelers from coast to coast. The tenth edition is due out next year. Fifteen years ago, the couple started Roadfood.com to be that culinary resource for folks on the go.
Jane admits finding places to eat in small towns involved blind luck early on. "There were no websites, no books on regional American food," she says. "In fact, the term regional American food did not even exist back then. But Michael and I kind of knew what we wanted to find and we would just drive somewhere."
Through the guide Roadfood, the Sterns have taken the guesswork out of where to eat in all corners of the country. If you visit the website, simply type in a city and state in their "Find authentic regional food" window and Michael and Jane's suggestions will pop up along with the dishes labeled as a "must eat."
If you happen to type in Billings, 26 suggestions appear, including three right in the Billings city limits. The others are a short, one tank trip away.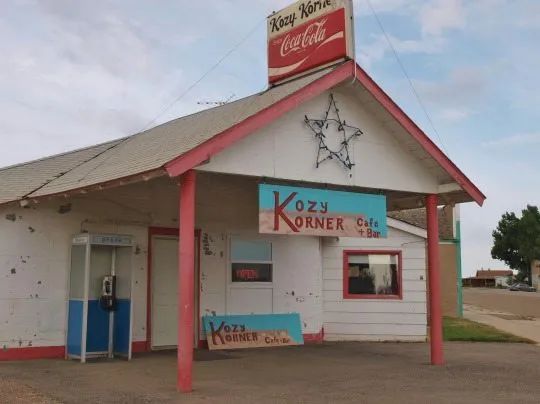 The Kozy Korner in tiny Winnett made the list. Michael says the Kozy Korner came on a tip from a cross-country bicyclist who suggested they make the trek. Step inside the Kozy Korner, and you'll find "must eats" like Pillowy Pancakes and Ellen Wood's Cinnamon Rolls, which happens to be her grandmother's recipe.
A little closer to Billings is the Red Lodge Café. Roadfood lists their blueberry buckwheat pancakes and pie as can't miss culinary creations. Michael praises the banana cream pie but adds that owner Mark Day's Sour Cream Rhubarb is a pie that needs to be sampled to be believed.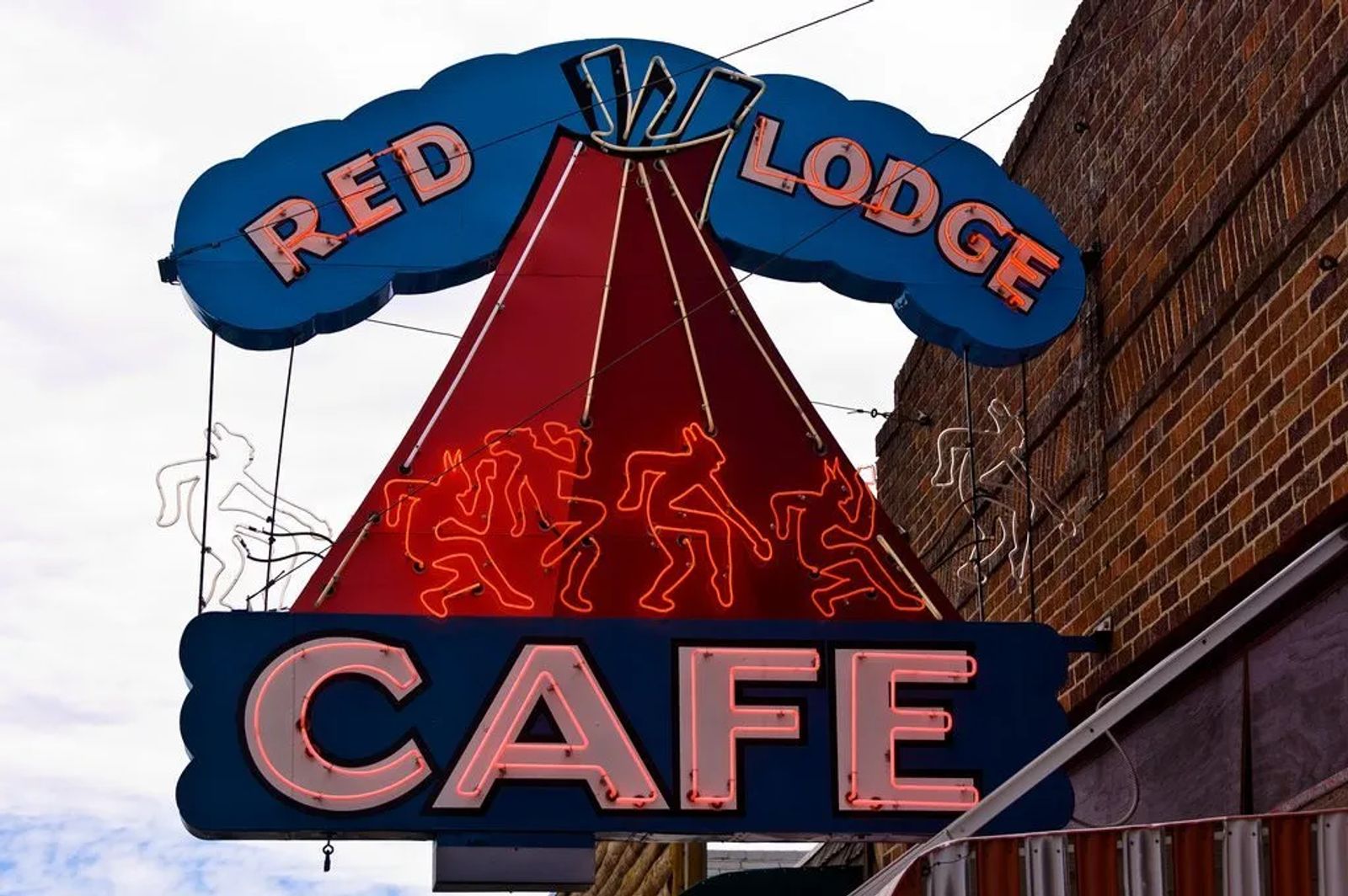 During the four decades that the Stearns have been editing and adding to Roadfood, Michael says he's seen "a lot of these Mom and Pop restaurants go out of business, because Mom and Pop are too old and there is no one to carry on."
Jane concurs. "It's hard for these little places to stay in business. It's hard for them to compete with chains." And that's why both feel it's important to hit the road in search of those family-run, small town gems.
So, before your next road trip, check out Roadfood.com. After all, the sugary sweet confections at Grannies Donuts in Bozeman might be calling your name. Or, your stomach might just tell you that you need to try that Bacon Double Cheeseburger from Mark's Inn & Out in Livingston before heading back out on the road.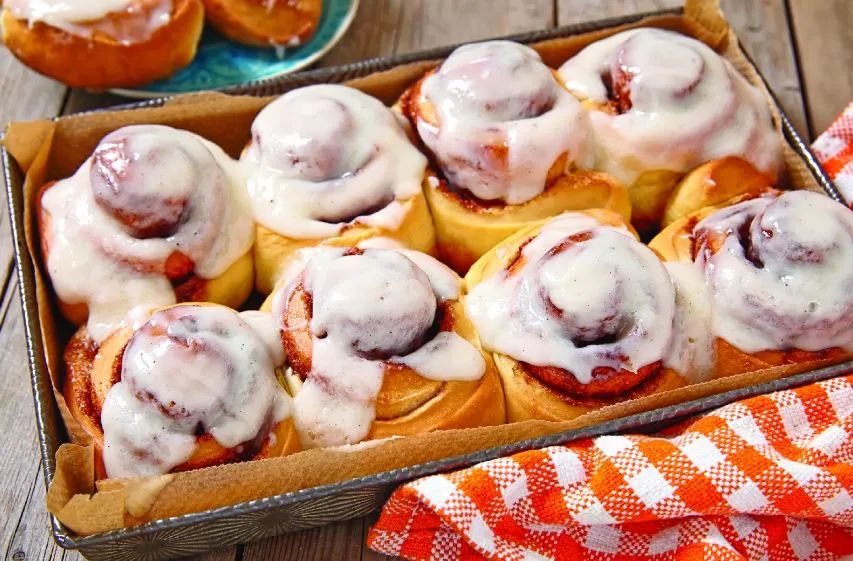 CINNAMON ROLLS
~Recipe from Ellen Wood, Kozy Korner Café
6 T. sugar, 1 T. reserved
1T. salt
5 T. melted butter
1 c. milk, scalded
1 c. hot water
2 ½ T. yeast
4 eggs
3-3 ½ c. flour (or more)

Scald the milk in a saucepan, then add the 1 tablespoon of salt and 5 tablespoons of sugar and stir until dissolved. Add in the melted butter. Allow to cool slightly and add the slightly beaten eggs. Mix together the hot water, 1 reserved tablespoon of sugar and the 2-½ tablespoons of yeast and allow to proof (mixture should bubble). Mix all ingredients together and add enough flour (around 3-3 ½ C) to make a heavy but sticky dough. Be sure this is mixed well. NOTE: The secret is NOT having too much flour, which makes dense dough. Cover and let the dough rise until it has doubled in size. When ready, turn out the dough on a floured surface and knead until it is spongy and springs back when poked. If it is not, let it rest, covered for a few additional minutes, and knead in just enough flour in small increments until it is smooth and no longer sticky. Put in a buttered bowl, cover, and let rise again until doubled. Preheat the oven to 350 degrees. Butter a 16"x10" pan. Roll or pat out the dough into about an 18"x 10" rectangle. Sprinkle with cinnamon and lots of brown sugar (about ½-3/4 cup of brown sugar and 2 teaspoons of cinnamon). Roll up beginning at the wide side. Slice into about 1" pieces and place slightly apart on the pan. Cover and allow to rise to top of the pan.  Bake in 350 degree oven for 35 minutes.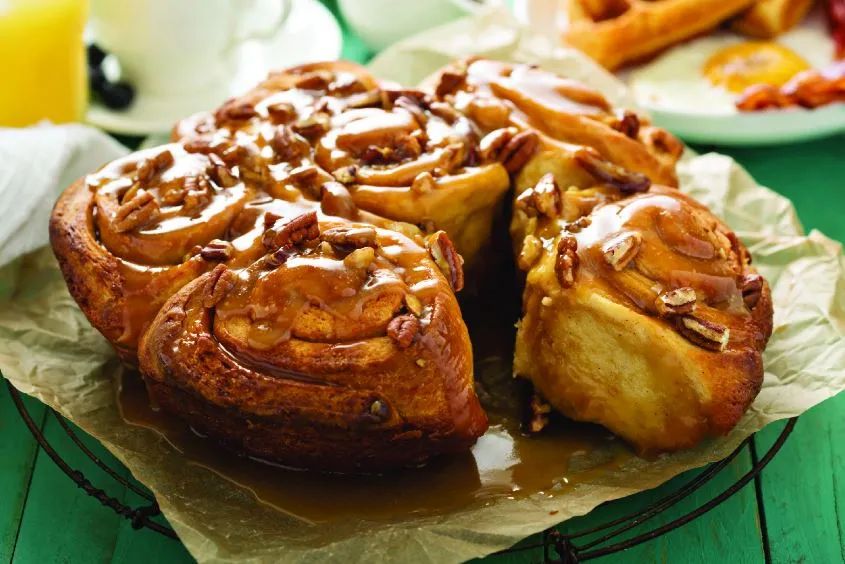 CARAMEL ROLL
2 T. butter
4 T. flour
½ c. water
1 c. granulated sugar
1 c. brown sugar.
In a small bowl mix together the brown and granulated sugar and 1 tsp cinnamon, set aside. Melt the butter in a medium saucepan. When melted, add the 4 tablespoons of flour and mix well. Add the ½ cup of water. Add the sugars to the butter and water mixture. Stir over low heat until the sugars are dissolved. Pour mixture onto buttered pan. Place the recipe from the cinnamon rolls on top and let rise to top of pan. Bake in 350 degree oven for 35 minutes. NOTE:  When the rolls are done I turn them out (bottom side up) on a foil covered cookie sheet so that cleanup is a breeze.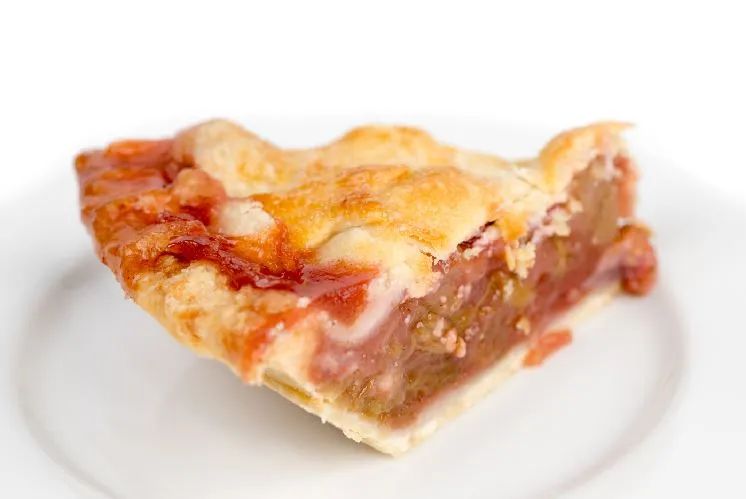 SOUR CREAM RHUBARB PIE
~Recipe from Mark Day, Red Lodge Café
PIE CRUST
4 c. flour
2 c. Crisco
2 t. salt
1 T. granulated sugar
½ c. cold water
1 egg
1 T. vinegar
PIE FILLING
1 c. sour cream
2 T. flour
1 t. vanilla extract
¾ c. sugar
1 egg
2 c. diced rhubarb
½ t. cinnamon
TOPPING
½ c. butter, room temperature
1/3 c. flour
½ c. brown sugar

For the pie crust, this recipe makes two, 9" round crusts. Combine the dry ingredients (flour, salt and sugar) in a bowl, combine with the Crisco using a pastry blender, a fork or two table knives. Work quickly and lightly until the mixture resembles rice. Lightly beat the egg and combine the cold water and vinegar. Add to the mixture and lightly combine until dough begins to cling together and just forms a ball. Divide the dough into two balls and flatten into disks. Wrap each with plastic wrap and refrigerate for 30 minutes. You are only going to need one disc for this pie. Roll out one disc on a lightly floured surface with a lightly floured rolling pin and roll out a large enough piece to fit the 9"pie pan. Press the dough into bottom and sides of the pan leaving about a ¾" overhang. Turn under the overhang and either crimp or flute.
For the pie filling, preheat your oven to 400 degrees. In a large bowl, combine the sour cream, flour, vanilla extract, sugar, a lightly beaten egg, and cinnamon using a whisk. Fold in the rhubarb until blended. Spoon into the pie shell and smooth the top. Cover the edges of the pie with strips of aluminum foil.  Bake in a 400 degree oven for 25 minutes.
For the topping, combine the butter, flour and brown sugar and set aside.
After 25 minutes remove the pie from the oven and lower the oven temperature to 350 degrees. Remove the foil from around the pie edge. Sprinkle the topping over the pie and return to the 350 degree oven. Bake for 20 minutes. Cool and refrigerate leftovers.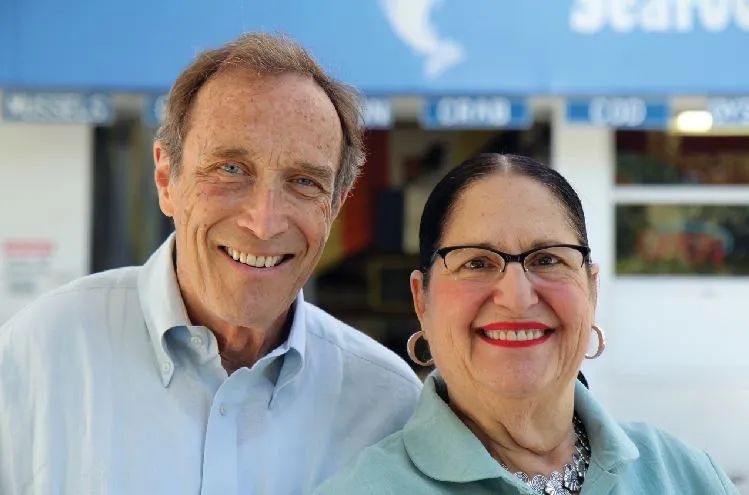 Hitting the Best Food on the Road
Jane & Michael's Picks
For the latest reviews, ideas for the best eats in any city or even driving tours for the best food on the road, visit roadfood.com. Roadfood: The Coast-to-Coast Guide to 900 of the Best Barbecue Joints, Lobster Shacks, Ice Cream Parlors, Highway Dinners and Much, Much More (9th edition) is available at amazon.com.