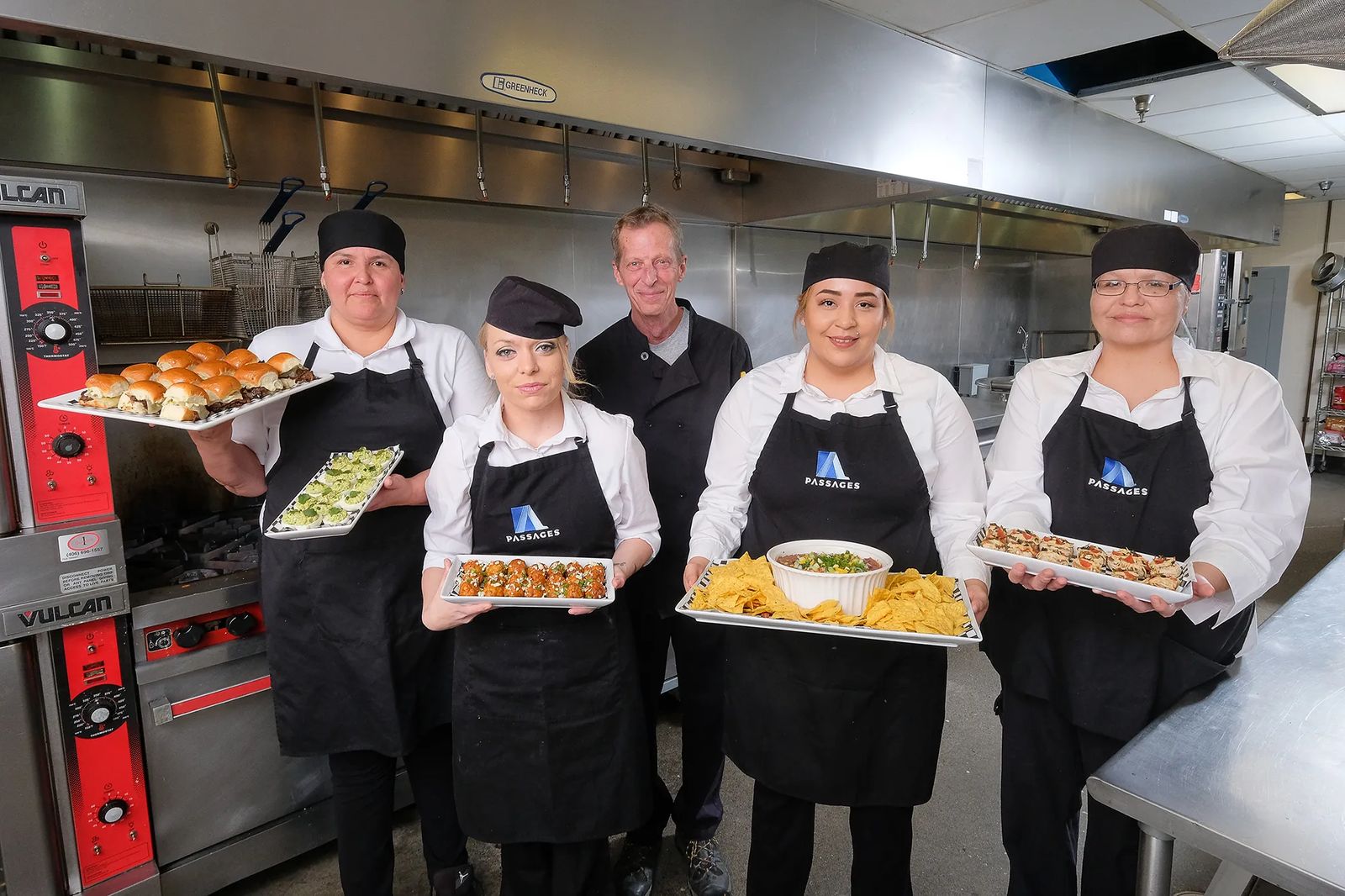 Ingredients for Hope
Passages' Culinary Arts Program
By Stella Fong, Photography by Daniel Sullivan
With recipes of hope, one can cook dreams into reality. For 18 months, Chef Instructor Patrick McNellis spends time introducing new foods and culinary techniques to the students in the Culinary Arts Program (CAP) at Passages, the women's community-based correctional facility in Billings that houses state and federal inmates.
Thanks to the program, Stellar Bulltail, Jazmine Enemy Hunter, Tiffany Medicine Horse and Jadrian Skarda, learned what it takes to be employed in local restaurants, banquet facilities, bakeries and other food-related businesses. The four women came to the program with a larder full of diverse culinary experiences.
"I did not cook before this program," Enemy Hunter says. "I had a grandma and grandpa who cooked. My grandma made fry bread and pan bread." Now, after going through the program, she says, "My favorite is brunch, making pancakes, French toast and omelets." With blossoming confidence, she shares how she enjoys the process of making breakfast foods for a crowd.
"I have never gone into a kitchen that has all the spices I needed," Skarda says. Now, she says, "I can make anything. I can make anything with salt," she adds jokingly, but more importantly, "I can make anything from scratch."
"I grew up in a large family and my granny cooked," Medicine Horse says. As her face lights up, she continues, "My granny made candy and baked cookies at Christmas. I remember she made a stuffing with smoked oysters and I loved it." But her fondest memory was the Twin Bing, a cherry and chocolate candy her grandmother made each holiday season. The program motivated Medicine Horse to take advantage of learning about new foods and cooking techniques.
Bulltail's uncle was the cook of the family. "He made it fun," she says. He taught her how to make green bean casserole for the holidays. With a smile, she says confidently, "I now make it for Thanksgiving."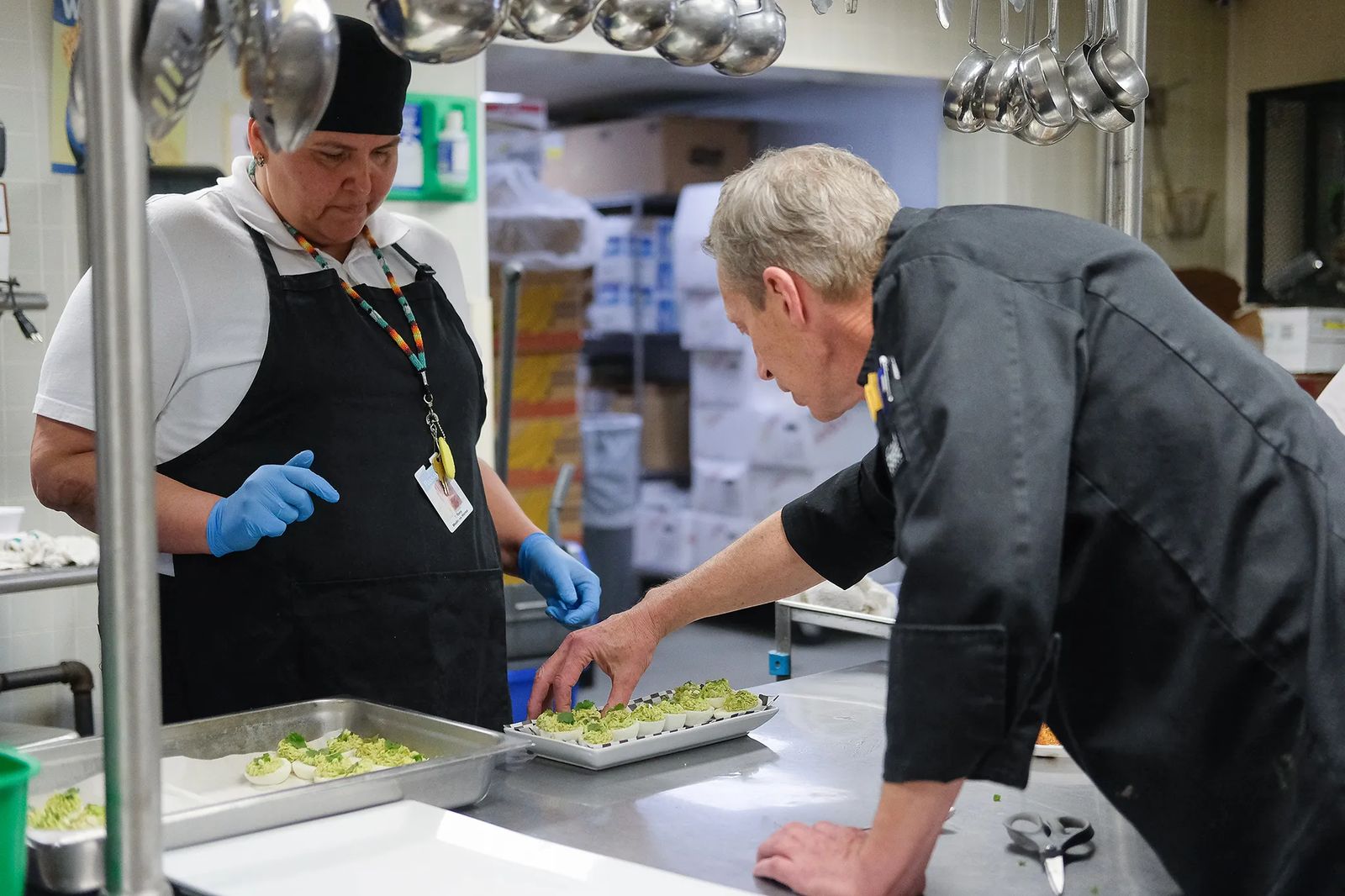 "I remember my first class," she continues. "I burned my eggs." But in time she learned how to make omelets. "It's all in the wrist" she says, as she mimics the action of flipping cooked eggs in a pan like professional chefs.
After being together for a year and a half, participants in the program developed a sense of family. The women act like sisters, gently teasing each other, but with sprinkles of sincerity and splashes of affection.
"We hope the program is a launching pad to future success," says Chef McNellis. "It's not just about cooking. They have to show up and work hard." With pride, McNellis shares the details of the graduation dinner the women put on for their invited family. Each woman planned a multi-course menu, gathered the ingredients and coordinated the cooking, the service and the final presentation of their dishes.
The 18-month program is limited to 15 students at a time. It includes six months of class time, catering work for special events and hands-on culinary training. For six months they work in the Passages kitchen. In the final months, they're able to work in the community on release.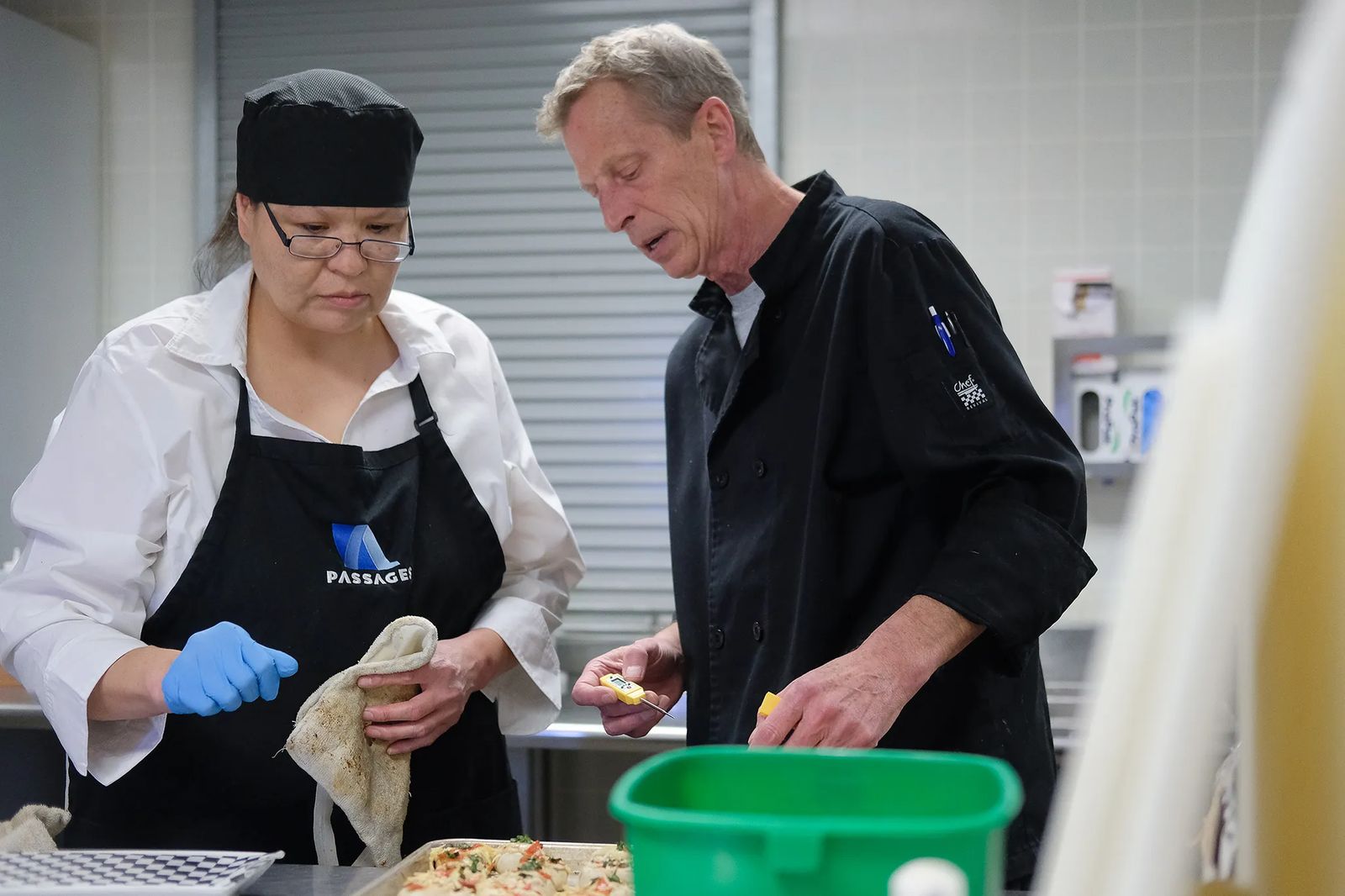 "They are supported, but are held accountable," says McNellis, pointing out that the requirements for success in the program are fairly extensive. Their grades need to be maintained and each participant needs to have good behavior and a good attitude. "Generally, we do not fail them. They can only fail themselves."
At the time of the interview, all of the women except for Enemy Hunter had prepared their graduation lunch. When asked what she planned to serve, she paused to think. That delay allowed the other women to respond, "Mango salsa!" This concoction had become Enemy Hunter's favorite go-to sauce and her culinary sisters were not going to let her forget it. Her lunch theme was Cuban, featuring Cubano sandwiches, black bean soup, and shrimp risotto with her signature salsa, and finished with key lime cheesecake.
Before the Culinary Arts Program, Enemy Hunter had never experienced a mango. That's exactly why McNellis encourages the women to experiment with new foods.
"You can't say you don't like anything," McNellis says. "You just have to taste it once. You have to give it a chance." That phrase became the mantra of the group, and they put it into action well beyond the classroom.
"The program has given me a lot of self-esteem," Bulltail says. She expressed creativity while making gingerbread houses for the holidays. The house, in reality, was the Disneyland castle that required pre-planning and design. She says the program taught her to be prepared for the worst and deal with it the best she can.
"I have learned to deal with chaos," she sayd. "I can take a step back and breathe."
Medicine Horse "learned how to work with a team, and to ask for help" when she needed guidance. Asking for help gave her the confidence to offer help to others.
With some prodding from McNellis, Enemy Hunter proudly reveals that after working at Applebee's as a server during her community work assignment, "They are asking me to come back and apply for a position as a line cook."
Skarda, for her part, says the program "made me want to live and gave me a voice." That same voice has her considering the possibility of going to school to become a certified nursing assistant.
With fresh ingredients in hand and their new skills honed, these four recent graduates of the Culinary Arts Program at Passages have written the recipe for nourishing and nurturing not only themselves but those around them.
Perfect Bites
Recipes by Chef Patrick McNellis, prepared by Passages Culinary Arts graduates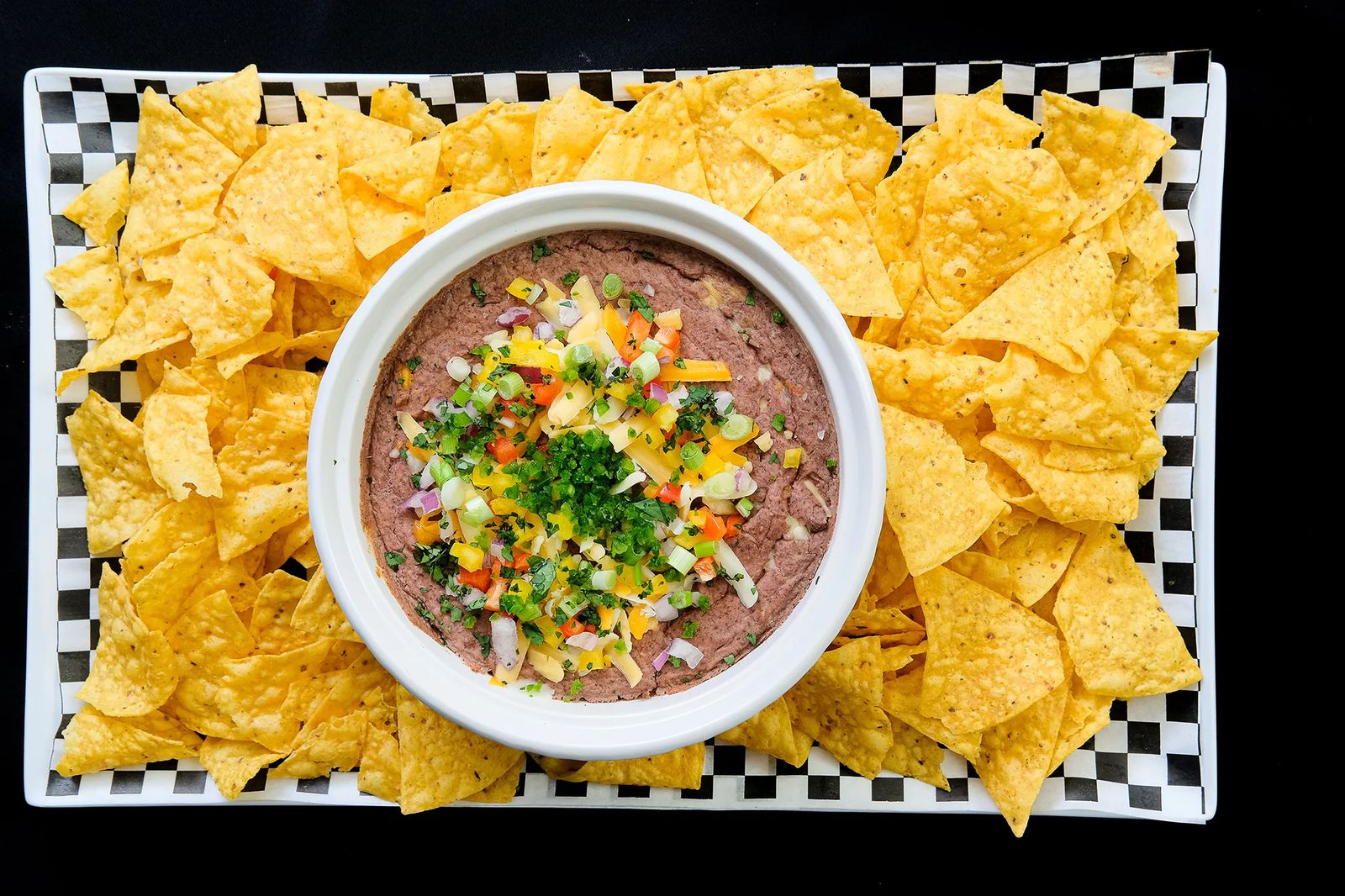 BLACK BEAN DIP, serves 10
 2 15.5-ounces cans black beans, rinsed and drained
4 ounces cream cheese, softened
½ c. sour cream
1 jalapeño, stem removed, chopped
2 cloves garlic
½ t. chili powder
Juice of ½ lime
½ c. crumbled queso fresco
1 c. shredded pepper jack cheese
½ c. shredded cheddar cheese
DIRECTIONS
Preheat oven to 350 degrees. In a food processor, add black beans, cream cheese and sour cream, pulsing to combine. Add jalapeño, garlic, cumin, chili powder, lime juice, and queso fresco, blending until smooth. Transfer dip to an oven-safe skillet and top with pepper jack and cheddar. Bake until warmed through and cheese is melted, 15 minutes. Garnish dip with tomatoes, jalapeño, red onion, queso fresco and cilantro. Serve warm with chips.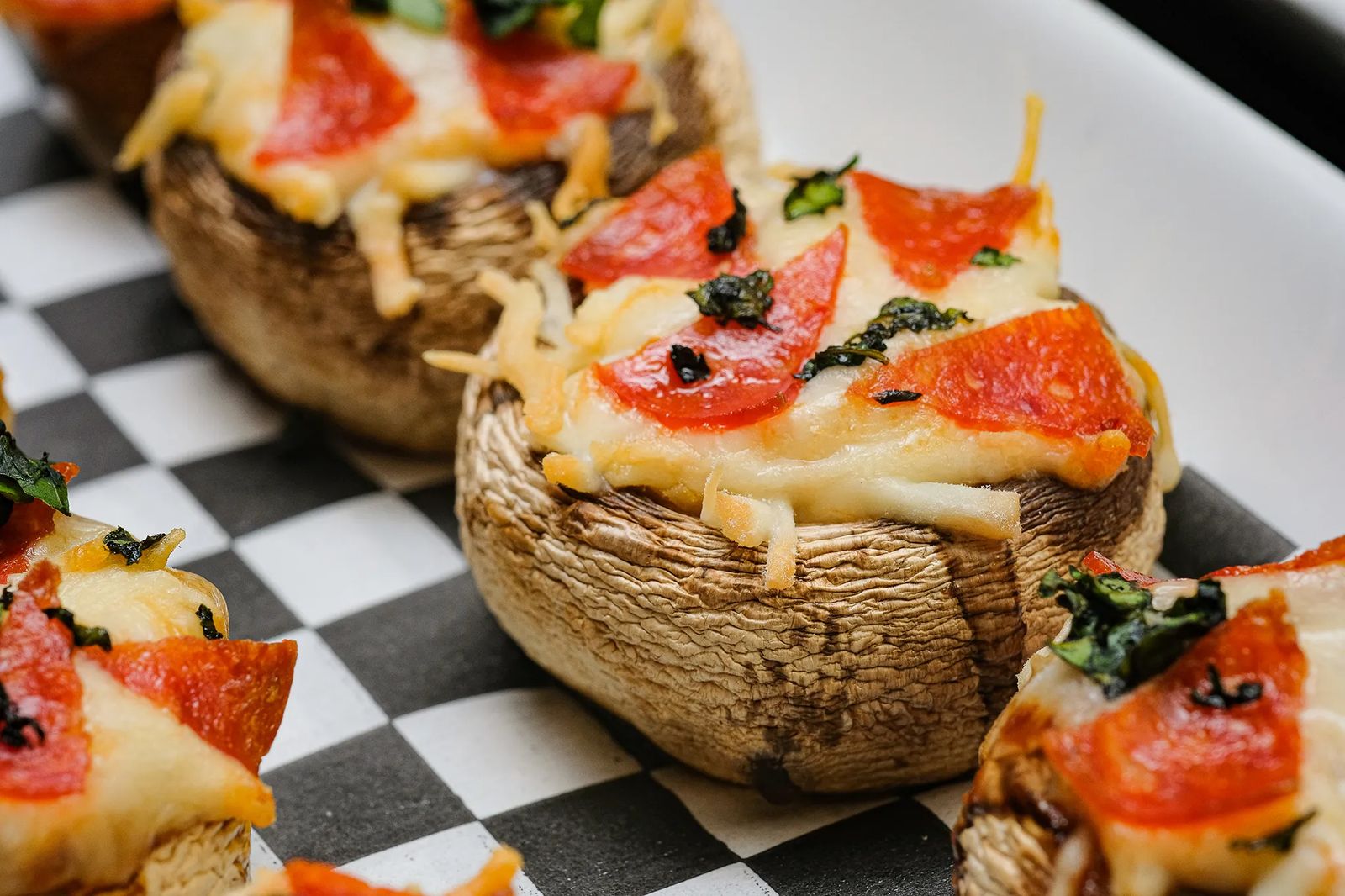 PEPPERONI PIZZA STUFFED MUSHROOMS, serves 4
12 to 15 large mushrooms, cleaned and stems removed
2 mini pepperoni links sliced
¼ c. pizza sauce
1 c. grated mozzarella cheese
Fresh ground black pepper
1 bunch fresh basil
DIRECTIONS

Preheat oven to 450 degrees. Spray a cast iron or heavy skillet with cooking spray. Arrange the mushrooms in the skillet. Fill each mushroom with 1 to 2 teaspoons pizza sauce. Top each mushroom with 1 to 2 tablespoons of mozzarella cheese, then with 2 or 3 pepperoni slices. Bake for 15 to 18 minutes, or until cheese melts and becomes golden on top. Season with freshly ground black pepper and garnish with a basil leaf.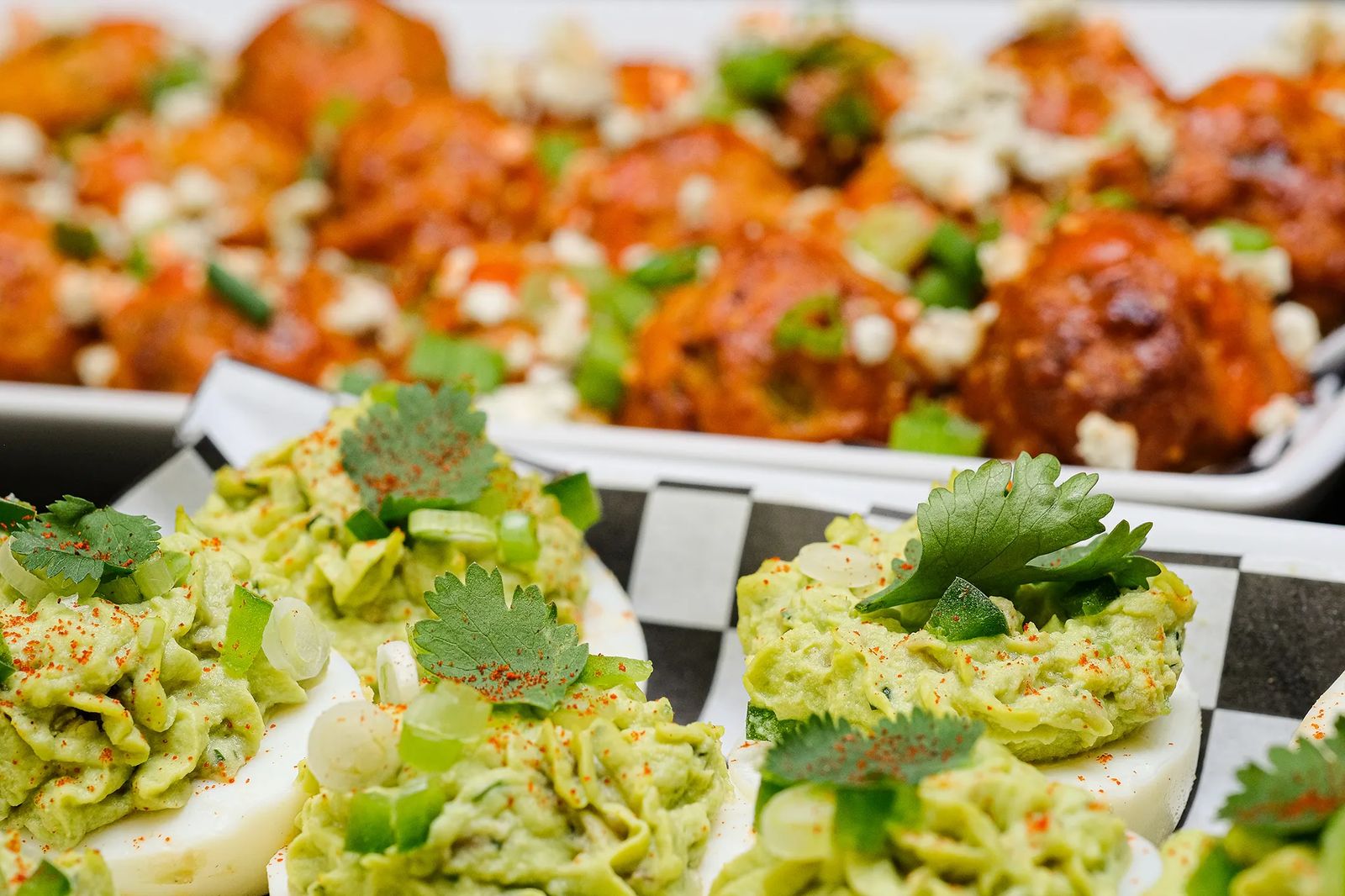 GUACAMOLE DEVILED EGGS, serves 4
6 large eggs
2 ripe avocados
1 T. lime (or lemon) juice
1/2 t. salt
1 T. sour cream (skip if you are dairy-free)
1 T. chopped cilantro (plus a several leaves for garnish)
1 serrano or 1/2 jalapeño chili pepper, stem removed, minced (include the seeds for more heat)
1 bunch of cilantro
1 T. chopped chives or green onion
DIRECTIONS
To make easy-to-peel hard-boiled eggs, steam them. Fill a saucepan with 1 inch of water and insert a steamer basket. Bring the water to a boil, gently place eggs in the steamer basket or directly in the saucepan. Cover the pot. Set your timer for 15 minutes. Remove eggs and set in icy cold water to cool. Carefully peel the eggs and cut them in half lengthwise, placing them on a serving platter. Scoop out the cooked yolks and set aside. To make the filling, cut the avocados in half and remove the pit. Scoop out the avocado flesh, place in a bowl and mash with a fork. Using your fingers, break up one or two of the cooked egg yolks (2 to 4 halves) over the mashed avocado. Reserve the remaining egg yolks for another use. Stir in lime juice, salt and sour cream. Stir in the chopped cilantro, serrano or jalapeño chili pepper and chives. Once mixed, scoop a generous spoonful of the avocado mixture into each well of the hard-boiled egg whites. Top with a small sprig of fresh cilantro or some chopped chives.
ITALIAN ROAST BEEF SLIDERS, makes 12
1/4 c. butter, melted
2 t. Worcestershire sauce
1 t. Dijon mustard
1 t. Italian seasoning
1/4 t. granulated garlic or garlic powder
1/4 t. onion powder
1 12 count package Hawaiian sweet rolls
4 ounces sliced provolone cheese
1/2 pound thinly sliced deli roast beef
1/2 c. diced pepperoncini
1 t. poppy seeds or as needed
DIRECTIONS
Preheat the oven to 350 degrees. Lightly coat a rectangular baking dish large enough to hold your slider rolls with non-stick cooking spray. Whisk together the melted butter, Worcestershire, Dijon, Italian seasoning, granulated garlic or garlic powder, and onion powder in a small bowl and set aside. Without separating into individual rolls, slice the top half of the bread off the bottom and place the bottom portion of the rolls in the prepared baking dish. Layer the bread with the sliced provolone, roast beef and diced pepperoncini and then top with the other half of the rolls. Liberally brush the melted butter mixture over the tops of the rolls and sprinkle evenly with poppy seeds. Bake, uncovered, for 12 to 15 minutes, or until the cheese has melted and the tops of the rolls are lightly toasted. Use a knife to slice the sliders and serve.
BUFFALO CHICKEN MEATBALLS, serves 4
Extra-virgin olive oil, for baking sheet
4 T. butter
1/3 c. hot sauce
1/3 c. crumbled blue cheese
Salt, to taste
1/3 c. panko bread crumbs
2 stalks celery, finely chopped
2 cloves garlic, minced
1 large egg
¼ c. sliced green onions, more for garnish
½ t. onion powder
1 pound ground chicken
DIRECTIONS
Preheat oven to 425 degrees. Spray baking sheet with cooking spray. In a small saucepan over medium heat, combine butter, hot sauce and blue cheese, and season with salt to taste. Whisk until butter and cheese have melted, about 2 minutes. Remove from heat and let cool. Meanwhile, in a medium bowl, stir together bread crumbs, celery, garlic, egg, green onions and onion powder and season with salt. Add chicken and half the hot sauce mixture and mix until combined. Using a cookie scoop, form 1-inch meatballs and transfer to a prepared baking sheet. Bake 15 to 17 minutes until golden and center is no longer pink. Drizzle remaining sauce over meatballs and garnish with green onions before serving.