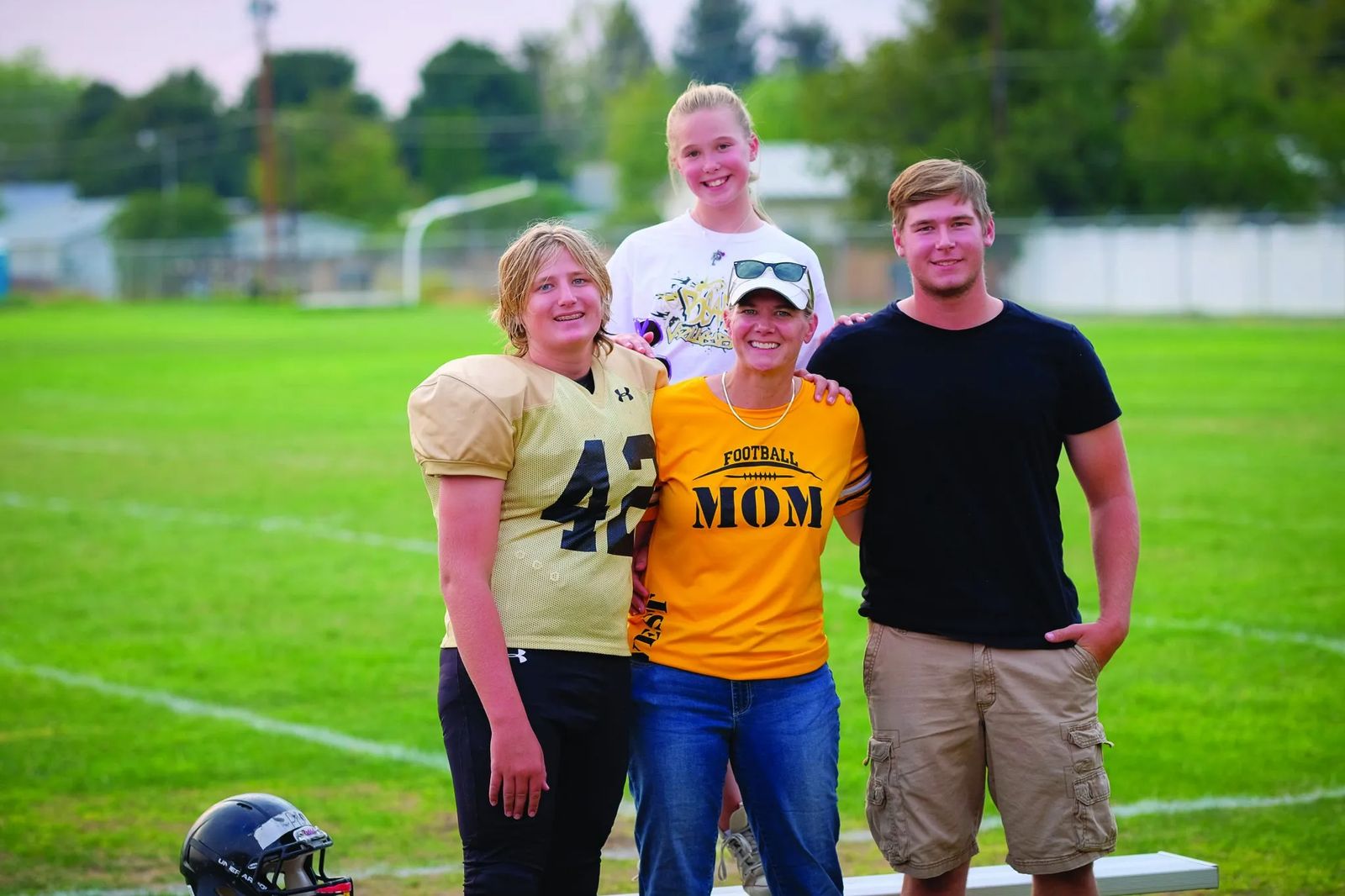 Kim Prill: Mom, Community Leader & Volunteer Extraordinaire
"Sit how you sit" is a quote Kim Prill lives by. Taught to her by her great grandmother Caroline Rosaria Okragly, the four words carry Prill's belief that "You need to be comfortable in your own skin." If you look at Kim's strength to nurture her children and to share a volunteer spirit aimed at building a better Billings, you see that Kim Prill is definitely comfortable in her own skin.
I talked with Prill at A.C.E.S., a full service visual branding company she owns with her husband Tony. This morning, with her blond hair draped over the shoulders of her white blazer, she seems to glow. At the table where we sit for the interview, there are two cups of coffee waiting. Before our meeting, Kim not only wanted to review the questions I planned to ask, but offered to bring the coffee. I do not often have these kinds of requests and on top of that, usually I buy the coffee.
Prill is the mother of three. Jonah, her oldest, attends Montana State University (MSU) in Bozeman, pursuing a business and marketing degree. Ethan is a freshman at West High School. Evelyn is a 5th grader at Arrowhead Elementary School. With a smile, she says her husband Tony is also one of her kids, "counting him into the mix."
Benefitting her family and kids is a priority for Kim. It is why she co-chairs the West High Football Boosters. "We take our jobs very seriously," Kim says, "because we love our boys and their dedication to the sport." She wants to lead by example and admits, "I like my kids seeing me doing something."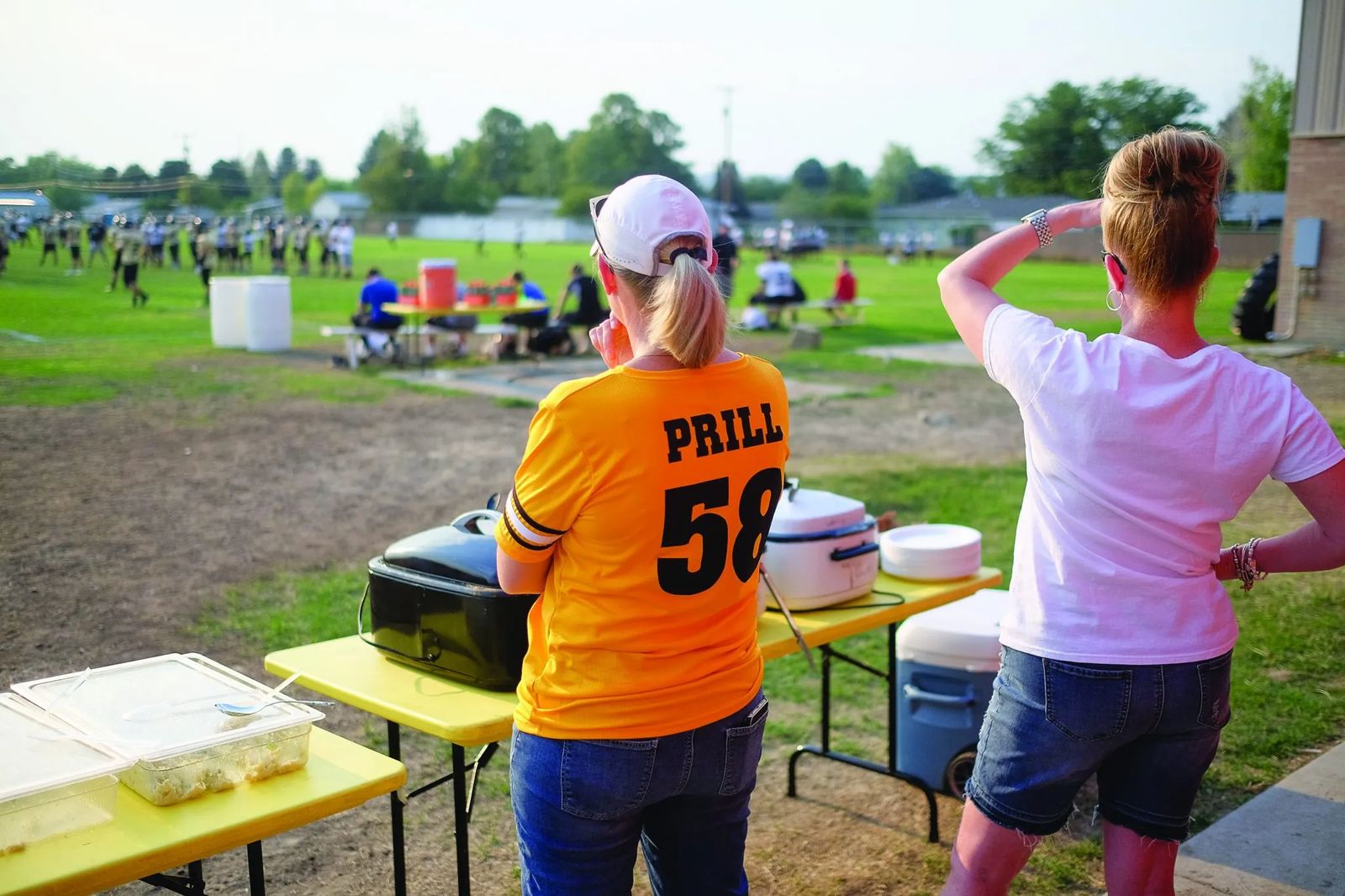 If you ask Kim, she's not satisfied with just being seen rolling up her sleeves, she wants to ignite a volunteer spirit. As a member of the PTA and the Boosters at West High, she has made sure other volunteers are set up to succeed. "Everyone wants to volunteer, but they are scared to volunteer," she laments and then asks, "How can our PTA and Boosters transition volunteers?" She found the answer by helping to create volunteer descriptions so that each person had a role in helping to wrap up large projects and create a "win" for the team as a whole. As she thinks back to leading large-scale projects, she refers to her son Ethan's favorite inspirational quote by Creighton Abrams: "When eating an elephant, take one bite at a time."
"It is so important to become informed and do your part," Kim says. "Our community is like coming to a potluck. Everyone brings what's important to them. If everyone enjoys what everyone brings, then there is desire to appreciate diversity."
These days, Prill is serving her second year as a board member on the MSU Billings Foundation. "The caliber of the professors is amazing," Prill shares enthusiastically. "Billings is one of the strongest and most diverse communities. It is rewarding to be involved in a major initiative at MSU Billings to renovate and expand the existing Science Hall building (built in 1947) to address technological integration and workforce demands for both Science and Allied Health." In her spare time, she volunteers with events like Girls-N-Science and lends a hand at vital non-profits like the Tumbleweed Runaway Program and Dress for Success. Her philosophy is: "I like to keep a watchful eye to find little ways to help."
When taking time off to play with her family, you might find them riding the bike trails behind her home. It's just a sign of her community support of Billings TrailNet, the non-profit on a mission to build a complete community-wide trail system. It's an organization to which Kim Prill has donated countless hours of her time. "I just love the trails so kids can ride to school, Will James, West High." A.C.E.S. continues to make the signs for the annual fundraiser, Ales for Trails. "I love seeing the community coming together for a common cause," Prill says. But it is during the days she hikes, fly fishes, and rafts with the family she truly cherishes. While you'd swear Kim Prill is a woman constantly on the go, she confesses, "There are days when I stare at a wall." It gives her a chance to hit the reset button, to start again and power forward.
With a look of seriousness, Prill unabashedly admits that she is someone who likes to get to the point. Her everyday life is filled with purpose and intention. She sees her relationships, especially with friends as "touch points." They help her connect the dots in everyday living. As she bounces from one task to another, it is the network of relationships she's built that brings vitality to her life.
In Prill's life, the person she has learned the most from is her father, Dean Evans. Her eyes light up when she speaks of his life mantras. "He always takes the high road," she says as she reflects on her dad's ability to reach out to others. She adds, "He may have opinions with no judgement, for his belief is, 'Advice is something to ponder.'" Kim's mother, Julie Okragly, "has always been there." And as Kim goes on to describe her mother, you see the apple hasn't fallen far from the tree. Kim says, "She is a hard worker, passionate about working with people."
Her husband Tony walks by as we talk. I stop him to ask if he could tell me about his wife's strengths. Without missing a beat, he states, "She's very kind hearted. She's a good mom. She writes exceptionally well." Just earlier, Prill had expressed, "I have my eye on some day writing a book, a novel and a coffee table book."
Until she adds the title "author" to her list of accomplishments, Prill is content "sitting where she sits." She's a woman who likes the music her kids listen to — Eric Church and Chris Stapleton. She prefers Thanksgiving for "all the thanks without the fuss of Christmas." She loves her sister-in-law, Erica Okragly's sweet sausage penne pasta and she tries to emulate the wise turtle in her favorite fable Old Turtle, a story about a turtle who hopes to bring out a greater understanding of the earth and all things who inhabit it. When you add all those things together, you get a well-rounded woman who wakes up each day hoping to make her mark, and make Billings a better place to live in the process.