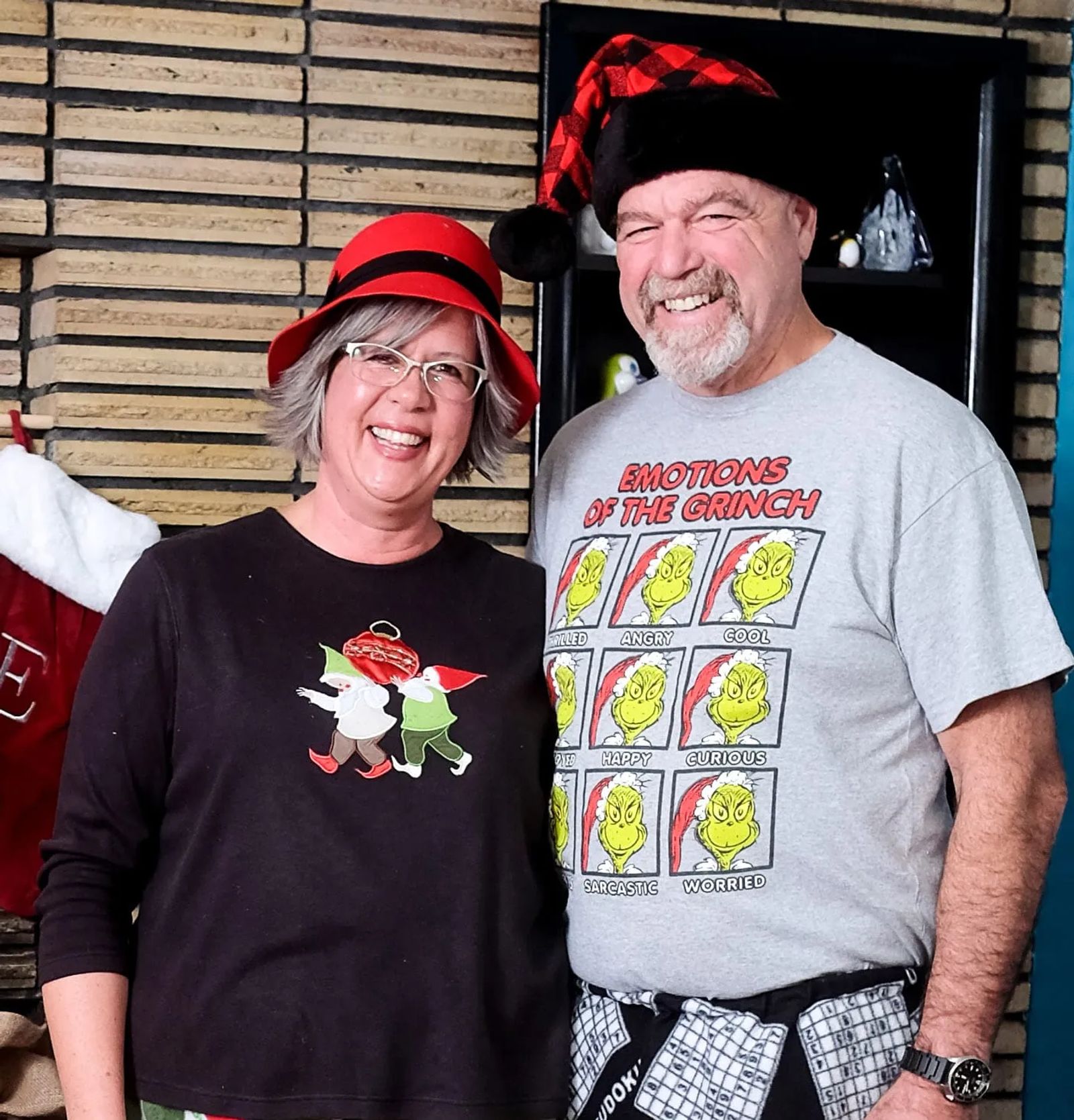 Blaming the Elf
Finding the spirit of Christmas

I really cannot be held responsible for the decisions I make, or the words that come out of my mouth during the holidays. I blame candy canes, hot cocoa and the elf that enters my head around Thanksgiving and doesn't leave until Jan. 2.
This little elf, delirious on a sugar high, once said, "We don't need a tree this year." Oh, little elf, what were you thinking? That we were too busy? That adults could gather around a pile of presents, presents that had been generously sprayed with evergreen room freshener, and pretend the lights were gently flickering? That no one would notice?
Well, little elf, you were wrong! It seems everyone noticed because on Christmas Eve every friend and family member brought in a tree of some sort. We had a balloon tree, a grocery store Norfolk Pine and a rather tragic ceramic tree that had been abandoned to the clearance rack. Someone brought a bough from their tree, and my husband, always sentimental, stopped and bought the last real tree from a man who was out of spirit, but not out of holiday hot toddy.
Not having a Christmas tree turned into a parade of holiday frippery, complete with laughter and the miracle of the holidays, giving with nothing but a pure heart. Maybe the little elf was onto something.
Another year, living in an empty nest for the first time, I said, "We should have a day of quiet, just you, me, a fire and a couple of good books." Perhaps the little elf was depressed at the time because this idea, while sweet, was misguided. We started the fire, arranged the furniture "just so" and quietly exchanged books. Dramatic mystery for him, a historical biography for me.
Readers can only read for so long — they must go for a walk, have a nibble, and accept the phone calls from family far and near. None of those things are so bad, but in the middle of the day, as we passed window after window full of familial gaiety, we realized we missed being "the holiday house." We missed the crunch of wrapping paper underfoot and the chaos of cooking a dinner with all the trimmings, especially when we realized the idea of not cooking meant there was no pumpkin pie for breakfast the next day. My elf really does need to avoid post-cocoa decisions.
That decision, to celebrate quietly at home, also led to the next one — to go to the store and invite complete strangers, the lone stragglers, to come to a makeshift dinner.
I know. You just said, "Wow, they are so kind!" — perhaps with a little sigh and a commitment to do just that yourself. Before you get too carried away, here is the rest of the story. The first person I asked, with a lilt in my voice and a Fa-la-la-la-la in my heart, said, "What are you serving?" Well. Hmm. I hadn't expected to be judged by my menu, but he had ideals.
Turns out, my world-famous potato soup was not going to cut it. Undeterred, I asked someone else, someone who looked lonely, with a basket of Hormel Chili and a magazine. She said they were gifts and to mind my own business. OK, so this was not quite the "Miracle on 34th Street" kind of dinner I had in mind. I went home with a new commitment to embrace peace and started on my Christmas letter for the next year.
OK, who am I kidding? It was for the current year.
I like to say, "I have not yet begun to procrastinate," when it comes to things like Christmas letters and closet cleaning.  To get in the mood, we opened the cards that had arrived for the holiday, read the letters aloud in front of the crackling fire and reveled in the joy and absolute half-truths our friends and families shared. When Paul, my husband, picked up a letter that was easily half an inch thick, I said, "Who in the world thinks their life is THAT interesting?" He answered, "My mom."  OK. Hmm. "Don't tell her I said that," I said as he dialed her number, laughing.
The letter turned out to be holiday memories from her and her siblings. Instead of gifts, they decided to treat their family to bits of themselves — stories of childhood, parenthood, stolen kisses and a gingerbread recipe. Those stories filled the room, our hearts, and made a quiet holiday a perfect holiday.
Because of their words, we shared our own stories of ice skating and snowshoeing to a cabin in the woods, gifts and favorite uncles. Their words helped us to find our words, stories we'd never thought to share and memories we didn't want to lose, like the roaring fireplace in the cabin in the woods that was so hot it ignited the woodpile beside it. That year the little elf was most thankful for a simple bucket of water!
I am sitting in a City Brew today, writing this story for you. There are people having quiet conversations, the smell of coffee fills the air and the hope of a perfect holiday season wafts in front of me. Over the years of racing my siblings to the tree, leaving flour footprints by the fireplace for my daughter, and watching in wonder as people cry when we sing them Christmas carols, I have come to anticipate the experiences, not the gifts, to try to give the love not get lost in the hype, and to know, with each light on the tree, each mistake my overexuberant elf makes, that the holidays are like the best of days.
These days are time for family, time for quiet and chaos, time for reflection and generosity. It's time for healing, for laughing, for grieving and for living.
If I could give one gift to you, my dear reader, it would be your perfect day, your favorite food, your loved ones gathered round with warmth and Christmas miracles. I would give you the moments, the experiences, and the memories you can send, in bulging envelopes, to your children, when they need them most.  I would give you what you deserve. Love. Peace. Joy.