Longmire's Craig Johnson
Author weaves his crime drama novels in the hills of Ucross Wyoming

Not far from the "T" in the road that leads you to Buffalo, Wyoming, off US 16 East, author Craig Johnson's log-cabin home sits nestled among foothills of the commanding Big Horn Mountains. It's one of the most picturesque of backdrops. Cattle roam the hills, barely taking a break from the green pastures that are thick in the late spring. Thirty-five years ago, Craig Johnson fell in love with this land. For a man who claims to be a student of human nature, Ucross, Wyoming, is a strange place to put down roots. The official population sits at 25. "Yes, I know all my neighbors and I know there aren't 25," Johnson says with a laugh. "There are only 19. We are still somewhat elevated from the last census."
As we walk into his nearby guesthouse to visit, Johnson says, "For me, this is where the story really starts." We settle into comfy leather chairs, as he talks over the melodic songbirds perched just outside the open window. Shifting his chair, he shares how he transplanted from the hills of West Virginia to the Cowboy State. At 22, while delivering horses from Montana to northern Wyoming, he found his home. "You have those Big Horn Mountains, which are right there. You have this valley that drops down into a lower elevation before it rises back up, going out into Powder River country. It's this incredible little oasis that no one really knows about," Johnson says.
He considered it a slice of heaven that could provide the focus needed to hone his love of storytelling.
"I had this idea that I wanted to be a writer. In many ways, wanting to be a writer is kind of like wanting to be an astronaut. The odds are against you so greatly that you might as well keep it to yourself," he says.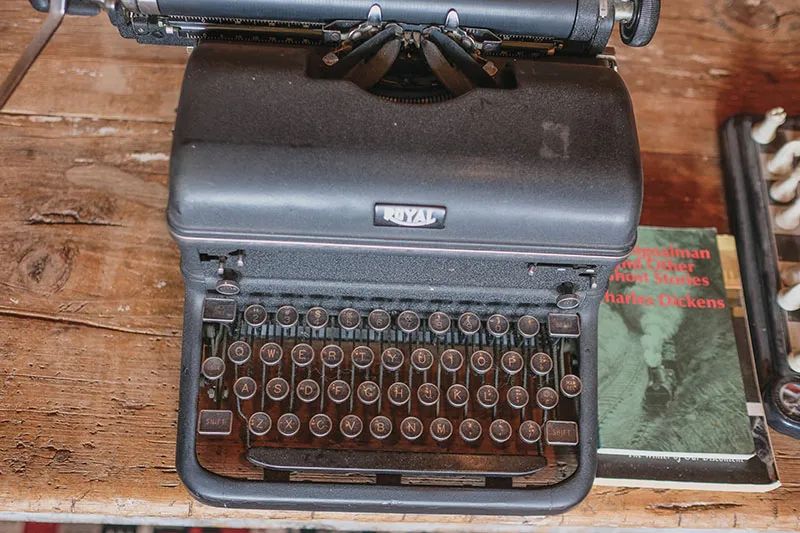 MAKING THE MOVE
In the late '80s, Craig bought a little piece of Ucross and built his entire ranch — the home, the guesthouse, the outbuildings, the fence line — with his own hands. He was in his early 30s when he sat down to his Royal mechanical typewriter that he picked up at a "what-not shop for $30" to plot out his first Western mystery novel, The Cold Dish.
"It was kind of like climbing a mountain in many ways. I kept thinking about those characters and finding ways to get them fully developed," Johnson says. One of those characters was the tell-it-like-it-is, tough-as-nails small-town sheriff of Absaroka County, Walt Longmire.
"I thought, what if you had this guy who is like us? He's overweight. He's overage. He's overly depressed but he still gets up in the morning and attempts to try to do the job. To me, that makes him truly heroic and a more believable character," Johnson says. "Walt is not the usual protagonist that you have in crime fiction. In crime fiction, they tend to be the 6'2 twisted steel and sex appeal kind of character. I don't find those characters all that compelling to be honest."
He churned out a handful of chapters before stuffing the typed pages in a manila envelope and shoving it in the bottom of his desk drawer. Those pages stayed there, buried and percolating, for 10 years.
"You can look back and think to yourself, 'Oh my gosh, 10 years.' But, I think it was 10 years well spent. All of that came to the forefront with those characters. I think that probably was responsible for why it is that Viking Penguin said, you know we really, really like these characters and we really, really like this world. We think that other people, especially readers, are going to have the same response. They are going to want some more of these characters and this place."
The problem was that Johnson only planned for one book. In his mind, the character of Walt Longmire was a one and done.
"Without even having one book published, I started arguing with the president of Penguin USA. I said, 'I don't think this will work, but I have some other ideas that I would love to bounce off of you.' She, in her incredible insight said, 'Why don't you go back to your ranch in Wyoming and give it some thought? You might be missing something here.' I did and she was absolutely right."
Since then, Johnson has penned 13 novels centered around the rugged and loveable Sheriff Walt Longmire. "You stumble on to a story that is really worthwhile and has something to say," Johnson says.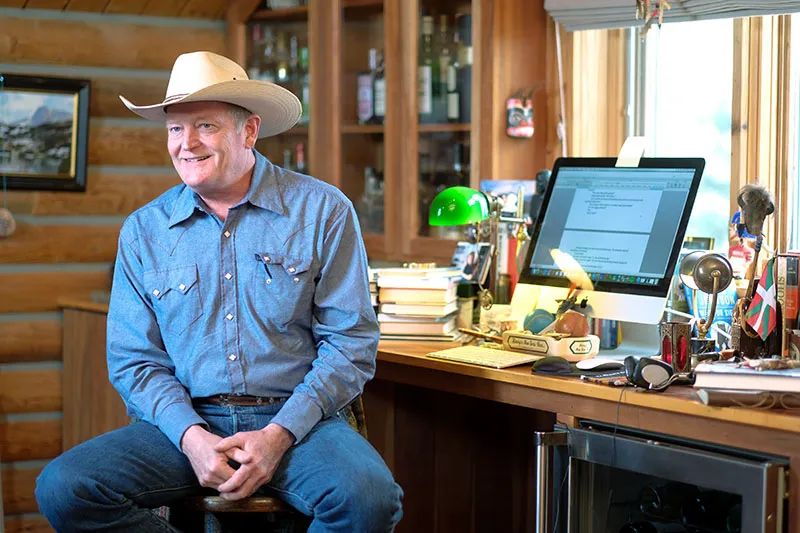 LONGMIRE LARGER THAN LIFE
After Johnson had written the last page of his sixth novel, he says, "Warner Brothers knocked on the door." His agent had passed along a copy of The Cold Dish onto some members of the Creative Artists Agency. Within days, Johnson had a deal with Hollywood to bring the characters from his New York Times best-selling books to life on the small screen. In the months to come, a large envelope landed on his doorstep filled with the DVD auditions of actors vying for the role of Walt Longmire. Johnson knew some of the actors, but it was the one he didn't that drew his attention.
"In the audition for the pilot episode, it is a scene showing a notification of death. In law enforcement, it is one of the worst jobs you can have. You are going to someone's home and telling them that their loved one is gone and will never be back. I was curious to see how they would play that scene." Enter actor Robert Taylor. Johnson says, "Robert Taylor was the only actor who took off his hat. Anyone who knows western etiquette would know that the first thing that you would do is take off your hat. You are bringing this woman the most heart-wrenching news that she will ever receive. You better do it in a gracious manner and taking off your hat is just the start of that job."
Robert Taylor landed the job. A & E picked up the show for two seasons before the series made the switch to Netflix. Season six, the show's final season, was released in November of 2017.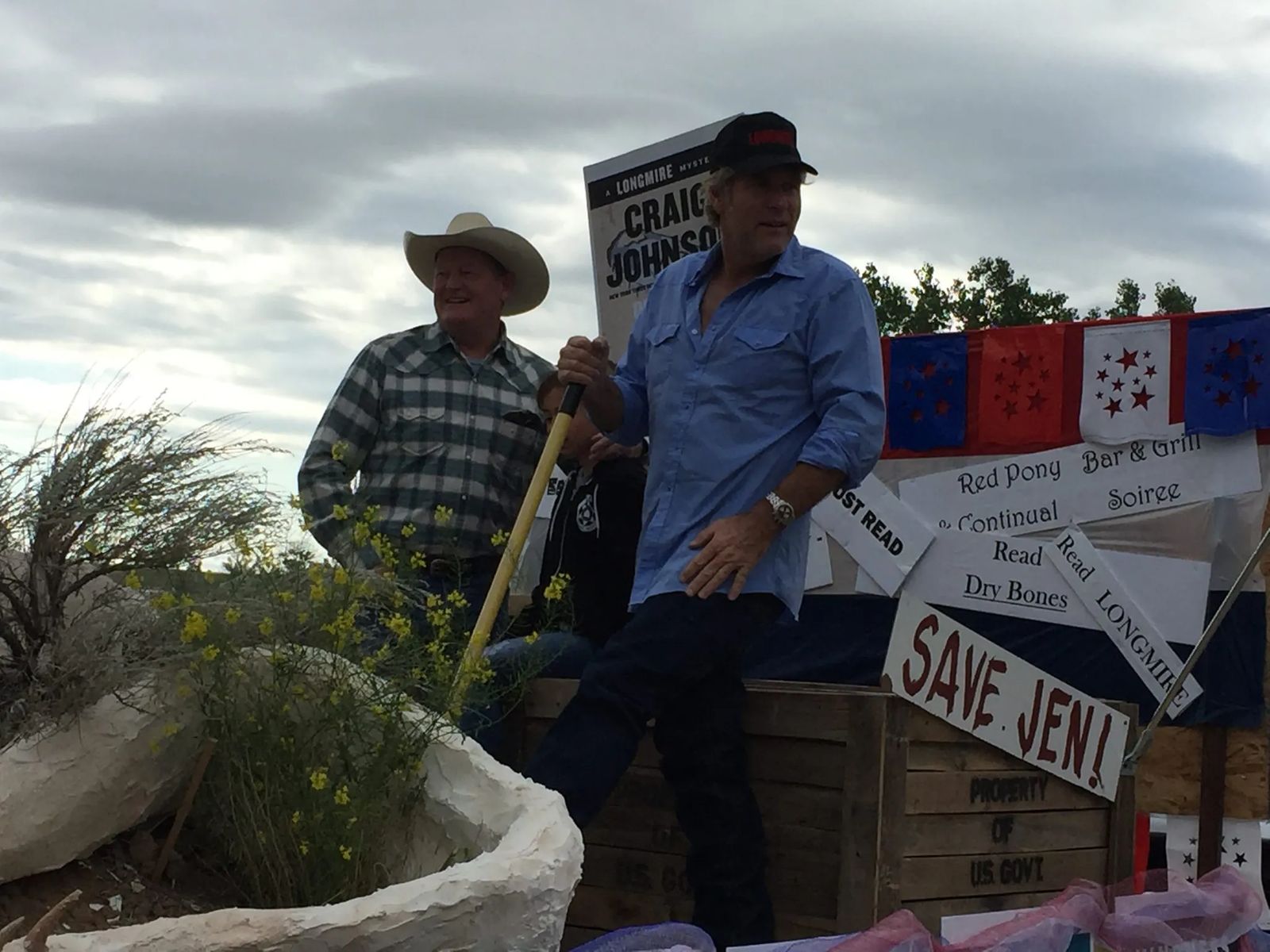 THE NEXT CHAPTER
While the TV series is out of production, Johnson isn't coming close to slowing down on the storyline tied to his unflappable sheriff. Most days, if you climb the winding and steep spiral staircase up to his home's second floor, you'll find him perched in front of a small window that overlooks the serene landscape behind his home. His laptop, which replaced his old Royal typewriter years ago, sits ready and waiting for the next plot twist. Right now, Johnson is weaving what he calls an epic drama in his 14th book, Depth of Winter, set to be released this fall.
"This one is definitely different," Johnson says. Imagine Walt Longmire investigating crime and taking on a Mexican drug cartel in the process. "Walt may be up against some of the most dangerous individuals he has ever come up against in his entire career. The stakes are so incredibly high." While Johnson calls this one of the most violent books he's written, claiming you can't be warm and fuzzy when writing about Mexican drug cartels, he says fans won't be disappointed. The signature elements of small-town life, the dry humor and colorful characters are all still there.
THE COLORFUL CHARACTERS
Every now and then, Johnson says he'll be approached by friends and even family asking which character they influenced. The question never seems to get old. He says, "Once you turn a book like that loose into the world, there is a whole group of people out there that are pretty sure that they are in your book. And, they might be right!"
It happened the first time when he forwarded his manuscript of The Cold Dish on to his family to get their two cents.
"I gave the book to my brother to read and said, 'What do you think?' He said, 'I think you're dead.' I said, 'What do you mean?" He said to me, 'Craig, the old sheriff that Walt goes to play chess with on Tuesday nights is our dad.' I said, 'Crap, I thought I hid that pretty well.'" After taking a deep breath, Johnson called his parents, who had their own copies. After dancing around the issue, Johnson says his mother informed him, "Honey, your father thinks he's Walt Longmire."
One of Craig's friends and advisers, Marcus Red Thunder, knows his personality has been woven into one of the Longmire Mysteries' main characters. The character is Henry Standing Bear, a Cherokee who runs The Red Pony, a local Absaroka County watering hole. Having been raised on the Northern Cheyenne Reservation, Marcus has helped Johnson "keep it real," when it comes to sharing stories from Indian County. After all, it isn't uncommon for Sheriff Longmire to land on the Northern Cheyenne reservation in pursuit of criminal leads.
"He wanted to make sure that he showed us as who we are. We aren't the stoic, grunting Indians of the past. We have a culture and tradition that is still rich and strong," Red Thunder says. "Craig would give me the books, chapter by chapter, and I would make my notes and send them back to him."
When Warner Brothers started producing the TV series, Red Thunder got the most unlikely of phone calls from the production team.
"When they told me that Lou Diamond Phillips would be playing that role on the series and he wanted to come out and hang out with me for a few days?" The 49-year-old Red Thunder says he sat back and shook his head in disbelief. "We got the blessing of the Cheyenne elders. We went about it in a good way and I think that is what set the spirit of the show — the connection of brotherhood that we gained, him and I." Red Thunder adds, "Longmire has brought a lot of pride in Indian Country."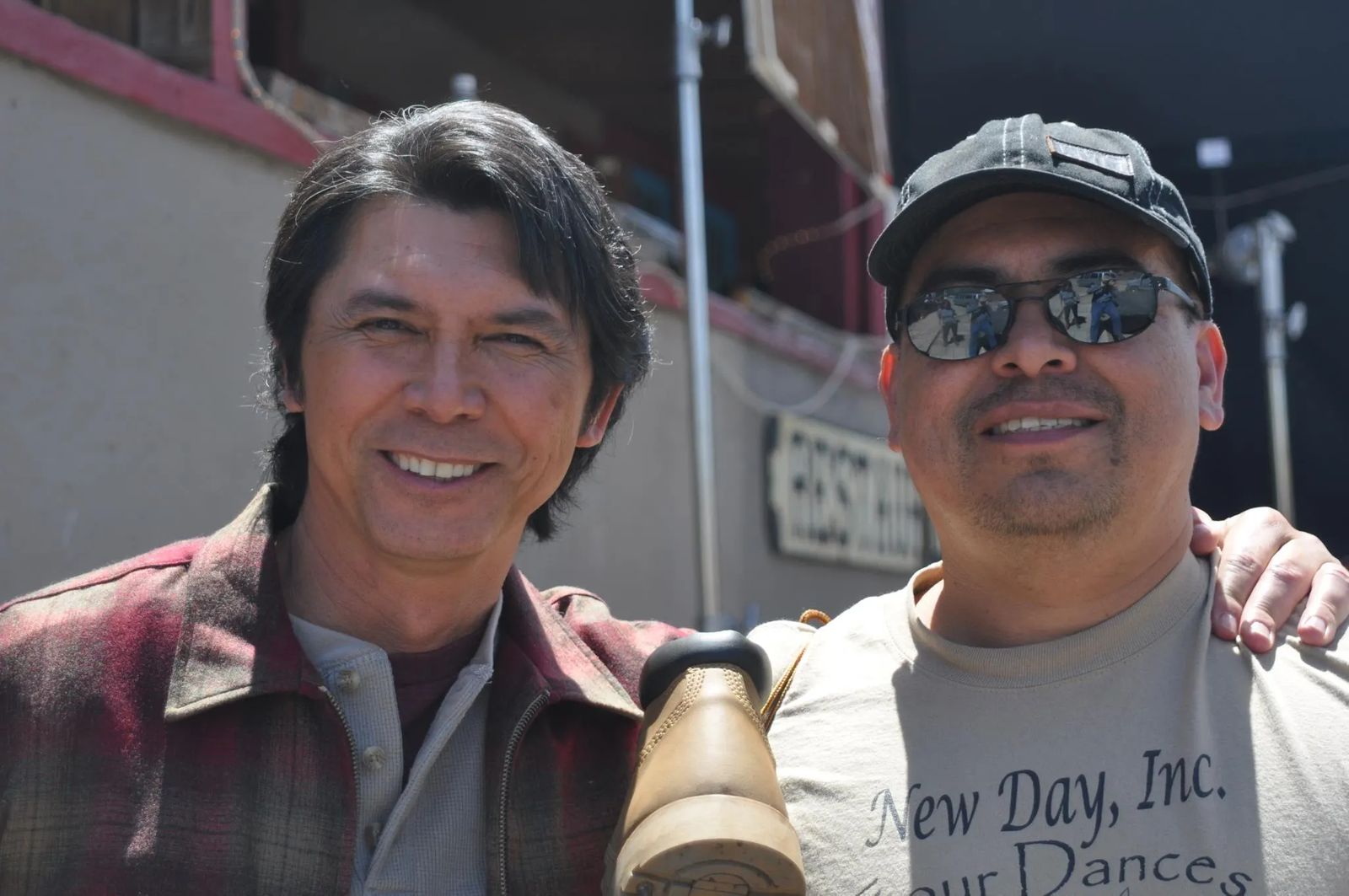 BUFFALO IS WALT'S WORLD
When it comes to crafting the stories that land on the pages of the Longmire Mysteries, one of Johnson's greatest sources of inspiration isn't a person, it's a place. It's an 18-mile drive from his ranch down the two-lane highway to Buffalo.
"Literally, when I walk the streets of Buffalo and I turn the corner and see the sign for the Busy Bee Café, I'm in Walt's world. I have surrendered a certain amount of my life to Walt. It's not my town anymore. It's Walt's town," Johnson says. You see, The Busy Bee Café is Walt's stomping ground in the books and the café is mentioned in nearly every TV episode.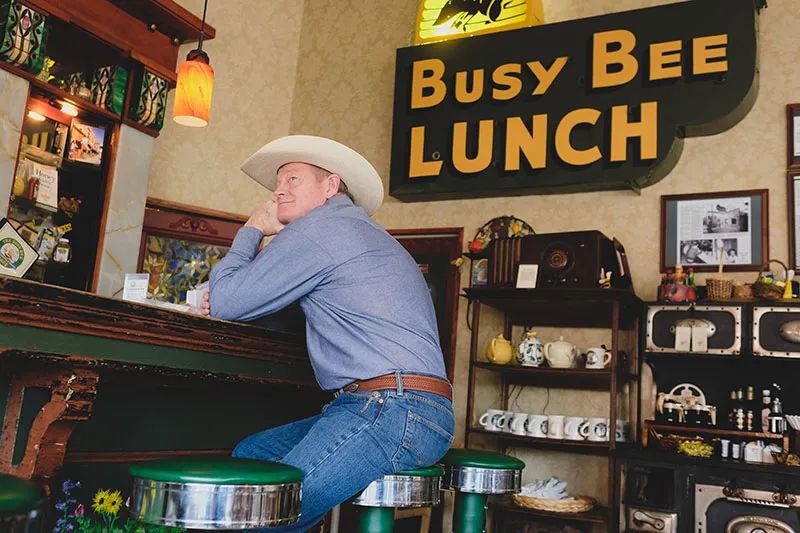 Buffalo's Busy Bee sits right along Main Street and is tied to the town's historic Occidental Hotel, where legends like Butch Cassidy and the Sundance Kid, Buffalo Bill and Annie Oakley all stayed back in the day. David Stewart has owned the café, the Occidental Saloon and hotel with his wife, Jackie, for a few years now. He loves when fans swing in for a Longmire Special and hope to have a run-in with Craig Johnson in the process.
"His writing has helped put Buffalo on the map," Stewart says. "The Occidental has been on the map for quite a while, but Longmire has put the Busy Bee out in front. Our café only seats 40 people at a time. During the summer, it's packed all the time." The café sits right across the street from the Crazy Woman Square, a green space that features a stage and public works of art at the center of town. "I would love to see a statue of Walt Longmire there in that square," Stewart says. "I throw that out at the city council meetings every time I get the chance, just to keep that bug in their ear."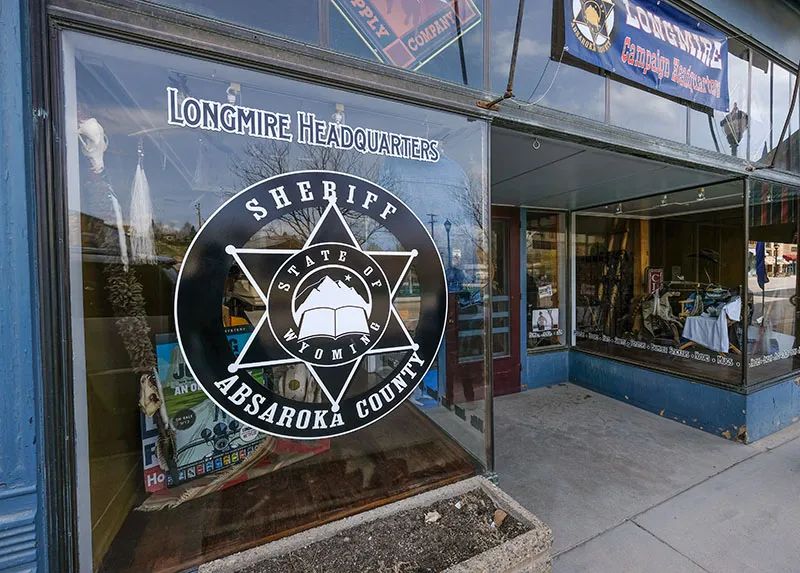 That's good news for Johnson who, even with the celebrity he's earned, doesn't plan to move on to so-called greener pastures.
"There are a lot of old ranchers around here who tend to be a little grumpy," Johnson says with a chuckle. "They will say, 'Well. You're on the New York Times Best Seller List. You've got your TV show and all that kind of stuff. When are you going to move over to Jackson? When you going to move to L.A.? When you going to move to New York?' I always look at them and say, 'I built one ranch with my bare hands and I will be dying in Ucross, Wyoming.'" Johnson says, for the most part, when he walks the streets of Buffalo, he's not a famed author. He's just Craig. "I am still the guy who gets books left on my porch in Ziploc bags with pens and notes that say, 'Can you sign this for so-and-so?' I will be by to pick it up later.'"
And as long as he's here, the larger-than-life character of Walt Longmire will continue to evolve in both Johnson's mind and on the pages of upcoming novels. At the end of the day, it all comes back to his rustic and secluded log-cabin ranch planted in the hills of Ucross, Wyoming.
"Going out and having a beer with Lou Diamond Phillips? That's like 5 percent of what I do," Johnson says. "The other 95 percent is here at the ranch, sitting down on my stool up there in front of my computer and writing. If I don't enjoy that, I have a serious problem on my hands. What could I possibly complain about? I live a charmed life."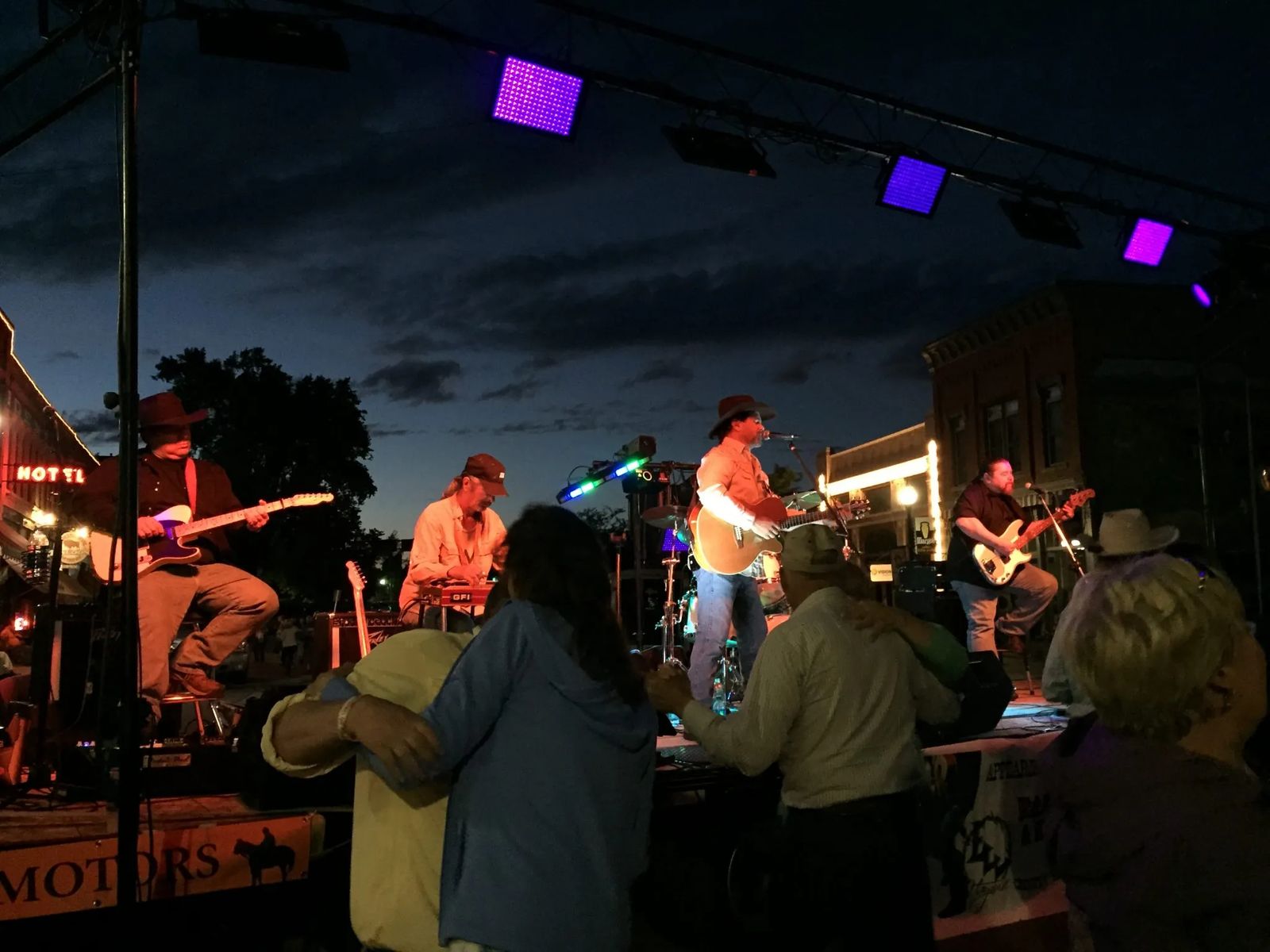 LONGMIRE DAYS
August 10-12, 2018, The cast of Longmire takes over Buffalo
What happens when thousands of Longmire fans unite for a casual get-together? Buffalo, Wyoming, knows. It's Longmire Days, a three-day weekend that celebrates anything and everything to do with the Walt Longmire Mysteries. It's a time when this charming community of 4,800 swells to more than 12,000 over the course of a long weekend.
"The Buffalo Chamber of Commerce asked me a few years ago if I would like to come down to the Busy Bee Café to signs books. A couple hundred people came by," author Craig Johnson says. "That was the spark that got it started. It's kind of fun to see people walk around and see the world that Walt Longmire lives in."
The second year, the cast of the Longmire TV series was invited. Most of them came. They signed books. They played in a community softball game and they hit up the Occidental Saloon with bar owner David Stewart and his band for an impromptu jam session.
"On that Friday might, John Bishop, Adam Bartley and Robert Taylor all come into the saloon. John Bishop plays an instrument very well. Adam sings and they just sit in and jam with us for a few hours," Stewart says.
This year, in addition to the man of the hour Craig Johnson, actors Robert Taylor (Walt Longmire), Adam Bartley (The Ferg), Louanne Stephens (Ruby), A. Martinez (Jacob Nighthorse), Zahn McClarnon (Officer Mathias), John Bishop (Bob Barnes) and Bailey Chase (Branch Connally) are all booked and ready for Longmire Days.
It's safe to say that putting on this kind of event takes its share of planning for Jennifer McCormick, the chamber's director of events and membership. "We bring in food trucks and porta potties. It takes about six months of planning to get Longmire Days close to ready to go," she says.
And as McCormick plans, the businesses on Buffalo's Main Street thank their lucky stars.
"We have several businesses on Main Street that say they wouldn't stay alive the rest of the year if it weren't for Longmire Days money coming in on that weekend," McCormick says. "When Netflix said that they wouldn't be airing Longmire anymore, we were kind of worried about it, but our phones never stopped ringing. From the end of the event until today, someone calls every day wanting to know about Longmire Days." McCormick adds, "It blows my mind."
While many events are sold out, the community softball game, the street dance and concert are all open to the public. To find out more, vist buffalowyo.com