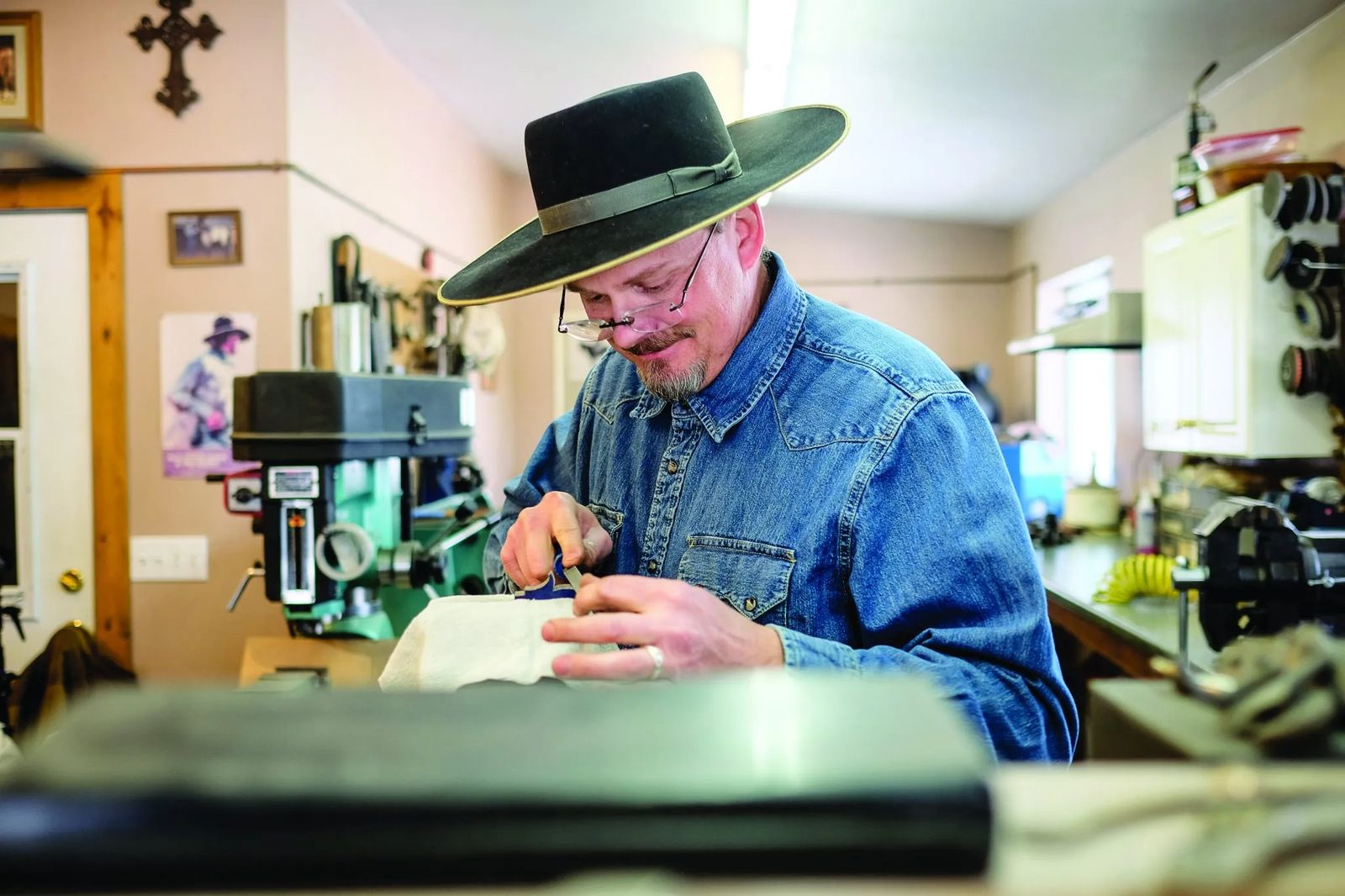 Making His Mark
Todd Hansen shines as a silversmith
Todd Hansen's artistic canvas is far from traditional. He starts with sheet metal, cuts out his "subject" with a band saw, files and bevels the edges and gets to work adding the "bling" to his pieces. Moving between a motorized engraver and small hand engravers, he pushes his designs into silver, adding intricate detail that you almost need a magnifying glass to see. These tiny bits of artistic flair will later be inlaid into spurs, serve as accents for headstalls, adornments for saddles and buckles or anything else his creativity happens to dream up.
"I have little projects scattered everywhere," says this silversmith and owner of Hansen Bit & Spur as he points to areas of his shop just south of Molt. His trusty dog sits nearby, keeping a watchful eye on all of the artistic action.
At the moment, he's busy working on a surprise piece that's destined for his love of 30 years, his wife Tina. He's been told not to buy anything in honor of their landmark anniversary but she never told him not to make something. The silver that will soon deck out a new bridle shines in pieces on his work bench.
"It's great if it looks handmade as long as it doesn't look homemade. I think that is true with just about anything," he says with a chuckle. "If your name is going to be on it, you have to have it be the best that it can be."
Over the years, Todd Hansen has truly honed his craft. He started playing with silver and sheet metal back in 1987 when he was just 22 years old. After eyeing a pair of fancy inlaid silver spurs, Todd Hansen thought he'd like to give the craft a try. He started by watching videos done by Western Bright Cut Engraver Jeremiah Watt. If he ran into a problem, he'd cue up the tape and watch it over and over until he got a feel for the technique. Even today, those videos sit on a shelf in his shop, right next to his engraving station. "It's been a long journey," he says as he reflects back on those early days.
He might have started with a few sheets of silver and some push engravers, but over the years he's added a shop full of tools to help him get the artistic accuracy he needs to convert each and every one of his hand drawn sketches into silver. "I like to sketch," Todd says. Before he gets involved in a project, he'll always take it for a test run on paper. "Sometimes you will have an idea and you will think it will flow in a space and it doesn't. To me, it has to flow. It has to have a starting point, a middle and an end." After he's tested the design, he says, "It just kind of goes from there."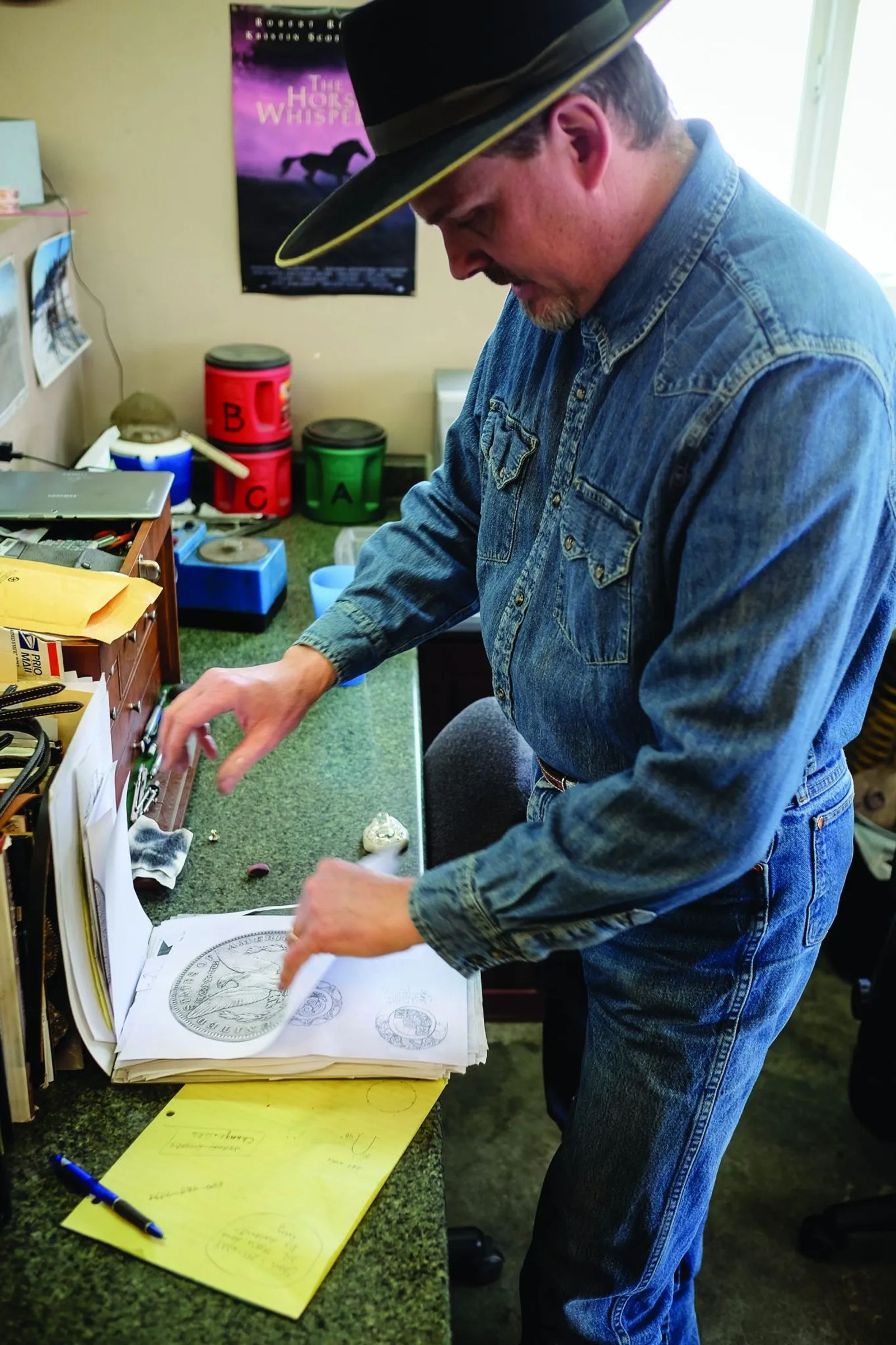 As you look around Todd's shop, sheets of steel line one area next to a grinder. A band saw sits nearby with a row of metal files standing at the ready. He has stencils traced out for various bit and spur designs and while the base design might have a similar flare or shape, each and every piece that is carried out of this shop is one of a kind.
"I scribe the design onto the metal, cut it on the band saw and it goes from there," Todd shares. Don't ask him if he purchases parts to fashion any of his spur, bit or bridle pieces, "I do it all one at a time and that way everything that is done is done by hand and done by me. If I made a bit, I have made everything on it." He pauses before adding, "They all have a little bit of me in them."
You'd think that bright cut and Western art engraving would be an aging craft and that there wouldn't be a lot of artists left sticking with hand tools and spending hours upon end chiseling away at silver to create these intricate designs. Todd says, the opposite is in fact true. "There is a bit of a renaissance right now. It seems like you can chuck a rock and hit someone who is doing it or who wants to do it." And, when he or his wife stumble upon a new, up and coming artist, "What some of those folks are doing nowadays is incredible."
There's been growth within his own business as well. Hansen Bit & Spur's word of mouth clientele has blossomed over the years. He has a waiting list for orders and on the off chance he's able to make a piece he's dreamt up on his own, "My wife will go ahead and put it on the Facebook." He laughs as he says, "As far as computers go, we just don't get along!" The company has more than 5,000 followers on social media and it is rare when a piece that is shown for sale isn't quickly snatched up.
His pieces have been shipped all over the world to working cowboys, collectors and some "pretty well known horse people," as Todd calls them. Horsemen like Tom Curtin and "The Horse Whisperer" Buck Brannaman have ordered his wares along with Country Western singer Ian Tyson. When asked if selling to "celebrities" like this creates proud moments, the ever humble Hansen will say, "There are so many people that I admire and think their work is way above mine."
Humble or not, Hansen's work has been championed in many Western art circles. In 2009, he won the Best in Show for the Bit Category at the 25th Annual National Cowboy Poetry Gathering in Elko, Nevada. That same year, he got a phone call sharing another big award. "A guy called out of the blue and I thought he was joking and I hung up on him at first." Turns out, Hansen won the Academy of Western Artists Spur Maker of the Year. "He called back and told me I won. I told him, 'Well, I never put in for anything. What do you mean I won?' He said, 'Well, it's voted on by your peers.' So, I flew down to Dallas for that."
If you ask him, he'll be the first to admit that the course of his career has been a bit of a surprise. After all, just 12 years ago, he was still working full time as a mechanic and welder at the Western Sugar factory. "My wife believed in me when I didn't believe in myself and that's what gave me the courage." In 2004, he quit his job to work full time on his craft. "The more that time went on, the more comfortable I got with it and I thought, 'Yeah, this could work.'"
Todd Hansen hasn't looked back once.
Most days, you'll find him hunched over his engraving bench with his magnifying glasses or "cheaters" on with his sights set on a new and intricate design that he's engraving and then etching into silver. It takes him about two and a half weeks to build and deck out a pair of spurs — that is if he's working a forty hour plus work week. But, if you ask Todd, he never seems to count the hours on a project.
"I find it relaxing. Sometimes you can be working on one project and get an idea for another one, that's what makes it fun," he says. He even admitted to a few sleepless nights spent thinking about new designs. Some of those nights, he'll grab his sketch pad and draw it out so he doesn't forget. He admits that while this is his career, being a silversmith has never been a chore. "There's that old adage if you find something you like to do and you do it, then it's not work."
Editor's Note: You can see more of Todd Hansen's work on the company's Facebook Page by searching Hansen Bit and Spur.