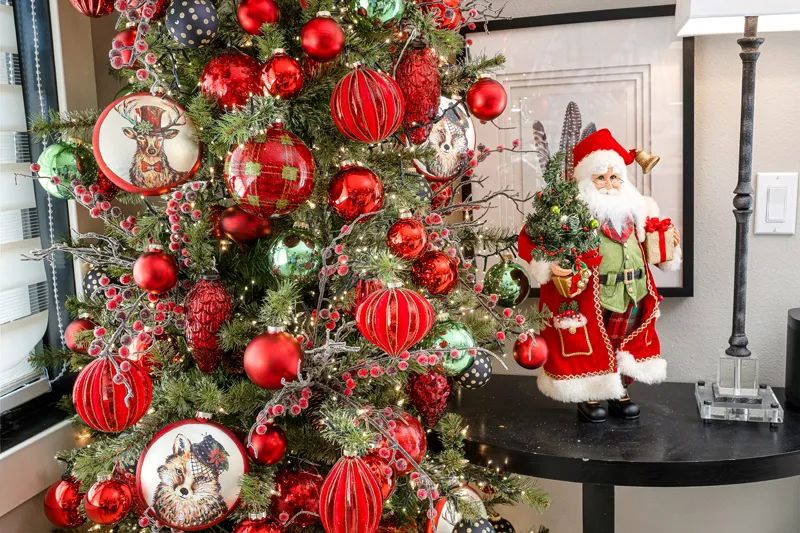 Making the Season Sparkle
Create wow factor in your home this holiday season
Light the fire and cue up Nat King Cole. We've stepped into one Billings home that's chock-full of inspiration to make your home sparkle this holiday.
Andrew Harmoning has been a part of setting up Christmas at Gainan's Midtown Flowers for close to six years now. This isn't his day job, but he's got a knack for polishing up holiday spaces. We recently visited his home, which he decked out with help from designer Jim Gainan. It's not only high on wow factor but rich in some of the best trends for Christmas 2022.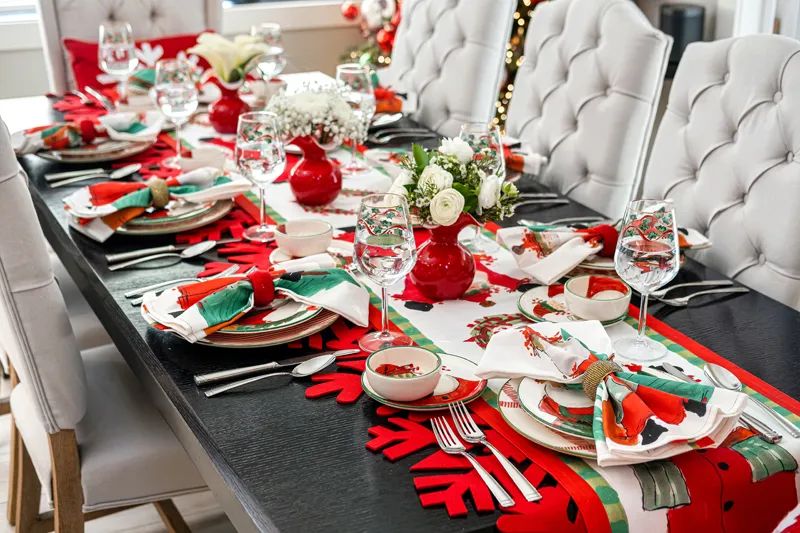 THE LAYERED TABLE
This dining table is ready to entertain and features a dash of traditional with a bold splash of color. Each dinner plate decked is out with a different design chosen which complements the hand painted St. Nicholas collection salad plates sitting on top. This collection also features a new addition, the individual butter bowl. Instead of passing around the butter dish, these small accent bowls allow you to keep those condiments close by.
Layers play into the design with not one but two table runners — a felt snowflake base with a coordinating Santa-themed topper. The flowers at the center in their bold red vases provide the perfect finishing touch.
"We added mini centerpieces set up in a table scape," Jim says. "What I love about this is that you can place different flowers in each vase." Here, using all white flowers, he paired contemporary calla lilies with a second vase of mums and baby's breath and a third vase featuring ranunculus with traditional greenery. "Once your party is a wrap," Jim says, "you can send these small centerpieces home with your guests."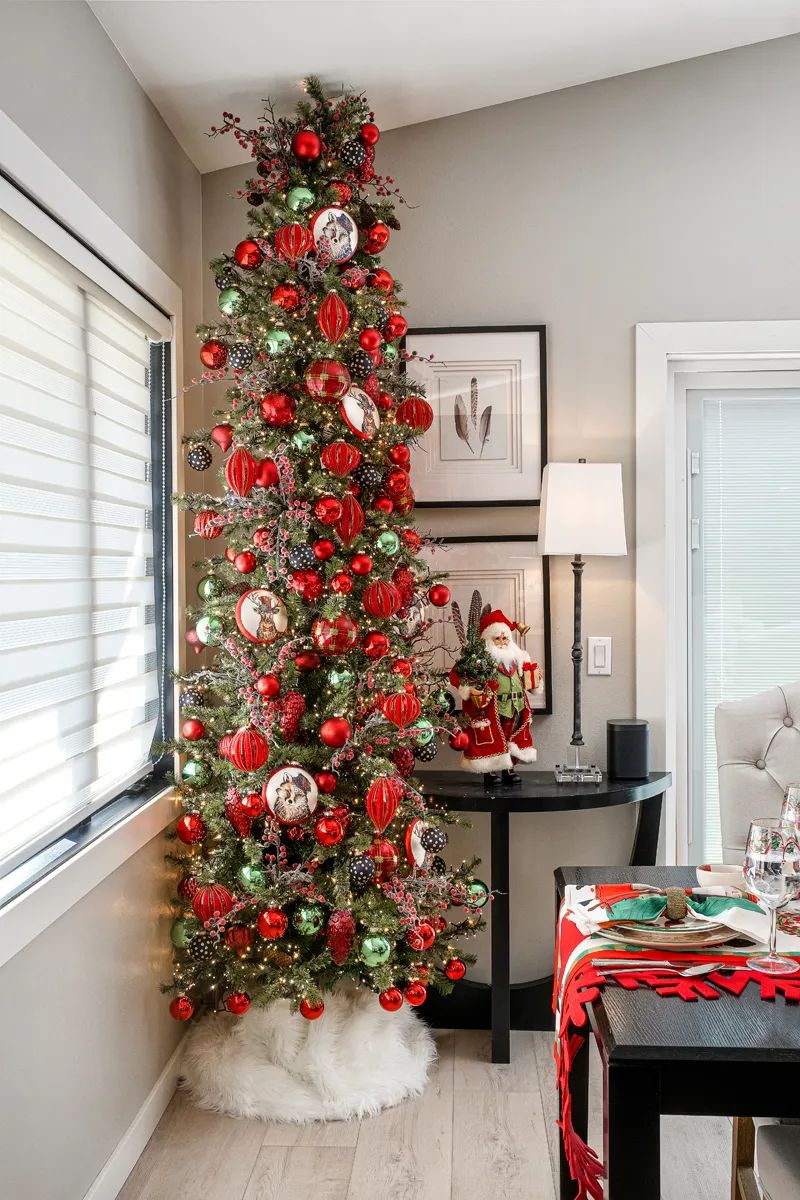 AROUND THE CORNER
Don't let space in the corner of a room go to waste. Pencil trees with their long and lean stature are perfect here.
"This tree has a lot of space between each branch, "Jim says. "You can get a good, goopy look with this tree because you can just load it up. There are so many ornaments here that I bet someone could use half as many on a nine-foot tree and feel like that was enough."
To make the tree harmonious with the nearby dining space, Andrew pulled all the colors from the dinnerware and table décor and used those same hues on the tree. Aside from 3,000 warm rice lights, there are baubles in all shapes and sizes. Some are simple while others are lavish with a velvety finish. The ornaments featuring woodland creatures add a bit of whimsy. And, iced branches and berries tucked throughout help give this tree a little more width.
Andrew says while it might seem daunting to think about purchasing new ornaments each year to deck out a space like this, he's held onto his favorites and simply added a new bauble here and there.
"I've just built my Christmas collection each year," Andrew says. "This is 10 years' worth of collecting."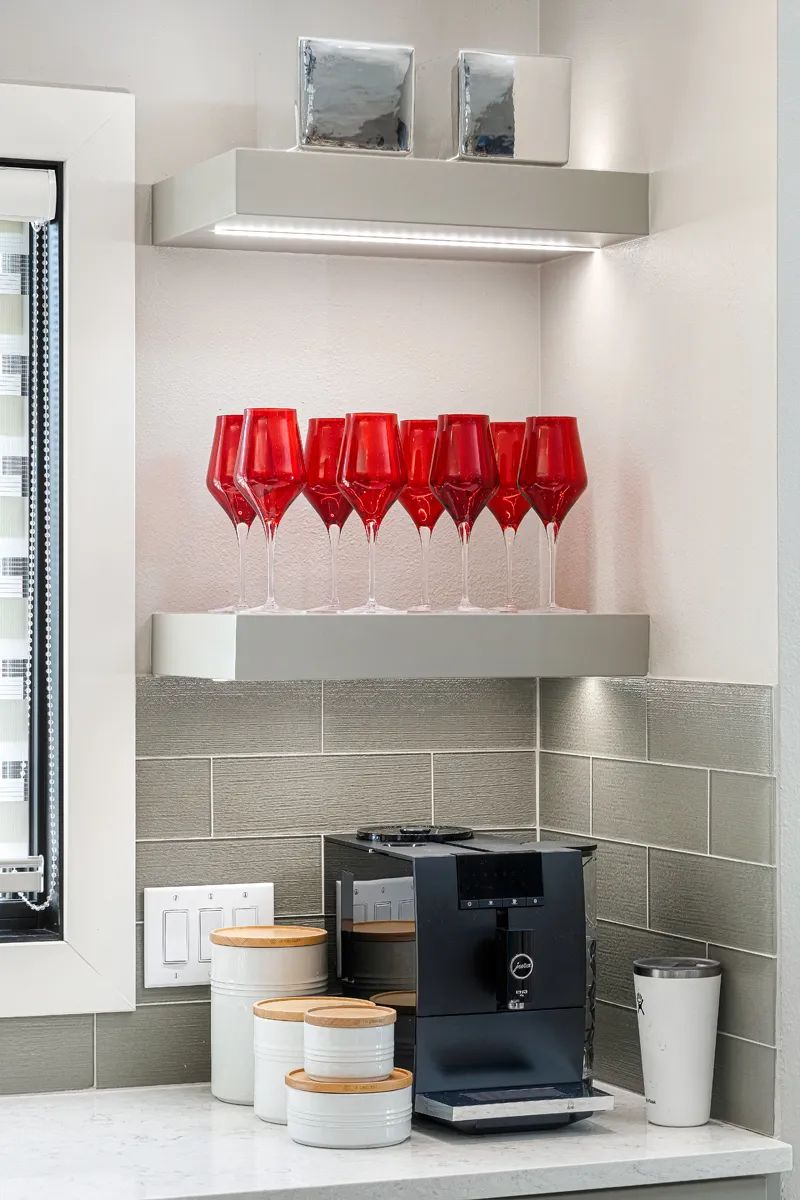 USABLE DÉCOR
When you're decking your halls for the holidays, don't forget those unexpected places like, perhaps, your kitchen. Here Andrew placed wine stems in a bold shade of red on a floating shelf for just the right amount of pop.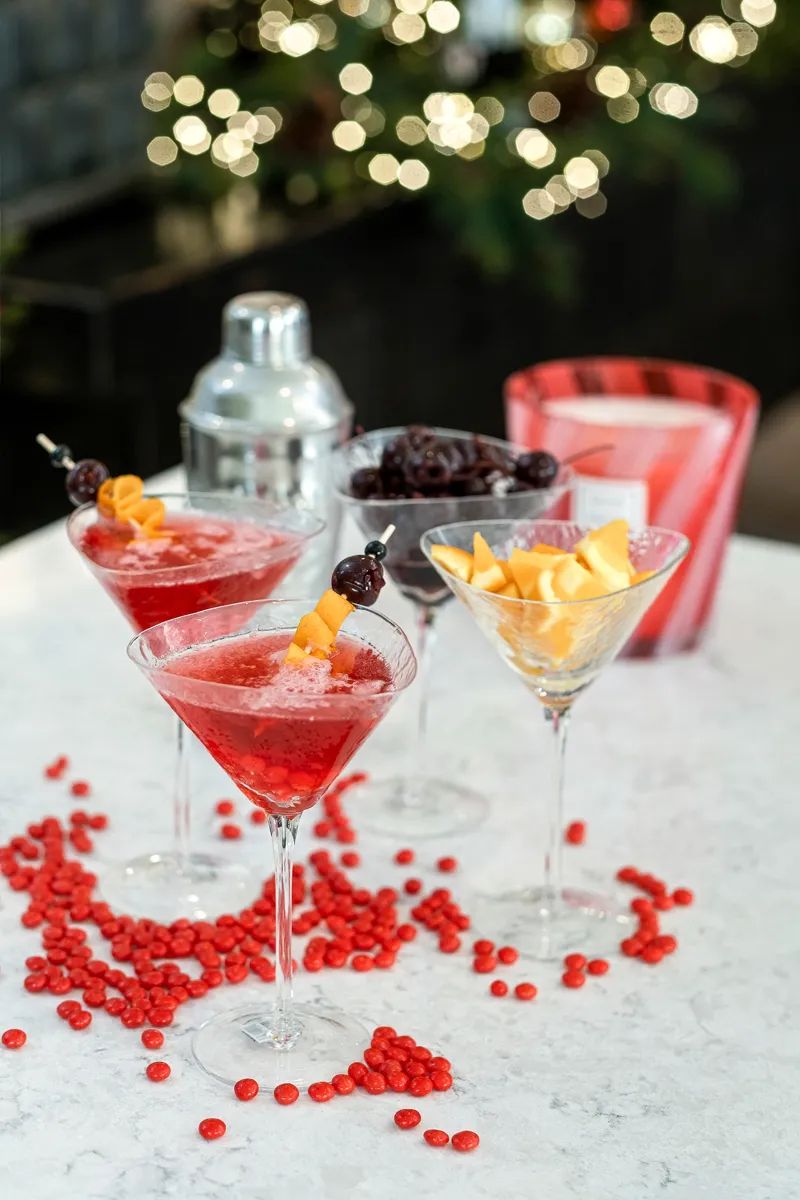 THE SIGNATURE DRINK
Instead of a fully stocked bar, Jim suggests creating a signature drink to serve at your next holiday soiree. It is a surprise for guests and prevents you from restocking your entire bar.
He grabbed some cranberry juice, 7 Up and red-hot candies for his signature Cranberry Cinnamon Martini.
CRANBERRY CINNAMON MARTINI
1 jigger cinnamon vodka
1 t. fresh orange juice
1 jigger cranberry juice
2 jiggers of 7 Up
5 red-hot candies placed at the bottom of your martini glass
Use orange peel and Bada Bing cherries for garnish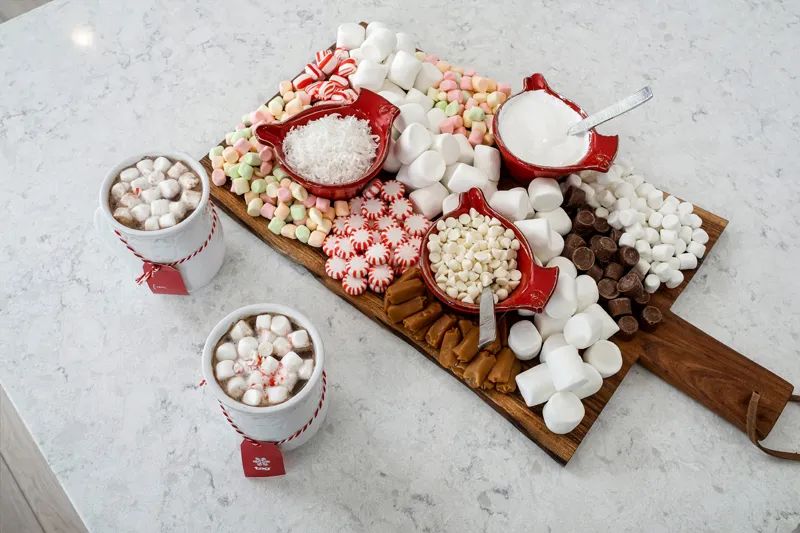 THE HOT CHOCOLATE CHARCUTERIE
Now that we've all learned how to say "charcuterie" and bought the boards that host these bite-sized snacking spreads, designers are decking them out with more than just meats and cheeses. Take a gander at this hot chocolate variety that provides all the right toppings for some holiday warmth.
"It's obvious when you walk into a place and they've put something like this together that the host has put a lot of thought into entertaining," Jim says. "That's appreciated and noticed by guests now more than ever."
This board comes complete with colored marshmallows, English toffee caramels, shaved coconut, white chocolate morsels, a variety of peppermint candies and whipped marshmallow crème.
"For adults, you can add a bottle of Peppermint Schnapps or Baileys Irish Cream," Jim adds.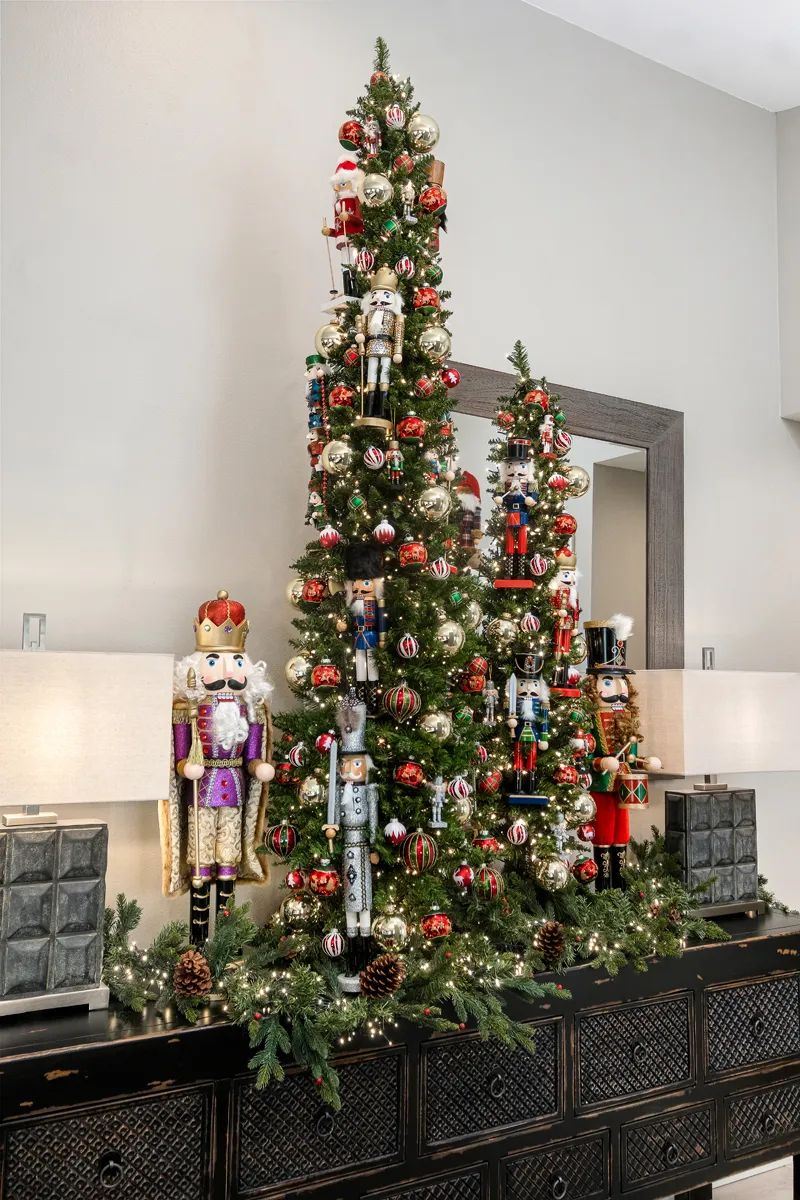 AN ENTRY WITH IMPACT
Many of us have those collector items we've gathered over the years and wonder what to do with them each holiday season. Andrew has the answer. In his entryway, he's added impact by decking out smaller, tabletop trees with his collection of nutcrackers. Instead of displaying these wooden soldiers boldly on a mantle and causing a chaotic feel, he's wired them into the trees, adding small rice lights and, as a result, creating a fun focal point that's rich with sentimental value.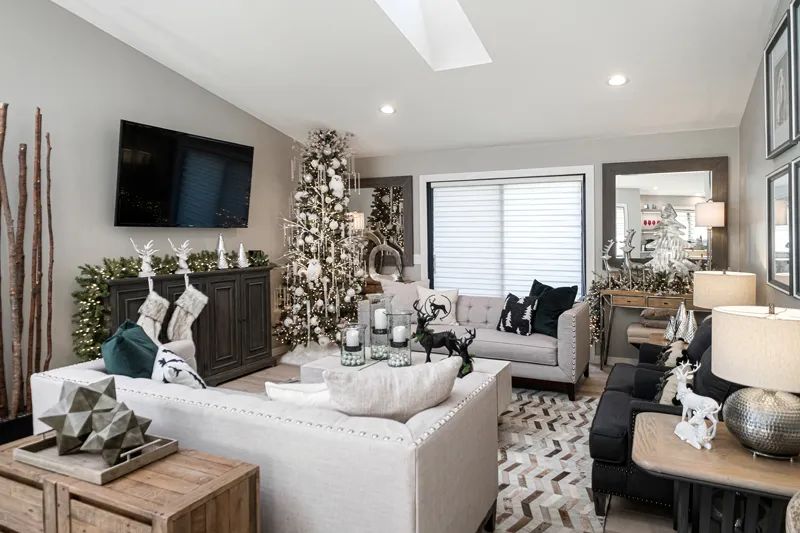 BATHED IN BLANC
One of the newest trends is bathing holiday spaces in "blanc," the French word for "white."
"This tree is full of varying shades of white," Andrew says. "I started mixing in metallics – the pinecones read more of a gold metallic, and the branches are more silver." The result is a stunning tree full of texture and sparkle.
If you look closely, you'll notice this tree features a tree within a tree. Andrew took a faux, pre-lit aspen tree and placed it inside a faux evergreen variety.
"This creates so much extra space to hang and feature ornaments," Jim says. And that's why you'll notice the glass icicles dripping from the white branches and fluffy owls perched inside the evergreen boughs. Instead of a tree skirt, Andrew got creative and took two faux fur table runners and set them around the base of the tree.
"It's a calming, peaceful trend," Jim says. "I think it gives you a peaceful feeling to look at this if this is your unwinding space."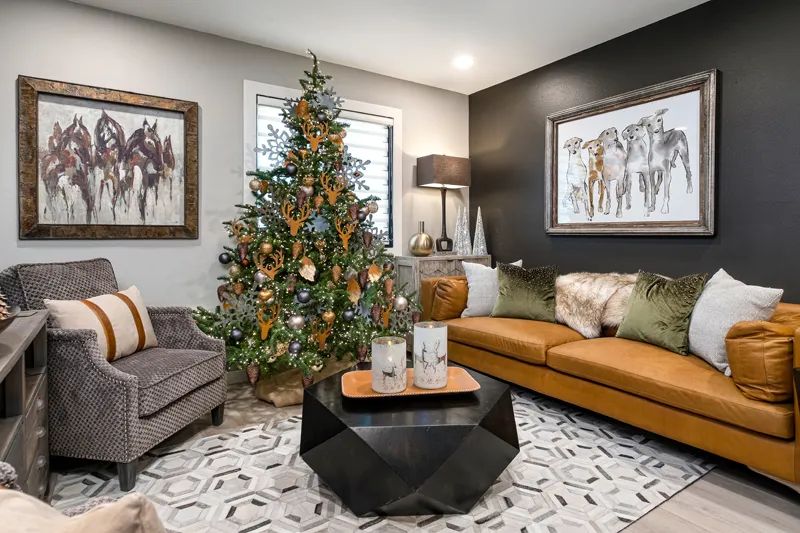 SETTING THE TONE
In a small living area off the master bedroom, Andrew once again played with harmonious hues.
"I'm telling the color story of my den," he says. "The copper stag heads and pinecones pull in the color of the couch. I have the dark charcoal gray ornaments that pull in the wall color." The result is a design that is oh so very easy on the eyes.
Since this is a smaller room, Andrew let us in on a little trick he used to have this large tree in such a cozy space. "I took the boughs in the back of the tree, held and zip tied them up so that I can push the tree closer to the wall," he says. "The radius on that tree is seven feet. It would be out in the middle of the room had I not done that."
With his holiday home decked out, Andrew's collection is up for all to see. He says while he's been helping set up displays on the side for a handful of years, Christmas has always been close to his heart.
"I remember decorating with my grandma when I was just 4 years old," he says. "I've loved Christmas my whole life."