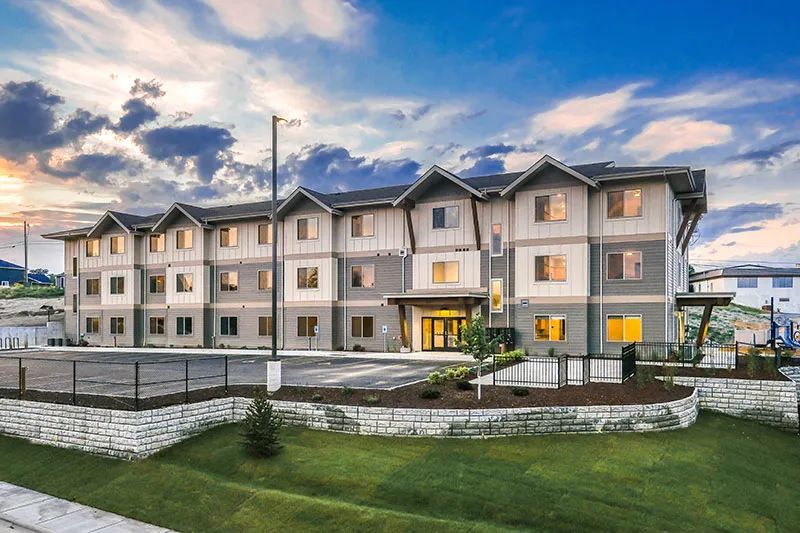 Mission Accomplished
YWCA's Gateway Vista Affordable Housing Opens Its Doors
When Merry Lee Olson arrived just over six years ago to check out the YWCA, the first thing she noticed was the empty lot next door.
Two decades of running a consulting firm in San Diego, dealing with projects from homelessness to water works to infrastructure, provided her with a keen eye for putting everything to maximum use.
"I remember thinking, 'Something needs to be done with that lot,'" says the accomplished chief executive officer of YWCA Billings.
The past year, this vacant lot has developed from a thought to a vision to the completed 24-apartment Gateway Vista Affordable Housing complex. Low-income survivors of domestic violence, sexual assault and human trafficking are given preference, but housing is open to other low-income families and individuals as well.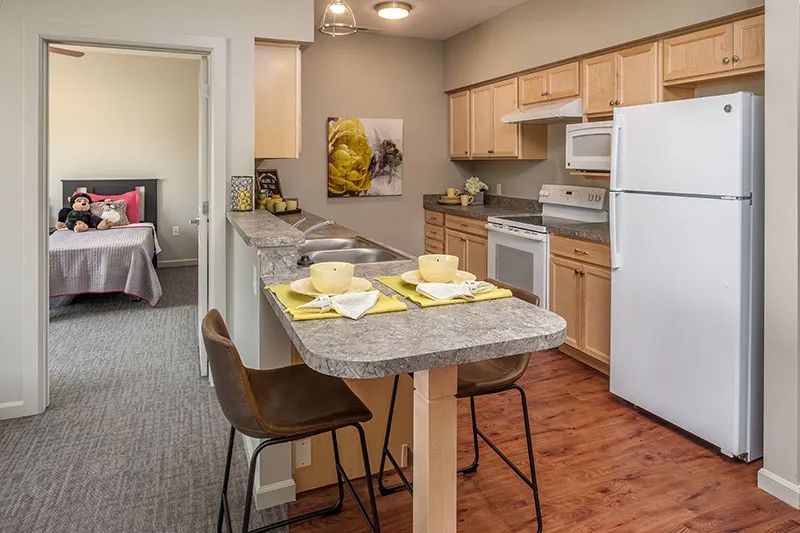 "We really needed affordable housing," says Erin Lambert, YWCA funding and grant compliance administrator. "It was a vision for five years. From breaking ground to moving in, it's been just one year."
Olson, Lambert and the rest of the team at YWCA, along with area businesses and organizations, achieved their vision in record time. There was an urgency in the fact that there are too many women and kids needing help to get out of abusive situations, from poverty, and from the escalating epidemic of human trafficking.
"The community may not be aware of how many victims we actually have here," Olson says, adding, "It's all about empowering women. We give a hand-up, not a hand-out."
Many of the new residents who just recently moved in come from YWCA Women's Shelter, but not all. Applicants are reviewed on a case-by-case basis. Each must pay rent based on her income. Rent starts at $500 a month and goes up depending on family size and whether it's a one- or two-bedroom unit.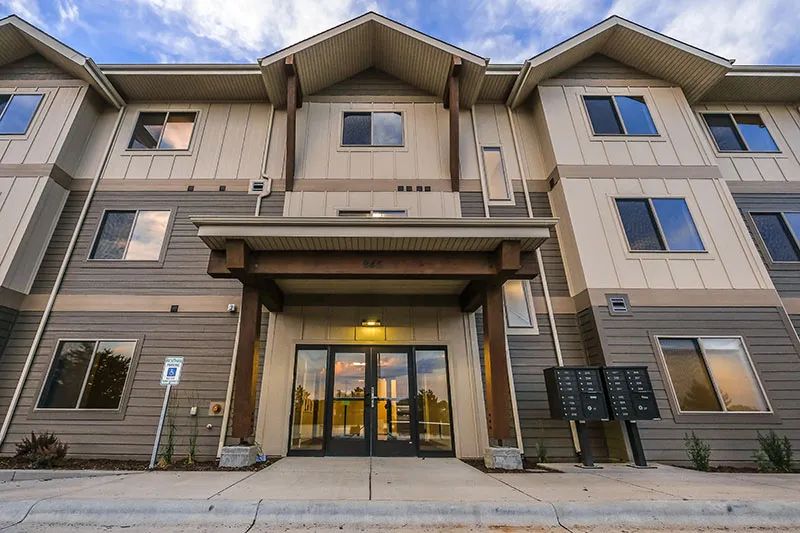 The new three-level structure with views of the Beartooth Mountains, built by Dick Anderson Construction, offers a campus-like setting. Residents have access to a spacious library and computer lab, as well as study and meeting areas. An office provides individuals a higher level of privacy when meeting with counselors and attorneys.
"We have a civil law attorney on staff," Olson says. "She's a specialist in the areas of those we serve."
Gateway Vista residents are also privy to free job training, employment, financial and clinical counseling, and education.
"The beauty of this is that we offer these wrap-around services and support," Olson says. "Our Financial Empowerment Program funded through All-State is designed for people starting from scratch — like how to use a credit card."
The financial course is combined with YWCA's case management for residents to learn how to pay bills. "We help them build their credit by having them pay part of the utility bills," Olson says. It's designed to move people into economic independence.
"The skills training help with everything," Lambert adds. "We've had a woman finish her RN degree with funds we'd obtained to help her with college."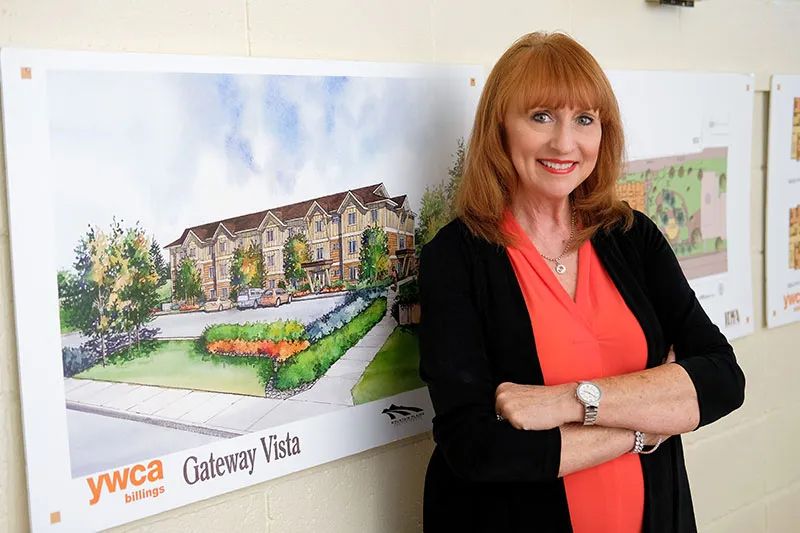 "This is more than a place to live," Olson says. "It's a place to transform lives. Erin and I took bold steps to add legal services and case management (additions to what YWCA has offered in the past) to meet the most poignant situations."
"We're excited where we're going," says Lambert, who has served the YWCA here for over a decade. "YWCA is a different organization now. From crisis intervention and a shelter, to where we now offer so many services is outstanding. We don't say anymore, 'We can't help you.' We say, 'Yes, we offer that!'"
It has taken a vision paired with the power of community to bring this massive project to fruition. Olson expressed deep gratitude to former YWCA board president Sherril Burke for seeing the potential of this extraordinary housing project.
Burke and her husband, Mike, owners of HGFA Architects, provided the conceptual plans that the YWCA used in securing funding. The firm also supplied the architectural and site development plans for the 24-unit complex.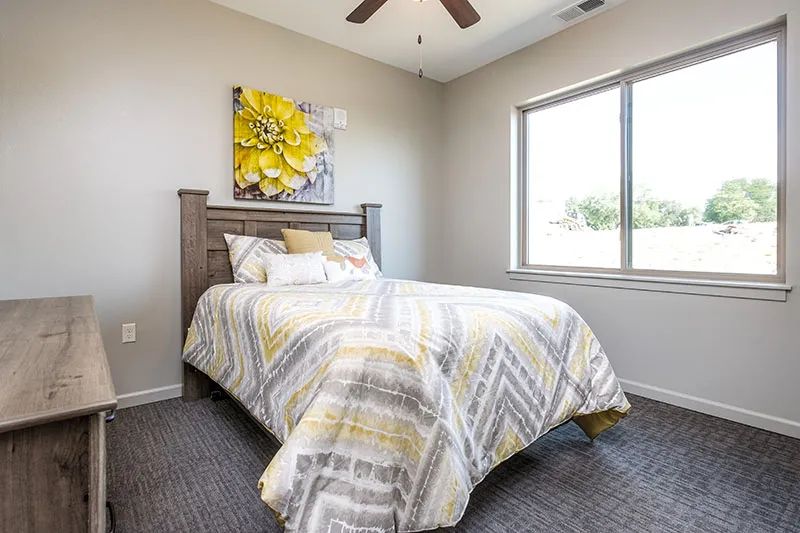 Beautifully finished one-bedroom apartments are 538 square feet, while two-bedroom units offer 812 square feet. All residences feature one large, nicely done bathroom. Both the bath and kitchen look sharp while affording superb functionality with wood-look flooring and all the appliances. The living areas and bedrooms are carpeted. Laundry facilities are conveniently located on each floor. Additional amenities include central air conditioning, secured entry and an elevator.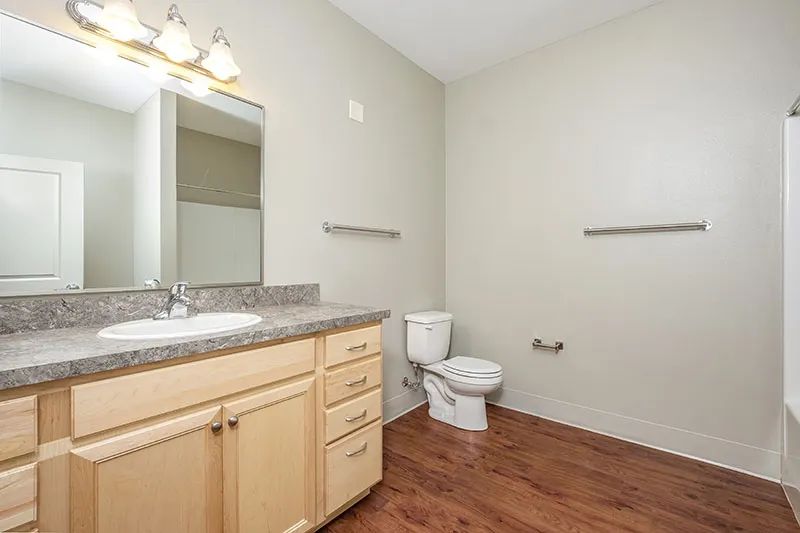 Tenants may have up to two small children when living in the one-bedroom unit and up to four kids in a two-bedroom. Since the accommodations are intended to be transitional, residents may live here for two years, by which time they should be well on their way to self-sufficiency.
"Most of the survivors we have here are low-income people and many with no advantage of education or family support," Olson says. "It's not easy for them to get in a better place. We understand that housing is one of the biggest issues they face. It's the 'life-saving and life-changing' that is our mission."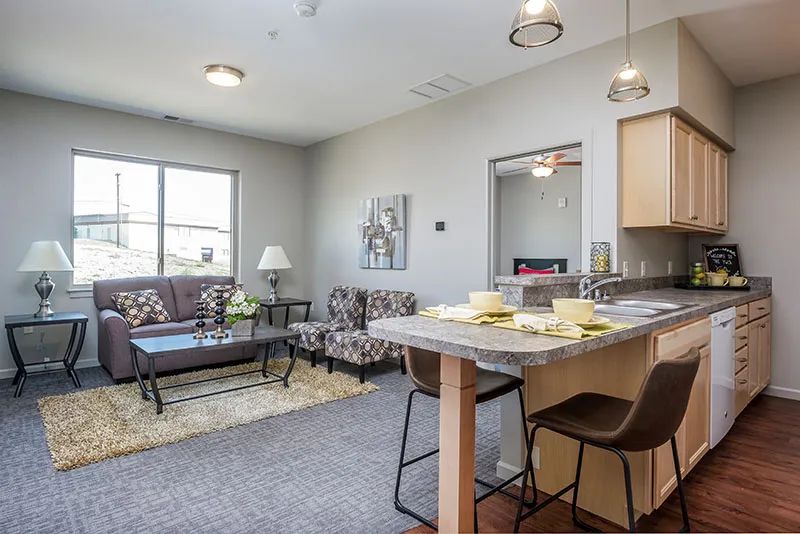 Erin Newholy, a 31-year-old mother of six, attests to this very mission statement. The Women's Shelter helped save her life after she was ousted from her home by her husband.
"We both had a meth addiction and then he became abusive," Newholy says. "I always felt stuck."
The wrap-around services offered during her 12-week stay at the shelter enabled her to make necessary changes from a desperate life filled with addiction further complicated by abuse.
"Gateway has helped me out a lot," Newholy says. "I'm thankful for everything they've offered me and how they've worked with me. They had my back when getting Izayah (her infant son) back from Child Protective Services and they've helped me with CNA (certified nurse assistant) options and other skills."
This young mother is currently attending the Drug Court program (through Yellowstone County District Court). "This and the YWCA are keeping me accountable," she says. "I'm learning a lot with the employment program here and I look forward to testing and training for CNA in August at the Lincoln Center. I also work at Burger King. I don't have much free time on my hands."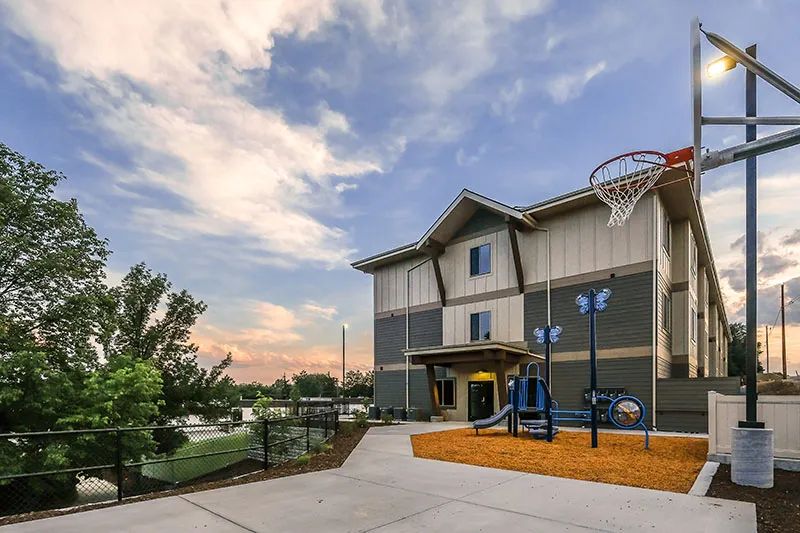 When Newholy is home, however, she'll enjoy the first brand-new home she's ever had. She'll also enjoy having her two small children with her at Gateway Vista. Little Izayah was recently accepted into the YWCA's Child Center, where he'll receive care while his mother is at work or in class. Two-year-old Shylee, Newholy's daughter, who has been living with her grandmother, is expected to be accepted into the daycare as soon as an opening is available.
Newholy's future and the future of her children appear much brighter and stronger now, thanks to the community outreach programs through YWCA and its new affordable housing. With a genuine ,lovely smile on her face, Newholy doesn't hesitate in giving her own encouragement to other women by saying, "It's not the end of the world. There's help out there. Don't ever feel like you're stuck."
"It's a generous community that supports our YWCA," Olson says. "We piece together every piece of funding we get, which is about $2 million a year. This is without the housing. We also work closely with police, family services, mental health, Riverstone and our two hospitals; a huge list of community partners."
"Community" says it all. Two dozen families in need no longer fear living on the streets, missing meal after meal or not being able to care properly for their children on a daily basis.
A couple of other key partners with YWCA in building Gateway Vista apartments for women like Newholy were Mountain Plains Equity Group, Inc. and First Interstate Bank. MPEG is based in Billings and is a syndicator of Low-income housing tax credits. MPEG served as co-developer on the project, and First Interstate Bank provided the tax credit financing.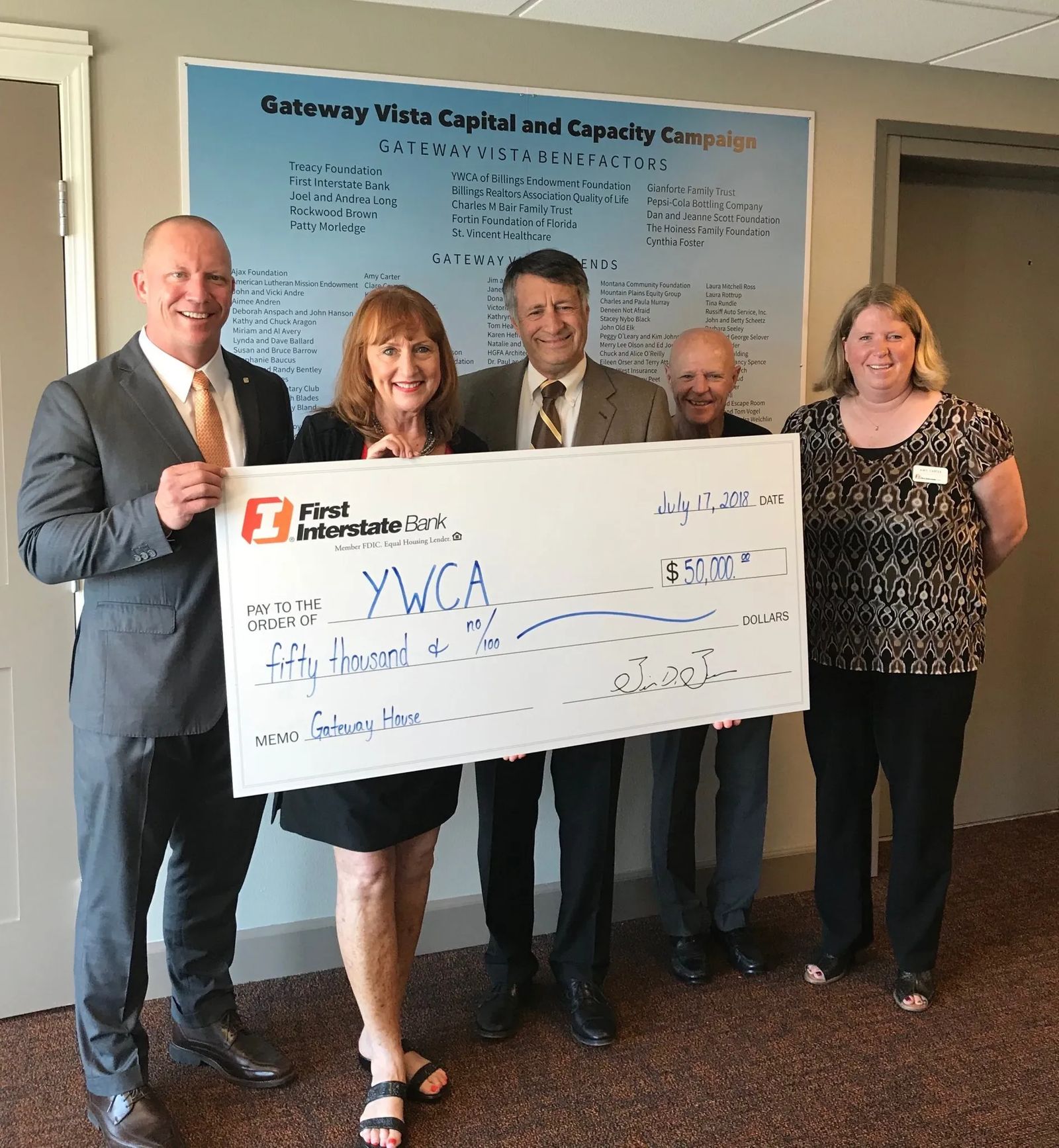 "Everybody helps — the community as well as about 40 YWCA employees," Olson says. "We save lives and change lives. It's not easy."
The Billings YWCA has been in existence for 111 years and is a nonprofit organization. Learn more about the YWCA and Gateway Vista Affordable Housing by logging onto www.ywcabillings.org
YWCA Billings' umbrella of services moves people from violence and poverty to having jobs and living independently. If you or someone you know needs to break away from the cycles of violence and poverty, or, for more information on YWCA transitional services, call 406-252-6303.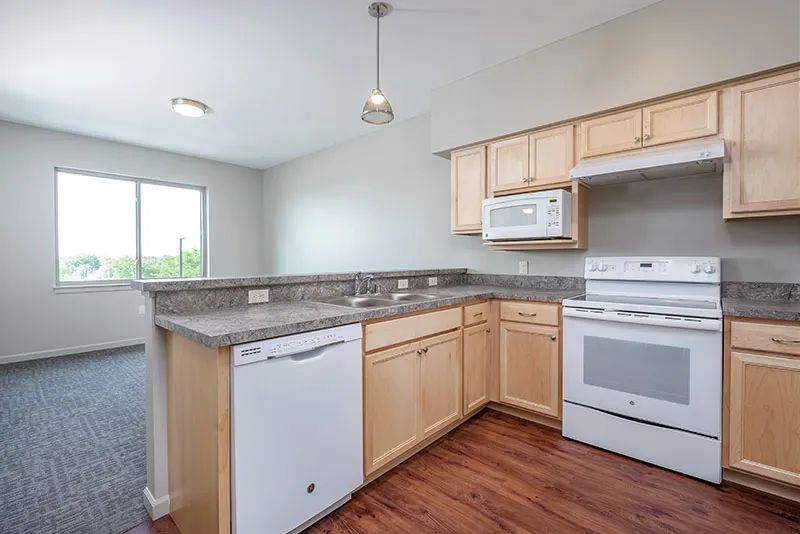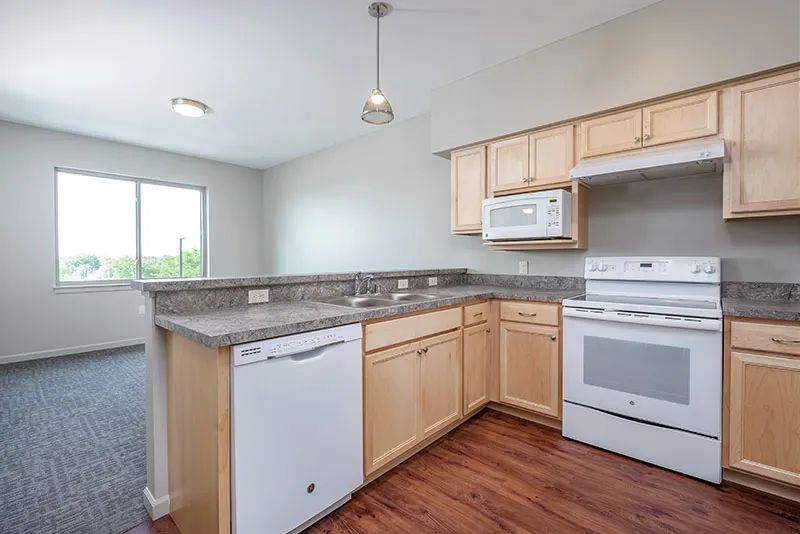 Adopt a Home
How You Can Help
The women and families moving into Gateway Vista bring very few belongings with them. Coming from often violent environments and poverty, they don't have much, if anything. The Gateway Vista Adopt-a-Home program offers individuals, businesses and organizations the opportunity to help provide these new residents with basic necessities. Perhaps you and/or your organization may consider furnishing a living room or an entire one- or two-bedroom apartment.
Everything from new softs goods like linens for the bedroom, dishes for the kitchen and towels for the bathroom to gift cards for groceries, personal items and clothing are appreciated. You can pay a mom's rent and/or utilities while she works to get re-established. There a so many ways to help, including volunteering to assist with move-ins.
Call Terry at 406-252-6303 for more information about Adopt-a-Home. Gently used furniture may be donated; other items must be new.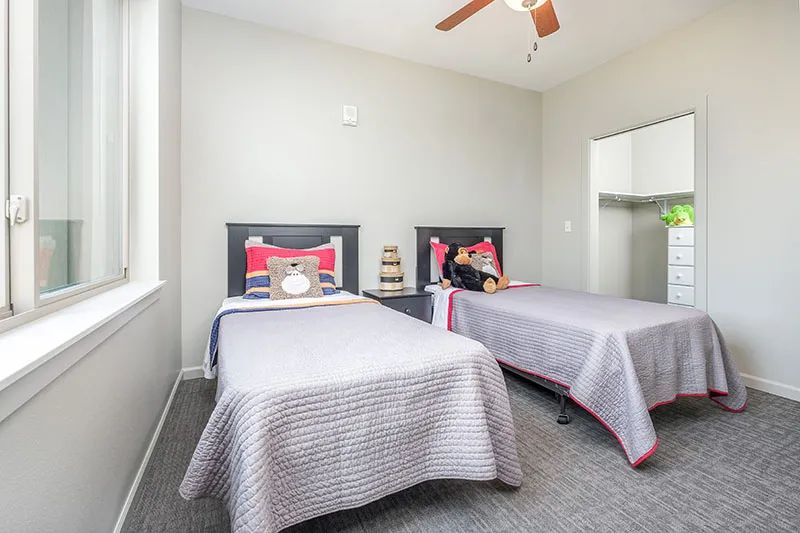 The impact of YWCA
The last 12 months at a glance
* Seven counties served, helping people out of violence, sexual assault, poverty and human trafficking.
* 8,202 nights of safe shelter provided for 177 women, one man and 113 children.
* 787 adults and 150 child victims supported through individualized services.
* 2,472 calls answered on the 24-hour help line.
* 100 rape victims provided follow-up services by trained volunteers.
* 136 victims of domestic and sexual violence received legal consultation and guidance.
* 144 Gateway shelter residents received one-on-one weekly case management to plan for sustainable independence.
* 45 women at Gateway Shelter transitioned successfully into safe, stable housing.
* 90 victims of violence received 479 hours of professional counseling to address the trauma.
* 4,816 volunteer hours provided to support victims of violence and sexual assault.
* 62 percent of families with children in the Child Center received financial subsidies to assist with monthly childcare costs.
* 35,760 healthy meals provided through the Nutrition for Learning program.