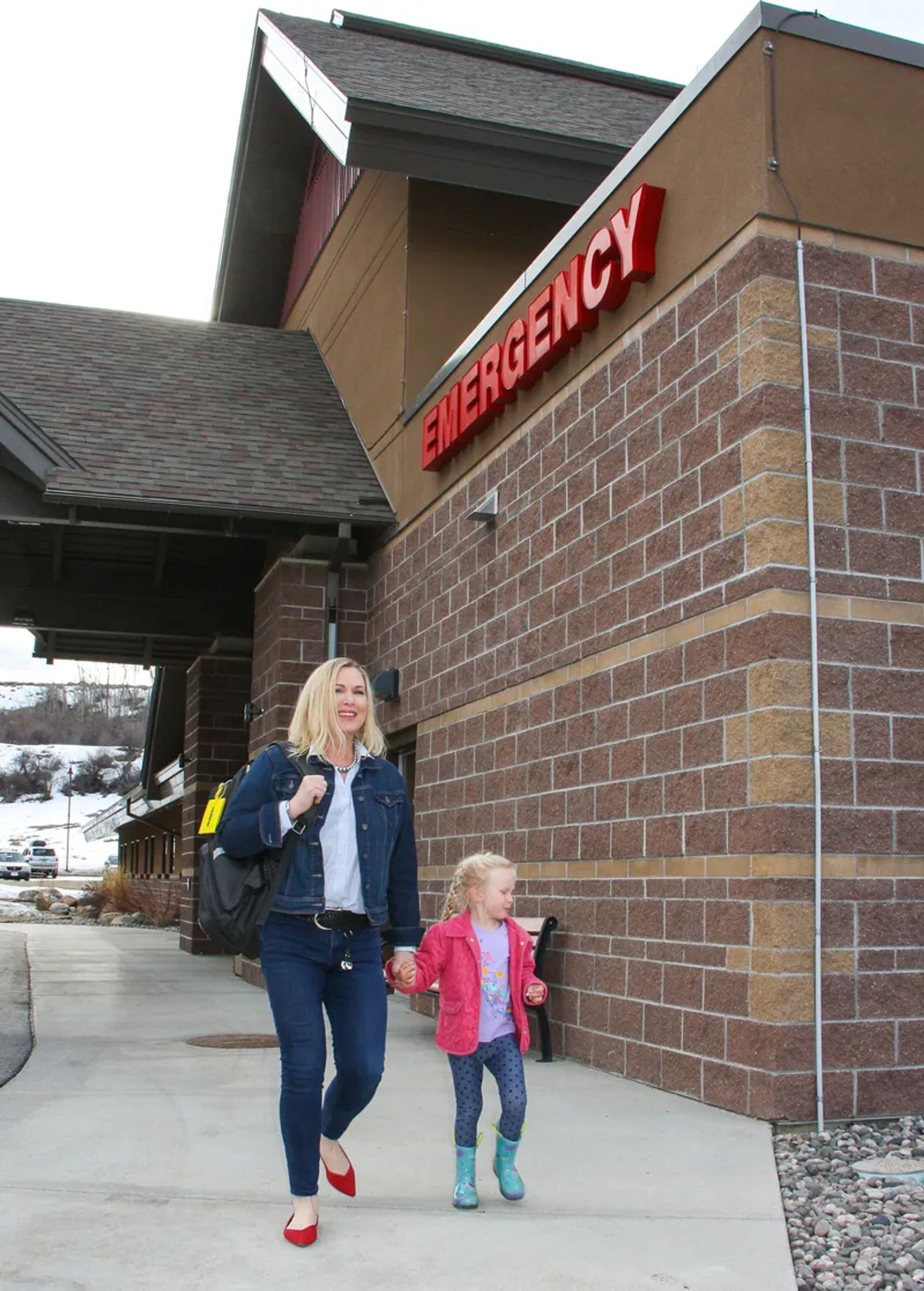 Mom Invents Life Saving ID
Giving parents peace of mind & keeping kids safe one tag and bag at a time
Inspiration is a spark that's not easily extinguished. Lisa Cords, founder and CEO of Medikids, found her spark in the middle of a snowstorm on Interstate 25. Ten years later, her inspiration is still aflame.
Lisa remembers the day well. She and her mother were on their way home to Red Lodge from Denver Children's Hospital, where Lily, Lisa's 8-week-old daughter, had undergone two open-heart surgeries. Lily was born with transposition of the great arteries, a severe heart defect that was identified in-utero and repaired shortly after her birth. As the visibility dwindled and the car slipped and slid north toward home, Lisa couldn't help but wonder what might happen to tiny Lily in the back seat if they were in an accident and became separated.
Post-surgery, Lily was on seven medications and a strict dosing schedule. Who would administer Lily's medications? How would they know how much to give her and when? If only there were a tag on Lily's car seat that could explain her precarious situation and outline instructions for her care, Lisa thought. She made a mental note to find an ID tag that would provide emergency responders with enough information to know what to do. Meanwhile, Lisa kept pushing through the snowstorm, finally making it home safe and sound.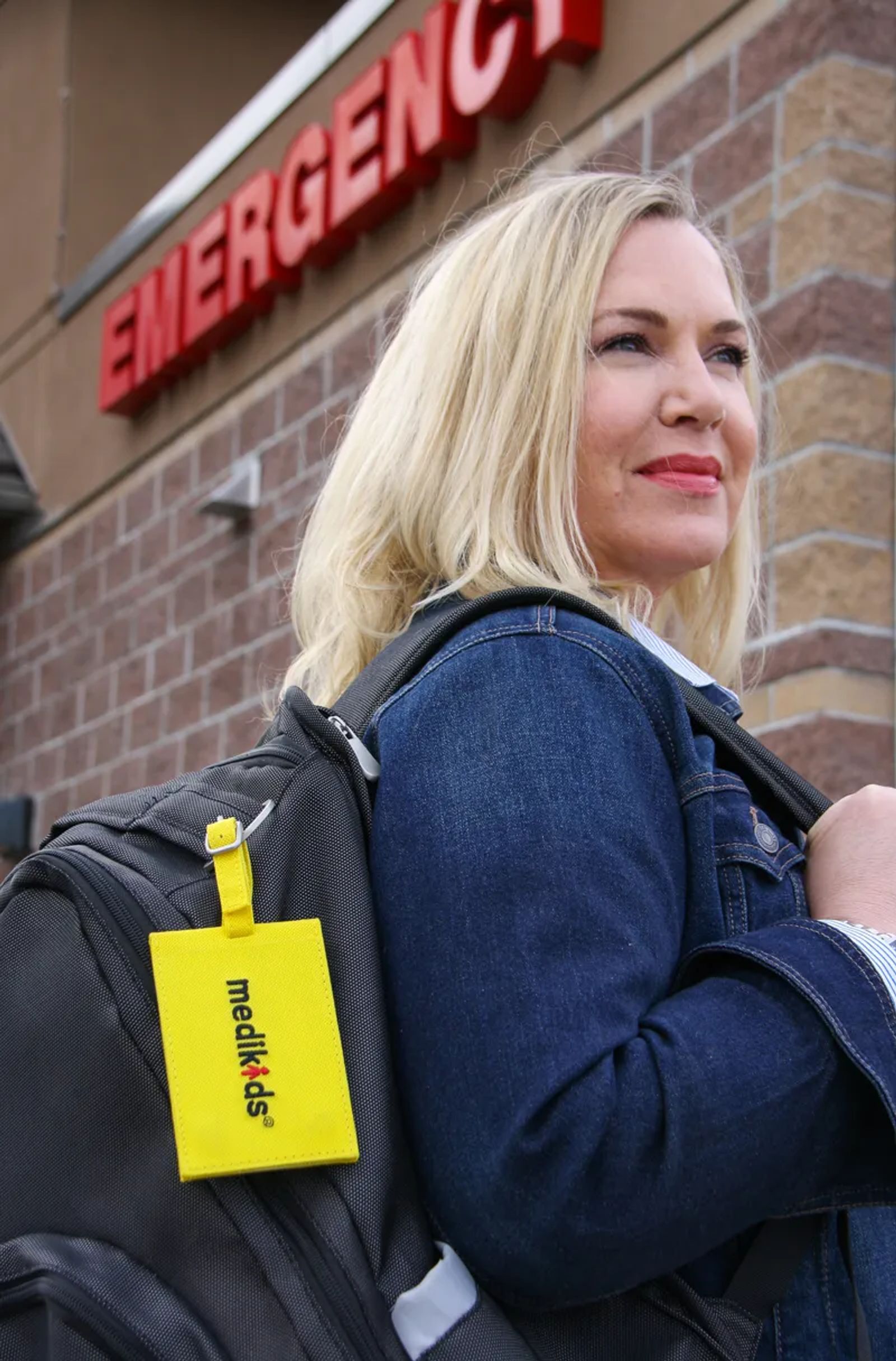 Medical ID Tags
"When Lily was sleeping, I started researching this medical ID tag idea," Lisa says.
She was surprised to find nothing existed, so Lisa improvised and made one out of an envelope, laminated it and pinned it to Lily's car seat. Surely, she wasn't the only parent who could use a medical ID tag, she thought.
She talked to paramedics, physicians and specialists, and reached out the U.S. Centers for Disease Control and Prevention, which confirmed that there are about 32 million kids under the age of 5 who are taking medication for a variety of chronic illnesses. They can't wear medical ID jewelry because it's a choking hazard.
Through her own experience, Lisa learned that children metabolize medicine differently than adults, and often have more frequent and rigorous administration schedules than adults. Without medication, and adults to administer it, many children with common disorders like diabetes, epilepsy, hypertension and cancer can be in a serious medical emergency quite quickly.
If a parent is injured or separated from his or her child, a medical ID could help emergency responders provide the right care for the child. It seemed, to Lisa, to be a necessity, and she set out designing one with room to write out all the necessary information along with a tight magnetic closure for privacy. Her first design was bright yellow to draw a first responder's attention.
With a friend's help, she came up with the name — Medikids — and trademarked the design. While other entrepreneurs may have been thinking of marketing for retail, Lisa's focus from the beginning was to find ways she could get medical ID tags into the hands of parents who needed them most — for free.
"My idea with this was always to have them donated to hospitals for people who needed them," Lisa says.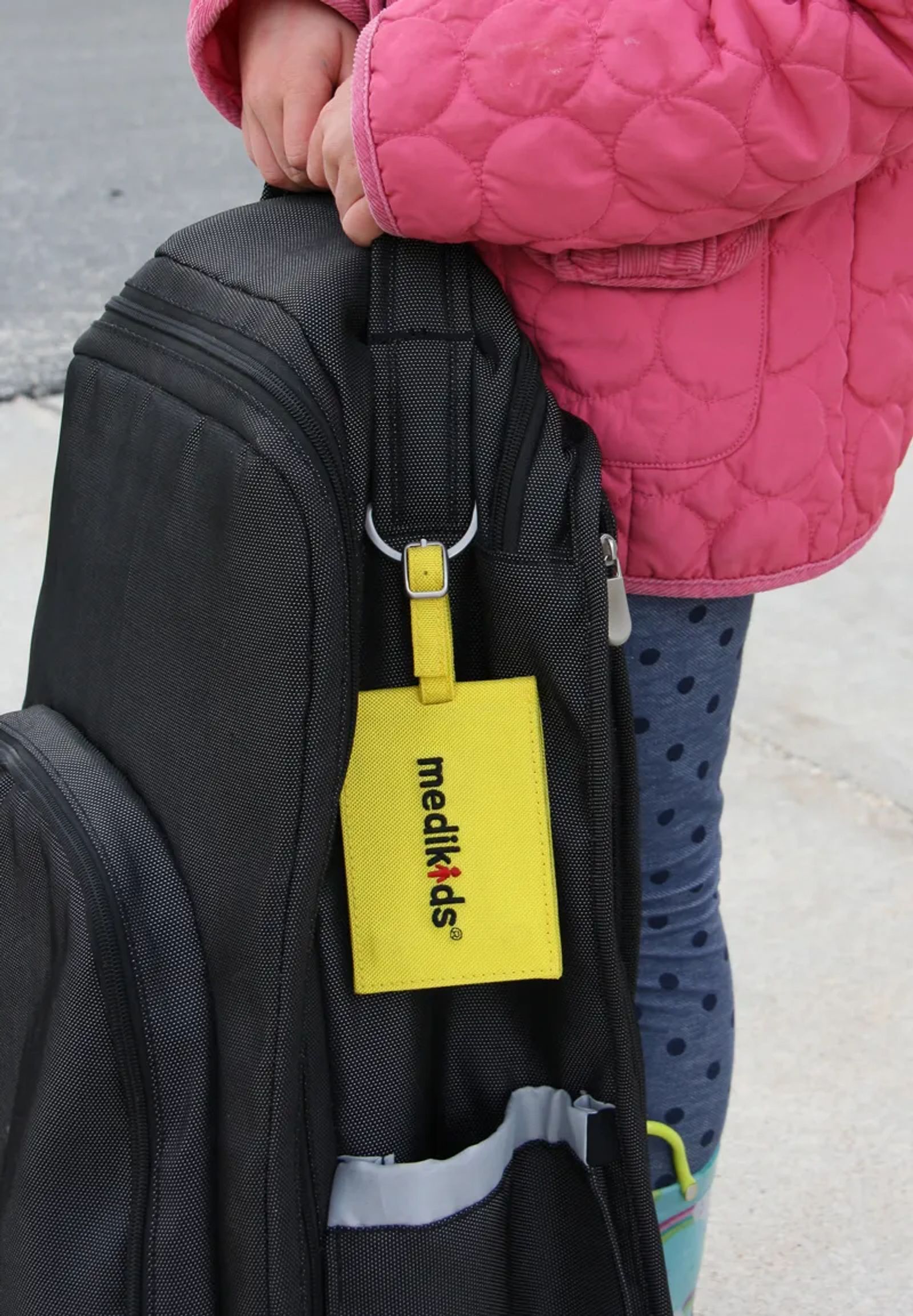 Then came the bags
The Medikids ID tags were just the start. Lisa wanted not only to make life safer for medically challenged kids, but to make life easier for parents as well. Like the tags, her ideas for bags sprang from her own experience.
"I couldn't find a diaper bag that would fit all her medications and everything else I needed," Lisa says. "I needed three bags wherever I went."
Working with Easter Seals, she set out to establish what parents needed, and with the help of a manufacturer was able to design several prototypes. The large Medikids backpack has eight easily accessible compartments with a full, zip-down cover, and a smaller, insulated bag that fits inside for medications that need to be kept cool. The bags are made of a reflective cloth, so the contents won't heat up even when the bag sits in the sun. Ultra-lightweight clips attach the bag to a wheelchair or stroller. They reduce swing when on the go and allow easy removal of the bag.
"Everything was designed for ease of use and to normalize things for families and make it easier for them to get out and do things together," Lisa says.
The next steps
The product development phase took almost five years, and like the medical ID tags, Lisa's desire from the beginning has been to make the bags available for free to families with medically challenged children. Lisa's ultimate goal is to have the bags and ID tags distributed through every major pediatric hospital and department in the United States.
For several years, Lisa has been approaching companies large and small asking for corporate partnerships to get her products to the children who need them most. She asked foundations and other granting agencies for help with funding as well, but she has yet to find the right fit. Still, Lisa has never given up.
"One of the things I've had to overcome is to not be afraid to keep asking," Lisa says. "As long as you have a passion for your business and your mission, you can keep going over your plan and keep adjusting it."
Although she'd done plenty of national research, Lisa recently decided to take a closer look at the need regionally and discovered that St. Vincent Healthcare and Billings Clinic serve about 8,000 kids who are disabled or chronically ill. About 3,400 of them are on Medicaid. She's hoping sometime soon to be able to work with local healthcare providers and give backpacks and medical ID tags to 3,000 children in Yellowstone, Carbon and Stillwater counties. Both St. Vincent Healthcare and Billings Clinic pediatric departments have given their support to the project.
Earlier this year, Lisa approached her local Red Lodge Rotary Club to write a Rotary International Grant. That grant won't be written until next year, but in the meantime, Lisa is looking for more funding partners and grants to get the project off the ground.
Lisa admits that it hasn't always been easy to keep her dream alive after so many years, but she passionately believes her products can improve the lives of children living with chronic illnesses. The tags could possibly even save a life.
Lisa's daughter Lily just celebrated her 10th birthday and is in perfect health. It's something Lisa says she never takes for granted, especially when she thinks of the difference her bags and medical ID tags can make in a child's life.
"There's nothing out there like this for kids," Lisa says. "Every time I felt like I'm ready to give up, something happens, that's kept me going."
For more information about Medikids, go to www.medikidsid.com