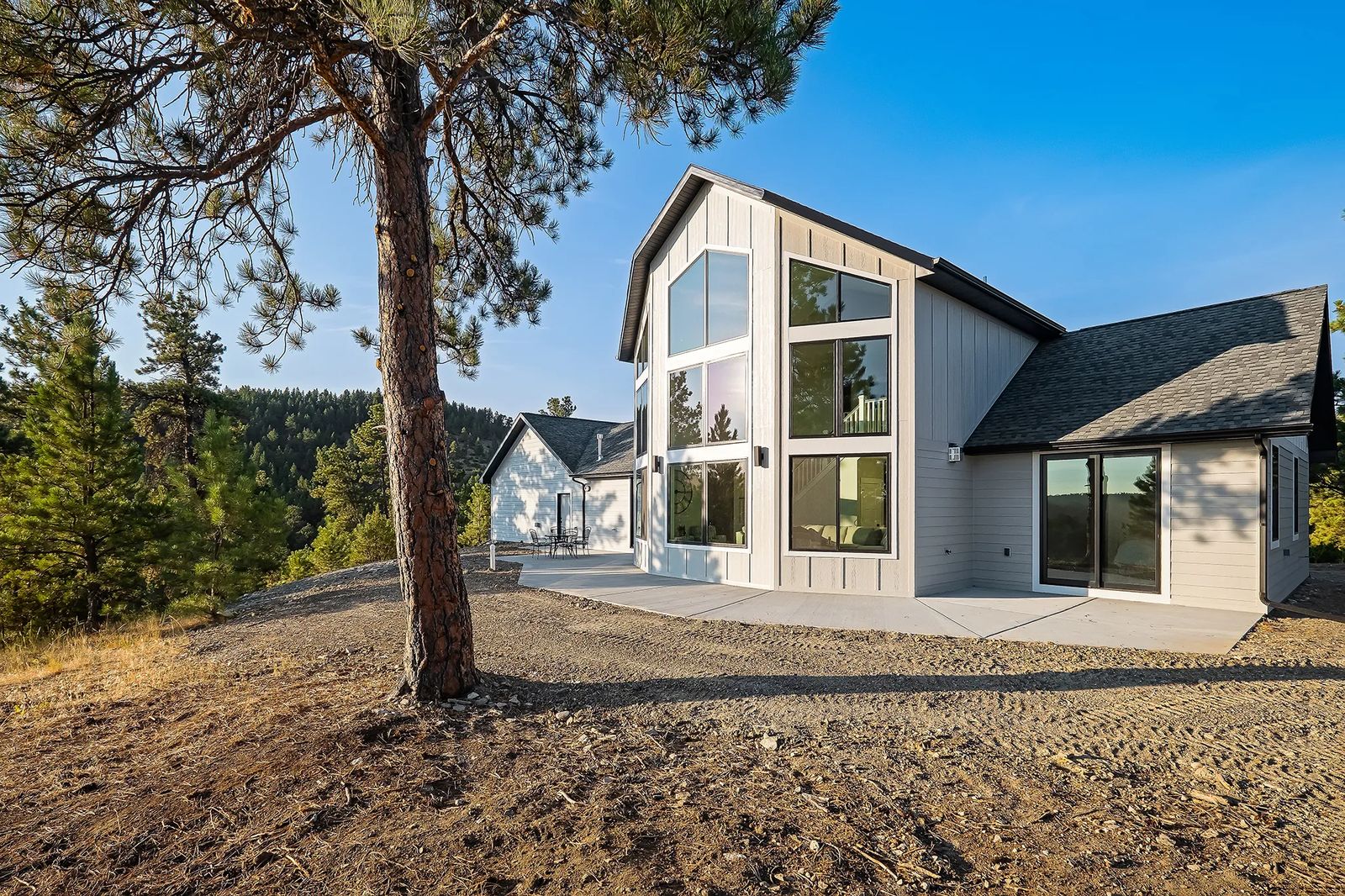 On Top of the World
Family respite takes in every bit of nature
Nothing slows Trish Adam down or holds her back from enjoying the great outdoors. While out for a Sunday drive a couple of years ago with her daughter, Julie, and son-in-law, Ken, she spied a 20-acre parcel of land for sale. In her heart, she knew that she wanted to spend her golden years surrounded by nature, so what did this 80-something dynamo do about it? She snatched up the property.
Perched on a hilltop between Columbus and Reed Point with stellar views of the Yellowstone River to the northeast and the Crazy Mountains in the other direction, Trish carved out the idyllic spot for her new home.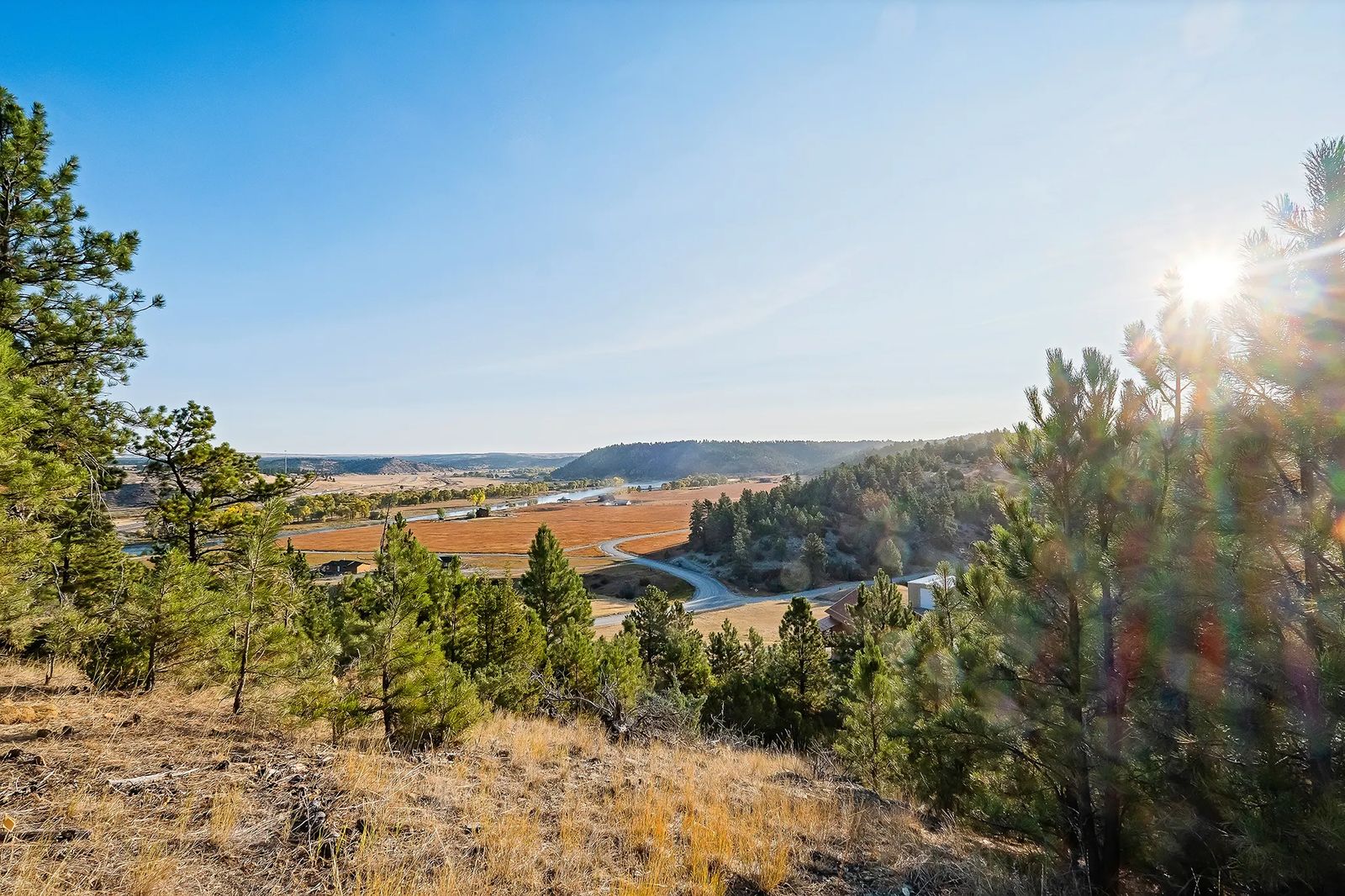 A road leading up to the site first needed to be cut through heavy rock. Utilities had to be fed uphill. Undeterred, Trish soldiered on to fulfill a double mission: securing a peaceful place not only for her but for her children and grandchildren, and creating a loving tribute to her late husband.
"My husband always wanted to move to Montana," says Trish. "He loved the outdoors." Trish says she and her husband would come to visit their daughter, who moved here in the 1990s. While the urge to join her was there, "Both of our moms were in their 90s so we couldn't just uproot and go."
Trish eventually moved from Michigan to Billings. It happened a decade ago after her husband and both of their mothers had died. "I'd been a widow for six years and the property there was too big, so Julie told me, 'Come out to Montana,' so I built a house in Josephine Crossing," a Billings neighborhood on the north bank of the Yellowstone.
Eager to build again, this time on top of the world, Trish took a friend's suggestion to call Ban Construction. "I met with Zeth (Ban) and loved his ideas right off the bat," she says.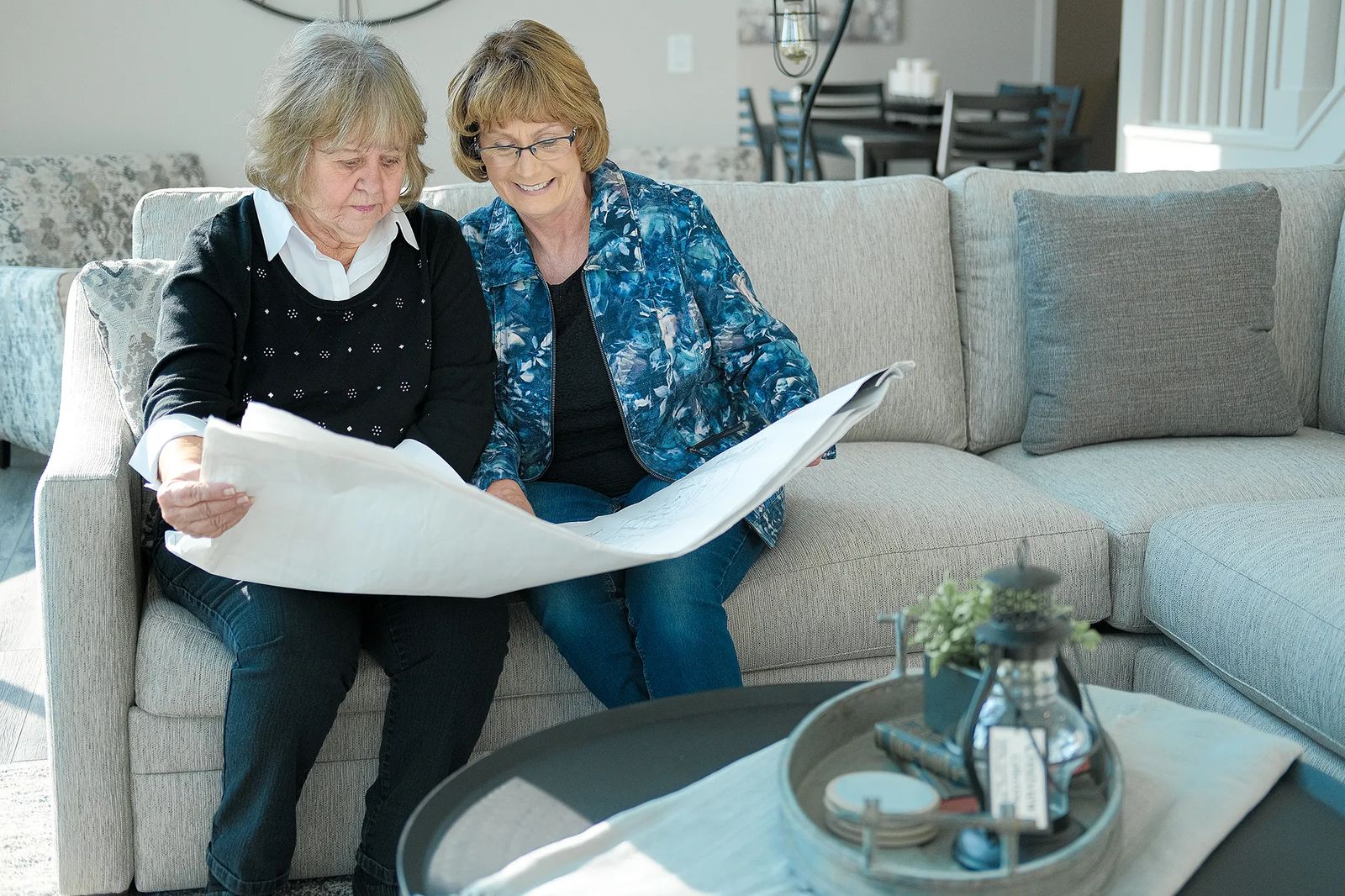 Taking into consideration Trish's talent as a nature watercolor artist, Zeth's plan allowed for this intrepid spirit to paint without leaving the comfort of her home. A 20-foot vaulted ceiling in the great room flanked by a wall of Pella windows displays the winding river and lush valley floor below. "The view is perfect with the pine trees all around," Trish says.
The spectacular vista opens like a rose when ascending the lighted curved staircase leading to the loft. Soft gray carpeting from Rich's Flooring Abbey Carpet complements the neutral gray color of the interior.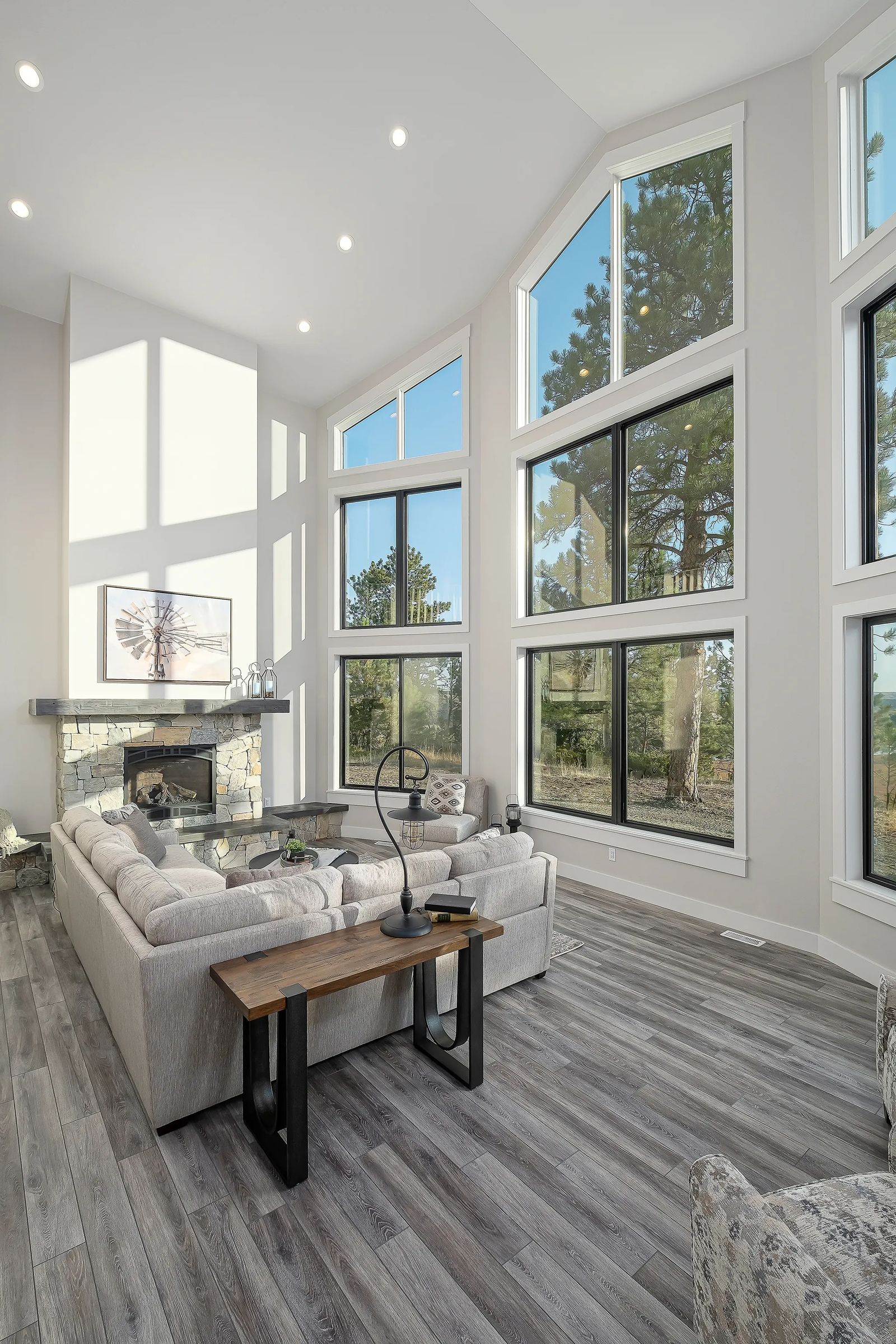 The loft's sitting room provides simple yet elegant creature comforts. Julie enjoys some down time while relaxing in a comfy swivel she claims as her knitting chair. It's also where a cup of morning coffee tastes extra special. A desk from Time Square Furniture offers Ken the option to work from the hilltop. Since the desk top rises, he gets the choice to either sit or stand.
Two bedrooms and a full bath soak up the rustic charm of this lofty area. The couple's bedroom leans toward western culture with its bed covering and reading lamps mounted on the headboard. It's a tranquil retreat.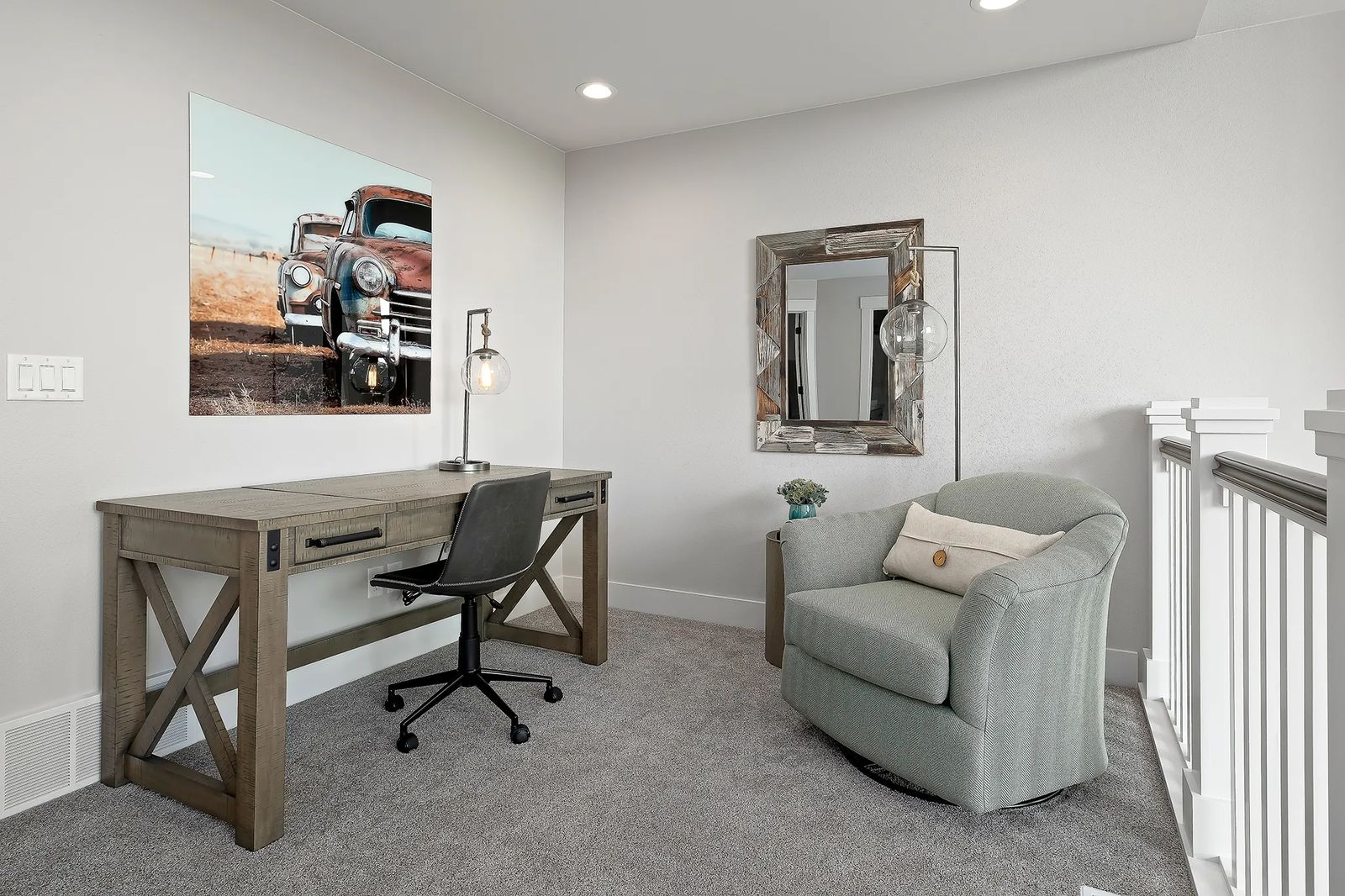 Trish's granddaughter, Ellie, now a senior in high school, takes up residence in the second bedroom. Her fondness for horses is emphasized in a photo series above the bed.
The home's other two bedrooms are on the main floor. One provides a respite for the fly-fisherman of the family, Trish's grandson, Cal. Around the corner and down the hallway sits the homeowner's personal space.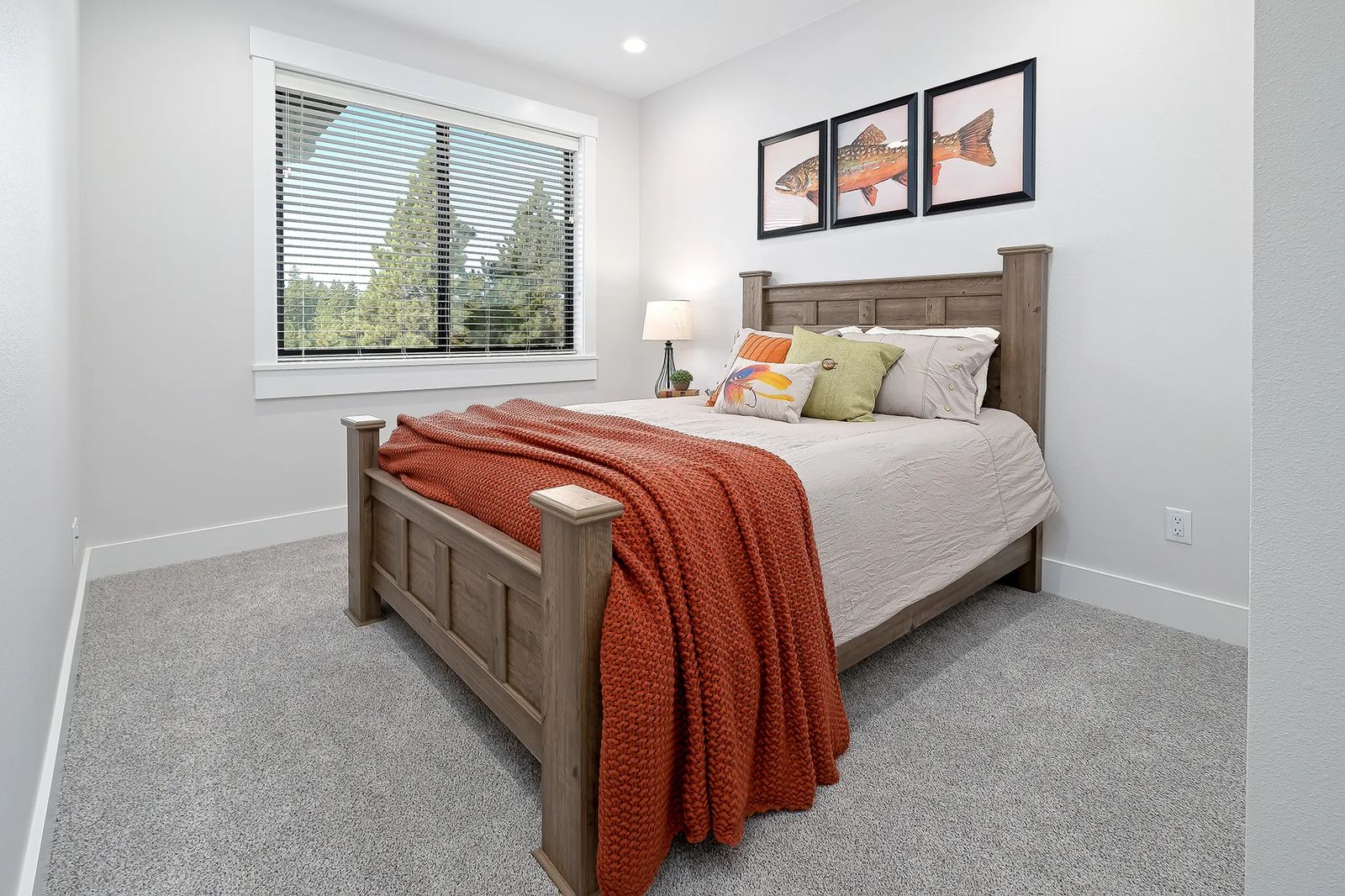 Trish's suite reveals nuances of minimalistic modernism. Her feminine touch gives way to dashes of color while a sliding glass door opening to the patio invites in the stunning scenery. "Mom can drink her coffee while looking out," Julie says. And what lady of the house could go without a super-sized closet?
The double-door closet is organized with a bank of cubbies. "They (Ban Construction) maximized every square inch," Julie says. Extra storage was figured into Trish's en suite, as well.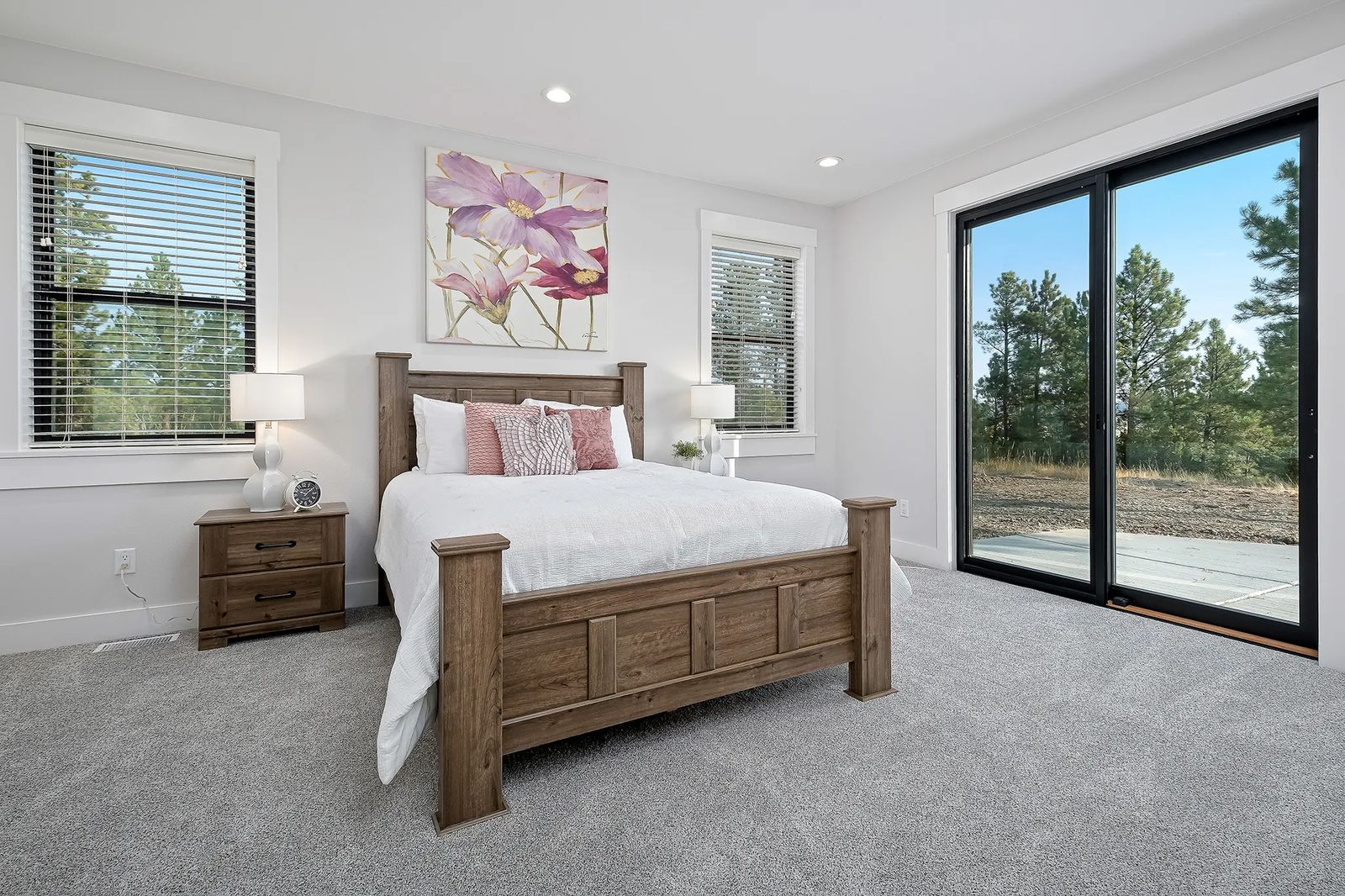 The spacious bath captures natural light from a large window casting its warm glow on the floor-to-ceiling storage cabinet and high-top vanity. The custom cabinetry by Beyond the Box Cabinets accentuates the clean lines prevalent throughout the 2,400-square-foot house.
A black-trimmed all-glass shower from Montana Glass and Shower Door ties in perfectly with black-trimmed windows.
"Black iron fixtures are in both bathrooms on the main floor," Tana Ban points out. Where son Zeth takes care of phase one (design plans) and son, Nick, and husband, Brian, do the construction part of the project, "I come in and do the pretty stuff," she says.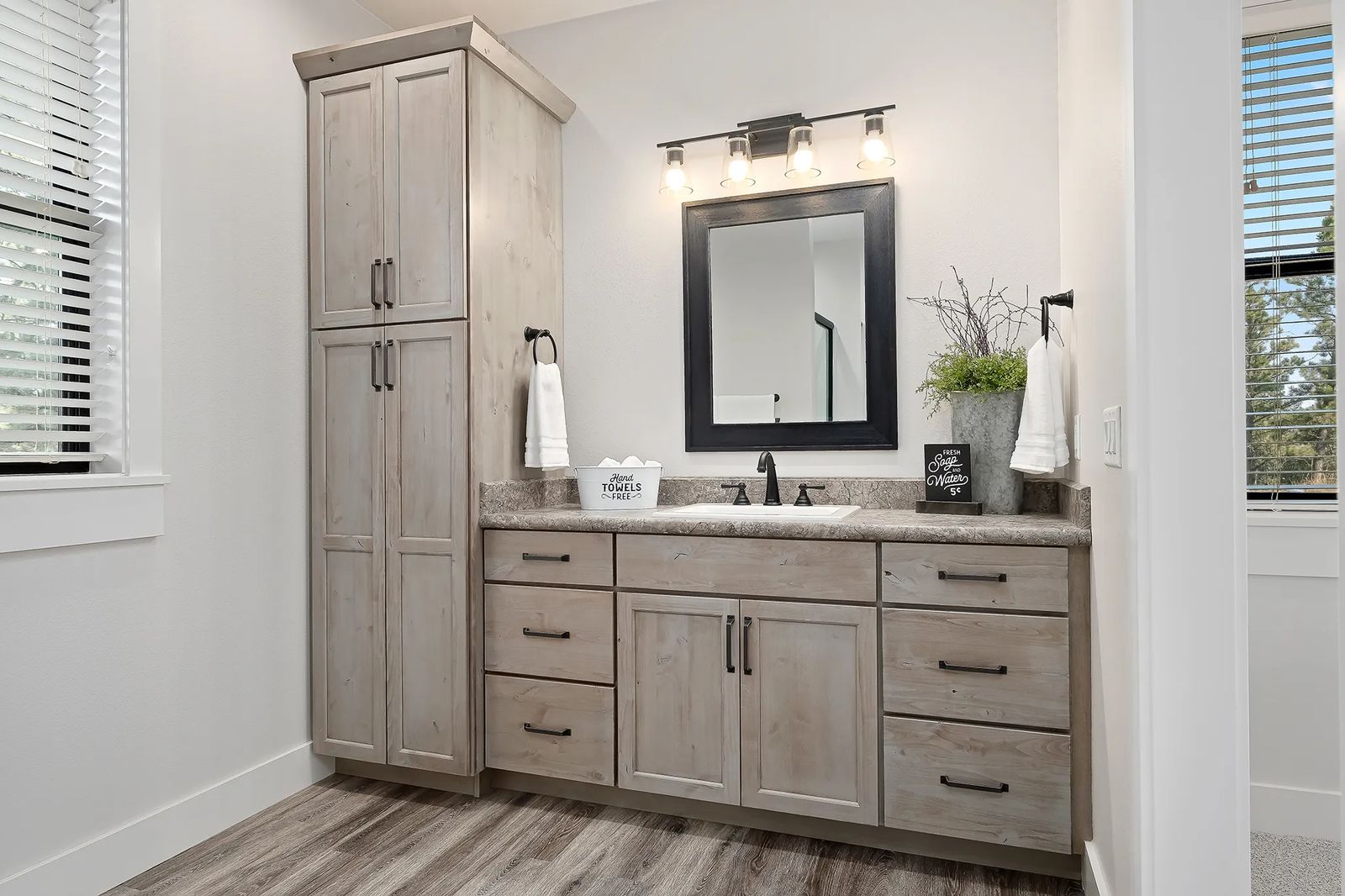 Tana worked closely with Trish bringing to fruition all that was needed and desired to create this beautiful home. Anne Murphy, owner of Refined Designs, collaborated with both women from the get-go, detailing accessories and the finishing touches.
"The service I offer is pulling things together and shopping for the sprinkles," Anne says. "They bake the cake and frost it, I add the sprinkles."
The women met together with floor plans in hand, deciding what worked best for where the TV would be positioned, where the conversations would happen and so forth. The inspiration for the great room emerged through a picture of a windmill with blue tones Trish had picked out at Time Square Furniture.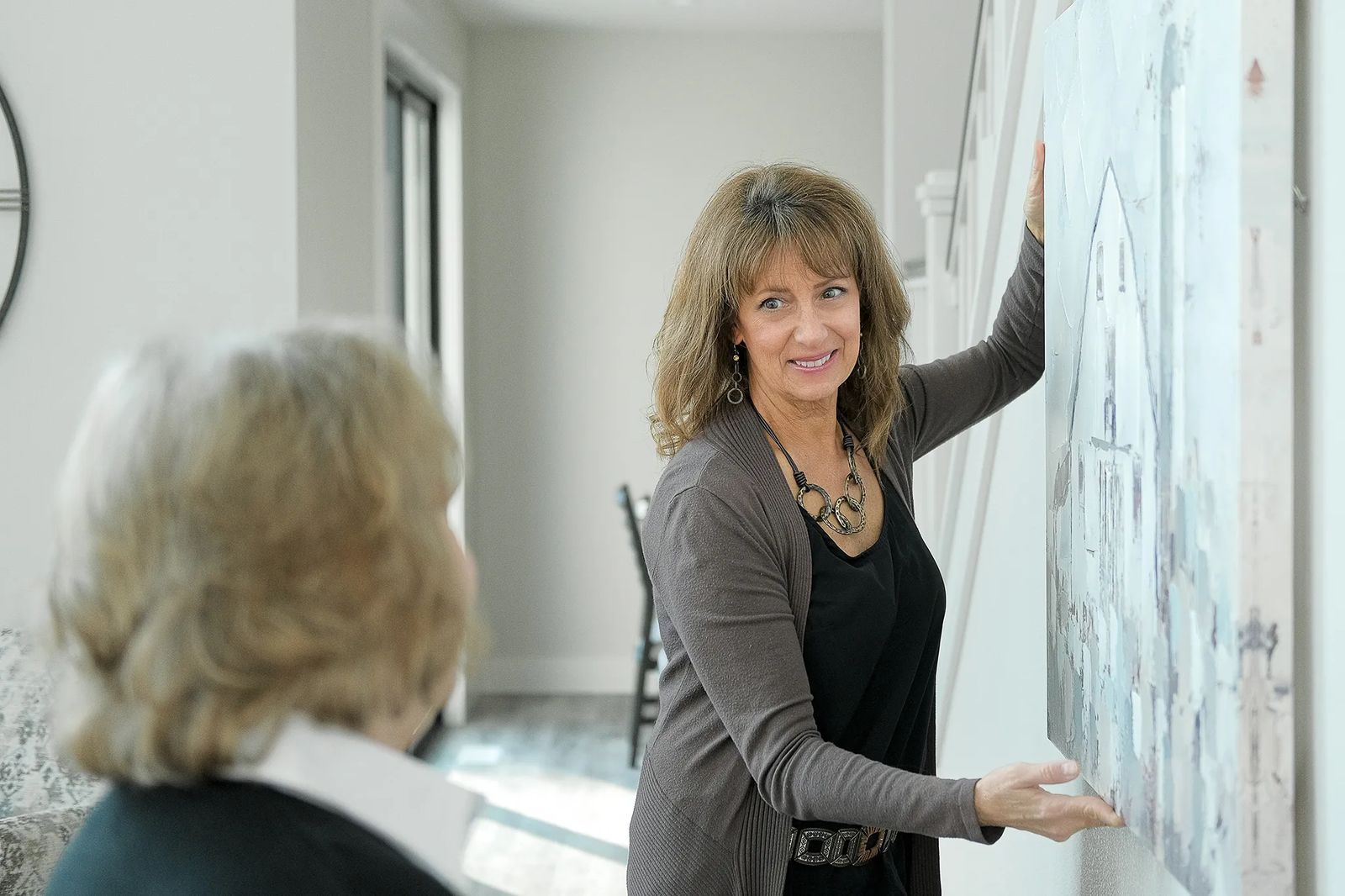 This was the art piece that put into motion the décor. "Trish and Tana came into the store with the cabinets and flooring, (a gray-wash Luxury Vinyl Plank from Rich's Flooring Abbey Carpet)," says Anne.
"We wanted the room to function with plenty of seating in order to look out the windows and to have coffee by the rock fireplace. It all starts with how a room is used and how the room can best function for a person's lifestyle."
The space easily accommodates a large sectional with reclining ends. It's the place to sit back and enjoy the view. "I told them to 'go for it,'" says Trish. "I had trust in what they were doing. I was right in there!"
The home's transitional style, well defined from the modern furniture to the farm-look railing on the staircase, shapes this impressive open space. Modern class blended with traditional style extends into the dining area and kitchen.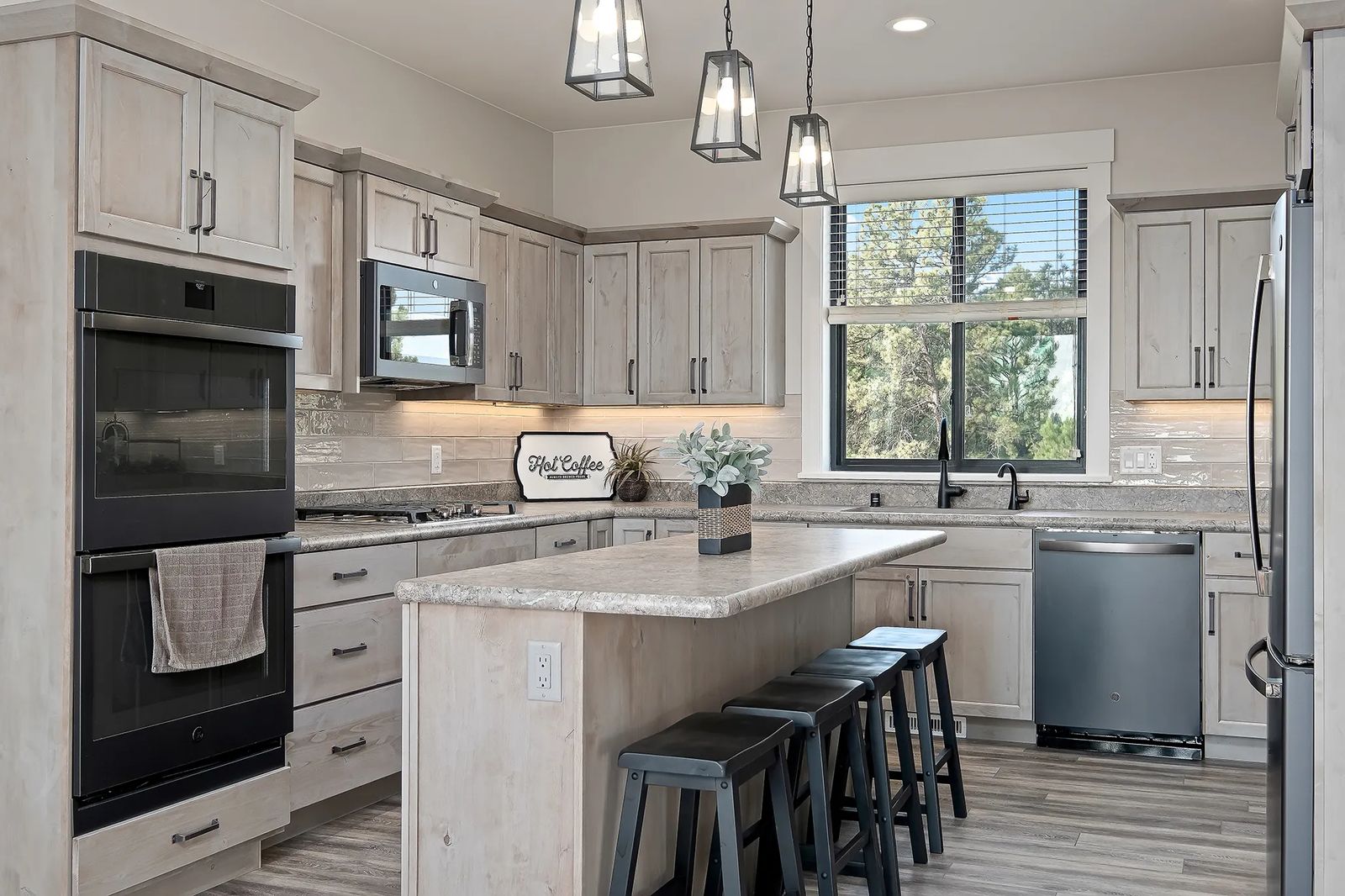 In addition to knotty alder cabinets with a peppercorn finish and square corners, there are variegated gray-hued laminate countertops. "The light and dark tones give the countertops a granite-esque look," says Kristy Ferguson, owner of Beyond the Box Cabinets. "It was a team effort with our designers Debbie and Ragan."
A center island with storage space in the base cabinet attracts its share of attention. "We created a space for Trish and her family with seating at the island. Everything else (including the fridge) is boxed in to be as neat as possible."
A walk-in pantry wired with electrical outlets enhances the kitchen's distinctive character. Since Trish loves to bake and cook, this practical convenience makes it easy for cleanup while encouraging freedom from counter clutter.
The modernized space on top of the world treats this traditional family to the good life. It's the essence of home where holiday dinners are set to be served and where the family can sit outside under a blanket of stars. "We're blessed," says Julie.
"It's nature. It's peaceful," Trish says. "It's a place to come and go to bed and then wake up and say, 'Hello, world,' and know my husband is here."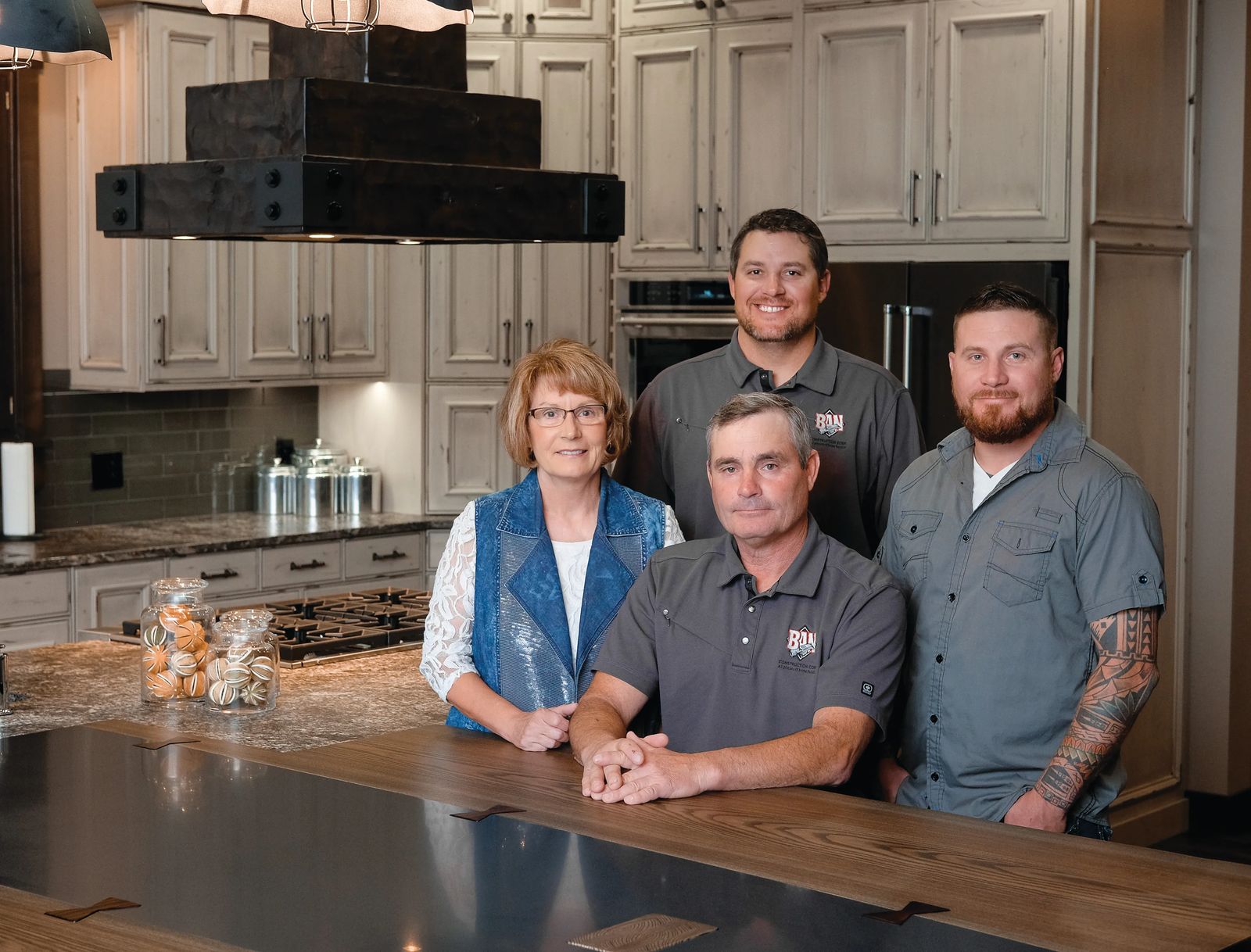 Ban Construction
'Creating a Home'
When BAN CONSTRUCTION builds a home, the Ban family takes it very seriously. "Our main goal is for our clients to be happy and proud of the home we've created for their family," says Tana Ban, who along with husband Brian and their two sons, Nick and Zeth, make up this builder team.
They're native Montanans noted for their hard work. They gain their inspiration from each new home they build. "It's important to us as our name is on each one," Tana says. "I think that's a trait of a Montanan – achieving the best of our abilities in whatever we're doing."
Zeth takes the lead in drafting the home's floor plan. Their design style centers on expectations. "We work with the style that our client wants," says Tana.
Brian and Nick then move into the construction stage. "We build on each phase working with interior products usually beginning with flooring and tile," Tana says. "Then it's on to cabinetry so everything blends. The same is with the exterior."
Tana's eye for décor puts on the finishing touches. It's the Ban family way of creating a home.
Additional photos of the home