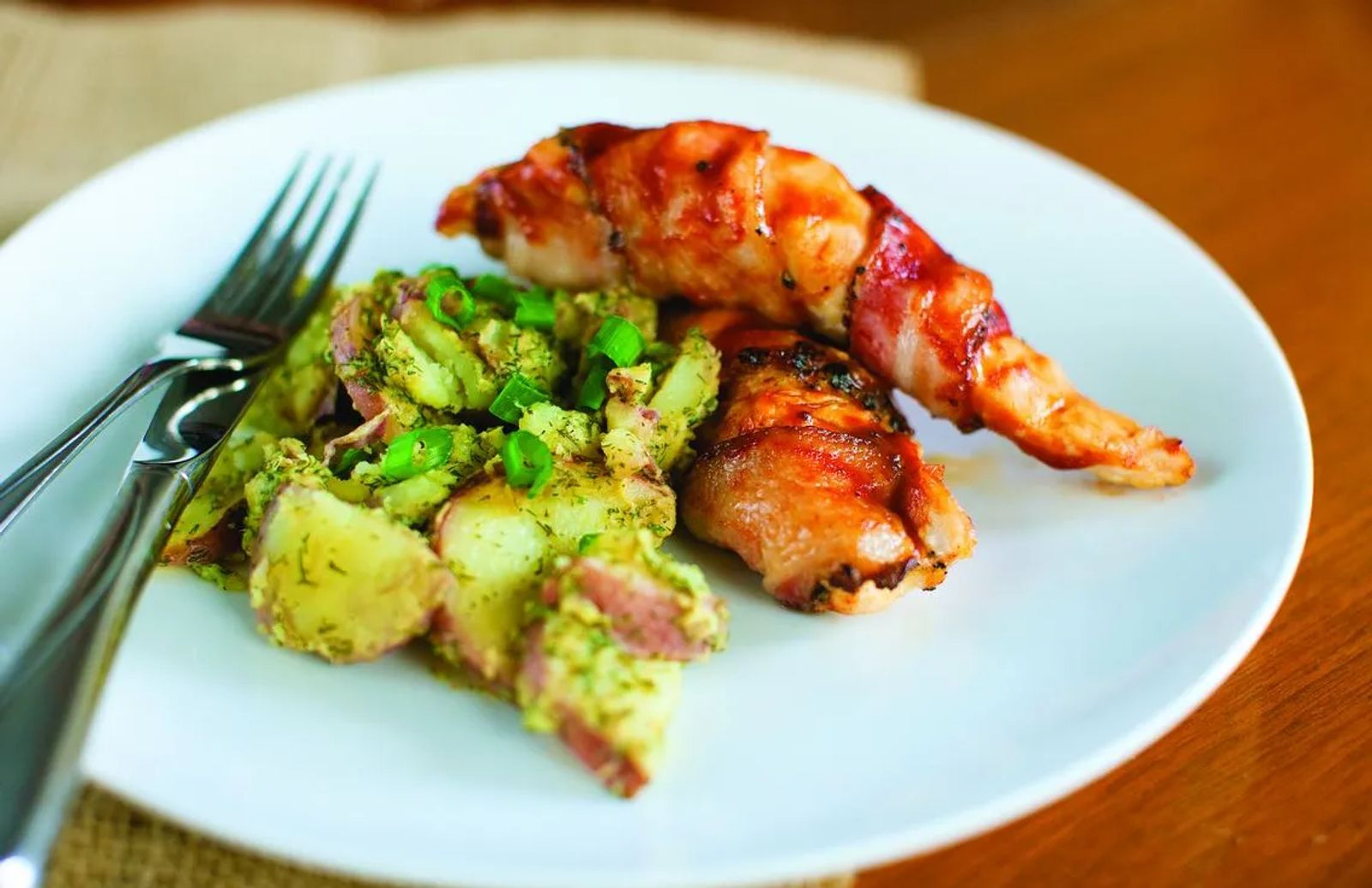 Fire Up the Grill!
No kitchen needed for this family friendly dinner!
It may seem premature to talk about grilling but with all the winter weather we"ve had, my family is sure ready to fire up the grill! We take in the warm weather to the fullest extent and are constantly on the go. When the weather turns nice, I like to have a few go-to grilling recipes ready for those nights when we don"t have time to prepare a time-consuming meal. With Memorial Day Weekend just around the corner, take time to uncover those grills, get them warmed back up, and have a few great grilling recipes on hand. The recipes I am sharing are some of our family faves and we usually have all the ingredients on hand. With the minimal prep time, this is a fantastic summer feast that comes complete with a delicious and family-approved dessert!
BACON-WRAPPED BBBQ CHICKEN
~Adapted from the "Favorite Brand Name Grilling" cookbook
8 tender-sized pieces of chicken breasts
1/2 c. BBQ Sauce - Any brand will work, but I use Fischer & Wieser"s Original Raspberry Chipotle Sauce
1/2 t. paprika
8 slices of bacon
DIRECTIONS
Divide the BBQ sauce in 1/2 and reserve 1/2 for later. Prepare the grill for direct cooking. Sprinkle chicken with paprika. Wrap each piece of chicken with 1 piece of bacon in a spiral pattern. Place chicken on the grill over medium heat for 6 minutes, turning occasionally. Brush with remaining sauce. Grill 2 to 3 minutes more until bacon is crisp and chicken is cooked through. Serve with reserved sauce.
GRILLED POTATO SALAD
~Adapted from the "Favorite Brand Name Grilling" cookbook
DRESSING
4 T. Dijon mustard
1 T. apple cider vinegar
3 T. olive oil
2 T. dill weed
1/2 t. sea salt
1/4 t. black pepper
SALAD
1 t. sea salt
2 lbs of red potatoes
2 T. olive oil
1 large sheet of aluminum foil
Nonstick cooking spray
1 green onion, thinly sliced
DIRECTIONS
Combine all dressing ingredients, blend well and set aside. Prepare grill for direct cooking. Bring 8 cups of water to a boil. Add sea salt. Cut potatoes into 1/2 inch slices. Add potatoes to water and boil about 5 minutes. Drain into colander and transfer to a large bowl. Drizzle with olive oil and toss lightly. Spray 1 side of aluminum foil with cooking spray. Transfer potatoes to foil and make into a sealed packet. Place foil packet on grill over medium-high heat. Grill 7 to 10 minutes or until potatoes are tender. Transfer potatoes to serving bowl. Sprinkle with green onion and toss gently with reserved dressing. Serve warm. Makes 4 servings.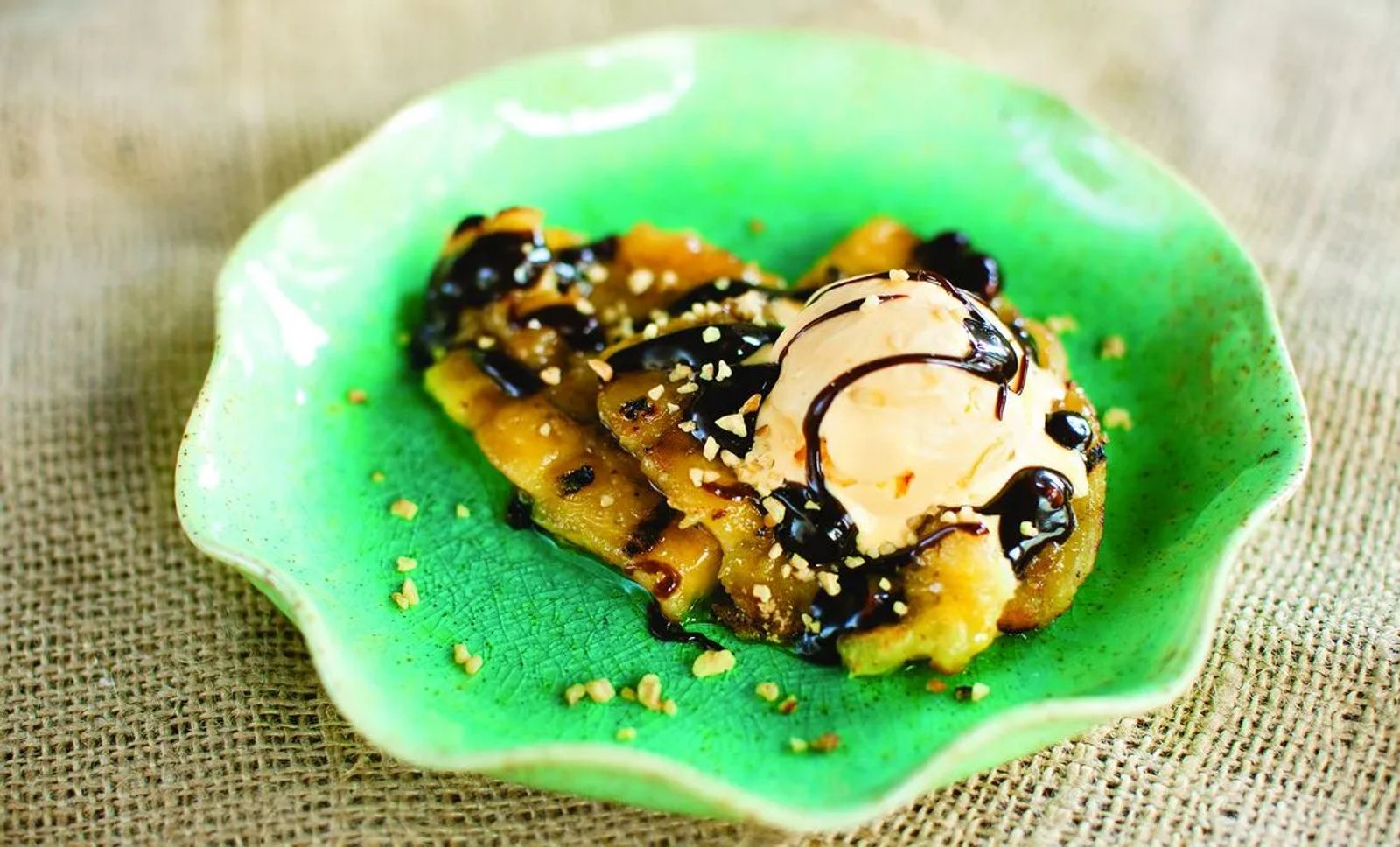 GRILLED CHOCOLATE PEANUT BUTTER BANANAS
~Adapted from the "Favorite Brand Name Grilling" cookbook
1 c. chocolate syrup
1/4 c. peanut butter
6 firm bananas, unpeeled
2 T. melted butter
6 T. packed brown sugar, divided
1 pint vanilla ice cream
1/4 c. chopped peanuts
DIRECTIONS
Heat chocolate syrup in small saucepan over medium heat until warm. Slowly whisk in peanut butter until well blended. Keep warm. Prepare grill for direct cooking. Slice unpeeled banana in half lengthwise. Brush cut sides with melted butter and place buttered-side down on grill over high heat. Grill 3 to 4 minutes or until grill marks appear. Turn bananas and spoon 1 tablespoon of brown sugar on each banana half. Cover grill and cook until brown sugar is melted and bananas have softened. Place grilled bananas on cutting board. Cut in half crosswise, if desired. Slide bananas out of their peels with a spoon. Place bananas in serving dish with one scoop of ice cream in the center. Drizzle with warm chocolate sauce and sprinkle with peanuts. Recipe makes 4 servings.