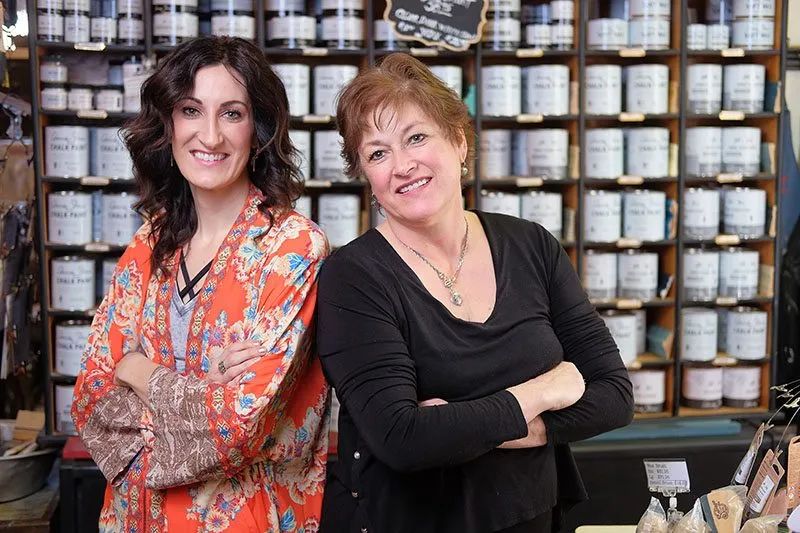 Salvage Designs
Kate Stevens gives old things, new life
Where can you find artsy photographs whimsically adorned with glitter and rhinestones, a scrapyard of treasures just waiting to be transformed or repurposed items that have been given new life thanks to a coat of paint or a bit of artistic flair? The answer can be found in a quaint little shop in the center of Billings. Salvage Designs is the brainchild of Kate Stevens. It's a business that opened its doors serendipitously after some small gatherings with friends produced the perfect mix of commerce, friendship and creativity.
"We had this space my husband had that was just open," Kate says, reflecting on the humble beginnings of her now five-year-old enterprise. "We would go there, do crafts, drink wine and have our therapy sessions," she says with a smirk. The women would work on painting techniques, create metal works of art, or would take time to repurpose old furniture with new hardware or finishes.
"We started having occasional sales," Kate says. "People started coming in and I thought, 'This is really weird. People are buying our stuff!'"
It wasn't until she discovered chalk paint guru Annie Sloan that she started to see what a diamond in the rough she had. Annie, who hails from the United Kingdom, created a paint that Kate calls pure magic. "It sticks to anything — metal, glass. You can paint your floor with it, kitchen cabinets. It is just amazing paint," she shares. When she applied successfully to be a distributor for Annie Sloan and then went through the rigorous training program, it opened a whole new world for Kate.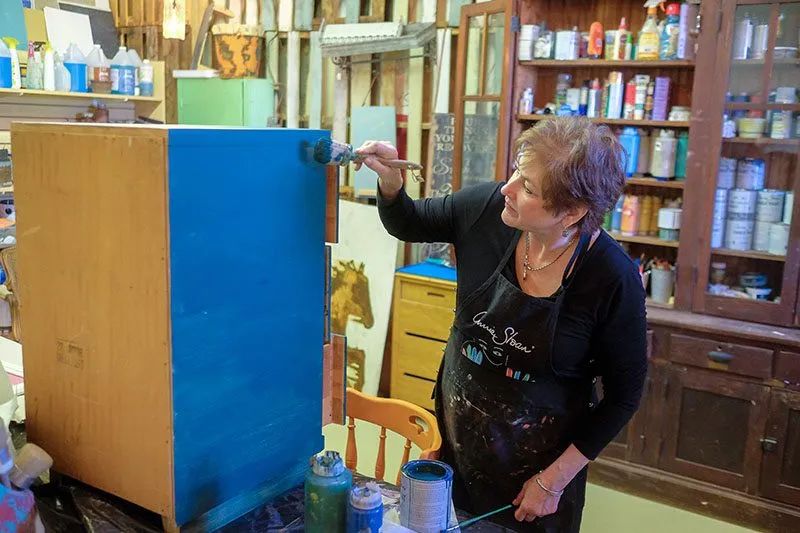 "The paint was selling. I couldn't believe my sales when I first started. It was the easiest money that I ever made, doing something that I absolutely loved. I was shocked." When she started to offer classes to her customers, she says, "My classes were booked two to three weeks out."
It didn't take long for Kate to realize that she needed to stop borrowing her husband's vacant space and find a permanent retail location. She found that home for Salvage Designs at 234 Moore Lane.
Flash forward to today and the paint still flies off the shelves. Kate says, "We get a lot of women in here looking to update something. They don't have any idea what they are doing but they buy some paint and they take a class. They love the way the project turned out and before you know it they are painting everything in their house and sending their husbands in to buy more paint!"
If you ask Kate about this little eclectic space she's cultivated, she's not quick to call it a business. She prefers to think she's building a community.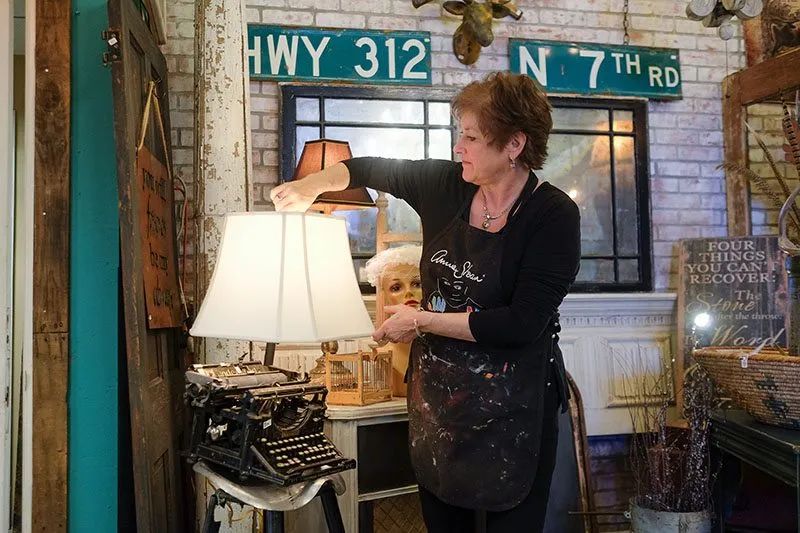 "The creative juices are always flowing here," she says, gesturing with her hands as she looks around her shop. In addition to the retail goods she sells, Kate still heads up classes. Whether it's a technique class sharing the step-by-step process of adding a rusty patina or a lesson in using stencils or overlays, Kate says the connections made are the real joy in her business. "I have had people tell me, 'You are a godsend.' Just to be able to come and socialize with others and do something creative and feel good about it? That was something I never expected," Kate says. "It's just this community of fellowship with women."
From the outside of this nondescript brick building, you'd never imagine the size of this space along with the treasures inside until you walk through the doors. Just a few steps in, there's a beautiful mid-century modern bureau that Kate's daughter, Vanessa Dahlberg, just had to have for the shop. There's a typewriter that one of Kate's vendors transformed into a funky little lamp and there's the furniture Kate has put her own personal spin on with her trademark chalk paint finish.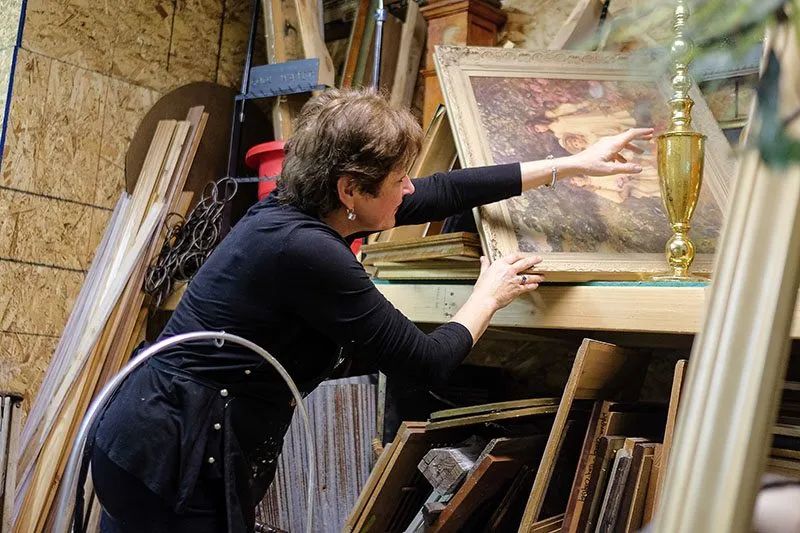 As Kate shows off some of her latest finds, she literally pulls back the curtain on a room where things lie waiting to find new life. "I have a piece back here that is a dental cabinet that I found at a garage sale," she says as she points out the piece. The paint is chipped and the top is a little stained but you can see the beauty in the rough with its antique crystal drawer pulls and tough-as-nails construction. Kate adds, "One of these days, I will come in with inspiration and I will know exactly what to do with it."
While Kate has been at the helm of Salvage Designs for five years, she's not a newcomer to the business world. In 2007, after 11 years in operation, she sold her former business, Kate's Freeze Dried Florals, a retail shop that specialized in handmade dried floral works. After selling the shop, Kate realized in short order that she missed that connection with her customers. And she missed the creativity. "I felt like I just needed to be out there, doing something with my hands," she says today.
The difference at Salvage Designs is the fact that Kate now has her 38-year-old daughter by her side. Kate laughs as she says, "We are so much alike, it's scary. It can be both good and bad. Ninety-nine percent of the time, it's good because we feed off each other." Vanessa is a faux painter by trade and has just settled into this space, helping her mom and finding her own niche here.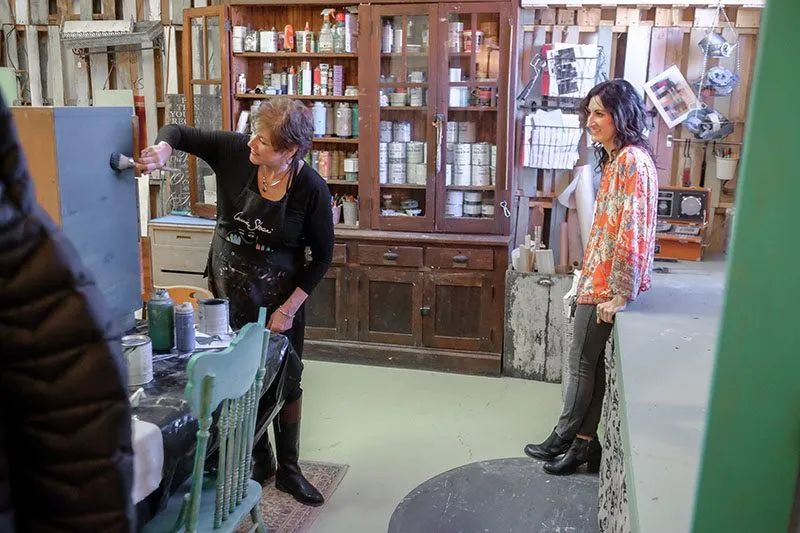 "I like to think outside the box a bit, whereas my mom likes the classic and traditional," Vanessa says. The designing daughter is more in tune with the funky and fanciful with a splash of industrial interest. Her mom prefers the shabby chic look with its distressed elegance. It's a yin and yang flow that works. Vanessa says, "We are always changing and trying to keep things interesting!"
At the end of the day, Vanessa calls her business partner, a.k.a. Mom, her biggest role model. "She is very true. What you see is what you get with her. She tells it how it is and is very fair. She listens. She is driven. She is also very adventurous and isn't afraid to try new things."
Today, this mother-daughter pair is reveling in the popularity of using old, repurposed things in design. Joanna Gaines of HGTV's famed show "Fixer Upper" could pluck more than a few things for her design projects from the nooks and crannies at Salvage Designs. "That is my favorite show to watch!" Kate exclaims. "I love the creativity Joanna puts out there — reusing things that you find or that someone has had lying around and then fixed up. You can see the love that she puts into every project she does." Kate chuckles when she says there have even been times she has watched the show and been shocked to see Joanna's take on a project, "Once in a while, we'll say, 'Geez, she copied us!'"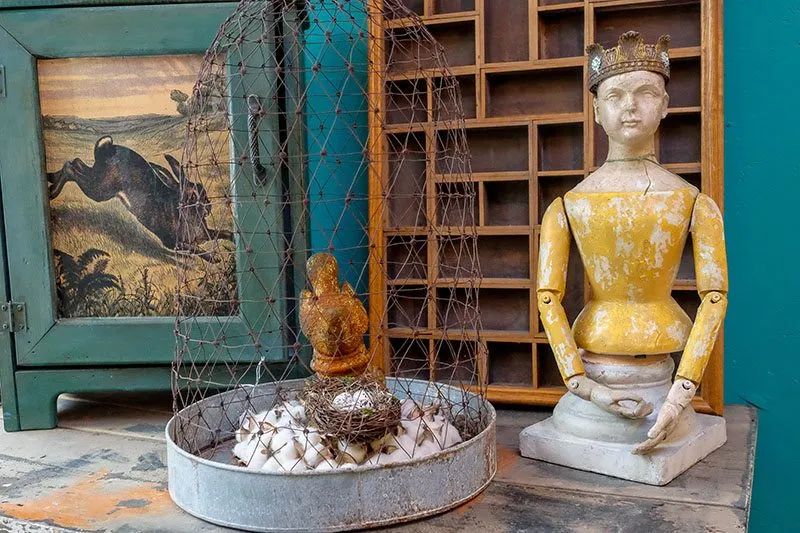 Kate and Vanessa just got back from market and have been anxiously awaiting truckloads of new merchandise to hit their door. According to Kate, look out for a return to the 1960s and '70s. Yes, mustard yellow and olive green are making a comeback. "We're seeing more straight lines, very clean looks. That's all coming back big time. We saw a ton of it!"
No matter what the trending look seems to be, Kate knows she's built a timeless business that helps cultivate the creativity in others. "This is my therapy place," Kate says with a smile. And, from personal experience, she's proud that her customers feel exactly the same way. "A lot of people will come in and say, 'Gosh, this just makes me feel so good in here.'" And for Kate, that's just as special as the treasure trove of goodies just waiting to be transformed. She says, "I definitely have a passion for this."
YOU CAN FIND Salvage Designs at 234 Moore Lane or on the web at salvagedesignsmt.com