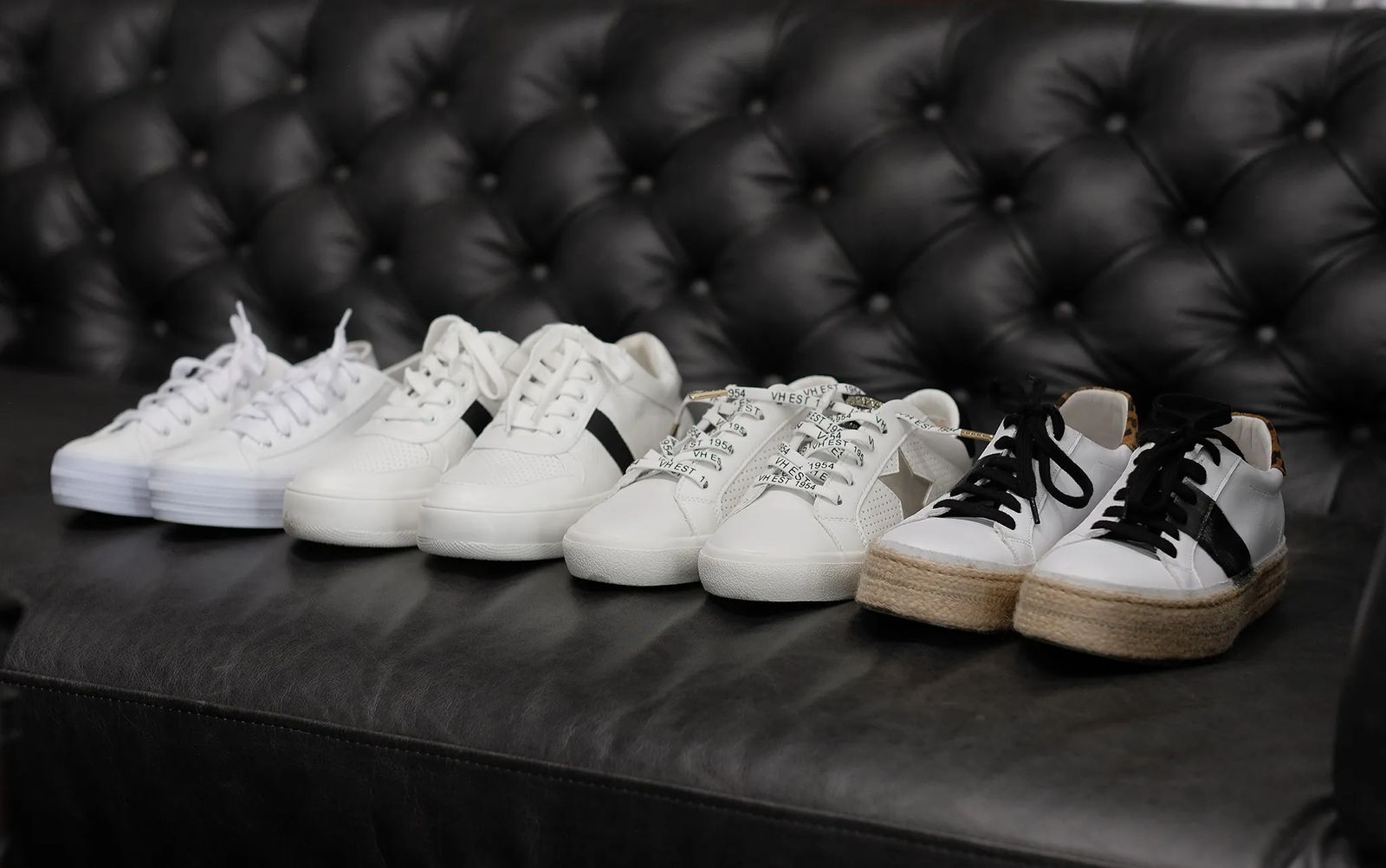 Sassy in Sneakers
The only shoe that matters in 2020
If you love comfy, casual fashion, you're in luck. The crisp white sneaker is taking center stage right now. With many of us working from home or keeping it a little more relaxed in the off hours, we are even more grateful for our favorite pair of comfy sneakers.
You may be surprised at the fashions that pair perfectly with the clean, classic look of a white kick. We don't have to suffer the pinches and pains of strappy sandals or roll an ankle over wedges when crisp white sneakers are more trendy right now. Be daring. Pair them with more than just your typical yoga pants or favorite denim. We've got a handful of looks that we're sure you'll find inspiring for every pair of sassy sneakers you own.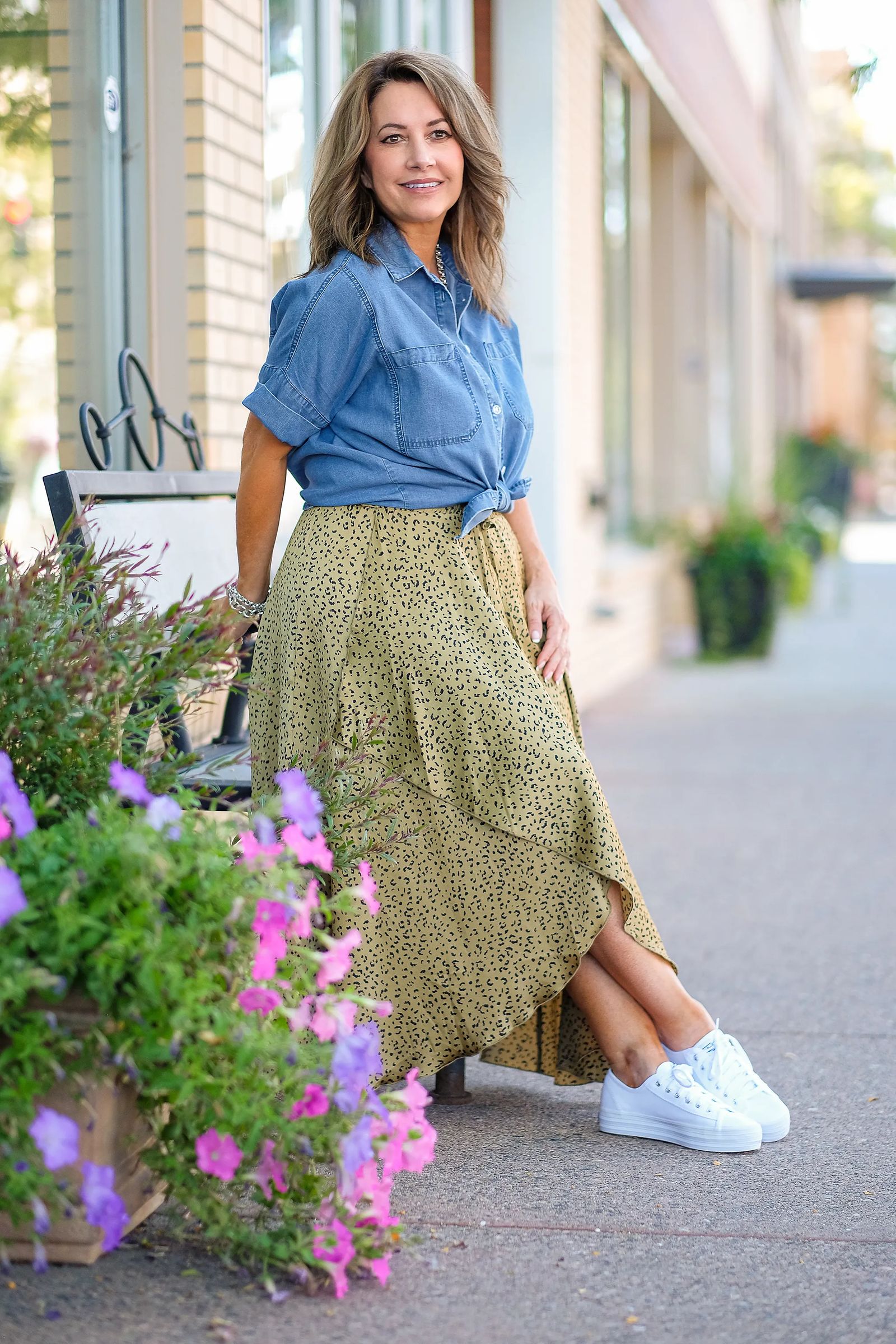 FLIRTY SKIRTS & SNEAKERS
Whether the skirt is long or short, a white sneaker is the perfect partner for date night, strolling a farmers' market or for a Saturday afternoon brunch on the patio. The mix of texture with structured denim and a silky skirt make for a comfortable, interesting outfit while on the move. The bold leopard pattern on the skirt gives this easy look a youthful attitude.
GET THE LOOK: Keds Triple Kick, $54. OAT oversized boxy denim shirt, $69. DEX leopard skirt, $69.99. Samkas bracelets, $75 - $100. Samkas necklace, $165. All can be found at Neecee's.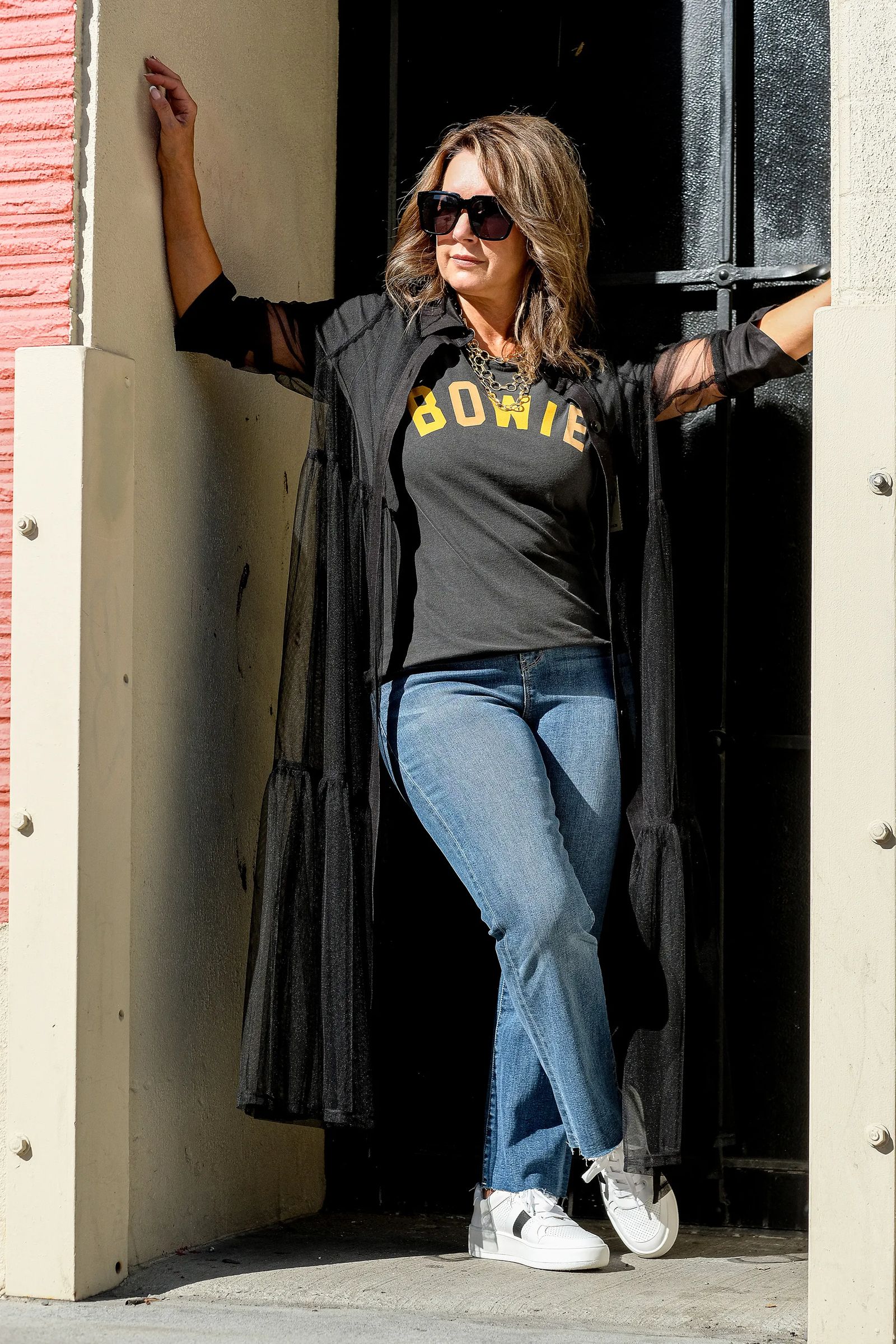 REACH FOR YOUR INNER ROCKSTAR
Channel your inner David Bowie with this eccentric look. With music icons as the inspiration, this outfit is just the right amount of "extra." Layering an unexpected sheer trench over a classic cut jean and band tee, you are bound to catch all kinds of gazes. Don't be a wallflower. Be a little edgy. That doesn't mean you have to rock killer stilettos to take this outfit over the top. This sneaker trend proves it.
GET THE LOOK: Buffalo "Kellie" denim in Ideal Blue, $89. IC by Connie K Sheer Trench, $198. Lucky Brand Bowie tee, $39.50. Necklace, $22.80. Steve Madden "Braden" sneaker, $43.19. All can be found at Dillard's.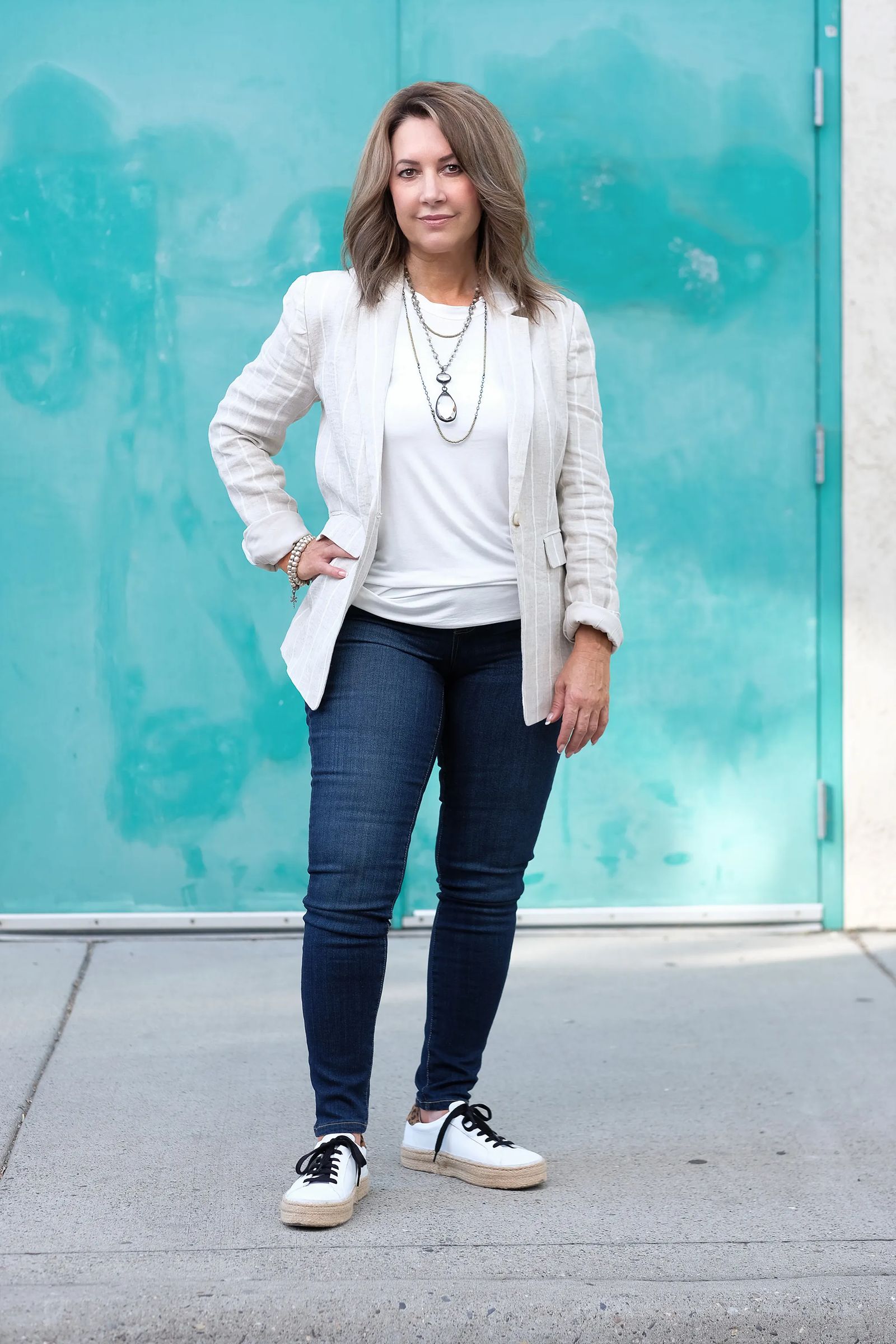 BUSY BOSS LADY
Running hard all day at the office gets exhausting. Put a little pep in your step and find out how much more productive you can be in a fast-paced sneaker. Pair a stylish blazer and non-distressed denim for the perfect bit of fashion appeal. You may even get adventurous and pair your well-cared for white tennies with a flirty, above the knee dress.
GET THE LOOK: Sanctuary Clothing Blazer, $182. POL ivory tee, $39. Liverpool denim, $89. Matisse white sneaker, $129. Lula 'n' lee bracelet, $24. Beaded necklaces, $82 & $59. All can be found at Cricket Clothing.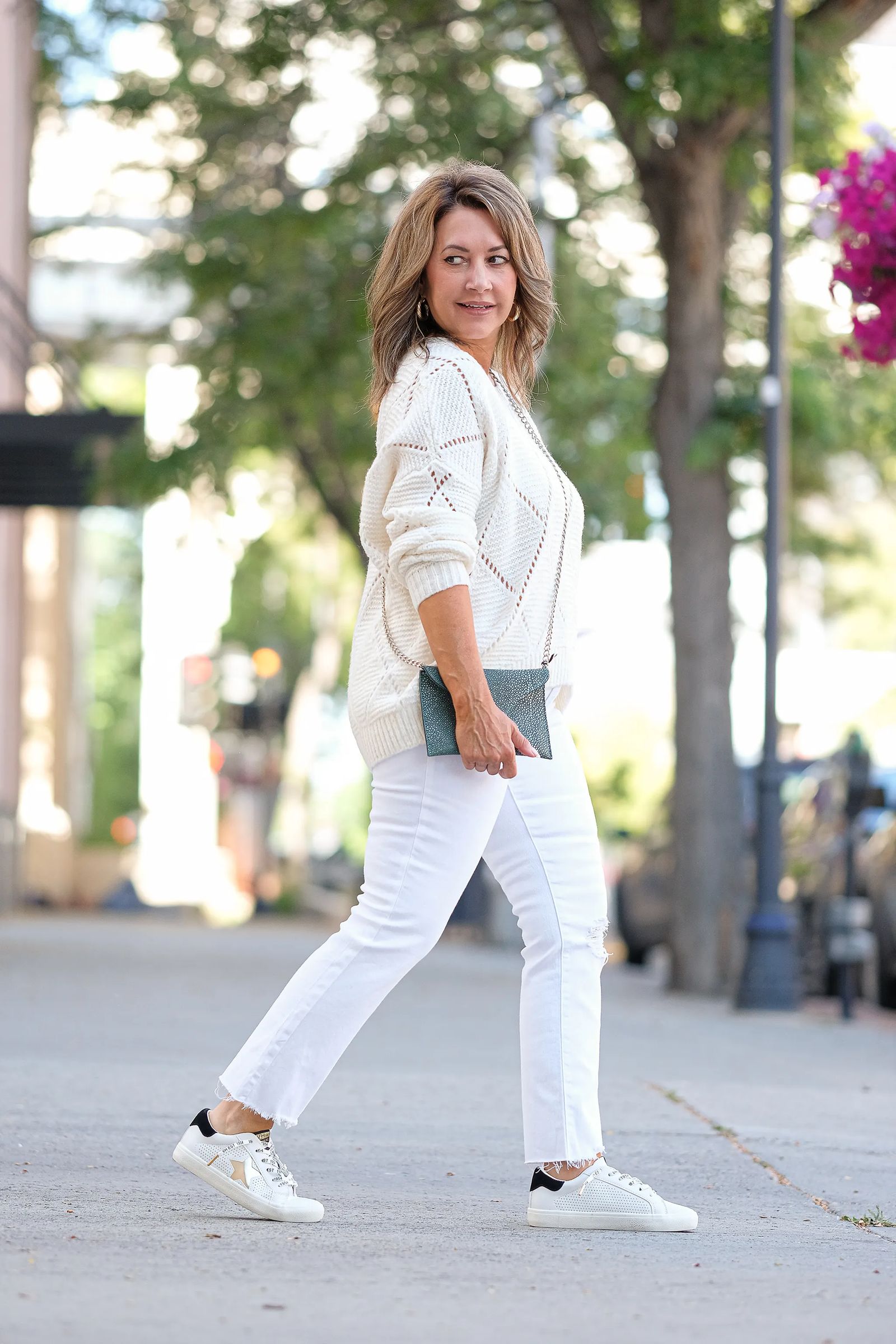 MAKE IT MONOCHROMATIC
If you're still stuck on the "no white after Labor Day" fashion rule, kindly ignore it. White was once considered the color of vacation. Thank goodness that rule has been thrown out the window. Not sure if you want to sport an all-white look? Simply pick a color you love and style it from head to toe, matching your kicks, of course.
GET THE LOOK: Pinch Diamond Knit Sweater, $68. Levi's 724 High Rise Straight Crop, $98. Vintage Havana Gadol Sneaker, $105. Bracha Milan hoop earrings $35. All can be found at Something Chic.