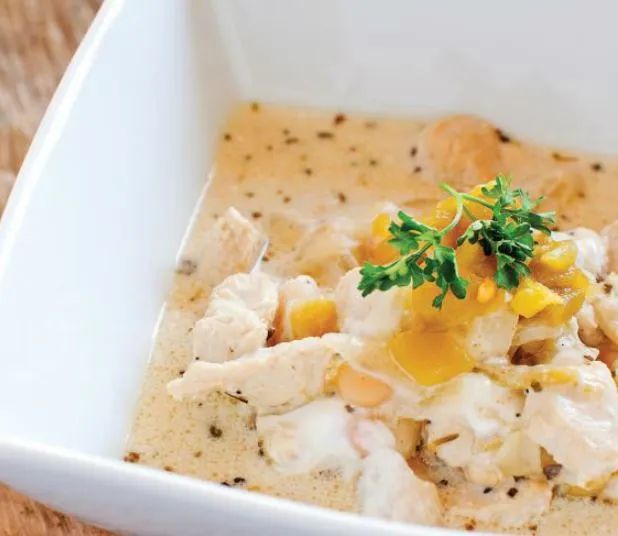 Savory & Quick Chicken Chili
Serve up some goodness in a matter of minutes!
When the temperature dips, our stomachs yearn for hearty comfort food. This recipe for Chicken Chili can be ready to feed a crowd in a little more than a half hour. Modify the amount of green chilies you add to reduce or kick up "the heat" of this delicious dish!
CHICKEN CHILI
Recipe from Amy Hendrickson
1 lb. boneless skinless chicken breast, cut into 1/2 inch cubes
1 medium onion, chopped
1-1/2 t. garlic powder
1 T. vegetable oil
2 cans (15-1/2 oz. each) great northern beans, rinsed and drained
1 can (14-1/2 oz.) chicken broth
2 cans (4 oz. each) chopped green chilies
1 t. salt
1 t. ground cumin
1 t. dried oregano
1/2 t. pepper
1/4 t. cayenne pepper
1 c. (8 oz.) sour cream
1/2 c. heavy whipping cream
Optional, if you feel like kicking up the heat, add 1 can of diced jalapeno.
DIRECTIONS
In a large saucepan, sauté chicken, onion and garlic powder in oil until chicken is no longer pink. Add the beans, broth, chilies and seasonings. Bring to a boil. Reduce heat and simmer uncovered for 30 minutes. Remove from the heat, stir in sour cream and cream. Serve immediately. Serves 7.