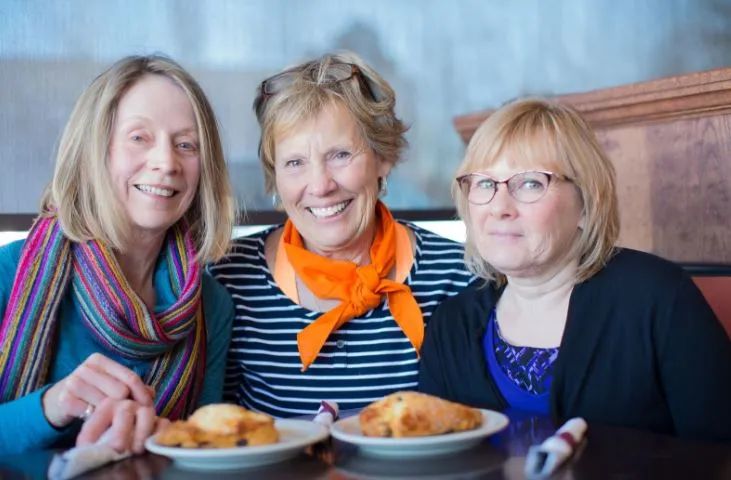 Scouting for Scones
Tastings Team savors deliciously crumbly delights
By Stella Fong, Photography by Daniel Sullivan
The scone conjures images of romance and good manners. A teacup held at the cup's handle with an extended pinkie presents an air of refinement and exquisite taste. The scone has always been one of the mainstays served for British high tea. The American versions that our Tastings Team sampled found a flakier version of the traditional lightly buttered currant speckled dense biscuit. The modest scone served as a platform for clotted cream and jam.
Our Tasting Team reviewed offerings from Harper and Madison, Stella's Kitchen and Bakery, and Grains of Montana. Each place baked their scones in a signature style. While Harper and Madison's scones are crispy on the outside and tender inside with distinguishing flavors, Stella's Kitchen and Bakery makes scones that are consistent in style with their famous cinnamon rolls. Similarly, comfort and good American goodness abound whereas Grains of Montana Bakery honored the more time-tested traditional scone.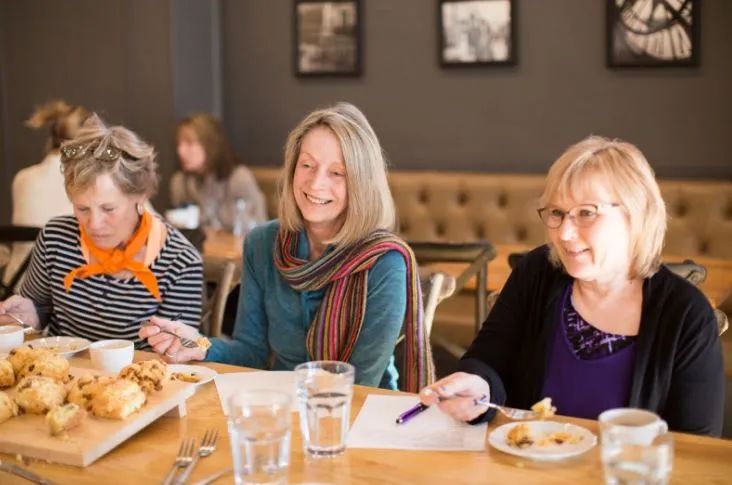 MEET THE TASTINGS TEAM
GINNIE BURGESS: As an independent wine consultant, Burgess enlightens palates with spirited sips.
ANN MILLER: Miller is a homemaker and a member of the Billings Boosters, but our community has also benefited from her involvement with the Alberta Bair Theater, Billings Public Library and so much more.
MARY PEET: Through Peet's volunteer efforts, The Billings Depot, YWCA and other nonprofit organizations in Montana's Trailhead have improved and advanced.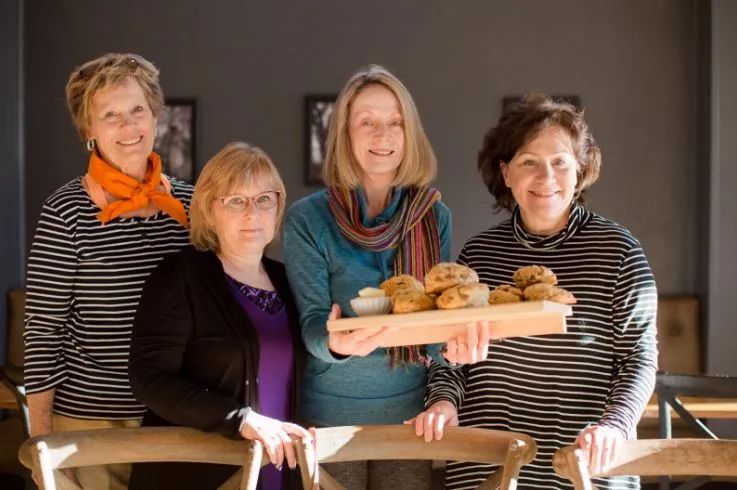 THE TASTING TARGETS
Harper and Madison, owned by Joanie Swords, recently remodeled and reopened to the anxious anticipation of many loyal customers in the fall of last year. The pretty neighborhood gem refashioned their space for more communal dining and musical performances. Nevertheless, perhaps the best improvement was the installation of a stove and hood that were absent before. The Tastings Team began their scouting journey here as the sun beamed through the storefront windows. Their mission was to taste the Cinnamon, Chocolate Almond, and Cranberry Orange Scones.
Next stop was the iconic Stella's Kitchen and Bakery, where both Stella and James "Ziggy" Ziegler greeted the team. In 1980, this downtown establishment relocated to its current location. It continues to serve its signature plate-sized cinnamon rolls today. It's also home to one of the most diverse breakfast menus anywhere. The couple honors not only longevity in their business, but also in their relationship, celebrating 60 years of marriage this year. Today the team sampled the comfort-filled deliciousness of their Peach Caramel and Lemon Blueberry scones.
Across town at Grains of Montana Bakery, the team tasted scones that are more traditional. In the bright airy space on Grand Avenue where diners can cozy up to the fireplace or linger at a booth by the window, you can enjoy pastries, breads and pizzas made from Nielsen Farms wheat. Here the team tasted two scones: Cranberry and Blueberry.
Here in Billings, we have our own version of a scone that should be enjoyed. Go brew a spot of tea and you too can have your own moment of refinement and good taste.

THE TASTINGS TEAM'S OFFERINGS
HARPER & MADISON

CINNAMON SCONE
"I love the appearance – nice and golden brown. The scone is perfectly cooked – nice crunch on the outside and soft on the inside. Nice level of flavor." ~ Ginnie Burgess
"Very tender, browned beautifully, very light and flaky. Just a hint of cinnamon." ~ Ann Miller
"Tender, fresh, delicate flavor, not overpowering. Like Christmas morning." ~ Mary Peet

CHOCOLATE ALMOND SCONE
"So fresh. The outside looks like a cookie and the inside like cake. I like the crunch of the almond 
and the gooey of the chocolate." ~ Ginnie Burgess
"Light, tender with subtle chocolate flavor. Cakelike center." ~ Ann Miller
"Chocolaty flavor. Smacks just right," ~ Mary Peet
CRANBERRY ORANGE SCONE
"I love the cranberry and orange. So perfect together – great balance." ~ Ginnie Burgess
"The orange flavor is so refreshing. Most distinctive in flavor." ~ Ann Miller
"Flavorful. Traditional. Loved the extra crispy exterior. Perfect." ~ Mary Peet

HARPER & MADISON'S BEST BITE: Cranberry Orange Scone – unanimous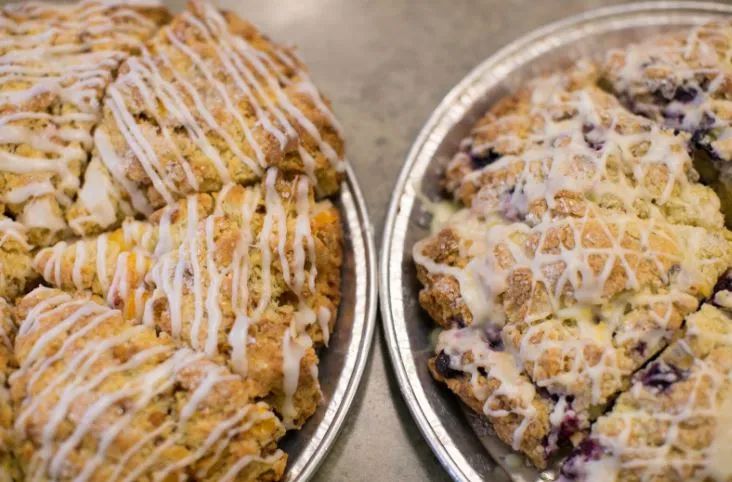 STELLA'S KITCHEN & BAKERY


BLUEBERRY LEMON SCONE
"Blueberries were fresh. Loved the lemon flavor. There was more than enough for me to eat in one sitting." ~ Ginnie Burgess

"Distinctive lemon flavor with a crispy topping." ~ Ann Miller
"Distinct lemon taste – I like the stronger flavor. The scone brings me back to my Aunt Grace's kitchen." ~ Mary Peet

PEACH CARAMEL SCONE
"More coffee cake like. Flavors worked well together with very subtle peach flavor." ~ Ginnie Burgess
"Tasty with a rather subtle peach flavor. This scone feels like comfort food." ~ Ann Miller
"Comfort food – more of a coffee cake." ~ Mary Peet

STELLA'S BEST BITE: Caramel Peach Scone – Ann Miller and Mary Peet; Blueberry Lemon Scone – Ginnie Burgess.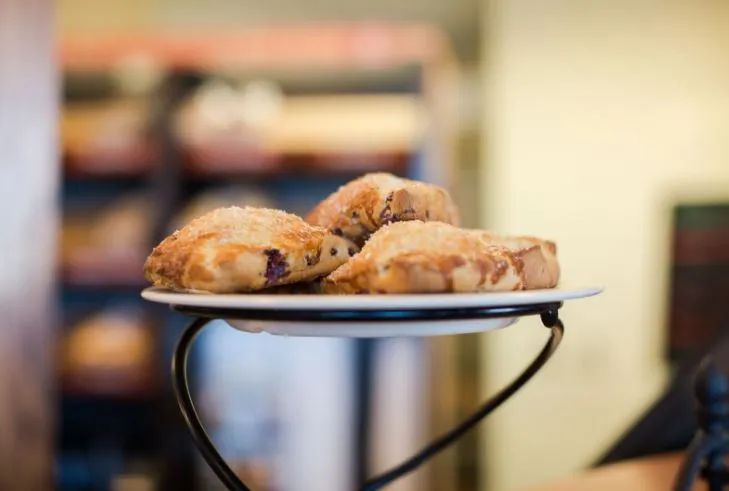 GRAINS OF MONTANA


BLUEBERRY SCONE
"Blueberries are fresh. A very old fashion scone, the kind that takes you back in time." ~ Ginnie Burgess

"Fresh blueberries – just the right size. This is the true scone. Very light and flaky inside, crispy crust, not overly sweet." ~ Ann Miller
"Fresh blueberries with a crispy exterior, tender inside. Great blueberry taste with a light sugar topping." ~ Mary Peet

CRANBERRY SCONE
"Nice and golden brown." ~ Ginnie Burgess

"Just loved it – not too sweet." ~ Ann Miller
"This signature score is crispy and soft. Delicious with a touch of sugar 'coating.'" ~ Mary Peet

GRAINS OF MONTANA'S BEST BITE: Cranberry Scone – Ann Miller and Mary Peet; Blueberry Scone – Ginnie Burgess
TASTING TEAM'S OVERALL  FAVORITE: Cranberry Orange Scone from Harper and Madison
WHERE TO FIND THE TASTINGS TARGETS
Harper and Madison: 3115 10th Avenue North, Billings, MT 59101
ON THE WEB:  harperandmadison.com 
Stella's Kitchen and Bakery: 2525 1st Ave N, Billings, MT 59101
Grains of Montana Bakery: 926 Grand Ave, Billings, MT 59102
ON THE WEB: grainsofmontana.com