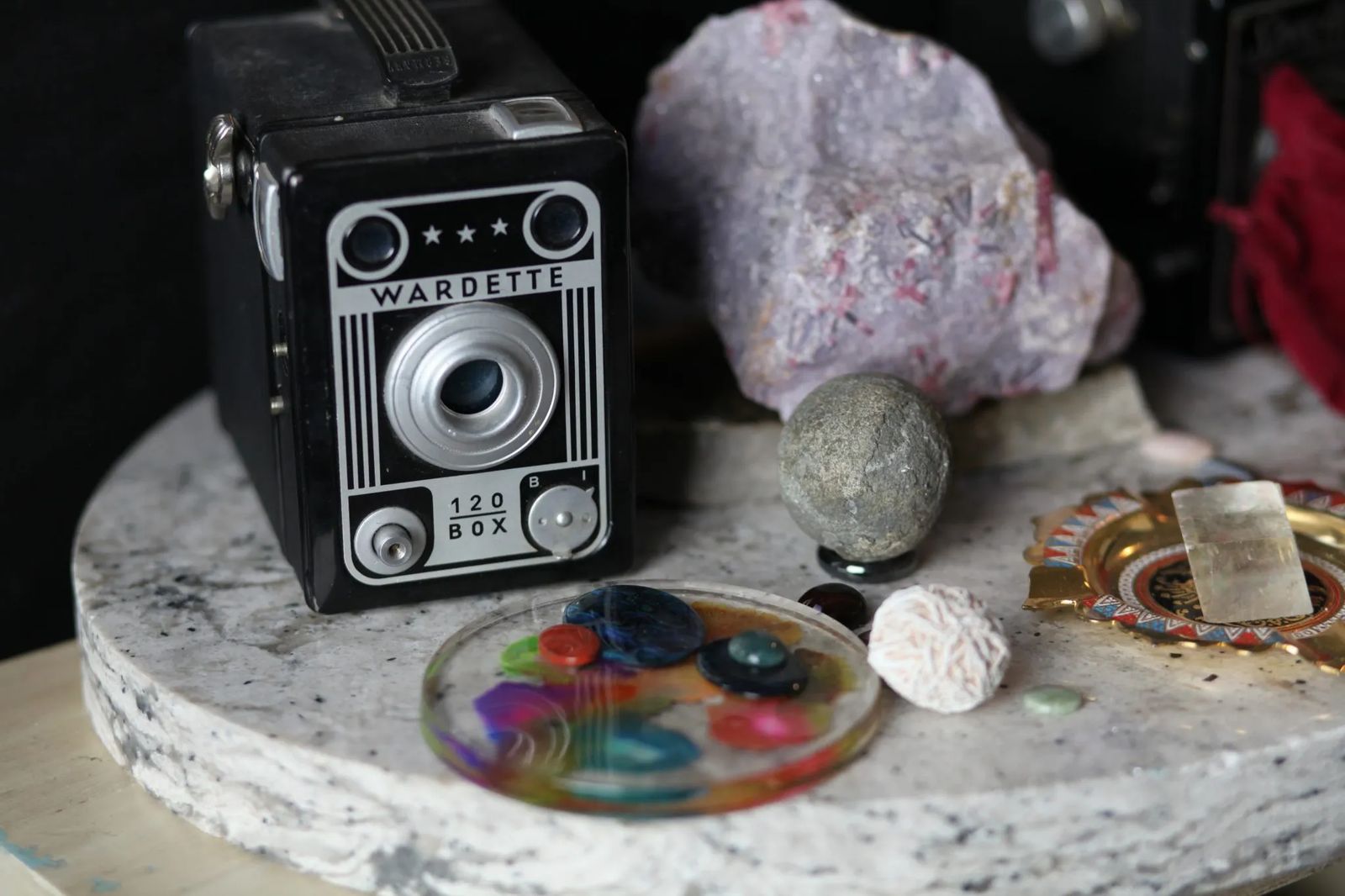 Setting the Stage for Art
Billings Open Studio gives artists a space to create
In a downtown Billings parking lot adjacent to the Babcock Theatre, an accidental conversation is brewing. Gallery owner Zach Terakedis has just run into Ted Kim, the operator of Billings Open Studio (BOS). Kim is just arriving to meet artist and photographer Brooke Moore, who is renting a studio space at BOS. The trio converge and casually drift into conversation.
This is one of the many random moments that can happen in downtown Billings, where you're just as likely to run into artists, gallery owners and creative placemakers as you are bankers and business people.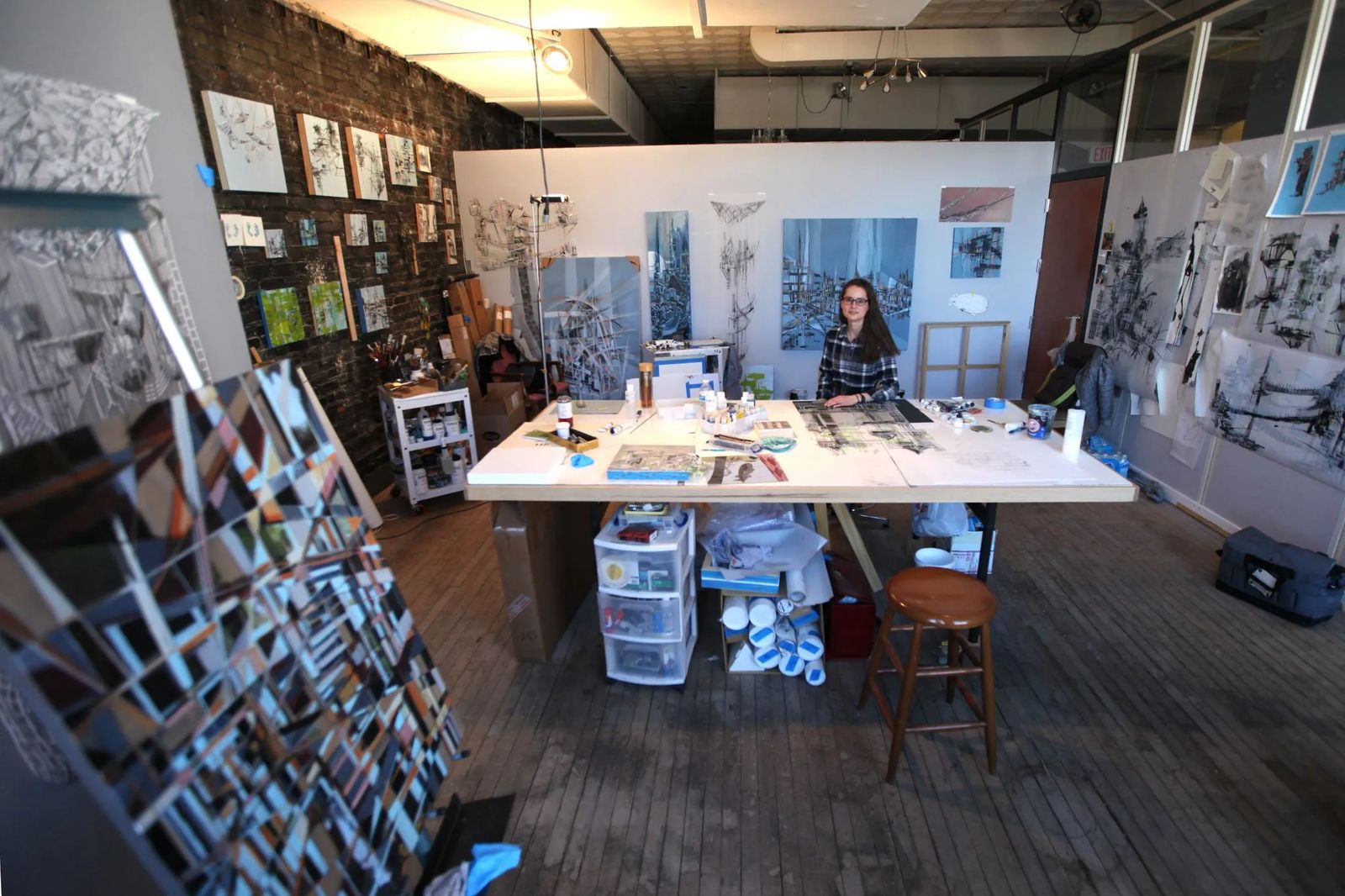 The trio soon disbands, and Kim and Moore head through an unassuming purple door and up the stairs to BOS, located on the third floor of the S.H. Kress & Co. building at 2814 Second Ave. N.
Here you'll find 11 studio spaces subdivided across 6,000 square feet. The 14-foot-high ceilings, unfinished wood floors and painted black brick give the space a raw, creative energy. Behind each studio door is a working space populated by a variety of photographers, artists and business professionals.
Moore enjoys operating her photography and art business out of BOS. "It truly is about community," she says. "There have been so many times that I'll reach out to one of the other tenants to ask, 'How is this looking?' or, 'Do you have this particular supply?' And then there's what happened outside. It's those accidental conversations that get things moving."
BOS became a place for artists quite naturally. It's a beautiful building with giant windows letting in natural light, perfect for painters. Windowless studios on the west are ideal for photographers who like to control their lighting.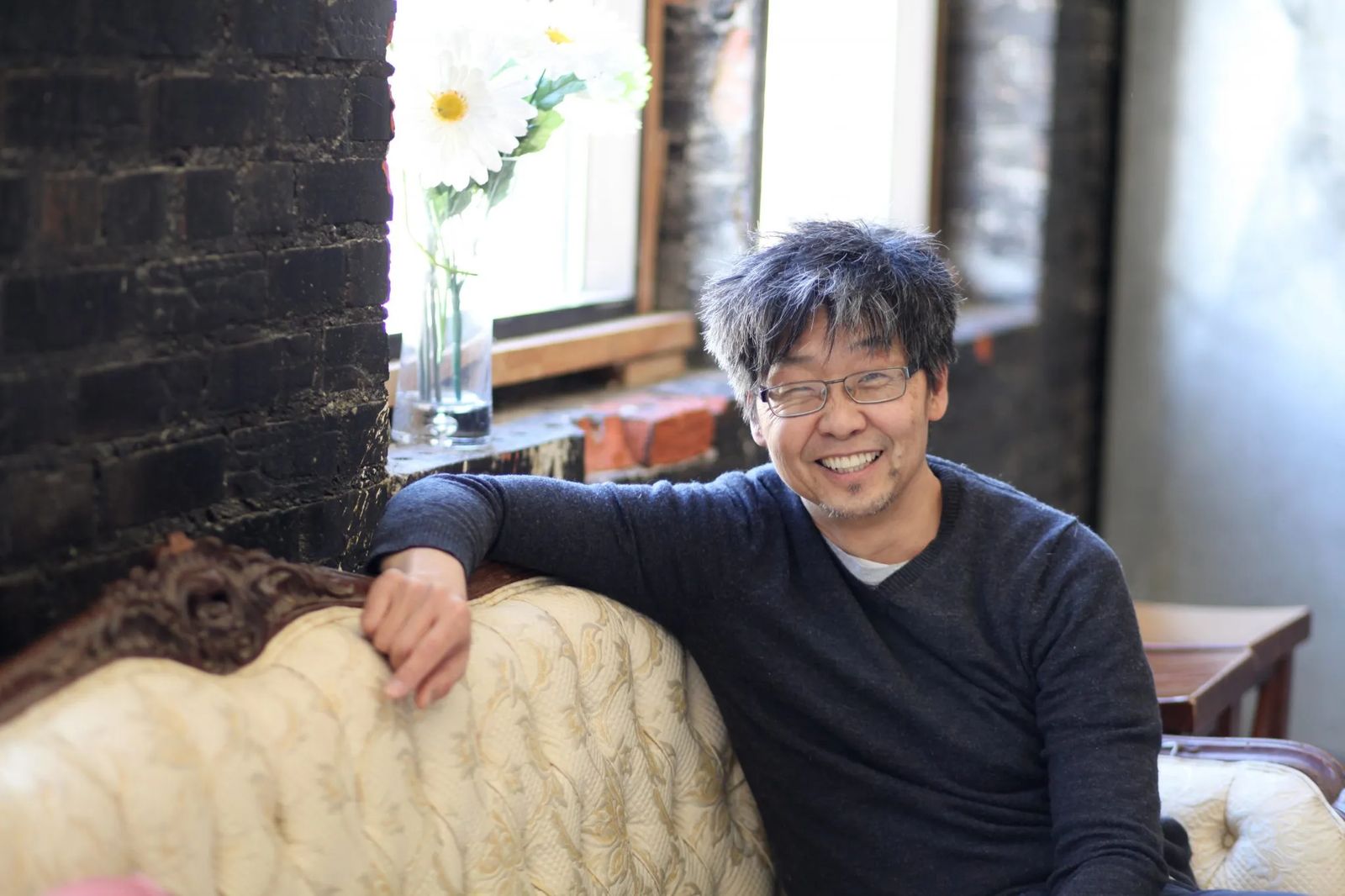 Kim, who has lived and worked as a producer in Los Angeles and New York City, knows that artists attract other artists. "It's very cooperative here in Billings. The artists know each other, and I think they like being around each other."
It's hard to imagine that BOS began as a vacant, cavernous space. Owned by Laverne Royer (who also owns Cricket Clothing Company), the building was built in the 1920s and still bears the name of Samuel Henry Kress, founder of a chain of five-and-dime retail department stores. Over the years, a variety of retail shops have operated on the ground floor, including a couple of clothing boutiques. Gallery Interiors, a home décor and furnishings business, now occupies the first two floors.
The upstairs space sat empty for years, but between these antique brick walls, Kim saw the potential for a multi-purpose community photo studio and art space. BOS opened in 2014 as an open-concept event space and photography studio available for rent, complete with photo backdrops, lighting and support, and classes taught by Kim, who is a photographer himself.
When the space was just an open concept, it was difficult to make the business sustainable. "We needed a steady income because the photography business is very seasonal," Kim says. "So many people would come in here, and say, 'Wouldn't it be great to work here?!' Put two and two together and that made sense."
BOS's open space was reduced, centralizing the photo studio on the building's north end, and room dividers were brought in to create separated working spaces. The walls aren't up to the ceiling, so the space retains its open and airy nature, while also offering separated spaces for individuals to work.
This business model evolved into studio space by demand. "People would come up and say, 'We need a space like this,'" Kim says. He credits Royer, the building's owner, with the continued success of BOS. "She absolutely supports us in this, and we wouldn't have a space without her support."
The sum of BOS is greater than its parts, Kim says. "People gain things from collaborating with other tenants here that you wouldn't get if you were by yourself in a home office."
Arica Lipp who operates her photography business at BOS, has found the community instrumental to her creative evolutions, and she's taken a lot more artistic risks since joining the studio.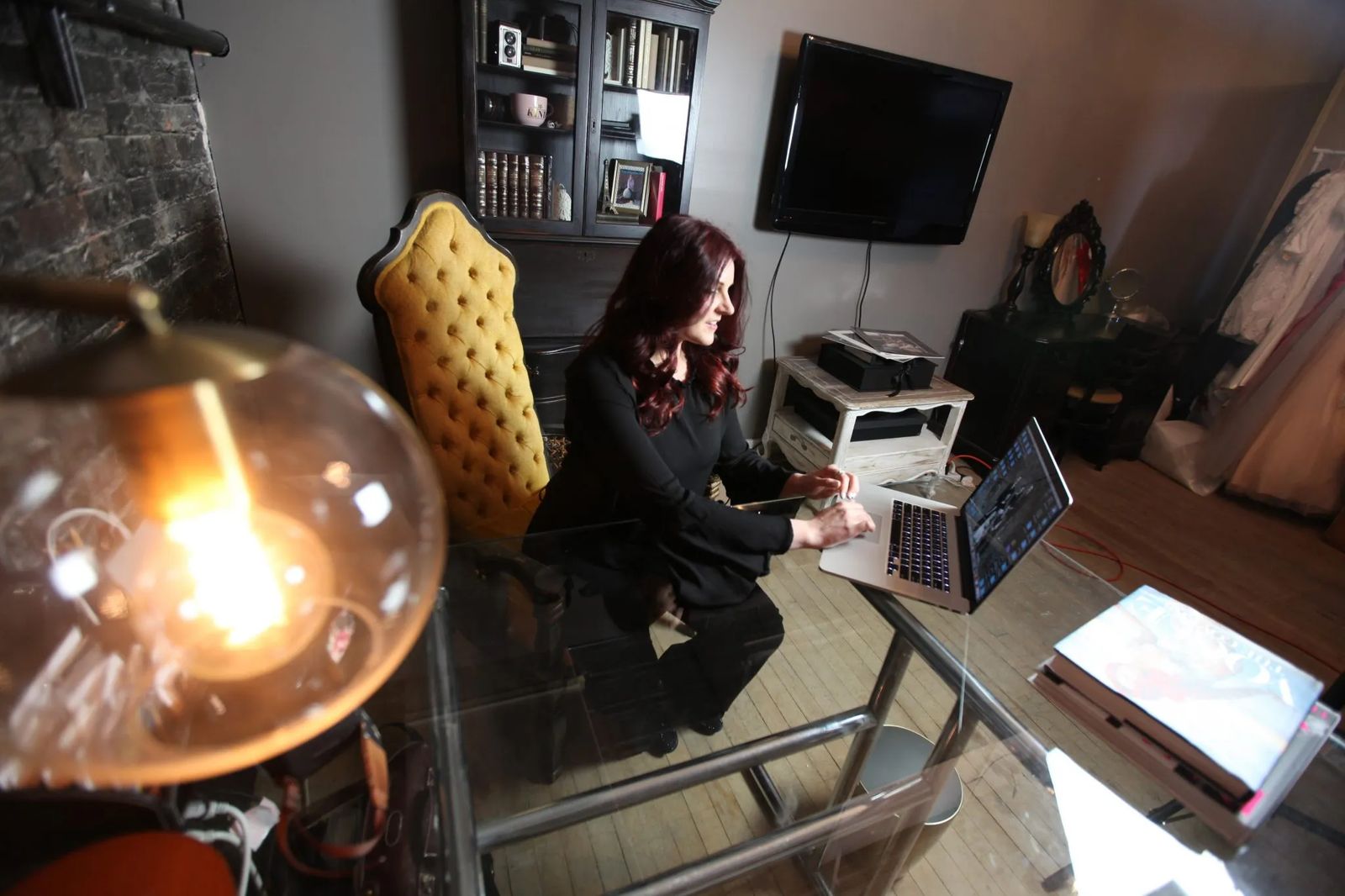 "I get to have my own space where I can feel free to be who I am and true to who I am, and I get to meet these incredible thinkers from different genres of the arts, and that's inspiring to me," Lipp says. "And, getting to use all this equipment would normally cost me a small fortune!"
When Lipp met Kim, he invited her to join the studio. "He saw me as a young and raw photographer, saw the talent I had, and gave me encouragement when I needed it," Lipp says.
It may seem like being surrounded by other photographers would create a sense of competition, but a mentorship community has developed instead. "We are always building each other up and helping each other out," Lipp says. "There is no trying to step on one another to get higher. Photography is a very competitive profession, but within these walls, I don't have that pressure."
It was at BOS that Lipp found the freedom to explore photography techniques that she wasn't able to with her regular clients. She considers BOS to be a safe haven for artistic exploration. "I couldn't do this out of my own home. Everyone around me gets what I'm trying to do here and are supportive. You have to have a space in this community to do this and thrive."
Several fine artists also work out of BOS. Jodi Lightner, artist and assistant professor of art at Montana State University Billings, was one of the first tenants.
"When I moved in, there was a lot of empty space," Lightner says of her studio, situated in the southeast corner of the building, which is now bursting with finished artwork, projects in process, materials and various props and earthy elements.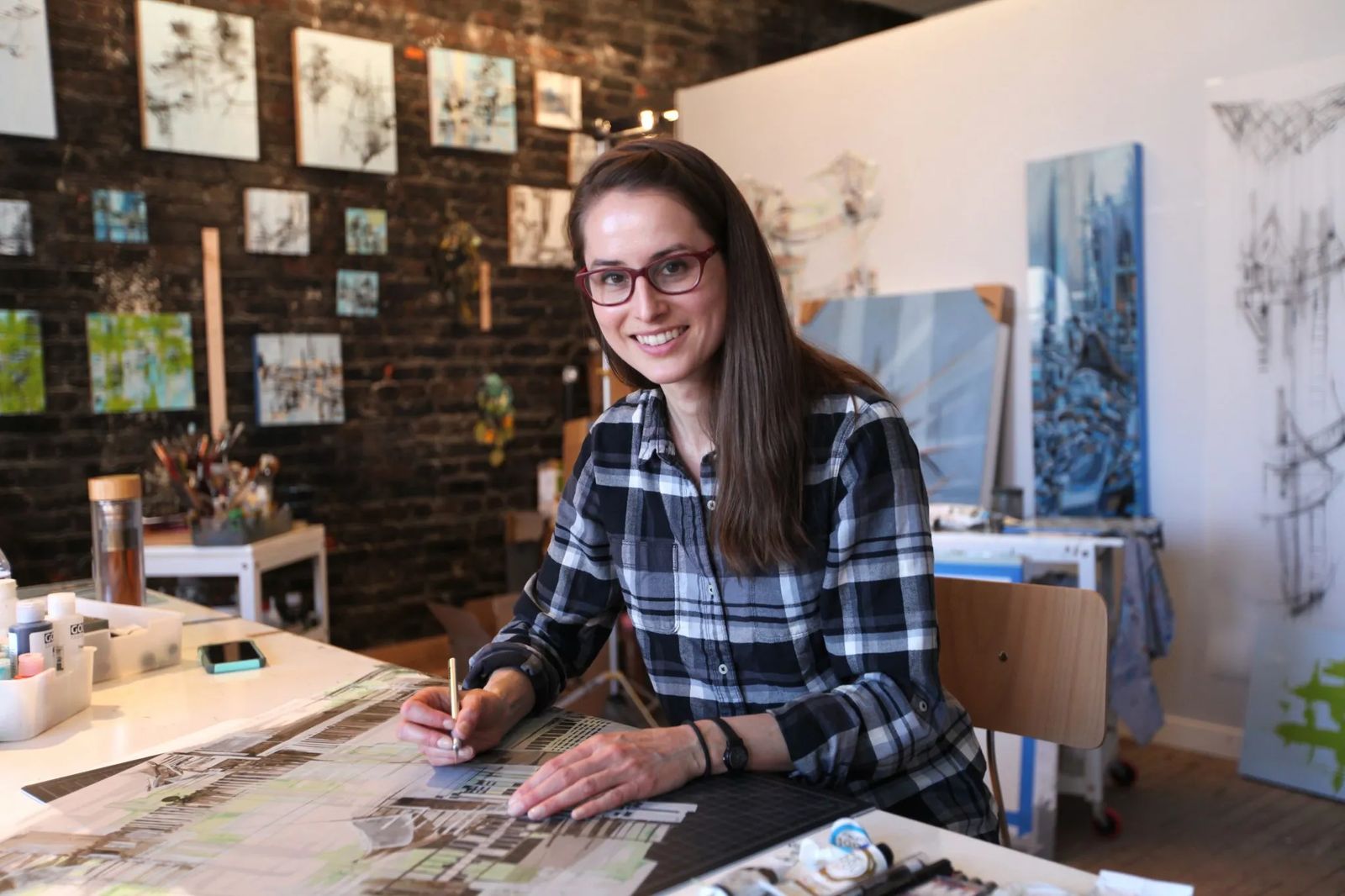 Before BOS, Lightner worked out of her home. "I find myself taking time to play in the studio a lot more then when it was in my house," she says. "I have the freedom to make a mess and leave it out and let it percolate."
Michelle Dyk also maintains her art studio out of BOS, and she finds great value in a space dedicated to creating art and being around other people who are actively doing the same.
"Since I've moved into this space, I've had the opportunity to collaborate with other people, which is something that has been hugely inspiring for me," Dyk says.
Often, Dyk and Kim will team up in the studio. "Things will crop up—random photo shoots, and all of a sudden we are taking pictures of Caleb (a model and friend), whom I just painted gold," Michelle says. These improv sessions have resulted in an Artwalk exhibition featuring Kim's photography of human subjects that Dyk painted and posed with objects representing their vision of the future.
"I've always worked at kitchen tables, always been in my home, and you get distracted in your home," Dyk says. "I can still get distracted here! But having all materials in one place makes it a lot easier. This place is dedicated to art. When I come here, this is a space that I can have everything close at hand."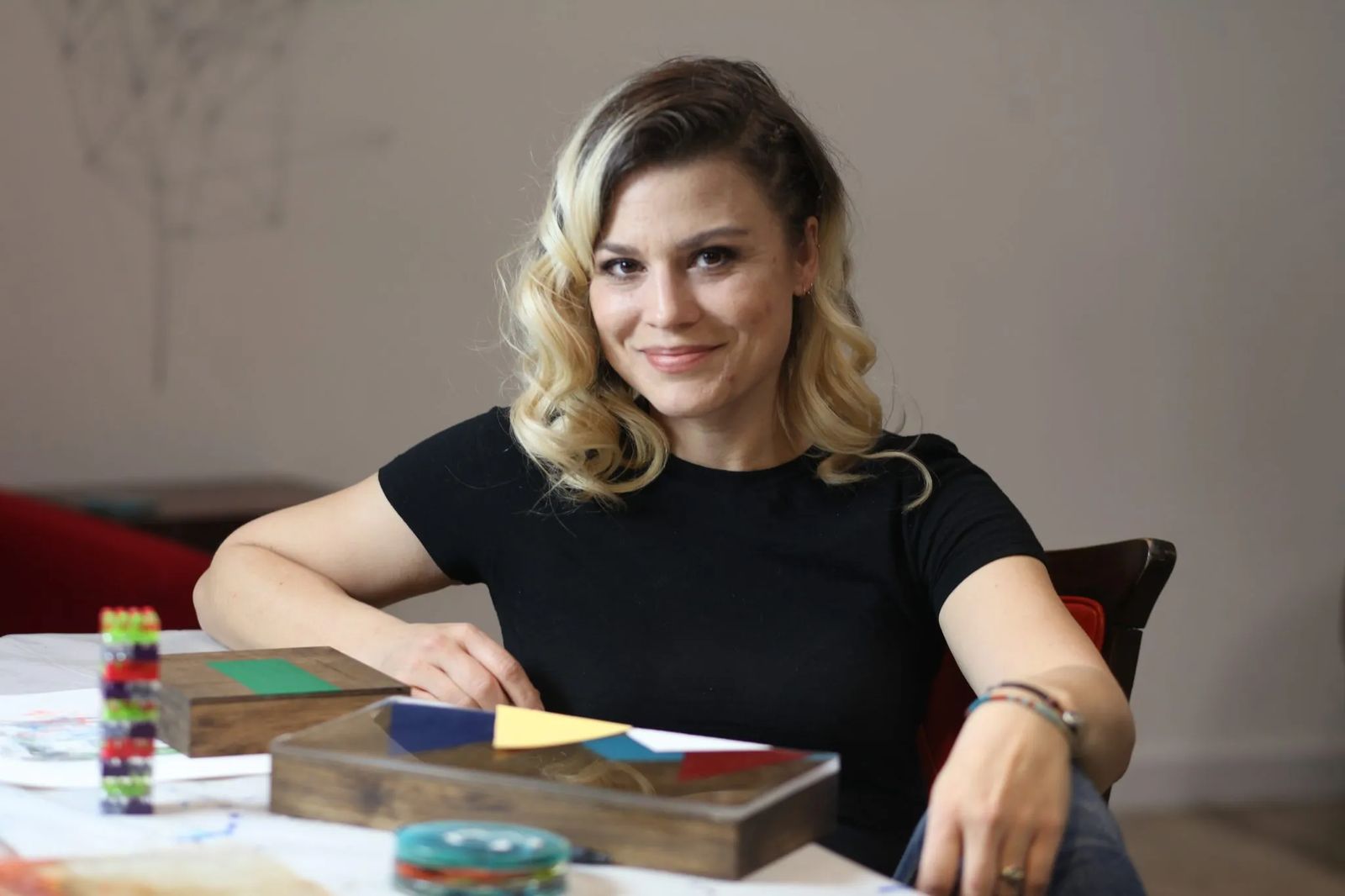 "It's been my equivalent of a man cave," says Moore. "I'm still new in the art community, and I'm finding my way around, and I'm learning about everything."
Having a dedicated space for creation, Moore has discovered she's a "process artist."
"I don't see myself ever sticking to one thing. It's the process that I find fulfilling." She loves to get her hands dirty and create. "I may start with an idea, but what's in your head doesn't necessarily translate to your hands. The collaboration of the two is really what becomes fun and interesting and intriguing."
For Kim, seeing such a diversity of artists and creators culminating in downtown is hopeful. "It's the young people that are driving the change here," Kim says. "They are the ones who are starting their lives and creating downtown with a new vision based around collaboration, art and energy."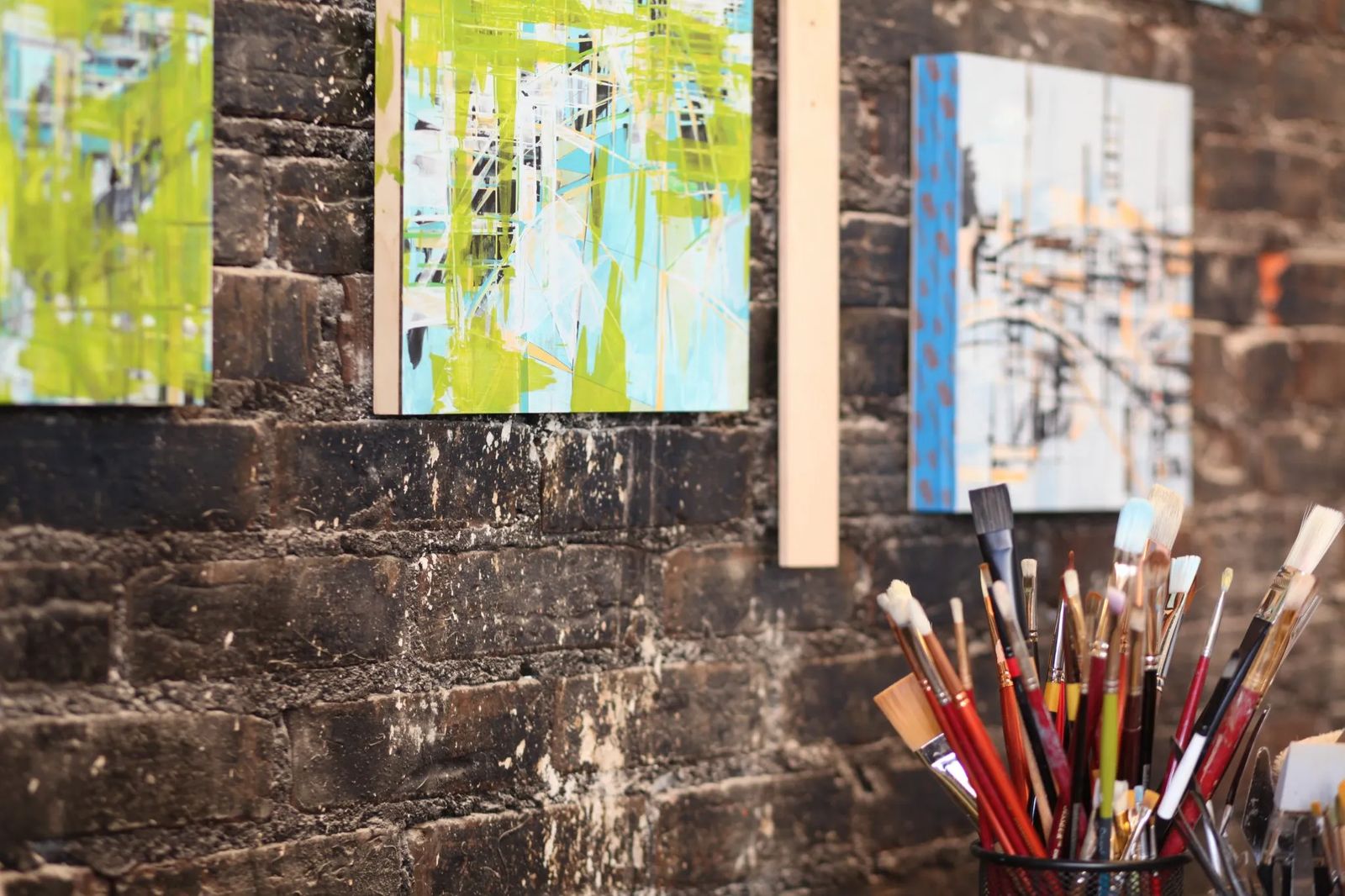 Even though he's twice the age of many of his studio residents, Kim finds they are dealing with the same things. "We're trying to do art—often socially conscious art—and hopefully have it change the world for the better."