Small town has a big heart for veterans 
Nearly 500 local veterans honored in roadside display in Roberts
There's something to behold in little Roberts, Montana. Twice a year, around Memorial Day and Veterans Day, hundreds of white crosses line the highway. American flags wave above the names of deceased local veterans printed on each marker, a solemn tribute to those who gave all. Flanking the line of crosses are dog tag-shaped plaques with the names of living veterans and active-duty servicemembers.
Roberts was home to military servicemen and women who have served in every conflict going all the way back to the Civil War. Three crosses bear the names of Civil War soldiers, including a young man who enlisted at 14 as a drummer boy. Another 43 served in World War I, and 170 served in World War II. More than 50 served in Korea and Vietnam and many more served in the Gulf War, Iraq and Afghanistan. Of those memorialized in Roberts, five were killed in action, four were prisoners of war, seven earned Purple Hearts, and another seven received Bronze Stars.
That's a remarkable contribution of bravery and service from a town of about 350 people.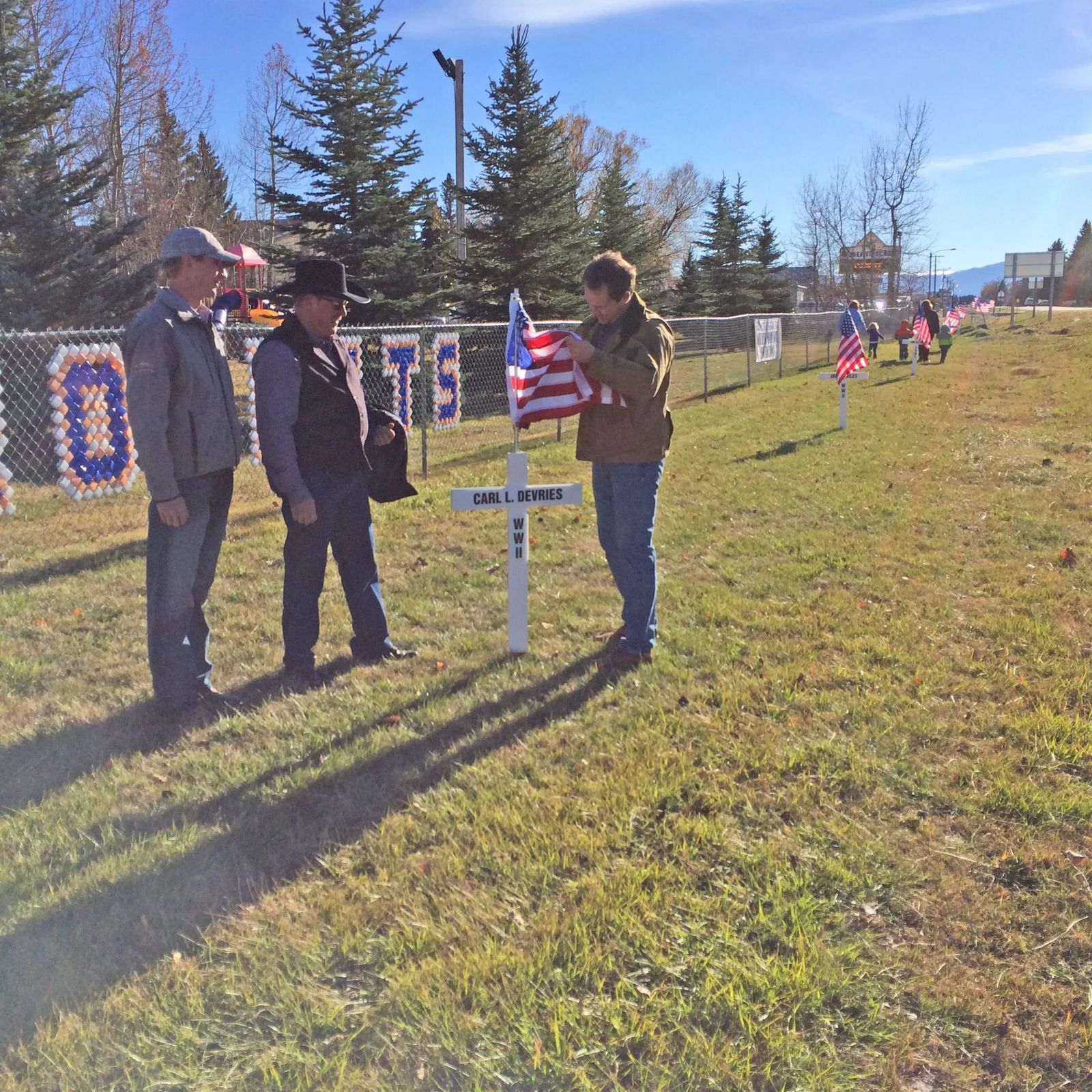 A grassroots project
Four years ago, community leaders in Roberts were looking for something that would help bring residents together. While many locals suggested picnics and potlucks, Kyle McKinney offered up the idea of honoring veterans with crosses along the highway, something she remembered from a small town on the outskirts of Atlanta, near where she once lived.
"When I first started, I anticipated 30-40 veterans from Roberts — total," McKinney says.
That first year, there were around 100 crosses for veterans who lived in Roberts. However, as veterans have come forward and family members have reported their loved ones' service, that number has grown to almost 500 crosses and dog tag plaques, which will be displayed this Memorial Day.
From the start, the effort has drawn the community together. Young and old turned out to help build and paint the crosses and dog tags, and every year, there are plenty of hands to help place them alongside the highway. The Roberts Community Foundation purchased two enclosed trailers for storage, and the local quilters guild sewed covers for each cross and plaque so they wouldn't be damaged during storage and transportation.
"There's been a lot of work on this project," McKinney says. "We have senior citizens, children and residents from throughout the county come together to do this."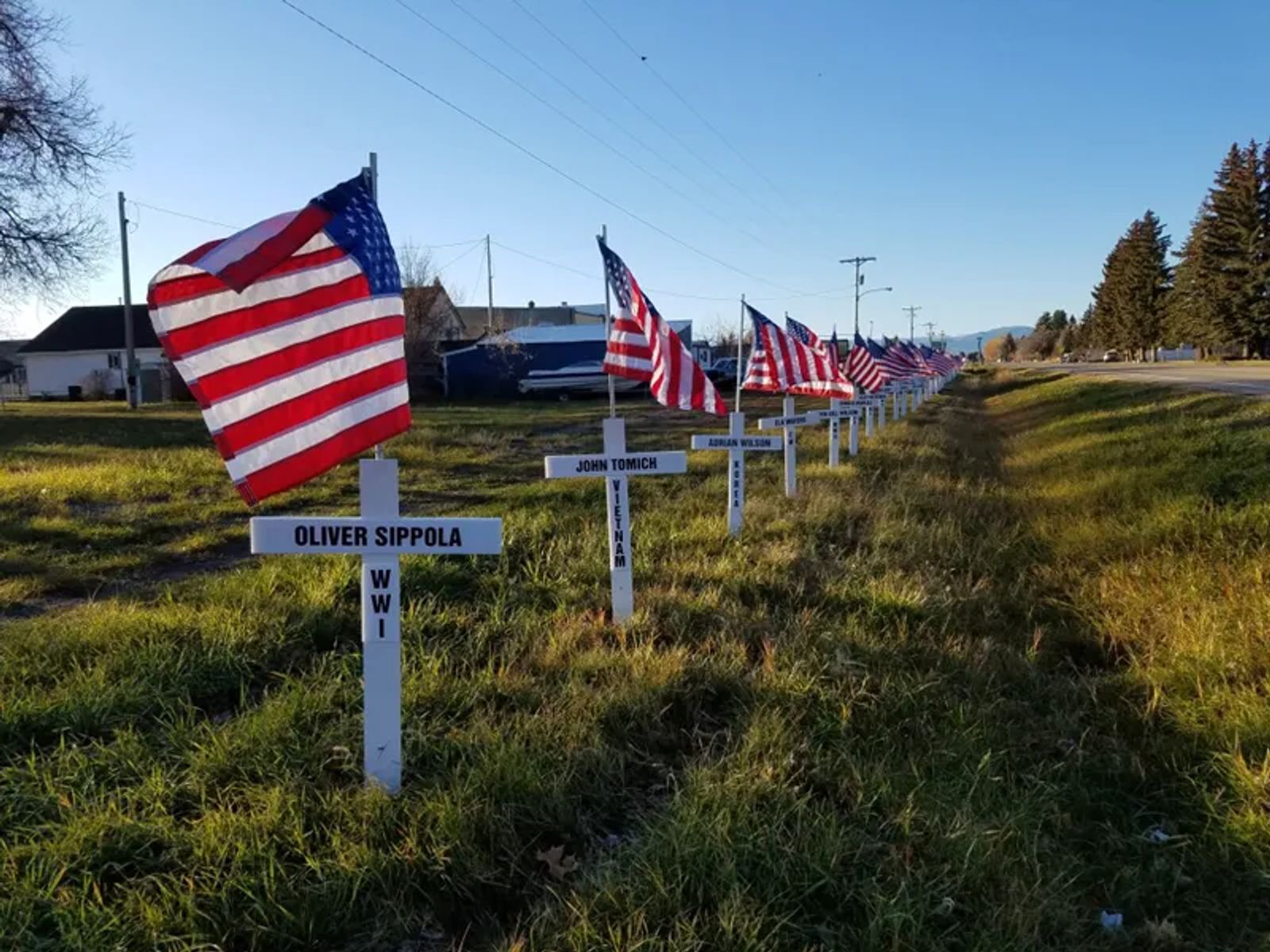 Mary Allen, a retired Roberts educator, helped to write the Roberts community history book and has had a hand in the project from the beginning. When it's time to put the crosses and dog tags up, it's a family affair as her children and grandchildren help to set her husband's cross. He served in the Army during peacetime in the Vietnam era, and Allen's brother-in-law and a nephew also served and are included in the honor project.
"For us, it's a special time for remembering," Allen says. "It's important to our whole family."
Perhaps one of the most important things that has happened as a result of the project is that it has brought together veterans within the community.
"They're finally being fully recognized for their service," says Stephen Keebler, a retired native of Roberts who returned several years ago.
Many veterans turn out to help set up the displays and pay tribute to their fellow servicemen and women. In a way, it's given them permission to share their stories.
"It's been good to talk to veterans, especially Vietnam-era veterans that didn't want to talk about their service," says Keebler. "It's heartwarming to hear them share their stories."
McKinney was inspired by the loyal support show by her late husband, John McKinney, for all branches of the military, and her son's service in the Marines. Her son has his own dog tag plaque. However, since he never lived in Roberts, it can't be displayed with the rest, so McKinney displays it with an American flag down by her mailbox.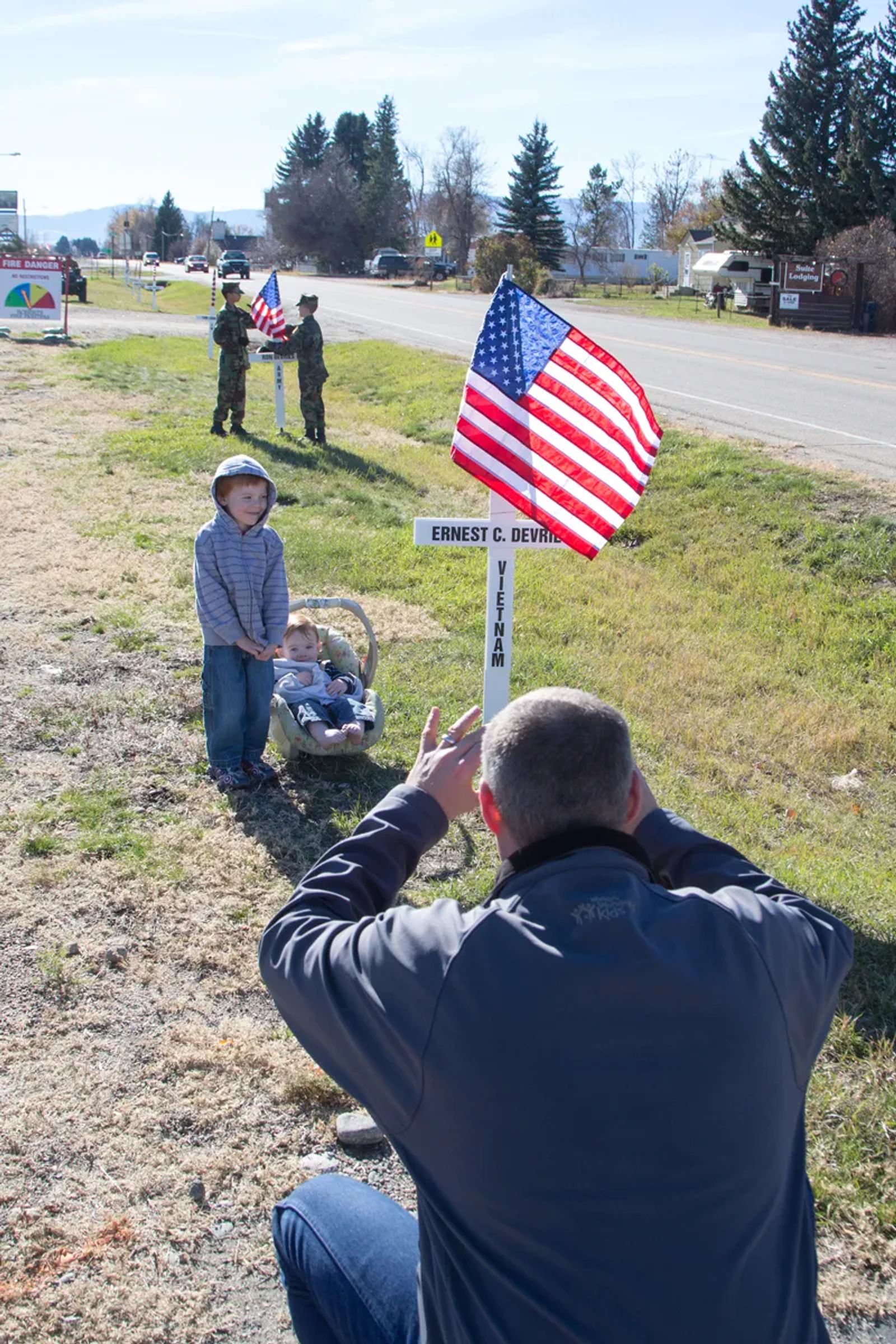 Community pride is spreading
Last year, the neighboring communities of Joliet and Red Lodge — north and south of Roberts on Highway 212 — launched their own veterans honor projects. Those communities have each installed more than 100 crosses, with more to come as veterans are identified. The communities of Belfry and Fromberg, also in Carbon County, have also expressed interest in veterans honor projects.
"This has gotten huge, with so many hands in this project, to see the life this has taken on has been awesome," McKinney says. "Look what small-town America has done!"
Montana politicians and dignitaries have recognized the project. Although Montana Sen. Steve Daines has yet to visit Roberts during Memorial Day or Veterans Day, he read the project into the Congressional Record in 2017. The official record is kept at the school. Montana Gov. Steve Bullock and Montana Adjutant General Matthew Quinn have both visited Roberts to see the memorial.
Perhaps the visitors who are touched the most by the display are the family members of those whose names are on the crosses. Many no longer live in Roberts but come to see the roadside memorial at least once a year. Some make it a point to come and help install the crosses and dog tags.
"To put forth something like this is my little way to say thank you, and the community is behind this and they are saying thank you too," McKinney says.
CARBON COUNTY USA 2019
A Salute to Our Veterans
On May 25, the community of Roberts will host a USO Bob Hope tribute show in conjunction with the veterans' honor display. The all-ages variety show will include a historic Bob Hope impersonator as well as local talent, performing music and dance numbers from throughout the USO era, which spanned from World War II through the Gulf War.
Performers include the impersonators of the Andrews Sisters, Phyllis Diller, Mae West, and Bobby Darin as well as several barbershop groups, the Carbon County Honor Band, and Roy Buzzard and the Bones, playing oldies. The setting for the show is a vintage MASH unit, with an installation of historic military vehicles.  A vintage airplane flyover is also planned.
Pre-show events, including a Missing Man Table Ceremony, start at 12:30 p.m. with the Bob Hope USO performance scheduled to start at 2 p.m. Food and drinks will be available from several vendors throughout the day. The event is free, but donations will be accepted to support local veterans' causes.
The show was made possible through numerous fundraisers, including a live and silent auction, held earlier this spring.
For details, go to the Facebook page: Carbon County USA 2019, or call 406-445-9111