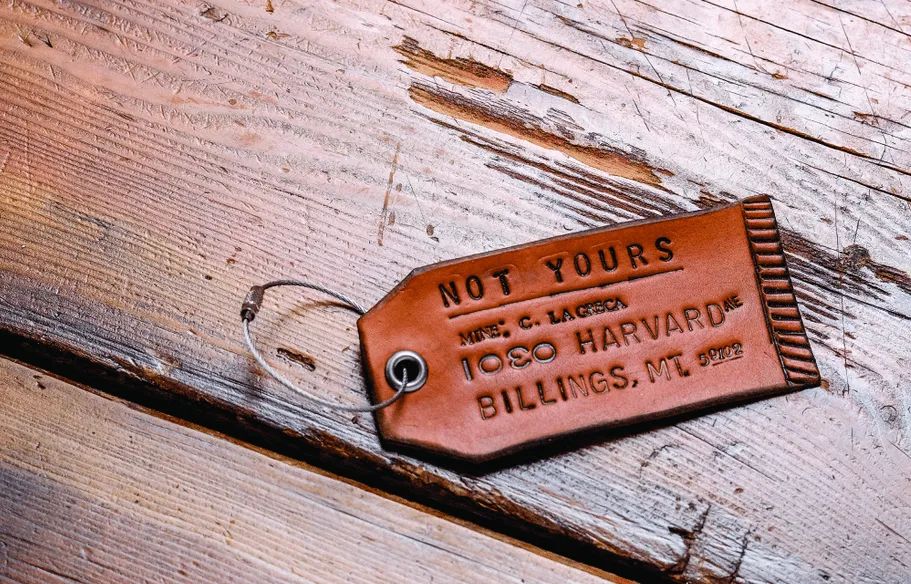 Tag, You're It!
Make your own leather-tooled luggage tag
Come fall, families from far and wide will start planning that getaway for the holidays. Maybe they'll voyage over the river and through the woods to grandma's house. Or, maybe they'll be sun seekers, trying to escape winter's grasp with a trip to a warm destination. If you're taking to the friendly skies, instead of watching the 23rd black suitcase roll by wondering if it is indeed yours, why not make your mark on your travel gear? How about adorning it with this hand-crafted, leather tooled luggage tag that is truly one of a kind? It's just one of the studio projects you can make yourself at Billings' own Better to Gather studio.
"I wanted something that would be fun for dads and kids to do together," says Better To Gather owner Cassie LaGreca. "I look at these luggage tags and I think BOND, Dad Bond! They are rugged, efficient and cool." We couldn't agree more!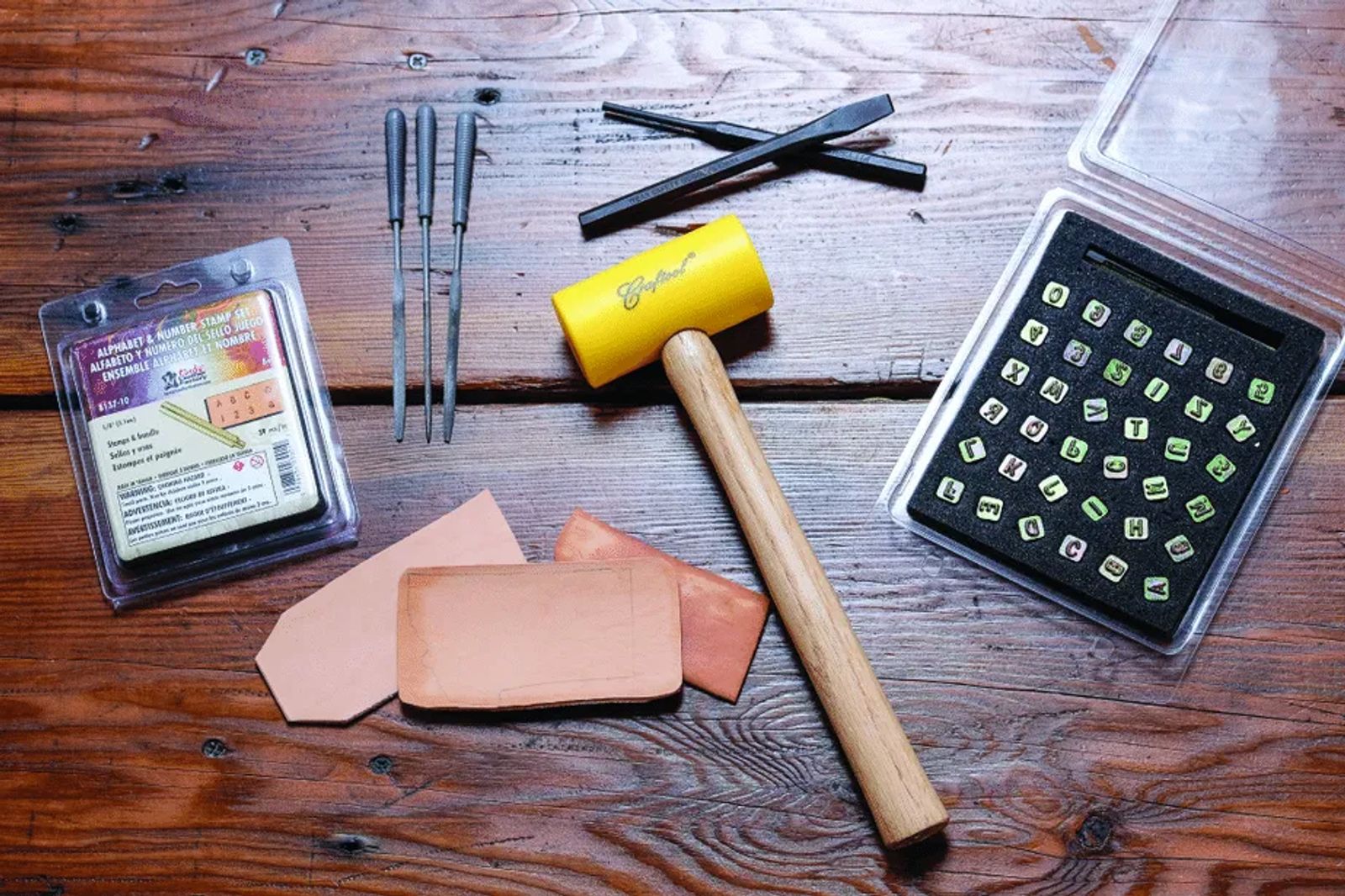 WHAT YOU WILL NEED

A Rubber Mallet
Set of letter and number punches to work with leather
Piece of raw leather
Files
Chisel or design tools
Wooden or stone cutting board
Pencil
Choice of leather stain (We used High-Lite stain by Eco Flo)
Rubber gloves
Cut up kitchen sponges
Cloth rag
Pair of good fabric scissors
Leather punch to punch a hole in your tag
CREATING YOUR TRAVEL BAG TAG
1. Start by tracing a shape for your tag onto the leather and cutting it out with your fabric scissors. After you've cut the shape, dunk the leather into a bowl of warm water and set it aside until it's only mildly damp. The soaked leather will make leather tooling so much easier.
2. Lay your leather piece on a hard surface like a wood cutting board or piece of granite and start punching your design into the damp leather using your leather working tools and rubber mallet.

3.  When your design is complete, punch a hole at the top. We used a 1/4" hole punch. You could also use a revolving punch, which you can find at Harbor Freight.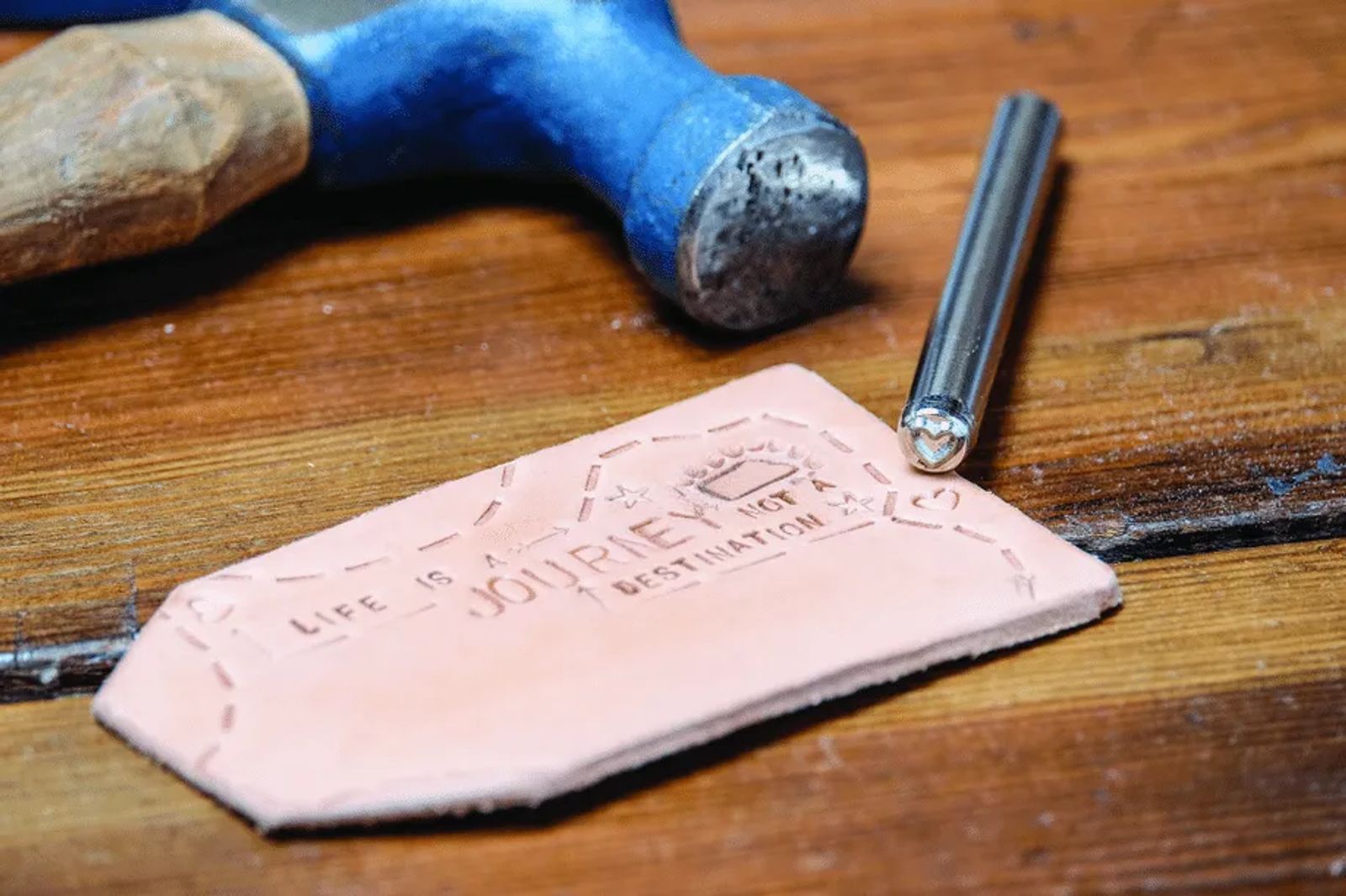 4. Once the leather piece has dried to the touch, you can begin staining. Two stains were used for this project to add a little bit of contrast. An all over, even coat of Eco Flo stain in Briar Brown was applied with a slightly damp sponge. The longer you leave the stain on, the darker it will appear. We left the stain on for 30 seconds before wiping off the excess with an old rag. You'll want to make sure the stain doesn't puddle on the surface. To add a bit of intense contrast, take a fine paint brush and Smoke Black Eco Flo stain and apply this darker color into the contours of the punched design. From here, buff the entire piece with a soft clean rag and wait about an hour before sealing the leather. We used Eco Flo Water Based Super Shene Leather Finish to protect the stained tag from water marks and spills.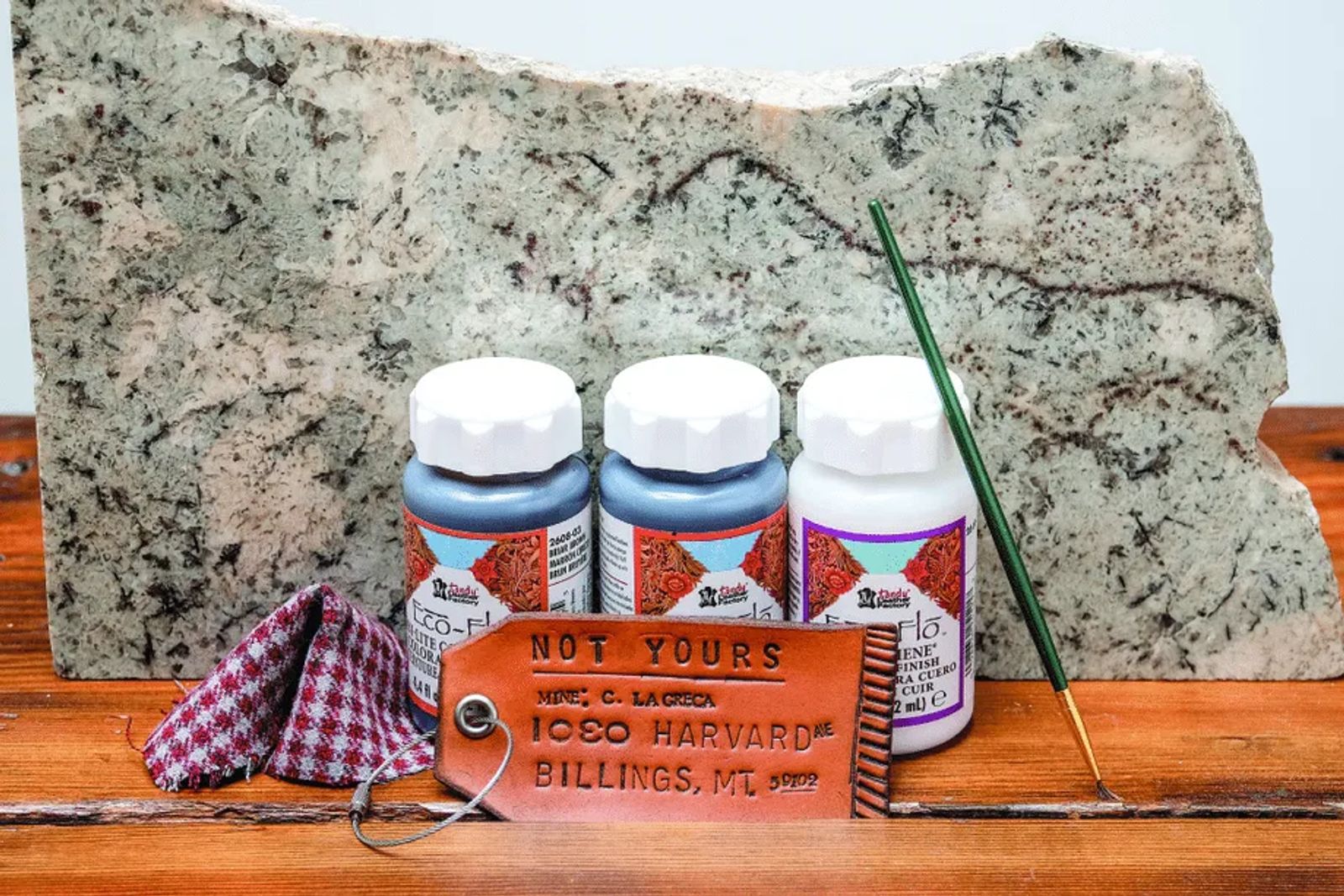 5. For the final touch, choose some hardware. We picked some trendy airline cable with a gunmetal grommet. You could also use leather cording. Simply attach your DIY tag to your suitcase and you're ready for your next big adventure.
NEED A LITTLE HELP CREATING?
Join Better To Gather for their Make & Take Project during their open studio hours every Tuesday, Wednesday or Thursday from 3 to 7 PM. Project cost is $16 per travel bag tag. It's the perfect project for your adventurous self and a great way to learn a little bit about leather working too. Better To Gather is located at 2402 Montana Avenue.  Visit bettertogather.com for more on other classes being offered in their studio.