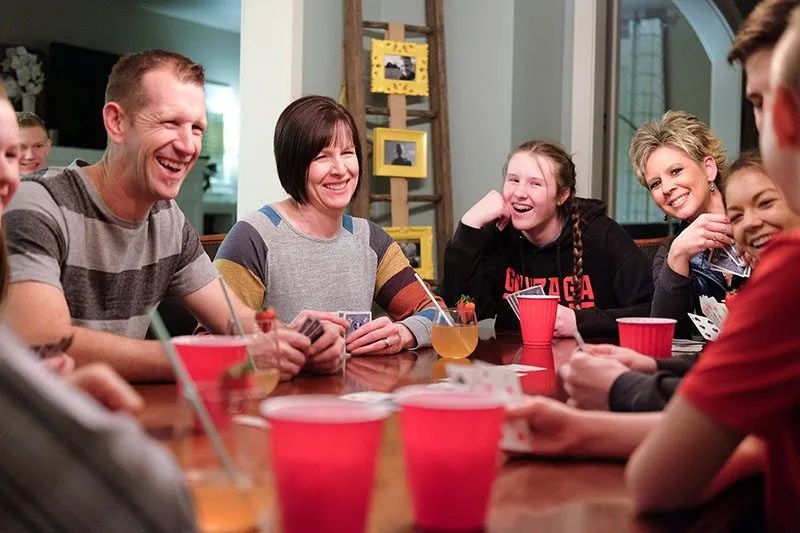 The Art of Family Game Night
Family, Friends & No Cell Phones
By Stella Fong, Photography by Daniel Sullivan
On a cold, snowy night inside a house on Front Street in Josephine Crossing, two families warmed with laughter talk without cell phones. With fun-filled card and board games, the Bentz and Pierce families come together for camaraderie and fun. With food inspirations from Cynthia Nim's cookbook, Gourmet Game Night, the evening focused on nurturing kinship and appetites the old fashion way — sans technology.
Jeni Bentz, who grew up in Grand Forks, North Dakota, says, "I started playing card games when I was a child. My Grandma was a big card game player." Bentz has fond memories of Spite and Malice, Rummy, and Hand and Foot.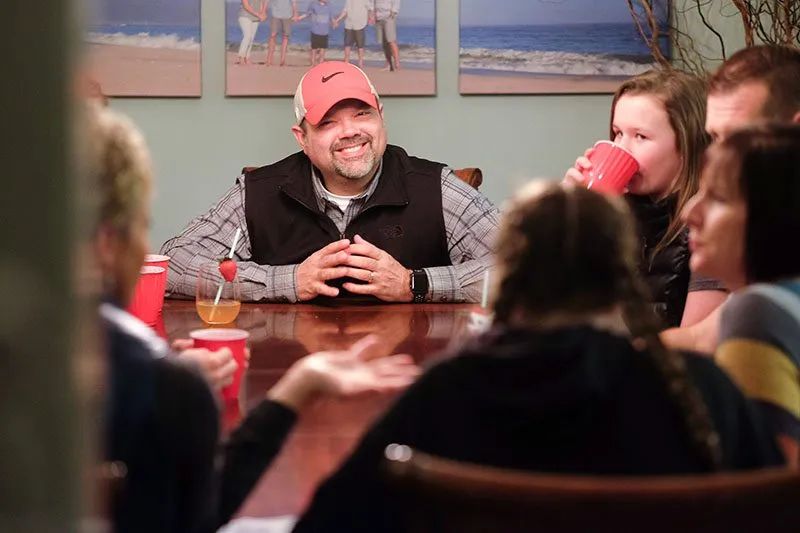 When Jeni started dating her husband Gordy, he knew he'd joined a game-playing family. "I just went with the flow. I grew up playing Monopoly," he says. He was no stranger to people gathering to strategize and banter.
For Rich Pierce, as an only child growing up in Joliet, he played card games such as Crazy Eights and Go Fish and Tri-Ominos with family. These days, Shelley and Rich are a family of four. When schedules permit, Shelley and Rich make it a point to play Pinochle, a trick-taking card game, and Yahtzee, the classic Milton Bradley dice rolling game with their kids.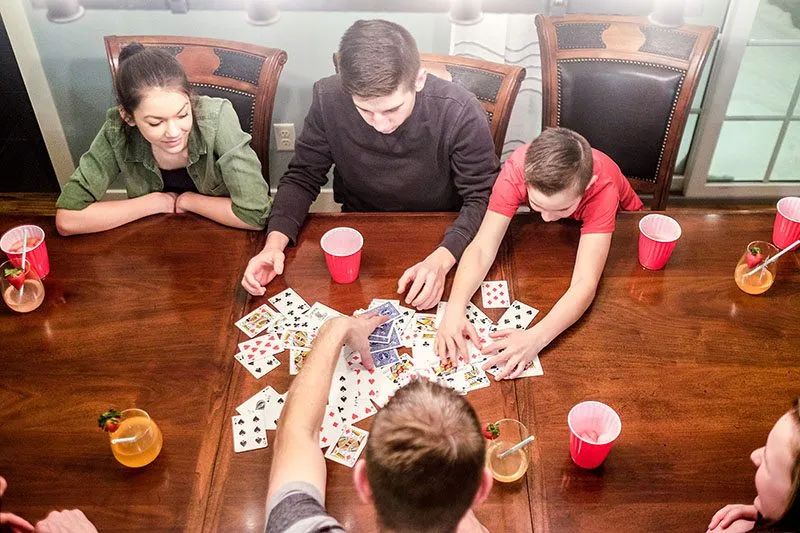 "We love, love Pinochle," Shelley says, "It is a dying card game. Not many people know how to play it because it is harder. Only three sets of our friends know how to play the card game." She continues, "The best part of playing games is being together, talking with my children."
"It is good to have them off their devices," Rich adds as Gordy states the rules, "Everyone put your phone away. Just enjoy each other." Jeni chimes in, saying, "It is just fun to be together and laugh."
You could say Jeni and Gordy's relationship was built on a bit of game-time fun. When the couple was dating, a night at Rock Creek Resort spent eating and playing games took a life-altering turn when Gordy set up Rummikub, a tile game. When Jeni finally settled into her place, the tiles in front of her spelled out, 'JENIFER LEE OURADNIK WILL YOU MARRY ME.'  Gordy then got on his knees and proposed. Little did Jeni know, Gordy had some of the tiles specially engraved to help pop the question. "He had me spoofed with this creative proposal," Jeni says. More than 18 years later, game playing has a different kind of meaning for this now family of five.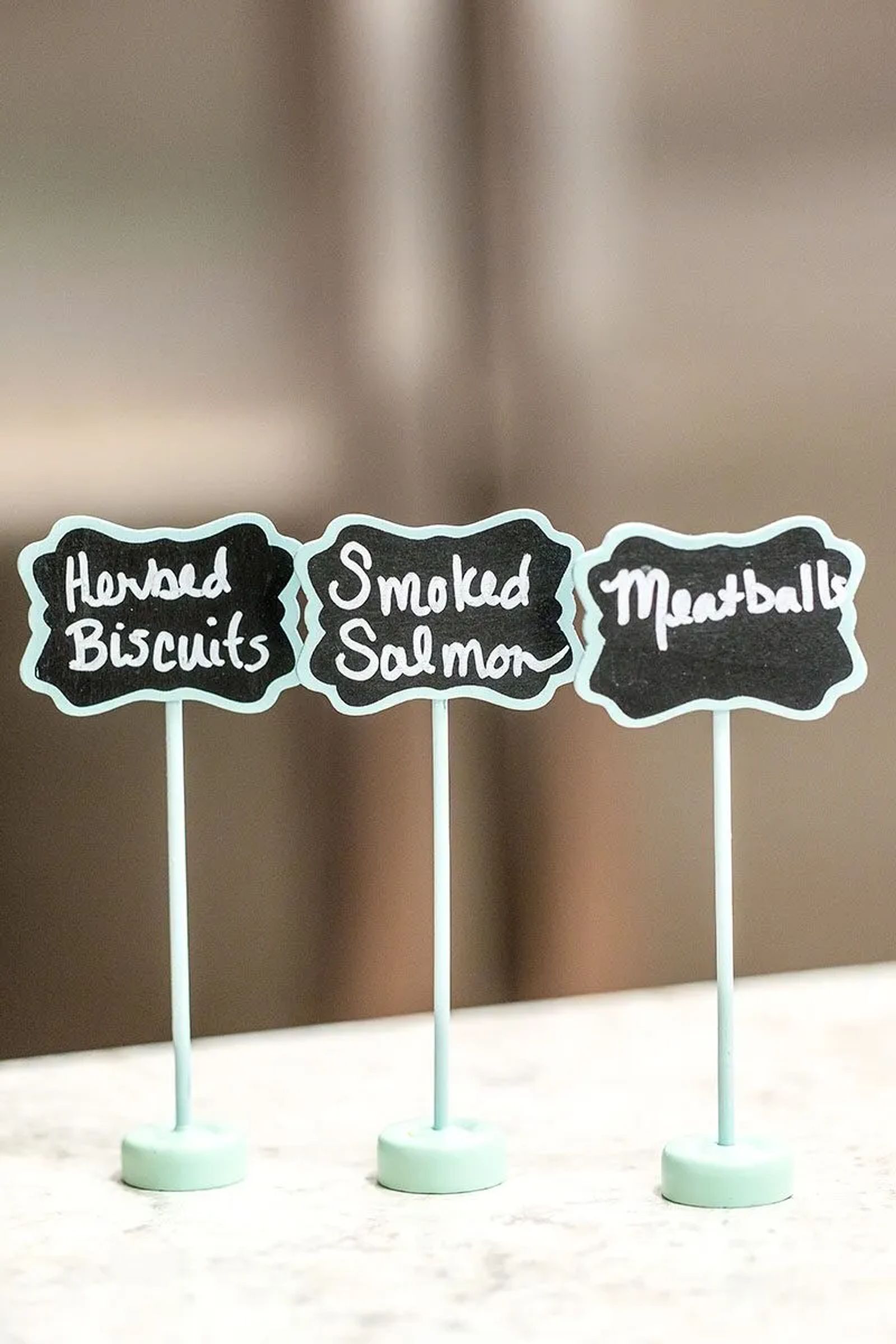 With every family game night comes an opportunity to nibble on some bite-sized delights. Tonight's menu was ripped from the pages of the cookbook, Gourmet Game Night. The night started with Strawberry-Ginger Champagne Cocktails to accompany Celery, Radish and Parsley Salad with Lemon Dressing, Herbed Biscuits with Smoked Salmon and Spicy Meatballs with Yogurt-Cucumber Dip.
Nims says of her book, "My general philosophy about a successful game night dinner party is that the food should be just as delicious and interesting as you'd serve at any dinner party and that it should not interfere with game-playing. Recipes are presented in a way that no utensils are needed, so the diner never has to put down their cards to pick up a knife and fork to cut their meat, or spoon to enjoy some soup. Instead, everything is on skewers, in small dishes, perhaps on a mini bun, made in a mini sandwich, or other simple tweaks to make game night friendly."
When the healthy game of competition wrapped, the Bentz and Pierce families shared not only laughs but their friendship, playing and eating, with, of course, their cell phones turned off.
TOP SELLING FAMILY GAMES
Some are new, some are old favorites!
Exploding Kittens
Clue
Monopoly
Apples to Apples
Catan
Spontuneous
Spot It!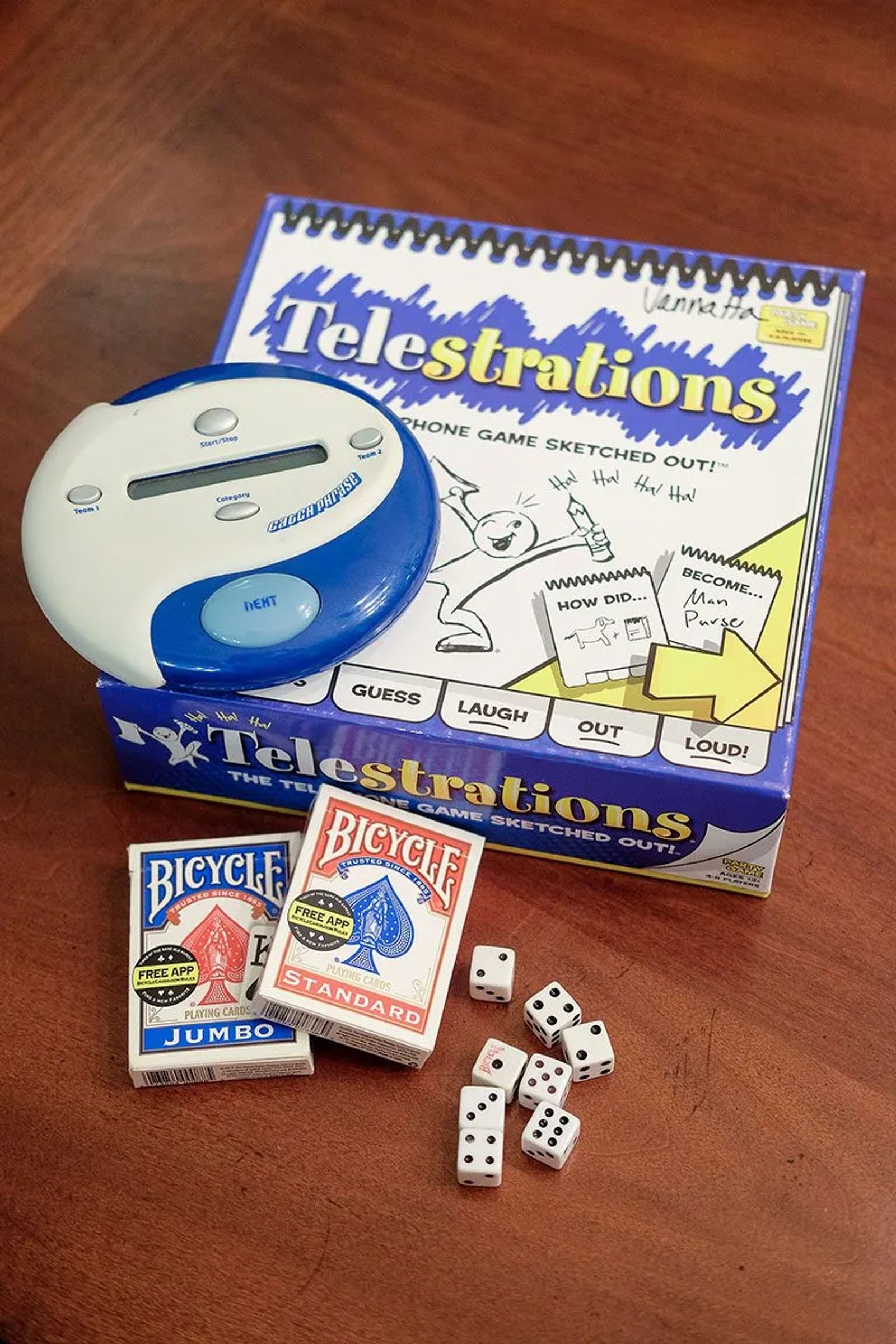 Bite-Sized Delights
Cue up these recipes before your next Game Night
Gourmet Game Night by Cynthia Nims focuses on occasions when game playing is the heart of an entertaining evening. In the book, you'll find eighty recipes which make eating a neat and tidy prospect. Nims presents some recipes that are fit for a sit-down dinner but proportions the dishes so they are easy to eat. Some of the essentials she recommends: Small ramekins, porcelain soupspoons, shot glasses, espresso cups, skewers, stemless wine and martini glasses, crinkly paper cups along with plenty of small spoons and forks.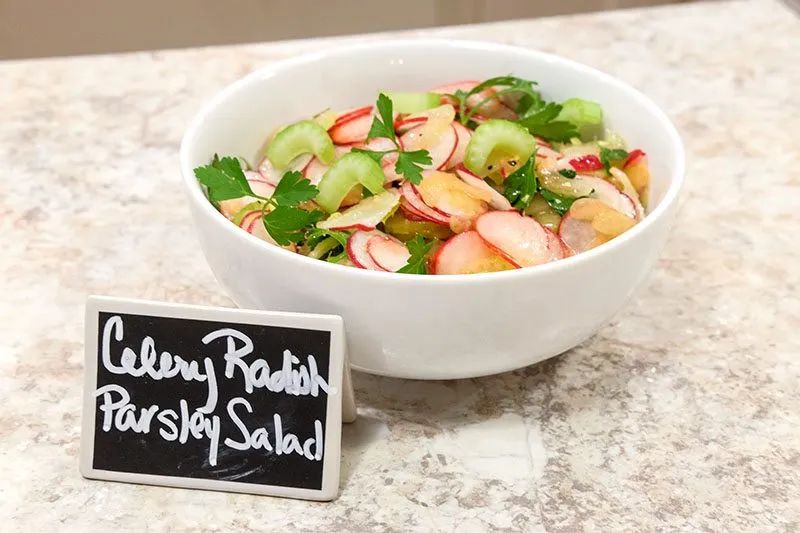 CELERY, RADISH & PARSLEY SALAD WITH LEMON DRESSING
Celery and parsley are two ingredients that don't get the attention they deserve, if you ask me. This bright, crisp, colorful salad is a great example of how well they do at center stage, not just in the supporting role.
LEMON DRESSING
3 T. freshly squeezed lemon juice
Pinch finely grated lemon zest
Salt and freshly ground black pepper
¼ c. olive oil
1 c. thinly sliced radishes (about 1 bunch; halve large radishes before slicing)
1 c. thinly sliced celery, from tender inner stalks
¾ c. lightly packed fresh flat-leaf parsley leaves
To make the dressing, whisk together the lemon juice, lemon zest, and a good pinch each of salt and pepper in a small bowl until the salt dissolves. Whisk in the olive oil and taste for seasoning, adding more salt or pepper if needed. Toss together the radishes, celery, and parsley leaves in a large bowl. Drizzle the dressing over and toss to coat the vegetables evenly. Spoon the salad into 18 porcelain soupspoons and set them on a tray for serving. Makes 18 mini salads.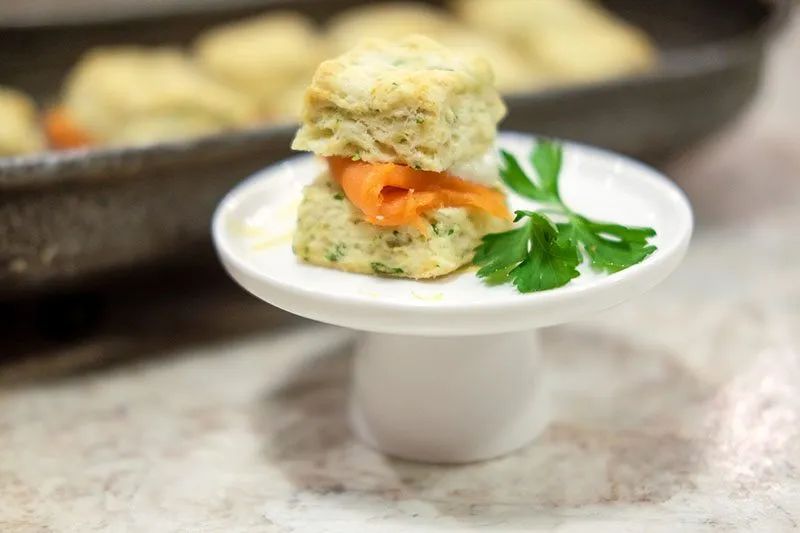 HERBED BISCUITS WITH SMOKED SALMON
Tender cold-smoked salmon is my first choice here; other cold smoked fish, such as sturgeon, can be used as well. If you like to use hot-smoked fish instead (also delicious), coarsely flake it, removing any skin and bones as you go. Stir it into the crème fraîche and lemon zest, then spoon the mixture onto the biscuits.
HERBED BISCUITS
2 c. all-purpose flour
1 T. baking powder
½ t. salt
½ c. unsalted butter, cut into pieces and chilled
¾ c. whole milk
2 T. minced green onion, white and pale green portions
2 T. minced fresh chives
2 T. minced fresh flat-leaf parsley
8 ounces cold-smoked salmon, thinly sliced
¾ c. crème fraîche or sour cream
2 t. finely grated lemon zest
Preheat the oven to 400 degrees F. Line a baking sheet with a silicone baking mat or parchment paper. To make the biscuits, combine the flour, baking powder, and salt in a food processor and pulse once or twice to blend. Add the butter and pulse until it is finely chopped and the mixture has the texture of coarse cornmeal. Transfer the mixture to a bowl and add the milk, green onion, chives, and parsley. Gently stir until the dough is evenly mixed; avoid over mixing. Transfer the biscuit dough to a lightly floured work surface. Press the dough into a 9-inch square about ½ inch thick. Cut the dough into 6 even strips in each direction, making 36 squares. Set the biscuits on the baking sheet about 1 inch apart. Bake until puffed and lightly browned, 12 to 15 minutes. Transfer the biscuits to a wire rack to cool. Cut each biscuit in half horizontally. Cut the smoked salmon into strips about 1 inch wide and a few inches long. Stir together the crème fraîche and lemon zest in a small bowl. To assemble the biscuits, fold the salmon strips into 1-inch squares and set them on the bottom portions of the biscuits, add a dollop of crème fraîche, and top with the other biscuit halves. Arrange the biscuits on a platter or tray and serve. Recipe makes 36 biscuits.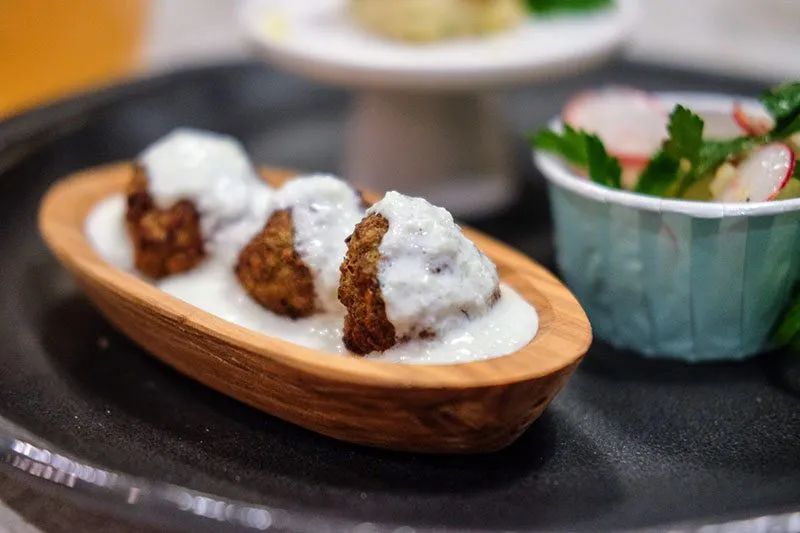 SPICY MEATBALLS WITH YOGURT-CUCUMBER DIP
You can use any hot sauce that you like for spicing up the meatballs. Harisa is a great option, too. Better to start with just a small amount and add more to taste rather than overdo it up front. I recommend cooking a sample of the meat mixture to check for seasoning before cooking all the meatballs.
YOGURT-CUCUMBER DIP
½ cucumber, peeled, seeded, and diced (about 1 cup)
½ t. salt, plus more as needed
¾ c. plain whole-milk yogurt
MEATBALLS
1 pound lean ground beef
½ pound lean ground pork
½ finely minced onion
3 cloves garlic, minced or pressed
1 T. Sriracha or other hot sauce, plus more to taste
1-½ t. dried thyme
Salt
2 T. vegetable oil
To make the dip, toss the cucumber with ½ teaspoon of the salt and set aside for 30 minutes. Rinse, drain well, and pat dry with paper towels. Combine the cucumber and yogurt in a food processor and purée until nearly smooth. Transfer to a medium serving bowl and taste for seasoning, adding more salt to taste. Cover and refrigerate until you are ready to serve.
To make the meatballs, combine the ground beef, ground pork, onion, garlic, Sriracha, thyme, and a good pinch of salt in a bowl. Mix with your hands until thoroughly blended. Cook up about 1 teaspoon of the mixture in a small skillet with a bit of oil and taste for seasoning. Add more hot sauce or salt to taste. Form the mixture into 1-inch balls.
Preheat the oven to 250 degrees F. Heat the oil in a large skillet over medium heat. Add half of the meatballs and cook until lightly browned on all sides and no longer pink in the center about 10 minutes, turning often to cook evenly. (The meatballs should not crowd the skillet. Cook in three batches if needed.) Set aside on a paper towel-lined baking sheet and repeat with remaining meatballs. Keep the meatballs warm in the oven until you are ready to serve (up to 30 minutes).
Skewer 1 meatball each on small picks or decorative toothpicks and arrange them on a platter for serving; set on a warming tray to keep warm, if you wish. Pour the dip into individual bowls or dishes and set them alongside. Recipe makes about 36 meatballs with dip.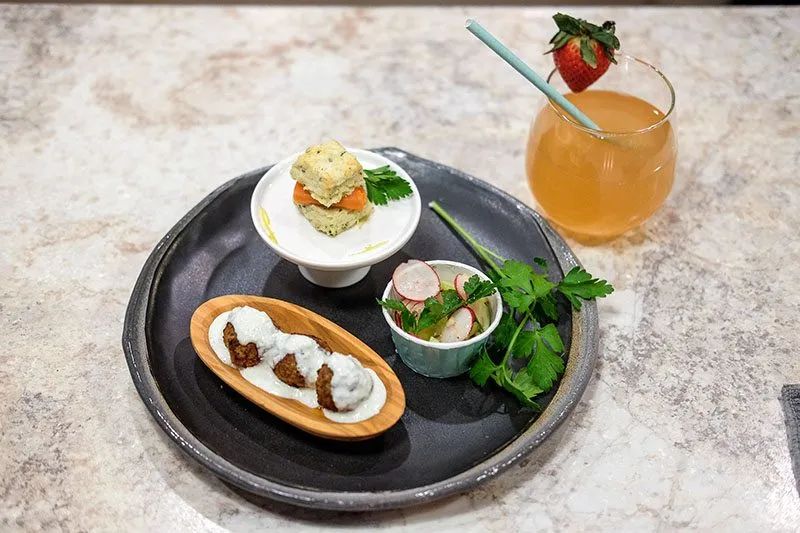 STRAWBERRY-GINGER CHAMPAGNE COCKTAILS
There's a beautiful blush to this cocktail from the addition of the freshly made strawberry-ginger syrup to cherry sparkling wine – the kind of blush you might take on when you hear some of the more risqué answers your friends come up with for a round of Say Anything. The gentle sweetness of the syrup makes it an ideal complement to a dry style of sparkling wine, such as a blanc de blanc.
¾ cup water
½ cup sugar
1/3 cup coarsely chopped fresh ginger
1 cup chopped fresh or frozen strawberries
1 (750 ml) bottle blanc de blanc sparkling wine
(for a nonalcoholic option: substitute lemon-lime soda or sparkling water )
6 strawberry slices, for garnish
Combine the water and sugar in a small saucepan and bring to a low boil over medium-high heat, stirring to help the sugar dissolve. Add the ginger and simmer over medium heat until aromatic, about 5 minutes. Stir in the strawberries and set aside to macerate for at least 1 hour.
Strain the syrup through a fine sieve, pressing gently on the ginger and berries to extract a maximum of flavorful liquid without pressing solids through. Cover and refrigerate until needed.
To serve, spoon 2 tablespoons of the strawberry-ginger syrup into 6 stemless wine glasses or small tumblers and pour the sparkling wine over. Make a vertical cut in the strawberry slices and perch them on the edges of the glasses before serving. Recipe makes 6 cocktails.