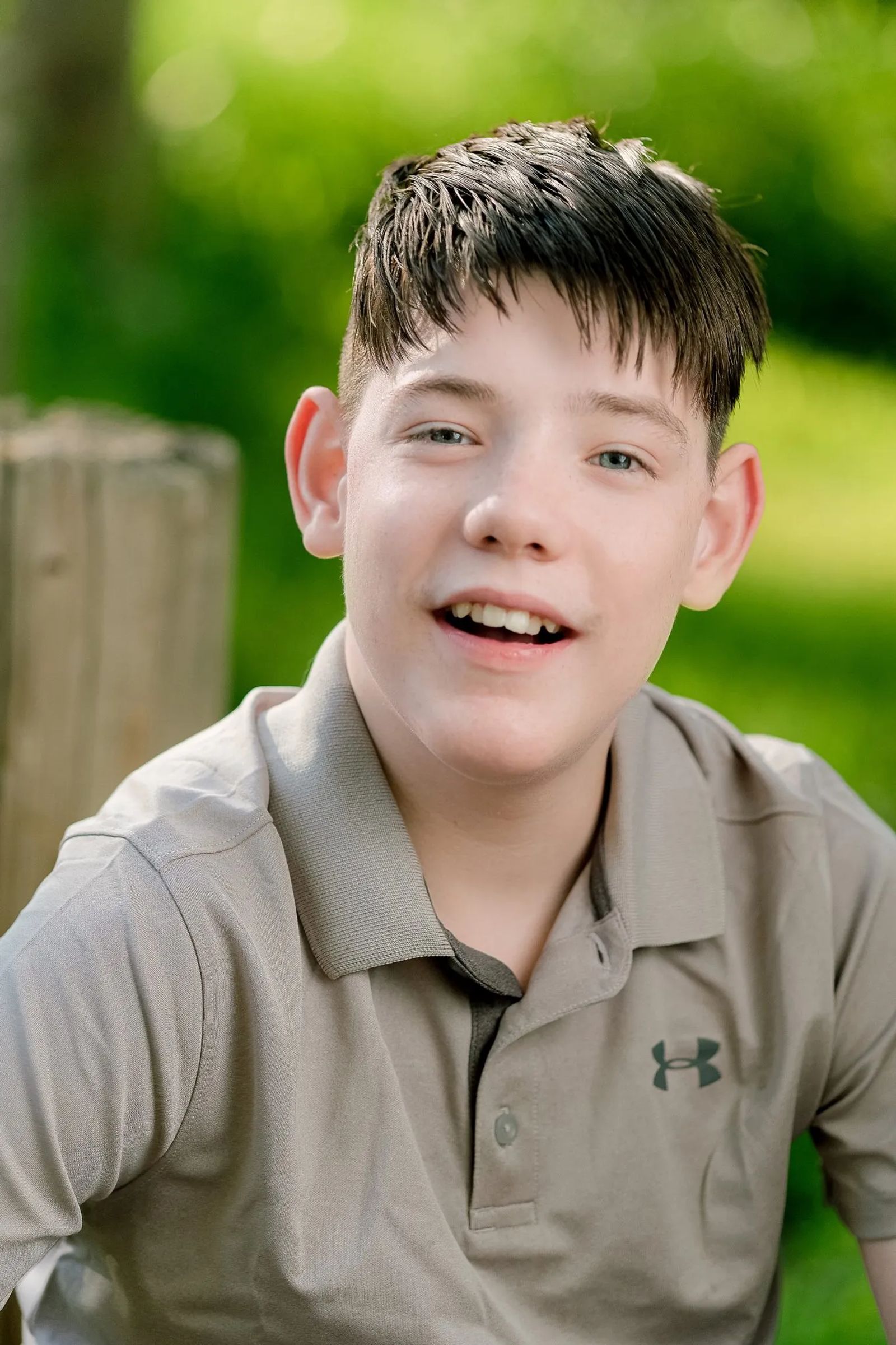 The Heart Gallery's Kenny
A teen with a sense of humor and a can-do spirit
If you ask 14-year-old Kenny what makes him a standout kid, he'll sit back, point his finger and jump right in.
"What makes me special is my unique ability to make anyone smile," Kenny says. "I can talk to a grumpy man and after I tell a joke, he's busting his gut."
While he loves to share great jokes and visit, just like many teen boys, he says, "I'm a gamer, and I like to watch a lot of movies. I think the new 'Star Wars' movie is going to be at the top of my list. That is going to be epic."
"Kenny is bright, funny and has a wicked sense of humor," says Randal Melton, Kenny's court-appointed special advocate. "He's a 14-year-old boy with all that comes with that, but more unfiltered than most." Melton goes on to say that while Kenny loves being the center of attention, "he also needs space at times as he learns to deal with feelings and process past events."
The teen has had to carry a heavy load in life. Born with cerebral palsy, Kenny gets around with the help of a walker. He tries to be completely independent and those that know him say he isn't one to let his disabilities get in his way.
"He gets up every day and keeps moving forward," Melton says. "He's one of those individuals that has that bright light shining within them. He's bigger than life in some ways, a memorable character, and it's hard to be around him long without finding a reason to laugh or smile."
Teresa Peterson, one of his caregivers at the group home where he now lives, says Kenny was put into care at a young age due to abuse and neglect. He was born with a twin brother who died as a result of parental abuse. After Kenny was removed from his home, social workers found him a loving foster family. Sadly, Peterson says, it wasn't long before he suffered loss again.
"One parent died in a car accident and the other got cancer shortly thereafter and passed away," Peterson says. "They loved him. That was the love that he knew. Kenny has been through a lot and really just wants a family."
"I would love a family who shares my interests," Kenny says. "They don't have to be gamers, but I'd like it if they liked movies and liked playing board games. I would also like them to tell me to turn off the screens and get outside to enjoy time with me there, too."
He dreams about having older brothers and siders and what he calls "a nice grandma." He smiles as he adds, "One who makes cookies with the kids and lets them help cook."
TO LEARN MORE ABOUT KENNY or the foster-adoption system in general, call Lori Ketchum at 406-657-3144. While Kenny is in need of an adoptive home, many times the primary goal for children in the system is to have a temporary placement while social workers strive to reunify them with their biological family. Each family wanting to become a licensed foster-adoptive home must undergo 18 hours of mandatory training to learn what it takes to become a successful foster family.