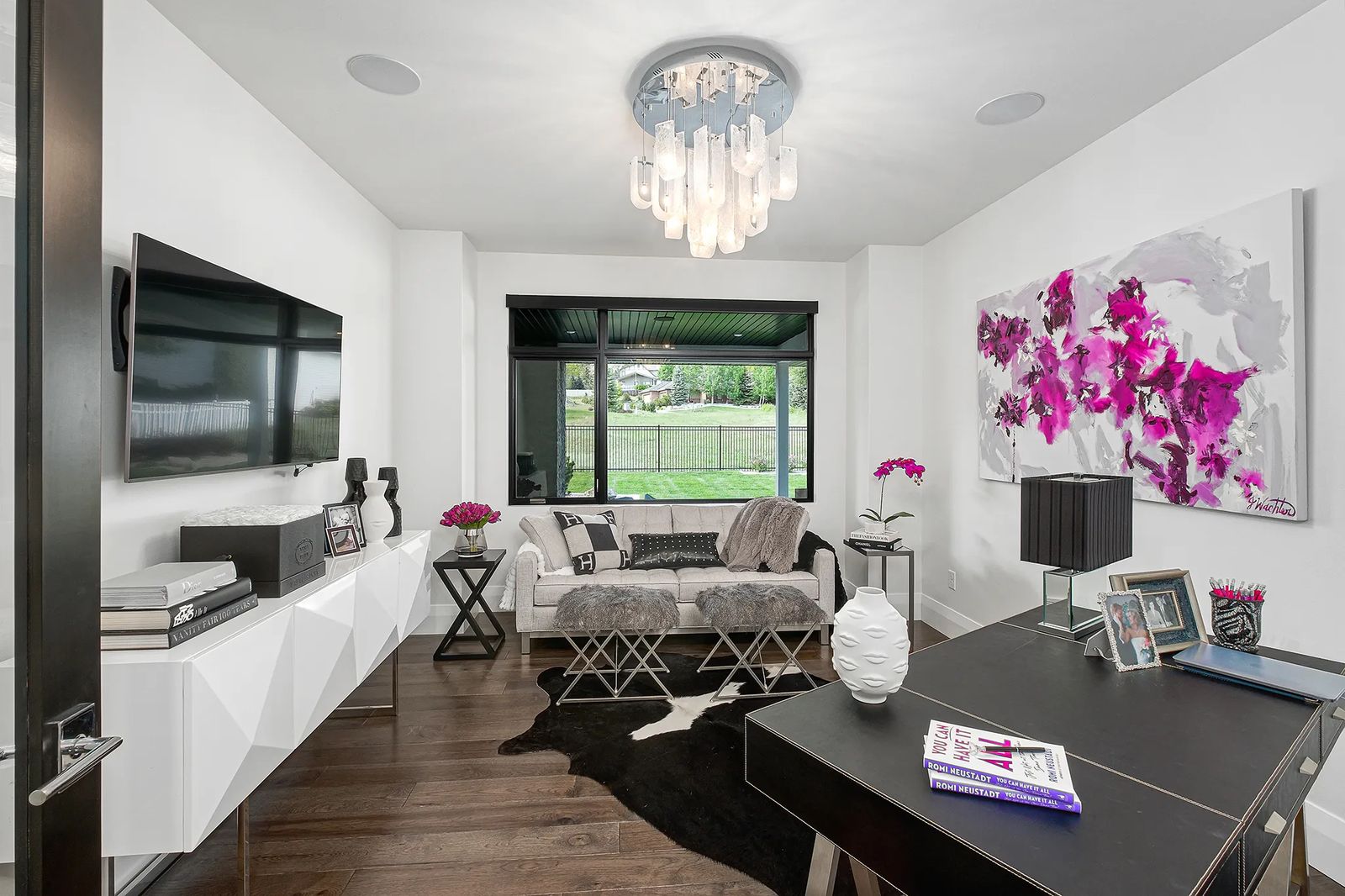 Timeless Design
Modern home provides a neutral canvas with pops of color
It's black and white for Lori Manning. It's her preferred style. The new home she and husband, radio personality Charlie Fox, built in Castlewood subdivision lays claim to this classic combo of timeless design.
"I'm a black and white person — and gray," says Lori. "I wanted a modern home with clean lines that was elegant, yet comfortable — a home that could be enjoyed by Charlie and me, as well as our kids and grandkids."
Nestled beneath the Rims, the couple's 6,200-square-foot two-level home breathes style and sophistication. They lived almost two decades in their last home before deciding to build one more conducive to a big family.
"We have 19 grandkids!" exclaims Lori, an energetic dynamo who's an independent consultant with Rodan & Fields.
This unique six-bedroom home built by Eaton & Yost Construction Co. fits into the landscape, with contemporary prairie architecture. "It has great lines for Montana with the low-profile nature of the roof and deep overhang eaves," says James Kordonowy, principal designer at A&E Design.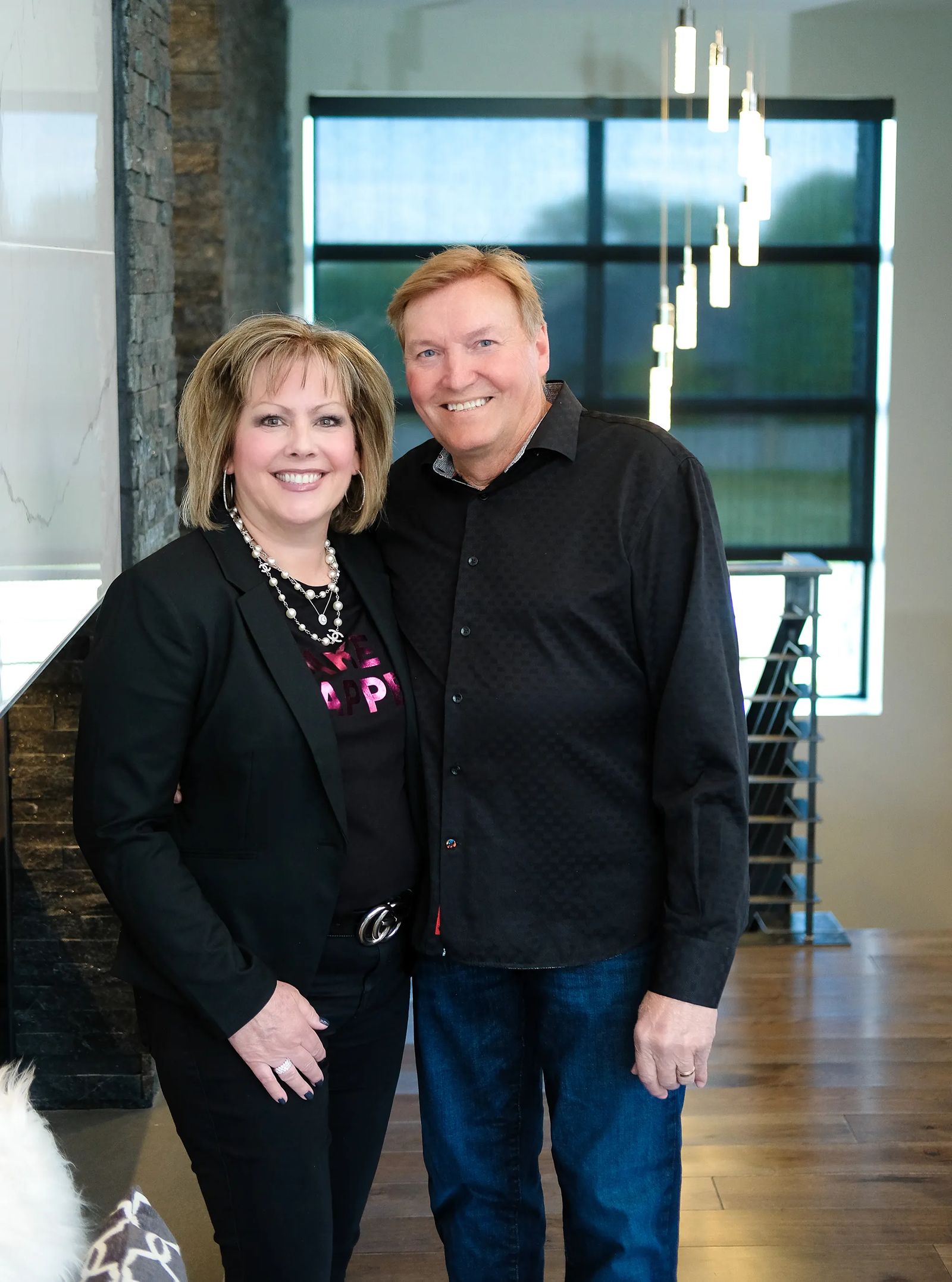 He says Lori's "fashion-forward sensibilities" and "crisp and metropolitan style" inspired the design process. The exterior of the home is surrounded by a meticulous landscape. The vibrant flowers nestled around the home pop against the layered concrete by Universal Concrete & Design. Black panel stone that takes on the look of granite creates a visual punch. The striking stone work by Harper Masonry accentuates the artistic front entry.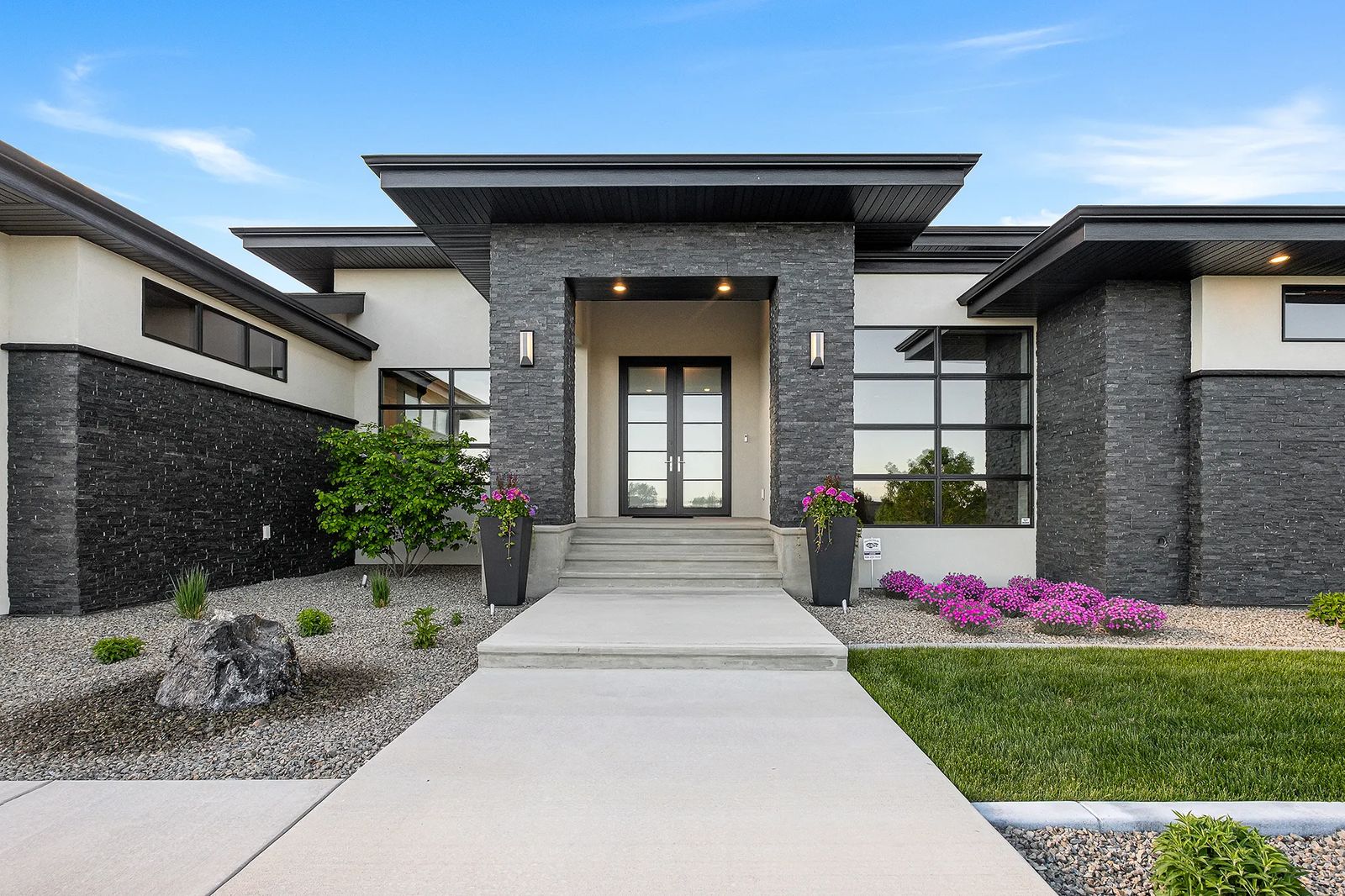 One of two columns inside the home gives subtle separation to the great room while showcasing this urban look of black stone. Warm hickory flooring from Carpet One and neutral gray walls further the stylish flair. Lori's stunning and striking décor begins and ends with black and white, fluffed with gray, splashed with pops of fuchsia and purple.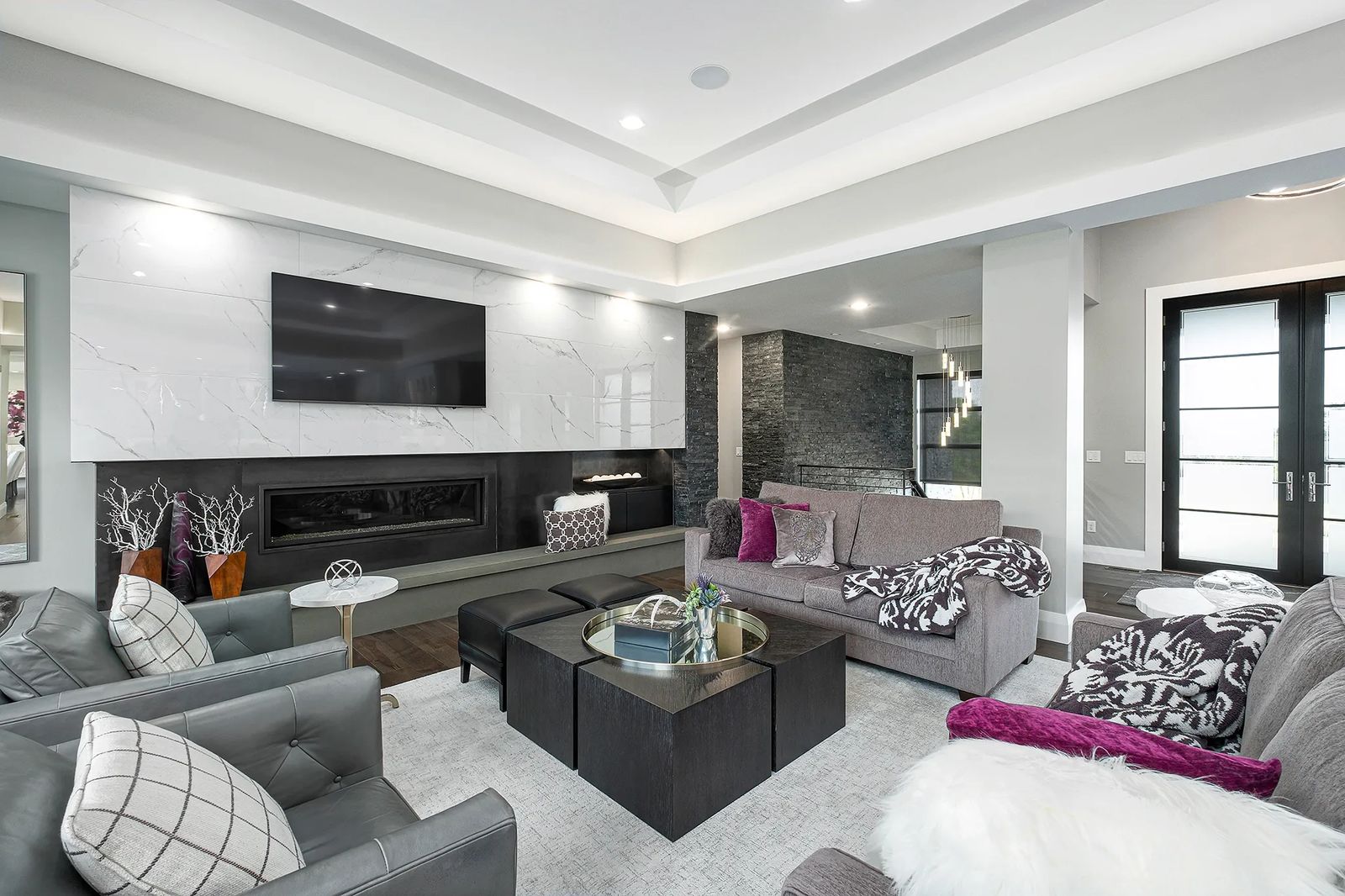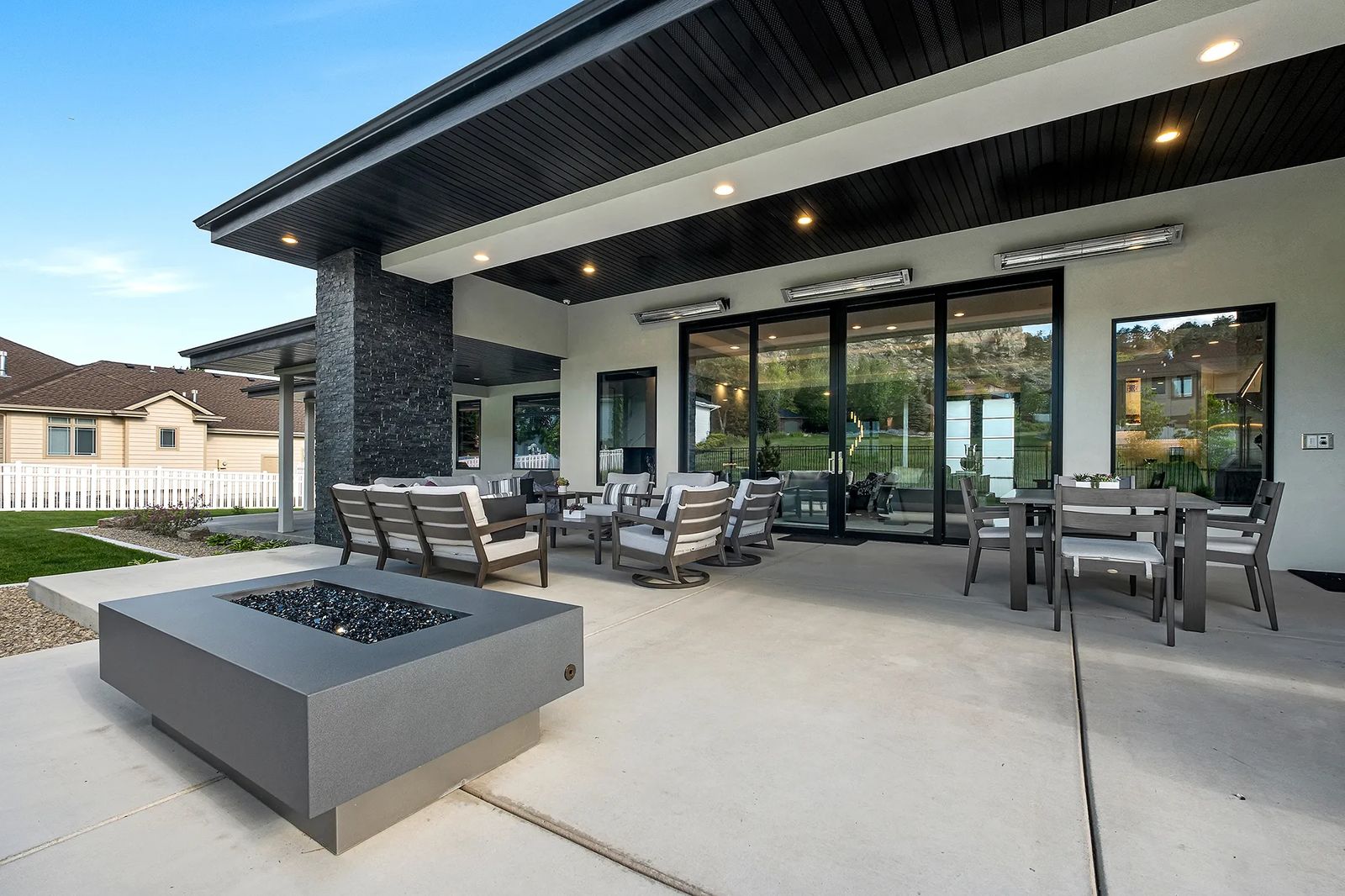 Richly colored throw pillows in the living area show off charcoal neutral sofas and soft leather chairs from Davidson Home Furnishings & Designs. "Cleverly hidden under the sofa table, geometric-patterned leather cube ottomans provide extra seating for entertaining," says Davidson Designer Kara Gainan-Dahlberg.
Vibrant fuchsia poppies painted by Billings Artist Chance Robinson grace several of the walls of the home. A robust white poppy in the front foyer blossoms with gusto.
Oversized Pella windows cover the front of the house exposing this painting to passers-by.
"We put lights in to focus on the artwork," says home builder Sheldon Eaton, "so when I drive by and see they're not turned on, I call." Laughing, Lori nods in agreement, "Sheldon texts me and tells me to turn the lights on!"
"Lighting is a key element," Sheldon says.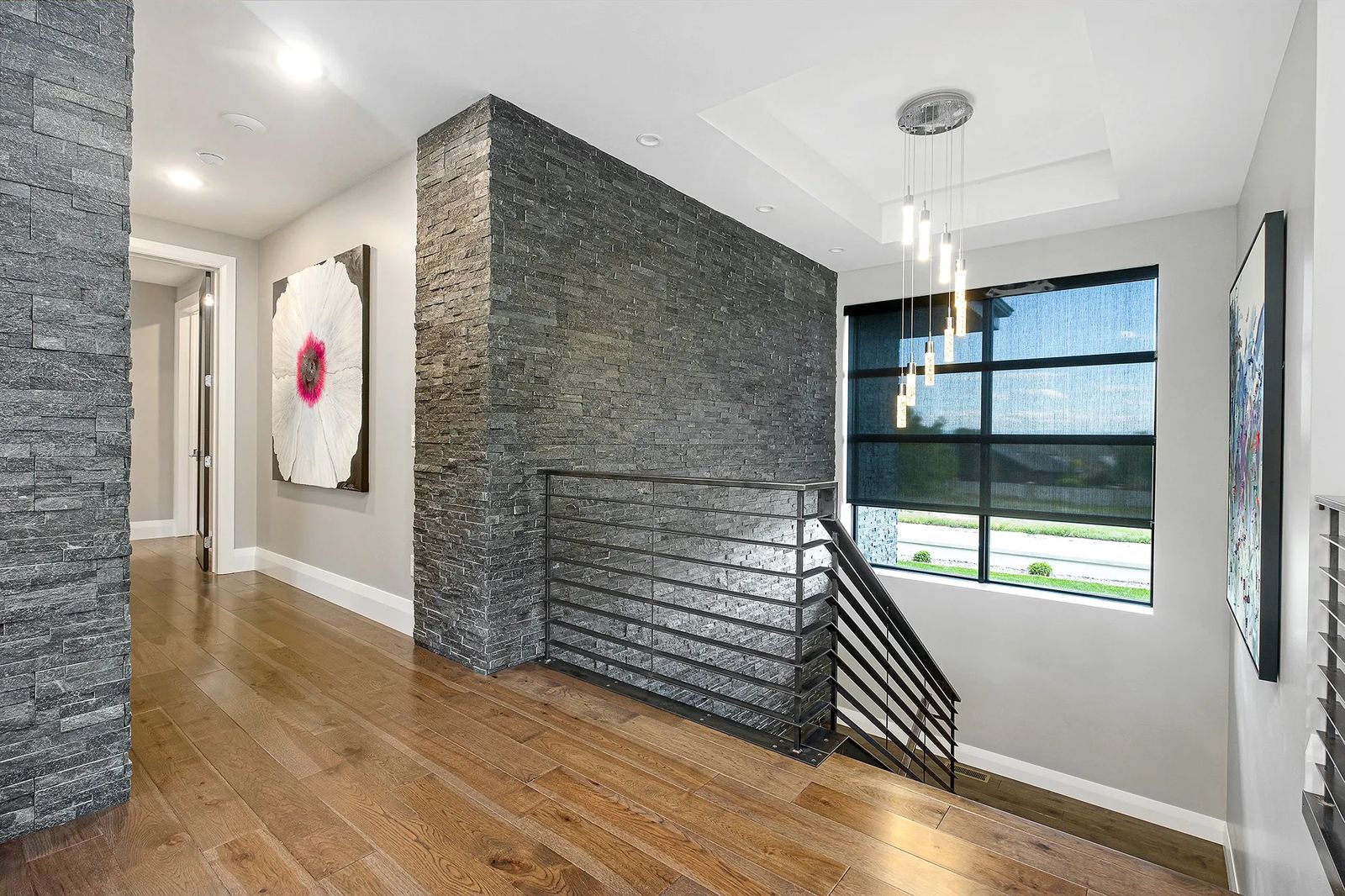 The foyer light sings with bling. "What better way to introduce the home than with a personal statement representing its owners," says Lauri Patterson, owner of One Source Lighting.
"This triple chrome pendant with crystal refracts the light and adds sparkle right when you walk in the door. Anyone who knows Lori knows she loves glam," says Lauri. "A crystal ice chandelier hangs in her home office that sparks creativity."
A glass chandelier cascades in a waterfall spiral pattern "continuing the glam" in the stairway. At the base of the stairs, however, "Charlie's Place" is music to the ears.
"This man room is awesome," Sheldon says. Huge blocks of rock form the window well. A big screen television looms above the massive linear fireplace. Coziness bounces off the walls. A full bar quenches a man's thirst.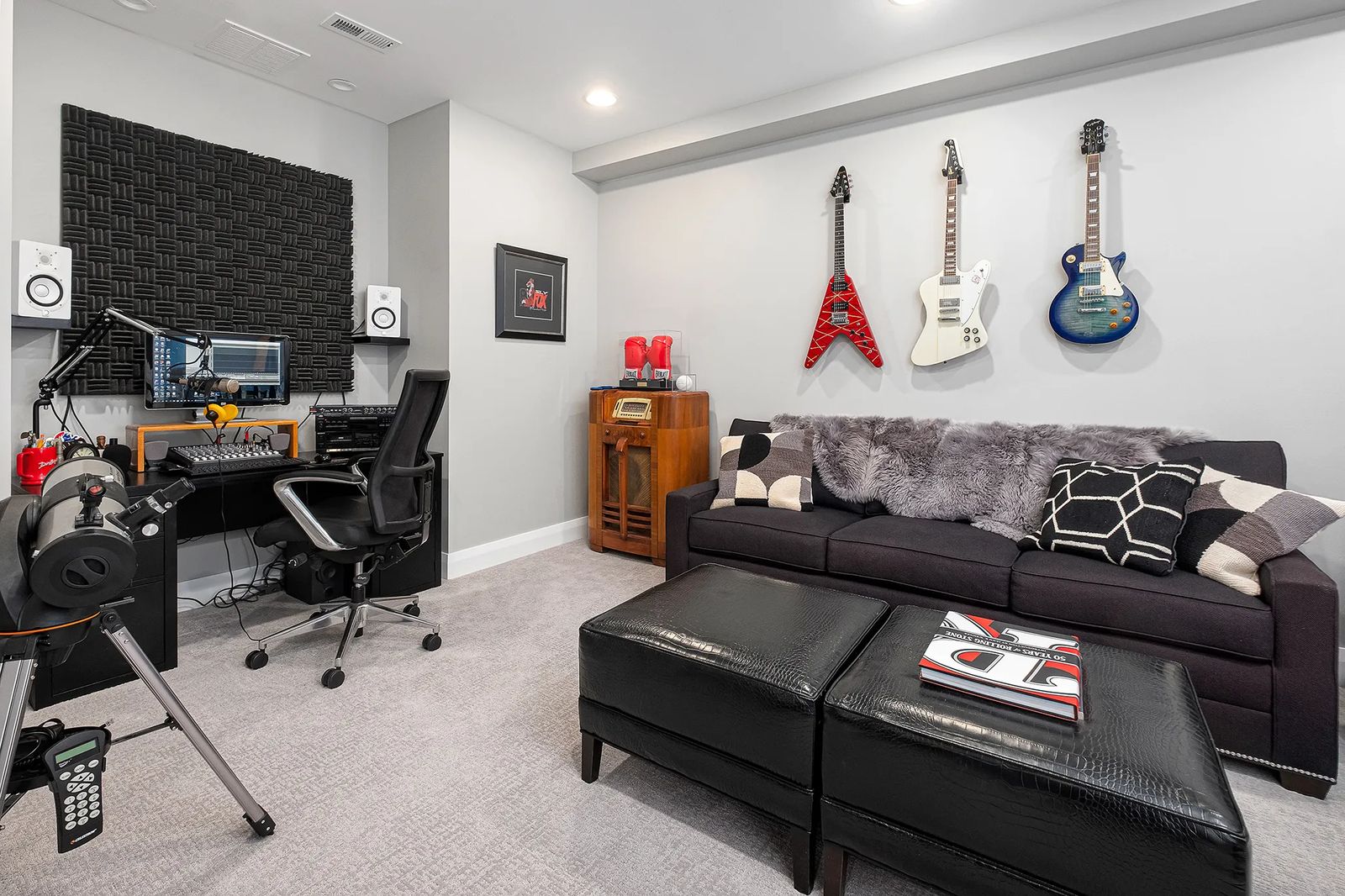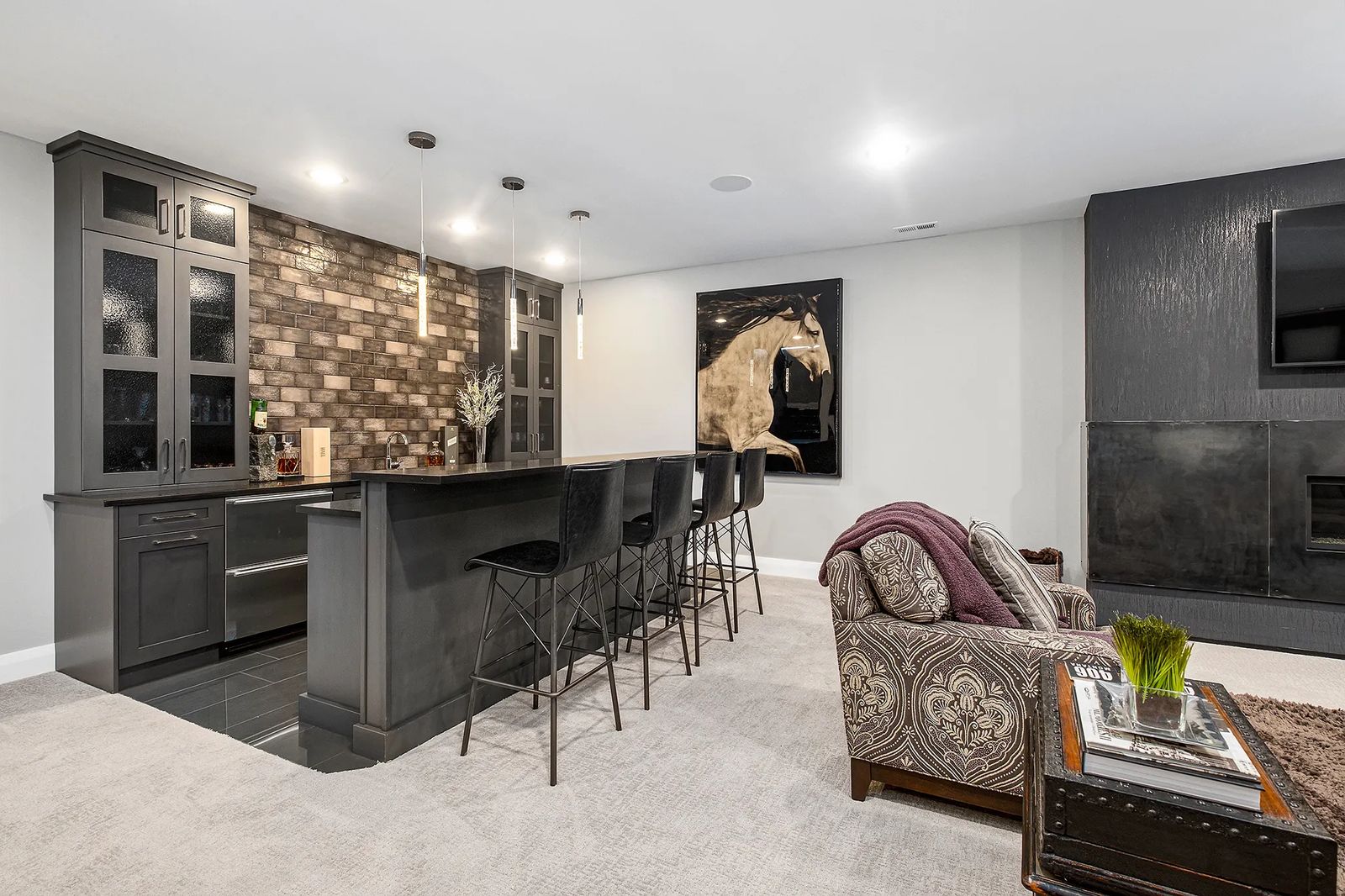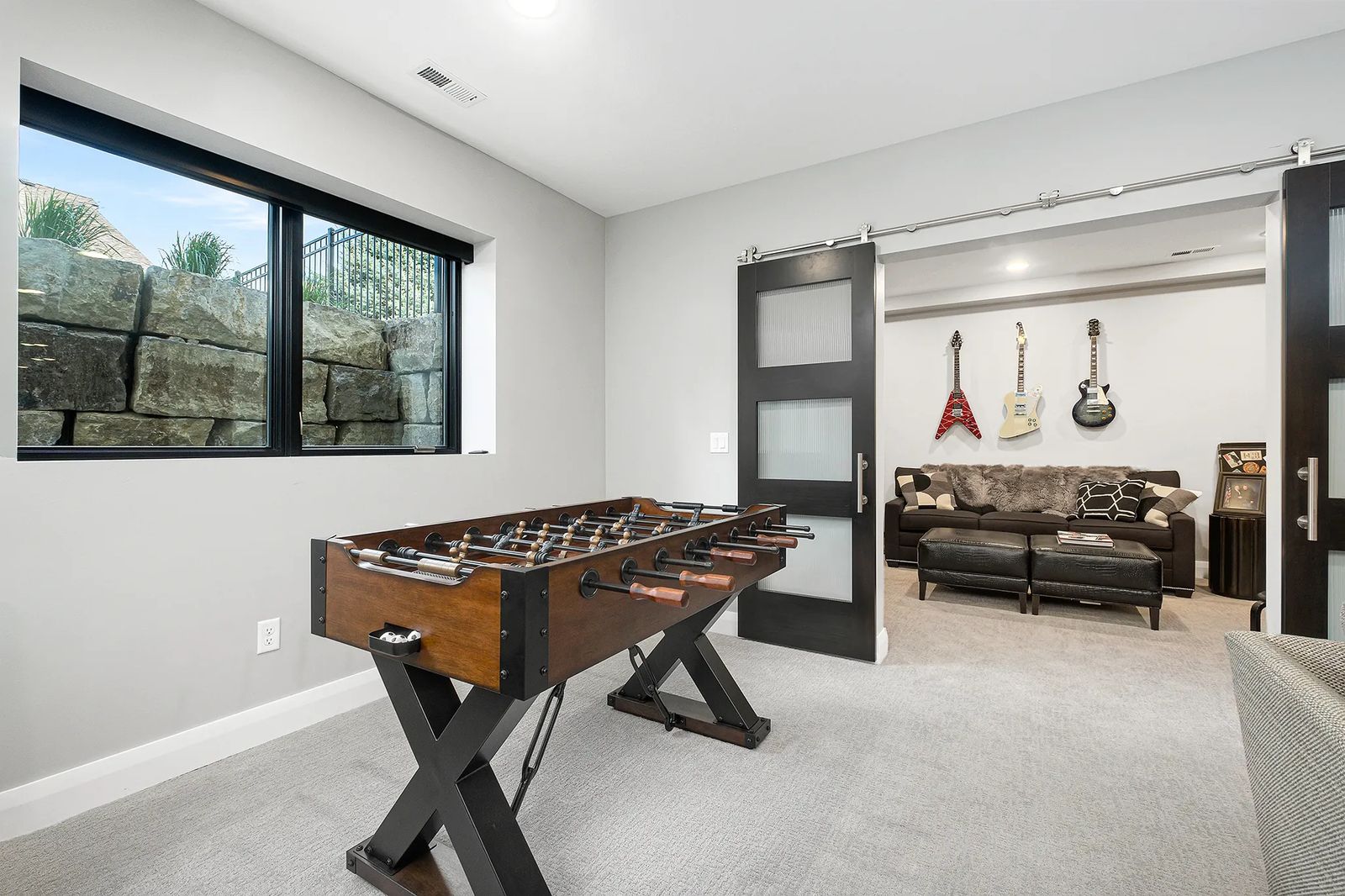 "It's a well-stocked bar," Charlie says with a grin. Glossy ceramic tile backsplash in light cream and dark hues give it character. The backsplash carries over behind the wine bar. It's also well-stocked.
"I can do everything I need to do here," says Charlie, referring to his morning radio show for Mojo 92.5. A separate office hosting a studio-quality mike and a computer has allowed this cancer survivor to broadcast from home during the coronavirus outbreak.
Charlie's Place is spacious, but there's plenty of room down the hall past an enormous plum poppy painting and the downstairs laundry room. Lori opens the door to a perfectly decorated bedroom with two queen beds.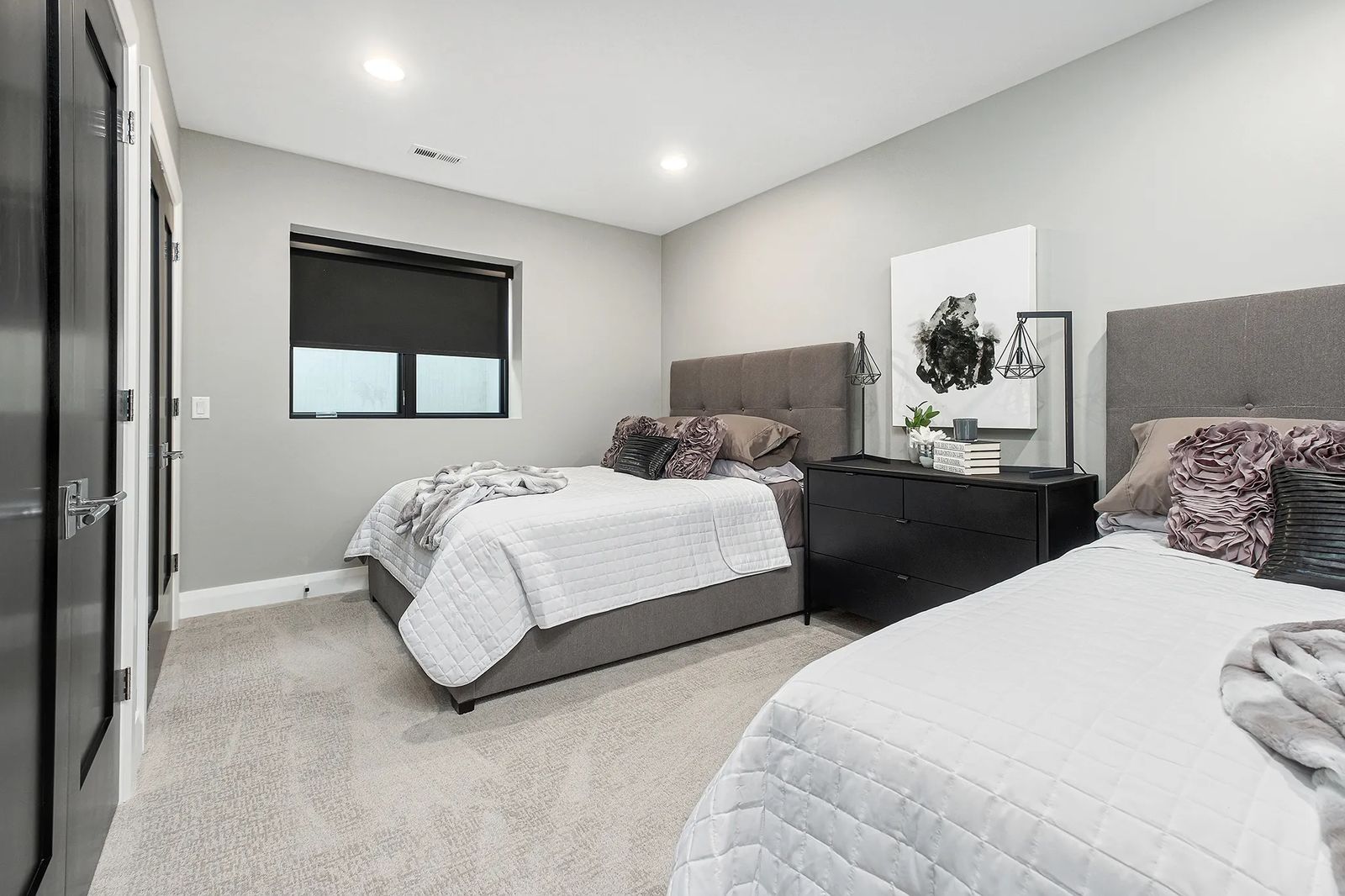 "It's especially nice when our daughter and three grandkids come from Chicago," she says. "We went with the two queens as I'm too old to make the top bunk."
"We can sleep a lot of people here," adds Charlie. A second bedroom and bath downstairs and beautiful guest suites upstairs provide extra sleeping accommodations.
The master suite sits on the main level affording the couple their privacy. "We kept it simple in here," points out Lori. A nine-foot tray ceiling enhances a black and gray tulip painting over the bed. A gray sofa and area rug along with a fabric-wrapped chandelier further softens the serene atmosphere.
The en suite soothes body and soul with luxurious amenities like a soaker tub. The heated tile floor and white and gray tiled walk-in shower adds to the spa feel. A motorized blind closes out the world with the push of a button.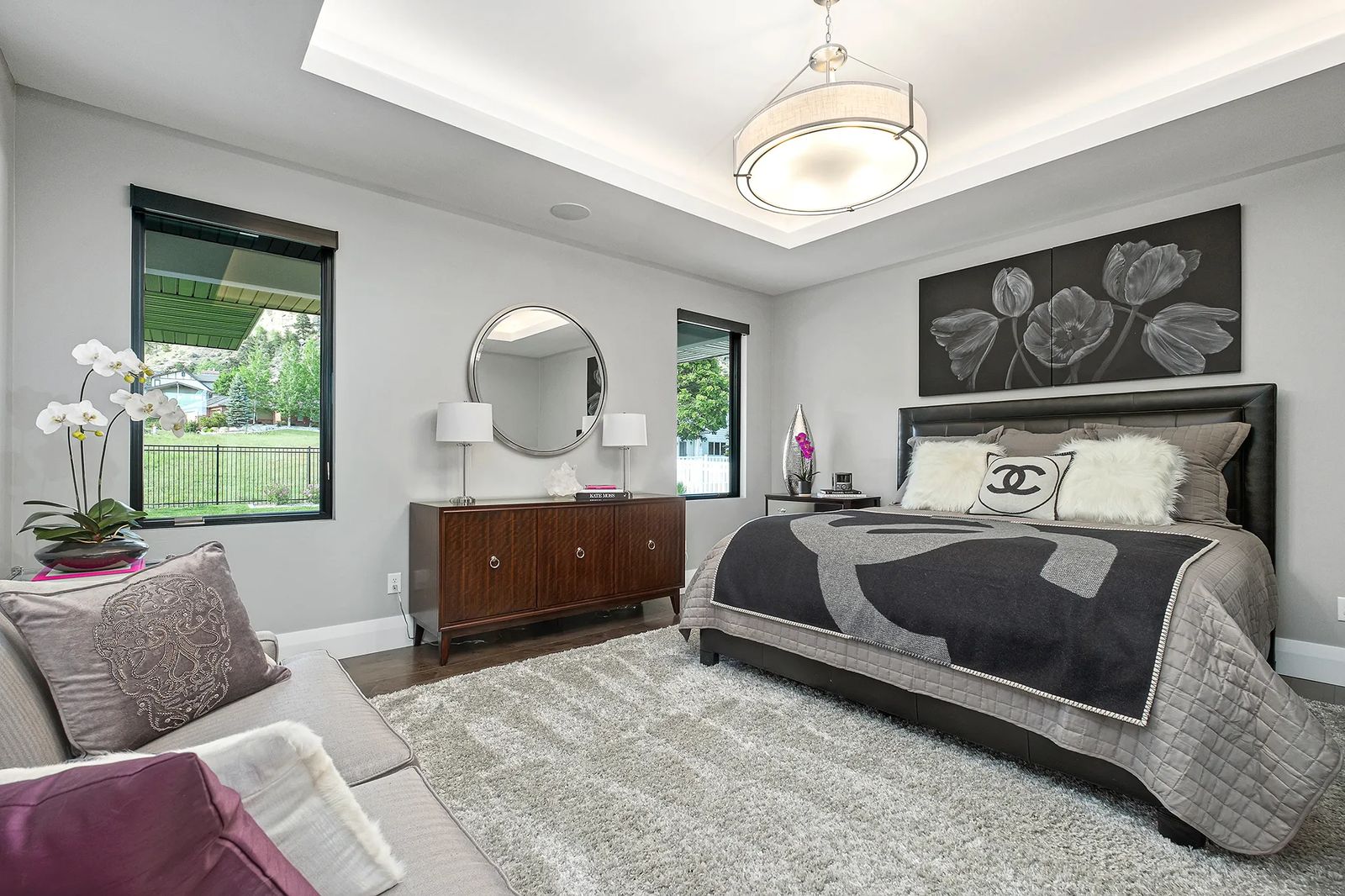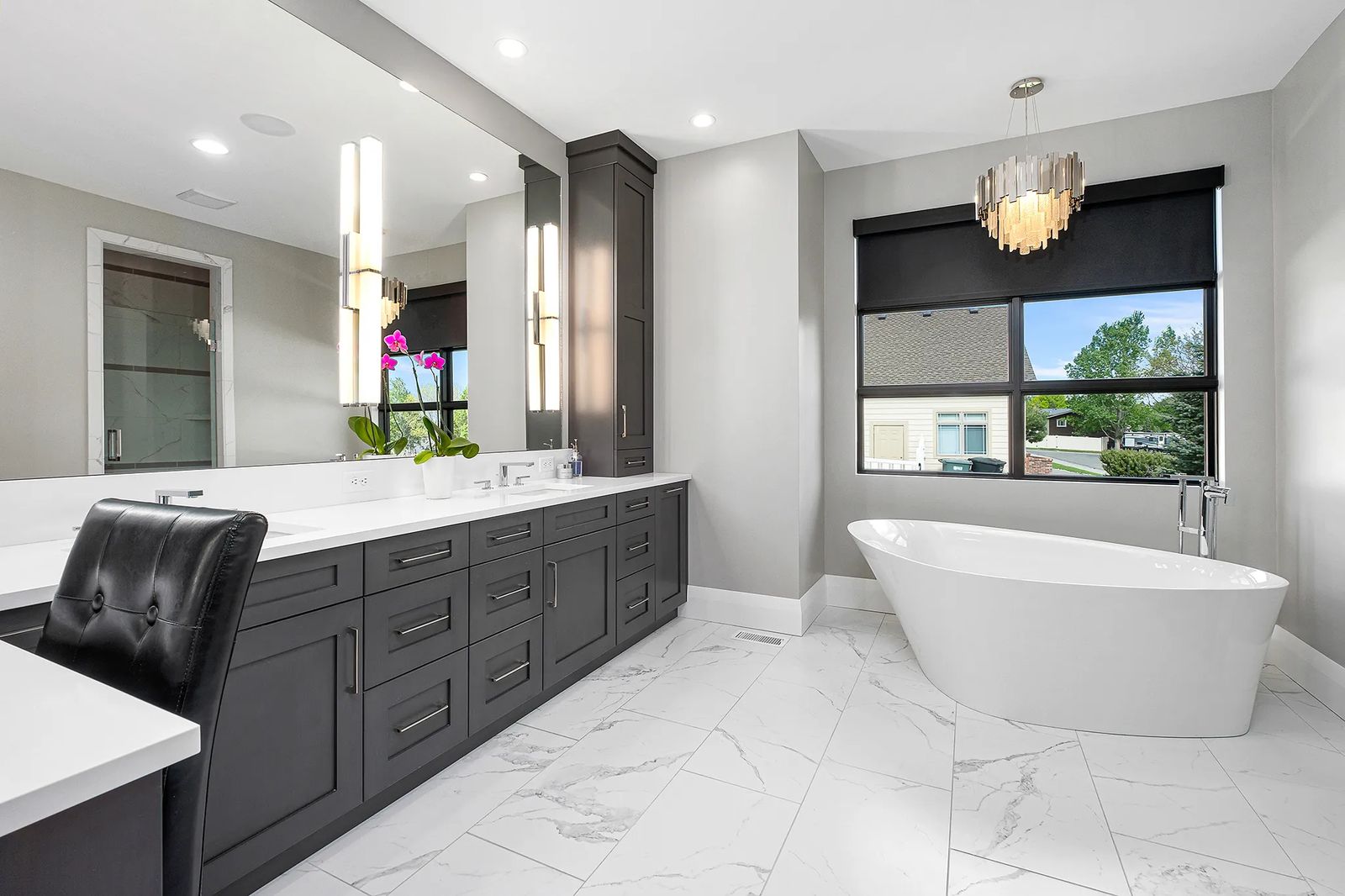 "I'm obsessed with these remote-controlled blinds," remarks Lori. They're definitely warranted, given how much glass is in the home. Pella custom glass doors in the great room leading onto the covered patio measure about 10 feet wide by 16 feet tall.
The view of the Rims through these colossal doors meets the greatest of expectations. A fire pit designed by Sheldon "fits the house" and there's plenty of seating for the entire family. Three heaters above the patio doors keep everyone toasty. "We spend a lot of time out here," Lori and Charlie chime in unison.
It's just a quick dash into the kitchen. A plethora of white painted maple cabinets with small lighted glass doors on the upper cabinets brighten the perimeter of this large-scale space. The center island hosts a seamless jumbo slab of gray Cambria quartz centered over a warm gray base. A trio of geometric pendants adds an extra touch of sparkle.
"Lori likes to keep things clean and simple and she wants it nice and bright," says Jodi Hutchinson, sales consultant for Kitchens Plus. "We kept to the two colors of white and gray. It's pretty timeless."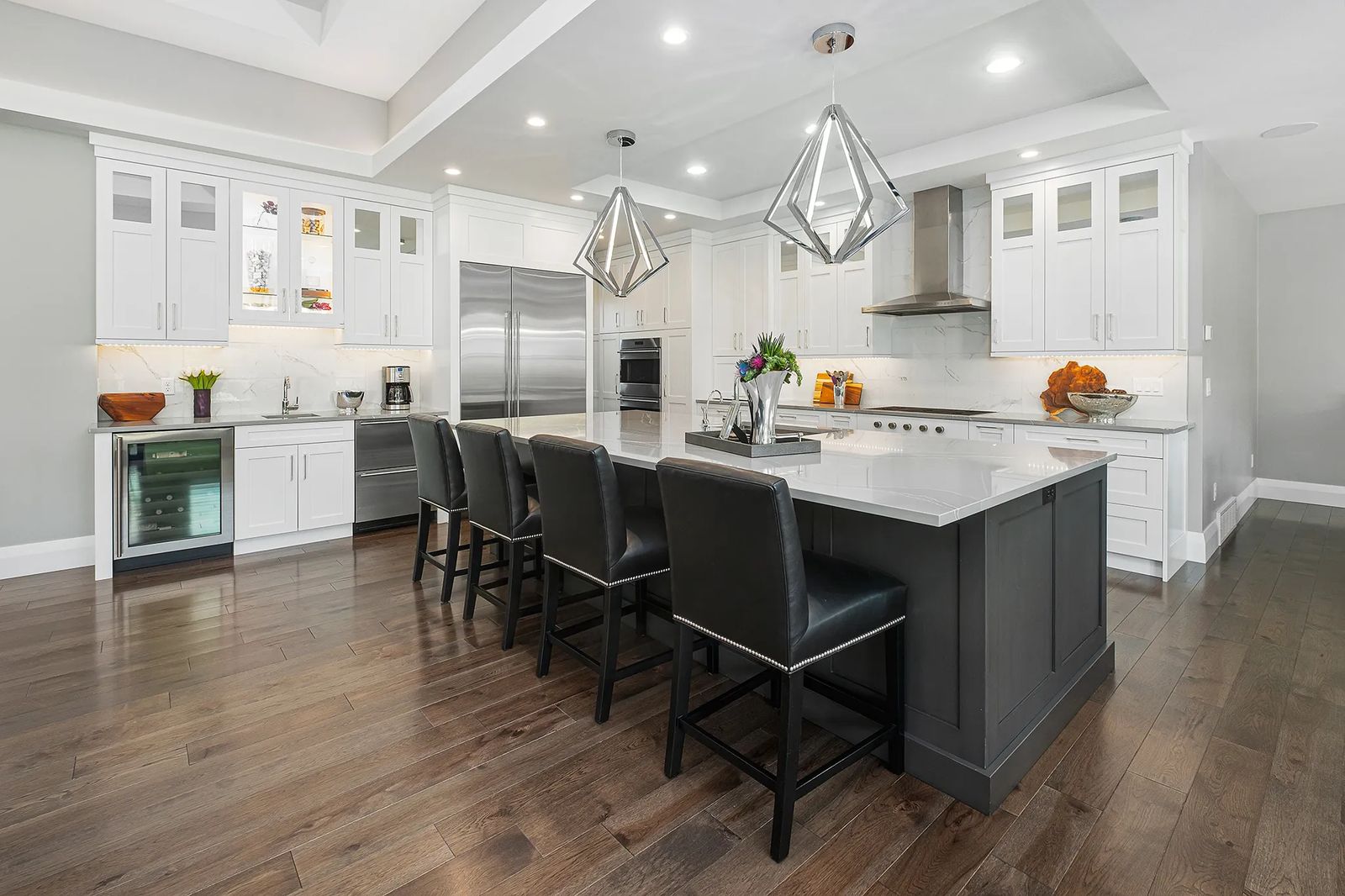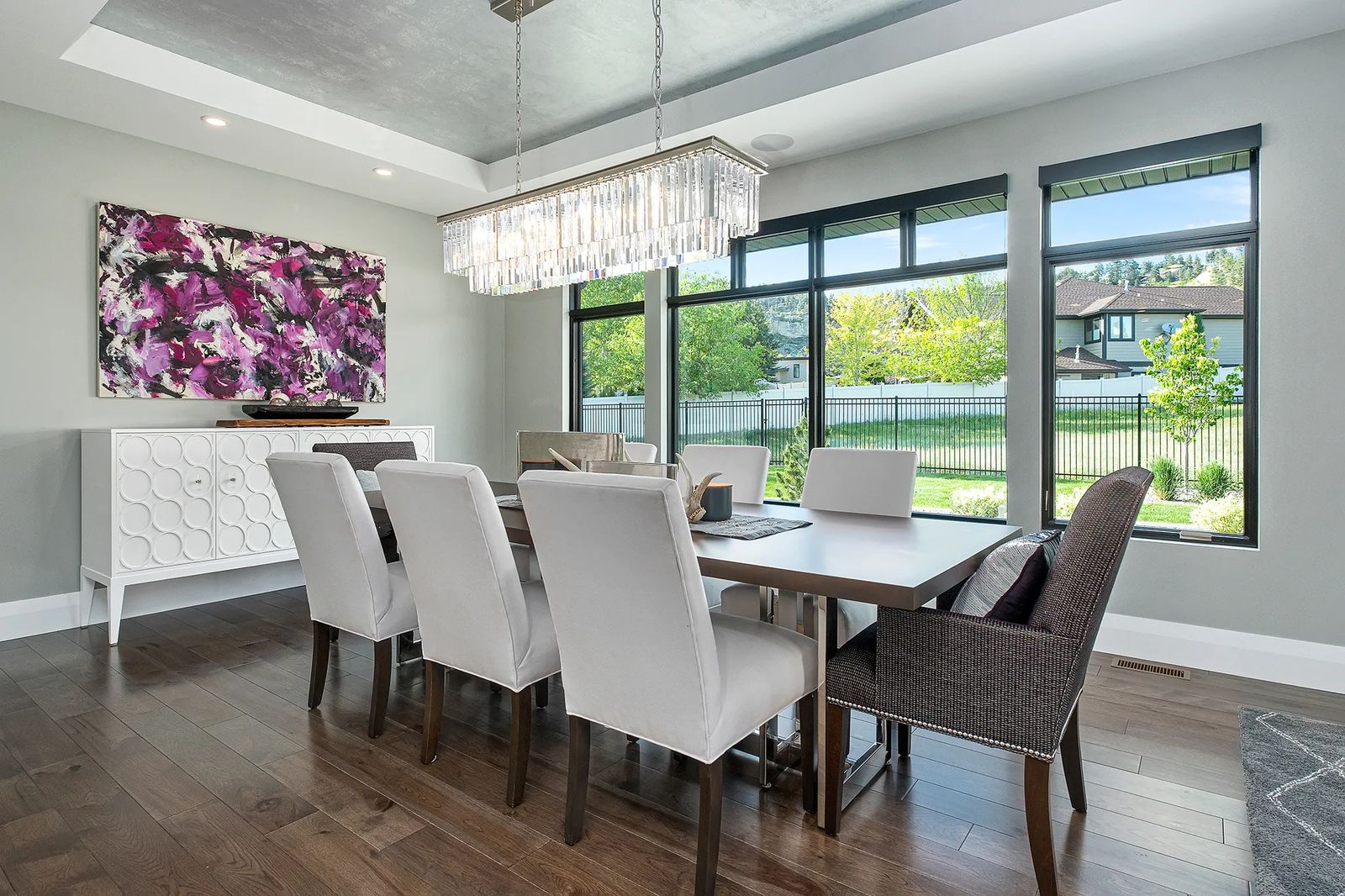 The kitchen ties in stunningly with the open dining and living area. Romancing the white kitchen cabinetry, bold large-format marble tile floats above a linear fireplace on the far wall of the great room. A one-piece concrete hearth runs the length of this dramatic wall.
Exquisite detailing, exquisite craftsmanship and the combination of timeless design appeal to the hearts, souls and minds of the family enjoying this wondrous home. Both Lori and Charlie agree they wouldn't change one thing.
A Fine Piece of Art
Billings' Long-time Home Builder Sheldon Eaton on Lori and Charlie's new home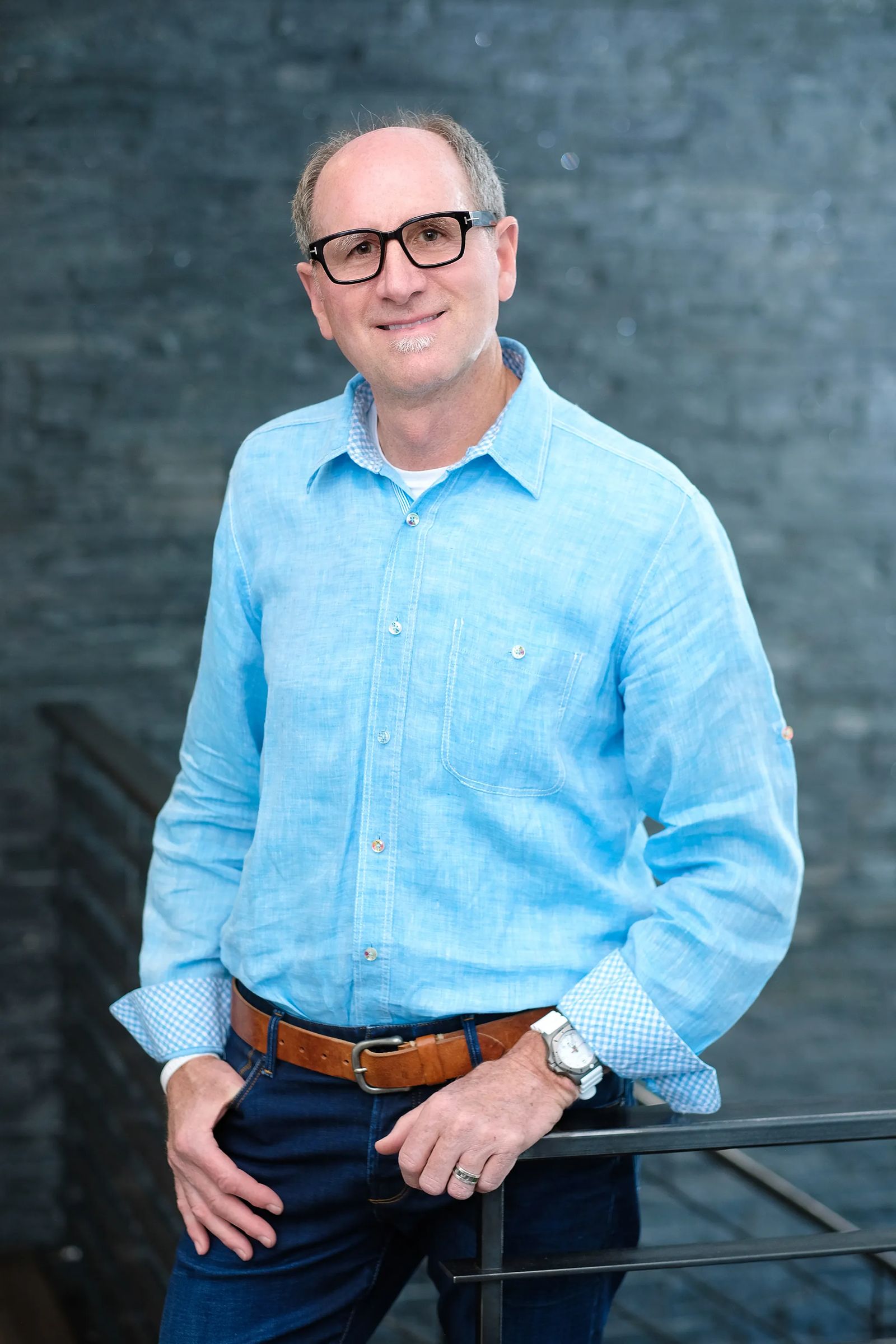 Building this magnificent home was Sheldon's "first full-on project" with his son Dusty Eaton, principal architect at A&E Design. His goal in building this extraordinary home, he says, was "to create a home for my clients that is not only functional but is harmonious with the way they live day-to-day is most important. One of my pleasures in life is art and I feel this is an extension of that creativity. A great piece of art should move you and excite you and even bring you comfort. That is what I hope we're able to achieve in creating their new home.
"I love to get out-of-the-box and create new and fresh ideas. The details can make such statements that get people talking. It adds to the excitement of the whole project, a little like that fine piece of art."