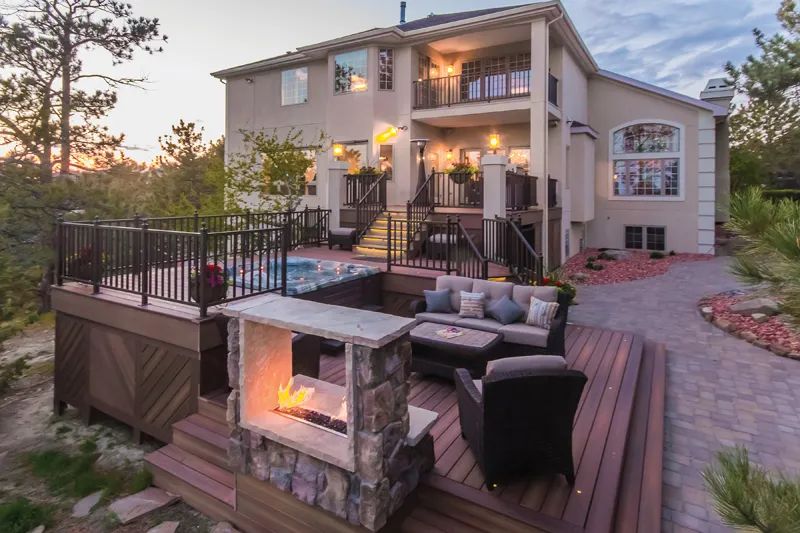 Trends in Outdoor Living
Creating a staycation in your own backyard
Gone are the days when patio living meant adding a few plants and a few plastic lounge chairs to a small concrete slab off the back of a home. Today, people are choosing to invest in their outdoor spaces, creating a little peace and tranquility in the process. We asked the experts about the up-and-coming ways to create a vacation-like space without even leaving your backyard.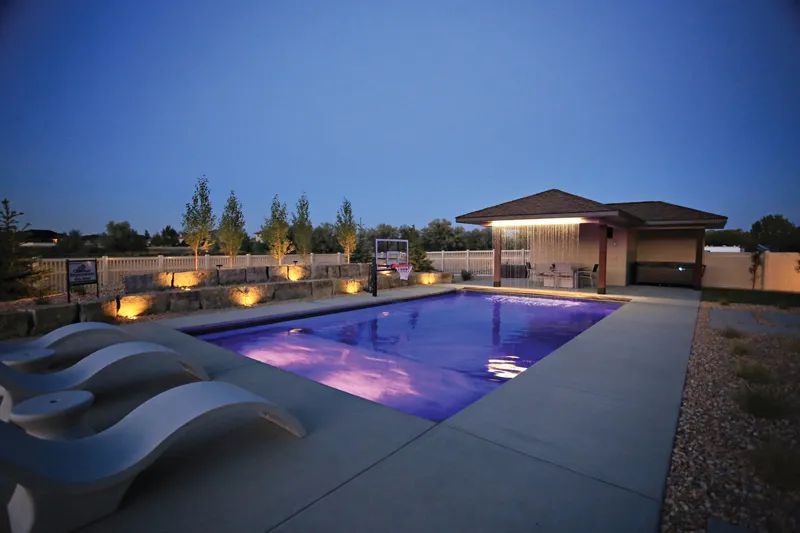 PAVING THE WAY FOR STYLE
Pavers used to be an inexpensive way to add a patio without pouring concrete — an ultimate weekend DIY. Today, the design experts are introducing pavers with a whole new range of colors and textures. From Old World to sleek and contemporary, these design elements are helping homeowners infuse their outdoor living areas with their own personalities.
"I try to come up with the next best thing and something that ties in with the style of the house as well as each different client's lifestyle," says Julie Copps, owner of Outdoor Expressions. She's used large-scale concrete pavers to deliver a contemporary feel. She's used smaller pavers to create an artistic expression in the design.
Copps says porcelain pavers are a relatively new material on the scene and they're giving a unique texture to backyards. They are frost and skid resistant, incredibly durable (up to 2,000 pounds) and easy to clean. Copps says you can even use a riser system to make installation a breeze.
"You can use these risers over existing concrete and lay them right on top so that there is space underneath for drainage," she says. Or, lay them directly on grass, gravel or sand to create stepping stones or use as a pathway or sidewalk.
"This has such a smooth and clean look that it really ties in with a contemporary-style home," Copps says. "And, the sky is the limit on color."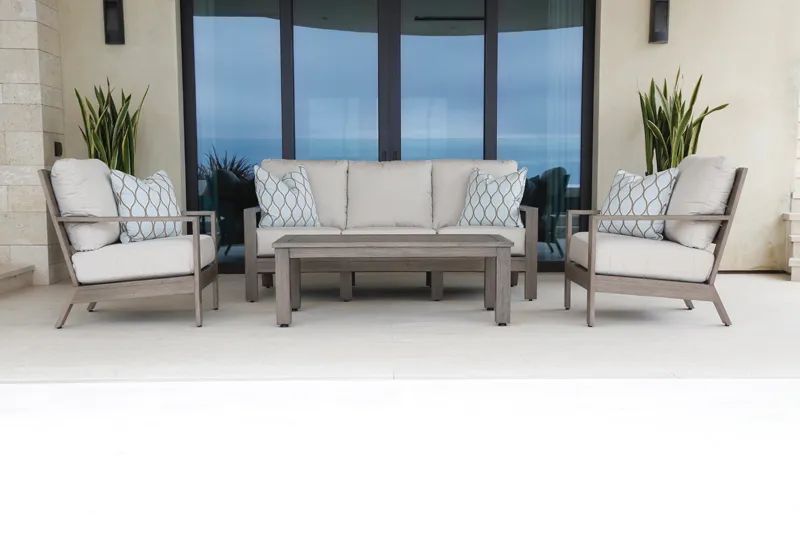 COZY AND COMFORTABLE
When it comes to design, outdoor living is truly becoming an extension of the home. Plastic seating and inexpensive patio sets are being replaced by furniture that looks just as sophisticated as the elements we crave indoors.
"The trend has been, as with interiors, towards a much more refined, sleek, contemporary feel to our outdoor furniture," says Tiff Blades of Davidson Designs. "The use of chrome legs on woven furniture to give it that hint of contemporary and the use of stone and linear designs — everything edgy but also inviting."
Blades says you'll see this trend when you look on the label of a rug, lamp or accessory and see the words "indoor/outdoor."
"They are now interchangeable," Blades says. "We are also seeing a wonderful mix of materials such as aluminum, teak, wicker, cast iron and concrete. Have fun with the textures, patterns and details."
Blades says there are some key elements of outdoor living to really ramp up the wow factor.
"Surround the living space with the right aromas, colors and functional plants (some plants can be deterrents to insects and animals). If the area is large enough, create individual spaces such as main seating, dining and fire pit areas," Blades says. "Then, finish the areas with all of the elements you would inside — area rugs, hanging lights, art, pillows and throws. Outdoor living has truly gone to the next level."
OUTDOOR COLOR WATCH
Look for apple green, bright yellow, royal blue and crisp white in accessories. If you prefer a neutral color scheme, be sure to mix textures to create interest.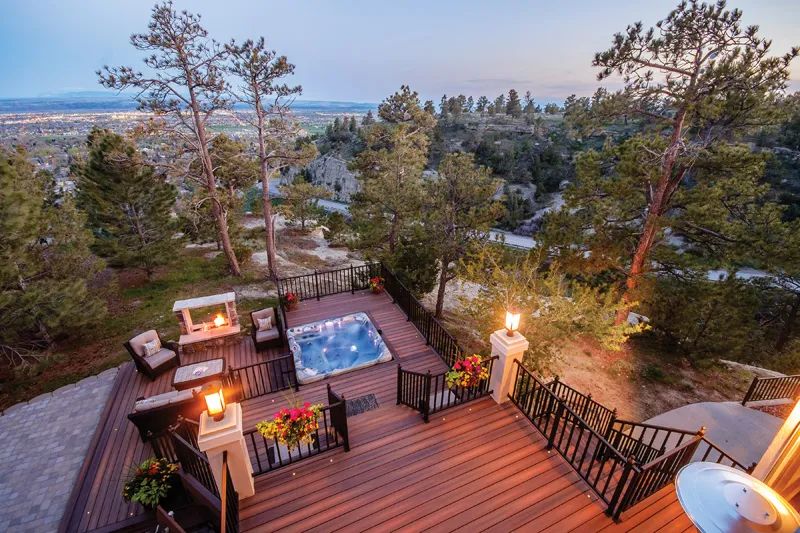 RELAXATION HOT SPOT
Imagine coming home from a rough day at the office only to slip yourself into the relaxing waters of a hot tub. More and more homeowners are realizing that hot tubs today add the perfect mix of beauty and function to an outdoor living space.  On top of the offerings, Scott Prociv, owner of Montana Hot Springs Spas, says homeowners are getting far more creative, incorporating their hot tubs into the overall outdoor living design.
"Our latest models are architecturally inspired, low maintenance, energy-efficient hydrotherapy powerhouses," Prociv says. "Some of our customers work with landscape companies to incorporate their hot tub into a deck or patio design."
Every time you take a step into a hot tub, Prociv says, the buoyancy decreases pressure on the body by 90 percent. "A 10- to 20-minute daily soak can immensely change a person's mental, emotional and physical state, resulting in better overall health, Prociv says. "Hydro-massage mimics a personal massage therapist, while heat improves circulation and speeds tissue recovery."
The result, he says, is an outdoor feature for all seasons and many reasons.
"The average customer agrees that hot tubs are most enjoyable when temperatures drop below the freezing point. In the summer months, a hot tub can be turned in a cool pool by simply decreasing its temperature," Prociv says. "In Montana, we are blessed with a great climate that allows us to use a hot tub for the benefits of hydrotherapy daily, 12 months out of the year."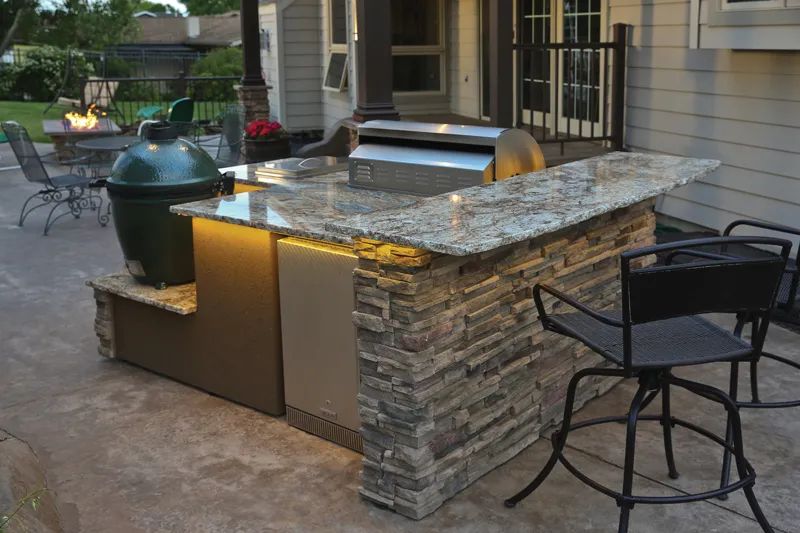 OPEN-AIR DINING
Now imagine stepping outside to prep, cook and enjoy a family meal under the beautiful Montana sky. Outdoor kitchens used to be a feature found only in high-end homes. Today, they are becoming mainstream, helping outdoor living spaces increase in value and functionality.
"In the last couple of years, our outdoor kitchen installation has doubled," says Laurie Neutgens of Magic City Granite.
While there are things to consider like adding water supply, a gas line for direct grilling or electricity, Neutgens says the cost adds not only enjoyment but strong resale value as well.
"We do a lot of sandstone," Neutgens says. "You can use that as your base and cut a fire pit into the center of it. We do a lot of granite in outside spaces. You can't use quartz because it is not UV protected and will fade in the sun."
From a simple surround around a barbecue all the way up to a full outdoor kitchen, Neutgens has seen it all. If you're concerned about cost, consider shopping for a remnant to tackle a smaller project first. "We have a lot of remnants on our lot — probably more than 400. It's a cost-effective way for people to get a piece of stone at a lower cost for a smaller area outdoors."
Then, sit back and enjoy a little summer sun while you're tackling that new grilling recipe.
"It's people's downtime," Neutgens says. It gives people a chance to relax, to feel more with nature and feel better when they can be outside."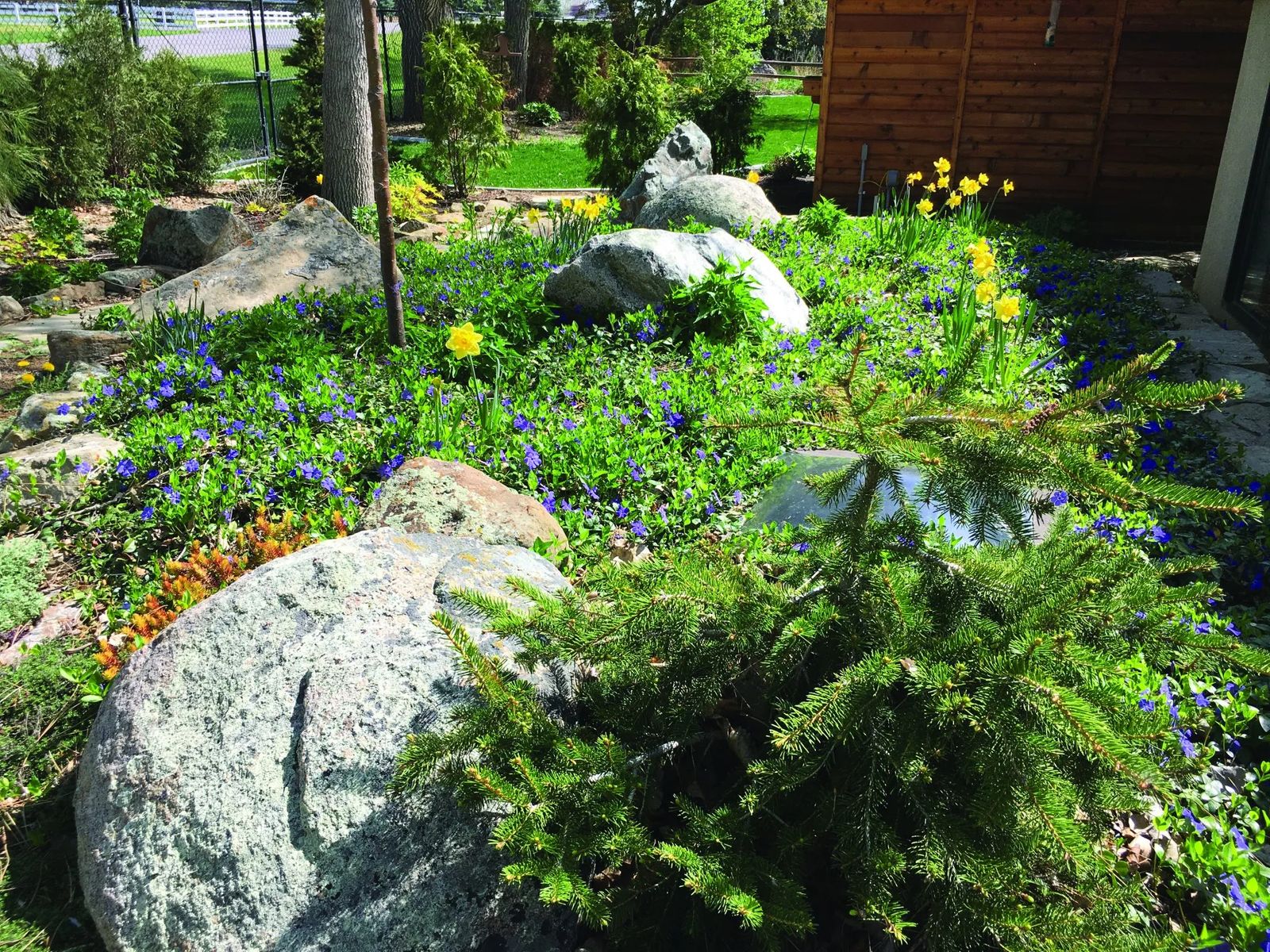 LUSH & LOVELY
When it comes to adding plants to an outdoor oasis, more and more folks are wanting to make a statement without having to spend hours upon hours to maintain the space.
If you ask Andrew Marble of Billings Nursery, garden centers like his are listening.
"There are new cultivars of shrubs that tend to stay smaller and are much more suited for the urban landscape." And, he says, "Instead of planting a shrub that you have to constantly fight it to fit into the space, now we are able to plant things that fit in a smaller space more easily. They add color, texture and they are easier to care for than the old traditional shrubs."
If you want to swap out pieces of lawn for plants, Marble says, "that's a trend that is making its way onto the landscaping scene. He recommends using a bit of ground cover as a lawn replacement or to fill a space underneath a tree or large planting bed. The result is a plant that requires little to no trimming.
Be sure to invest in an irrigation system that can work for you while you're away, and when it comes to planting choices, Marble says, it's all about balancing beauty with diversity.
"There is the horticultural side of me that is saying diversity, diversity, diversity, because the more diversity you have, the less probability of having insect or disease issues wiping something out," he says. "I am always balancing art and science."
If you are unsure, have a garden expert help you with plant groupings. The result will be a visual punch that will keep maintenance time to a minimum for years to come.
GRASSES, PERENNIALS AND GROUND COVER
ANDREW'S PICKS FOR 2019
Grasses: "Standing Ovation" Little Bluestem, Prairie Dropseed, Giant Silver Grass
Perennial: "Cheyenne Spirit" Echinacea, Calamintha Montrose White, Baptista in indigo
Ground Cover: Thyme, Sedum, Creeping Veronica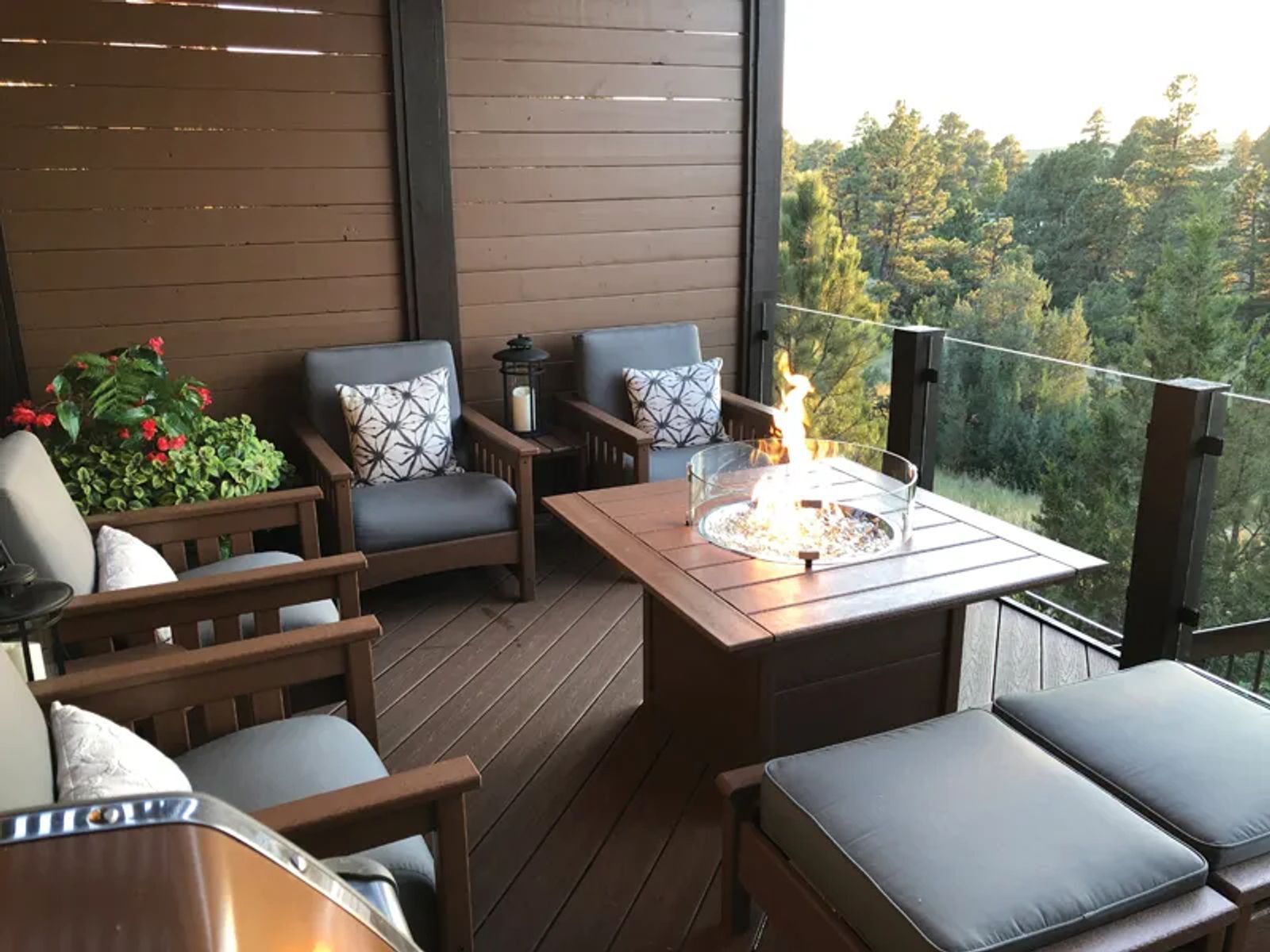 CREATING A STAYCATION
When Jim Gainan of Gainan's Midtown Flowers has downtime, you'll find him on his second story balcony overlooking nature. Surrounding him are pieces of weather-resistant furniture that deliver comfort, style and easy care.
"They take all the extremes," he says as he points to his Pollywood Outdoor Furniture. The pillows are fade resistant with Sunbrella fabric. The recycled plastic doesn't conduct heat, making it the perfect spot to sit and enjoy a beautiful day.
"It takes 500 recycled milk jugs to make just one Adirondack chair," he says. "They are nice and heavy and stay put."
Adding to the trend of homeowners wanting to add ambiance without effort, Gainan says, "It's like washing your car in the spring. Just add a little soap and water and they look brand new. There's never a splinter. There's never sanding or staining." Best yet? There are more than 500 pieces to fit any design style or budget.
In his space, which sits right off the master bedroom on one side and the kitchen on the other, he situated a handful of club chairs with a Pollywood fire table at the center that can be hooked up to a propane tank or a natural gas line.
"It's just a mood booster to have that space outside," he says, pointing out that by decking out this area, he added close to 300 square feet of living space to his home. "Even if you only spend 10 minutes here, it just changes your whole outlook on life when you see that blue sky."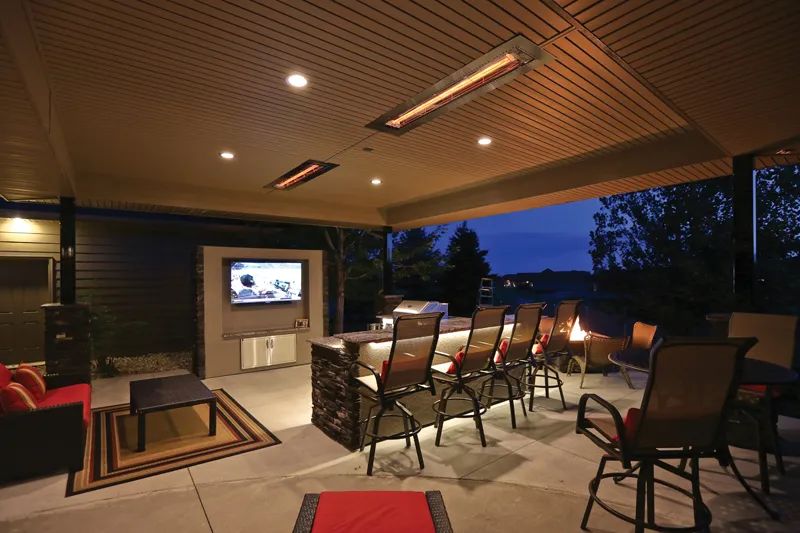 TURN UP THE HEAT
With our summer days numbered, many are flipping the switch on warmer nights outside.
"In our climate, it extends the amount of time you can use that covered patio," Tim O'Brien of R & T Services says as he talks about the trend of adding infrared patio heaters to a space. "It just adds that much more comfort to those times when it does get chilly at night."
As he turns on one of the units, the red glow starts to get more vibrant and you see how these low-profile electric patio heaters bring the heat without being an eyesore.  They are custom fit to the space and can even be retrofitted inside the ceiling of a covered patio. Want a high-tech option? Some models can be patched into smart home technology.
"They are very small in the grand scheme of things compared to a gas heater. They are also very quiet compared to a gas heater, which has that hissing sound," O'Brien says. And, when it comes to a breeze, "These units aren't affected by wind."
O'Brien says this radiant heat is perfect for nights that don't dip below freezing, though he's heard of customers using these infrared heaters as low as zero degrees to sit under a snowy winter sky.
"If you like to spend time outside," O'Brien says, "this is one of those things that you can add and instantly extend the time you can spend outdoors and still be comfortable."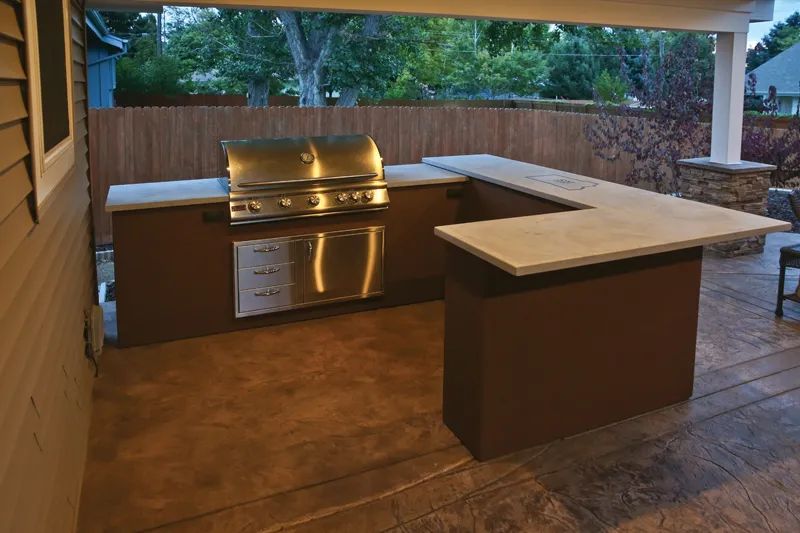 SET IN STONE
Move over sidewalks, concrete is making a big and bold statement in outdoor living spaces. From counters to barbecue areas and table tops, James McGregor of McGregor Designs has seen his outdoor business double in the last few years.
"Most people come to us looking for something different," McGregor says. "We appeal to the crowd who has seen the other products and they are looking for something a little bit different. We've done many picnic bench style tables. We've also done really ornate garden benches."
McGregor has added family crests to counter tops, embedded colored glass for an artistic display or added veining for the look of granite. The results range from a contemporary finish to one that's very natural and rustic.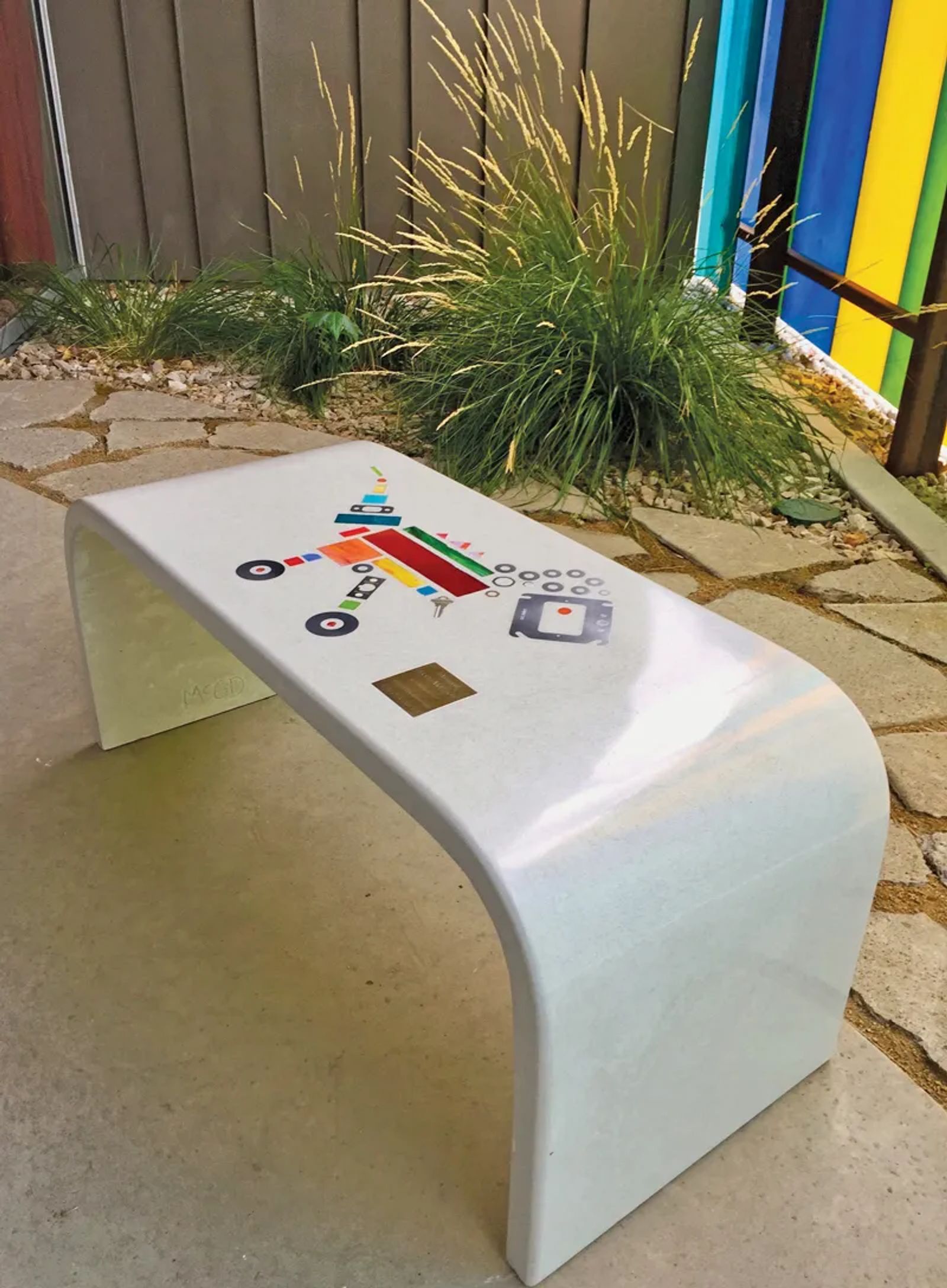 "With the materials that we have to choose from these days, the quality of the concrete itself, the recipes that we use, so to speak, and the materials alone allow us to produce something that is durable and practical and low maintenance," McGregor says. The mix recipes create a highly dense material with low porosity, which means less staining, chipping or cracking. You can put heat on it and not worry about damage. Unlike natural stone, they don't need extra care, which makes them perfect for the wear and tear of outdoor use.
Recently, McGregor took the hail-damaged top handrail off a redwood railing and replaced it with a 2-by-6-inch piece of concrete.
"It looks fantastic and is ultimately durable. It will stand the test of time for as long as we want to have it around," he says. "We are really only one of a couple of companies who are doing concrete to this level."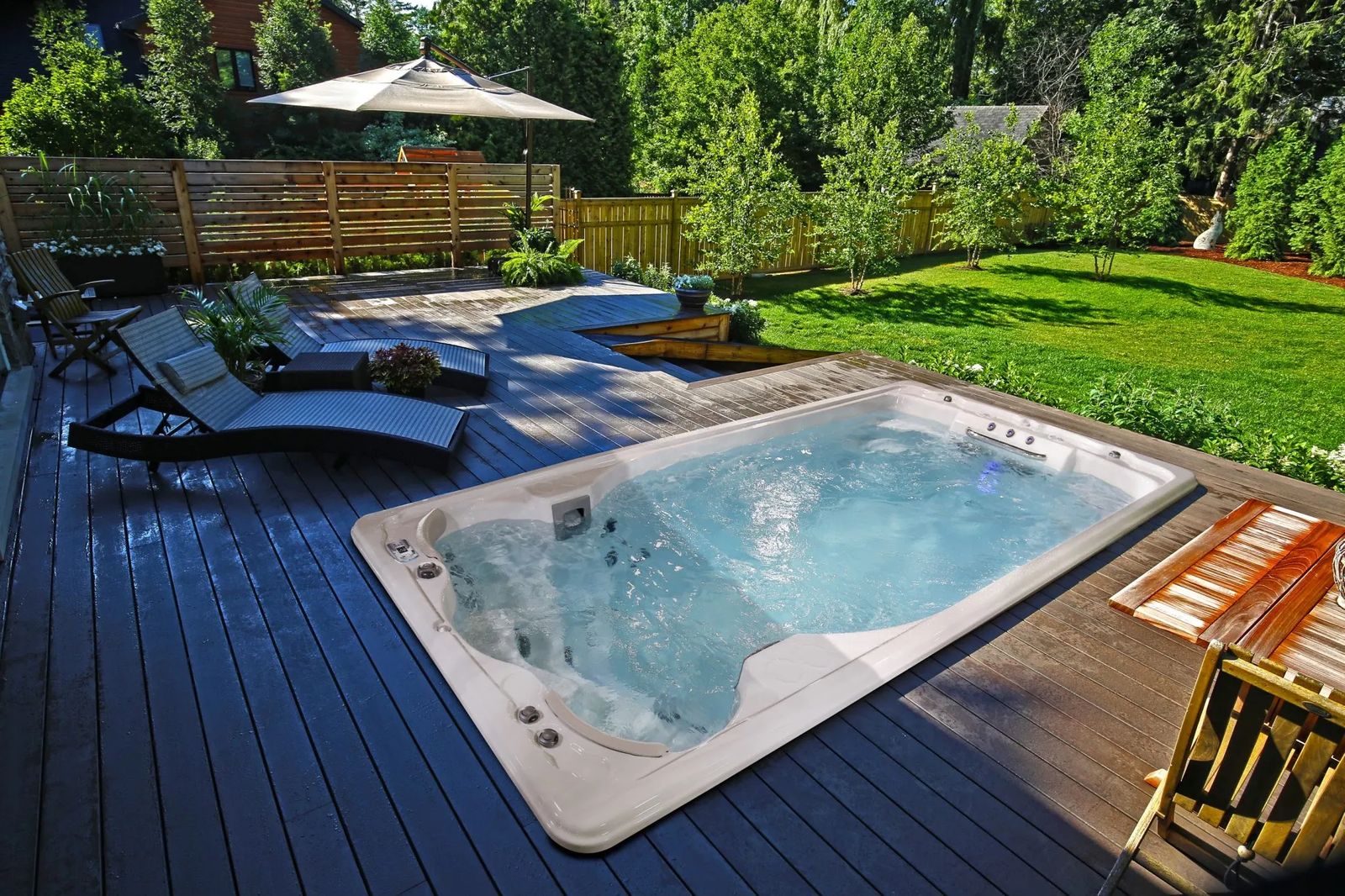 TAKE A DIP
Think a pool might be the perfect backyard addition but don't have the space to house one? Why not consider what's called a swim spa? Homeowners are investing more in this hybrid pool that's compact in size but big on features.
"You can turn up the heat and enjoy it as a spa, or turn it down and enjoy it as a way to exercise," says Darrel Thompson of Thompson Pools.  "A lot of people don't have the room and space for a full-sized pool or they might want something a little bit more than a spa. This gives them the benefit of both."
A swim spa is typically about eight feet wide and can go from 14 to 20 feet in length.
Enjoy a soak, or use it as a way to get in a little cardio exercise under the sun. "It keeps you buoyant so you are taking that load off your joints. There are also some unique exercise machines that you can put in there like a water treadmill or bike that work well in the swim spa," Thompson says.
These units are just a fraction of the cost of a full-sized pool and take only a few weeks of planning before installation. And, just like a regular spa, Thompson says, "They are made for our environment. They are insulated and have hard tops, so you can use them year-round." It allows you to take the plunge in no time, enjoying the health benefits of swimming, right in your own backyard.