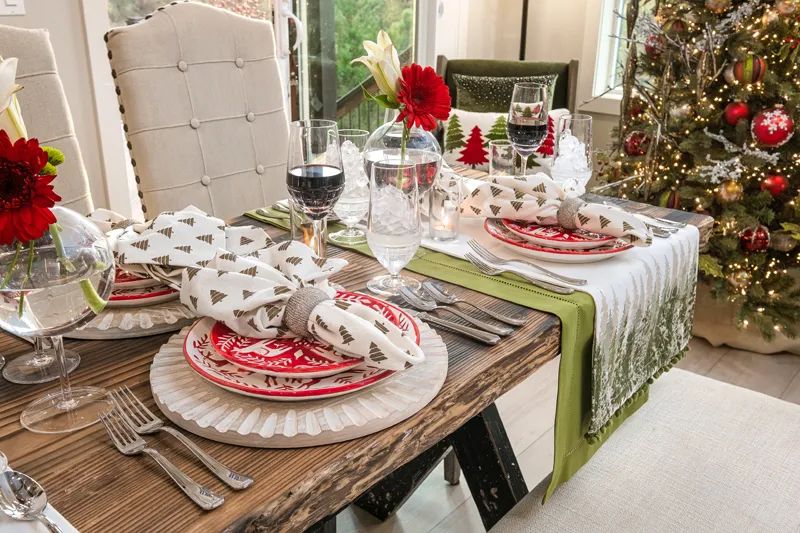 Twas the Night Before Christmas
2021 = cozy & calm décor
Julie Koerber | Yellowstone Valley Woman Magazine
'Twas the night before Christmas, and all through the place, the baubles were golden, amid branches enlaced; spirits rang high, full of rich Christmas cheer, heralding blessings for the coming New Year.
If you are starting to dream about what your holiday décor should look like this year, we've got the details on that signature color along with a dash of design trends. At the heart of it all, Jim Gainan of Gainan's Flowers says it's about creating that cozy space perfect for family.
"There has just been such an emphasis on the importance of gathering because it has been so long since we've done it," Jim says. "This year is going to be a big year for home entertaining."
We stepped into the home Jim shares with his 15-year-old son Landon to get a glimpse of what's making a big splash this holiday season. The Christmas feel began as soon as we stepped in the door.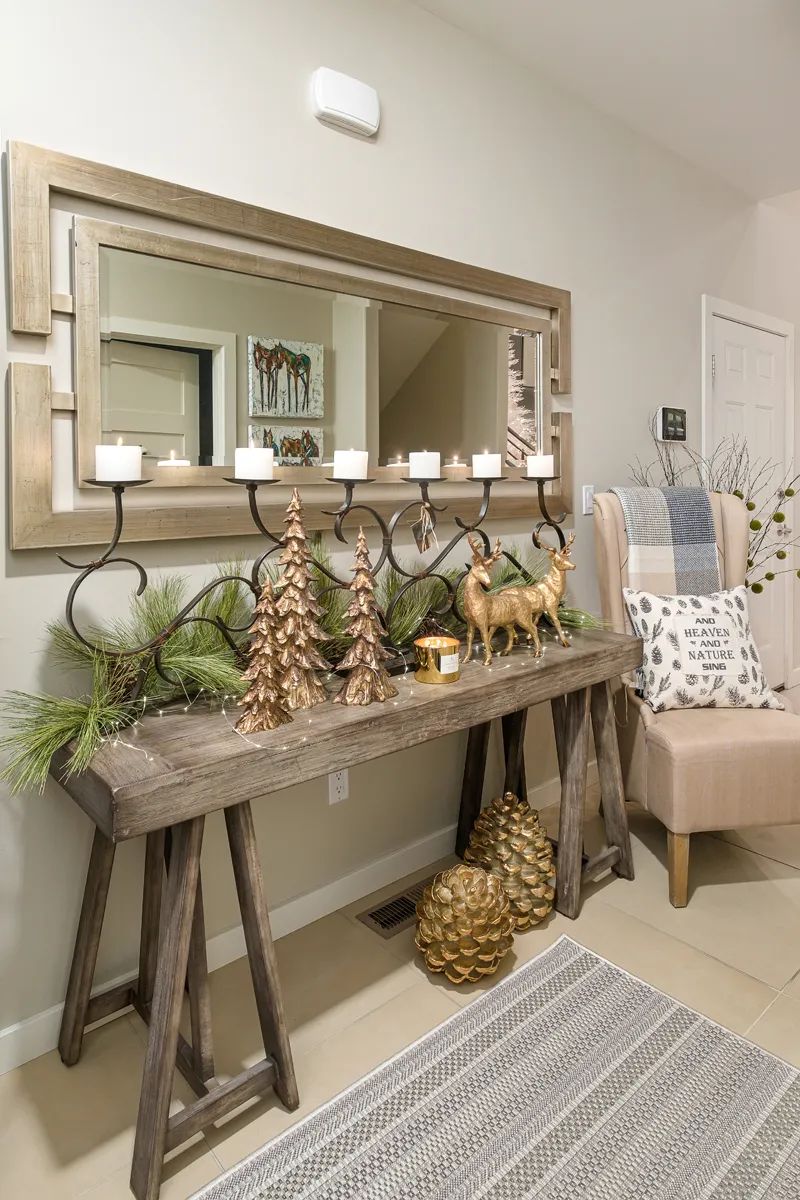 "For me, it's bringing what is outside my back window inside," Jim says. From oversized gilded pinecones, rustic evergreen trees and branches strung with fairy lights to a candle holder decked with Frasier fir-scented candles, the holiday greets you.
As you see, silver and gold continue to take center stage. But instead of a bold and glitzy look, the metallic flair is more muted to create, as Jim puts it, "a monochromatic and calm feel."
Step a few feet inside and you'll find a side table prepped and ready for guests. The bright and bold poinsettia tree stands tall over a continental style breakfast with spiced mimosas and cinnamon rolls.
"This area is perfect for Christmas morning," Jim says. "Having it ready and going to a little bit of trouble truly makes it feel special."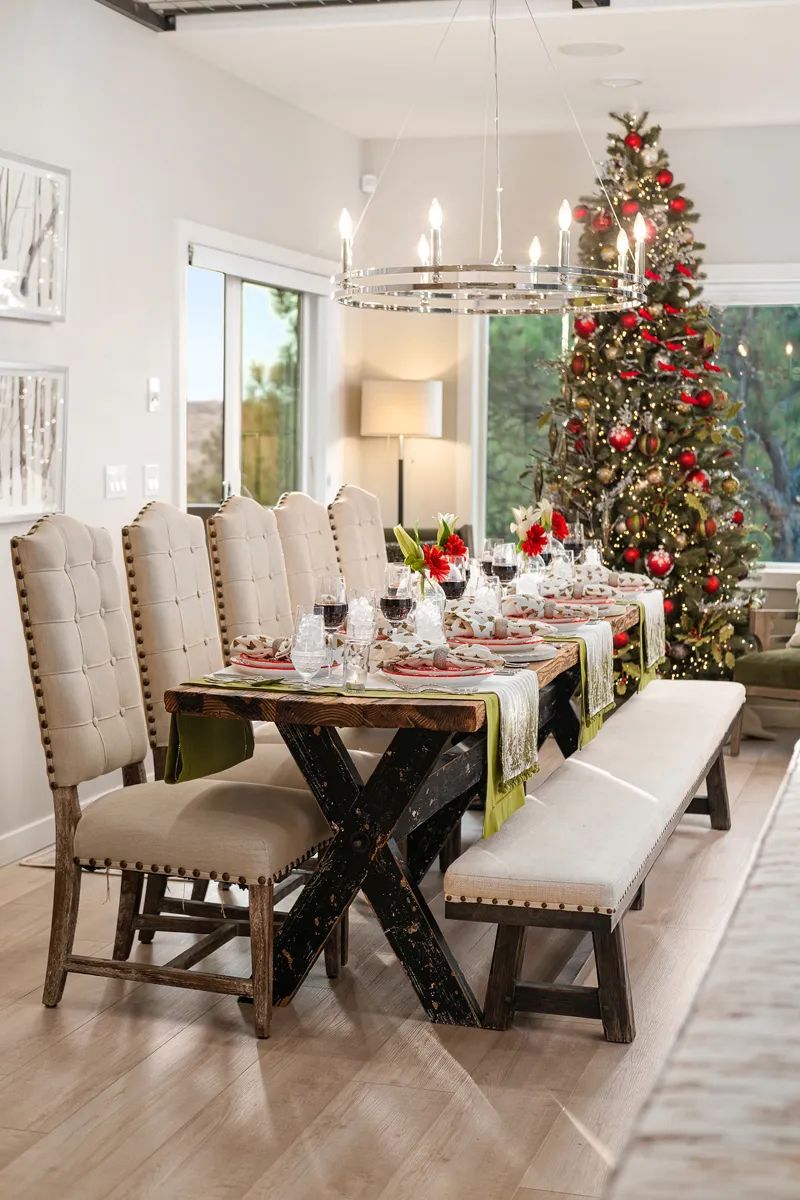 At the heart of this home sits a rustic farmhouse table set for 10. It exudes a cozy feel with layered elements and it puts the signature color of 2021 at the center of the design.
"The color green is really big everywhere," Jim says. "It's a special green." Think dusty olive, a muted green that acts more like a neutral when paired with other colors. Jim also captured another trend that's been around for a few years — using table runners across the width of the table instead of the length to serve as placemats.
"You use a charger on the area that isn't covered by the runner," Jim says. Wood chargers add to the rustic feel. Pops of red add a festive flair not only in the Nordic print plates but in pops of color provided by simple floral arrangements down the length of the table.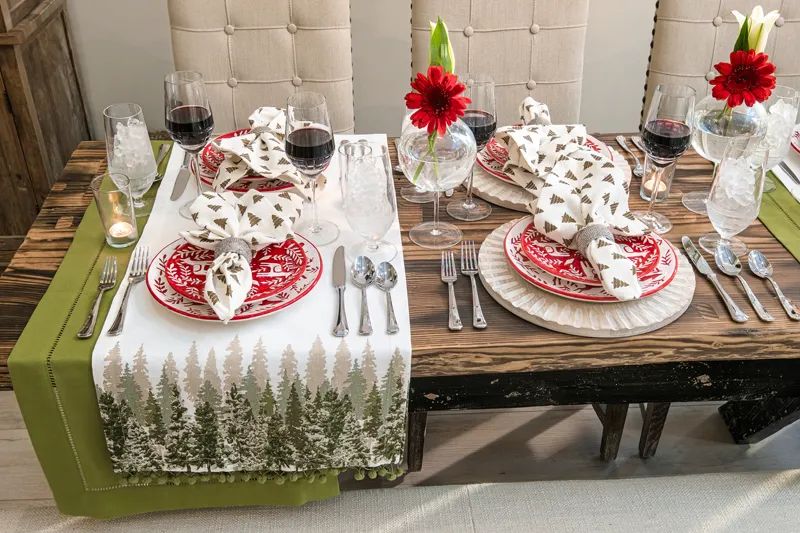 While the tree is the pinnacle of any holiday decorating, Jim says you don't need to overhaul this piece of your décor each and every year.
"The holiday is so packed with memories that it is really important to have things out that are special. Just bring them into the current," he says. "Right now, we have a lot of people who will buy six of one thing and add it to what they have to create a new feel."
As he says this, he points to the tiny cardinal ornaments that are grouped in the middle of his tree. Each little bird cost less than $2 but adds a huge pop of color, especially when grouped together.
"Grouping is a European trend," Jim says. "It allows you to focus on different things in different parts of the tree without having 75 of the same ornaments. You can make a statement that way."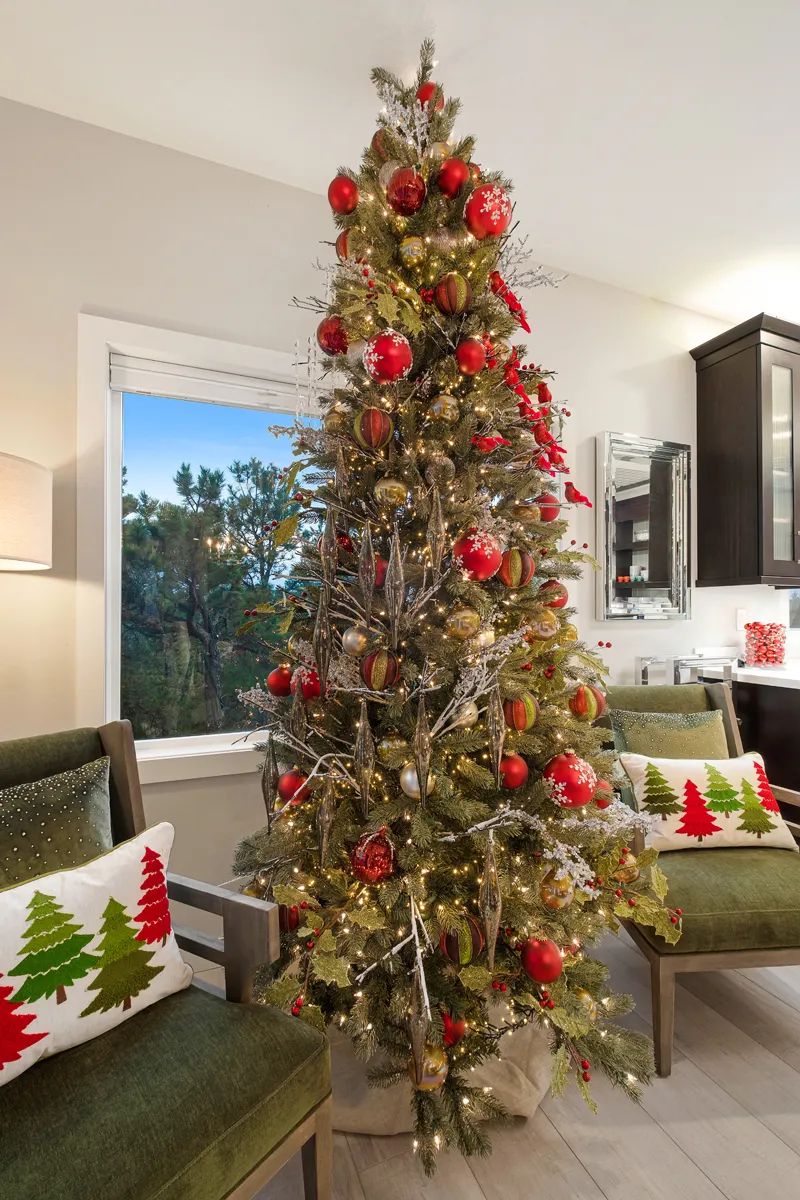 If you've kept yourself from decorating your banister because you prefer to be able to hold onto the railing, this next trend might help get your stairs in the spirit. It's called deconstructed garland and it creates a glow on the actual staircase.
"It's everything you would use to put up on the railing but you lay the décor on the floor," Jim says. As he points to the garland, he says, "It's just two pieces of garland with a set of warm rice lights. Those baubles are ones that I had. There's nothing to it. It takes three and a half minutes to put together."
In the background, you'll see unexpected places for décor, namely, a white flocked Frasier fir sitting on top of Jim's piano. What started as a way to keep ornaments out of the hands of small children and his cat became a décor staple.
"It's Christmas. You can put a tree on the piano," Jim says. "It's dramatic. I'll give you that."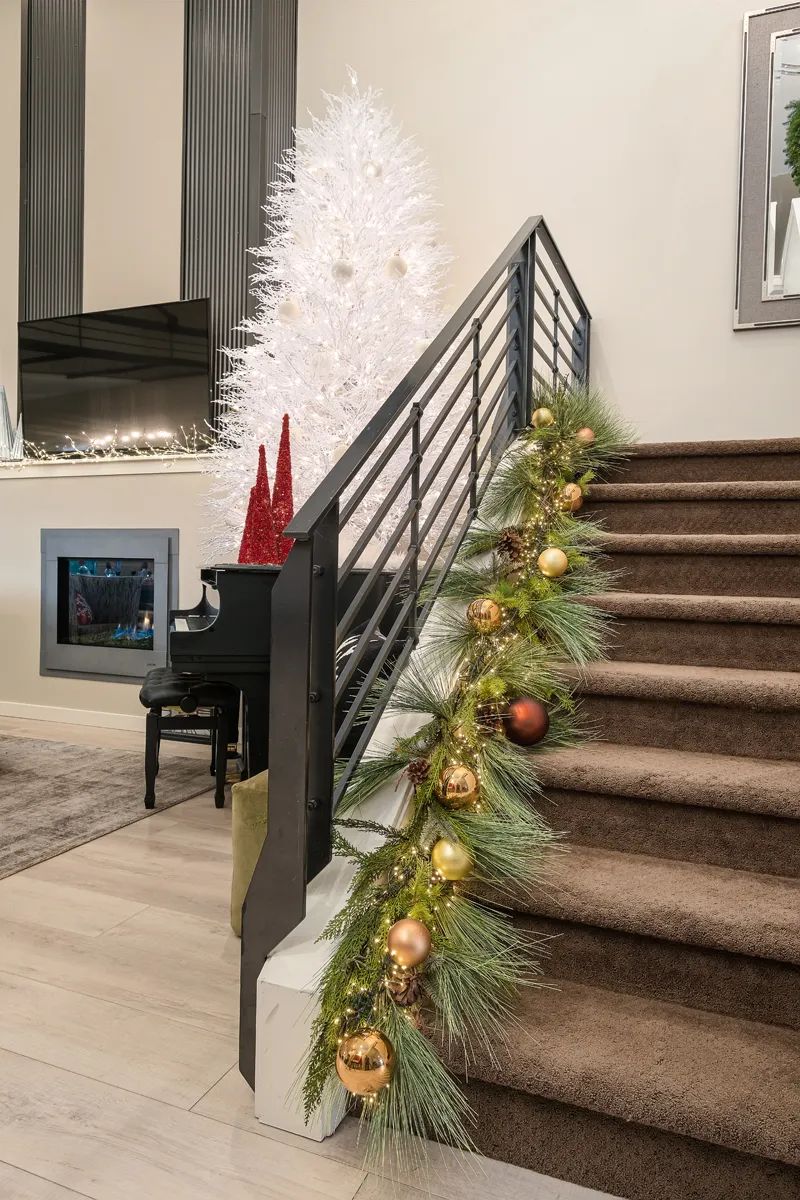 While the adults are inside sipping their favorite beverage, don't forget a special spot for the kiddos. Why not set them by the fireside to add another layer of magic before Santa's arrival?
"If you are having a party and you want to set up your fire pit area with s'mores and hot chocolate, that's the perfect place," Jim says. "In Montana, you can be outside with a blanket and a firepit eight months out of the year."
That's why his back patio is not only decked out with a firepit but also Liora Manne pillows that sing of the season. These hand-hooked pillows are weather resistant and created to prevent fading from outdoor wear and tear. "They are anti-microbial," Jim says. "They can get wet and will not mold."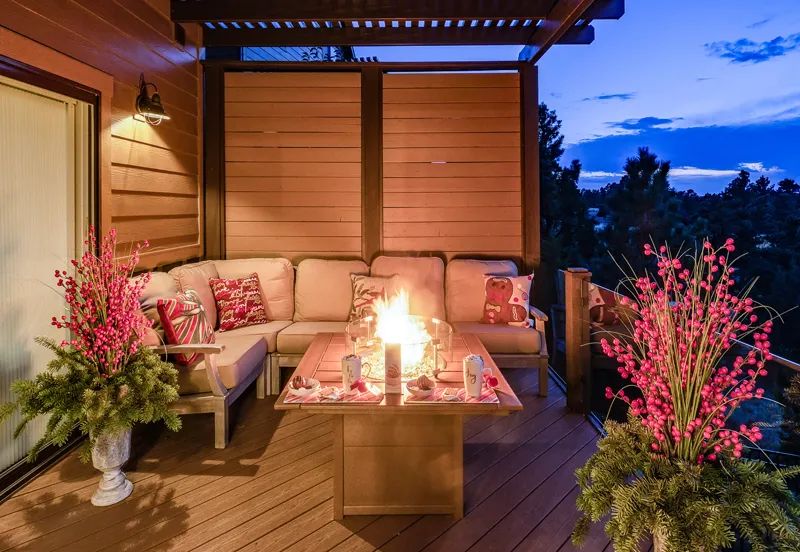 After s'mores, you can add story time to the mix. Jim created a storybook nook setup with a few holiday classics plus a vintage Santa. Nearby, the textured layers of decor imitate the feel of new-fallen snow. From crisp white to soft grey, the subdued color palette adds depth and dimension without being overbearing or overly bold.
As you bring out all your decorations, don't forget to add a little holiday pizazz here and there. Think faux berries tucked in with real flowers, elements of color added to a bathroom vanity and, of course, the smell of evergreen in the air.
"Everyone wants the smell of grandma's Christmas tree," Jim says. "With all the silk and permanent flowers and branches, there had to be something to replace or duplicate that smell." The Frazier fir line of scents from The Thymes creates just that smell. It's crafted with a tree's natural oils instead of a manufactured fragrance, spreading an authentic aroma throughout the home.
When in decorating doubt, you can never go wrong by adding more lights. Fairy lights, rice lights or traditional bulbs all add that festive glow no matter where they are placed.
"Lights and sparkle really excite kids," Jim says. "That never goes away."