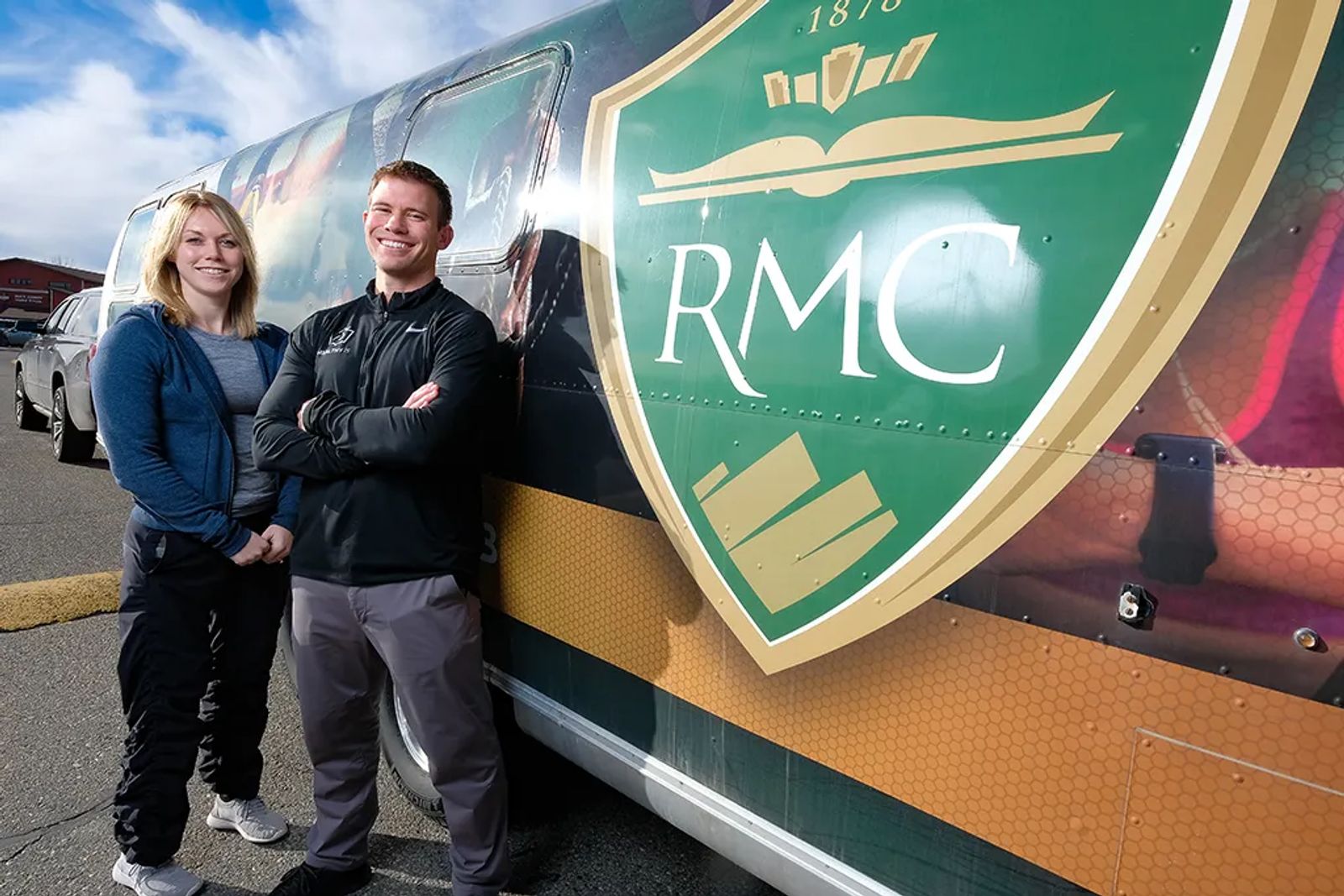 Wellness Coach on Wheels
Nich Pertuit fights chronic diseases with a little healthy advice

Through the open door of a sleek and shiny Airstream RV, you can hear the hum of people talking. Peek around the corner and the rig looks like a doctor's office on wheels. There are handouts designed to support healthy living, books on various nutrition and wellness topics and in the back corner sit two high-tech body scanners ready and waiting to generate all kinds of analytics on the human body.
This is Healthy Is, the brainchild of Rocky Mountain College Health and Human Performance professor Nich Pertuit, Ph.D. The corporate wellness consulting business started in January of 2018 and, within the year, has blossomed into a health coaching operation designed, as Pertuit puts it, "to productively disrupt healthcare."
"Chronic disease is devastating us," Pertuit says. "It's going in the wrong direction."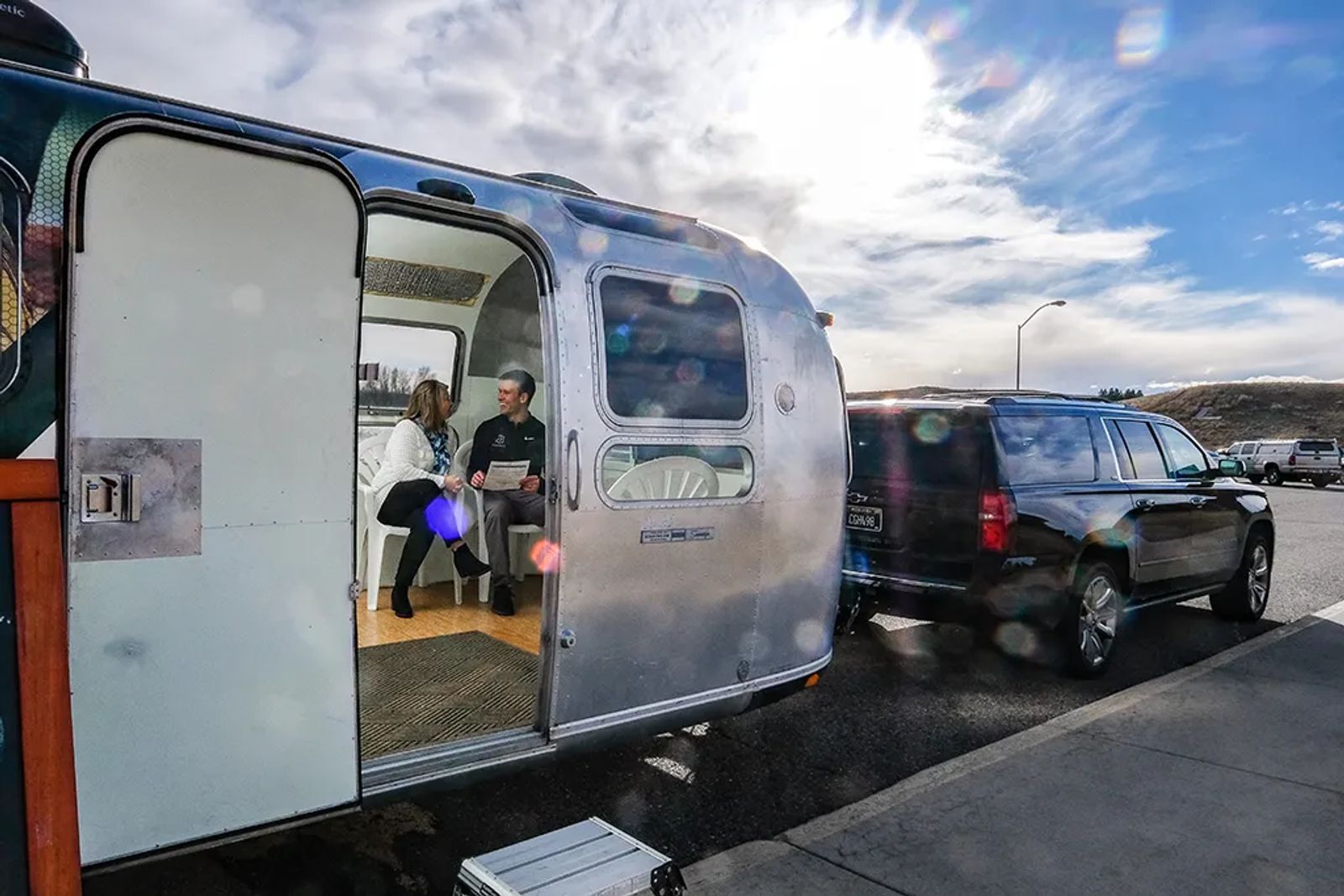 As a former professional athlete, he can remember all the tools and high-tech gadgets thrown his way to help him enhance his performance as a kicker for a professional arena football league.
"I saw what we were putting into sports to help our top-level athletes," Pertuit says. "We will do anything for them. We will bring the best cutting-edge technology in order to help them get that 1 or 2 percent better on speed, strength or agility. That same thing wasn't being applied to corporate wellness, not in the programs that I witnessed."
So, Pertuit thought, why not bring these tools into wellness programs? With the help of top-of-the-line medical-grade body scanners and health coaches with just the right training, the program could break down a few barriers and empower people to change the course of their health. After mulling over the idea, Pertuit says, "If you can be creative, you can bring people these things in an Airstream RV."
On this day, Pertuit spent time counseling one man looking to shed a few pounds. The man was doing all the right things but, at the end of the day, was famished. After taking a look at how the man was fueling his body, Pertuit offered simple tweaks to help him stay satiated. Another woman wondered about fresh fruits and their impact on her blood sugar. Again, the counselor had input.
"The biggest metric that I care about is that people feel more empowered and they feel more in control of their health," he says.
Over the past year, Pertuit has steadily added to his client list. Each week, he screens and counsels a few hundred people in a multiple-county area.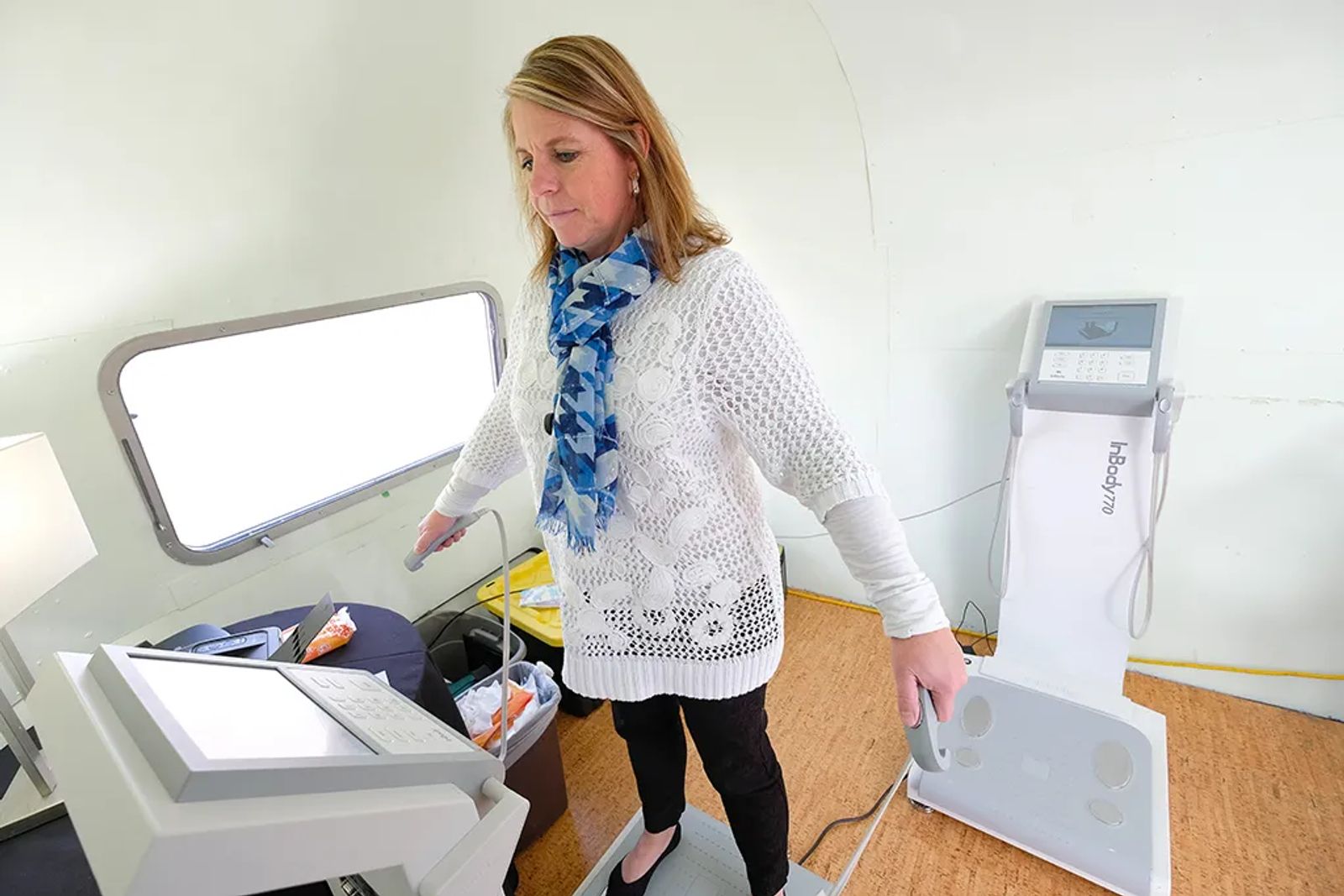 Melissa Kittelmann, an administrative assistant with the Lockwood School District, has been using this wellness program for eight months. Each month, she steps on the body scanner which, within minutes, spits out all kinds of statistics on her body. It measures — among other things — lean muscle mass, body fat percentage and visceral fat, which is basically the amount of fat stored around the organs.
With her printout in hand, Pertuit stands by waiting to help her break down the numbers.
"It is just a more in-depth way to find out about you so that you can then make individual changes and adjustments," Kittelmann says. From month to month, she sees the payoff for each and every dietary and fitness goal she makes.
"It's the visual validation," she says. "I've lost 20 pounds and a lot of inches. My clothes fit better. I feel better and it gives me the motivation not to be done yet. I am not done yet."
In an office not far from the wellness program on wheels, Don Christman, Lockwood School's director of special programs, can't sing enough praises for the program. The school system started focusing on wellness five years ago with a simple health fair and annual blood draw. Since then, Pertuit has helped 80 percent of the system's 130 employees focus on their individual health.
"It's so much more technical," Christman says. "You can actually look at the scan results and say, 'Wow, I have that much visceral fat?' My doctor waits for all of this stuff. I report it to her and tell her where I am at. She's adjusted my thyroid and cholesterol medication from all of this."
With the addition of monthly health check-ins with Pertuit, Christman says the Lockwood School system is building what he calls a "culture of health." He adds, "Nich has impacted a lot of lives here."
And, Christman says, it's just the beginning.
"We want to bring our kids on board with his program," Christman says. "We can tell them, here's what your healthy weight should be. Here are some things you can do. Why don't we bring your parents next time and see if there are some things you can start to do at home?"
That is music to Nich Pertuit's ears.
"If we do our job right, we get phased out of the places that we are at currently," Pertuit says. "If we do such a good job in Lockwood School District, they will become self-sufficient and empowered to be able to continue this program with just little check-ins from us."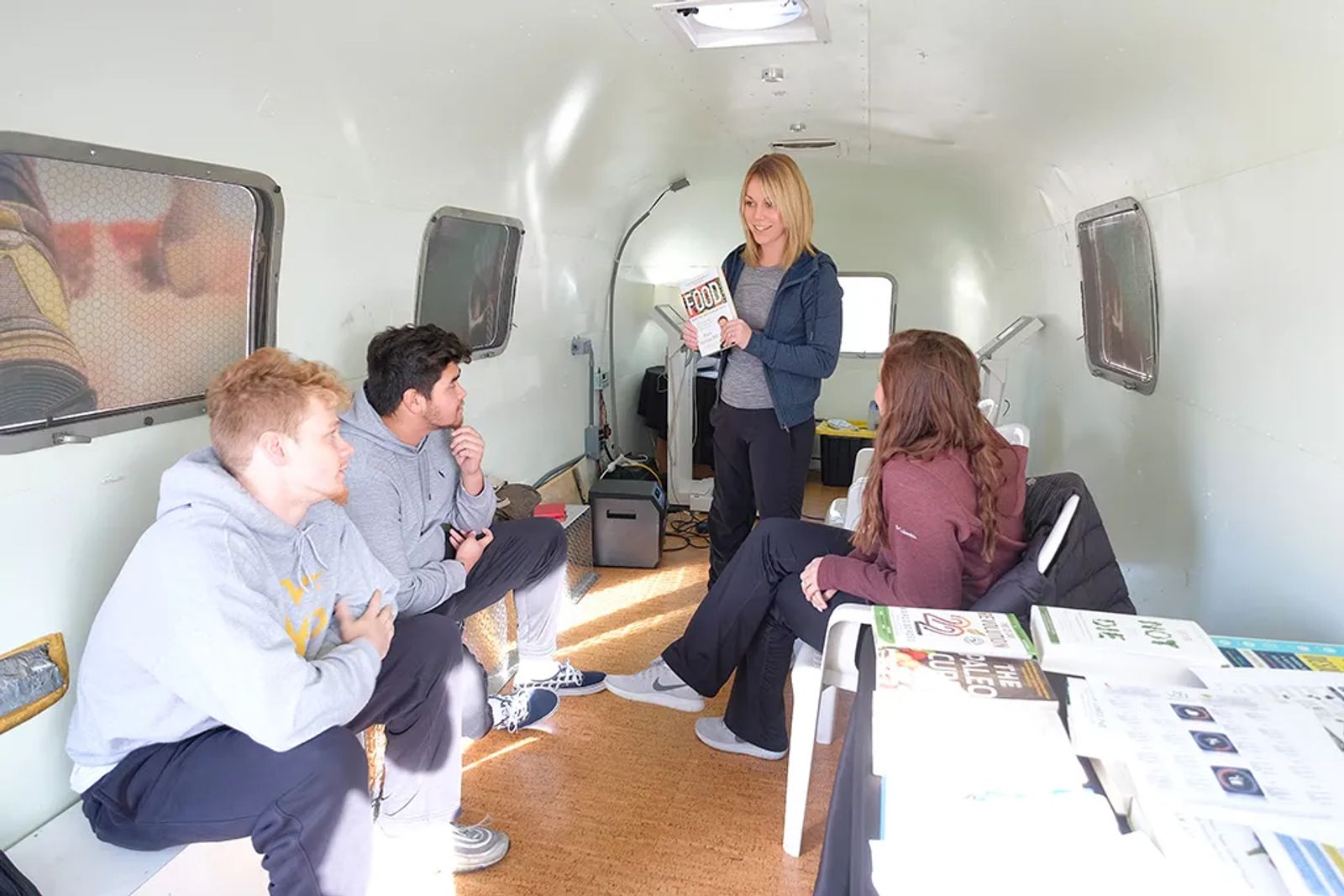 Karsyn Hornby, a health and human performance professor at both Montana State University Billings and Rocky Mountain College just joined the Healthy Is team in September as the new director of health coaching. Since the program has expanded to multiple locations in Yellowstone and Stillwater counties as well as spots in northern Wyoming, she's been on the road helping folks dive into dietary and lifestyle changes.
"I think what we promote is a sense of community," she says. "We will get a few employees that first month we come. By month two, we generally increase that by 50 percent. Then, families are coming in." It's clear, she says: people are talking and she loves being a kind of catalyst for healthy living. "It's rewarding to know that we are promoting change in someone's life."
As the Airstream RV gets ready to pack up and head off to serve the next corporate wellness program, this duo knows each visit is fulfilling a promise.
"Our goal," Pertuit says, "is to say we know people are suffering from chronic disease. They are individual people, families and communities. We want to give control back to them."
FOR MORE ON HEALTHY IS
FIND THE ON THE WEB: HealthyIsMontana.com
VIA EMAIL: healthyismontana@gmail.com