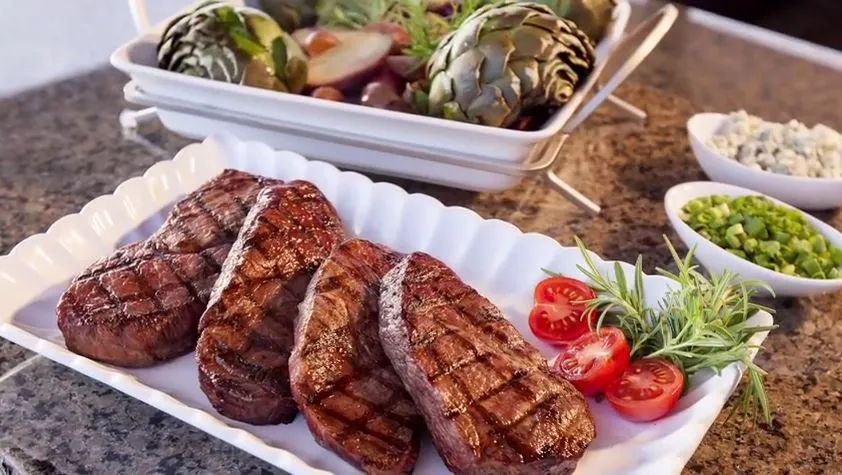 What's for Dinner? Grilled Sirloin Steak & Roasted Potatoes
Fire up the grill for dinner!
INGREDIENTS
4 Petite Sirloin Steaks
1/4 cup Extra Version Olive Oil
1/4 cup Essential Everyday Red Wine Vinegar
1 tsp Essential Everyday Coarse Ground Dijon Mustard
1 tsp McCormick Montreal Steak Seasoning
1 tsp Worcestershire Sauce
1 pkg Fresh Cuts Fingerling Potatoes
2 Large Artichokes, washed and trimmed, cut in half, with choke removed
2 tsp Fresh Cuts minced garlic
Extra Virgin Olive Oil
Salt and Pepper
Blue Cheese Crumbles
Fresh Cuts sliced scallions
Ziploc Gallon Sized Bag
Reynolds Heavy Duty Aluminum Foil
Directions
1. Whisk extra virgin olive oil, vinegar, mustard, steak seasoning and Worcestershire together in a bowl. Place steaks and marinade in a Ziploc bag. Let sit in refrigerator for one hour. For more intense flavoring marinate overnight.
2. Remove steaks from refrigerator 30 minutes before cooking and let rest on counter. Never cook meats directly from the refrigerator -- allowing meat to raise to room temperature ensures more even cooking.
3. To make a foil pouch for the potatoes, simply place 2 foil sheets on top of each other on the counter. In the middle of the stacked foil, arrange potatoes in a single layer, and top with two sheets of foil. Seal edges all the way around the potatoes by folding and pressing the foil edges together.
4. Place potatoes on grill. After 15 minutes place steaks on grill. After 2 minutes, do a 1/4 turn on steaks, and grill for 2 more minutes. Flip steaks and repeat. As a rule of thumb use your hand for a guide.
5. Total grill time for medium rare (145 degrees) is about 8 minutes.
6. When desired temperature for steaks is reached, remove from grill and tent with aluminum foil. Let rest for 10-15 minutes before serving. Potatoes are done at 25-30 minutes.
7. Sprinkle steaks with blue cheese crumbles and scallion before serving
For the Artichokes:
1. While steaks are in the refrigerator, clean and prepare artichokes, cutting in half, trimming sharp ends and removing the "fuzzy" or choke center. Place in stock pot and boil for 5 minutes on stove top. Remove from pan and let cool. Drizzle with olive oil, minced garlic, salt and pepper.
2. Artichokes should be placed on grill, cut side down, for about 10 minutes.
Grilling Tips:
• Use a needle tenderizer to help enhance tenderness.
• Insert thermometer from the side of the Steak not from the top down to ensure that you read the center and not the bottom or top.
• Remove the steaks from the grill 5 degrees from desired doneness.
• When resting the steaks tent loosely (no wrapping) with foil to avoid steaming.
• Ensure that you shake the excess marinade off of the steaks before grilling to avoid steaming.
• If you don't have an instant read thermometer you can use the hand method to judge doneness.
• Don't waste the juices in the pan after resting. Drizzle it over the steaks before serving.