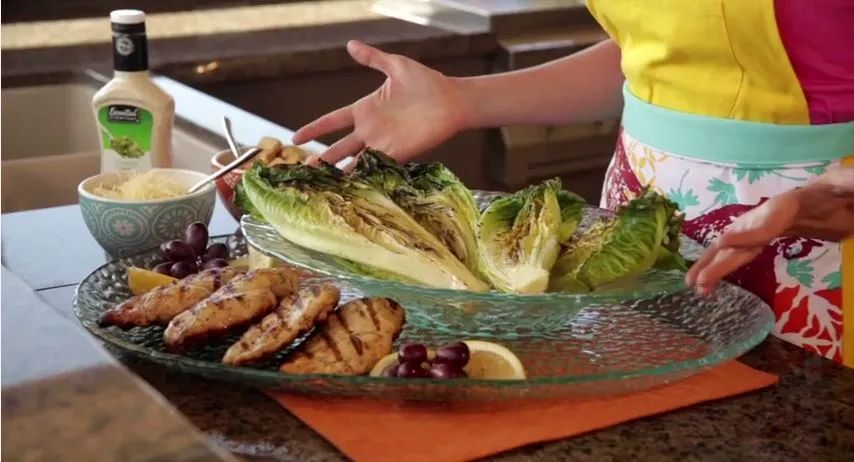 What's for Dinner?
How about Chicken Caesar Salad On The Grill Tonight?
Chicken Caesar Salad is a hearty and rustic meal that everyone in your family will love! This recipe, courtesy of Annessa Chumbley with Albertsons, promises to be a sure-fire hit! In this delicious recipe (serves 4), both the chicken and the romaine lettuce are grilled to perfection. This meal is prepped and ready to serve in a little more than 30 minutes!
INGREDIENTS
4 boneless, skinless, chicken breasts, pounded to even thickness, about 3/4 inch
1 pkg McCormick Grill Mates Garlic, Herb and Wine Marinade
1/4 cup oil
1/4 cup water
1 Tbs Essential Everyday White Vinegar
2 Romaine Lettuce heads, washed and dried, cut in half length-wise leaving the root end attached
1 lemon, cut into wedges
2 Fresh Cuts, peeled garlic cloves, cut in half
Essential Everyday Extra-Virgin Olive Oil
1 pkg Essential Everyday Caesar Croutons
1 bottle Essential Everyday Caesar Salad Dressing
Parmesan Cheese
Ziploc Gallon Bag
Reynolds Heavy Duty Aluminum Foil
Directions
1. In a gallon Ziploc bag, combine McCormick Grill Mates Garlic, Herb and Wine Marinade with oil, water and vinegar. Close bag and shake.
2. Between pieces of plastic wrap, pound chicken breasts gently, using a meat mallet or cast iron pan, until breast has uniform thickness, about 3/4 inch. Add chicken to the marinade and place bag in refrigerator for 15-20 minutes.
3. While the chicken is marinating, wash and prepare the romaine lettuce, leaving root end attached. Rub the cut end of romaine lettuce with lemon and garlic, then drizzle with olive oil, and its ready for the grill.
4. Remove chicken from bag and place on plate, discarding bag contents.
5. Prepare and heat grill to medium high. Place chicken on grill cook for 4 minutes undisturbed and then flip. Cook for an additional 4 minutes undisturbed or until internal temperature is 165 degrees. Turning only once during grilling allows a great a sear and flavor to develop. Remove from grill and tent with aluminum foil.
6. After chicken is removed and resting, place romaine on grill cut side down. Grill 2-3 minutes and remove.
7. Slice chicken breasts into 1/4 inch slices. Place romaine wedges on platter/plates. Top with chicken, parmesan cheese, dressing and croutons. Serve immediately.
TIPS:
• Pound or press the thick end of each chicken breast to get them uniform in thickness so they will cook evenly. If you don't have a meat mallet you can use a heavy pan such as a cast iron skillet. Cover the chicken breast with plastic wrap to avoid splatter and for easy clean up.
• When resting the cooked chicken tent loosely (no wrapping) with foil to avoid steaming.
• Be patient and only flip your chicken once; your chicken will tell you it's ready when it stops sticking to your grill.
• For food safety it's important to use an instant-read thermometer to ensure you reach proper internal temperature. Insert thermometer from the side of the chicken breast not from the top down to ensure that you read the center and not the bottom or top.
• This recipe calls for rubbing of lemon and garlic. This tip works only if you squeeze the lemon and mince garlic into the oil. For the lettuce, put the oil and seasonings in a dish or pan and lightly dip the cut side of each half head of lettuce to coat evenly.
• For your lettuce, cut it lengthwise, leaving the base attached; this keeps your lettuce leaves together and makes for easy grilling.