Working From Home in Style
Creating your perfect work space
Right now, one out of every five workers does their job from the comfort of his or her own home. According to Forbes Magazine, that number is expected to rise by a whopping 60 percent in the next five years. If the need for a home office is in your future, make sure you have what you need to get your job done.
Whether it's time to create a new space or re-design the one you already have, here's what you need to ask yourself. Do I have a specific area or part of the home that can be designated as an office space? Can supplies and reference materials be at my fingertips? Does my work area provide good lighting? Does the space help me avoid household distractions? Do I feel good about where I'm going to spend my day?
If you answered "yes" and would love a space that "works" for you, we've found four fantastic and functional workspaces to inspire you.
Contemporary Flair
When designing that work space, why not wrap your home office around what speaks to you. "It's whatever makes you feel comfortable," advises Victoria Seitz, designer for Ashley Home Furnishings. She created this bold, yet, soothing room dressed in basic colors and inspired by a monochromatic and free-form art piece. The art presents a "contemporary splash" while a unique driftwood lamp beneath it mirrors the art's flowing movement.
"It's personally soothing and relaxing," comments Victoria. "It helps you focus on your work."
Using dark furniture like this Carlyle Collection from Ashley Furniture offers the perfect backdrop to any accessory color. Black also affords that sexy sharp contrast to your choice of accessory colors.
An artistic screen set dramatically in the corner delivers height and a dash of interest. Victoria's pick gives pattern and texture to the space with thin gray shells outlined in black. It's one more way the hues of black and gray bring on a heavy dose of contemporary glamour.
When designing your space, don't forget to make it personal. Here, family pictures reside on the open bookshelves. Display your favorite objects, art or photos and leave it at that. You'll enjoy these possessions more without the clutter or extra pieces to dust.
As you sit at your desk, make sure you sit in comfort. This black-framed chair adds soft hues of teal and allows a bit of swivel. It's a high fashion look that lets you easily turn from your desk to the credenza behind. You won't miss a beat as the credenza offers storage for files, notebooks or even extra coffee cups.
Need some space for clients or guests? This tailored home office comes complete with two leather-looking chairs placed on the other side of the workspace. A black loveseat and ottoman sits off to the side bringing comfort for longer phone calls or brainstorming work sessions. A chrome and glass end table lightens the mood while a large lamp lights it up. A large, round metal clock hangs on the wall for keeping tabs on your time. It's simple, savvy and sophisticated, making this space anything but just another day at the office.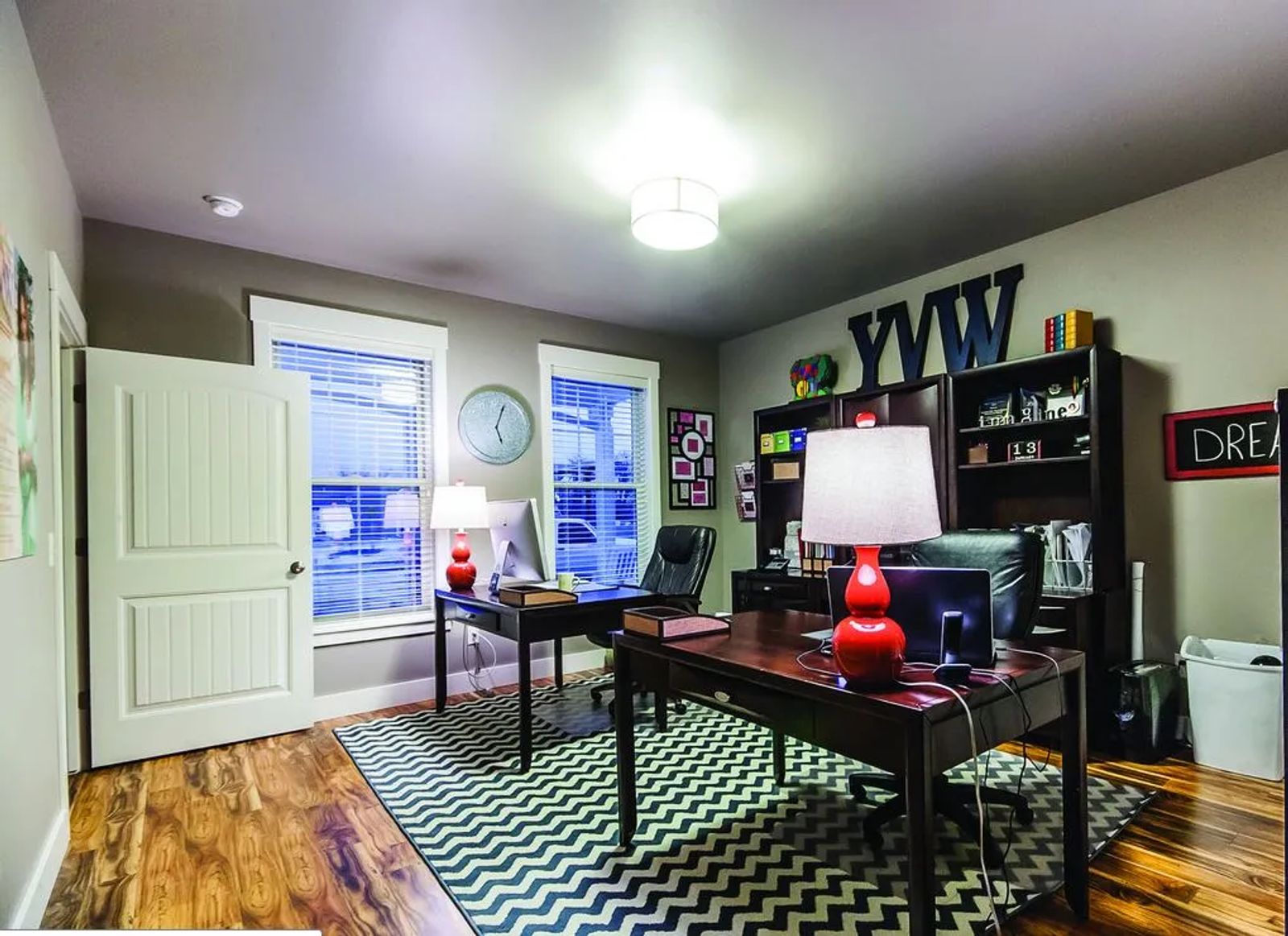 Dual Flair
What about a space that needs to work for not one, but two? Sharing an office creates some challenges. If, however, you arrange the room right, you can create an ideal spot where one can crunch numbers while the other creates.
"We each have our own desk," says Haley Vannatta, who, along with her husband Jeremy, publish Yellowstone Valley Woman Magazine. "We do very different things, so our office has to function for both of us." It's this incredible balance of practical efficiency that makes this home office perfect for a two-person job.
The room's ample dimensions allow for a large three-piece wall unit. "We each have our own section of it," confides Haley, "so I keep the creativity on my side and Jeremy keeps the books on his side. I'm not allowed to touch the books!"
Haley's desk top plays host to a big computer monitor, perfect for designing and helping with the magazine's layout, while Jeremy's concedes minimal space to a laptop. One item they each rely on, however, is a lamp. "We both have task lighting on our desks," notes Haley. This helps supply sufficient lighting, minimizing any eye strain. Natural light streams in from a window at Haley's desk, as well.
Large posters of past magazine covers adorn one long wall while a personal treasure of Haley's sits atop her section of the open bookshelf unit. "I bought this brightly colored dog clock at a silent auction that a mentor of mine had started for a non-profit organization," recalls Haley. "It's a funky piece that had belonged to her, but, it's meaningful to me."
Neither traditional nor contemporary, it's a busy home office that Haley occupies during the day and Jeremy on many nights and weekends. It's a space they envisioned before they even built their home. "It's very important to me to have the office off the front door," states Haley. With three boys at home, Haley and Jeremy decided early on to designate this area as their workspace. This way, "the rest of the house could be our home."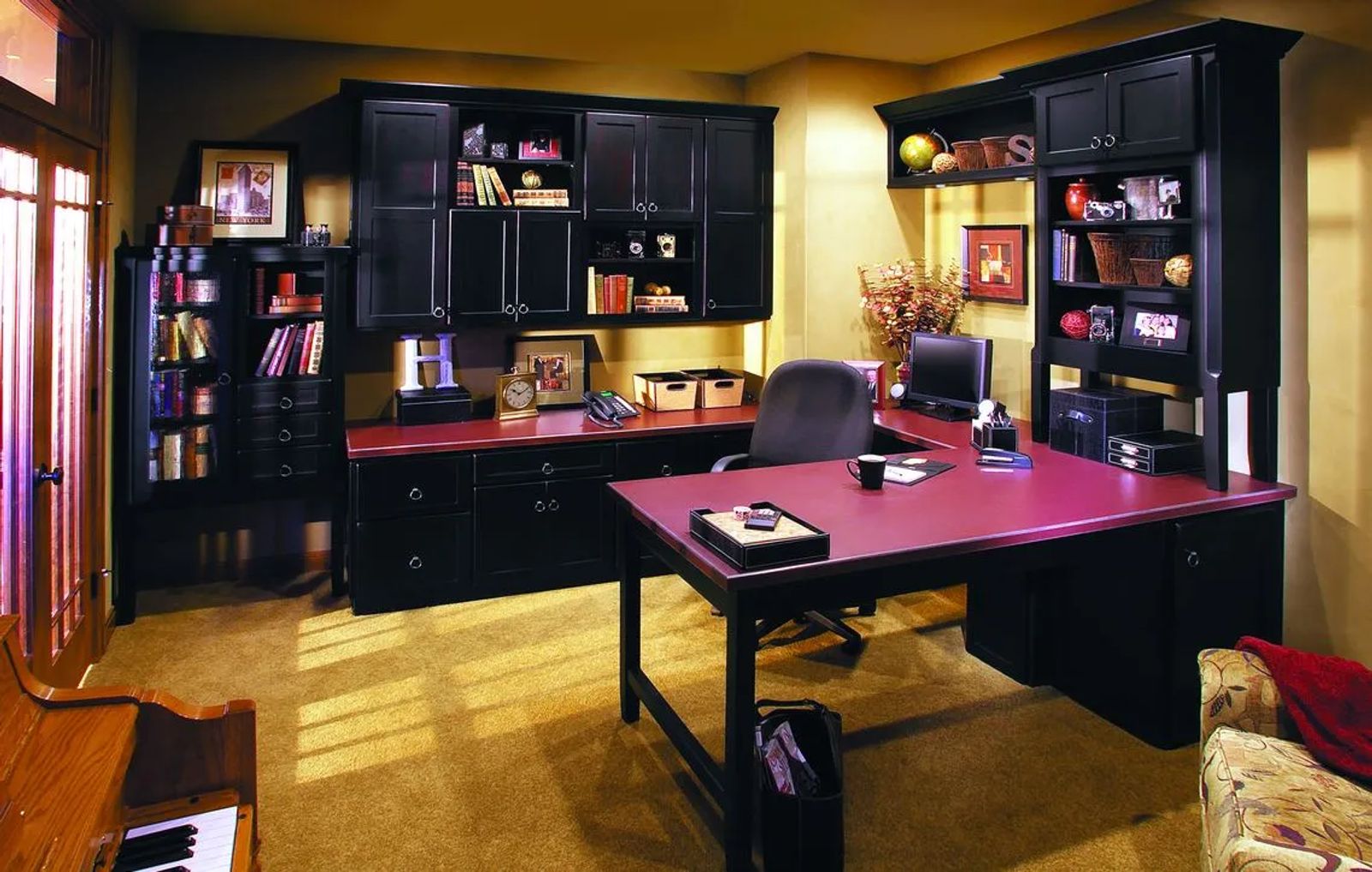 Traditional Flair
If a traditional look is more your style, then this space might serve as a little creative inspiration. It's got beauty and brawn. An exquisite design with innovative storage solutions. A separate area for the computer grants more surface space while open shelves, deep drawers and built-in cabinets handle books, paper, files and more.
"This office is functional with good storage," remarks Mike Myers at Kitchens Plus. Two file drawers on the end of the back wall unit, along with the rest of this cabinet's storage capacity, allow you to organize everything. You'll have plenty of room for tray organizers for pens, paper clips and postage stamps. All you'll need is to hang a chalkboard for appointments and a clock to keep you on time.
Maple cabinets from StarMark Cabinetry with a Bordeaux finish contrast beautifully with the colored laminate surface featuring a wood edge. This type of style gives a "furniture feel" to the room. A beveled bookshelf on the far right lends classiness. "It's a nice, decorative touch," says Mike, as is the cabinetry's crown molding.
A traditional home office fits in nicely whether designated as its own room, off the great room or as part of the kitchen. It can be a large space or a small one. Its organizational elements work overtime with a classy, traditional feel.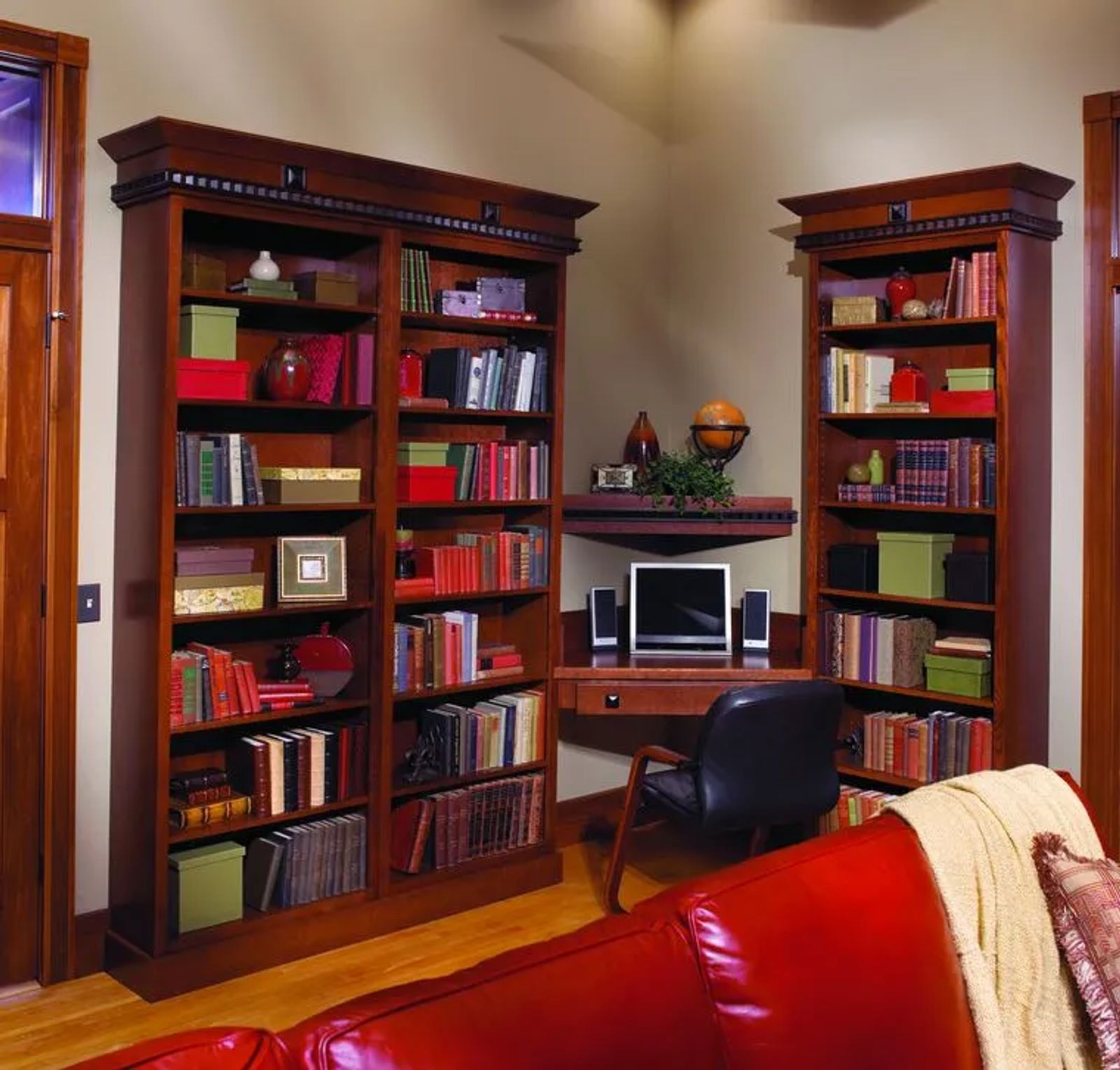 Corner Flair
This small but mighty space just goes to show that you don't need a designated room in order to have a home office.
"When space is at a premium," notes Mike Myers of Kitchens Plus, "there is a solution." Here, a nook becomes a built-in desk from where you can pay the bills, write a thesis or contact your customer base.
Built into the wall, the desk is about three feet on each side, room enough for your computer and space to write.
A drawer hides your keyboard, pens and papers while a stylish shelf sits cleverly above. Need a little task lighting? Consider a desk lamp that swings down over your work.
Bookshelves on either side of the desk can be allocated for reference guides, a great read or other office necessities. These quarter-sawn red oak units finished in a chestnut shade with java accents from StarMark Cabinetry add the wow factor to a home office. It's a small space that, when organized perfectly, is big enough to tackle any job.
Home Office Essentials
5 things that will help your space perform
1)      Organization is essential. A desk with drop-down drawer is ideal for storing a keyboard out-of-sight, giving you more tabletop work space. A credenza, file cabinet and/or bookshelves create storage space for office necessities.
2)      Resources are crucial. Make sure you have the space to keep your reference materials and your supplies nearby. Keep in mind, it's not the size of the space that matters, it's the way you organize your space to make it work for you.
3)      Relax while working. A sturdy and ergonomic chair is key. If your elbows aren't bent at a 90 degree angle and at your sides when you type, your chair or your keyboard isn't in the right place to keep good posture.
4)      Turn on the lights. Overhead lighting accompanied by a lamp or two, depending on the size of your space, is easier on the eyes.
5)      Track time. Let a clock help you keep tabs on time. It's not difficult to sit at a desk too long. You'll not only want to shut down your space before the day turns to night, but you'll need a clock to help get you up and moving during your day. Making time to move gets more oxygen flowing to your brain, which helps you work more efficiently.
 For more information on home offices see your local cabinet or furniture store and check out www.workingnaked.com, a site full of home office organizational tips and articles.